Is there something missing in your life this holiday season? Well, perhaps I don't know you that well but I'm going to go out on a limb and says it's Beef Braciole.
If you've never had Italian Beef Braciole, the minute a tasty morsel of this labor of love touches your lips, you'll be flabbergasted that you went this long without it. For any special occasion, this is hands down a 'go to' dish.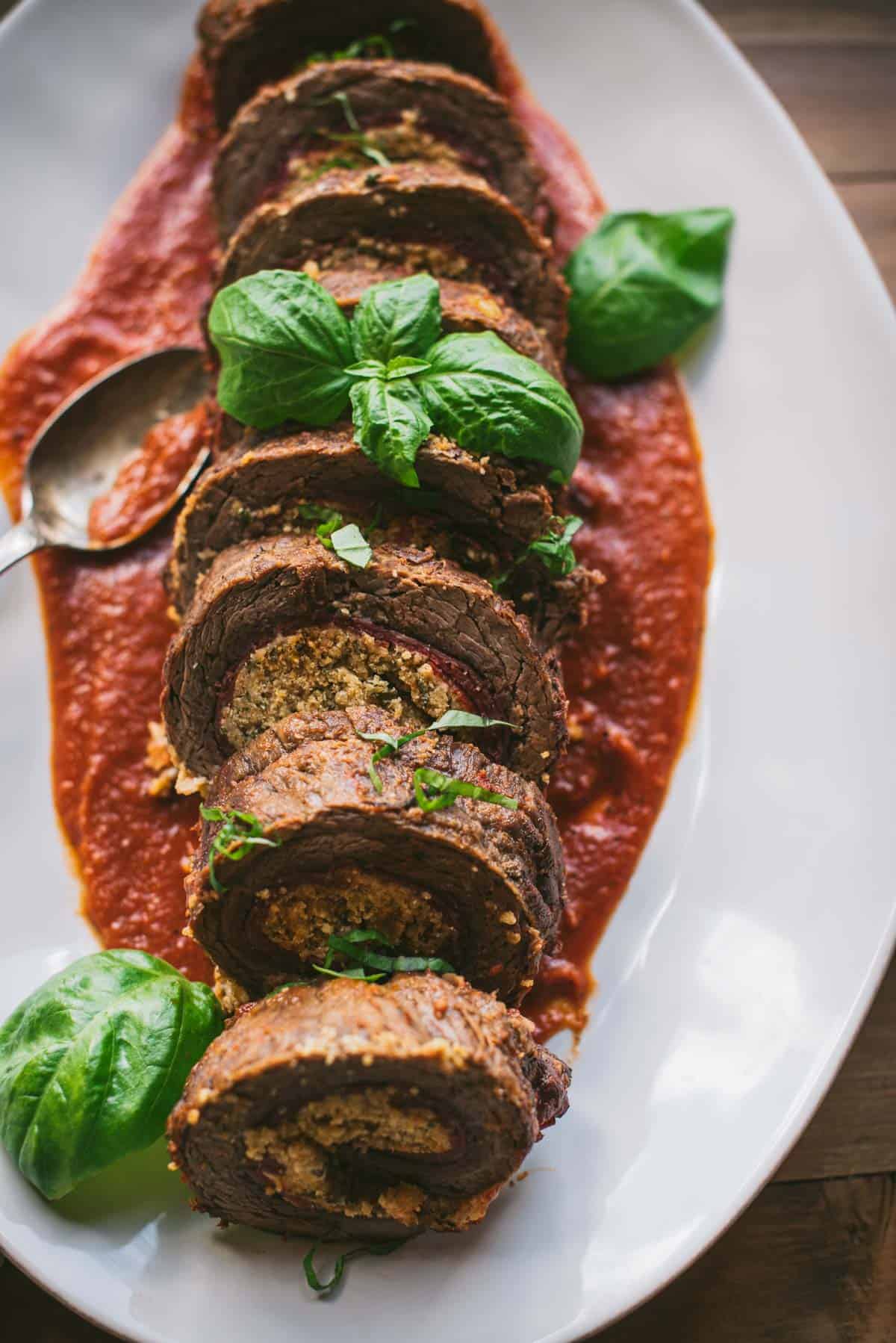 Why I Love Italian Beef Braciole
Seriously though, outside of the holiday season, this is a great dish for anniversaries, date night, family gatherings, you name it. Slowly simmered in tomato sauce, the drippings from the meat and cheese and carrots and celery bring a whole symphony of flavors that join up with beautifully tender beef and, if even for just a moment, all seems right in the world.
Dramatic much? Nah. I'm just spilling the truth here.
Everyone should have a special dish that when you feed it to your loved ones it says, "Ahhh! Look how much I love you with this beautiful food I made!" - or acquired if cooking is not your thing, but then I suppose you wouldn't be here.
Mine is authentic Italian Braciole and I love them a whole heck of a lot.
How to Cook Beef Braciole in the Oven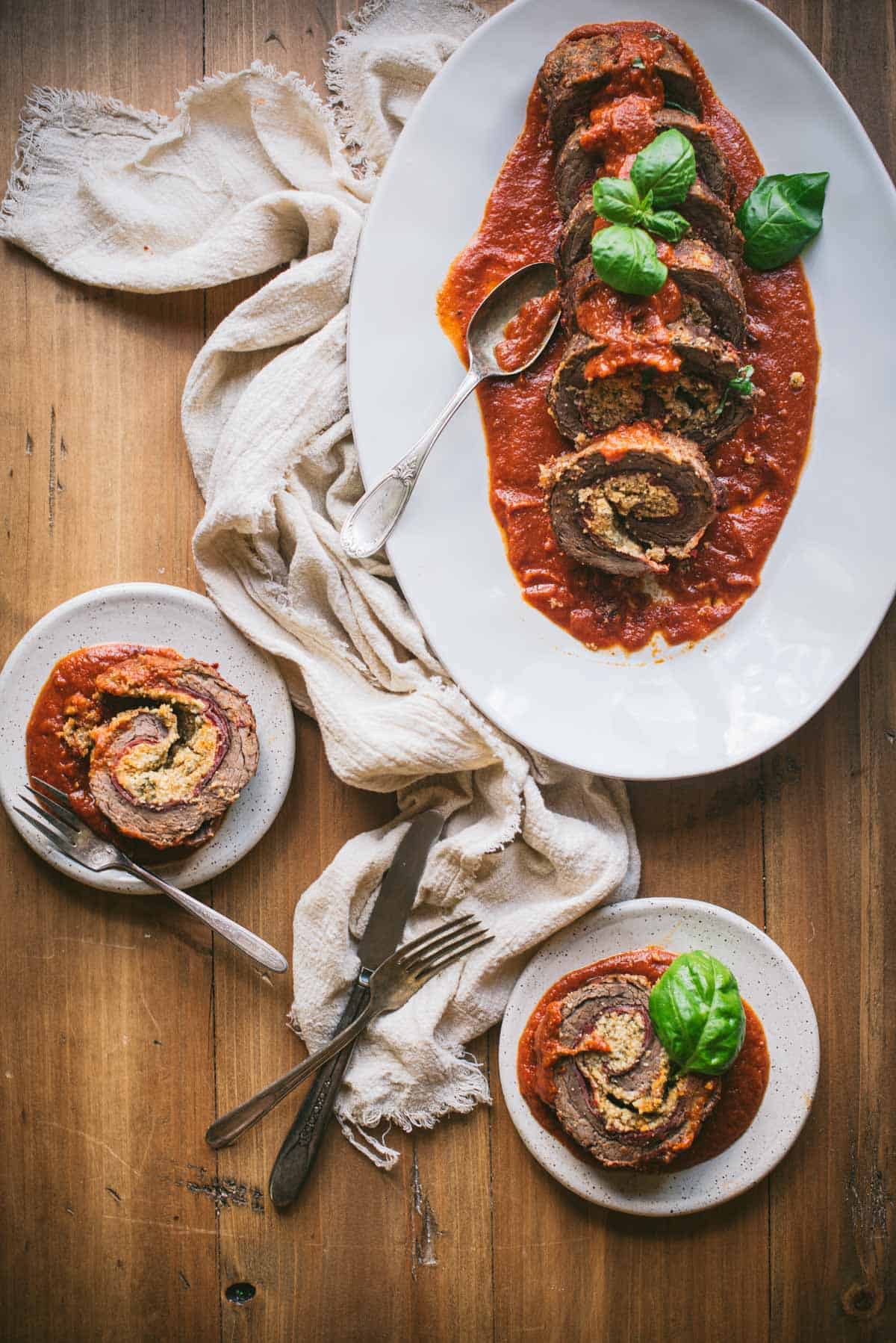 The process of making braciole is not particularly complicated, but it can be time-consuming so it's great for the holidays or a special occasion when you plan on spending a lot of time in or around the kitchen.
Also, if you break up the work throughout the week, it's a snap during the actual cooking.
Have a recipe of easy pasta sauce in your fridge ready to go to make the cooking process 1,000 times easier. If you don't, I would recommend making some sauce earlier in the week or using a good-quality jar sauce from the grocery store.
Okay, let's get our hands dirty with the nitty gritty of making this masterpiece.
Prep the meat
When it comes to meat, there are a lot of options for braciole. Everyone has their own preference. Some cut thin pieces and cook individual roll ups, some use top round, some don't stuff it with meat, some stuff it with egg, so there are a lot of variations.
For this recipe, use a 1.5 to 2-lb Flank Steak. It is a great cut for marinating or braising since it's from a well-worked muscle group on the cow.
Though this cut is typically long and thin, if it is particularly thick consider butterflying the cut, but the easiest option is to pound the meat into a thinner layer. About ½ to ¾ inch thick.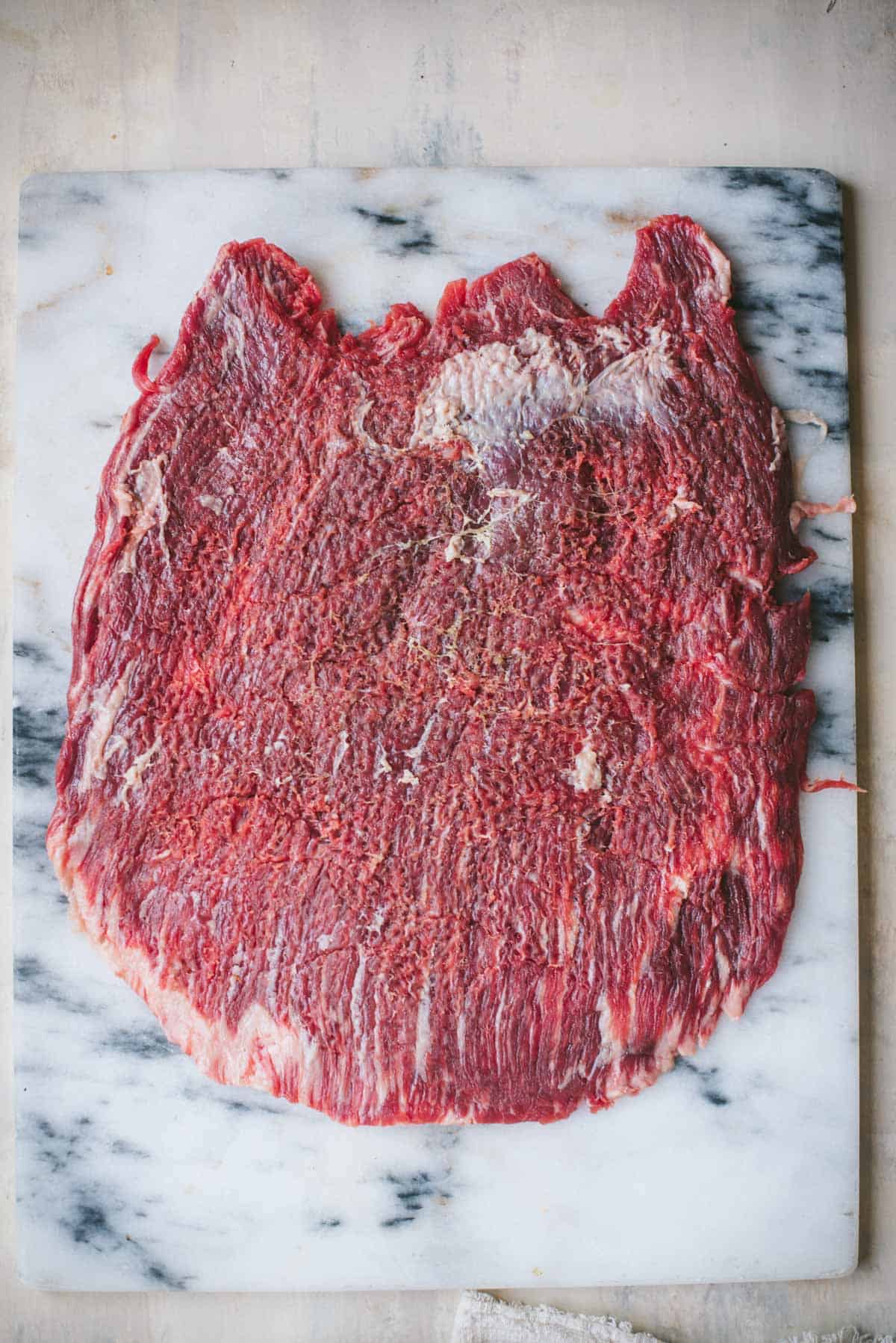 Layer with all the goodies
Stack it up!
Layer the steak with thin slices of Italian meat - sopressata and capicola are my favorites since they both have great flavor without being overly peppery or fatty, but substituting other meats such as pancetta or prosciutto works as well.
A combination of Italian breadcrumbs, grated cheese, fresh parsley, garlic, and olive oil is a key component to the finish product that makes each bite so perfect.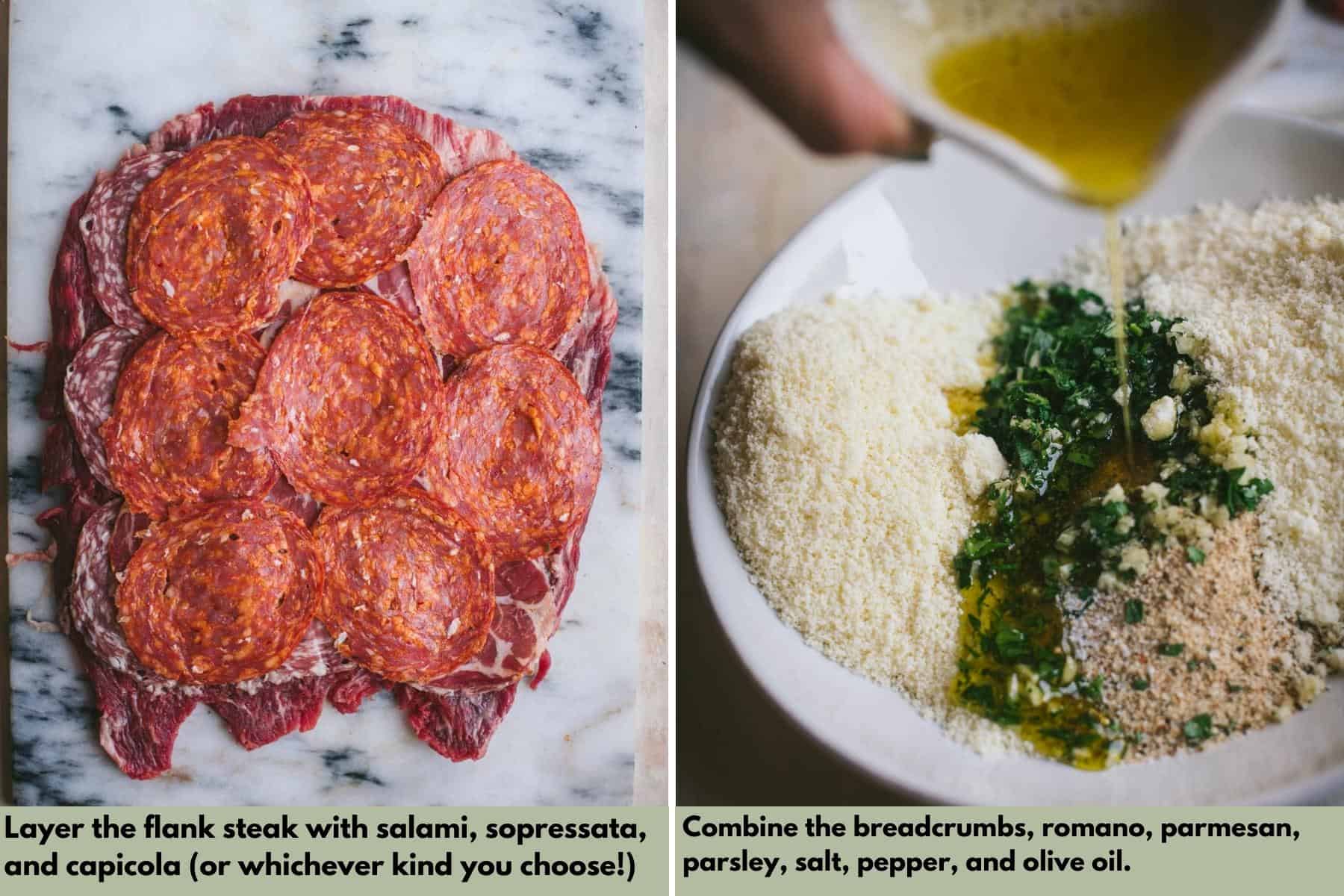 Parmesan and romano are top cheeses of choice since they each have distinct flavors without being overpowering other flavors like the sliced meats and sauce. They also melt really well so if any fall into the sauce while cooking, the sauce just gobbles them up.
Bear in mind that this is going to be rolled after the stacking, so make sure there's enough layers to make beautiful stuffed beef braciole, you can be as generous as you like here.
Roll it Up
Now comes the trickiest part! If you've ever made cinnamon buns, you're going to roll the roast up just like that so it's one long roast.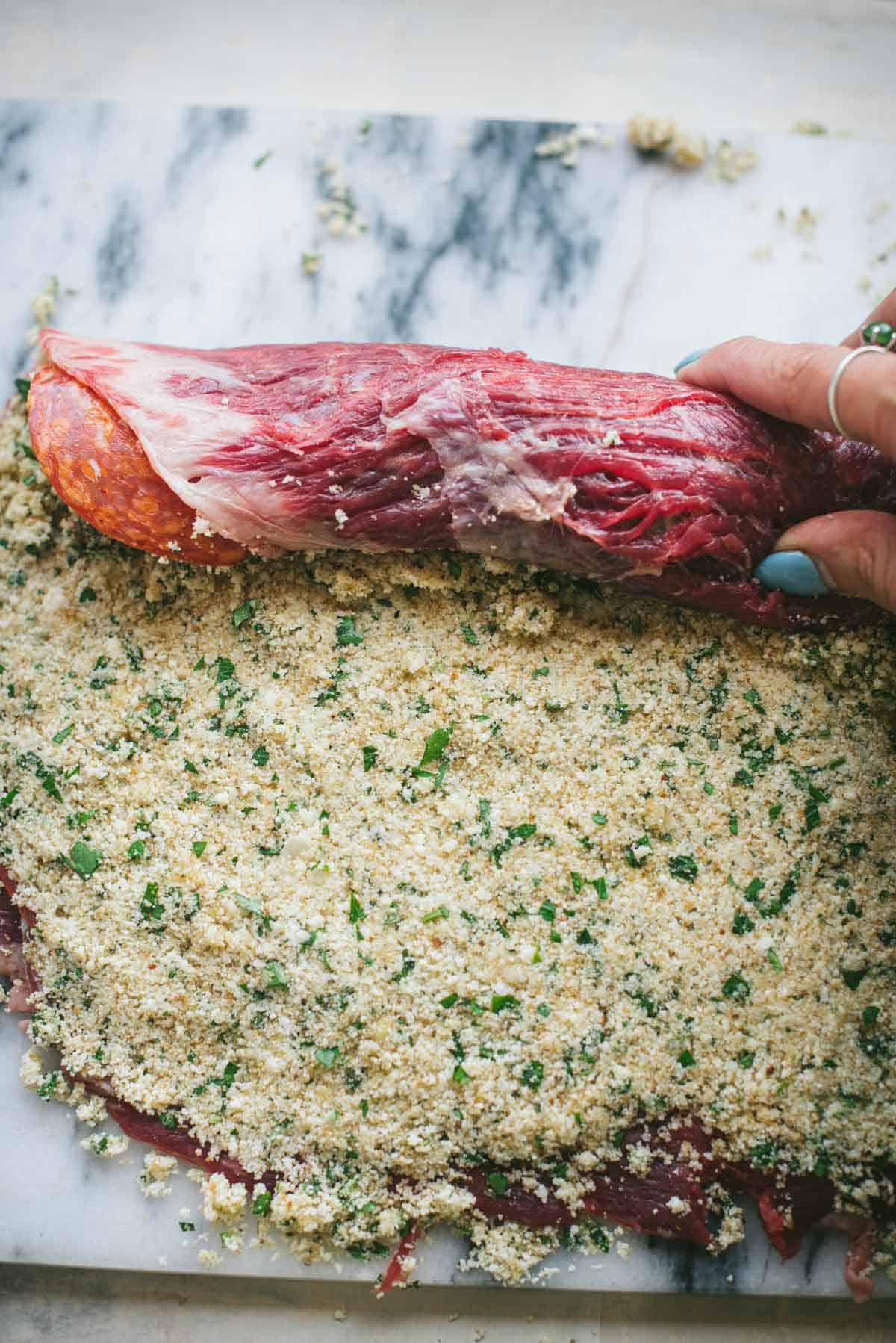 Once you've got your precious cargo all rolled up, start tying it off with small pieces of butcher's twine and tuck the ends in.
Select a pan that can be used on the stovetop and in the oven. I absolutely love my dutch oven for this, the oval shape is perfect for roast-style cuts like pot roast and this!
Braise, Simmer, Manga!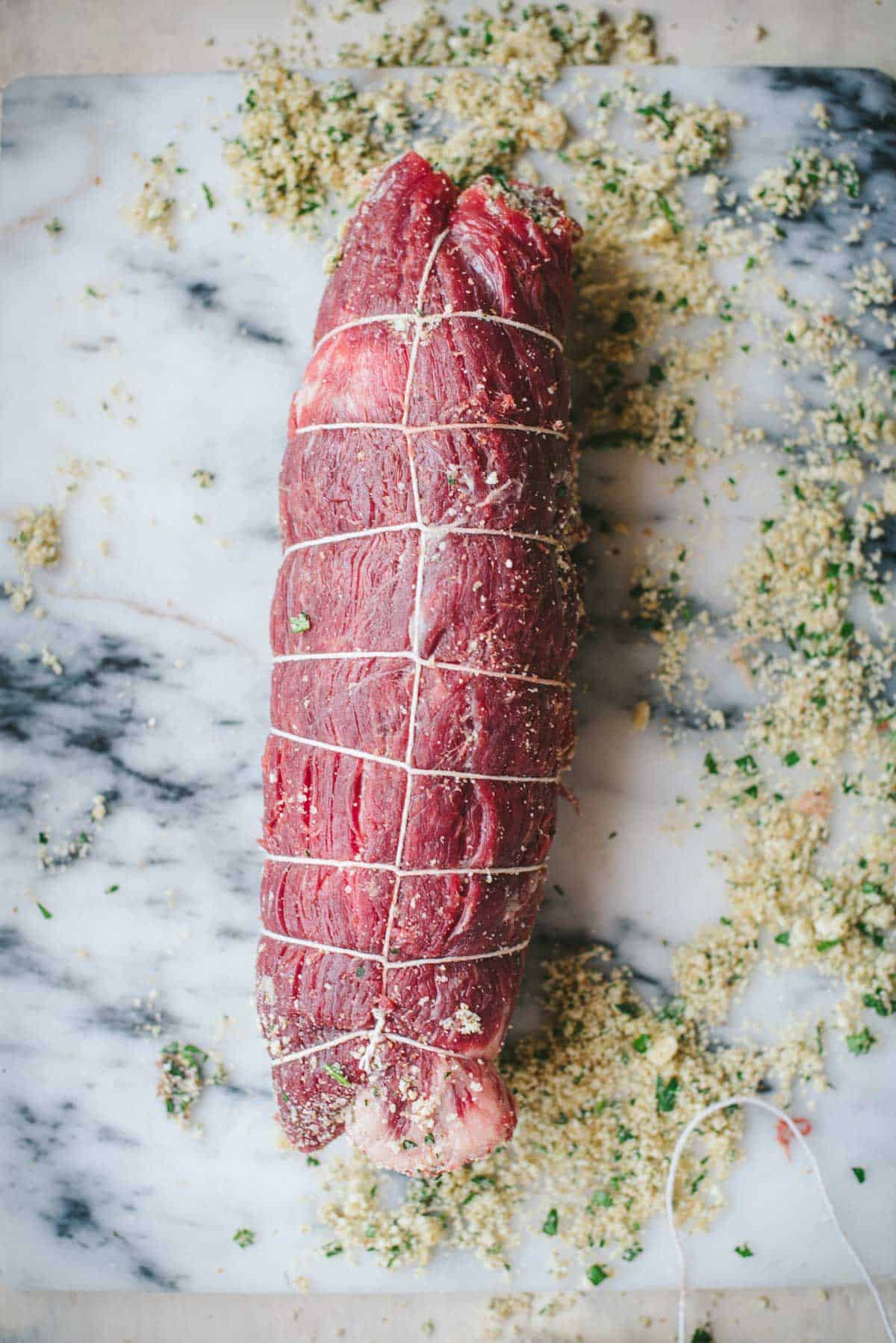 Combine all spices into a large bowl and mix thoroughly into lean ground beef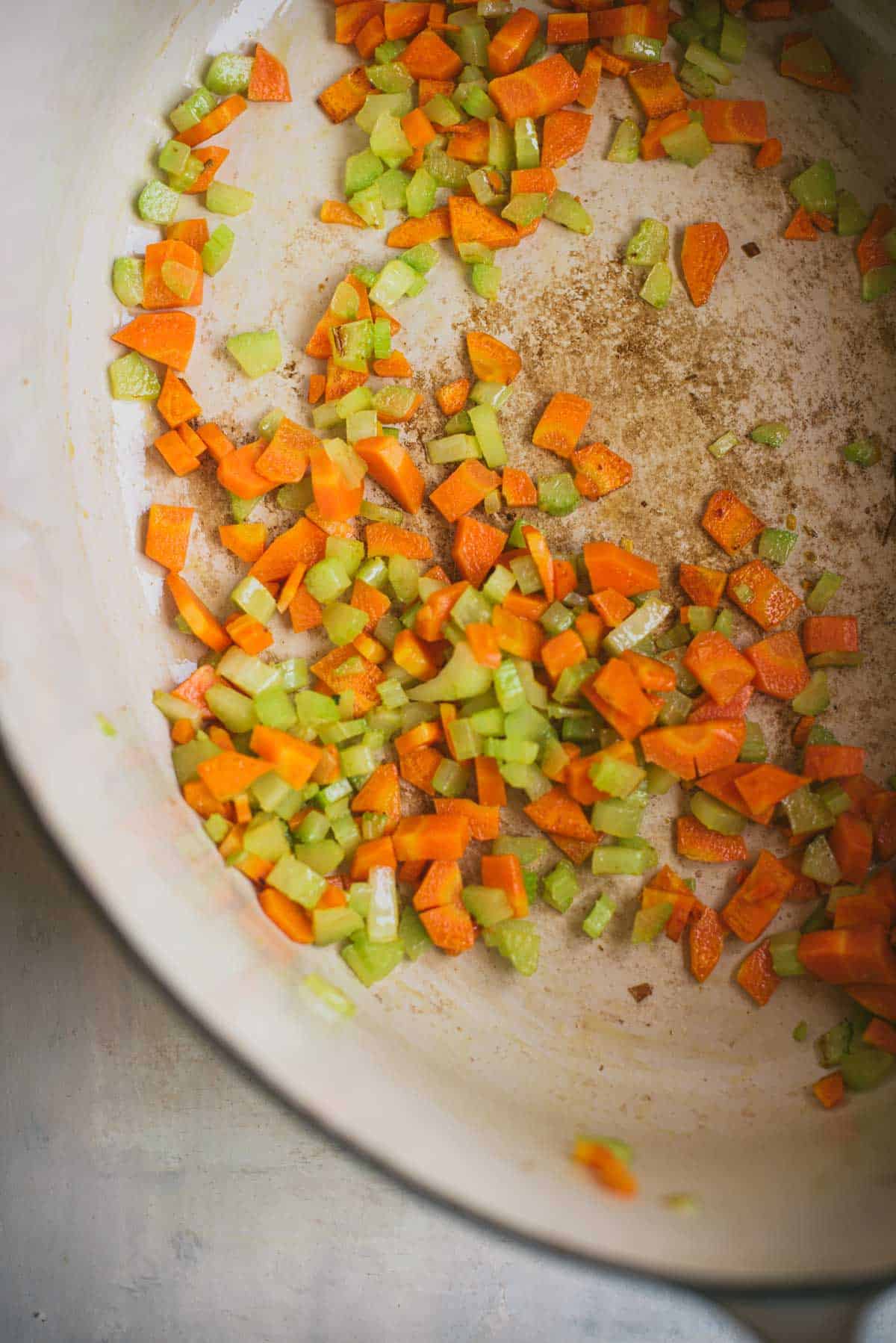 Heat up the canola oil in your pan and sauté the celery and carrots for about 5 minutes.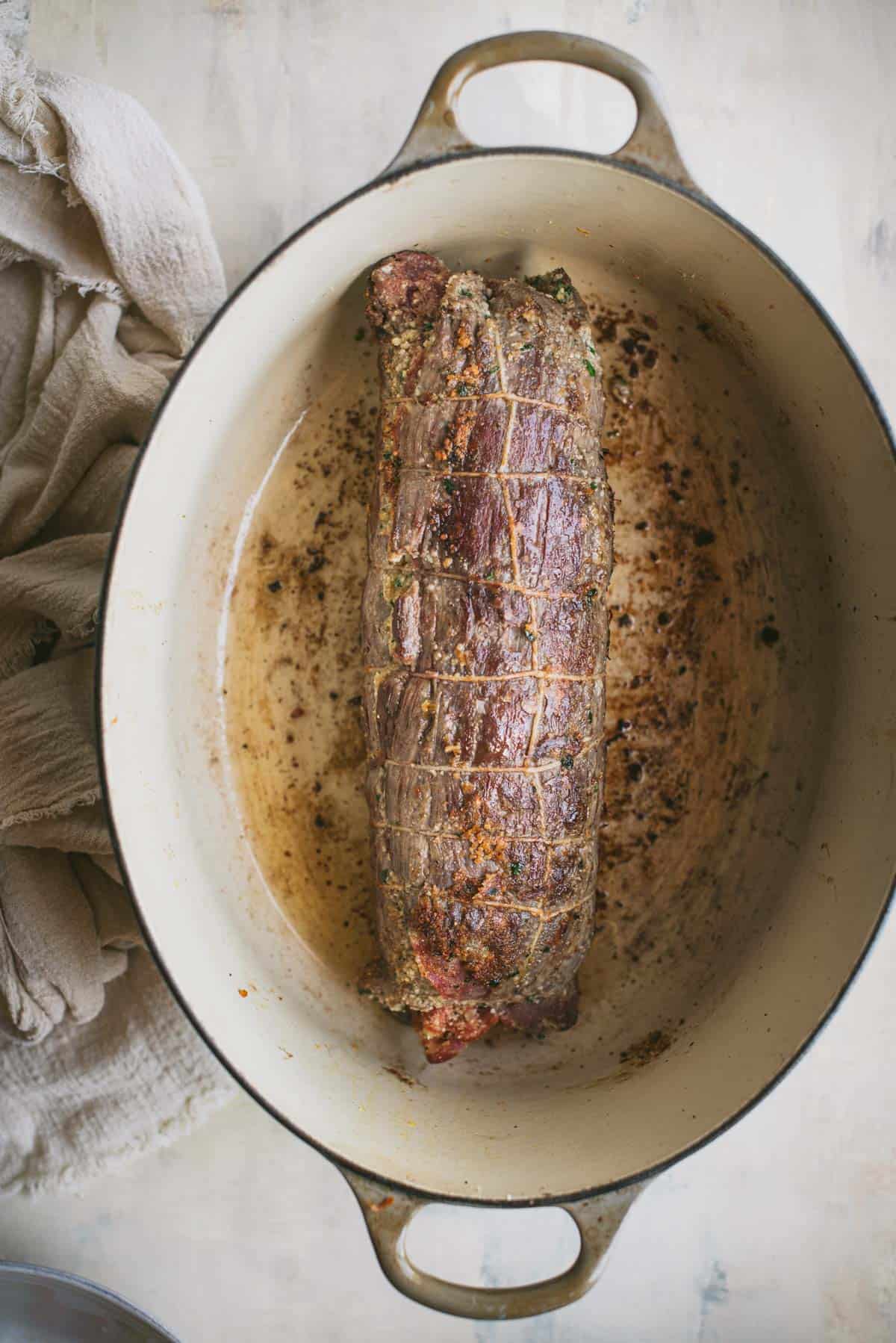 Remove the veggies and braise the braciole on all sides, about 3 minutes per side.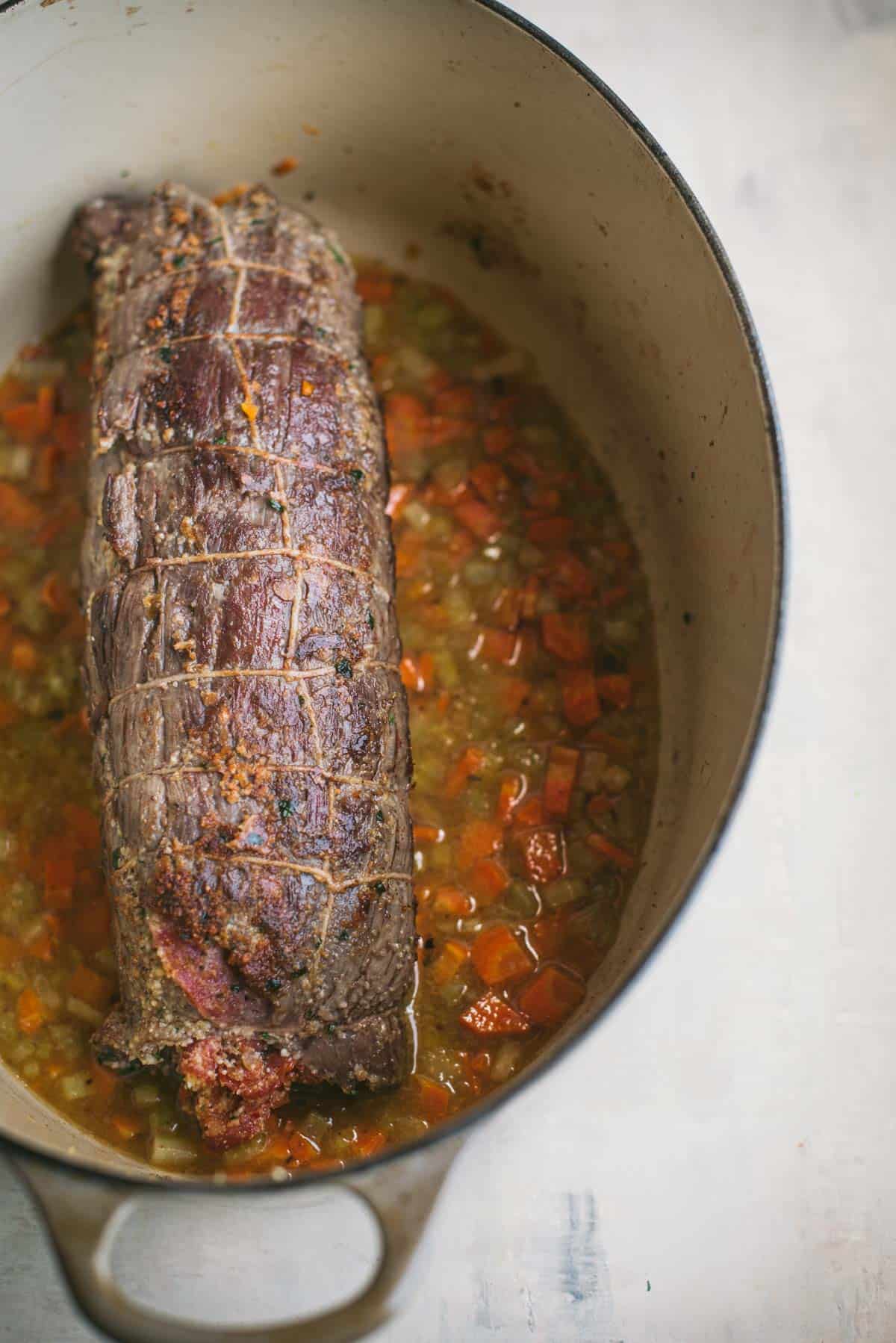 Return the veggies to the pan and add the wine. Scrape the drippings off the bottom of the pan. The wine will definitely simmer, so if your pan is not super deep use caution.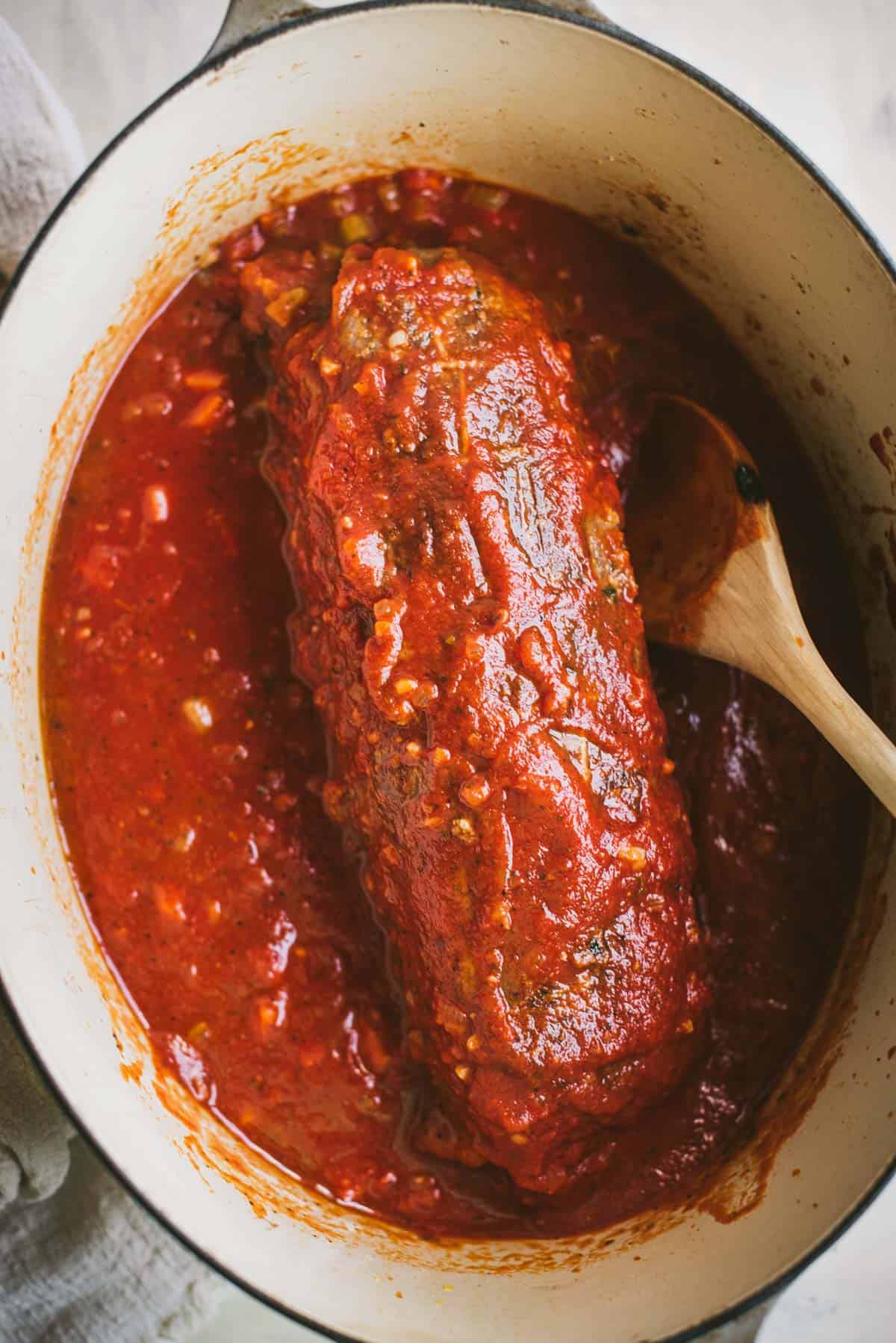 Add in most of your tomato sauce and stir as much as possible with all that stuff in the pan. Spread a little sauce over the top of the braciole.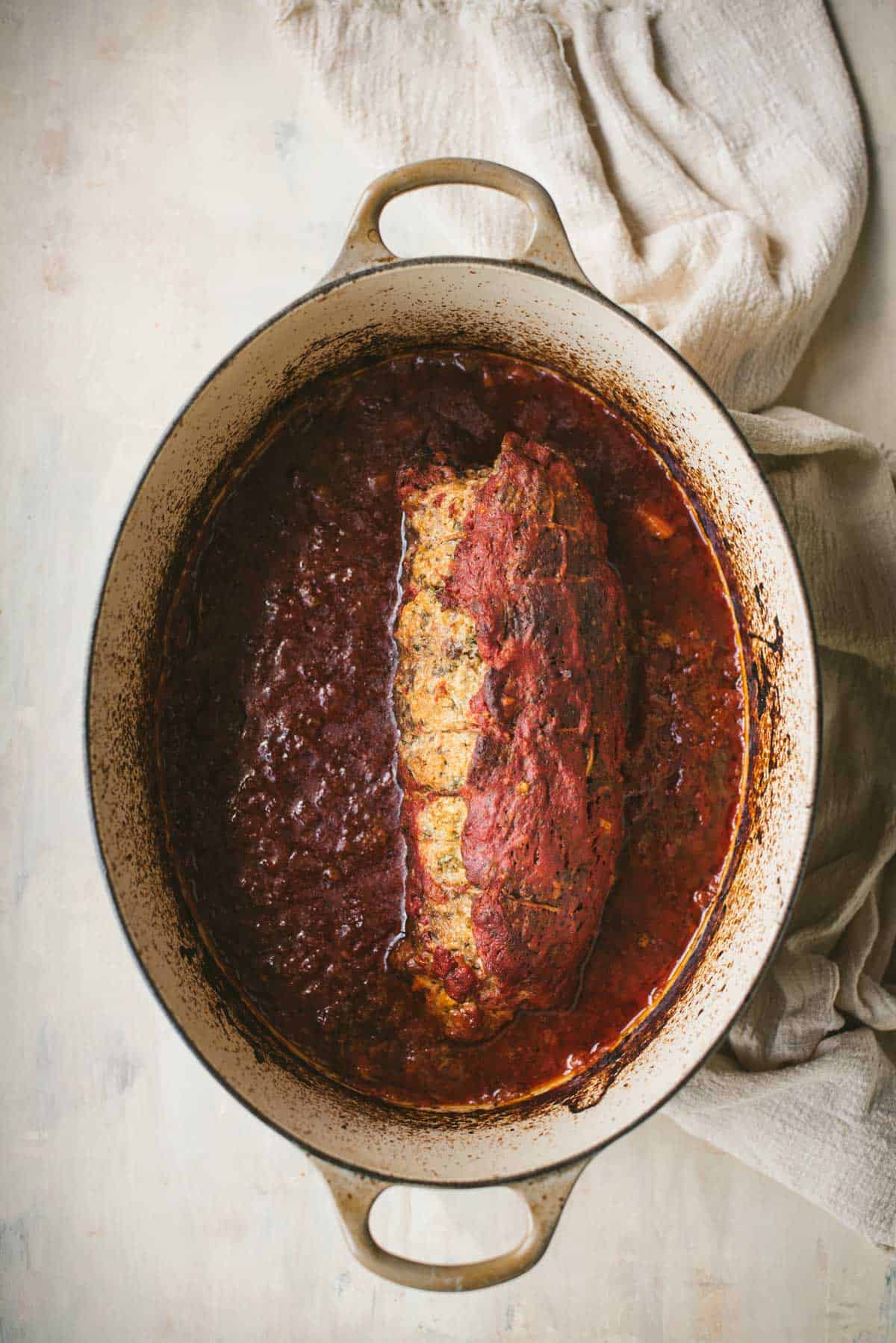 Cover the pan and bake in a preheated 350°F oven for 45 minutes. After 45 minutes of cooking, remove the cover and cook an additional 45 minutes.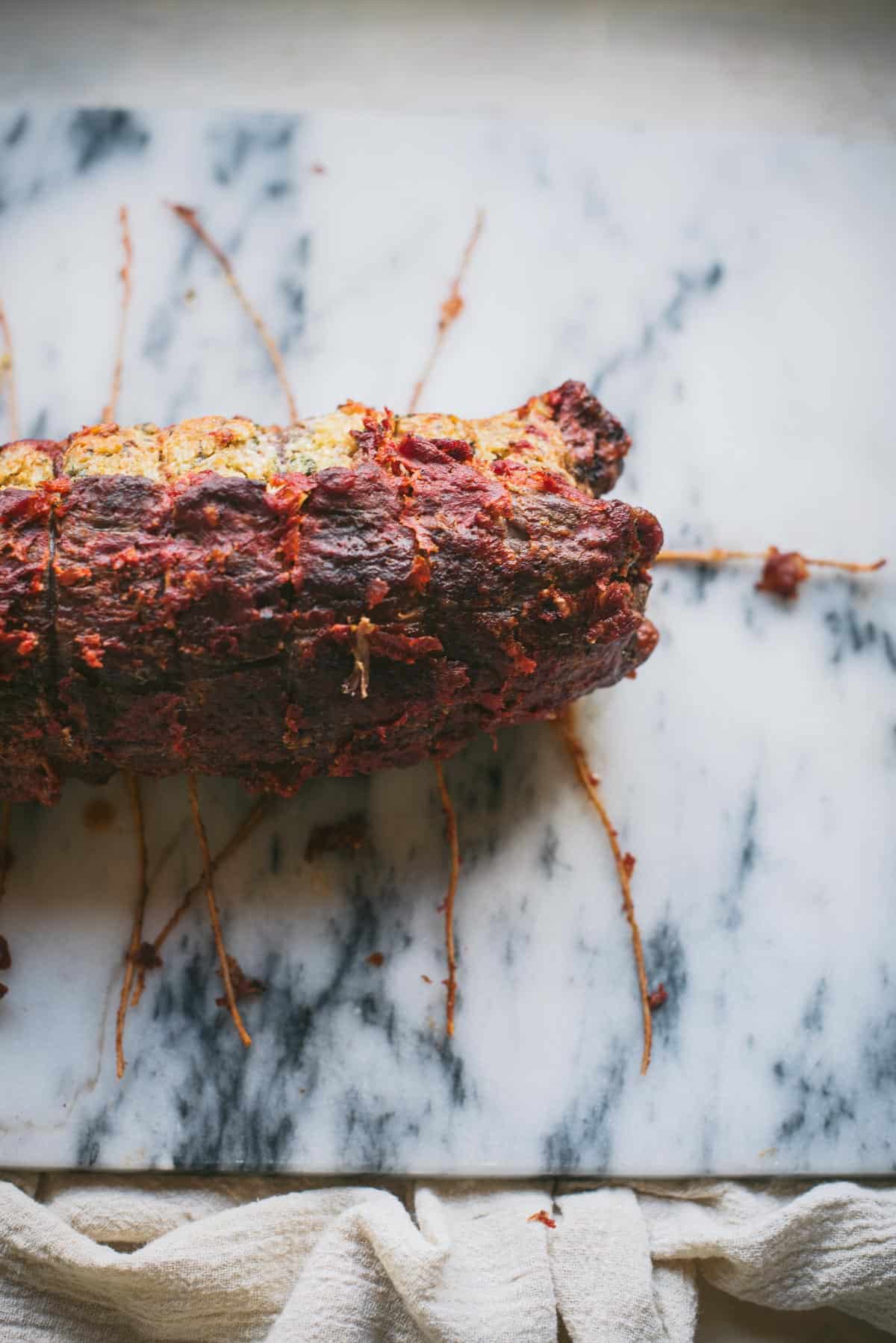 Transfer the braciole to a cutting board and remove the tied string with kitchen scissors.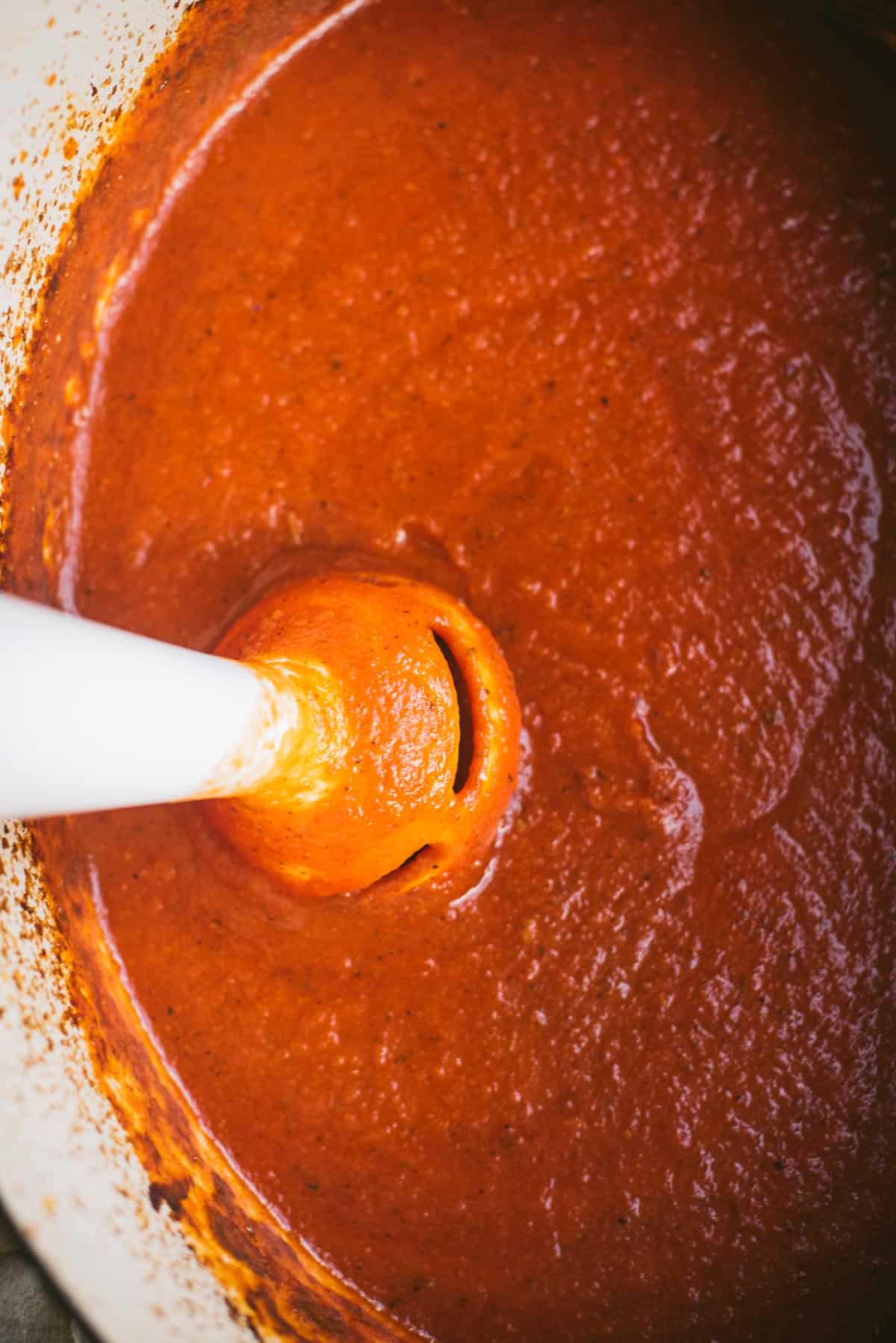 Using an immersion blender pureé the vegetables into the sauce - or leave it as is for a heartier texture.
In just an hour and a half of cooking, you'll have delicious beautiful Beef Braciole to make your family love you!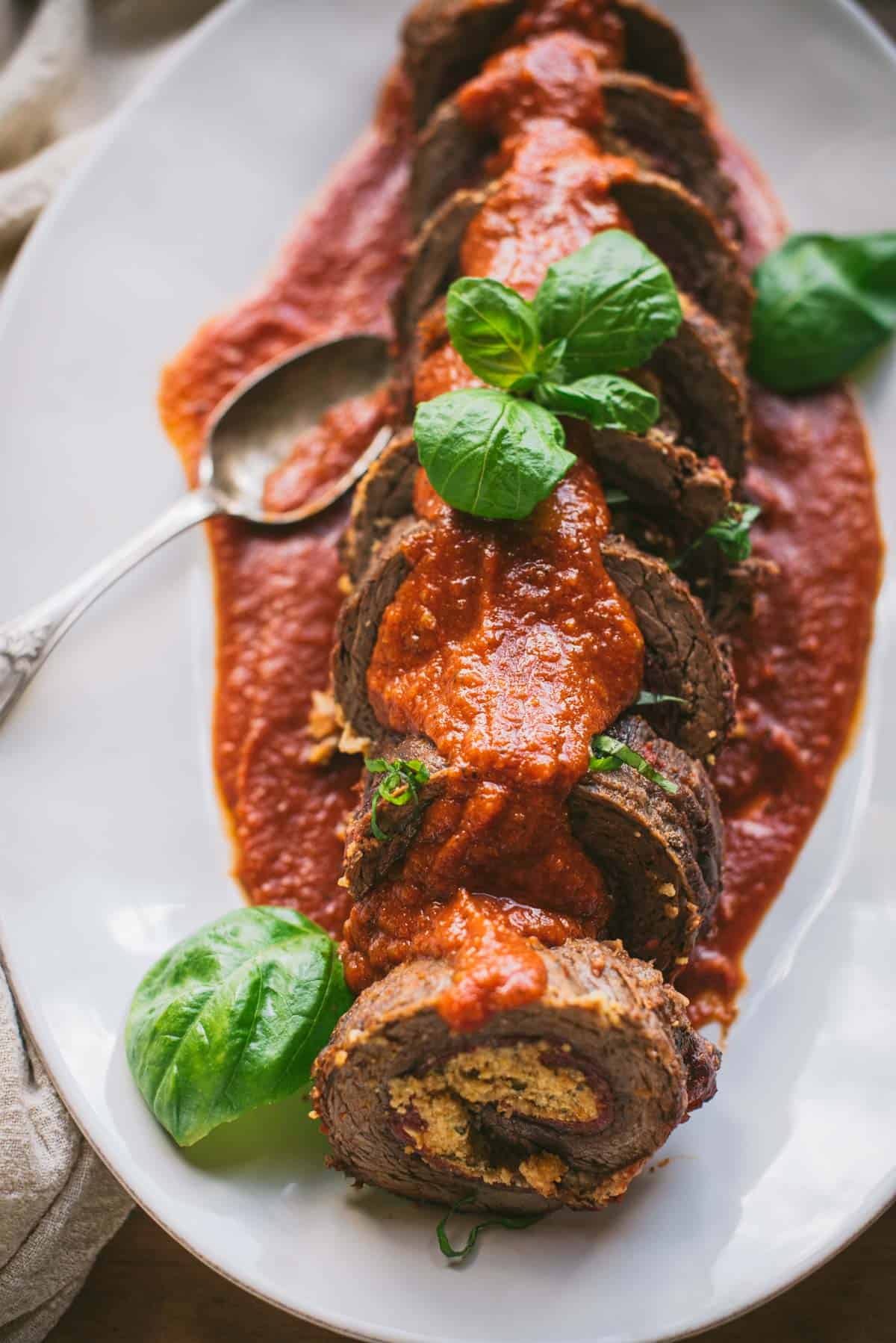 Ingredients and Substitutions
Beef - Flank steak is the best cut for this and worth the extra price. If you want to make individual Beef Braciole roll ups, thinly sliced top round would work too.
Capicola/Soppressata - Any thinly sliced cured Italian meats work great, like pancetta or prosciutto. I normally like to do one that's spicy and another regular, you just need about 6 to 8 ounces.
Breadcrumbs - You can substitute gluten free breadcrumbs to make this Italian Braciole gluten free, store bought breadcrumbs are great in general!
Italian Parsley - Fresh parsley is preferred.
Grated Cheese - Use a hard cheese like Parmesan/Romano.
Tomato sauce - You can either make your own easy tomato sauce or just use your favorite store bought version.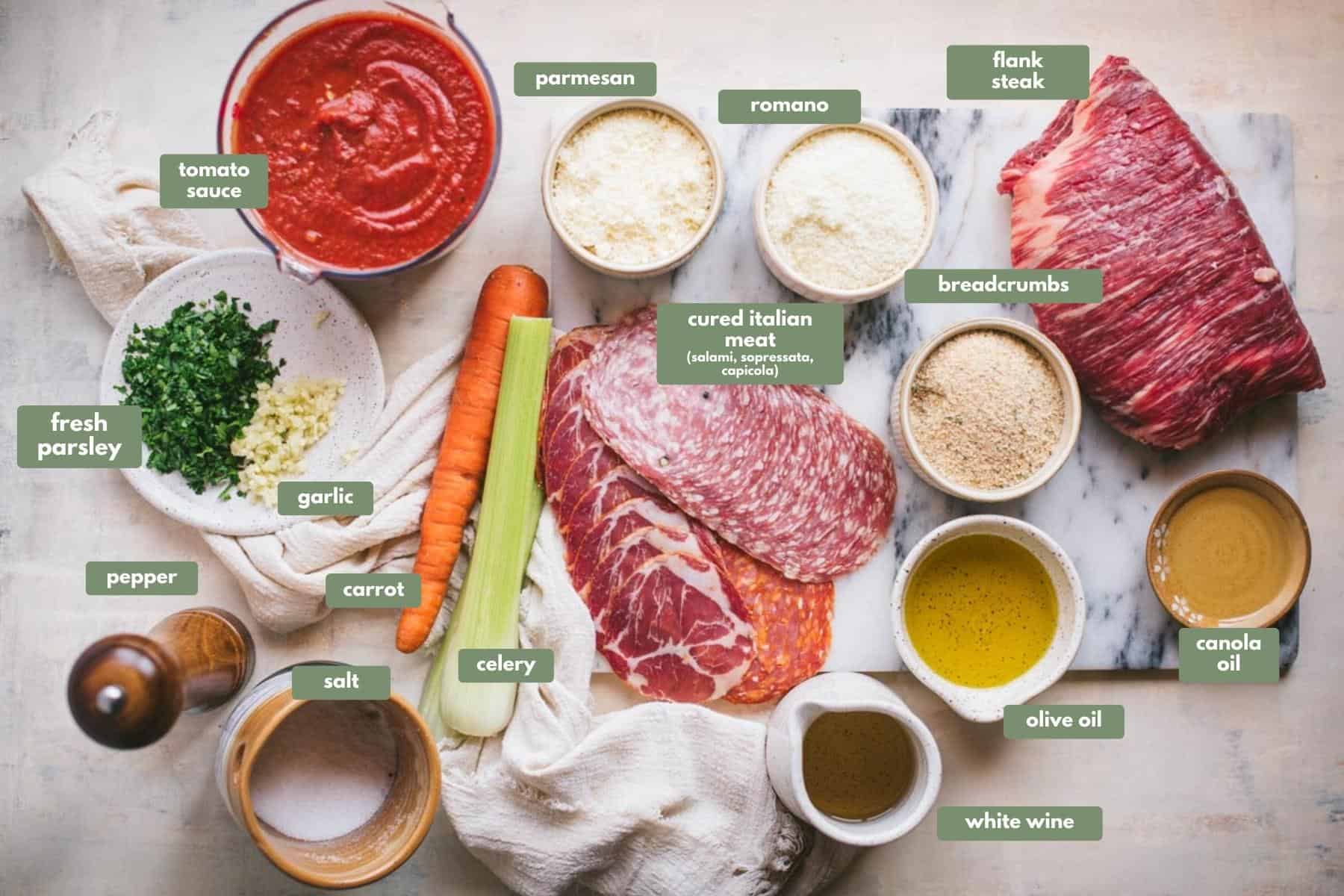 FAQs
Can this dish be prepared in advance?
Yes - absolutely! I love this dish for that reason. You can prep the meat, stuff it, roll it up and pop it into the fridge. You can cook it when you are ready.
This is why it's such a great holiday dish - not only is it impressive and delicious, but you won't be standing over the stove all day while your hosting your friends and family!
How do I store left overs?
Make sure the left over beef braciole is stored in an airtight container, it can be refrigerated for up to 3 days. You can also freeze it for up to a month, but make sure it is fully thawed before you reheat it.
What does Braciole mean?
Braciole is from Sicily in Italy and literally means rolled thin meats with cheese and breadcrumbs!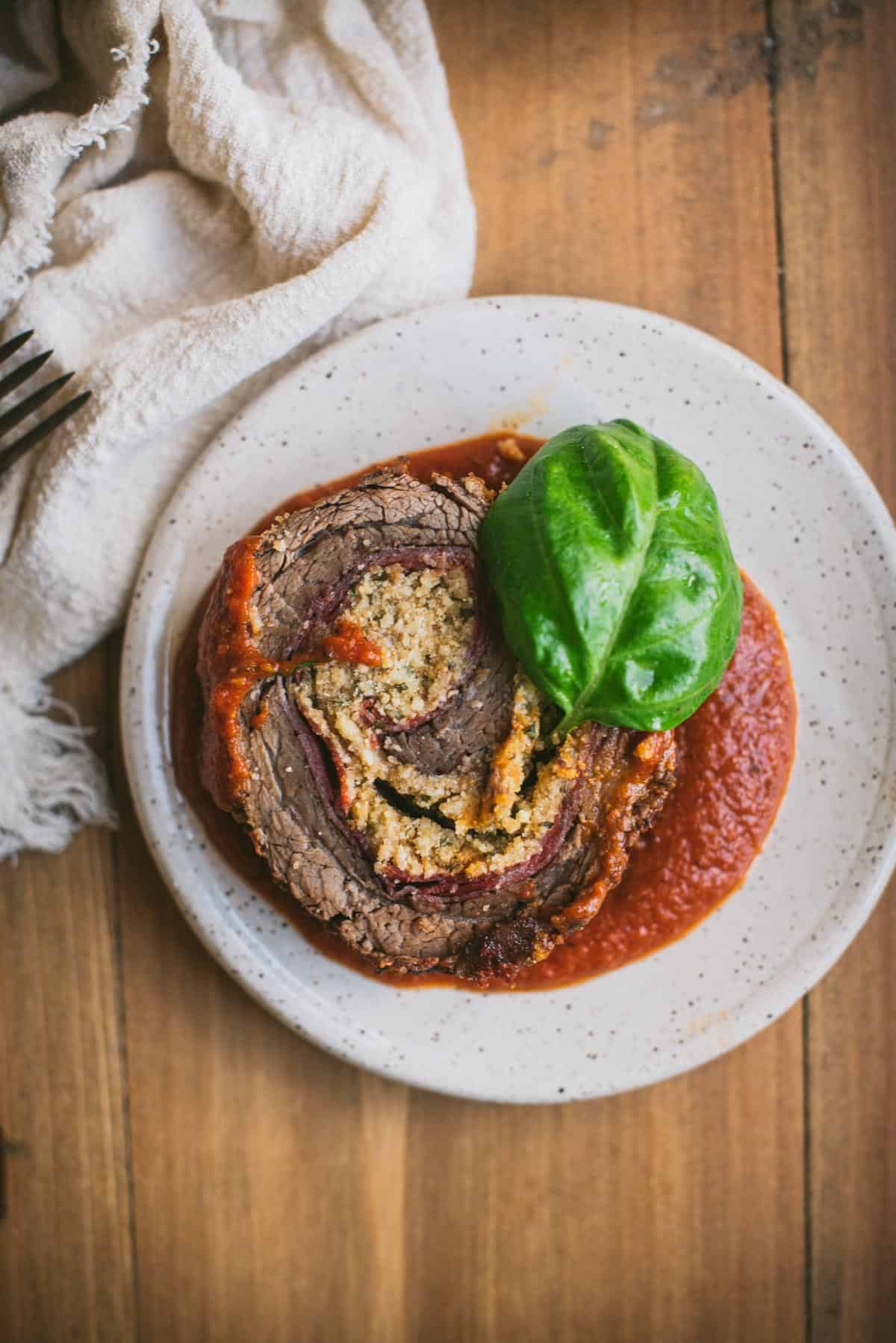 Hungry for more?
If you have loved this recipe and thinking about what to serve it with, I've lined up my favorite Beef Braciole side dishes for you!
I'd recommend starting the whole meal off with this endive radicchio salad with bits of crispy prosciutto on top - so good!
Parmesan risotto or basil-infused pasta is a perfect pairing. If you're more in the mood for starch and veggie check out these maple bacon sprouts, honey ginger carrots, and pureéd parsnips.
If you loved this recipe, please consider leaving a star rating and comment below! Don't forget to tag @hungerthirstplay when you post on Instagram and Facebook so I can see all your hard work!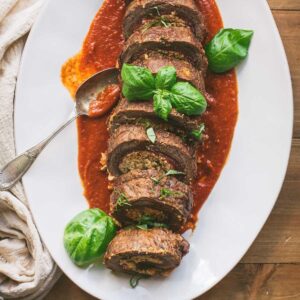 Beef Braciole Recipe in Slow Simmered Sauce
Stuffed with italian cheese and meats and simmered in tomato sauce, Braciole is full of flavor and perfect for special occasions!
Print
Pin
Rate
Servings:
6
to 8 servings
Ingredients
1.5 to 2

pound

flank steak

3

ounces

capicola

(thinly sliced)

3

ounces

soppressata

(thinly sliced)

¾

cup

italian breadcrumbs

¼

cup

extra virgin olive oil

2

cloves

garlic

(minced)

¼

cup

italian parsley

(finely chopped)

1

cup

parmesan

(freshly grated)

¾

cup

romano

(freshly grated)

2

tablespoons

canola oil

1

tablespoon

canola oil

1

large carrot

(washed, ends trimmed and finely diced)

1

large rib celery

(washed, ends trimmed and finely diced)

1

cup

white wine

4

cups

tomato sauce

salt and pepper

butcher's twine

kitchen shears
Instructions
In a small bowl, combine breadcrumbs, garlic, parmesan, romano, parsley, olive oil and a pinch of salt and black pepper. Set aside.

¾ cup italian breadcrumbs,

¼ cup extra virgin olive oil,

2 cloves garlic,

¼ cup italian parsley,

1 cup parmesan,

¾ cup romano,

salt and pepper

Pound the flank steak into an even layer about ½-inch thick. Layer slices of capicola and soppressata. Sprinkle breadcrumb mixture onto sliced meat. Breadcrumb layer should be about ¼'' thick.

1.5 to 2 pound flank steak,

3 ounces capicola,

3 ounces soppressata

Roll the roast like a jelly roll. Using small pieces of butcher's twine, tie the roast about every 2 to 2½ inches, tucking in the ends. Cut in half so both pieces can be braised at the same time. Season with salt and pepper.

Preheat the oven to 350°F.

In a dutch oven or braising pan that is stovetop and oven safe, heat 1 tablespoon of canola oil. Sauté celery and carrots for 5 minutes. Using a slotted spoon, remove from the pan.

1 tablespoon canola oil,

1 large carrot,

1 large rib celery

Add the remaining canola oil over medium-high heat and braise the braciole 2 minutes on each side until browned, about 8 minutes total.

Return the vegetables to the pan and add the white wine. Using a wooden spoon or spatula, scrape what you can from the bottom of the pan. Add tomato sauce, coating the braciole.

1 cup white wine,

4 cups tomato sauce

Cover the dutch oven or pan and cook for 45 minutes. Remove the cover and cook for an additional 45 minutes.

After 1 hour and 30 minutes has passed, remove the pan from the oven and transfer braciole to cut board to rest. While the braciole is resting, use an immersion blender or blender safe for hot foods to carefully blend the carrots and celery into the sauce.

Using kitchen shears, cut and remove the butcher's twine. Cut braciole in 1 ½-inch slices and top with tomato sauce from the pan and serve.
Notes
For tomato sauce, I like to use this easy homemade pasta sauce or Rao's Marinara.
Flank steak is my favorite cut for this disk. You can also make individual portions using thinly sliced top round.
Sopressata and capicola is my favorite, but if you're sensitive to spice any Italian cured meat (prosciutto, pancetta, etc.) is a great substitution.
Nutrition
Calories:
646
kcal
|
Carbohydrates:
23
g
|
Protein:
45
g
|
Fat:
39
g
|
Saturated Fat:
12
g
|
Polyunsaturated Fat:
5
g
|
Monounsaturated Fat:
20
g
|
Trans Fat:
1
g
|
Cholesterol:
116
mg
|
Sodium:
2087
mg
|
Potassium:
1082
mg
|
Fiber:
4
g
|
Sugar:
8
g
|
Vitamin A:
2857
IU
|
Vitamin C:
16
mg
|
Calcium:
421
mg
|
Iron:
5
mg