Is there something missing in your life this holiday season? Well, perhaps I don't know you that well but I'm going to go out on a limb and says it's Braciole.
If you've never had Italian Braciole, the minute a tasty morsel of this labor of love touches your lips, you'll be flabbergasted that you went this long without it. For any special occasion, this is hands down a 'go to' dish.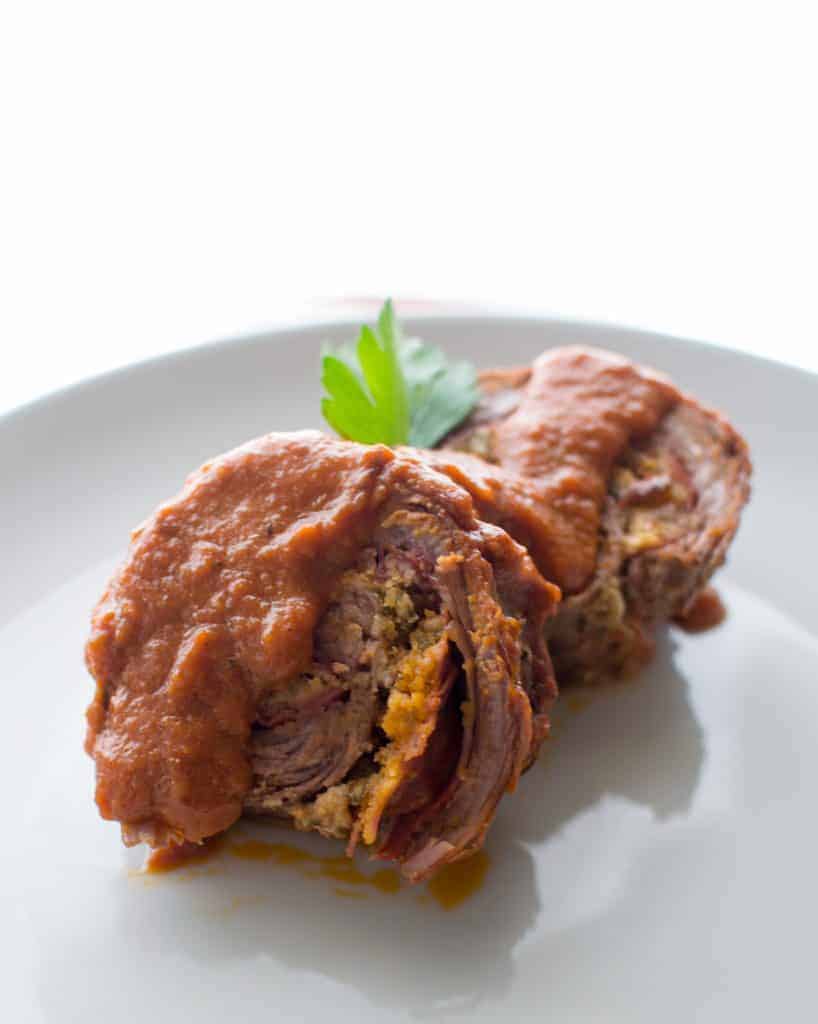 Seriously though, outside of the holiday season, this is a great dish for anniversaries, date night, family gatherings, you name it. Slowly simmered in tomato sauce, the drippings from the meat and cheese and carrots and celery bring a whole symphony of flavors that join up with beautifully tender beef and, if even for just a moment, all seems right in the world.
Dramatic much? Nah. I'm just spilling the truth here.
Everyone should have a special dish that when you feed it to your loved ones it says, "Ahhh! Look how much I love you with this beautiful food I made!" - or acquired if cooking is not your thing, but then I suppose you wouldn't be here. Mine is braciole and I love them a whole heck of a lot.
How to Make Braciole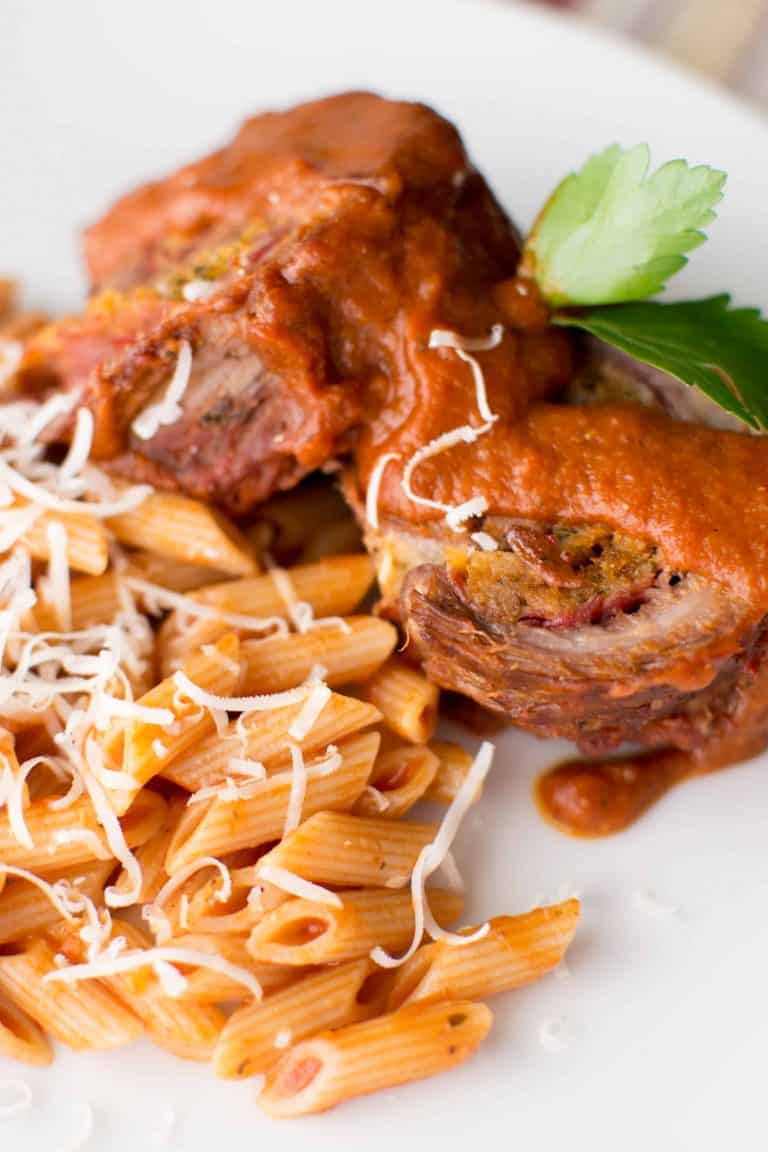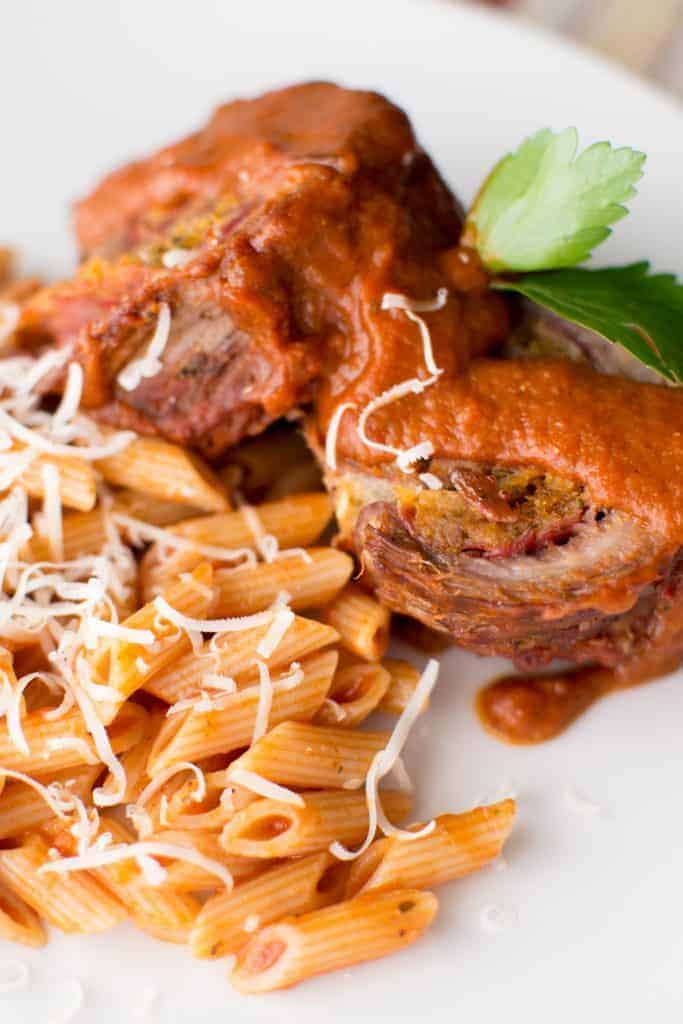 The process of making braciole is not particularly complicated, but it can be time-consuming so it's great for the holidays or a special occasion when you plan on spending a lot of time in or around the kitchen. Also, if you break up the work throughout the week, it's a snap during the actual cooking.
Disclaimer: It will require a small amount of knife skills to butterfly the steak - or politely asking your butcher for help. You will also need butchers twine to secure the roast during cooking.
Having a recipe of Simple Tomato Sauce in your fridge ready to go will make the day of cooking process 1,000 times easier. If you don't, I would recommend making some sauce earlier in the week or using a good quality jar sauce from the grocery store. Okay, let's get our hands dirty with the nitty gritty of making this masterpiece.
Do the butterfly...
When it comes to meat, there are a lot of options for braciole. Everyone has their own preference. Some cut thin pieces and cook individual roll ups, some use top round, some don't stuff it with meat, some stuff it with egg, so there are a lot of variations.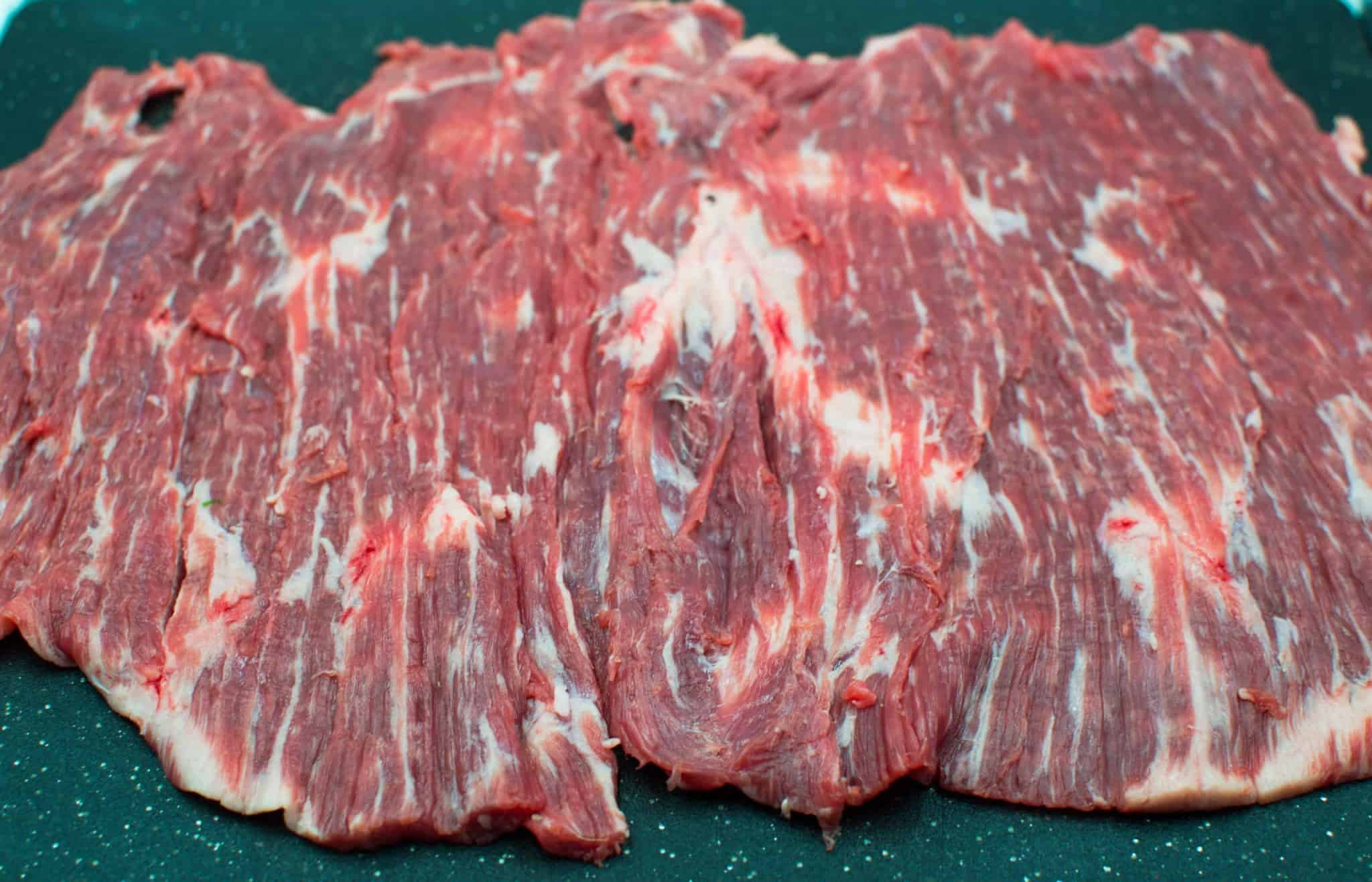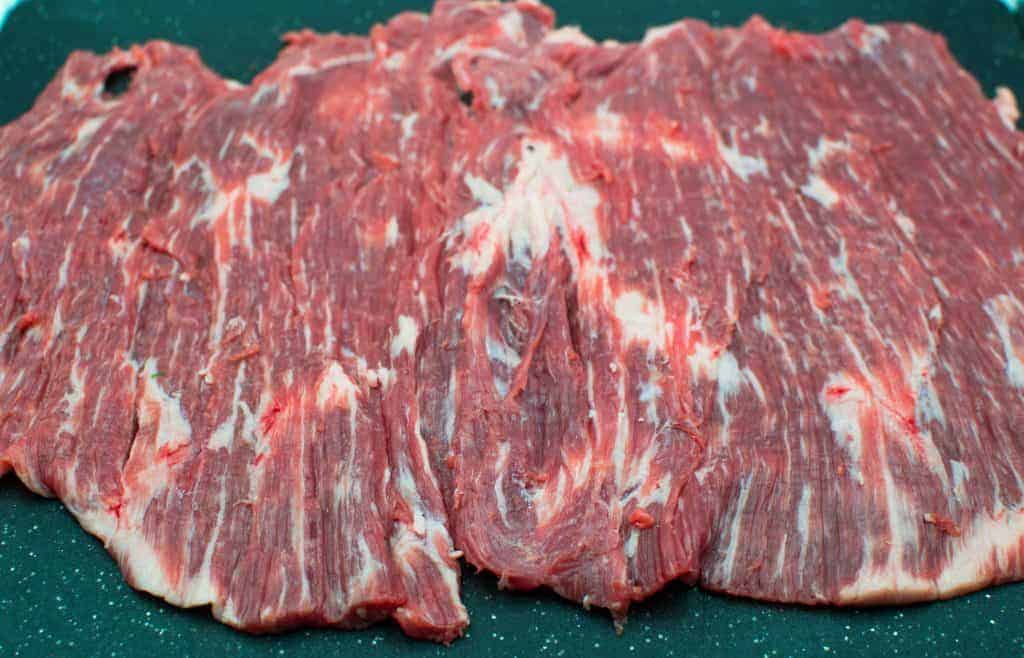 For this recipe, use a 1.5 to 2-lb Flank Steak. It is a great cut for marinating or braising since it's from a well worked muscle group on the cow. Though this cut is typically long and thin, carefully butterfly the cut. If you go a little too thin in the butterfly process don't sweat it too much, just pay attention later when you're rolling and tying up the roast to make sure there are no holes.
Layer with all the goodies
Stack it up! Layer the steak with thin slices of italian meat - sopressata and capicola are my favorite since they both have great flavor without being overly peppery or fatty, but substituting other meats such as pancetta or prosciutto works as well.
A combination of italian breadcrumbs, grated cheese, fresh parsley, garlic, and olive oil is a key component to the finish product that makes each bite so perfect.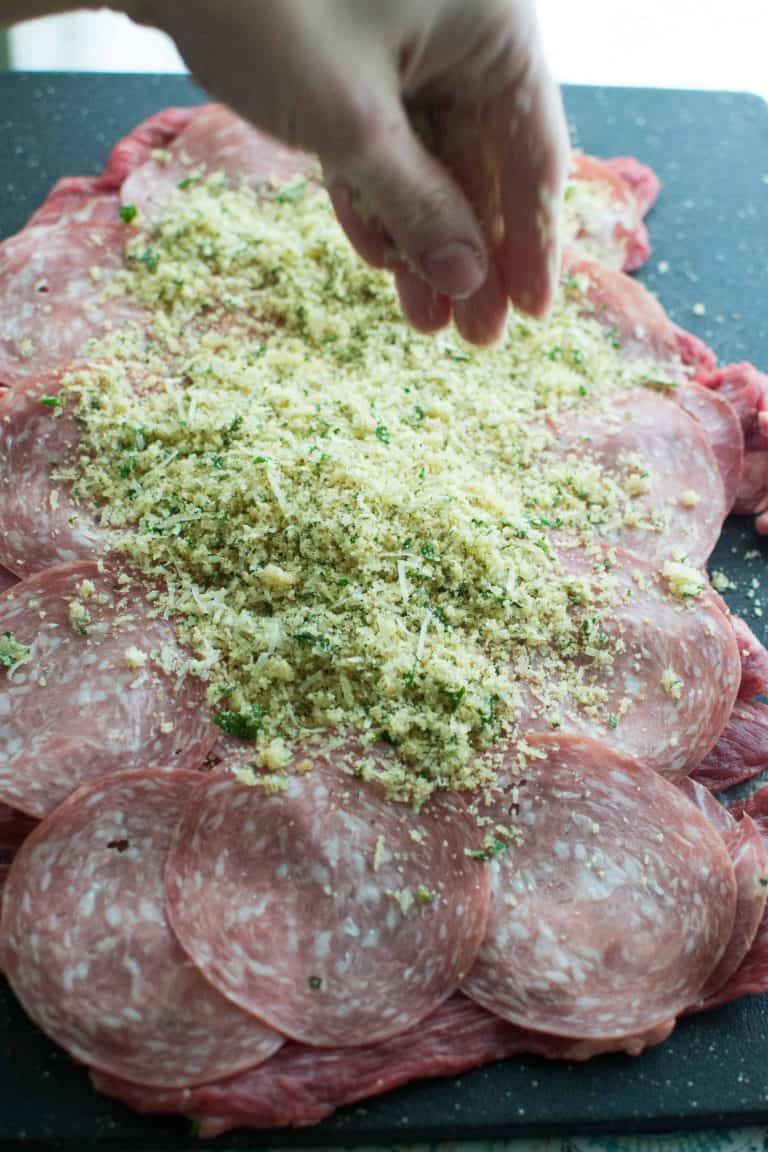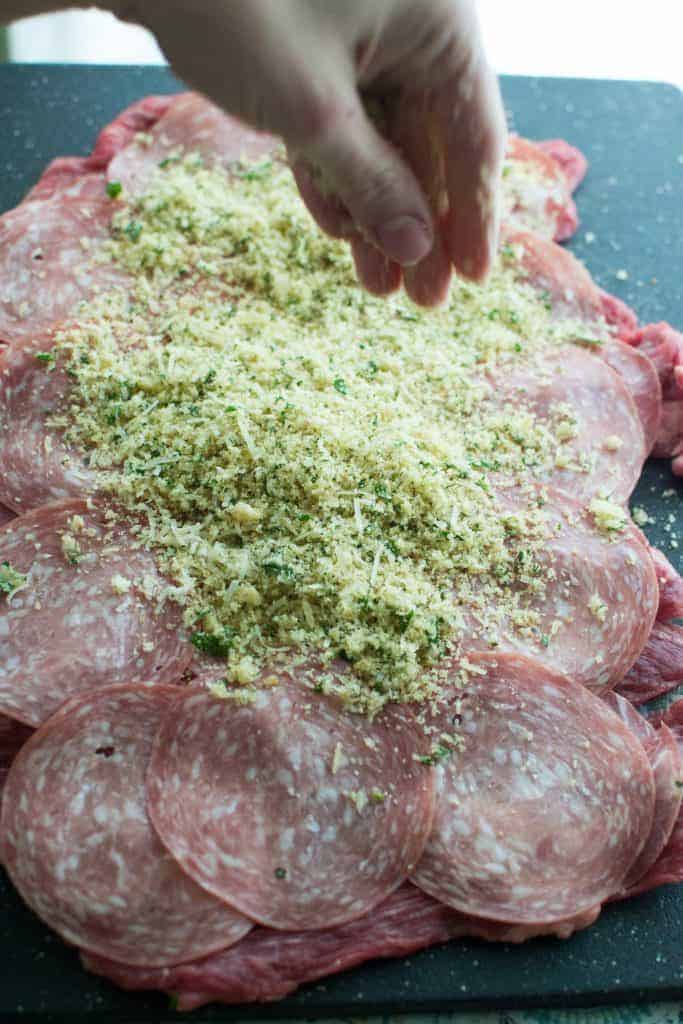 Parmesan and romano are top cheese of choice since they each have distinct flavors without being over powering to the the flavors of the sliced meats and the sauce. They also melt really well so if any fall into the sauce while cooking, the sauce just gobbles them up. If you don't want to freshly grate the cheese, and I don't blame you, buy shredded cheese rather than the superfine grated cheese at the store.
Roll it Up
Now comes the trickiest part! If you've ever made cinnamon buns, you're going to roll the roast up just like that so it's one long roast. If you've never made cinnamon buns, I'm sure you've seen a video on Facebook or you certainly can google it.
Once you've got your precious cargo all rolled up, start tying it off with small pieces of butcher's twine and tuck the ends in. A 2-lb flank steak this is going to be one long piece of meat, cut it in half so both pieces will fit in the pan. Select a pan that can be used on the stove top and in the oven. I absolutely love my dutch oven for this. It was a Christmas present from my sister that she got on discount at TJMaxx because of a small chip on the lid. Let's just say it has certainly paid it's dues.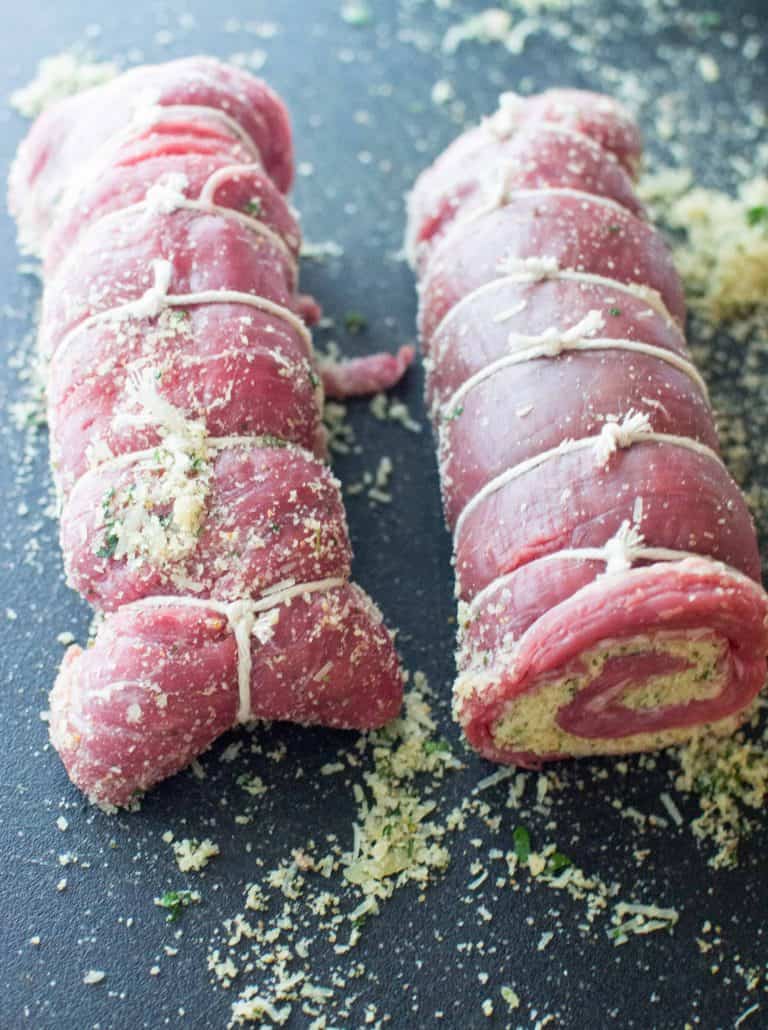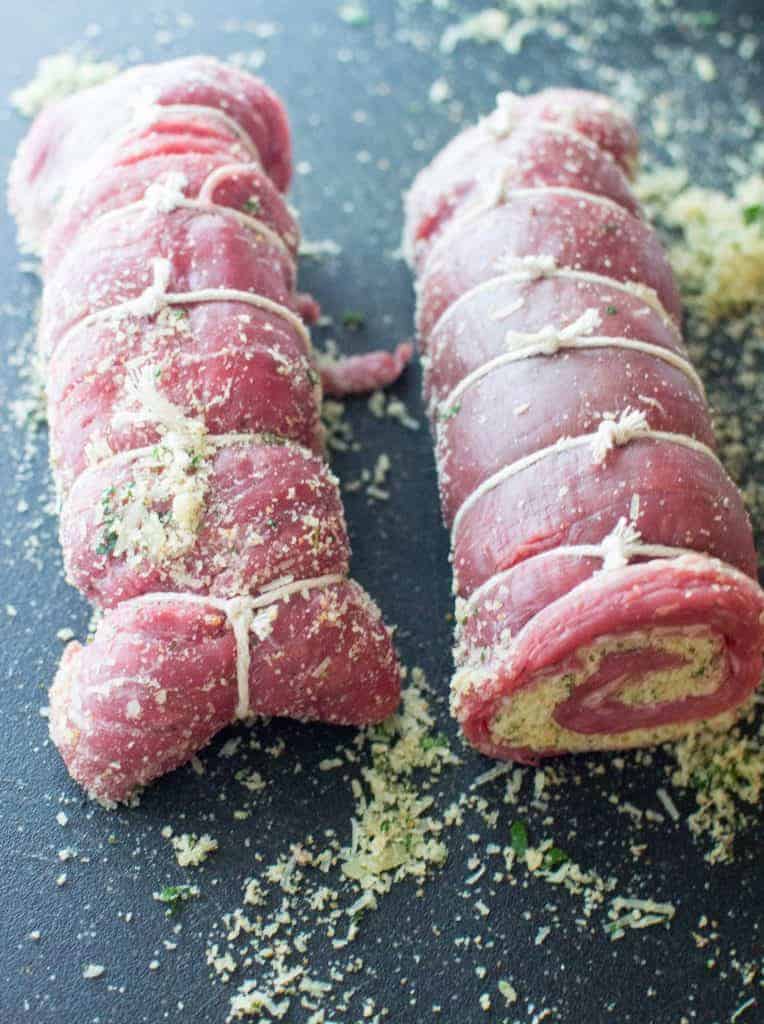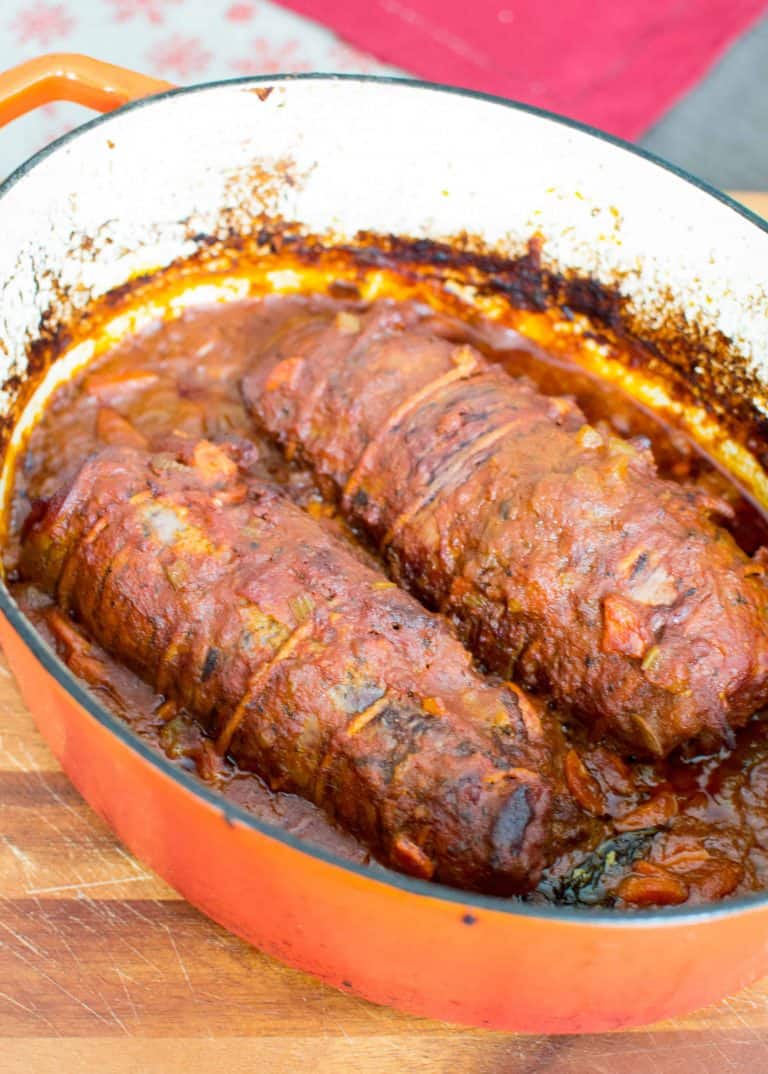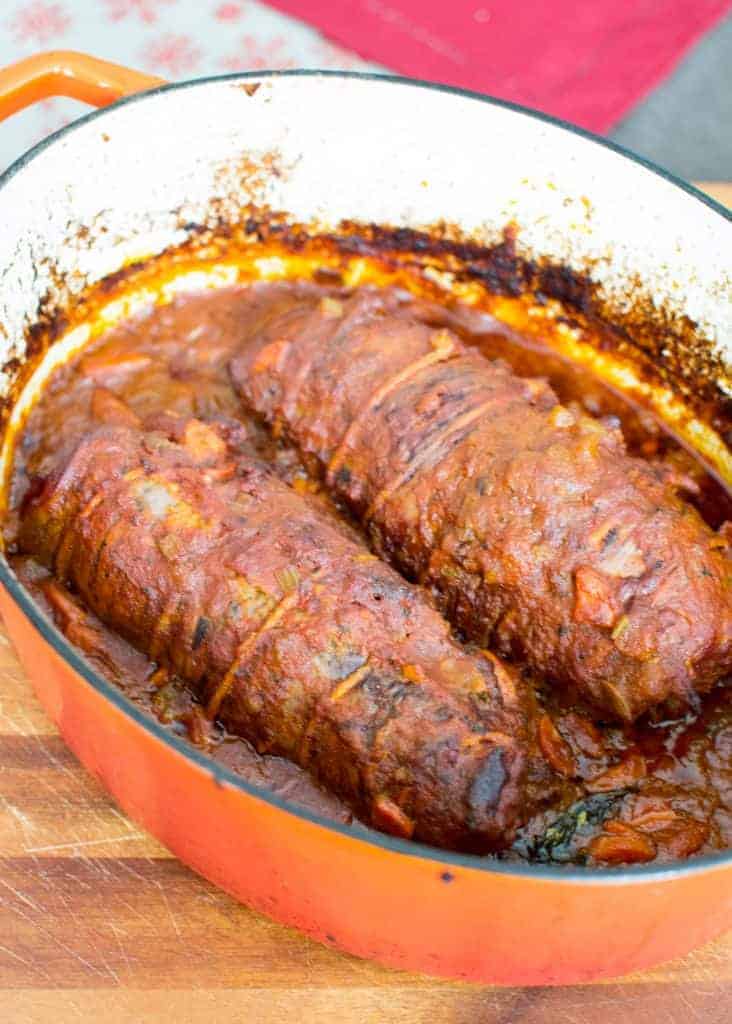 Braise, Simmer, Manga!
Heat up the olive oil in your pan and sauté the celery and carrots for about 5 minutes. Remove them from the pan so you can have space to braise the roast without burning them. After braising, return the veggies back to the pot and throw the wine in there to scrape up all those delicious meat pieces on the bottom of the pan. The wine will definitely simmer, so if your pan is not super deep use caution. Add in most of your tomato sauce and stir as much as possible with all that stuff in the pan. In just an hour and a half you'll have delicious beautiful Braciole to make your family love you!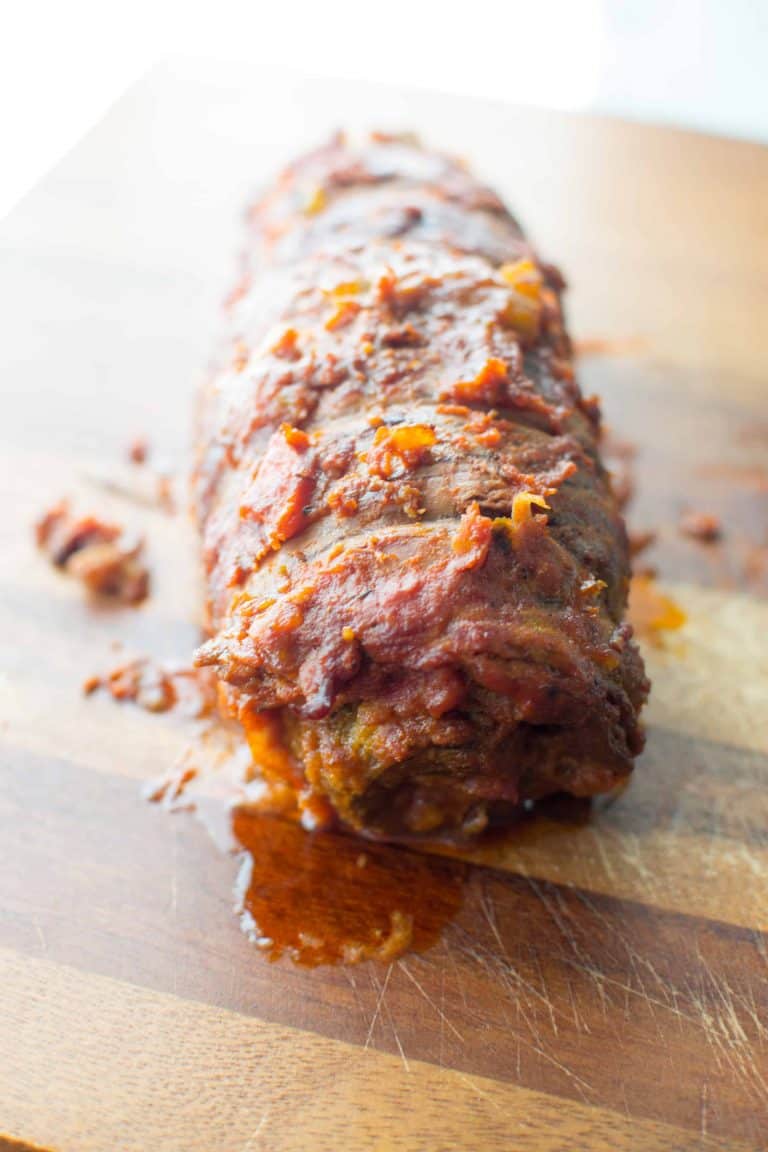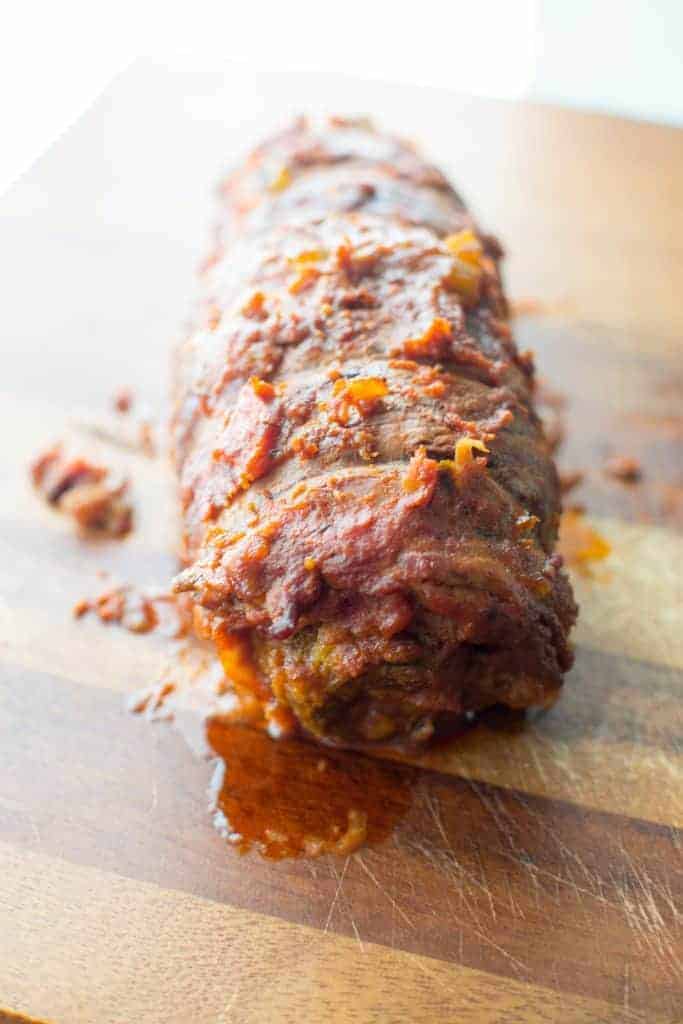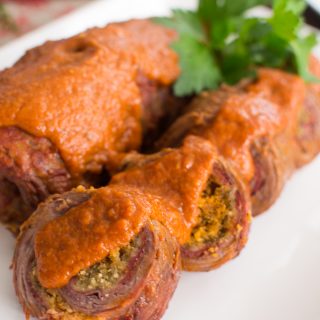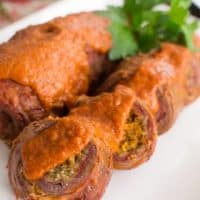 Italian Braciole in Slow Simmered Sauce
Stuffed with italian cheese and meats and simmered in tomato sauce, Braciole is full of flavor and perfect for special occasions!
Print
Pin
Rate
Servings:
6
ot 8 servings
Ingredients
2-

lb

flank steak

(butterflied)

3

ounces

Capicola

(thinly sliced (about 14 slices))

3

ounces

Soppressata

(thinly slices (about 14 slices))

¾

cup

italian breadcrumbs

2

cloves

garlic

(minced)

¼

cup

italian parsley

(finely chopped)

1

cup

parmesan

(freshly grated)

¾

cup

romano

(freshly grated)

¼

cup

extra virgin olive oil + 3 tablespoons

(divided)

1

large carrot

(washed, ends trimmed and finely diced)

1

large rib celery

(washed, ends trimmed and finely diced)

1

cup

white wine

4

cups

Simple Tomato Sauce

salt and pepper

butcher's twine

kitchen shears
Instructions
In a small bowl, combine breadcrumbs, garlic, parmesan, romano, parsley, olive oil and a pinch of salt and black pepper. Set aside.

Butterfly flank steak and lay flat on a large cutting board. Layer slices of capicola and soppressata. Sprinkle breadcrumb mixture onto of sliced meat. Breadcrumb layer should be about ¼'' thick.

Roll the roast like a jelly roll. Using small pieces of butcher's twine, tie the roast about every 2 to 2 ½ inches, tucking in the ends. Cut in half so both pieces can be braised at the same time. Season with salt and pepper.

Preheat the oven to 350°F.

In a dutch oven or braising pan that is stovetop and oven safe, heat 1 tablespoon of olive oil. Sauté celery and carrots for 5 minutes. Using a slotted spoon, remove from the pan.

Add remaining 2 tablespoons of olive oil and over medium-high heat, braise the braciole on each side until browned, about 8 minutes total.

Return the vegetables to the pan and add the white wine. Using a wooden spoon or spatula, scrape what you can from the bottom of the pan. Add 3 ¼ cups tomato sauce, coating the braciole.

Partially cover the pan with foil and cook for 45 minutes. Remove the foil and cook for an additional 45 minutes. During the cooking process, baste the braciole with sauce every 30 minutes.

After 1 hour and 30 minutes has passed, remove the pan from the oven and transfer braciole to cut board to rest. In the meantime, add remaining tomato sauce to the pan. Using an immersion or hand blender, carefully blend the carrots and celery into the sauce.

Using kitchen shears, cut and remove the butcher's twine. Cut braciole in 1 ½-inch slices and top with tomato sauce from the pan.
Nutrition
Calories:
636
kcal
|
Carbohydrates:
23
g
|
Protein:
54
g
|
Fat:
34
g
|
Saturated Fat:
12
g
|
Cholesterol:
139
mg
|
Sodium:
2189
mg
|
Potassium:
1267
mg
|
Fiber:
4
g
|
Sugar:
9
g
|
Vitamin A:
2857
IU
|
Vitamin C:
16
mg
|
Calcium:
427
mg
|
Iron:
6
mg