Crunchy belgian endives tossed with slightly bitter and vibrant radicchio, crunchy kale, sweet sliced apples and tangy gorgonzola cheese - this endive radicchio salad is an absolutely winner! Don't forget the salty, crispy pieces of prosciutto or the rosé wine vinaigrette - they're the extra special something that will have everyone excited about salad!
Put all thoughts of boring salad aside because this Italian style endive radicchio salad is bursting with all the flavors and crunchy textures. Perfect for lunches, top with protein for weeknight meals, or serve this as the salad at dinner parties and holidays.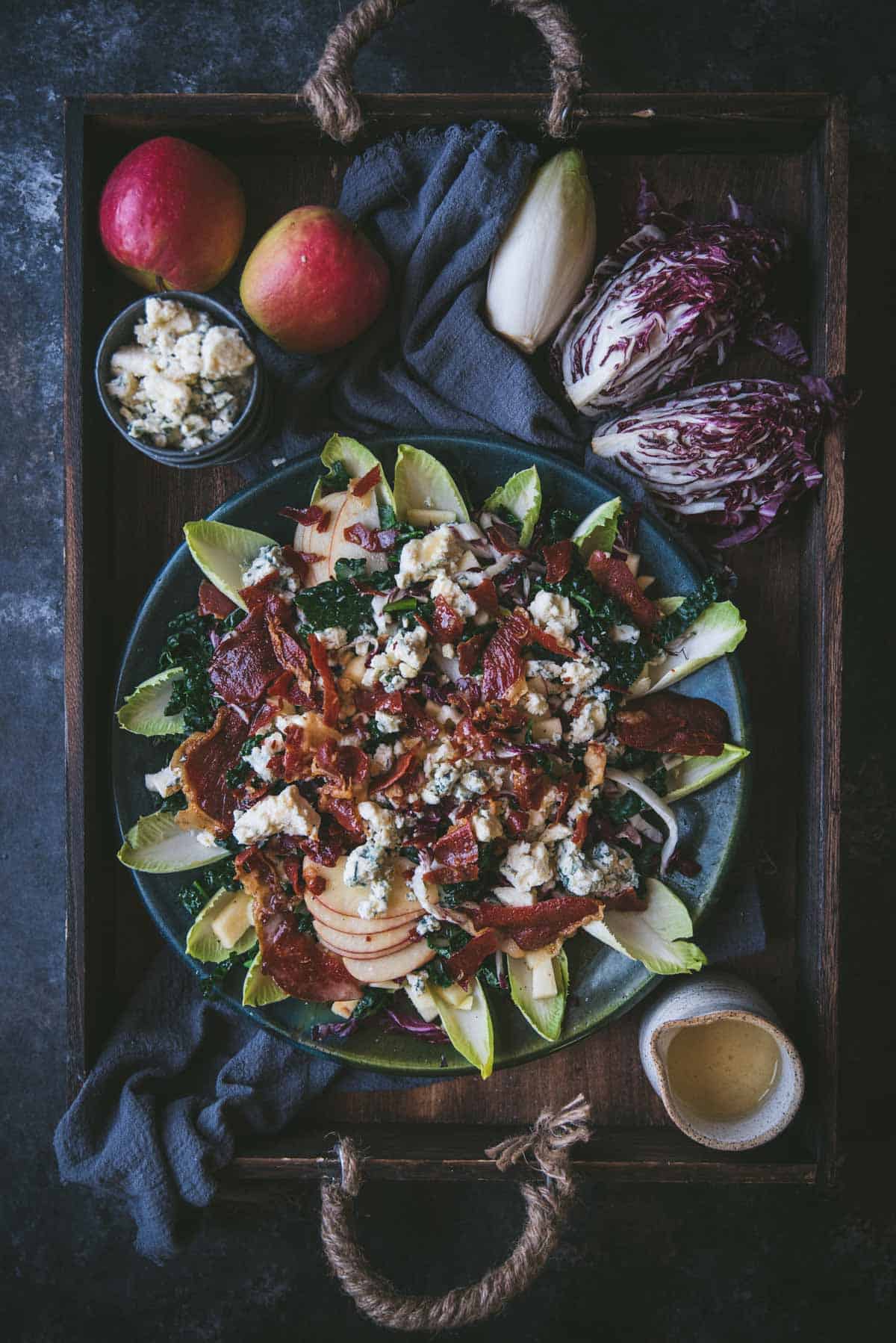 Listen, you all know how we love a loaded salad around here. Salads are a fan favorite, but loading them up with all sorts of tasty (and mostly healthy) ingredients makes them utterly crave-worthy!
This Belgian endive and radicchio salad is staying true to that loaded salad motto.
This recipe is inspired by two different sources. A kale-y version of my absolute favorite salad at Sulmona in Kendall Square and the kale, blue cheese, and pomegranate recipe on the site.
The combinate of bitter, sweet, and salty is just oh so good!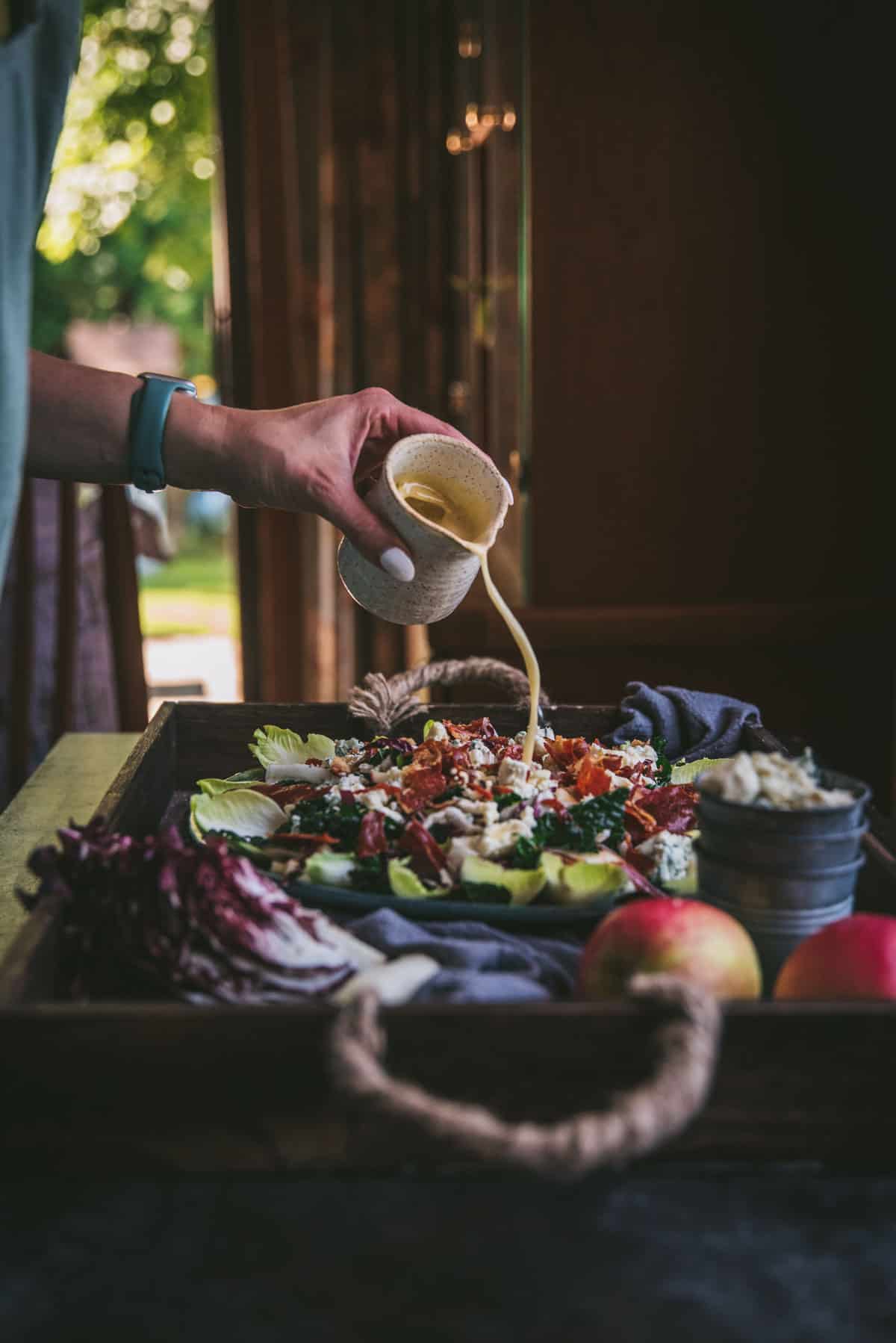 Jump to:
What you'll need & substitution options
There are a variety of ways to switch things up to suit your preferences. Some people (me!) love a kale salad, others hate it. You can swap here and there and still end up with almost the same salad that is just as enjoyable.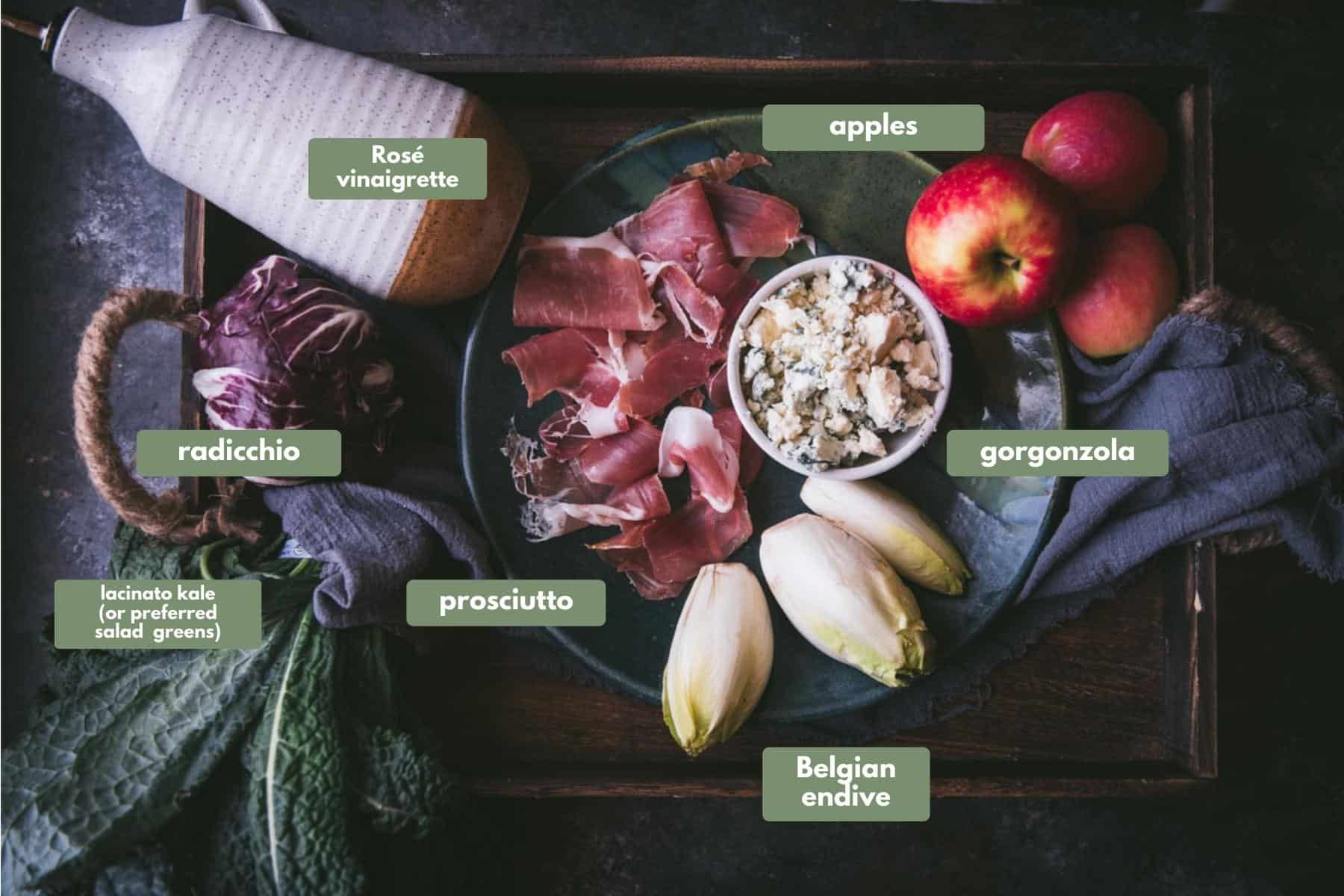 The greens: Lacinato kale is my favorite green for salads. Its sturdy and doesn't wilt if dressed for a long period of time and its packed with superfood goodness. If you don't like kale, swap it for any salad green.
The veggies: radicchio is a member of the chicory family known to be slightly spicy and bitter (we have a lot in common). You could swap this out for standard red cabbage if you want something milder in flavor. Slice it as thinly as possible. Belgian endive is also in the chicory family but has a more mild flavor than radicchio.
The cheese: bring on the stinky cheese! Gorgonzola is a touch more mild than standard blue cheese and a little bit creamier. It is rich, tangy, earthy, and the right amount of salty to balance the bitter leaves of the salad. Swap it for regular blue cheese if you can't find it or gorgonzola dolci for an even creamier, sweeter style.
The protein: this crispy prosciutto is absolutely addicting! It's like a fancied-up version of bacon bits. All you need to do to make crispy prosciutto is cook the prosciutto on some parchment paper until it's crispy and just starting to brown, let it cool, and then break it into crumbles!
The fruit: to round out all the flavors of the salad, let's add thin slices of sweet apple! Honeycrisp is always my go-to for its natural sweetness and crunchy texture. Green apple would be a great choice as well. I love Honeycrisp and have a tendency to always put them in salads whenever possible (like this fall harvest and autumn kale salad), oh, and on sandwiches too (like brie grilled cheese and pulled pork sliders).
The dressing: Rosé vinaigrette is a tasty way to sneak a touch of wine into lunch. It's a little sweet, tangy, and acidic, balanced with the fat from extra virgin olive oil. If you don't want to use wine, you can substitute any of your favorite liquid in its place - I'd recommend apple cider, orange juice, or grapefruit juice! Or try my apple cider vinaigrette!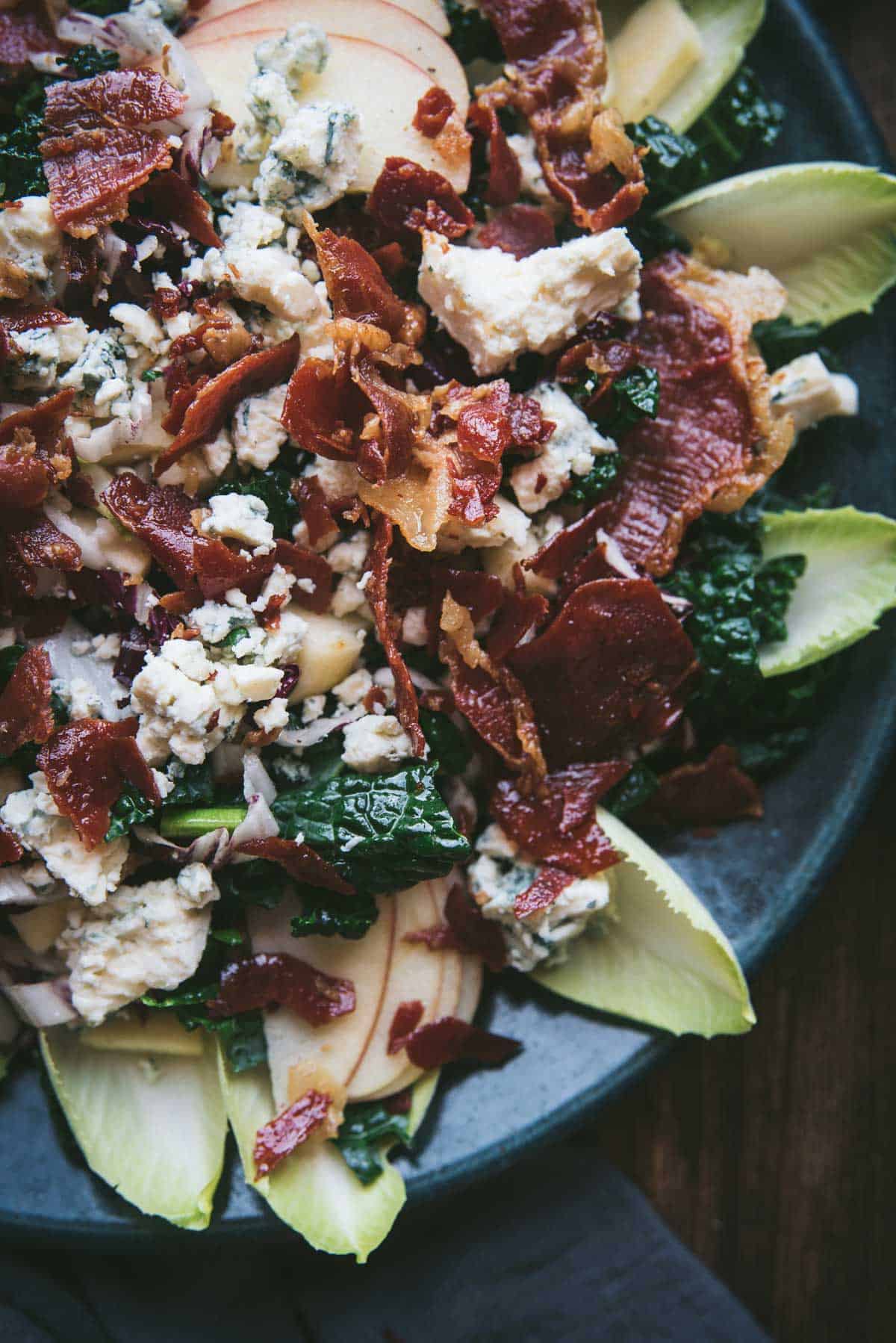 How to make crispy prosciutto
If prosciutto is an option, you can absolutely bet that I'm saying yes. Especially when it's cooked up in the oven like crispy italian bacon.
You'll need the oven to get this going. Preheat the oven to 400°F. Line a sheet pan with either tin foil or parchment paper.
Drizzle a little olive oil over the pan or spray with cooking spray, just to keep the prosciutto from sticking to the pan.
Lay the slices on the greased pan. Bake for 5 to 8 minutes until mostly crisp and lightly browned. You may need more or less time depending on how thick the prosciutto is sliced.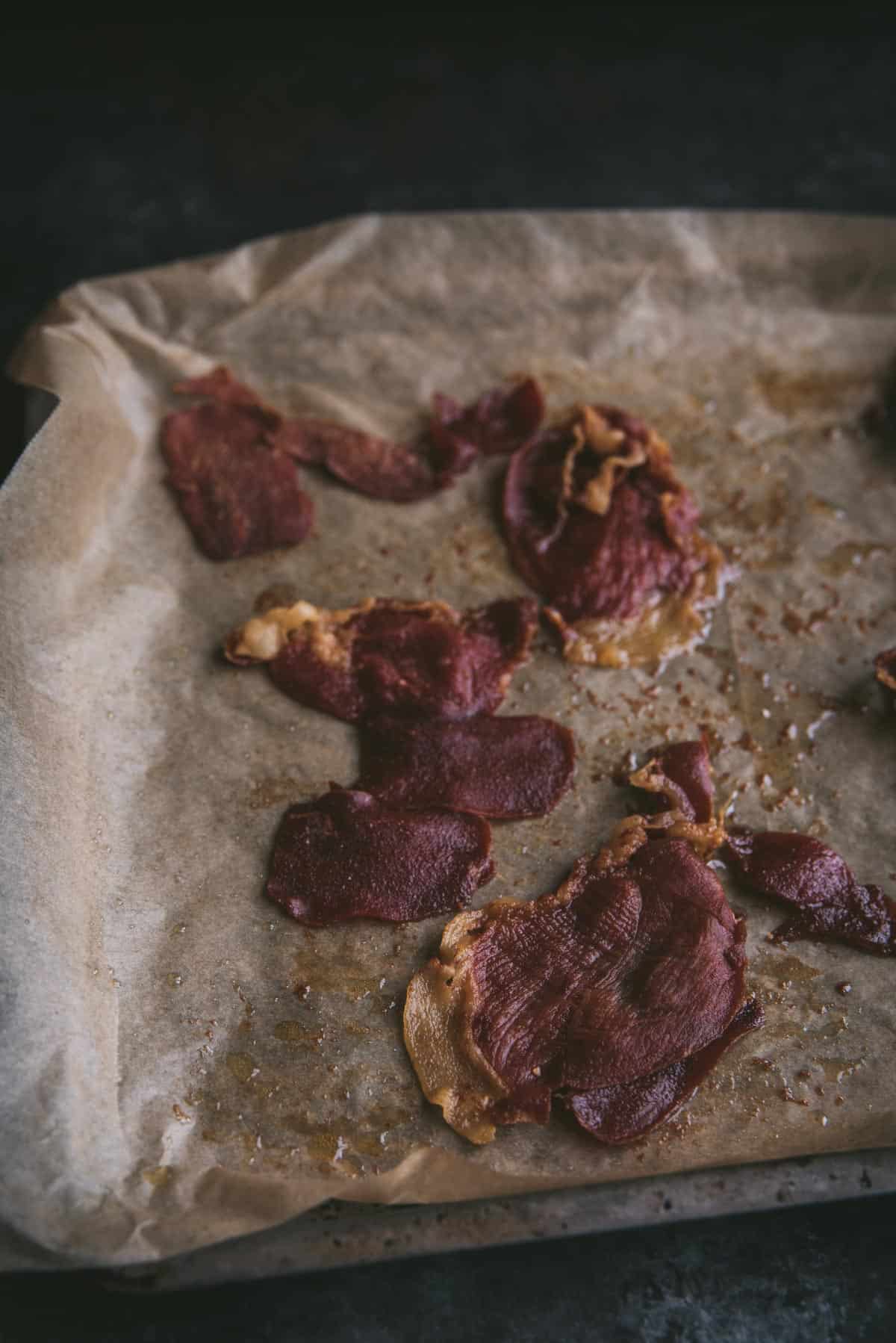 Let cool for about 5 minutes. It will become crispier after it cools. Break into pieces or pulse in the food processor if you want small crumbles.
Assembling your endive radicchio salad
When making the salad, we're going to dress the greens then layer the rest on top.
In a large bowl or on a large serving platter, mix together the thinly sliced kale, radicchio, and endive. You can leave some of the endives leaves whole and place them around the plate for a visual pop.
Sprinkle the greens with a little salt and black pepper and toss with the dressing. Because these are heartier greens, they will hold well with being dressed for a few hours before serving.
Sprinkle the diced apple over the top of the greens.
Break the gorgonzola into chunks and crumbles. Sprinkle over the top of the salad.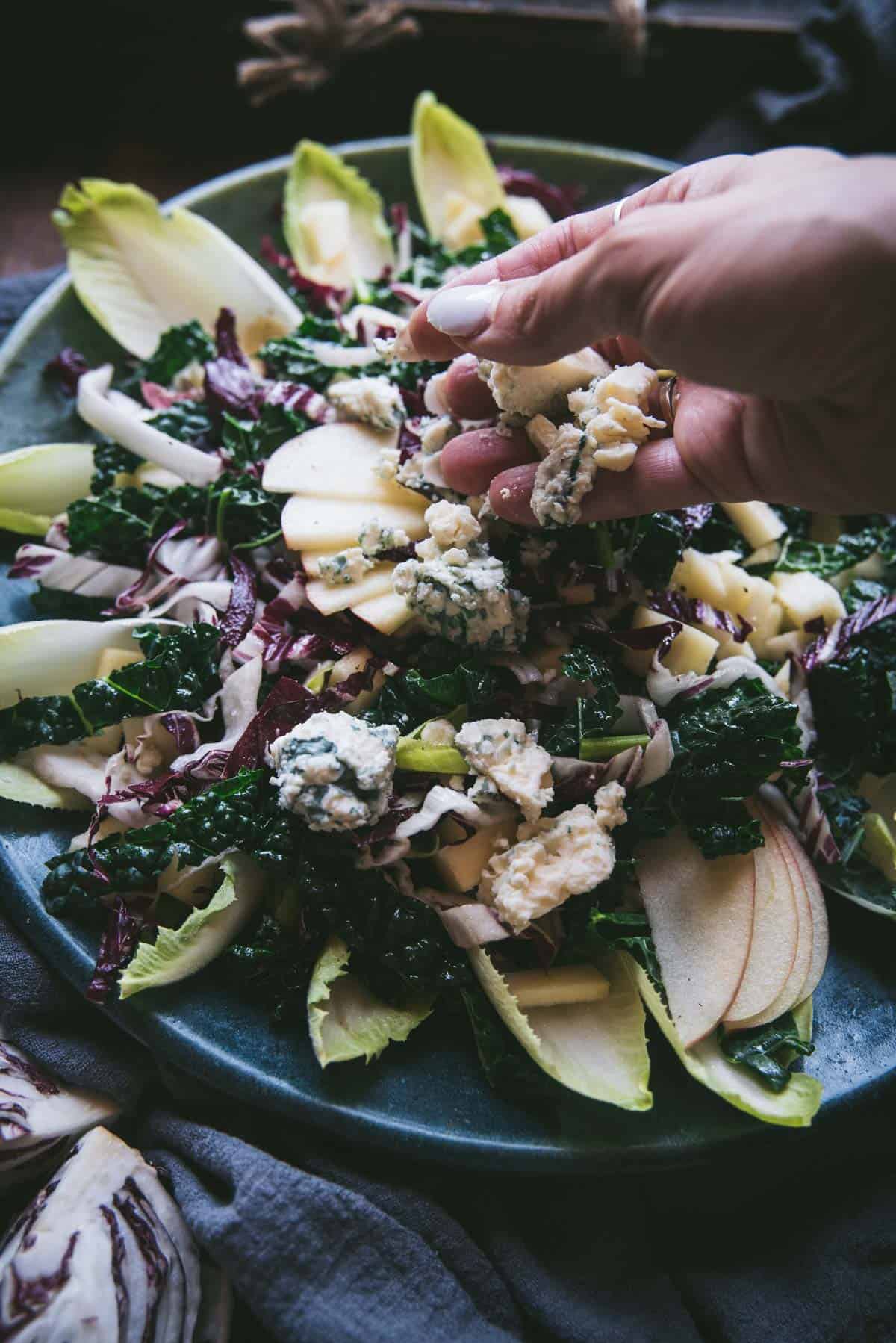 Repeat with the crispy prosciutto.
Serve right away or refrigerate and serve later.
Tip: If making this the day before or serving to a group, serve the salad dressing on the side.
FAQs
Have some questions? I've got answers! Here are some suggestions for things that may come up while making your salad.
Can you make the rosé dressing non-alcoholic?
Yes! You just have to cook off the alcohol in the wine. Cook the wine in a saucepan for 2 to 3 minutes over medium-low heat. You can also substitute cooking wine from the grocery store, which is usually alcohol-free.

You can also substitute something sweet and acidic like apple cider, grapefruit juice, lemon juice, etc.
Can you substitute the sugar in the dressing?
Absolutely! Try using honey, maple syrup, or agave. You could also just leave it out altogether for extra zip.
How do you cut endive for a salad?
I like to do a combination of whole leaves for visual pop and chopped leaves for easy eating. Slice off the bottom of the endive, cut in half, and chop into ½-inch to ¾-inch pieces.
How long will the salad last?
You can prep the ingredients for this salad several days in advance and keep them separate. I would recommend waiting to slice/dice the apple or if you do, soaking it in cold water until you put the ingredients together.

Once the salad is dressed, store it in the refrigerator and serve it within 24 hours.
If undressed, the salad will keep for up to 3 days.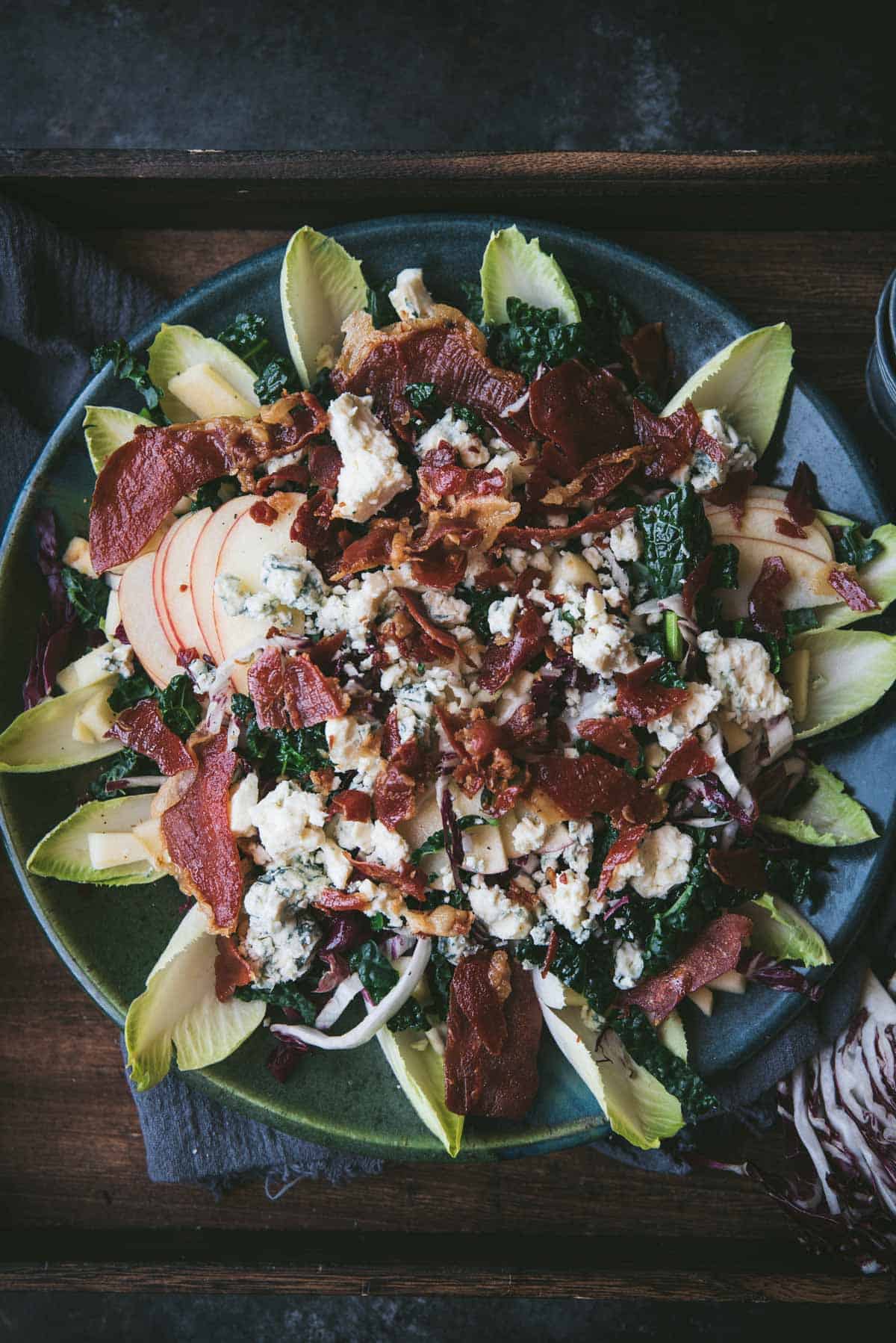 What to serve with salad
A salad like this can truly stand alone as the main meal with all the different layers of ingredients. If you're looking to share this amongst a group of friends or company as an addition to the meal, here are some of my favorite entrees to follow up an endive radicchio salad.
Pasta, of course. Homemade pasta is an added bonus with a silky texture and the perfect chewy bite to it. This homemade basil pasta with garlic brown butter is a perfect pairing, just enough without being too rich.
Same goes for this butternut squash pasta, nice and light but still belly filling!
For a meatier suggestion, try veal scallopini, chicken milanese, or prosciutto-wrapped chicken. Serve those alongside your beautiful salad or with roasted potatoes, or sheet pan veggies.
If you loved this recipe, please let me know by leaving a star rating in the recipe card and a comment below! Thank you for your support and for being apart of this community!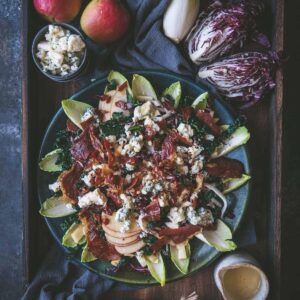 Endive Radicchio Salad with Crispy Prosciutto
Welcome to my latest obsession! Hearty kale, crunchy Belgian endive, thin sliced radicchio tossed with rosé vinaigrette and topped with sweet apples, gorgonzola cheese, and crispy prosciutto bits.
Print
Pin
Rate
Equipment
sheet pan

parchment paper or foil
Ingredients
4

cups

lacinato kale

(thick part of the stems removed, thinly sliced, about 1 large head)

2

each

Belgian endives

(cut in half and sliced)

2

cups

radicchio

(thinly sliced, about ½ head)

8

ounces

prosciutto

4

ounces

gorgonzola

1

large

honeycrisp apple

(thinly sliced)

pinch of salt and black pepper
Rosé Vinaigrette
¼

cup

rosé wine

¼

cup

extra virgin olive oil

3

tablespoons

apple cider vinegar

1

teaspoon

dijon mustard

1

teaspoon

granulated sugar

pinch of salt and white pepper
Instructions
Crispy Prosciutto
Preheat the oven to 350°F. Line a sheet tray with parchment paper or aluminum foil. Give it a light spray with cooking spray or a light drizzle of oil.

Lay the pieces of prosciutto on the sheet tray in a single layer. Cook for 5 to 7 minutes until just browning and crispy. The crispiness of the prosciutto will increase as it cools. Let cool for at least 5 minutes before breaking into small pieces.
Rosé Vinaigrette
Using a food processor, an immersion blender, or a whisk, combine the ¼ cup rosé, 3 tablespoons apple cider vinegar, 1 teaspoon dijon mustard, 1 teaspoon granulated sugar, and a pinch of salt and white pepper. Blend on high until fully combined.

With the food processor or blender on high (or while whisking) slowing stream in the ¼ cup extra virgin olive oil until emusified (the oil should not separate from the other ingredients.)
Endive Radicchio Salad with Crispy Prosciutto
Thinly sliced the kale, endive, and radicchio. You can save a few of the leaves of endive if you would like to place them around the plate for a visual presentation.

In a large bowl or directly on the serving platter, combine the greens with a pinch of salt and black pepper. Drizzle with enough dressing to coat the greens.

Top with slices of apple. Crumble the gorgonzola over the top of the salad. Repeat with the crispy prosciutto. Serve right away or cover and store in the fridge until ready to serve.
Notes
You will likely not need all of the dressing to coat the greens. Serve alongside the salad for those would like additional dressing to coat the apples, cheese, and prosciutto.
When preparing the greens, remove the thick part of the stem of the kale before slicing. The radicchio should be cut in half and the thicken center stem of the head removed before slicing into thin pieces. The belgian endive can be cut in half or quartered before cutting into ½-inch to ¼-inch pieces.
For a non-alcoholic dressing, you can cook off the alcohol in the rosé wine before using it by cooking the wine in a saucepan for 2 to 3 minutes over medium-low heat. Or substitute something that is both acidic and slight sweet. I would recommend grapefruit juice or apple cider.
Nutrition
Calories:
516
kcal
|
Carbohydrates:
12
g
|
Protein:
14
g
|
Fat:
45
g
|
Saturated Fat:
15
g
|
Polyunsaturated Fat:
6
g
|
Monounsaturated Fat:
22
g
|
Trans Fat:
1
g
|
Cholesterol:
59
mg
|
Sodium:
733
mg
|
Potassium:
400
mg
|
Fiber:
2
g
|
Sugar:
7
g
|
Vitamin A:
2372
IU
|
Vitamin C:
24
mg
|
Calcium:
216
mg
|
Iron:
1
mg