Traditional gnocchi is going green! Trader Joe's is at it again with veggie gnocchi that is so so good, you're going to want pasta night every night. Even better, it's ridiculously simple to make. Crispy on the outside and tender on the inside, Trader Joe's Kale Gnocchi is the perfect Italian pasta dumpling sauteed with traditional spicy arrabbiata tomato sauce.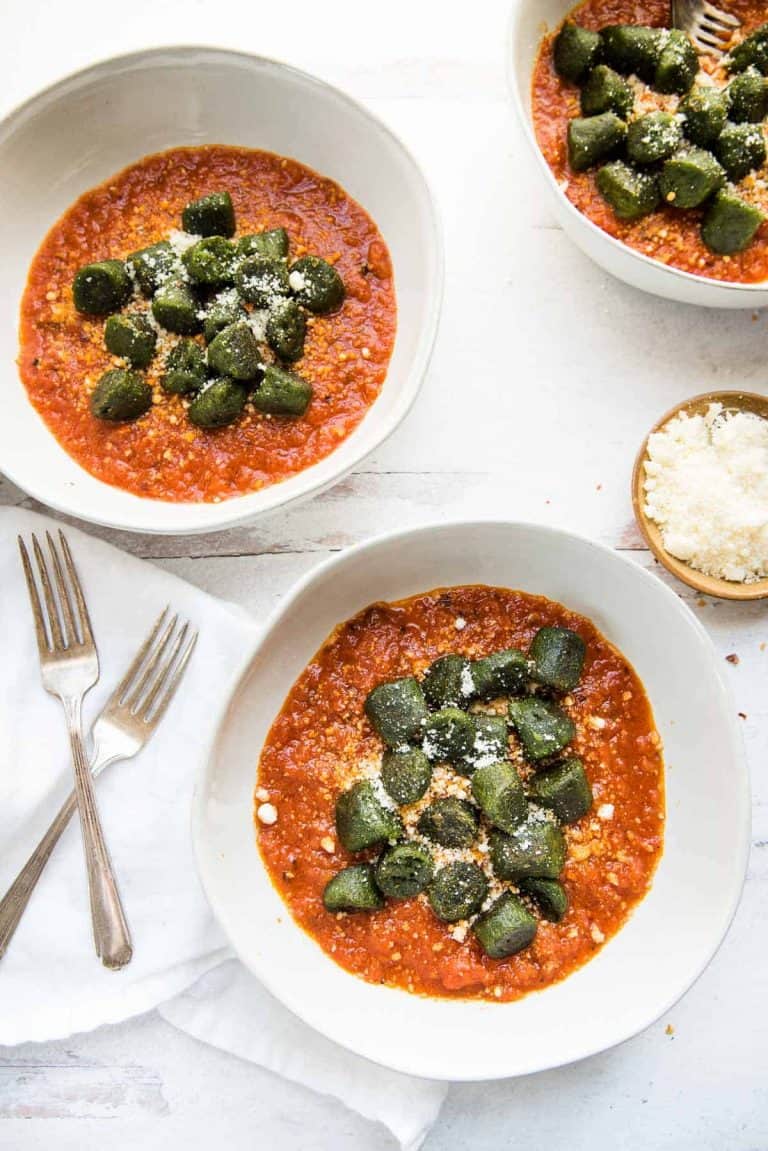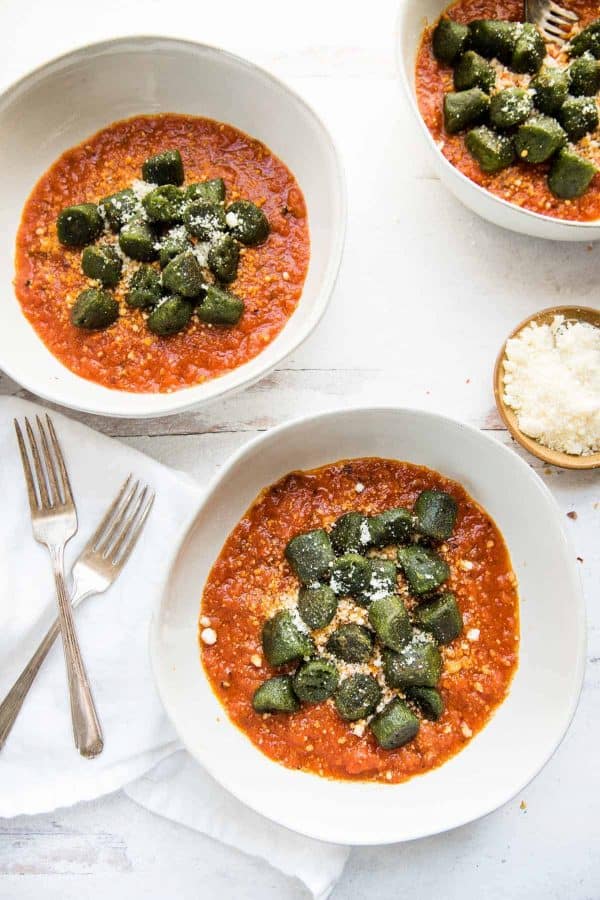 This pasta recipe is everything we need right now. Valentine's day is right around the corner and you can forget the chocolates and the flowers. All we want is a big ol' bowl of kale infused gnocchi and a healthy serving of pleasant spicy tomato sauce. Bring the wine though, right?
Here are the reasons why we're loving these green pasta goodies:
cook them straight from frozen - fast!
pan-fried so the outside is crispy
not gooey, doughy like other gnocchi
kale makes up over 50% of the recipe!
simple, spicy tomato sauce
done in under 20 minutes
That's a lot of reasons to love right there. All that and come on, the dark green pasta and the bold red sauce, it's pretty to look at too.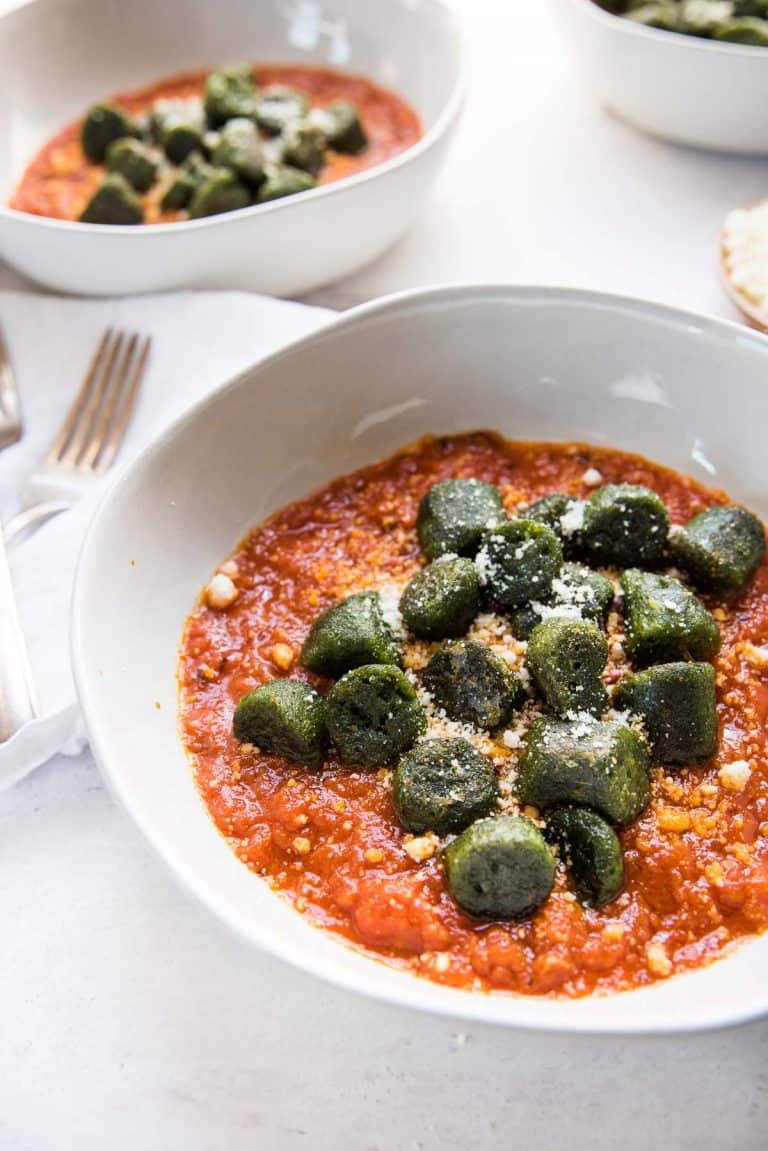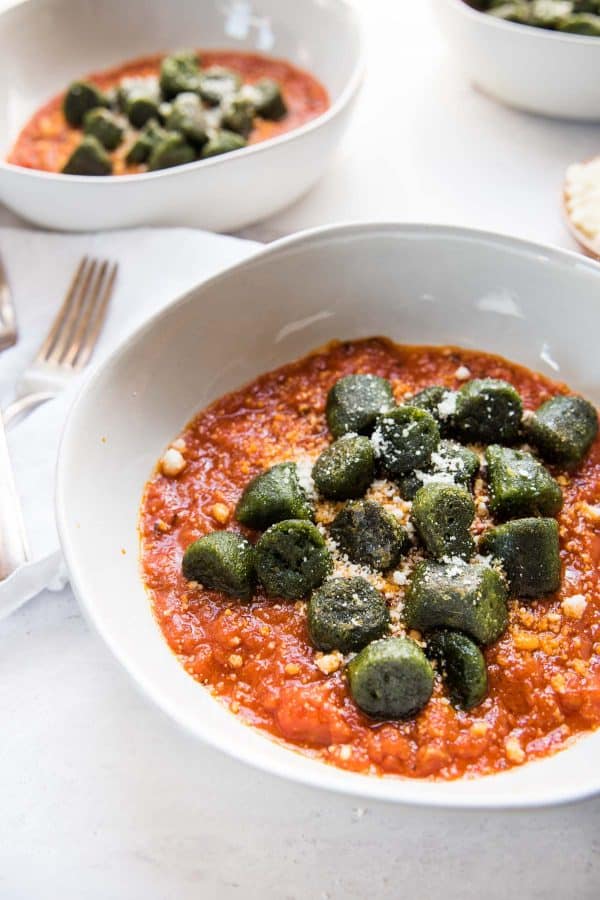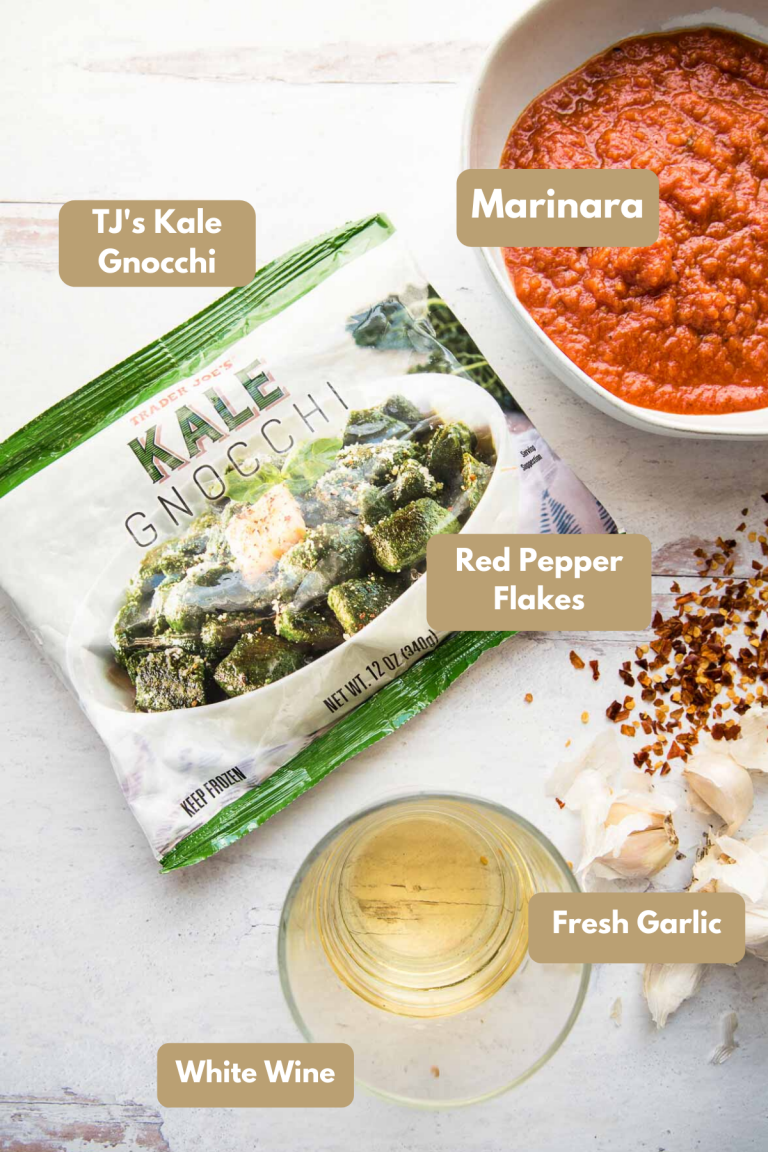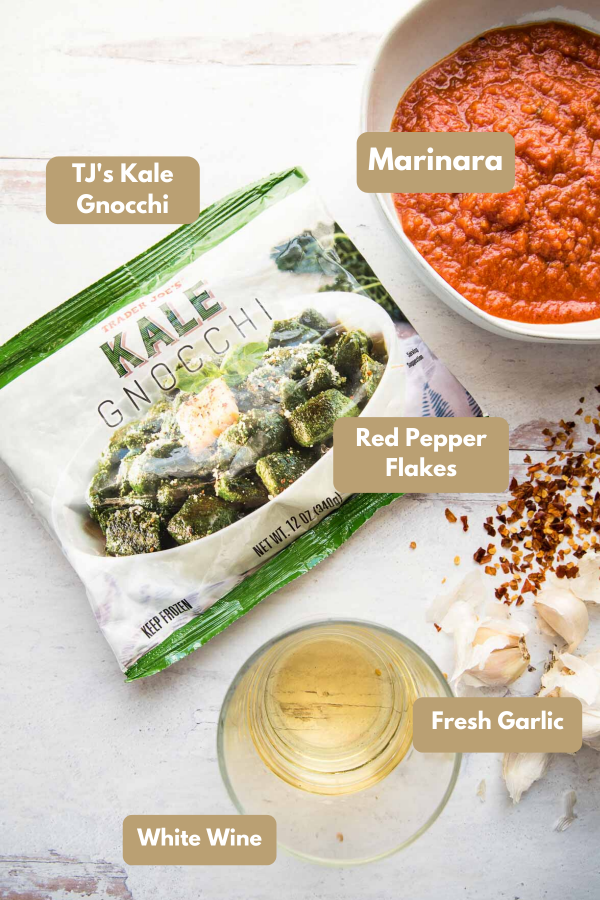 IS IT BETTER THAN THE CAULIFLOWER GNOCCHI?
Yes! OMG, yes. And I'm already a fan of the cauli gnocchi. These green dumplings of pasta goodness though?! We're cooking them so they are perfectly crispy on the outside and tender on the inside without the gooeyness you get with the cauliflower version.
They are SO easy to make and...you're really going to like this part...they don't stick to the pan like their cauliflower cousin. Granted, there's a way to make the cauliflower gnocchi so it doesn't stick to the pan but you don't have to pay nearly as much attention.

How to cook trader joe's kale gnocchi
It's fast and it's simple and we love it. Thank you TJ's for another genius cult classic item.
There are a few tricks and tips to getting perfect gnocchi that doesn't stick to the pan.
use a non-stick skillet
the oil should be hot
keep the gnocchi frozen
give the pan a little shake right after adding the gnocchi so it doesn't stick
after flipping, occasionally stir/sauté to keep them from sticking to the pan
That's not too bad, right? There's no defrosting, just getting things hot and giving it a little stir here and there. You've got this in the bag my friend!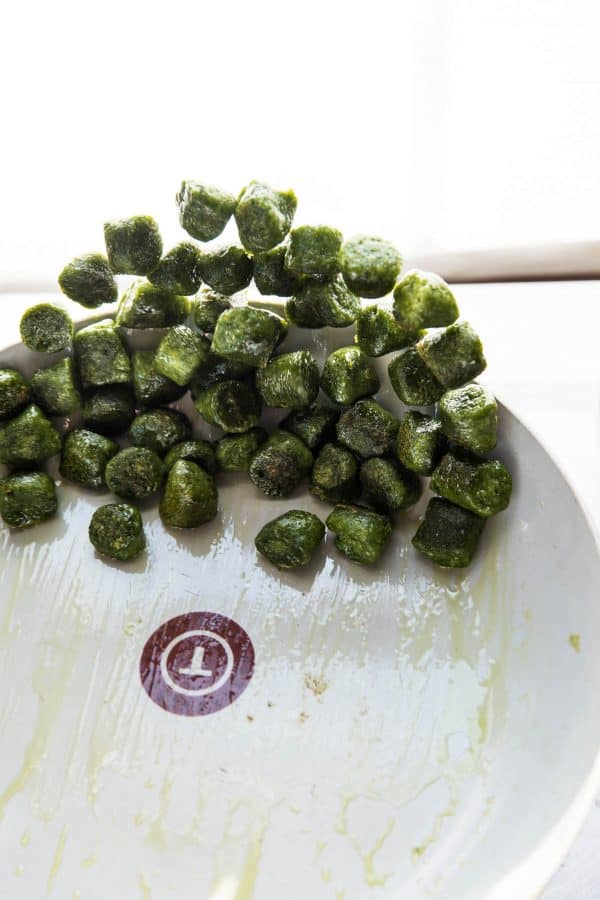 Many of the same tips apply to the cauliflower pasta too. So if you decide that's in your future soon you can give it a try with that as well!
Spicy Arrabbiata Sauce
The Italian word "arrabbiata" translates "angry" and that is the perfect description of this sauce. It is angry with heat! But in the most perfect way.
The first "real" job I had out of college was managing at a small-ish chain of Italian restaurants. Penne all'arrabbiata was one of their signature dishes. The first bite of these angry sauce soaked kale gnocchis immediately transported me back to those days.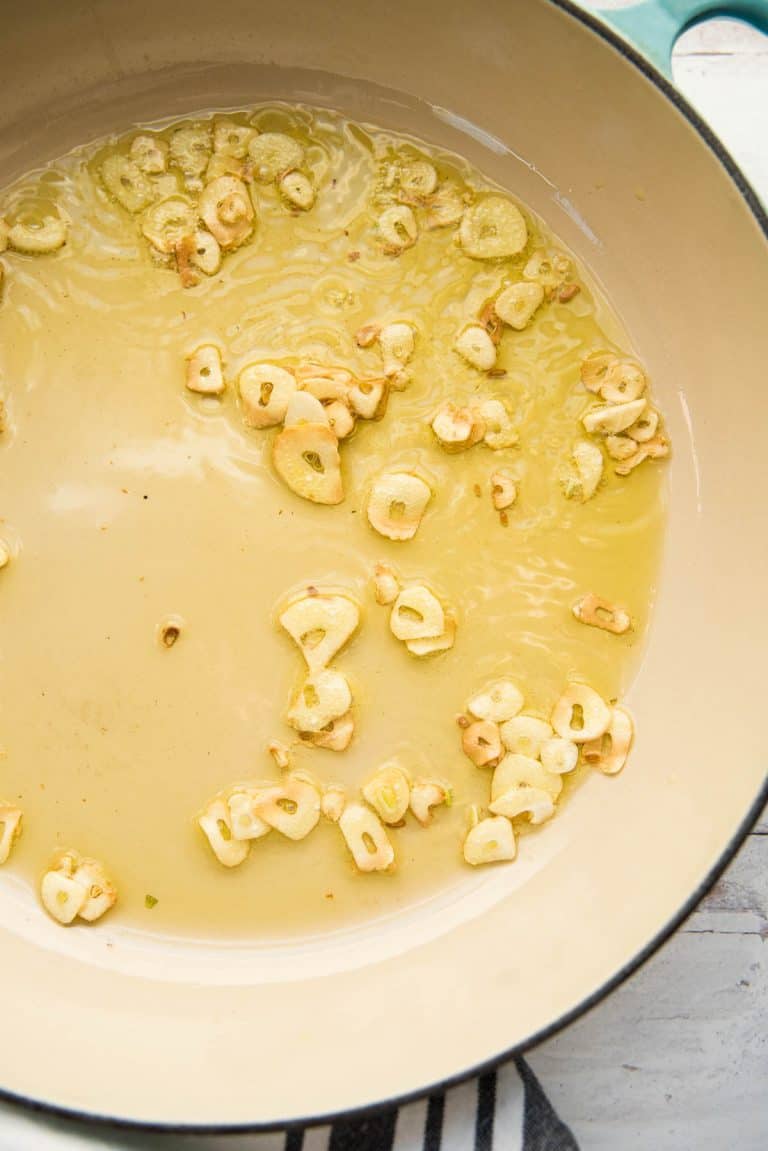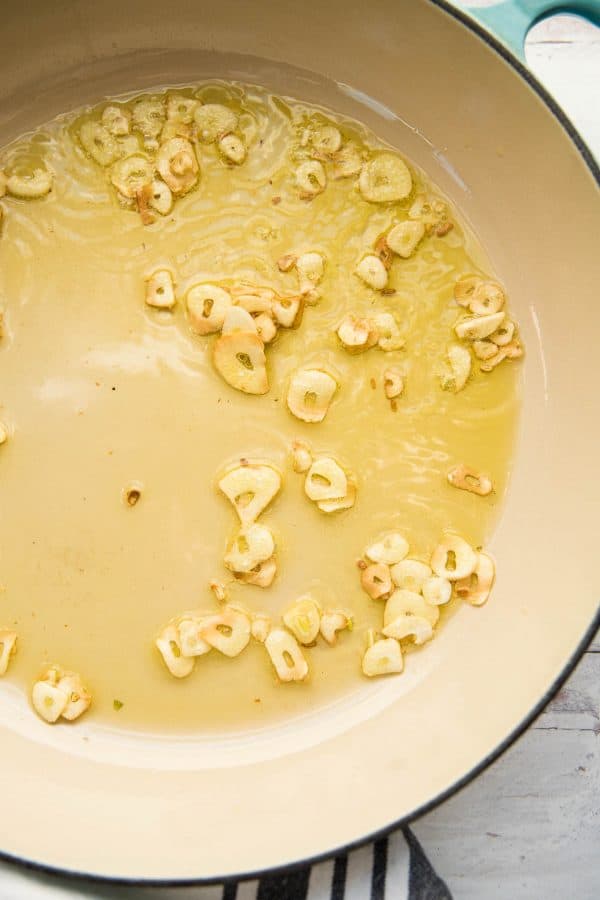 The sauce is velvety tomato from the extra olive oil incorporated into it. The browned garlic adds the perfect natural spice and almost melts into the sauce because it's sliced so thin.
Have you ever watched the movie Goodfellas? The scene when they're in prison but cooking up a feast and someone is slicing garlic paper-thin with a razor blade? I mean, that's a commitment to thinly sliced garlic. To do this at home and not slice your fingertips off, you can use a mandolin or curl your fingers while slowly using a chef's knife.
My favorite part is the red pepper flakes. They're adding devilish flame to the heat factor while the white wine really brings it all together. If you're not into spicy things, this sauce is just as good without the red pepper flakes too! So you can leave them out or choose somewhere between the 1 to 2 teaspoons to see where your spicy preference is.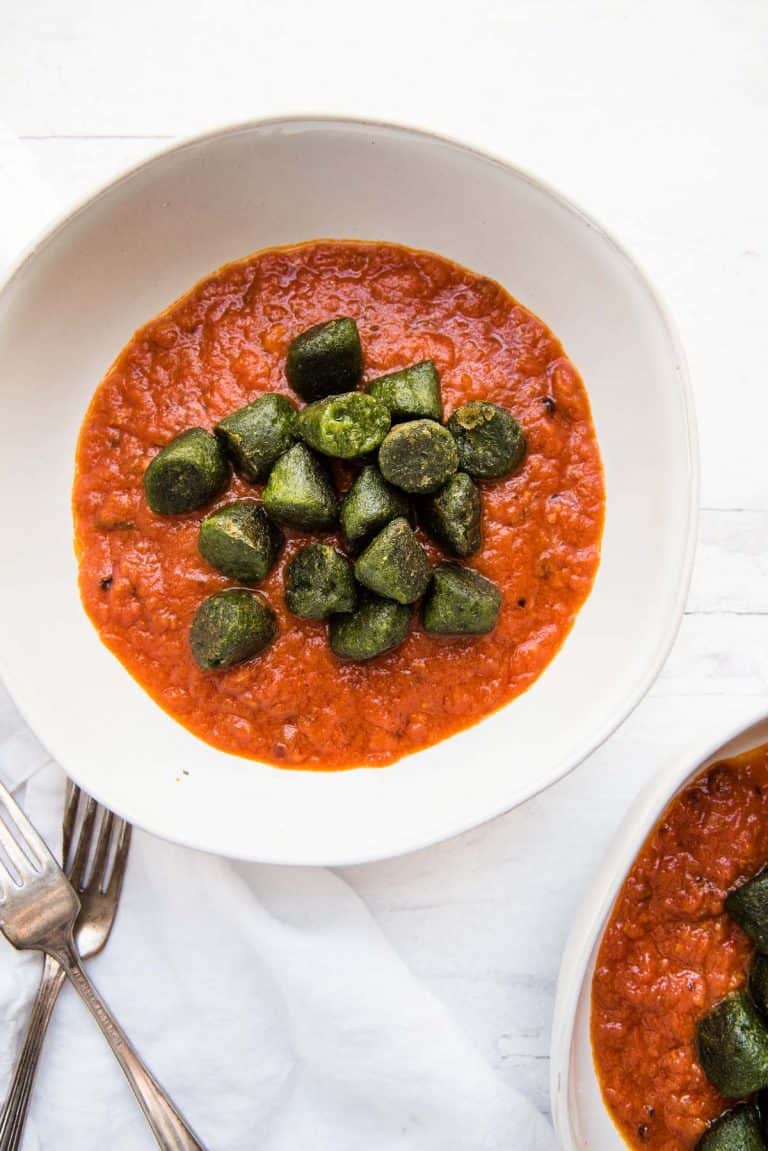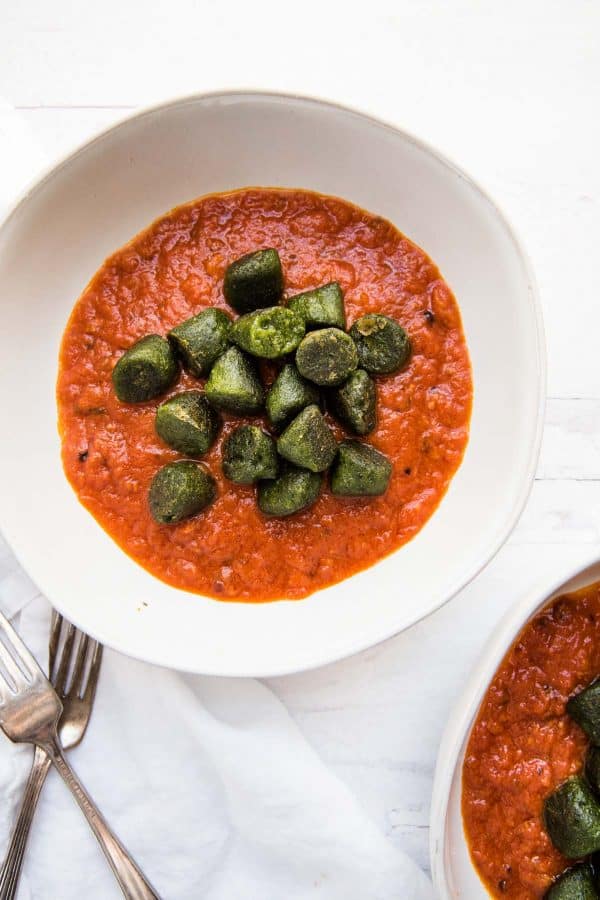 Personally, I like a generous sprinkling of romano cheese on top of my bowl of pasta, but without it, this meal is a delicious vegan or vegetarian pasta option. Perfect for date night in, busy weeknight meal or if you're craving pasta and want to sneak in some extra veggies somewhere. Trader Joe's has your back (because of course, they do) and they're making sure there are tasty eats available.
If you love this recipe, try some of the veggie pasta recipes from the archives! Cauli gnocchi with grapefruit pesto (perfect for spring), black bean pasta in a back-pocket, 5 minutes tomato sauce, or this chickpea pasta that's protein-packed with sausage and baby kale.
Did you make this recipe? I'd love to hear from you in the comments and give the recipe a rating! If you snapped a photo of your delicious eats, tag @hungerthirstplay on social media or post it on Pinterest. Thanks!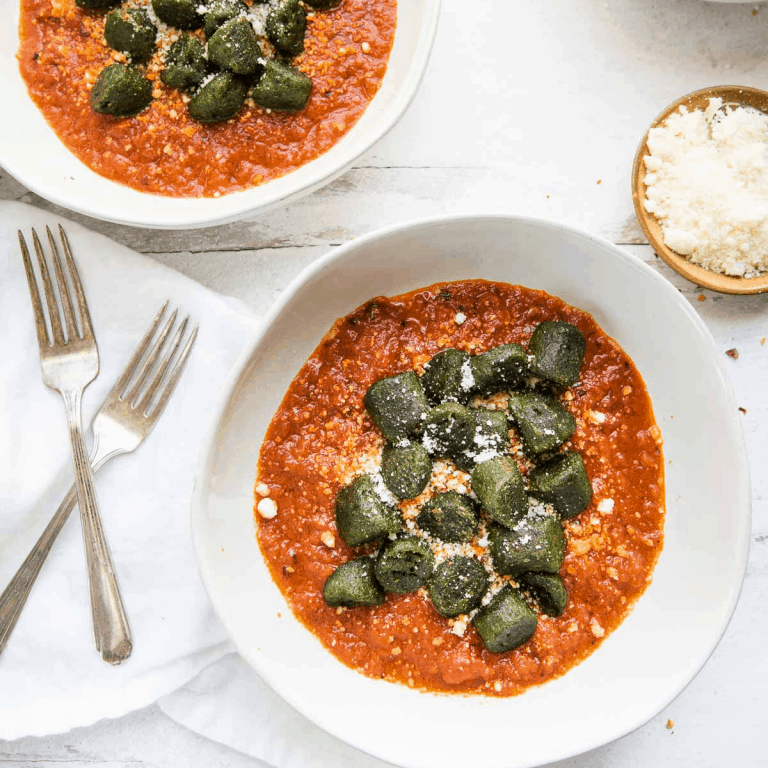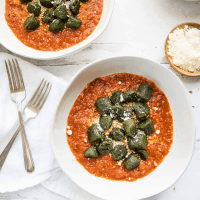 Trader Joe's Kale Gnocchi with Arrabbiata
Tender inside and crispy pan-fried outside, kale gnocchi is super fast and makes for the tastiest veggie pasta in a classic spicy arrabbiata sauce.
Print
Pin
Rate
Servings:
2
to 3 servings
Ingredients
1

package Trader Joe's Kale Gnocchi

3

cloves

garlic

(thinly sliced)

4

tablespoons

extra virgin olive oil

(divided)

1 to 2

teaspoons

red pepper flakes

¼

cup

dry white wine

1 ½

cup

marinara sauce
Instructions
Heat 2 tablespoons olive oil in a non stick skillet over medium-high heat. Add the frozen gnocchi to the hot oil and shake the pan slightly so the gnocchi doesn't stick. Alternatively, you can move the gnocchi around with tongs or a spatula.

Cook the gnocchi on one side for 3 minutes then stir or flip to cook the other side. Cook for 7 more minutes, stirring occasionally.

In a seperate medium skillet, heat remaining 2 tablespoons of olive oil over medium-high heat. Brown the thinly sliced garlic in the hot oil, about 1 minute. Add the red pepper flakes and cook for 20 to 30 seconds before adding the white wine and marinara sauce.

Reduce the heat to low and simmer for 3 to 5 minutes, stirring occasionally. Add the cooked gnocchi to the sauce and sauté to coat.
Notes
For moderate heat, use 1 teaspoon of red pepper flakes. For intense heat, use 2 teaspoons.
Do not defrost the kale gnocchi, cook it frozen directly from the package.
Nutrition
Calories:
561
kcal
|
Carbohydrates:
52
g
|
Protein:
11
g
|
Fat:
32
g
|
Saturated Fat:
5
g
|
Sodium:
1577
mg
|
Potassium:
1062
mg
|
Fiber:
10
g
|
Sugar:
9
g
|
Vitamin A:
1093
IU
|
Vitamin C:
14
mg
|
Calcium:
283
mg
|
Iron:
2
mg