A quick and easy weeknight pasta dinner that has something for everyone with lower carb, high protein chickpea pasta, greens, and meat. Savory turkey sausage, baby kale and chickpea spiral pasta tossed in a light lemon and white wine garlic sauce that is ready in no time!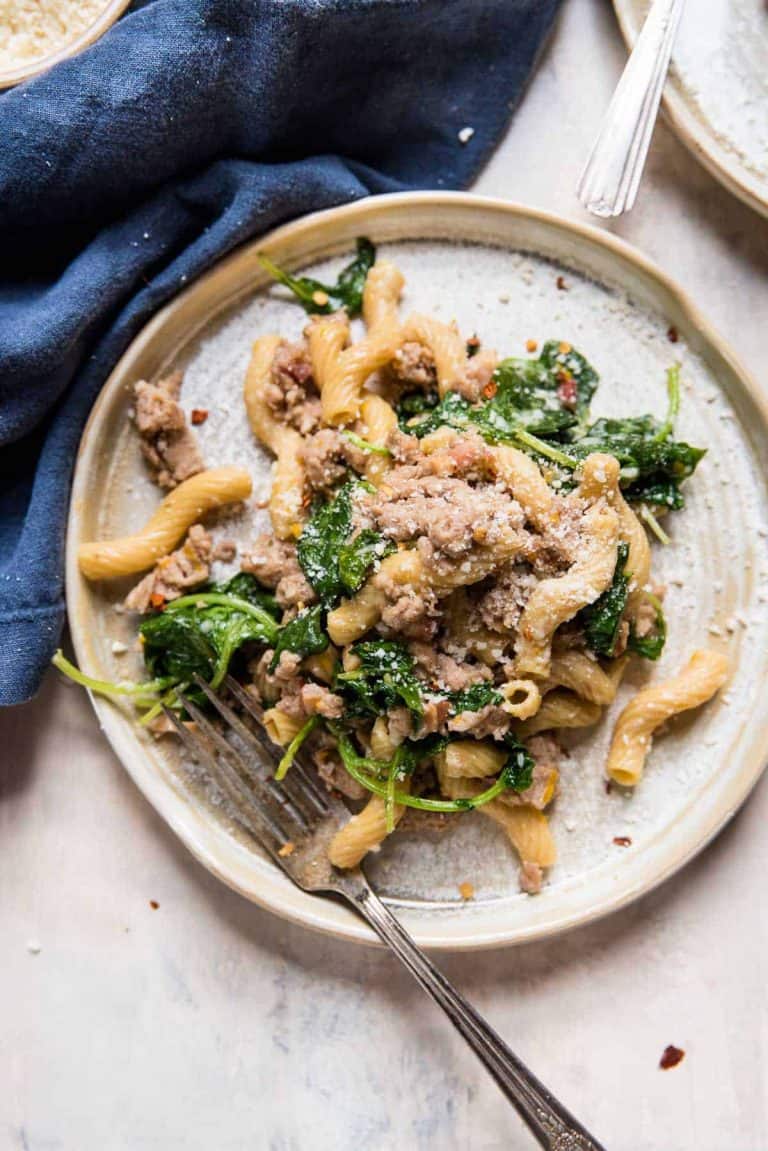 Looking to cut corners? Normally that's considered a bad thing, but when it comes to dinner I want to cut so many corners we're talking circles. This skillet chickpea pasta recipe is getting it done for me right now. We've survived the holidays, opened a new restaurant and have two small kids. Give me all the shortcuts.
How am I getting this on the table for four people - two of which have skeptical tastebuds accustomed to breaded chicken in dinosaur shapes with 'yellow sauce' - and everyone is happy? Because this sautéed beauty has something for everyone.
chickpea pasta for mama so I can indulge in my favorite comfort food but lightening up on the carbs
fun spiral shape makes it fun for the kiddos
generous amounts of parmesan cheese for the small humans
light lemon white wine garlic sauce means my mess making 18mo won't require a red-sauce stain tub afterwards
savory turkey sausage for the hubs
and yes, I do pull some out of the pan before I add the baby kale because my kids are cool but not that cool
Occasionally, we'll swap the chickpea pasta for regular noodles or shredded zucchini for kale or chicken sausage for turkey sausage, but at the end of the day when everyone is hungry and dinner isn't ready this is a quick back pocket comfort food you can feel good about and actually enjoy.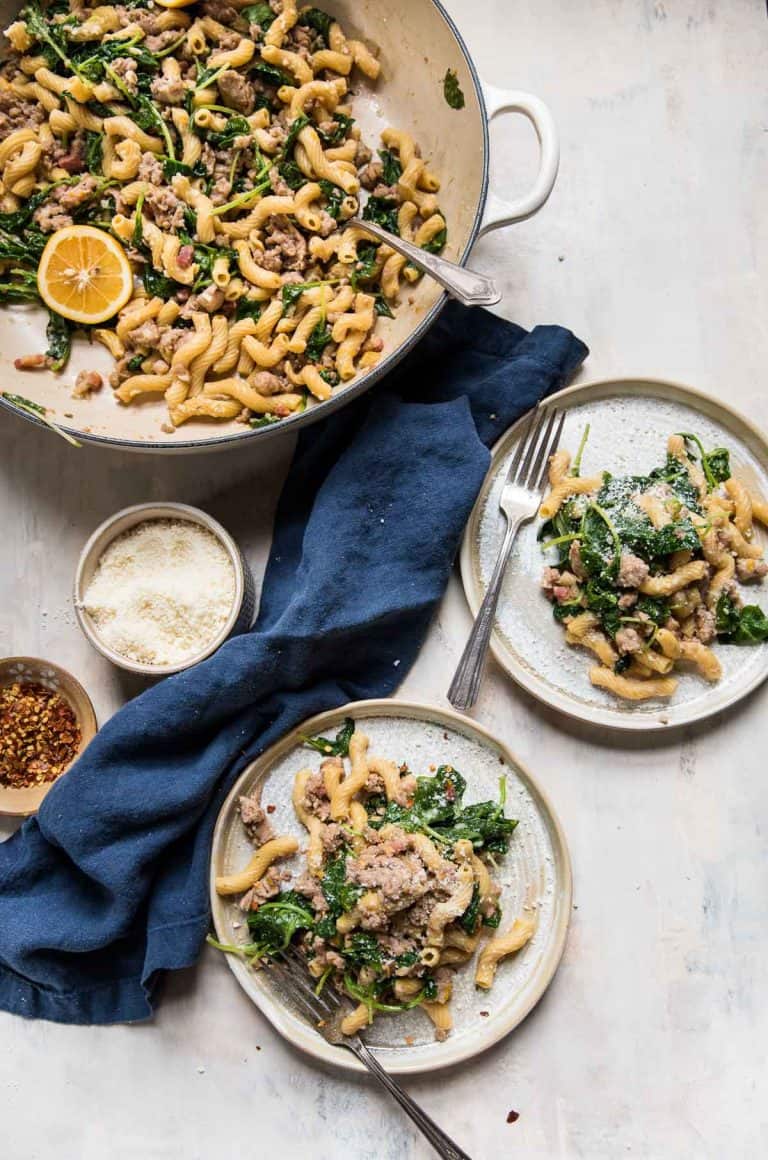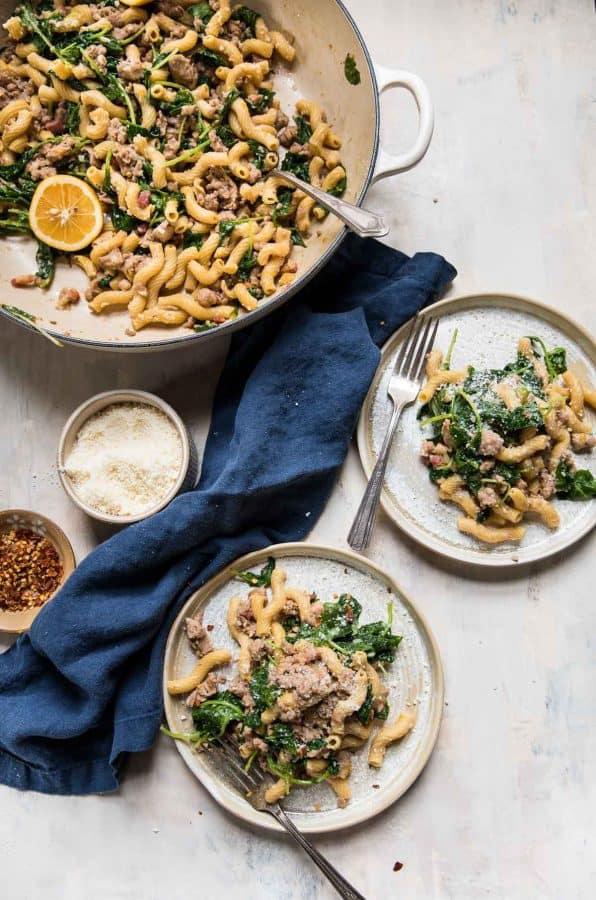 What's the deal with chickpea pasta?
If I could eat pasta everyday I would. Well, we're adults here so technically we can eat pasta or cake or pizza every day, but for some of us it brings about blagh feelings. The chickpea pasta has been a well received swap in our house. And I'm not sponsored by any brand to tell you this but we just really like it.
DOES IT TASTE THE SAME AS REGULAR PASTA?
Not 100%. If you're a true al dente texture lover, you're not going to get the same texture with chickpea pasta. Also, it tastes...like chickpeas. So it's a smidge earthy, but not gritty in the way a whole wheat pasta would taste.
IS IT HEALTHIER?
Imma be honest, that's not my call to make. I'm not a dietitian. I'm a believer of eating a balanced life. Depending on the brand chickpea pasta can have fewer calories, up to double the fiber and protein versus regular pasta. My kids are not huge protein eaters so even if they pick around the meat in this quick pasta recipe, I like knowing I'm sneaking it in there without hassle.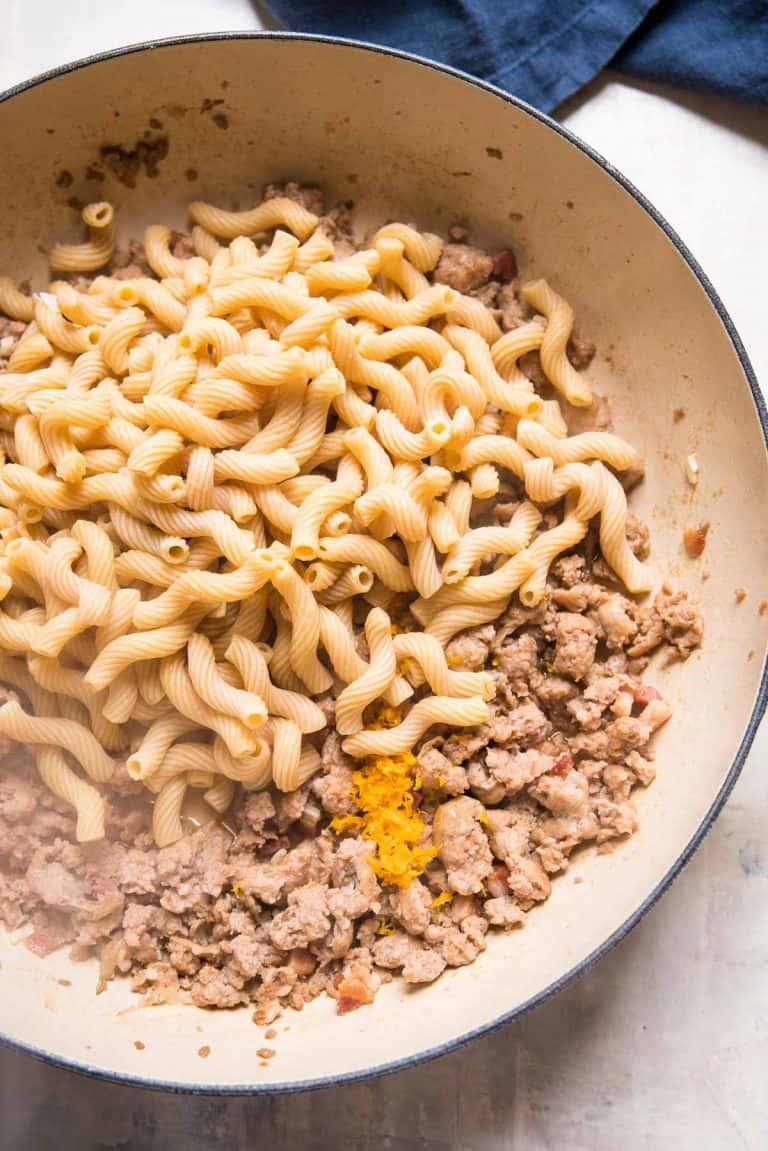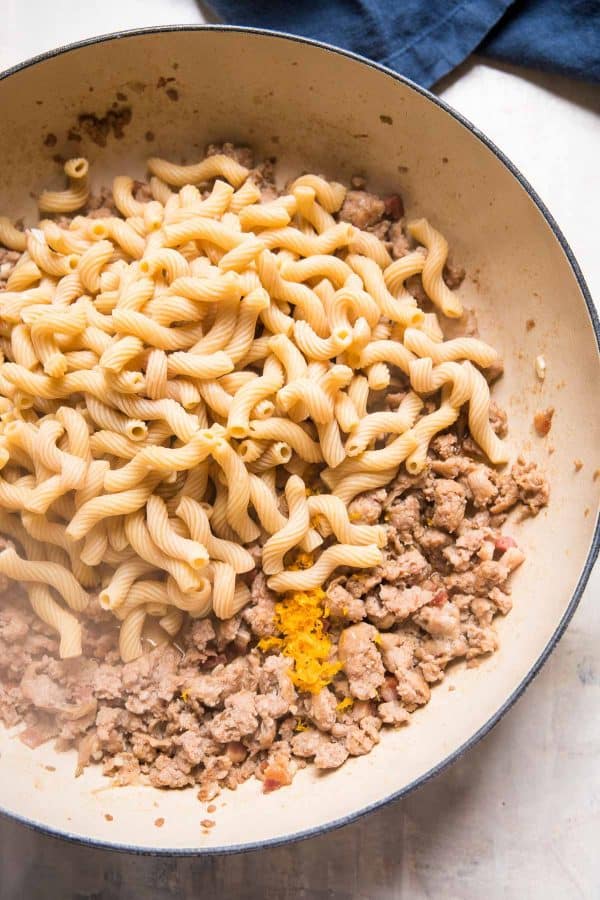 WHICH BRAND OF CHICKPEA PASTA IS BETTER?
I've tried a few pasta alternatives over the years, like this black bean spaghetti, and like with everything each brand varies just a smidge. Banza is our go to for texture and taste reasons. Also because cavatappi is the best pasta shape next to rigatoni and buccatini, fight me for it.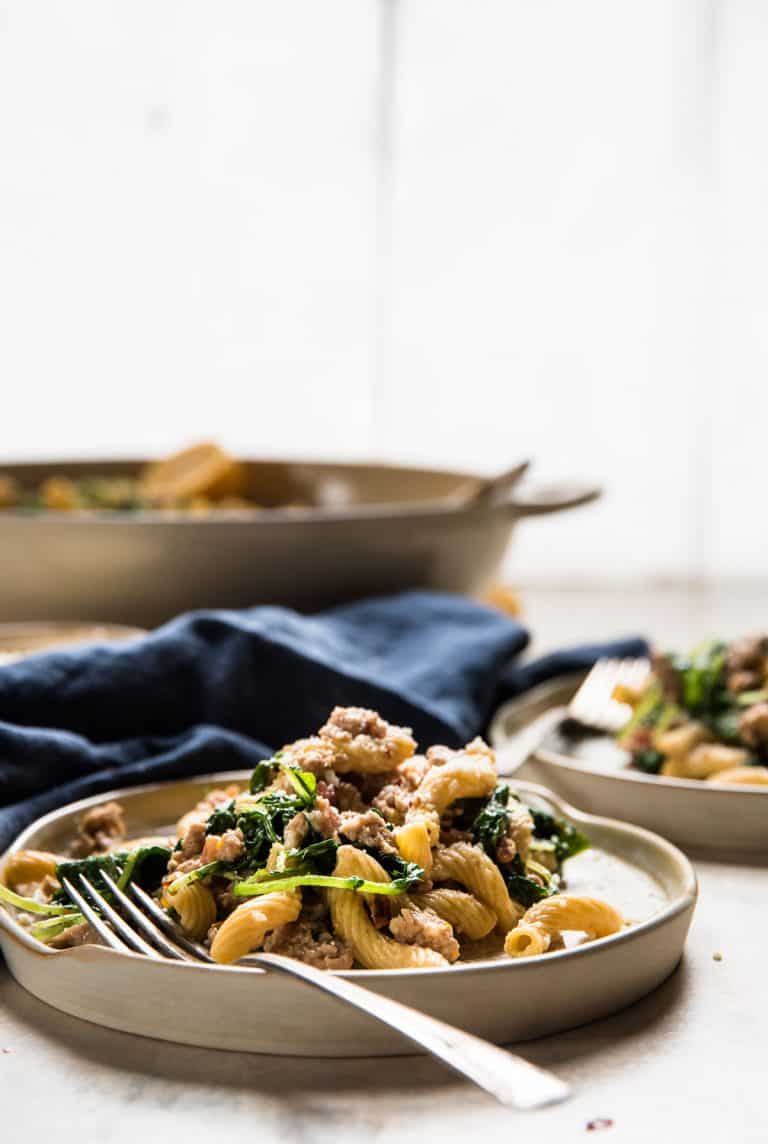 How to make chickpea pasta with sausage and baby kale
The number one most awesome thing about this recipe is how quick it is shortly followed by how flexible it is.
You can use any greens, it doesn't have to be baby kale. Better yet, you can grate zucchini and sneak it in to get those your humans more veggies.
Going meat free? Skip the pancetta and sausage part and give the garlic a quick sauté in the olive oil. You're still getting protein from the pasta.
Want a red sauce instead? Still do able. Just lose the lemon and reduce the wine to just a splash.
You can literally customize this chickpea pasta recipe into a 'what the heck is in my pantry and produce drawer' masterpiece. To make this as fast as possible, cook the meat and the sauce while bringing your water to a boil. You can always turn the heat off while you wait for the pasta to finish cooking. If it finishes cooking before the sauce, just let it sit in the colander.
For the turkey sausage, you can buy it in the casings and just squish it out like toothpaste. Kind of odd, but it works. You can also bake the sausage, slice it and serve it along side the pasta. Sausage is usually available 'loose' as well, if you can find that option go for it!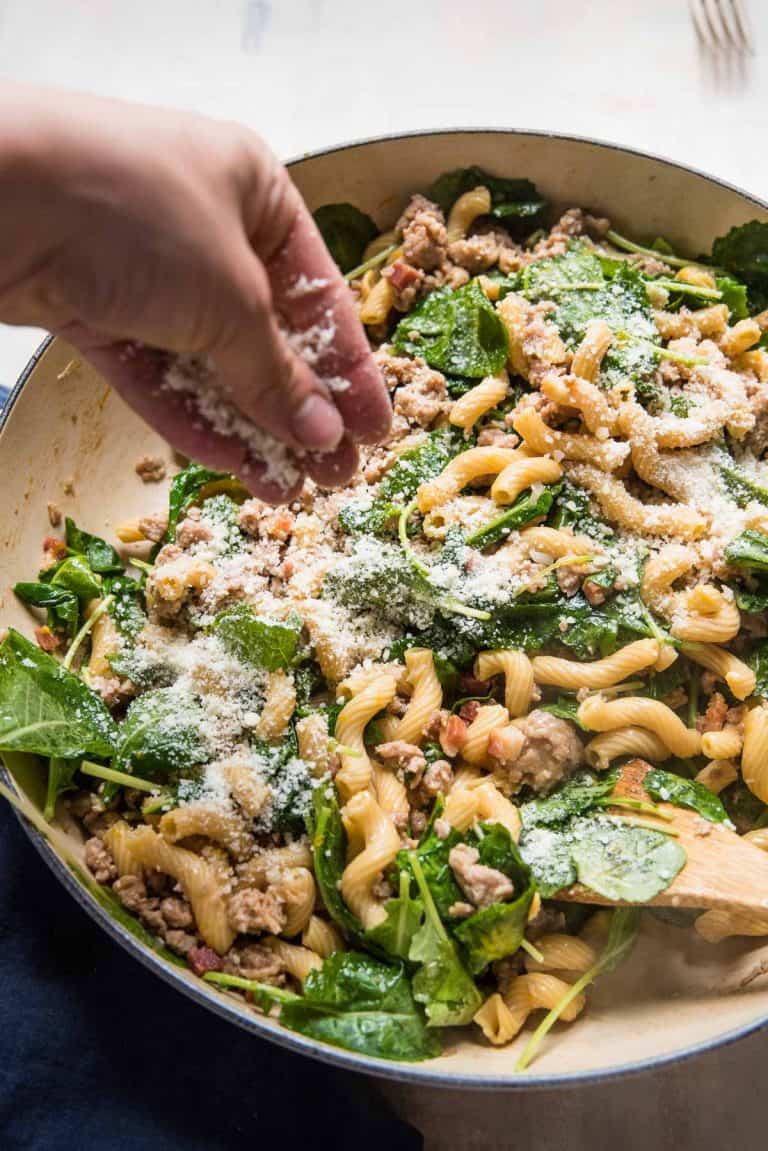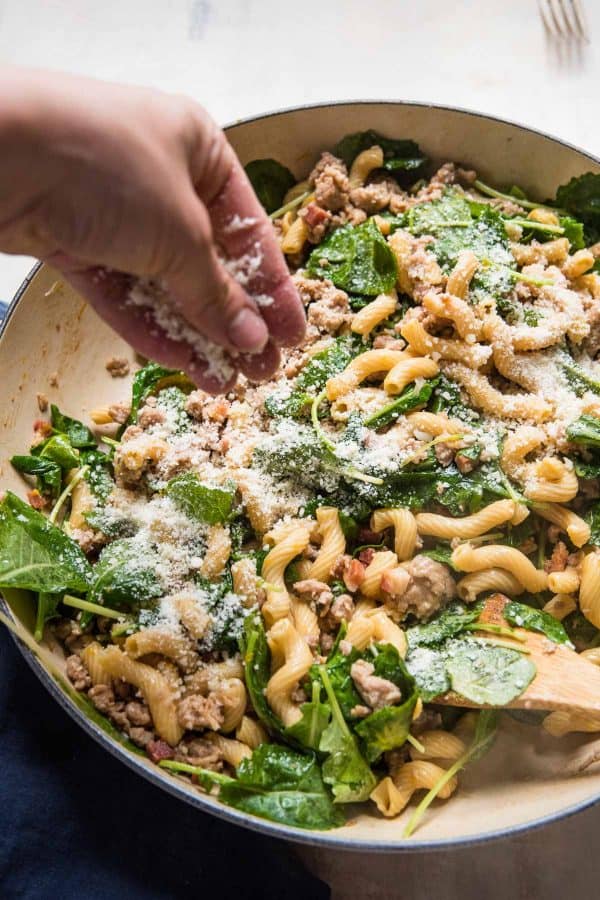 Tips for perfection:
The kale is going to take up a lot of space in the skillet but wilts very quickly so don't panic.
The pasta water will foam a little. It's normal.
Dice the pancetta small so any fat melts. It's more about adding flavor than texture. If you decide to skip the pancetta, season with a little salt and pepper to taste once the sauce comes together.
If using minced garlic from a jar, you want about one teaspoon.
Meyer lemon is my favorite, but a standard lemon zested and juiced is just as delicious! Be sure to strain out any seeds.
Fresh grated parmesan cheese is always 100% better than the unrefrigerated jar in the dry pasta section. Not trying to be snobby, but it's melty and salty and you can buy it already grated in the deli department. You're gonna be SO happy you did.
Are you on the chickpea pasta train? Tell me your favorite shapes and sauces! If you're loving these customiseable, quick dinner recipes be sure to tell me on Instagram or sign up for email updates so they go straight to your inbox!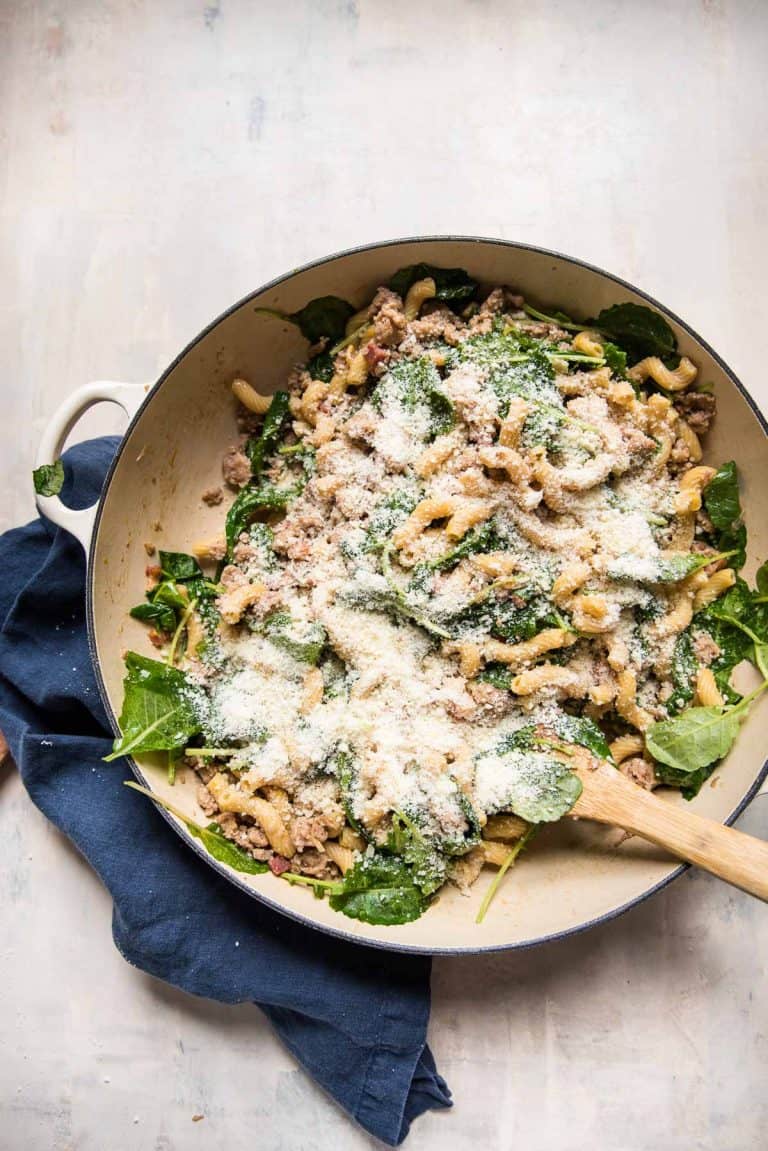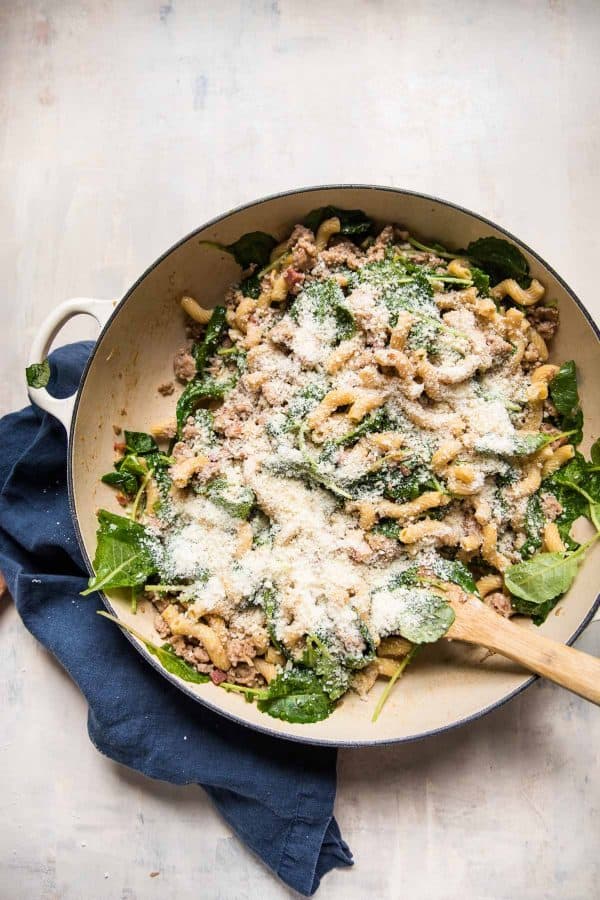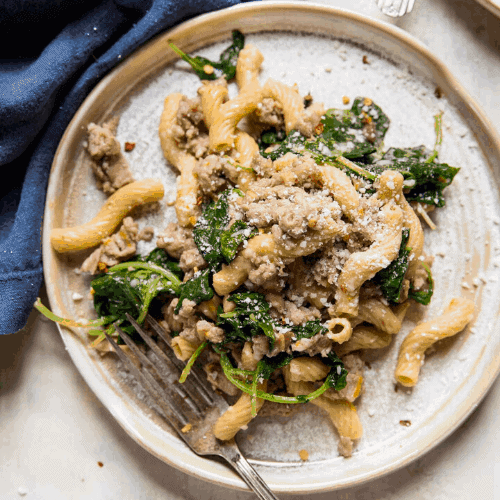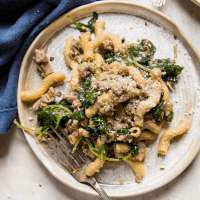 Chickpea Pasta with Sausage and Baby Kale
Light, quick and simple! Protein packed one pan meal is here to rescue dinner. Turkey sausage, baby kale and chickpea pasta sautéed with garlic white wine done fast!
Print
Pin
Rate
Ingredients
1

tablespoon

extra virgin olive oil

3

ounces

pancetta

(diced small)

1 to 1 ¼

lb

sweet Italian turkey sausage

(loose or removed from casings)

1

garlic clove

(minced)

5

ounces

baby kale

(about 4 ½ cups)

1

lemon

(zested and juiced)

⅓

cup

dry white wine

½

cup

grated parmesan cheese

1

box

cavatappi chickpea pasta

(8-ounce box)

⅓

cup

pasta water or chicken stock

(optional)

red pepper flakes

(optional)
Instructions
Set a large pot of salted water to boil. When the water comes to a roiling boil, add the pasta and stir. Cook 5 to 6 minutes or following recommended package instructions. Reserve ⅓ cup salted pasta water before draining.

While the water boils and the pasta cooks, prepare the sauce. Set a large skillet or braiser over medium-high heat. Heat the oil and sauté pancetta until browned, about 3 to 4 minutes.

Add the sausage to the pan and using a wooden spatula or spoon break it apart as it cooks, about 5 minutes. Deglaze the pan with white wine. Stir in the garlic, lemon zest and lemon juice. Reduce the heat or turn off until pasta is cooked.

When pasta is cooked and drained, transfer to the skillet over low heat and add the baby kale. The pan will seem very full with the baby kale at first, but it will wilt quickly. If you'd prefer more liquid to the sauce, add the reserved pasta water a little at a time until it thickens. Finish by sprinkling parmesan cheese over the pasta, lightly stirring it in.
Notes
The pancetta adds a savory, salty flavor. You can lighten up this pasta calorie-wise by omitting the pancetta. Be sure to season with salt and pepper if removing this ingredient.
One 5-ounce package of baby kale is about 2 ½ cup packed baby kale.
Baby spinach is a great substitute for baby kale if you prefer a less bitter green.
Depending on the brand and shape of pasta, cooking times will vary.
If using garlic from a jar, use about 1 teaspoon.
Nutrition
Calories:
294
kcal
|
Carbohydrates:
8
g
|
Protein:
21
g
|
Fat:
19
g
|
Saturated Fat:
7
g
|
Trans Fat:
1
g
|
Cholesterol:
67
mg
|
Sodium:
1127
mg
|
Potassium:
368
mg
|
Fiber:
1
g
|
Sugar:
3
g
|
Vitamin A:
2574
IU
|
Vitamin C:
59
mg
|
Calcium:
152
mg
|
Iron:
10
mg