Iced Lavender Matcha Latte - aka the perfect way to start your day or for an afternoon pick me up in this summer of ridiculous heat and humidity. It's got that beautiful, earthy matcha green tea flavor, bright and sweet floral lavender, and creamy whatever-kind-of-milk-you want.
Yup. That'll pick you up right by the pants and place you on a cloud of summertime goodness. Or spring, or fall or just enjoy yourself an Iced Lavender Matcha Latte whenever you damn well please because this is you time.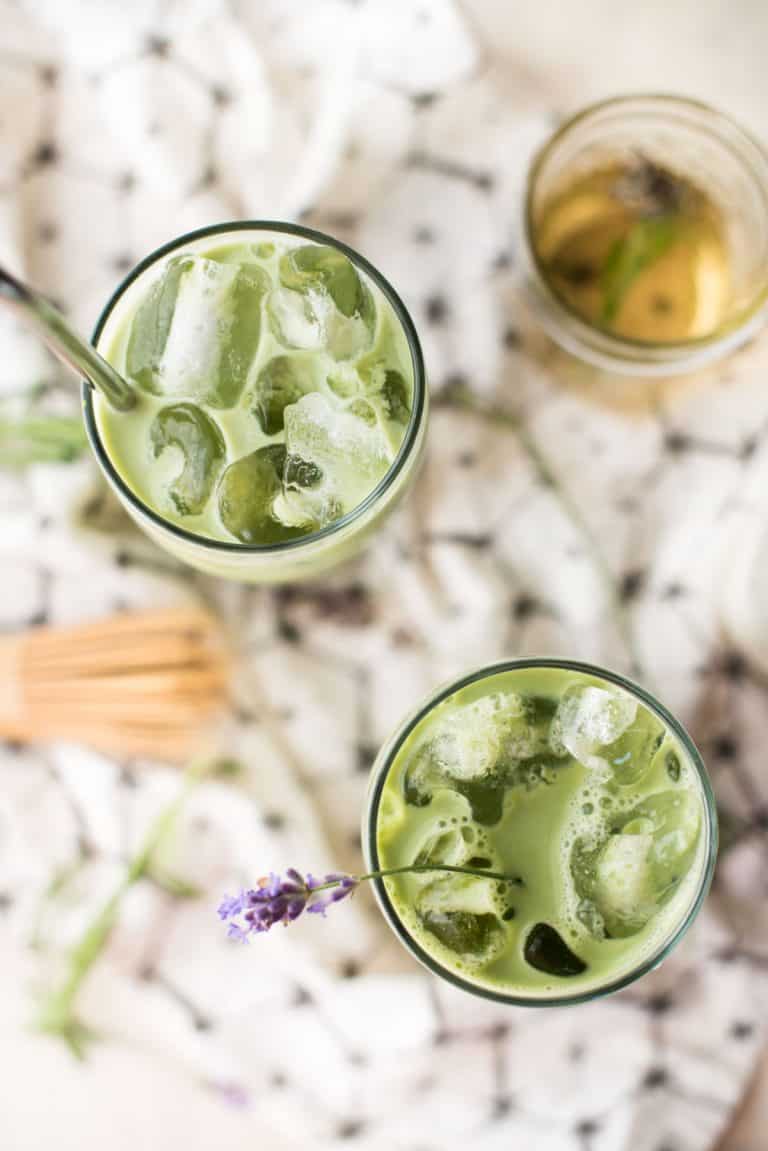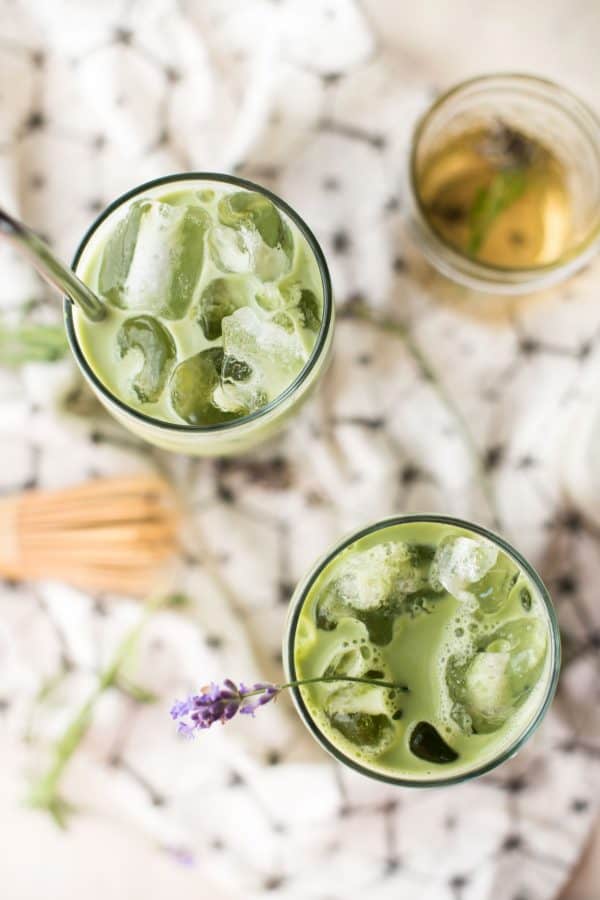 What is Matcha?
New to this vibrant green tea powder? Well, that's exactly what it is. The traditional green tea leaves normally dried and bagged are ground into a superfine powder. The result? Naturally creamy, earthy, strong green tea flavor that's worth the extra effort.
Well, that's if you like green tea. If you're my mom, you'll wonder why on earth you'd drink grass clippings with your breakfast.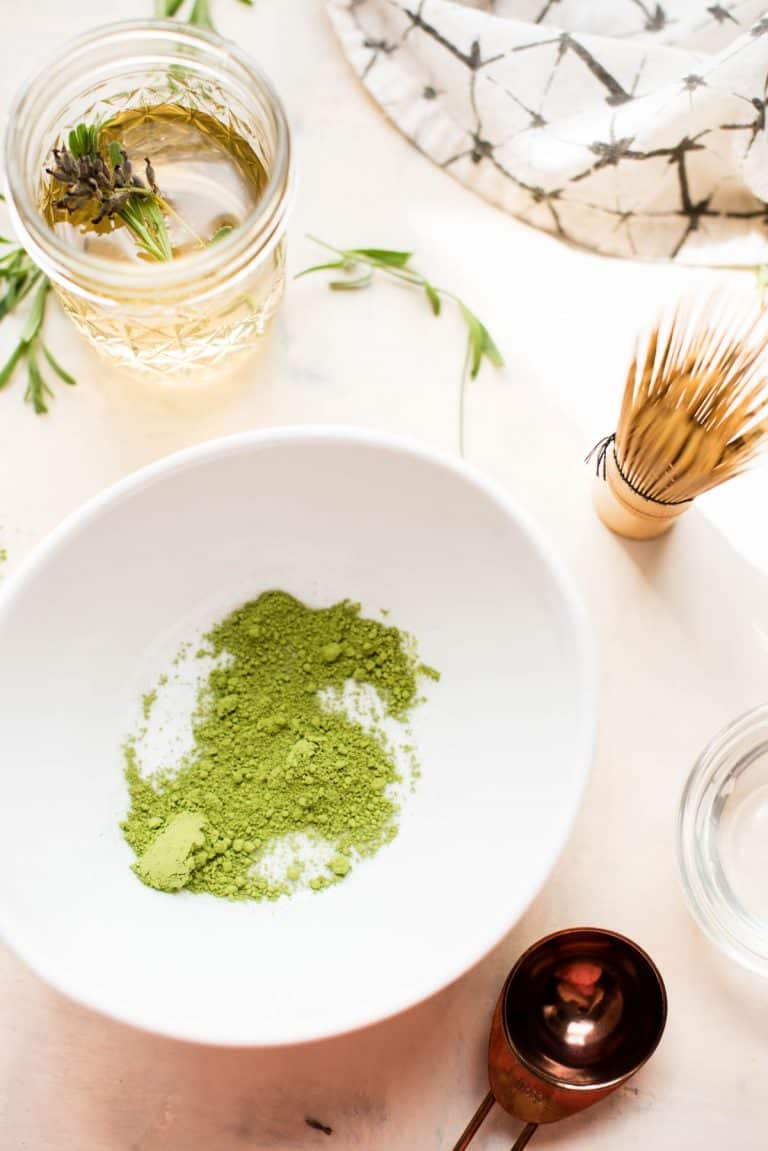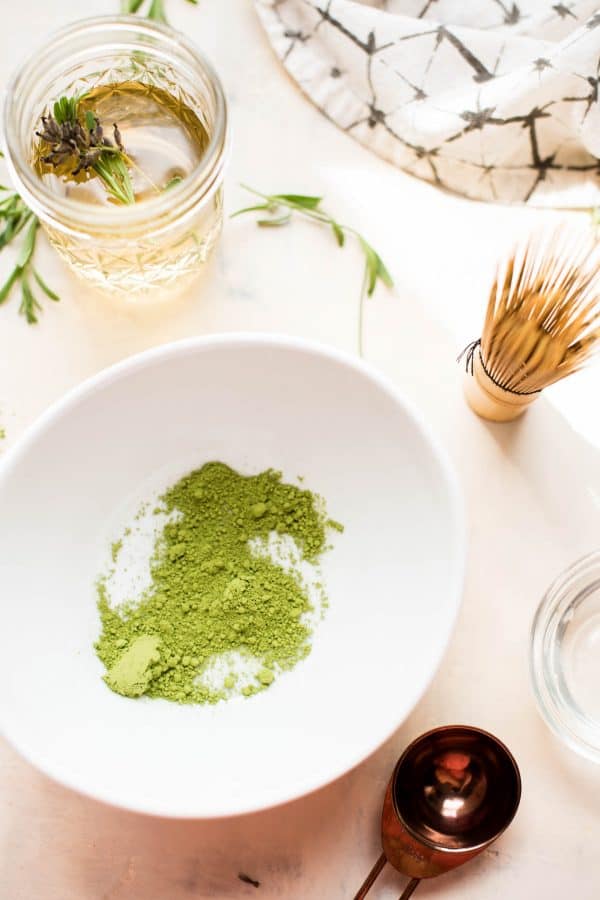 Matcha is full of antioxidants and provides a little boost in the caffeine department without the jitters of a cup of coffee.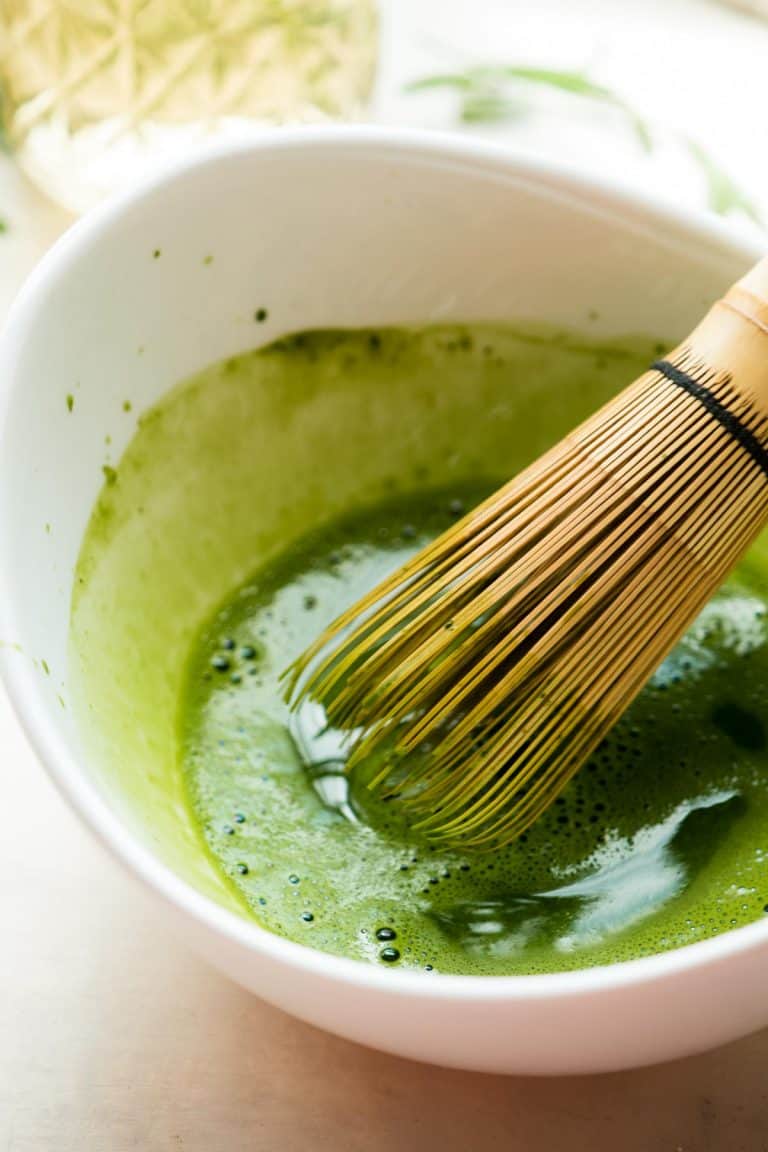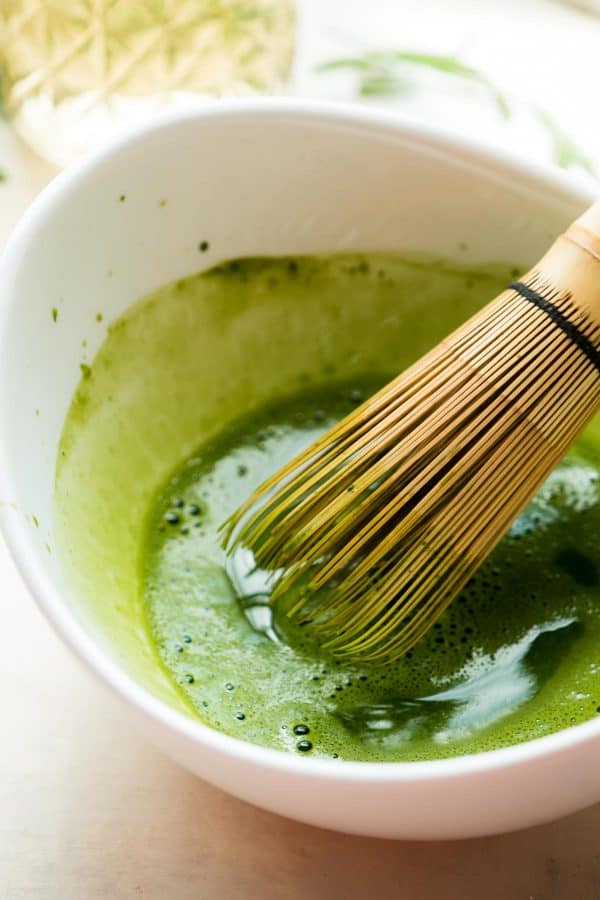 What you'll need for making Matcha
(This post contains affiliate links below. There's no additional cost to you, but I make a commission from the sale.)
Matcha Powder - I currently have two matcha favorites right now. The first is Zen Green Tea matcha. It's less expensive and blends SOOOO ridiculously easily. I can just put it in my milk frother
and go. In second place is the Matcha Matsu from David's Tea. It definitely has the traditional characteristics of matcha powder but isn't too strong in flavor.
Matcha Whisk
- while I can attest it is definitely possible to live without the specialty bamboo matcha whisk, it does make frothing the matcha powder 300% easier and with zero clumps. Mine is from amazon - this one right here.
A small bowl - you don't have to get a specific matcha bowl, just something small with a large enough lip so you don't end up with green matcha on your nice white countertops.
Milk Frother (totally optional) - If you're thinking a hot matcha latte with Starbuck style foam on the reg sounds delicious then I'd say it's worth the investment. This Nespresso Milk Frother
is my favorite but it's pretty pricey. If you're thinking you'd just like to test it out, here's a groovy little hand held guy
that's under $10.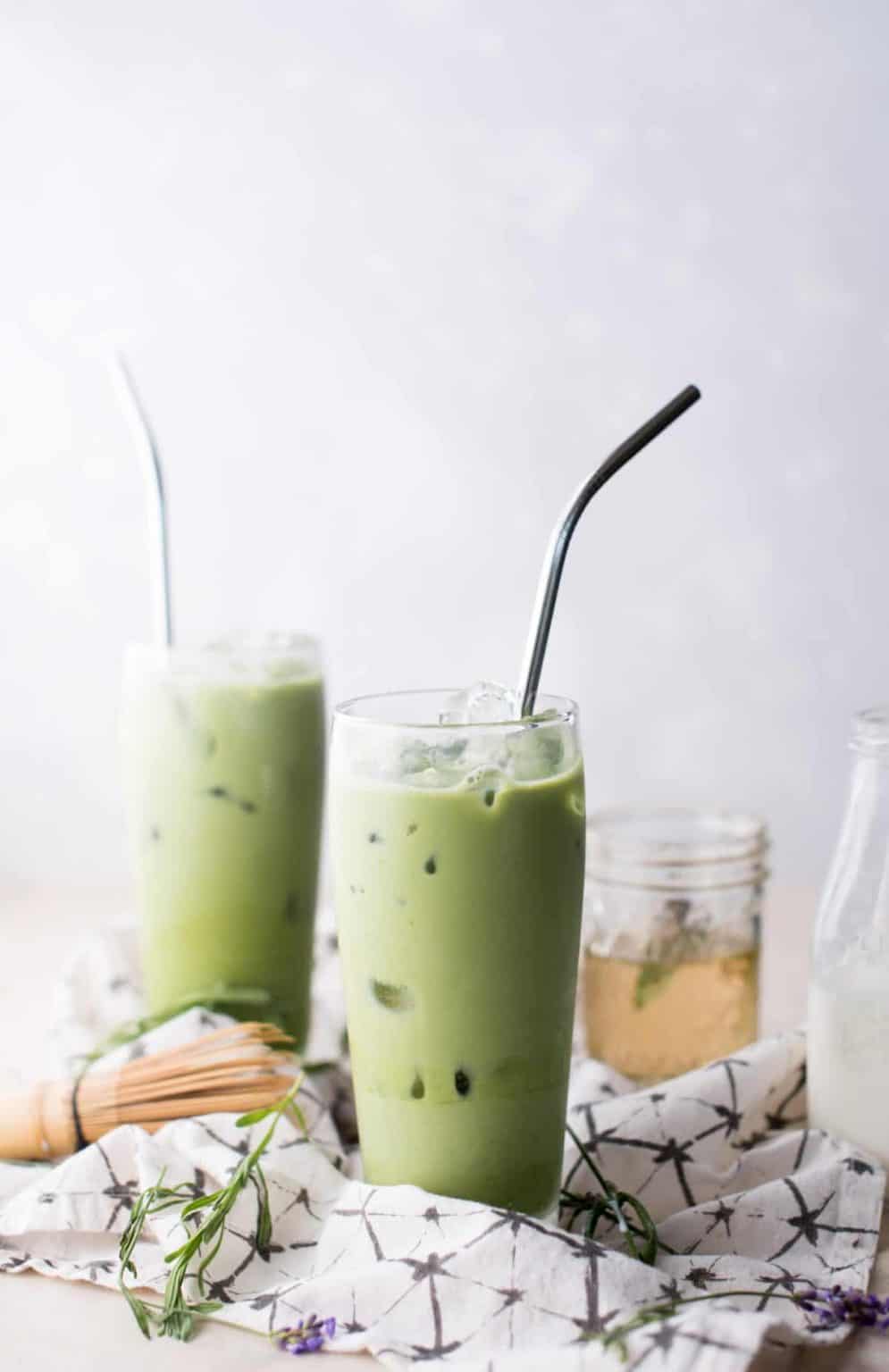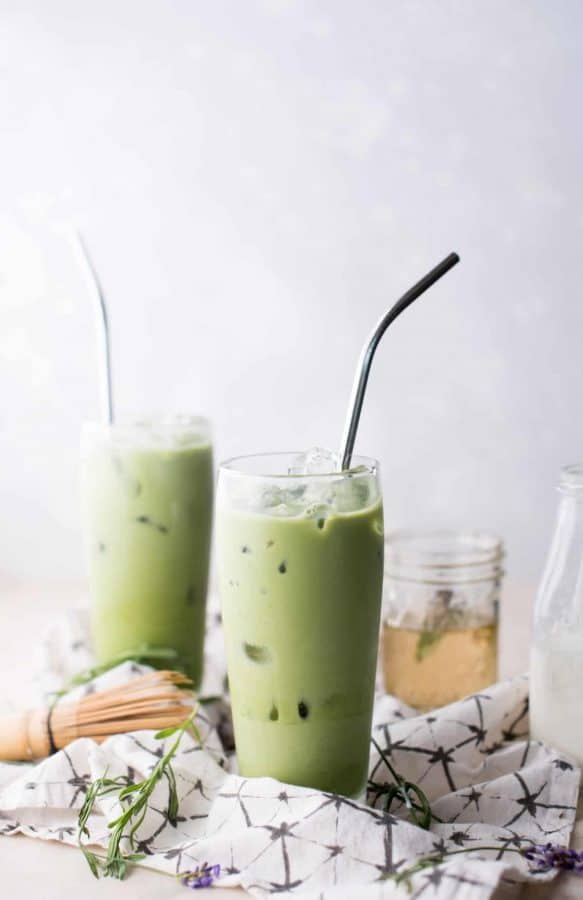 Iced Lavender Matcha Latte
Ok, but here's the thing. Matcha Lattes are like liquid gold, if gold was green. Then you add Lavender Syrup and they become unicorn-level magical.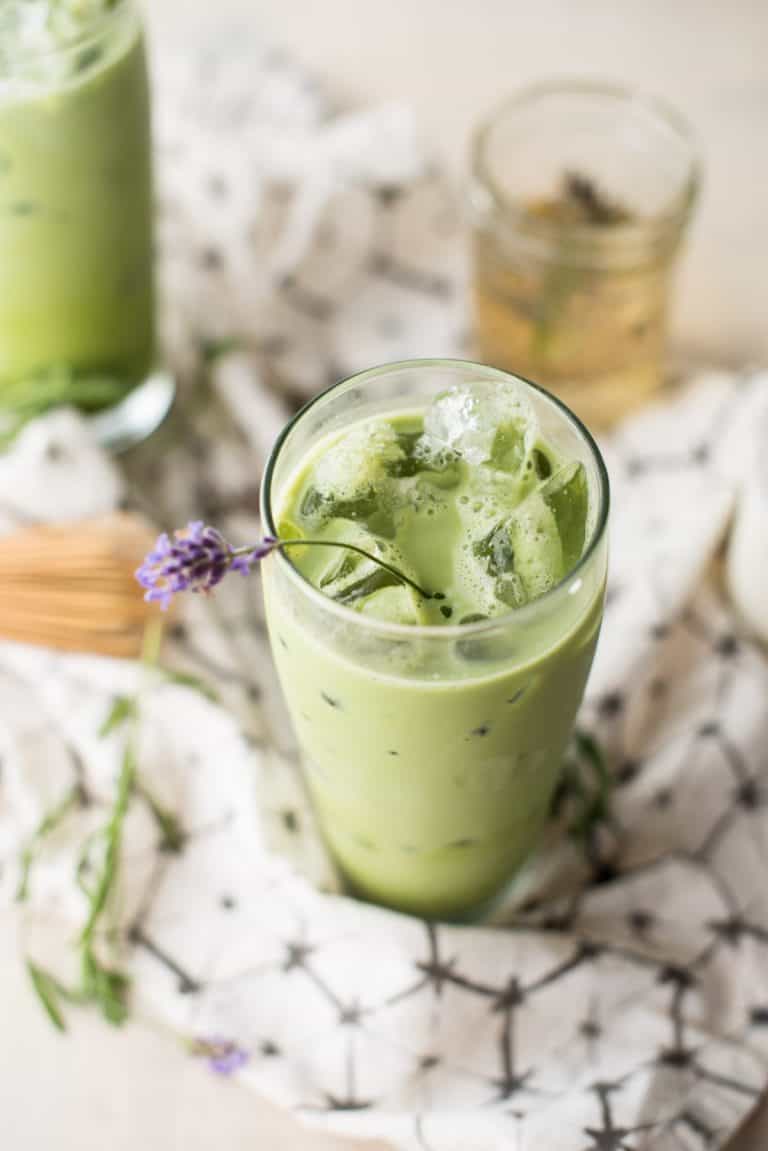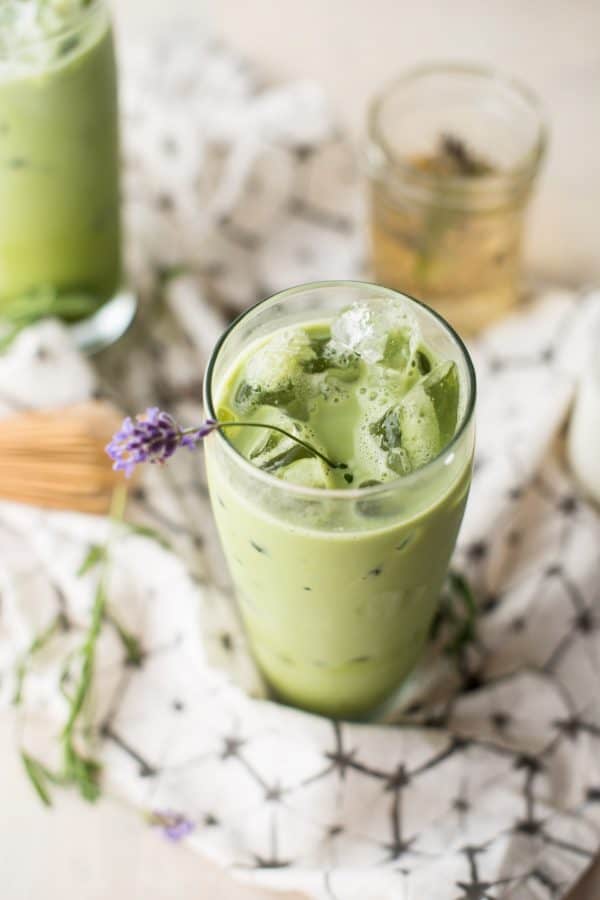 There's something about green and purple food that has me hooked this summer. Imma go head and blame that on the pregnancy, but it's working out real nicely. The other week when this Honeydew Lavender Sorbet happened and everyone rejoiced as blissful spoonfuls filled their mouths.
No, really, it happened at girl's gathering. There were serious doubters about the whole lavender in food thing, but now they're converts.
What it all boils down to is that you're making a little lavender simple syrup either with fresh lavender or culinary lavender
and swizzling it into a regular matcha latte. Milk option, of course, is up to you. I've been on a whole milk kick lately because #indulgence, but I also really love these with regular ole almond milk. Whatever floats your matcha.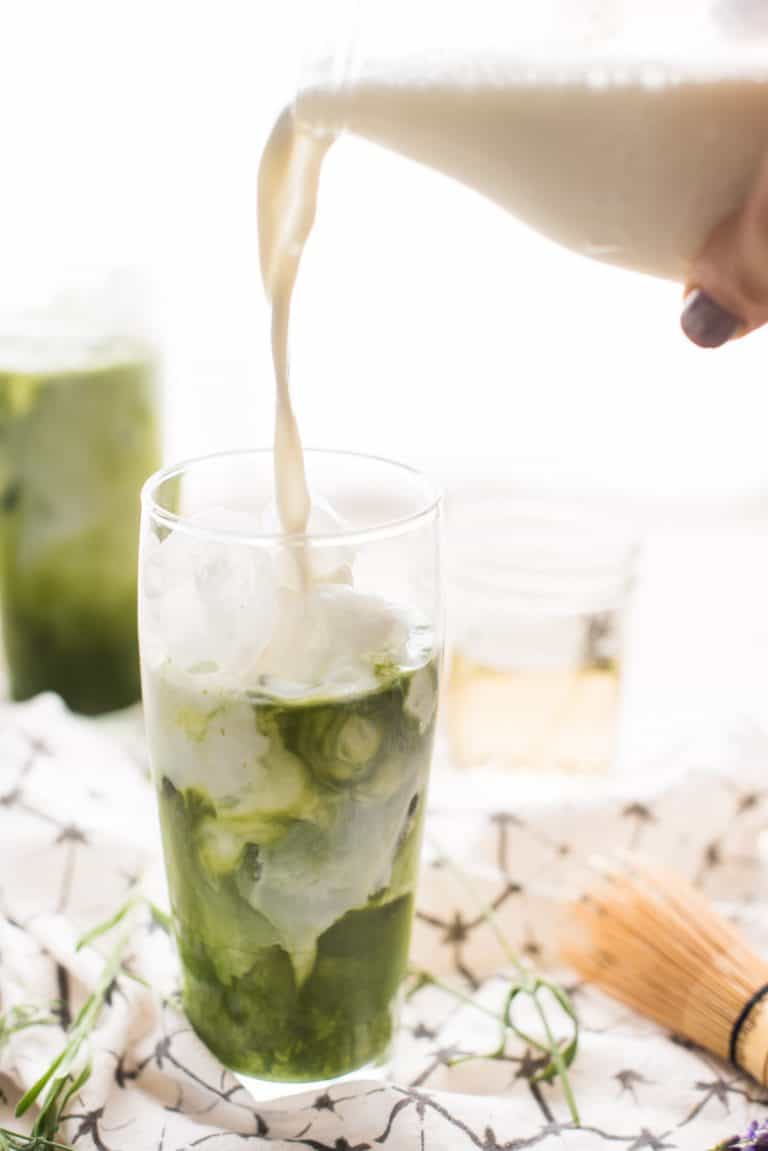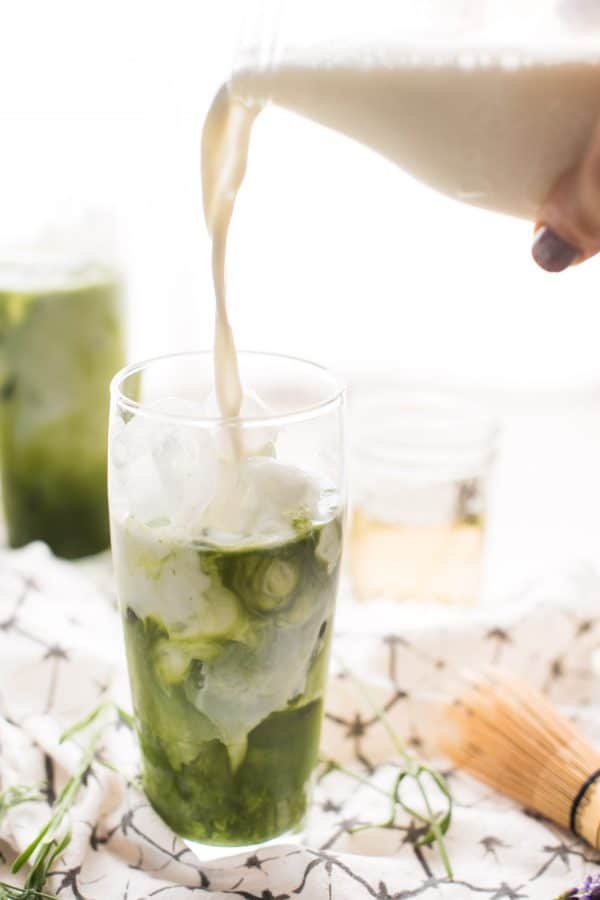 Sooo anyways. Green and purple - it's a good thing. Just like these Iced Lavender Matcha Latte. Cheers friends. Here's to happy sipping.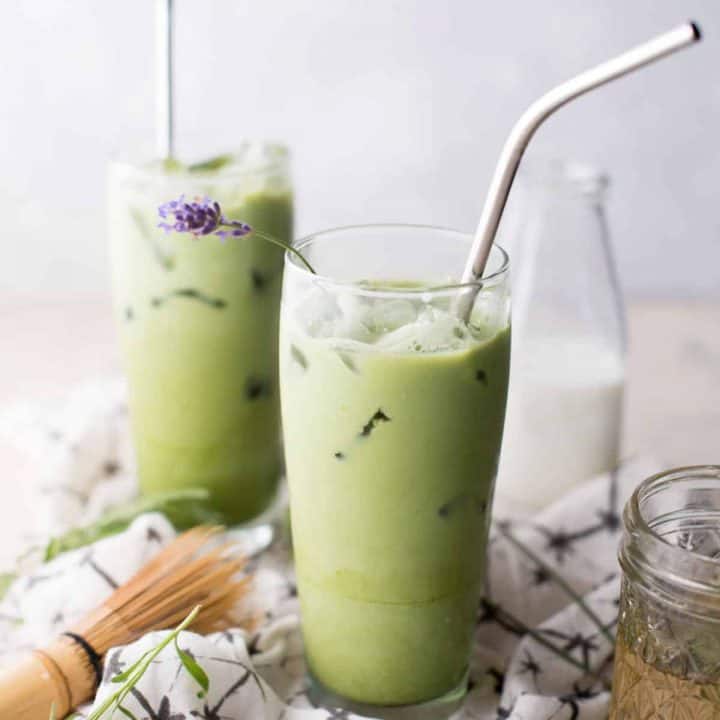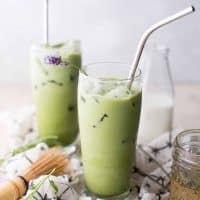 Iced Lavender Matcha Latte
An iced lavender matcha latte is the perfect start to the day or afternoon pick me up with earthy matcha green tea, sweet floral lavender and creamy milk of your choice!
Print
Pin
Rate
Ingredients
Iced Lavender Matcha Latte
1 ½

teaspoons

green tea matcha powder

¼

cup

hot water

1

tablespoon

lavender simple syrup

¾

cup

milk of your choice

(cows, almond, coconut, etc.)
Lavender Simple Syrup
1

cup

granulated sugar

1

cup

water

5 to 8

sprigs fresh lavender OR 2 teaspoons dried culinary lavender
Instructions
Prepare the lavender syrup. Combine the sugar, water and lavender in a medium saucepan. Bring to a boil over medium-high heat. Boil for 2 minutes, turn off heat and let steep for 5 minutes. Optional: strain out lavender before storing.

Whisk the matcha. Combine matcha powder in a small bowl with 1 tablespoon of the water. Whisk with matcha whisk until clumps dissolve and a thick paste forms. (See note if you do not have a matcha whisk). Add 2 more tablespoons of water, one at a time, whisking thoroughly after each addition to remove any clumps and build a little froth. Pour matcha liquid into serving glass and use remaining water to rinse out the bowl and add to glass.

Build your latte. Stir in 1 tablespoon of lavender syrup and fill the glass with ice. Top with milk of your choice and swirl with a long spoon or straw to mix together. Sip and enjoy!
Notes
If you do not have a matcha whisk, you can still enjoy these Iced Lavender Matcha Lattes! Build the drink using a regular whisk, slowly adding the water in smaller batches. Alternatively, you can add all the ingredients to a single serve blender cup and blend until smooth and creamy.
Nutrition
Calories:
168
kcal
|
Carbohydrates:
31
g
|
Protein:
6
g
|
Fat:
2
g
|
Sodium:
93
mg
|
Potassium:
94
mg
|
Fiber:
1
g
|
Sugar:
23
g
|
Vitamin A:
669
IU
|
Calcium:
262
mg
|
Iron:
2
mg