Meyer lemons...little sun kissed, tangy, sweet citrus that is here to totally up your pesto game. In this Meyer lemon basil pesto the zested skin and juice of the lemon is added to fresh picked basil leaves, spicy raw garlic, toasted pine nuts, rich olive oil, and salty Parmesan cheese.
And we're going to put it on all the things.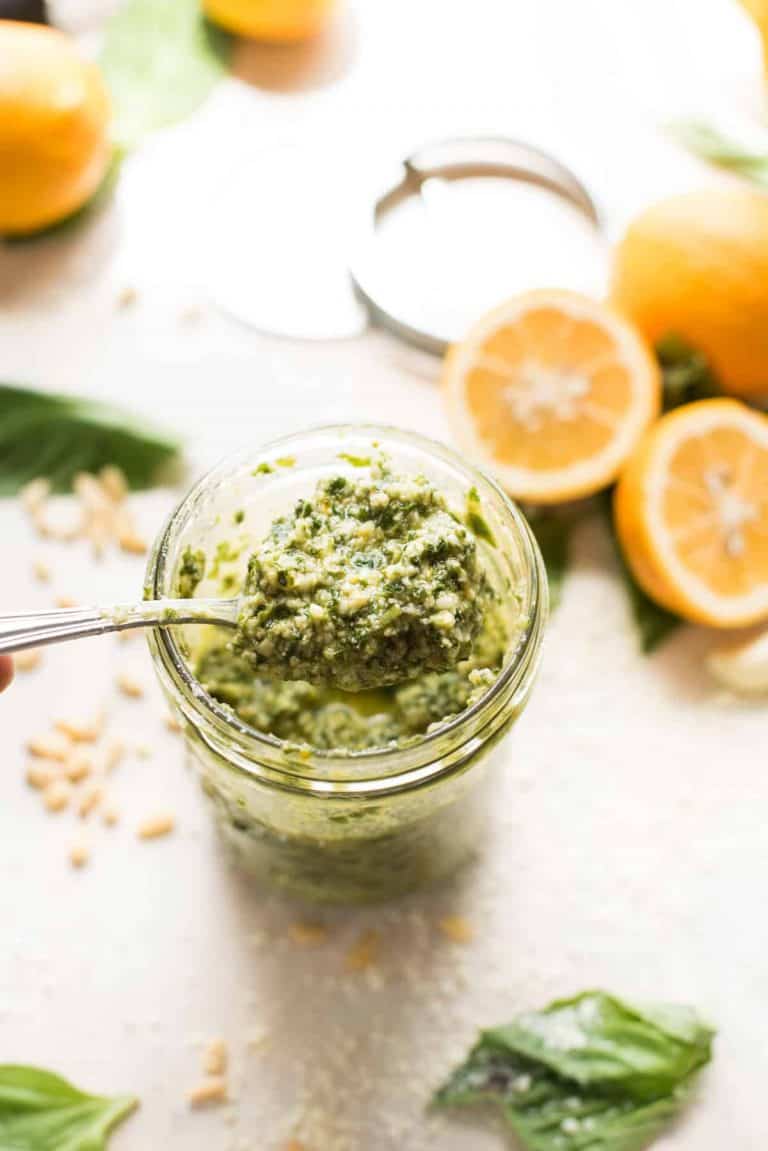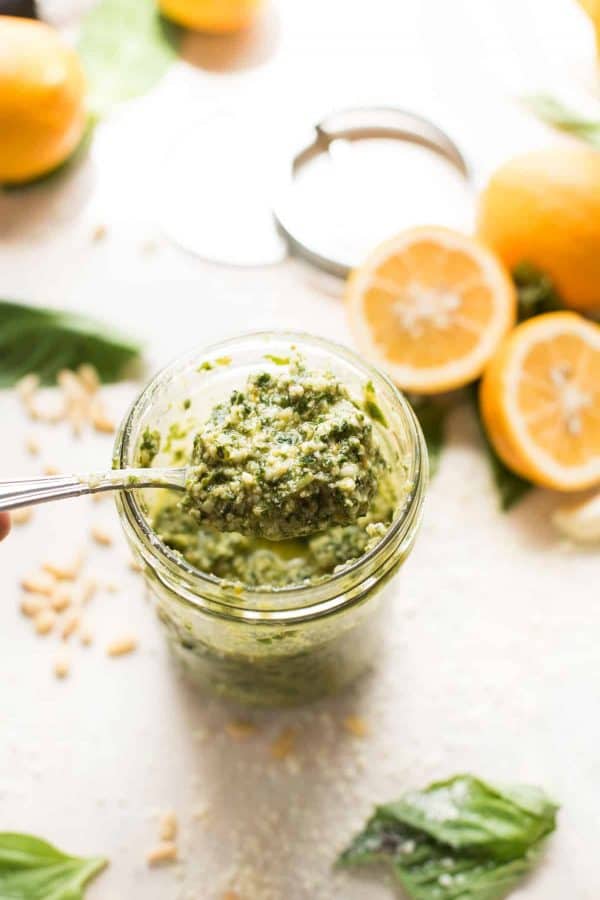 No really. Here's how it went down IRL.
"Hey, I'm going to try this new pesto sauce with a piece of bread. Oh wow, that's really yummy. Okay, maybe a little more bread." Then while chewing on the last of the loaf I'm brainstorming how to put it on all of my food the rest of the day....caprese salads, quinoa, pasta, chicken or working it into this Lemon Ricotta Pesto Spaghetti.
And just like that the day got 500x better.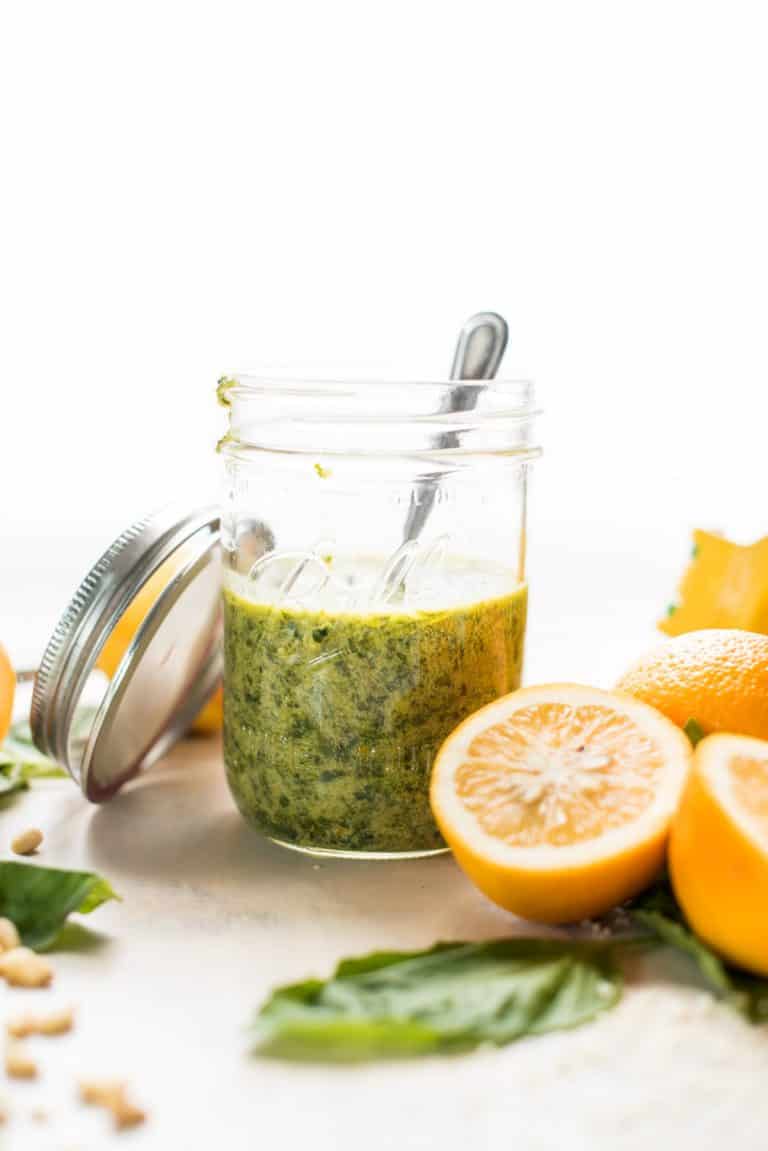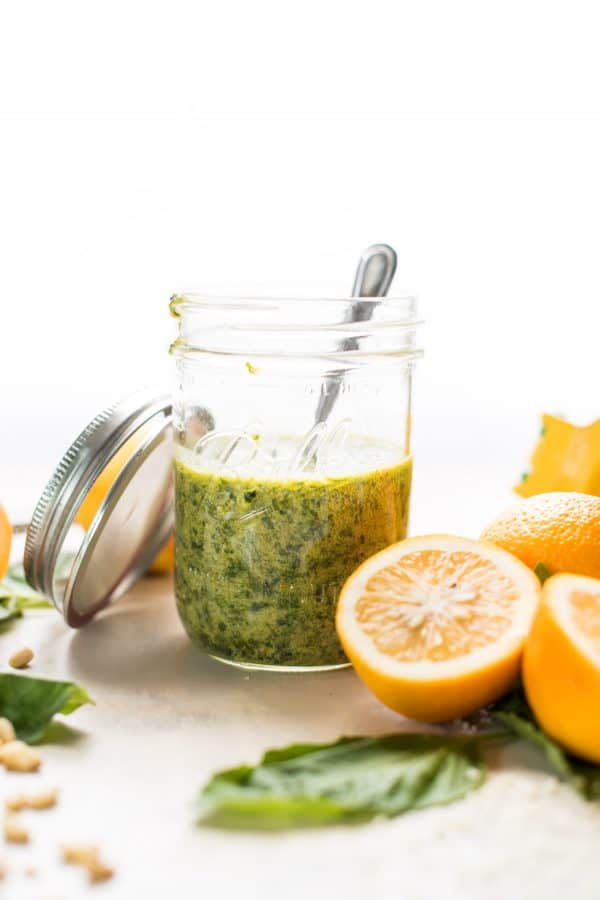 Meyer Lemons vs. Regular Lemons
So what's the big deal, right? You get four smaller lemons in a fancy bag for more money. Here's why it's worth the bother:
Sweeter than regular lemons but still with the familiar tang. Just not quite as acidic or bitter.
You could eat them as is, tossed with vinaigrettes, use in baking, sliced thin and roasted without worrying about a super bitter rind.
You won't be able to find them year round so it's nice to have a little, special 'treat yo'self' ingredient.
Can't find Meyer lemons? You can definitely still make this Meyer lemon basil pesto with regular lemons. It'll just have a little more zip and pop!

Pesto Basics
There are roughly 7,000 different ways to make pesto. Ok, maybe that's not an exact count but there are a lot of different pesto recipes.
Last summer I was slathering this Kale & Spinach Pesto all over grilled flatbread pizzas and this Avocado Pesto with Zucchini Noodles is easily one of my favorite healthy, yet filling, meals.
So when it comes to pesto I try to follow these steps:
Basil and/or greens
Garlic
Some sort of nut
Good quality olive oil (this could also be coconut oil, avocado oil, etc.)
Salt and pepper to taste
Cheese optional
Any add-ins your heart desires...like Meyer lemon, clementines, avocados...you get the point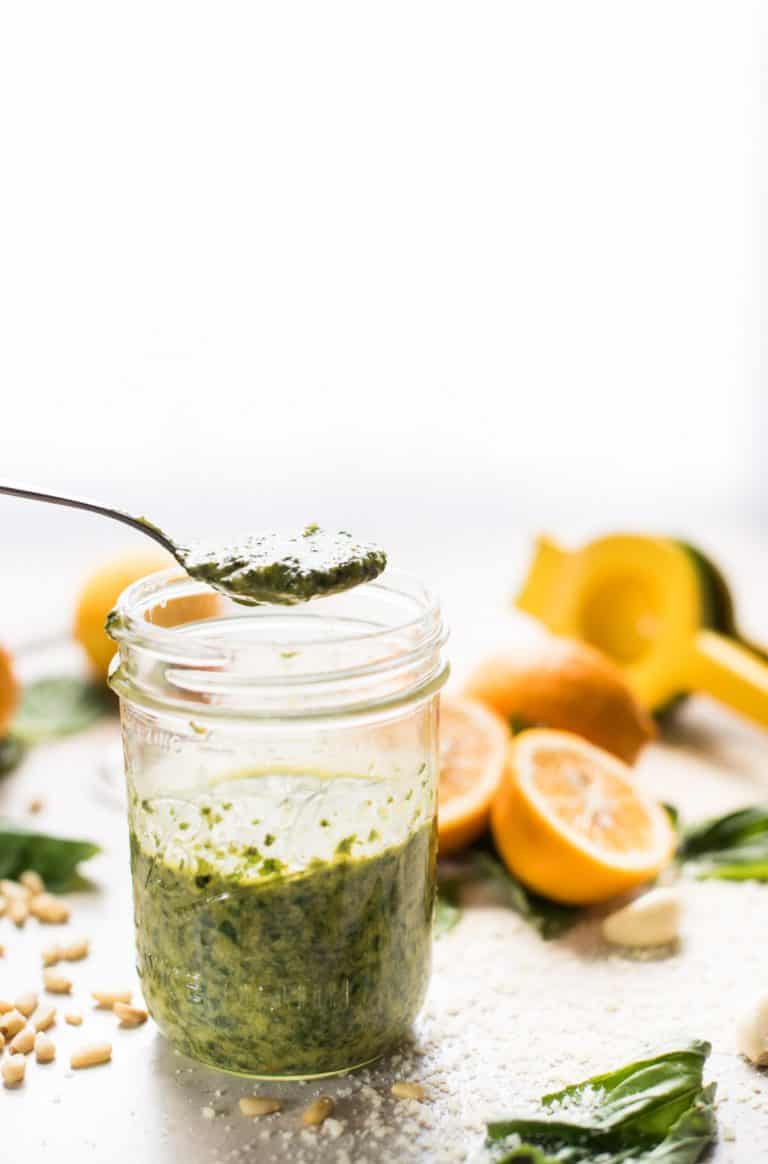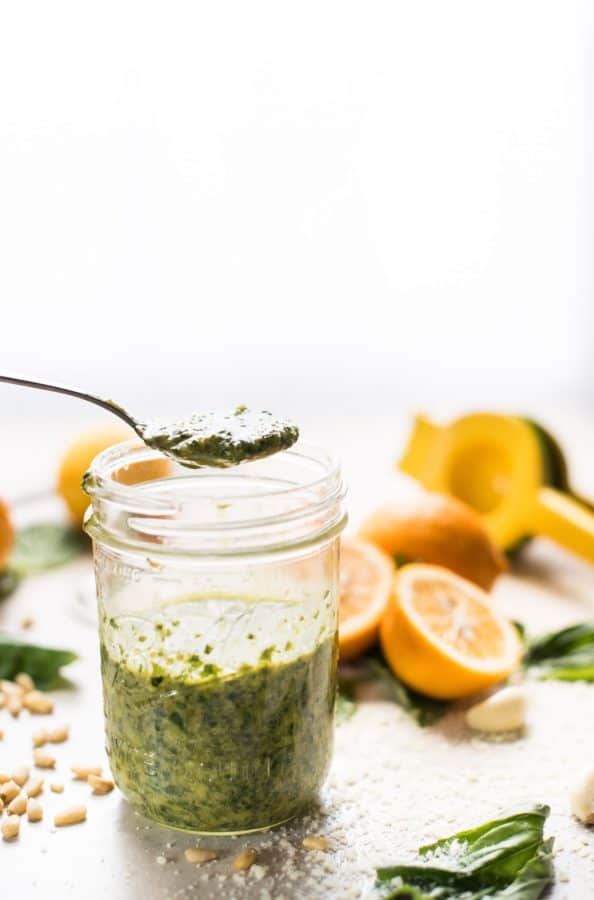 Pesto Tips
While you can definitely make pesto without a food processor, it's admittedly going to make the process way faster. If you're a kitchen gadget minimalist, just make sure everything is chopped as finely as possible and you whisk the olive oil until it slightly emulsifies (thickens.)
Toast the nuts. Personal preference here, but whether you're using pine nuts, walnuts, or almonds - give them a quick toast in a sauté pan. By warming the nuts, you'll release some of the fragrance and oils and impart more rich flavors into the sauce.
Add liquid in stages. While I personally love to just dump everything in and go, it will help grind up your solid pieces into small bits if you only add a bit of liquid at a time.
If you plan on storing your pesto in the refrigerator or freezer, wait to add the cheese. Then add it before you plan on serving it/using it in a sauce.
Ready to get your pesto on? Let's do it! Tell me about your favorite ways to use pesto in the comments!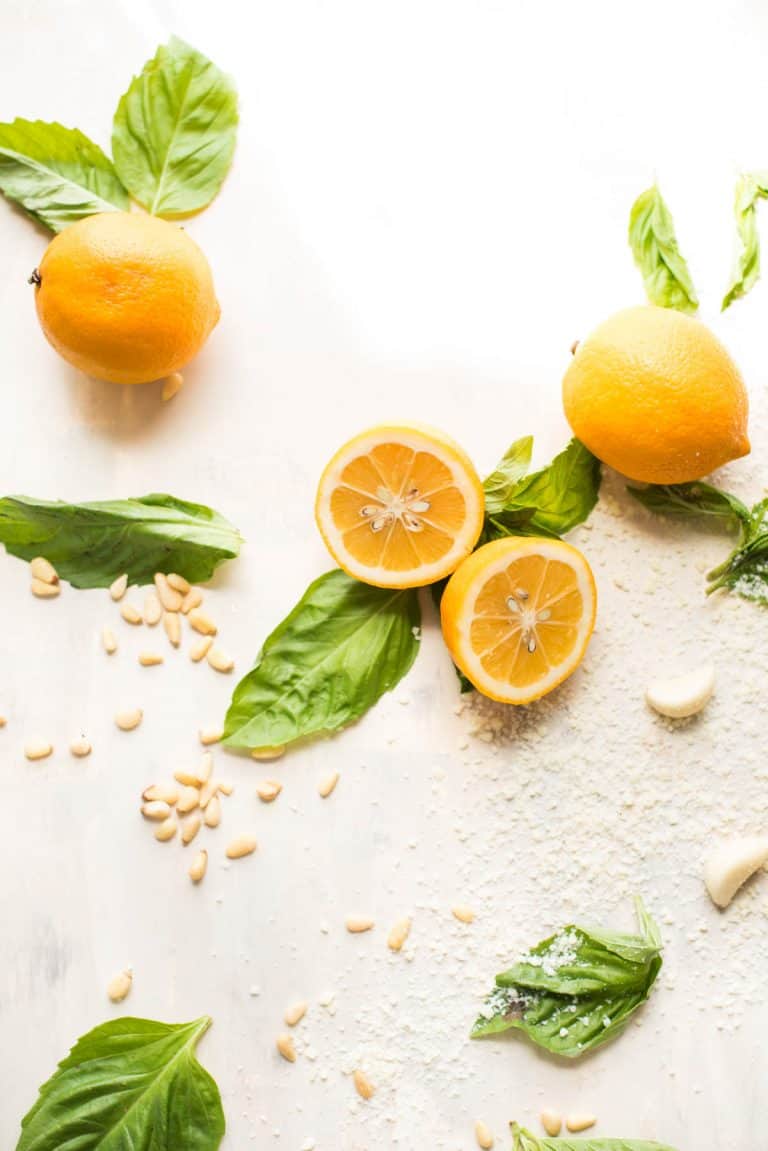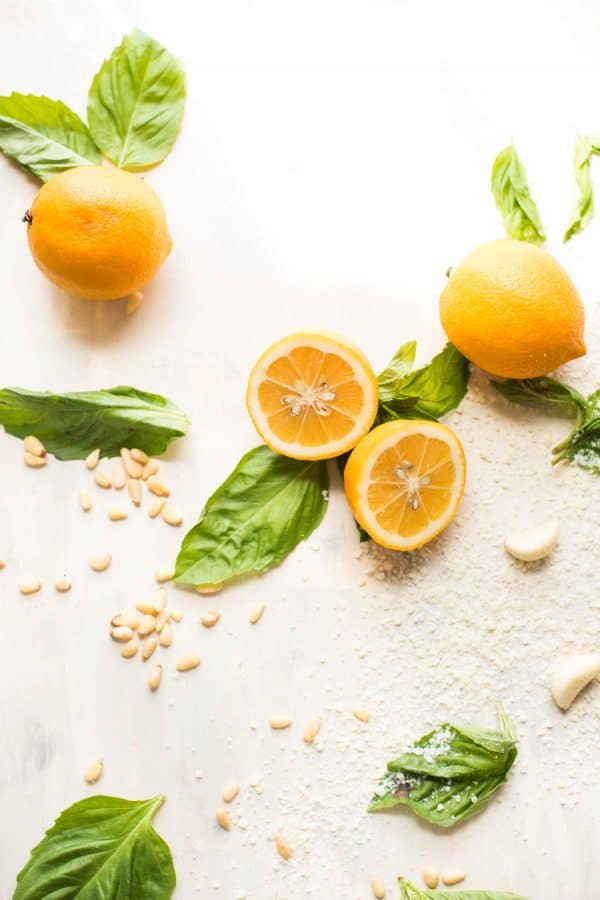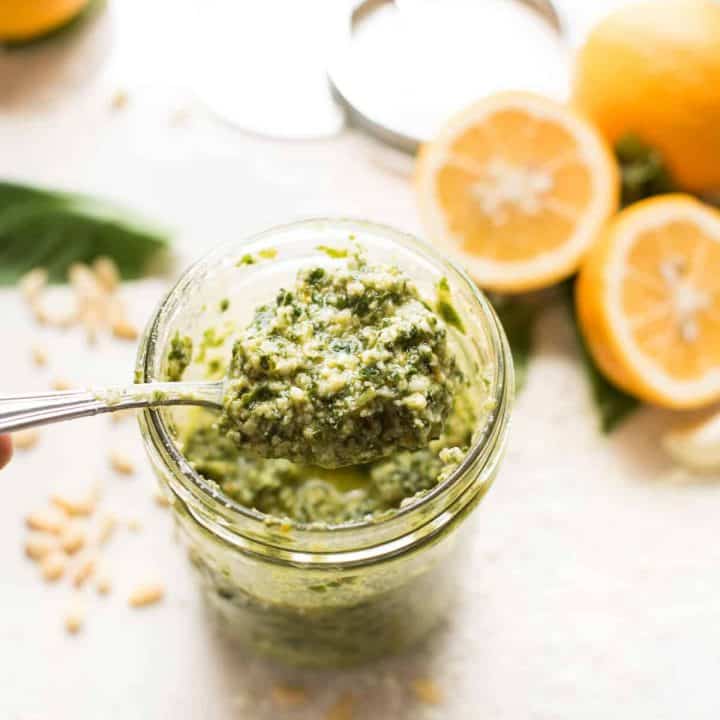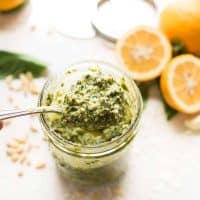 Meyer Lemon Basil Pesto
Meyer lemon basil pesto is everything you love about traditional basil pesto with a burst of summery flavors, bright and sweet Meyer lemon, and cheesy Parmesan.
Print
Pin
Rate
Ingredients
2

cups

packed basil leaves

¼

cup

toasted pine nuts

2

large cloves garlic

1

Meyer lemon

(zested and juice)

⅔

cup

extra virgin olive oil

½

cup

parmesan cheese

(grated)

¼

teaspoon

salt
Instructions
Toast: In a small sauté pan, toast the pine nuts over low heat for 3 to 4 minutes. Just until fragrant, slightly browned.

Blend: In a food processor, add the basil, pine nuts, garlic and ⅓ cup olive oil. Pulse 5 to 6 times to break up the ingredients then blend for 1 minutes. Add Meyer lemon zest, juice, salt, and remaining olive oil. Blend for a full minute until combined and oil becomes slightly emulsified.

Get Cheesy: If using right away, stir in parmesan cheese. If freezing or storing for later, wait to add the cheese until use.
Nutrition
Calories:
572
kcal
|
Carbohydrates:
3
g
|
Protein:
8
g
|
Fat:
60
g
|
Saturated Fat:
10
g
|
Cholesterol:
11
mg
|
Sodium:
463
mg
|
Potassium:
139
mg
|
Fiber:
1
g
|
Sugar:
1
g
|
Vitamin A:
978
IU
|
Vitamin C:
4
mg
|
Calcium:
232
mg
|
Iron:
2
mg