Life is all about balance right? We try to live a balanced life. Drink lots of water. Track steps on your FitBit. Eat kale.
This Kale & Spinach Pesto is my current balance. Balancing me to be totally ok for situations like when weeks are crazy, grocery shopping is undone, full meal supplies are scare and take out is an effective option. That was this week, and this Kale & Spinach Pesto saved the day so hard it should've worn a cape.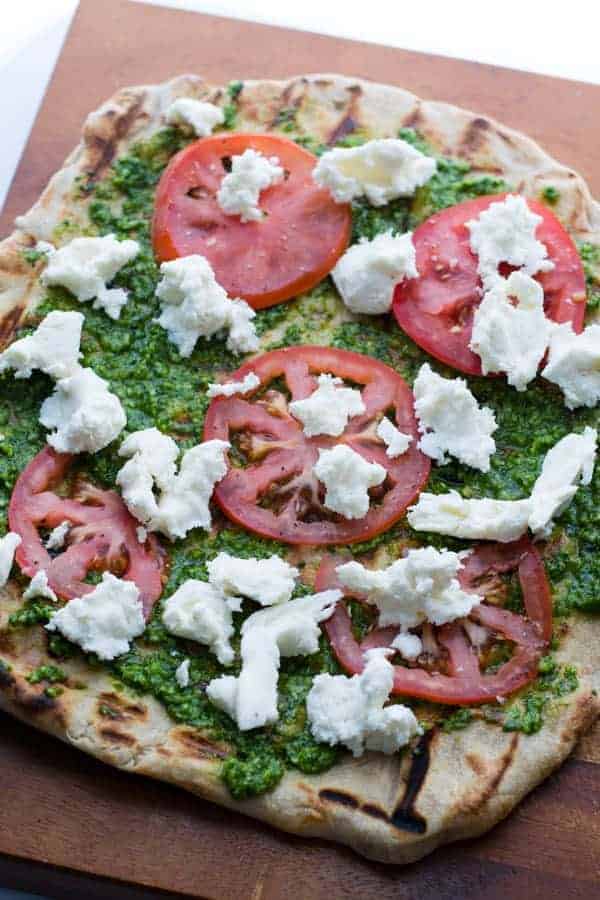 An easier approach to kale
If you can't yet commit to full blown kale craziness, but want to incorporate more of this fiber loaded green into your diet, baby kale is the perfect softer, gentler, version. Like hugs of green, superfood goodness.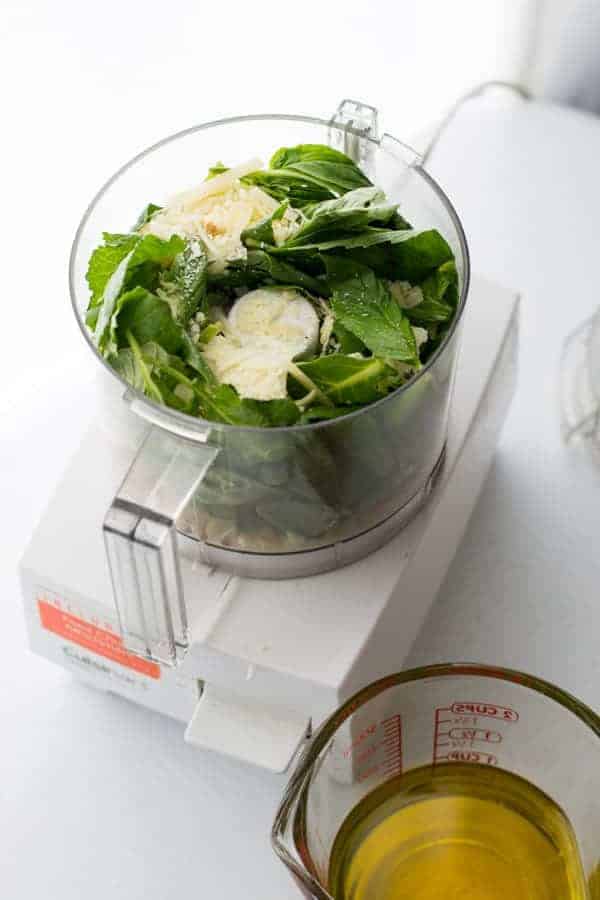 If you've already accepted this leafy green into your life, try this Best-Ever Braised Kale that's perfect as a side dish to main courses. It's definitely something we eat on a weekly bases in this house. And with the summer months upon us, this round up of 13 cool and tasty salads perfect for spring and summer will have something for everyone. Or for those chilly, rainy Spring days test out this Tuscan Kale White Bean & Sausage Soup.
Someone once told me that her husband calls kale, "...the lettuce that hurts your teeth." Which not only still makes me laugh when I remember it, but keeps me grounded in that not everyone is so enthusiastic about kale.
So if you side with this gentleman in feeling this roughage is a little too rough, try the baby kale. Similar in bitterness to arugula with the same crunch factor as spinach. And when you blend it all up with sweet, floral basil, garlic, cheese, olive oil and pine nuts. Then you can put it on things like pizza and salad or this B-E-A-UTIFUL Spinach Gnocchi from Wanderspice.
Balance, amiright?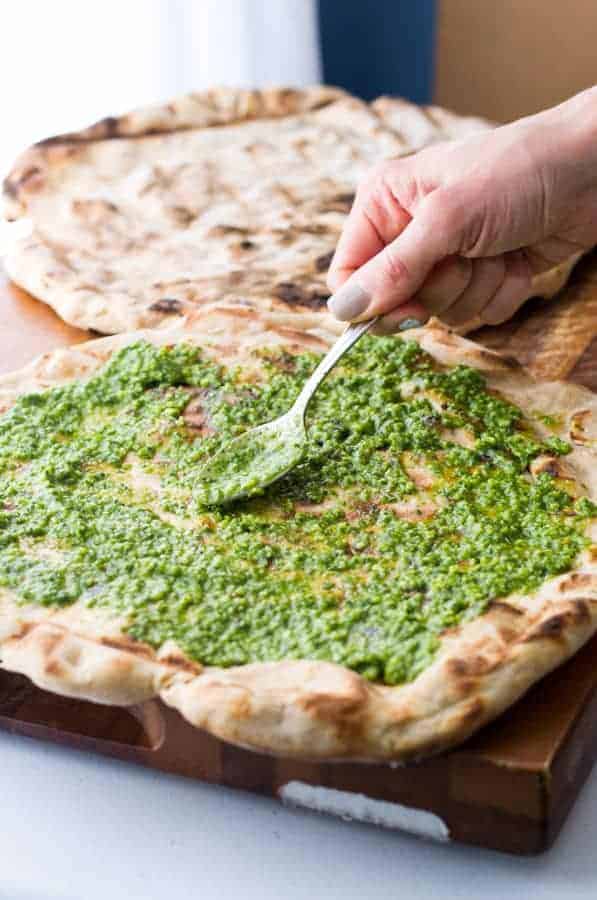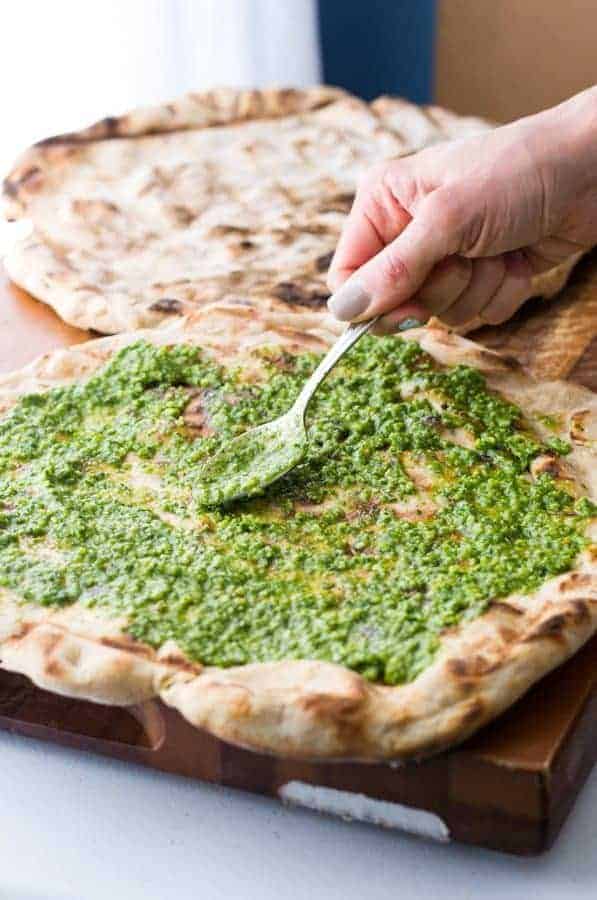 Kale & Spinach Pesto
Pesto is so incredibly easy to make [and eat] and for the green thumbs out there, it's pretty easy to grow in your home garden. Also making it far more cost effective than purchases at the grocer. If you're just starting out your first herb garden, definitely check out this post from Gardner's Path - The Top 5 Mediterranean Herbs: Growing, Eating and Healing - chock full of really great information for a fruitful herb garden.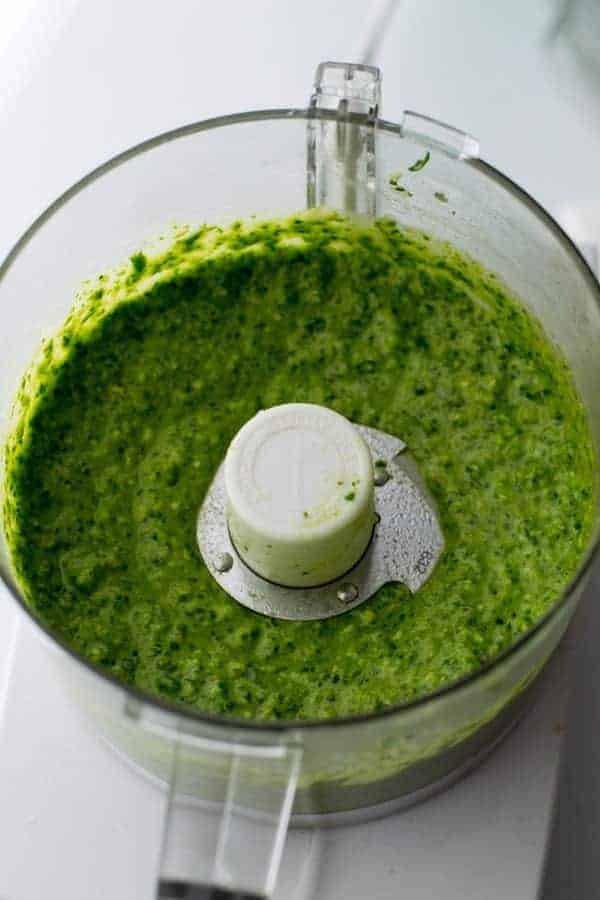 And food processors....HELLOOO....ah, the. best. Stuff it all in there, pulse until all the leaves, nuts and garlic are minced up and slowly drizzle olive oil in while it blends. Pesto from start to finish in under 5 minutes. When the days are long and the nights are hot, this Kale & Spinach Pesto is the answer to your quick dinner prayers.
Easy Grilled Whole Wheat Flatbread
Pizza is such a beautiful invention isn't it? Especially now that there are gluten free options. More pizza for everyone!
When the weather is super hot though, the idea of turning on the oven is incredibly unappealing. So fire up that grill, because you can have homemade 'naan' style, flatbread pizza on the table in under 20 minutes. AND keep the house nice and cool.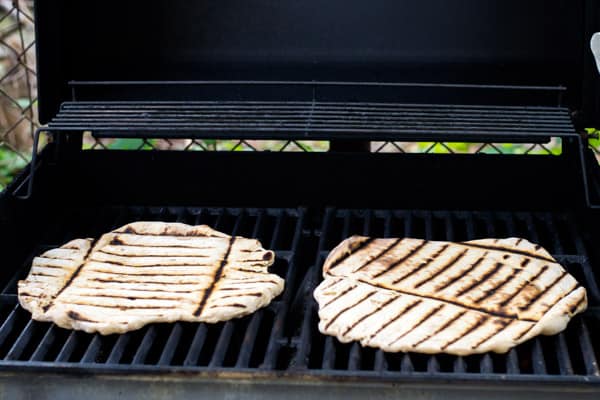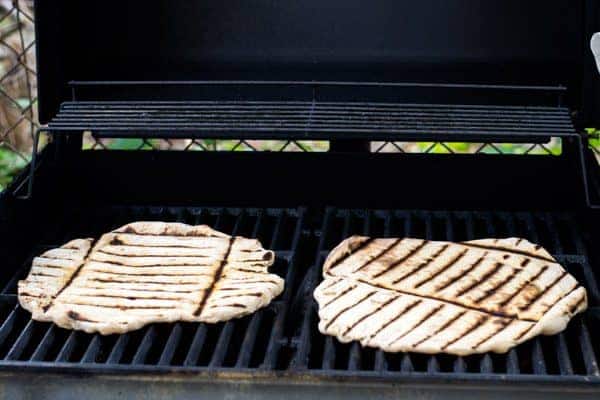 A store bought ball of pizza dough, whether whole wheat or regular, is the saving grace to saving time. Divide the dough in two, and stretch into two round-ish pizzas. Patch up any holes, and try to avoid making the dough super thin as it will burn easier.
On a nice, hot, clean grill carefully layout both well-floured doughs. It will stick to the grill at first, but as it cooks it will release. A wide, metal spatula is ideal for this if you do not have a pizza peel. About 1 ½ minutes on each side is all you need to prep this flatbread. Once the dough is firm enough to remove from the grill, add your toppings and return to the grill with the heat lowered.
Because the dough is already mostly cooked, you just want to crisp up the bottom a tad and melt your cheese. Just under 5 minutes and you'll have hot, ready, grilled pizza goodness on the table.
And with healthy, whole ingredients like baby kale and baby spinach, you should have a cape too because you are the hero of dinner.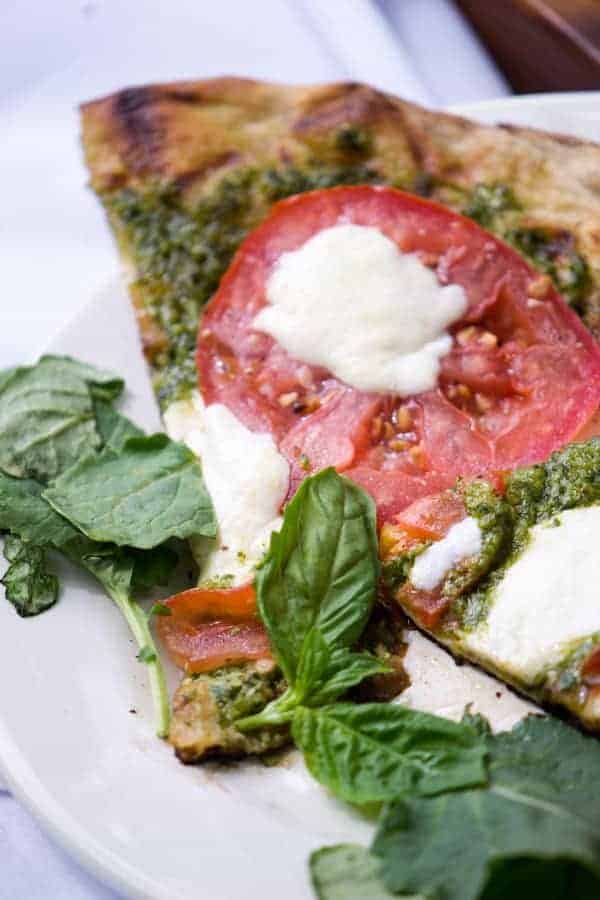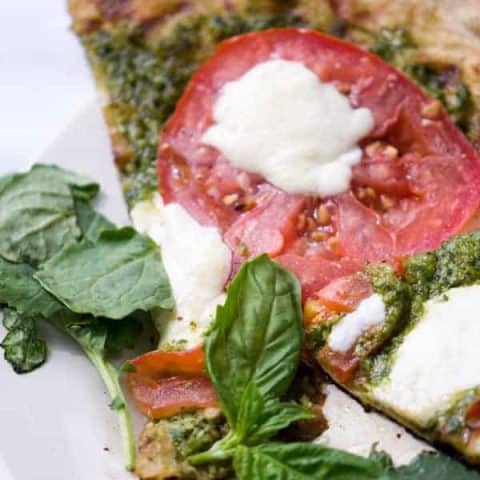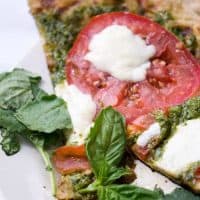 Kale & Spinach Pesto on Grilled Flatbread Pizza
A simple, summertime meal! Baby kale & spinach bring extra green goodness to delicious traditional pesto. And grilled flatbread pizza makes for a quick, easy dinner that doesn't require turning on an oven.
Print
Pin
Rate
Servings:
2
to 4 servings
Ingredients
Kale & Spinach Pesto
¼

cup

pine nuts

1

cup

packed baby kale + baby spinach mix

½

cup

packed basil leaves

3

cloves

garlic

¼

cup

fresh grated parmesan cheese

½

cup

Extra Virgin Olive Oil

pinch

of salt
Grilled Flatbread Pizza - Neapolitan Style
1

pound

pizza dough

(divided)

1

beefsteak tomato

(sliced ¼" to ½" thick)

8

ounces

fresh mozzarella

(divided)

¾

cup

Kale & Spinach Pesto

fresh basil for garnish
Instructions
Kale & Spinach Pesto
In a food processor, add pine nuts, garlic, parmesan, salt, kale & spinach mix, and basil. Pulse for 2 minutes until all the leaves are minced.

Turn food processor to 'ON' and slowly pour in olive oil. Continue to process for 1 minute after all olive oil has been added.

Transfer to an air-tight storage container. Basil can be frozen for later use or stored in the refrigerator for up to 3 days.
Grilled Flatbread Pizza - Neapolitan Style
Turn on your gas grill to medium-high and clean grates. Using a silicone brush or an oil coated paper towel, lightly oil the grill. Let grill heat between 400-450°F.

With well-floured hands, divide fresh pizza dough into two balls. Stretch into two rustic round pizza doughs, floured on both sides, and store on a floured cutting board or flat surface with parchment paper.

Carefully lay each pizza dough on the grill. Dough will stick at first, but will release as it cooks. Par-cook the dough for 1 ½ minutes on each side. Remove dough from the grill and turn down the burners to medium low with the lid closed.

Divide the Kale & Spinach Pesto between the two par-cooked doughs an spread evenly with a spoon or spatula. Layer with sliced beefsteak tomatoes.*

Divide the fresh mozzarella in half, use one half per pizza dough. Tear mozzarella into bite sized pieces and scatter over the dough.

Return the doughs to the grill and cook for 3 to 5 minutes until dough is browned and cheese is melted.**
Notes
*For vibrant tomato flavor, sprinkle beefsteak tomato slices with kosher salt and black pepper before adding to pizza dough.
**During the second cooking process, check bottom of the dough periodically to ensure the grill is not too hot. If grill is too hot, dough will burn before cheese has melted. Pesto may drip off the dough, be careful if grill flares up.
Nutrition
Calories:
1289
kcal
|
Carbohydrates:
125
g
|
Protein:
49
g
|
Fat:
67
g
|
Saturated Fat:
23
g
|
Cholesterol:
97
mg
|
Sodium:
3229
mg
|
Potassium:
489
mg
|
Fiber:
7
g
|
Sugar:
23
g
|
Vitamin A:
4058
IU
|
Vitamin C:
23
mg
|
Calcium:
739
mg
|
Iron:
8
mg