Welcome to Hunger|Thirst|Play!
Do you like snacks, adult beverages, and fun things to do?  Oh good, well, looks like we're both in the right place.
I'm Lauren and I'm obsessed with feeding the people in my life.  No really, this two bedroom apartment we call home is no stranger to dinner parties of over 20 people.  There is a local spice company with the slogan Love people.  Cook them tasty food.  Let's just say it's unfortunate they took it first, because it pretty much sums me up in two sentences.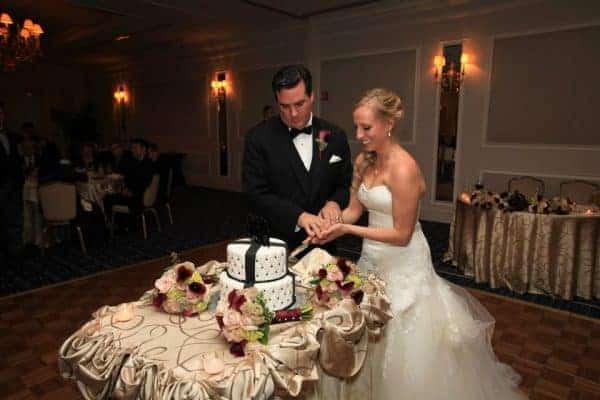 Of the fantastic people in my life, my husband Henry and our sweet baby girl are my absolute favs to feed tasty food.  And sometimes the not so successful recipe experiments, because hey…it happens.  They are really good sports about the lows of food blogging.  Side Note:  This picture makes me laugh a lot because of the concentration on Henry's face.  I am incredibly clumsy, and for someone who is around sharp object frequently…well…the look of concentration on his face says it all.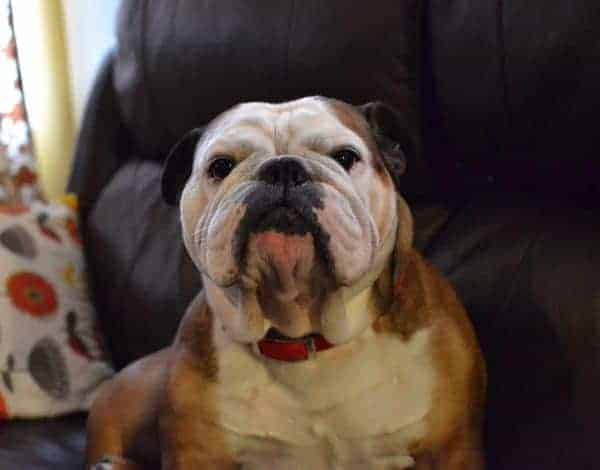 Not one to be left out, my fur baby Charley Brown is my #1 help with cleaning up floor scores.  Couldn't do it with out him, just think of all that sweeping!  He is also the very best at snuggling on the couch while I'm writing up a post.  Those bull dog snores are just so therapeutic.
My happiest is in the kitchen.  Creating a recipe, crafting a cocktail or pouring copious amounts of delicious wine – it's where my soul feels at piece.  Even when I'm making macarons for the fourteenth time with a murderous look in my eye.  Let's just say those are usually the days my husband would rather starve then enter the kitchen.
Frustrations aside, when I started HungerThirstPlay shortly after becoming a stay at home mom I never thought this hobby would become my passion.  Though I have no formal training as a chef, years in the restaurant industry in pretty much every position has given me a lifetime of motivation to constantly improve.  Improve my inspiration, technique, developing flavors or making complicated recipes easy to do at home.  Cooking is a super emotional journey for me.  My mom and Memére are phenomenal cooks.  It makes my heart happy to think of them every time I turn on the stove.  Beyond family ties, I love to recall the memory of a meal at a restaurant, food that is shared over fits of laughter, or the look on someone's face when they truly enjoy something you've made…it's my FAVORITE part.
A majority of the food you'll discover here is fairly healthy, but often sabotaged by a severe sweet tooth and love for comfort food…and yoga pants.  As much as I wish I could renounce refined sugar, carbohydrates, salt, and alcohol, I just can't.  I'm super French Canadian, but could eat enough pasta to make any Nonna proud.  HungerThirstPlay will provide you with a little bit of it all while trying to find the balance, because sometimes you have to give up the cupcake to earn the glass of wine.  Well, at least that's what I'm trying to practice.
Let's Connect
If you have any questions about a recipe or requests for something you would love to see, please reach out!
I'm trying to learn twitter, I really am, but I'm going to go ahead and admit it's not my forte.  Email, Insta and Facebook are my go-tos – and of course you can always leave a comment on any post.  I'm so happy to have you here, thanks for checking out these little pieces of my recipes & small adventures!