There is a squatter living in my house. I didn't know he was there, but it turns out he's been hanging out for quite some time and making himself comfortable. Slowly...taking up space at his own leisure. Hosting dinner parties and playing scrabble games, living rent free with no utilities for who knows how long. Shit, for that price, in a neighborhood that gets upwards of $3K for a 2 bedroom he should've at least had a few keggers.
He is the kind of squatter that's tricky, it takes a while to notice. He found somewhere small, somewhere unnoticeable and took up residence. At sloth-like speed, he takes up more and more space (miraculously) without my knowledge. I've decided his name will be Frank. Now...how the hell do I get rid of Frank... Well, we met with people. Getting rid of a squatter like Frank turns out to be rather complicated. You would think it would be easy. This is my space, this is not your space, this is MY house....please, if you could kindly beat it. Unfortunately it will take a bit more than that and here we are, embarking on a new journey. Henry and I and doctor after doctor after specialist after surgeon after opinion after differing opinion. Frank is a Grade A asshole and our eviction process is just about 8 months in the making since his discovery.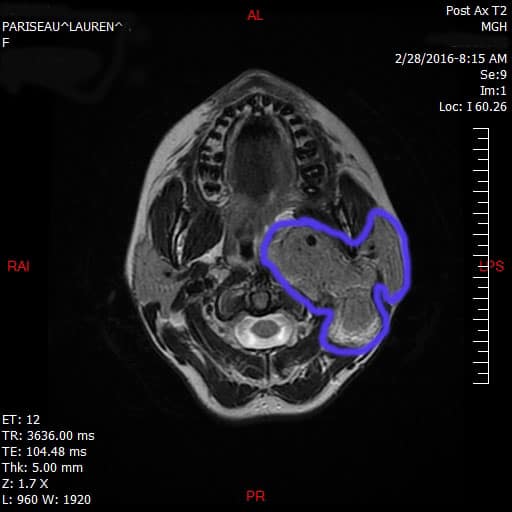 Everybody meet Frank. Frank meet the Internet. Frank is the benign meningioma currently residing in my body. Like a typical meningioma, he started in the lining of my brain or the meninges - the three thin layers of tissue that cover the spinal cord and brain. Rather than being a normal meningioma, he grew down the tiny hole in my skull - the jugular foramen - crushing my jugular vein along with several cranial nerves, cozying himself around my carotid artery.
There are a few things about Frank that make his removal particularly difficult. Well, for one, most people who have meningiomas didn't just turn 30, more like 78 or 83. As previously mentioned, the atypical space of where Frank has taken up residence is pretty abnormal and involves some pretty important body parts. It has come down to surgery versus radiation, both of which have come with their own shitty set of pros versus cons.
Radiation
Pros: Stop Frank from growing with a 90-95% success rate.
Cons: Frank doesn't shrink, just stops growing - which doesn't seem like a con unless you have been fixated on getting this foreign thing out of your body. In the event the radiation doesn't work, radiating the tissue will most likely make future surgery much more complicated. Oh, and there's that 0.05% chance that this much radiation will cause additional meningiomas and/or certain types of cancer associated with radiation treatment. But we won't know that until about 10 or 15 years down the road. And of course, there is that list of side effects from radiation treatment, but we will save that for another time.
Surgery
Pros: Remove as much of Frank as possible and get him out of my body. Less exposure to radiation. Having one of the best skull based surgeons in the country (and possibly your good friend from college) operate on your brain.
Cons: It would be highly unlikely to remove all of the mass around my carotid artery. The three cranial nerves that run down the jugular foramen that are currently crushed would most likely be removed and though my body has impressively learned to compensate without them, any remaining function would be gone. Those nerves include control on the left side of one of the shoulder muscles, swallowing, and the voice box. Oh, and the kicker, Frank has his booty scooted up against the facial nerve. If that gets harmed, even in the slightest, it could mean paralysis of the left side of my face....crazy, right?
If you've ever talked to me in a crowded bar or busy restaurant or I've tried to yell at you in the kitchen at work and you couldn't hear me...yup, that's Frank. If it's ever sounded like I lost my voice when talking somewhere loud, Frank. Why my shoulder sticks out funny? Frank. Why I sometimes have a speech impediment when I'm tired? Frank. Why I randomly start coughing when I'm eating and can't stop? Frank.
The doctors still believe that there is some vocal paralysis, diagnosed back in 2010, but the majority of the problem is caused by Frank. For over 6 years, Frank's been camped out in my body gradually showing me signs that he was there, with the majority of symptoms really blossoming during my pregnancy as there is some correlation between pregnancy and meningioma growth. Whether it's the hormones or all the addition blood flowing through the body, it is not completely understood. But being the stubborn, fairly healthy, twenty-something that I was, I put off the doctor time after time after time while simultaneous assuring my mother I would get it checked out eventually. And that kids, is why you always listen to your mom.
Which brings me to family. Though this situation is a mind-blowing level of crazy, it could certainly be worse. I never realized the weight of that b-word until it was said to me the week following my biopsy. Benign was just the gift we all needed to hear just in time for Christmas. Since that time, and before, I have been surrounded with support from my amazing husband who is with me for every appointment and every MRI, my doctor sister translating all this medical jargon for me and prepping me with all the questions I should be asking, my parents, my in laws and my family of close friends.
It is heartbreakingly beautiful to be able to see how many people care about you. From texts and calls rallying for a good appointment, baby-sitting Shea, offers for company during treatment, or just a few drinking buddies letting me have a momentary pity party. To be surrounded by limitless amounts of positive vibes has been the exact assurance needed to know that Frank will just be a hurdle in what has been and will be a love filled beautiful life.