It is almost summertime and with busy schedules and (hopefully) warm, beach days around the corner, time to start building your summertime recipe arsenal, or more realistically your pinterest board. This post has been inspired by our recent string of summer-like weather and the fact that we have used our grill literally every day this week.
The atmosphere inside the apartment has had me nostalgic about summer. We turned our ceiling fans back on and the cool breeze circulating the fresh air from the open windows has had me totally inspired. Well at least in the recipe department, not so much in the spring cleaning department...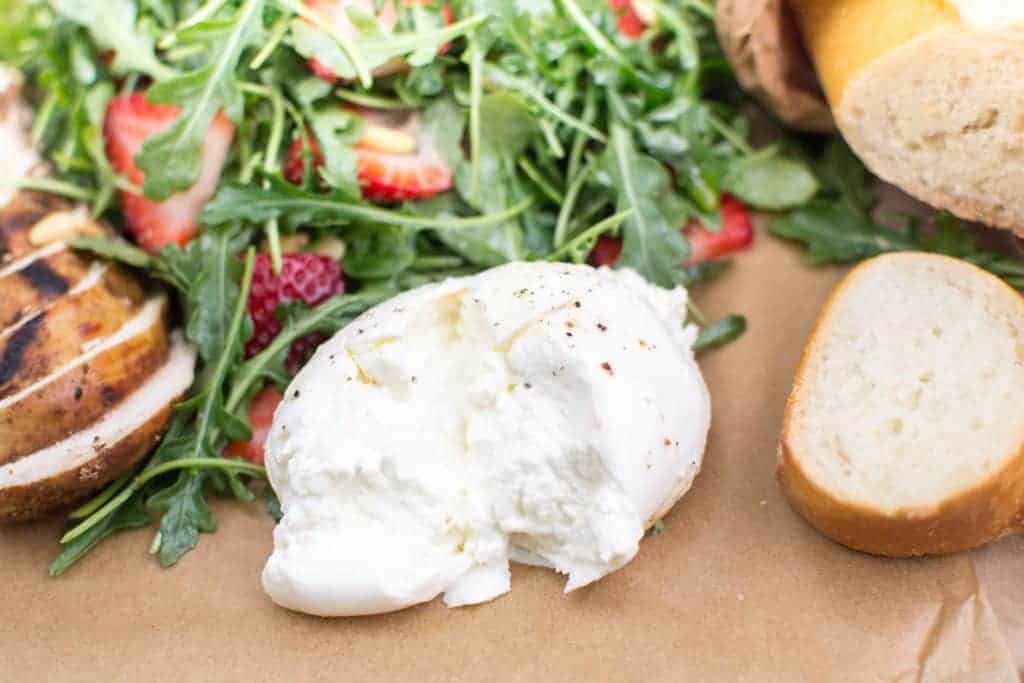 Burrata is Mozzarella x 1000%
If you like fresh mozzarella, you are going to love burrata. Do you love tacos? Okay, me too. So a taco inside a taco sounds pretty rad, right? Well, burrata is fresh mozzarella filled with pieces of fresh mozzarella and cream. All the delicious taste of fresh mozzarella with a soft, creamy texture. We are talking yum to the extreme in the cheese world.
The burrata is really the star here, the rest is just vegetables, protein and carbohydrates. But even though they are merely supporting co-stars, that doesn't mean they can't be delicious. Like most of my favorite summertime recipes this is super easy and quick and incredibly flexible with what you have in your refrigerator or pantry. Maybe you have almonds instead of pine nuts or you use dressing instead of lemon juice or you buy balsamic glaze instead of making a reduction.
You do you. And then you eat this.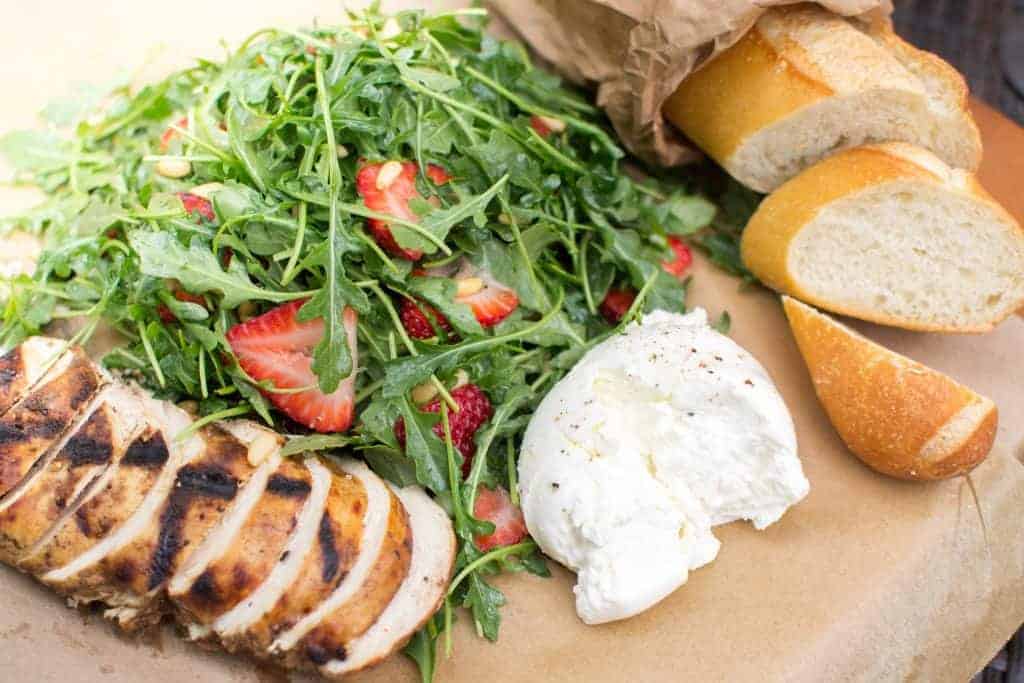 Just a few more tid bits about short cuts till we get around to making this super easy meal. For the chicken, what you see in the photos is a marinated, grilled chicken breast left over from our dinner the night before. I always grill extra chicken when we have it for dinner so I can eat it for lunch the next day.
This particular grilled adventure involved marinating about two pounds of chicken breast and boneless, skinless chicken thighs with 1 packet of Good Seasons Italian Dressing and about 1 cup of balsamic vinegar and 1 to 2 tablespoons extra virgin olive oil. Super quick, very flavorful, easy clean up - the trifecta.
Balsamic Reduction
The balsamic reduction is really subjective to how much work you want to do and/or how much money you want to spend.
My first choice would be to buy an out of this world, aged balsamic vinegar. The consistency can vary but it is much more like maple syrup or molasses than regular balsamic vinegar so it is perfect for drizzling over a salad. But, that can also be a little pricey. Not to say that a little goes a long way with this stuff, but shelling out $20-$50 for a small bottle can be a lot to ask.
Another option would be to make a balsamic reduction at home. Take 1 cup of balsamic vinegar, bring to boil over medium heat then reduce to just a simmer on low heat. Cook for 15-20 minutes, stirring often, until the liquid begins to thicken and will coat the back of a spoon. The liquid will thicken a bit as it cools, but you will still want a thicker consistency before you remove from the heat. The downside to this method is that beside having to use the stove in the summertime, the vinegar is really easy to burn if you're not paying attention.
And lastly the option to spend about $4-$5 on a bottle of balsamic glaze at the grocery store. It will have the aged balsamic texture and consistency for a fraction of the price. The downside to this option is that balsamic glaze is often reduced with sugar so it will still have the balsamic flavor but will be more on the sweet side.
So whichever method suits your budget/schedule, it definitely will be worth it to have some on hand for the summer.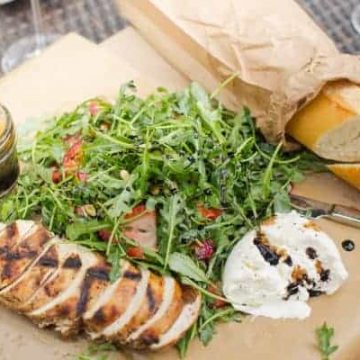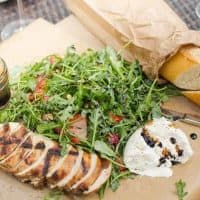 Burrata with Arugula & Strawberries
A summertime salad where the cheese is the star!
Print
Pin
Rate
Ingredients
3

ounces

baby arugula

(about half a container)

½

lemon

(juiced)

½

teaspoon

extra virgin olive oil

5

strawberries

(hulled and sliced)

1

tablespoon

pine nuts

2

4-ounce balls

burrata cheese

(1 8-ounce container)

2

8-ounce

grilled chicken breast

(sliced)

balsamic reduction & EVOO for drizzling

salt and pepper

fresh sliced baguette

(optional)
Instructions
In a large bowl add the arugula, lemon juice and olive oil. Toss together to coat the arugula.

Add the strawberries, pine nuts, and a pinch of salt and pepper. Toss to coat.

Plate a portion of the salad, burrata, chicken and baguette. Drizzle the salad and burrata with balsamic reduction.

Add an additional drizzle of EVOO and a sprinkle of salt and pepper to the burrata
Notes
Use the slices of baguette to make little bite size sandwiches or to mop up all the delicious balsamic!
Nutrition
Calories:
213
kcal
|
Carbohydrates:
37
g
|
Protein:
7
g
|
Fat:
5
g
|
Saturated Fat:
1
g
|
Cholesterol:
1
mg
|
Sodium:
390
mg
|
Potassium:
205
mg
|
Fiber:
3
g
|
Sugar:
3
g
|
Vitamin A:
514
IU
|
Vitamin C:
19
mg
|
Calcium:
92
mg
|
Iron:
2
mg