Please Note: This post is not sponsored, but you will find affiliate links listed on this page. The price you pay at check out does not change, but I may make a small commission based on your purchase from the link!  Thank you for your support of HungerThirstPlay!
Eeeek!  Such an exciting week this week.  I haven't mentioned it yet in any posts of late, but it's officially.  We're ticking off another bucket list item.  Pack the bags, we're going to Paris!  Good God, I cannot wait to consume stupid amounts of croissants [wine], macaroons, truffles [wine], cheese and…did I mention, wine?  So to stave off the onslaught of high caloric intake to come, I've been trying to keep my current eating in check.  Though it has no relation to French cooking, this Low-Calorie Spicy Thai Peanut Dressing is definitely one to add to your salad rotation.
Remember a few weeks ago when we made 'Skinny' Peanut Butter Energy Bites.  Powdered peanut butter is the current food trend in this house.  And when you splurge on the gigantasaurus container at Whole Foods, you need to put that powder to good use.  Well, here we go!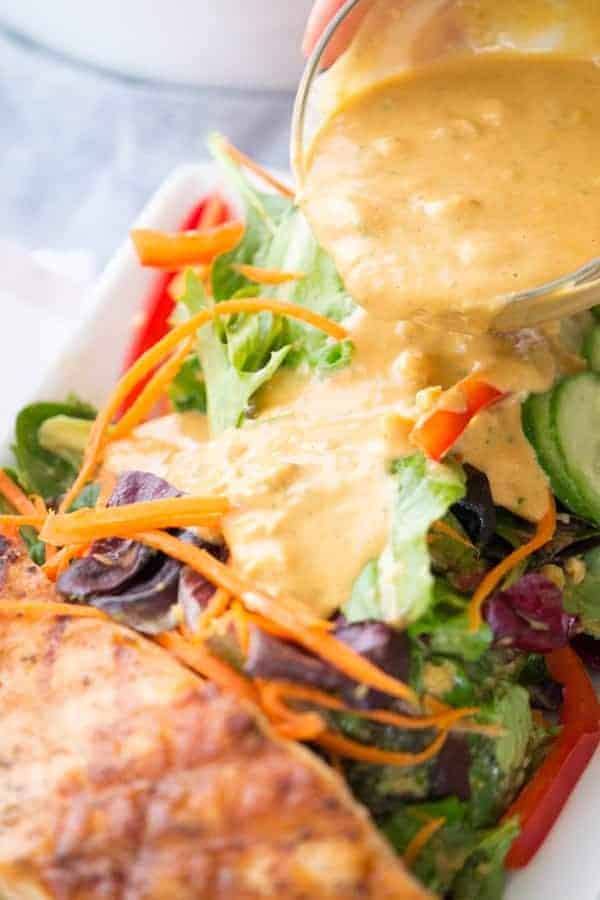 A quick trip down memory lane
To start this off, I feel the need to share a family story.  It took me a while to come around to peanut things besides being used between two pieces of bread.  And it may have been that experiment with the spaghetti…
My Dad is such a class act.  Rewind the clock a bit, back to 7 or 8-year old version of Lauren.  We're all sitting at the table having family dinner.  My mom does the [delicious] cooking.  A lot of my inspiration for HTP comes from her and spending time cooking dinner or especially for the holidays is what drives my love for food.
That being said…she experimented with a peanut butter thai sauce and spaghetti, before asian inspired cuisine was really popular in our small little town.  She was a woman ahead of her time.  Well, to watch my father – who literally eats anything my mom puts in front of him – quietly go to the cabinet and return the peanut butter, jelly and bread with a meek apology.  There were lots of laughs that followed and we stuck to traditional Chinese take out for a bit.
Fast forward
The experimenting paid off in the long run and has encouraged me to invest in a life of adventurous eating.  The ROI?  Deliciousness.  Like spicy peanut dressing.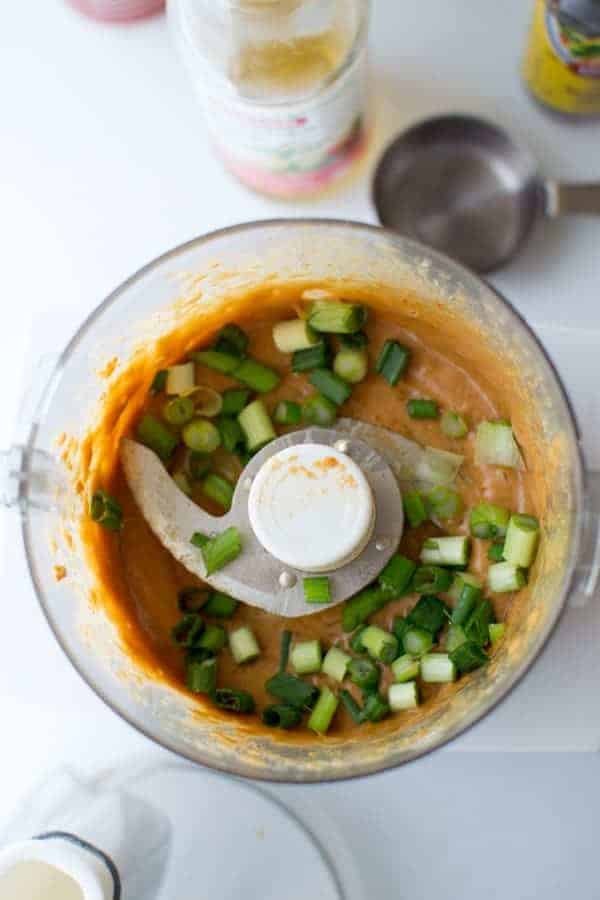 My friends and I have been doing a lot of sushi nights at home lately – which I cannot recommend enough.  Whether we roll our own or order take out this salad is the perfect companion.  The dressing will make your taste buds so happy.  Savory, satisfying peanut butter, toasty sweet from the sesame oil and rice vinegar and just a hint of spice to make you go, "Oh!"
Best of all?  Throw it all in a food processor and you're done in less than 5 minutes.  The way a dressing should be.  Ok, this might be the best part…there are a lot of good parts, I get torn.  The peanut butter powder substitution will bring all the creamy, peanut butter flavor but 85% less calories than regular peanut butter!  Sign. Me. Up.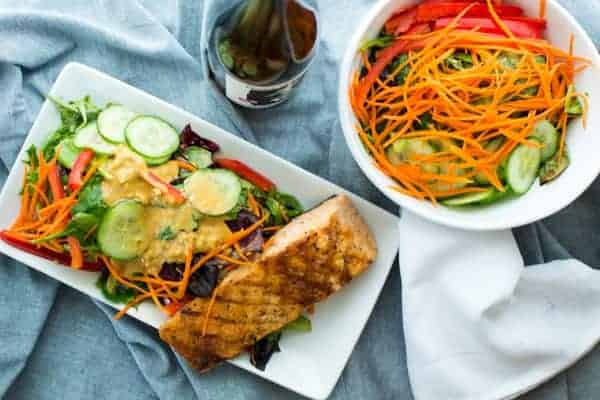 Some assembly required
To put together our super fast, tasty, and uber healthy thai salad we need just a few minutes and a couple everyday kitchen gadgets.  After pulsing your dressing to perfection, time to slice and dice a few veggies.
Spring mix is life.  Open the package and you're ready to go.  Now washing, drying, cutting.  Who has time for a salad spinner?  Not this girl.
One of my favorite salad gadgets is this OXO Good Grips Adjustable HandHeld Mandoline Slicer
.  For under $15, its been more than earned it's keep.  But if there's no spare change (or cabinet space) for another gadget, just carefully slice your cucumbers super thin with a sharp knife.  To create that 'restaurant style' carrot crunch, I used a veggie shredder but that could easily be swapped for an everyday veggie peeler.  Peppers?  Cut the top, bottom, core and slice thinly.  Matchsticks, done!  Toss everything with the rest of the dressing, and if you're feeling fancy sprinkle some chopped nuts or sesame seeds.
Let's eat delicious food and feel good about it.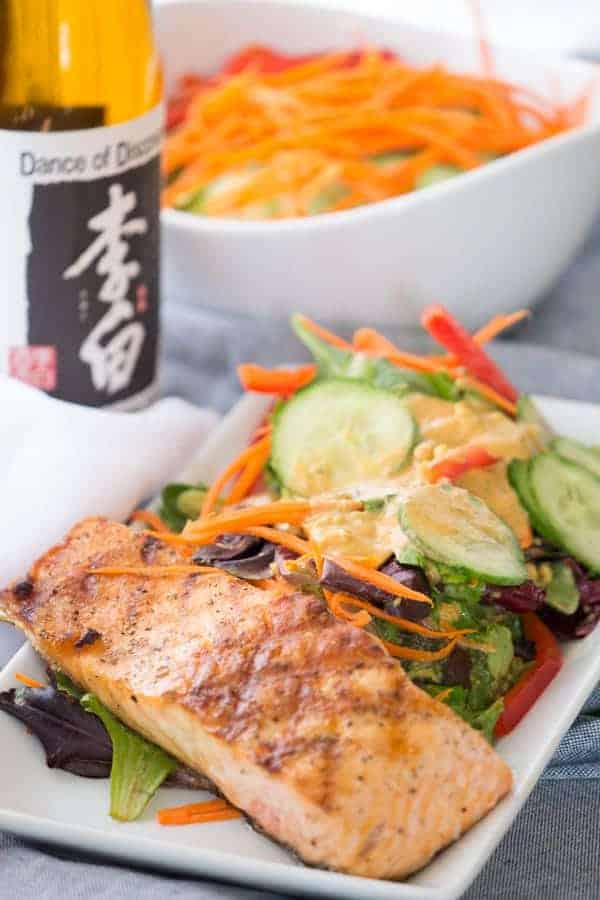 Print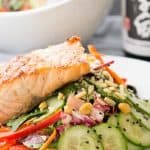 Low-Calorie Thai Peanut Dressing
---
Author:

Prep Time:

15 minutes

Total Time:

15 minutes

Yield:

4 servings

Category:

Salad
Description
Flavors of toasted sesame, sweet rice vinegar and savory peanut butter without the added calories in this thai peanut dressing!
---
Ingredients
Low-Calorie Spicy Thai Peanut Dressing
4 tbsp powdered peanut butter*
2 tbsp water
2 tbsp toasted sesame oil
2 tbsp rice wine vinegar
2 ea scallions (chopped)
1 tsp fresh ginger** (grated)
2 tsp Sriracha***
1/4 tsp fish sauce ((optional))
2 tbsp peanuts
Simple Thai Peanut Salad
5 ounces spring mix
1 red bell pepper (cut in matchstick pieces)
1/2 european cucumber (thinly sliced)
2 medium carrots (peeled and shredded)
2 tsp slivered almonds ((optional))
1/4 tsp black sesame seeds ((optional))
---
Instructions
Low-Calorie Spicy Thai Peanut Dressing
In a food processor, combine powdered peanut butter, water, sesame oil and rice wine vinegar. Blend for 10 to 15 seconds until combined.
Add scallions, ginger, sriracha and fish sauce (or pinch of salt). Blend for an addition 20 to 30 seconds until scallions and ginger are finely minced and incorporated.
Add peanuts and pulse 4 to 5 times so the pieces are broken but not blended. It should resemble the same size as 'chunky peanut butter' pieces or larger.
Simple Thai Peanut Salad
In a large bowl, toss spring mix with half the dressing. Add peppers, cucumbers, carrots and remaining dress. Toss with kitchen tongs until everything is coated.
Plate on a serving platter and sprinkle with slivered almonds and black sesame seeds if desired.
Notes
*Powdered Peanut Butter brands such as 'Just Great Stuff' or PB2 will work great.
**Fresh ginger is available in jars to save time from peeling and grating your own.  Jars can be stored in the refrigerator.
***If you are sensitive to spicy food, start with 1 teaspoon of Sriracha before adding the remaining amount.
Fish Sauce: Don't smell the fish sauce.
Recipe Card powered by