Low Calorie Thai Peanut Dressing is bringing you all the taste of creamy peanut butter, toasted sesame, savory green onions, and a little peanut crunch with the subtlest spicy heat but with 85% less fat, calories. Your veggies are gonna be SO happy!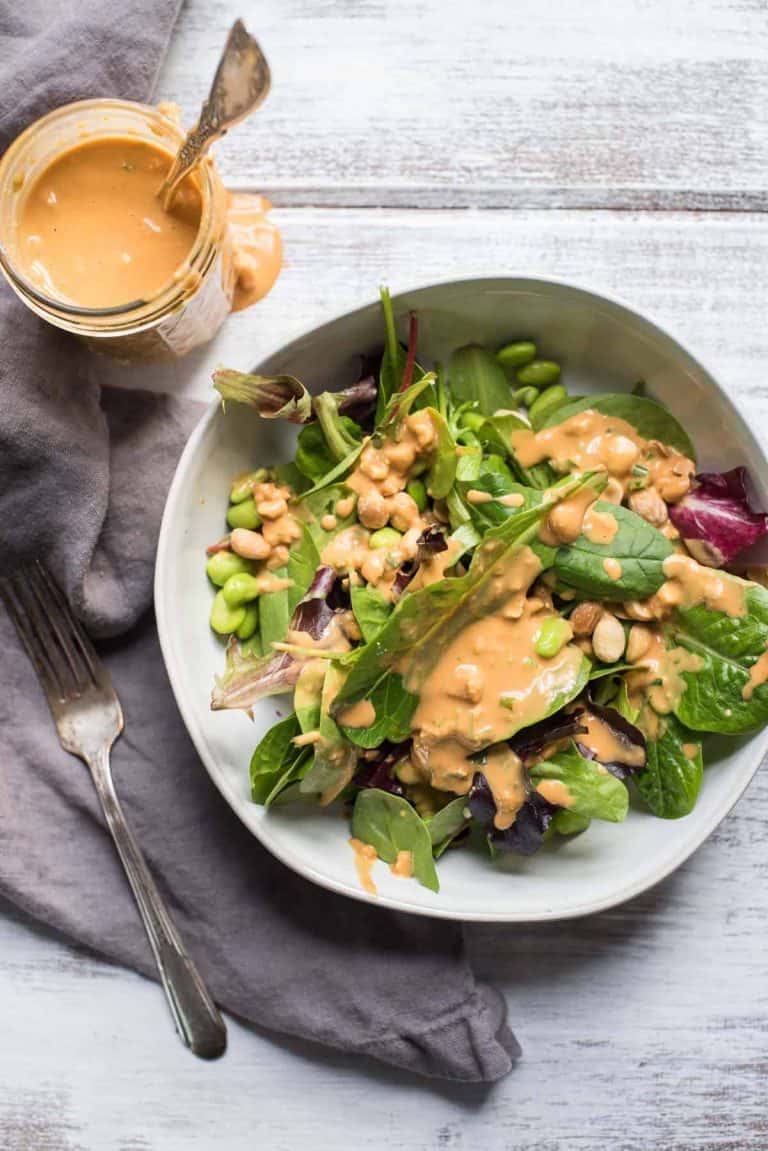 Not just your veggies either, your taste buds are going to be saying, "you know what, you alright." And the rest of you is going to be happy because the prep for this Low Calorie Thai Peanut Dressing is just a few pulses in the food processor.
This post first appeared on Hunger Thirst Play in March 2017. The recipe remains the same delicious goodness, but content and affiliate links for this post have been updated.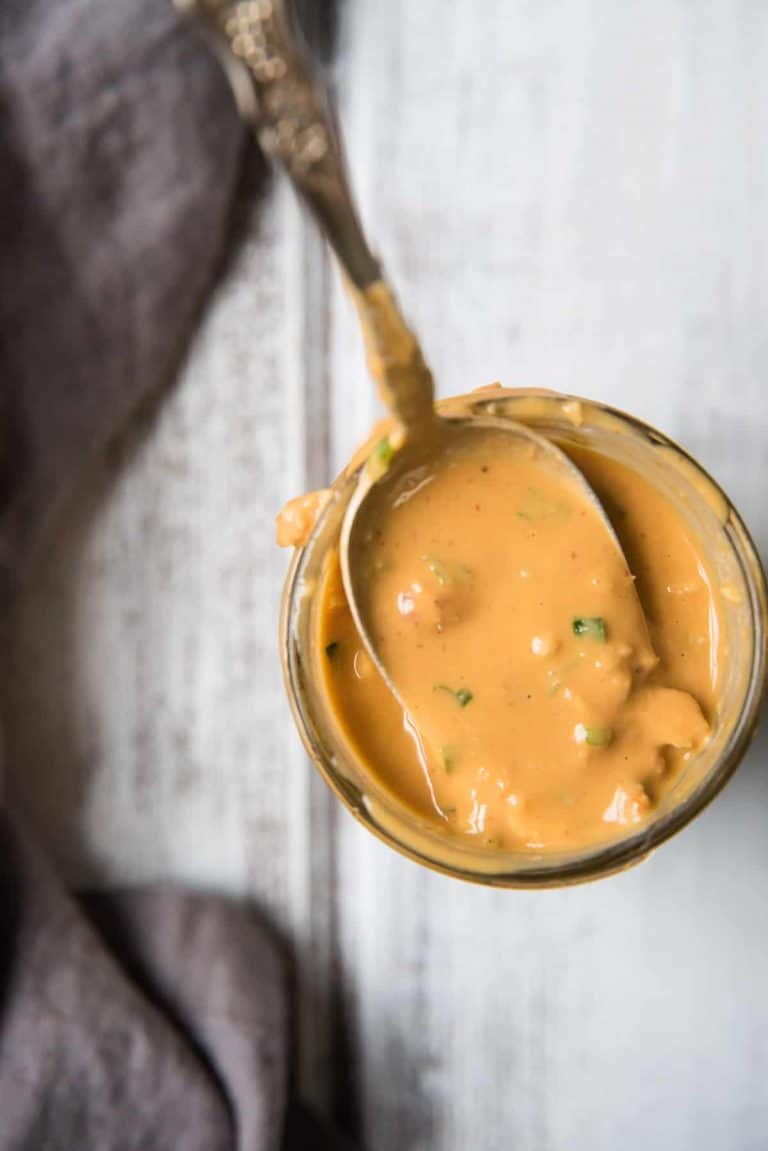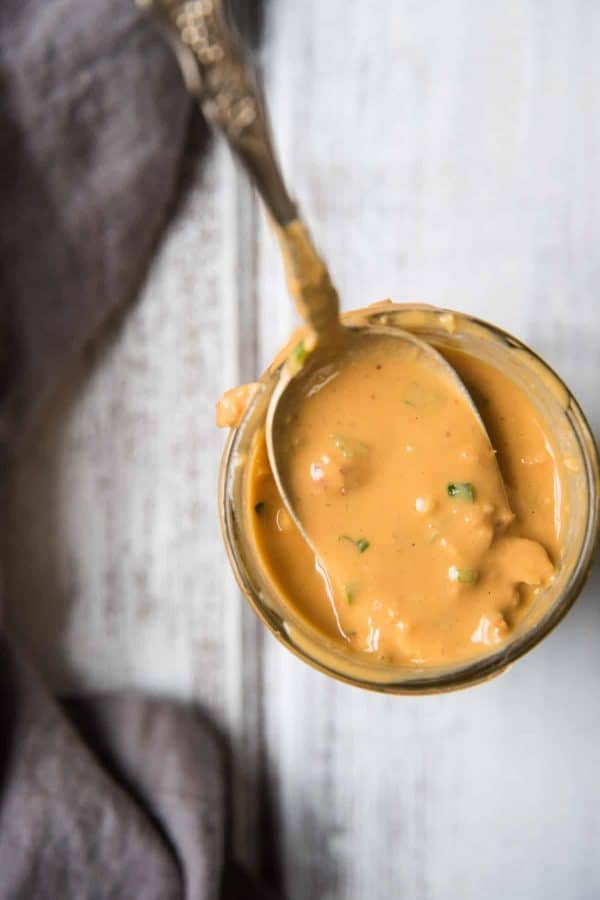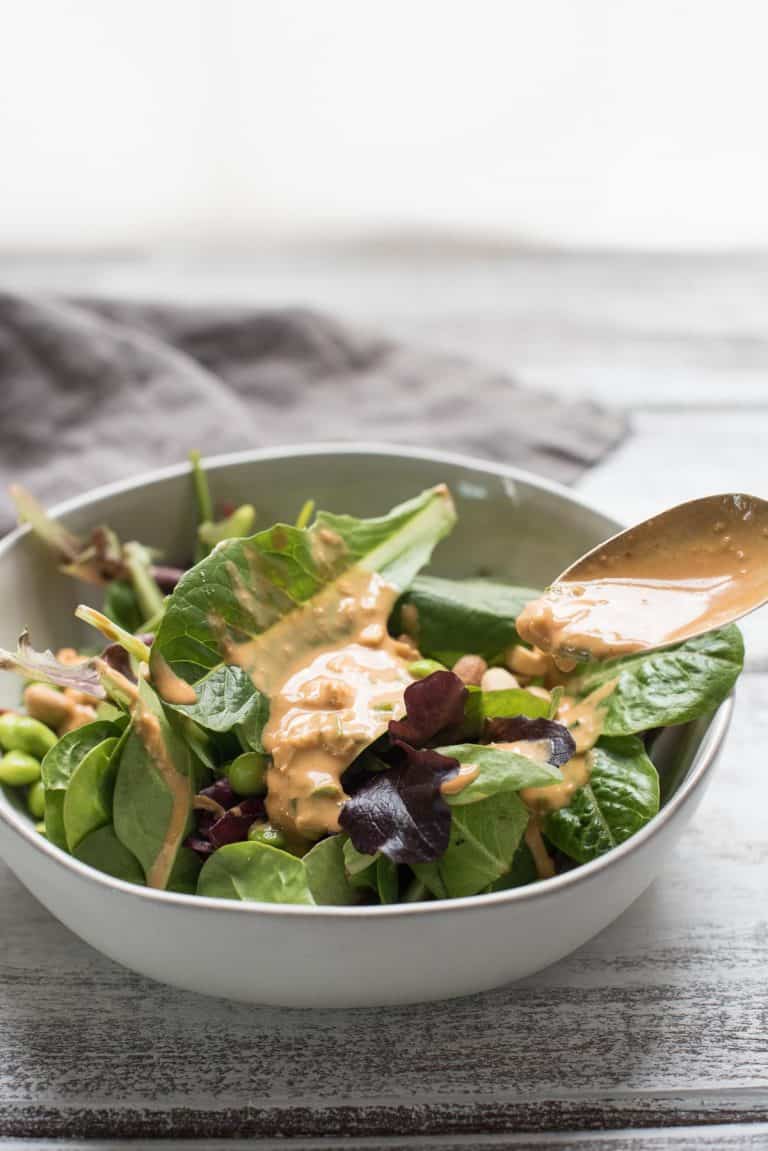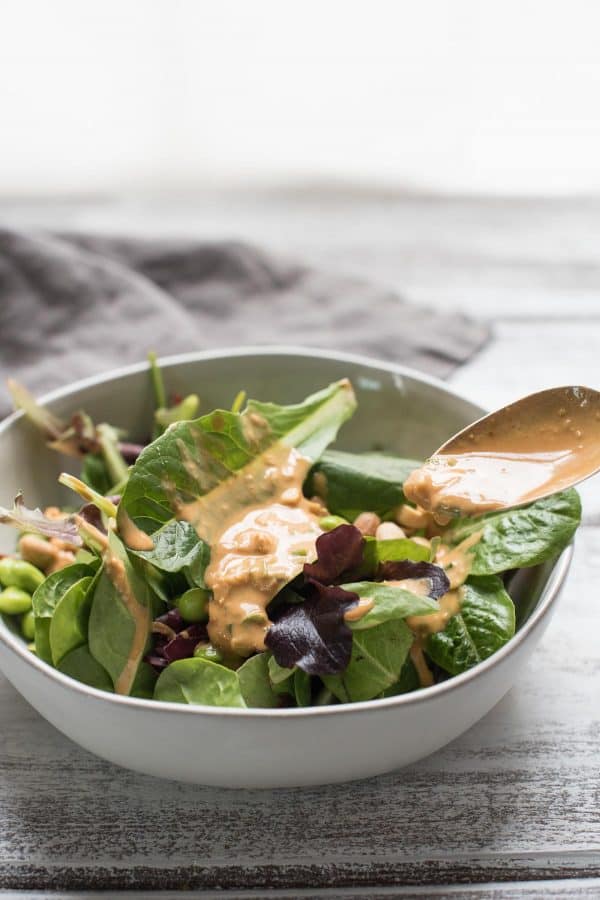 Three simple reasons you are going to want to make this dressing and put it ON ALL THE THINGS:
Tasty
Easy
Less calories with full peanut buttery goodness
Where do we sign up? Right here. ⬇️
how to make low calorie Thai peanut dressing
To start, you'll need powdered peanut butter. That's the magic ingredient that takes regular peanuts, presses them to remove the oils and grinds them into a fine powder giving us powdered peanut butter.
Now, you don't have to use powdered peanut butter. You can go the traditional creamy peanut butter route and still have delicious Thai peanut dressing. If you're looking to cut some calories and fat from your diet, without giving up that creamy nutty goodness, this might be just the thing.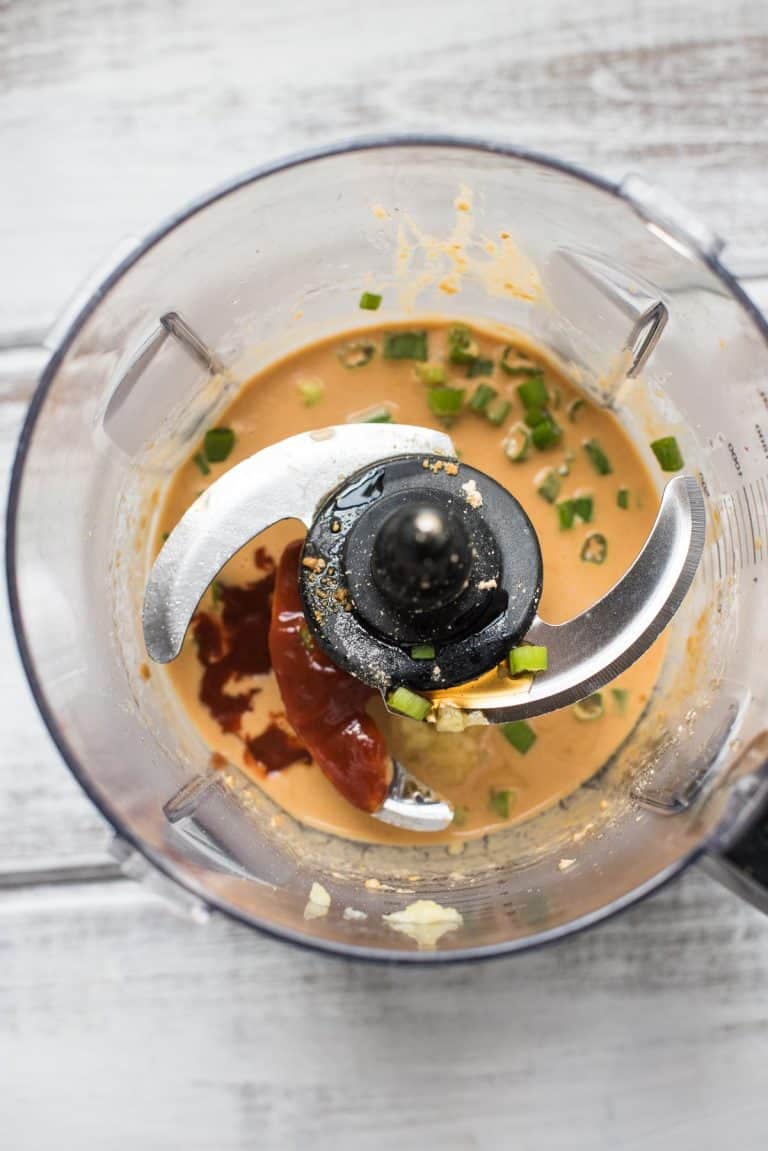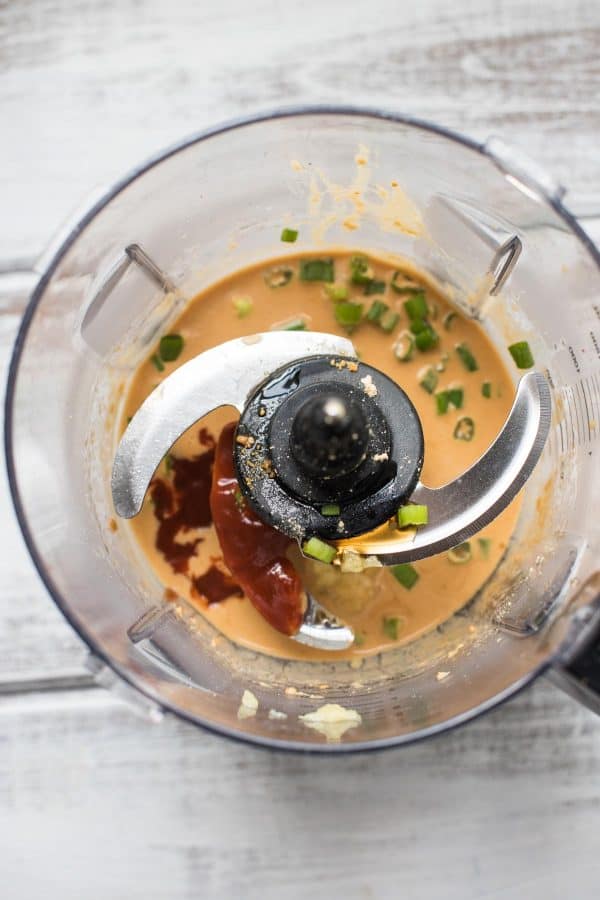 Combine the powdered peanut butter with the wet ingredients (water, sesame oil and rice wine vinegar) in a food processor until smooth. Then add everything else except the peanuts and blend for about 30 seconds. You'll want to chop the scallions beforehand so they blend up easier.
Lastly, and this step is totally optional, add a few whole peanuts and pulse just a few times to break them into smaller pieces for some peanutty crunch.
Now just try not to dip all your vegetables in it, I dare you.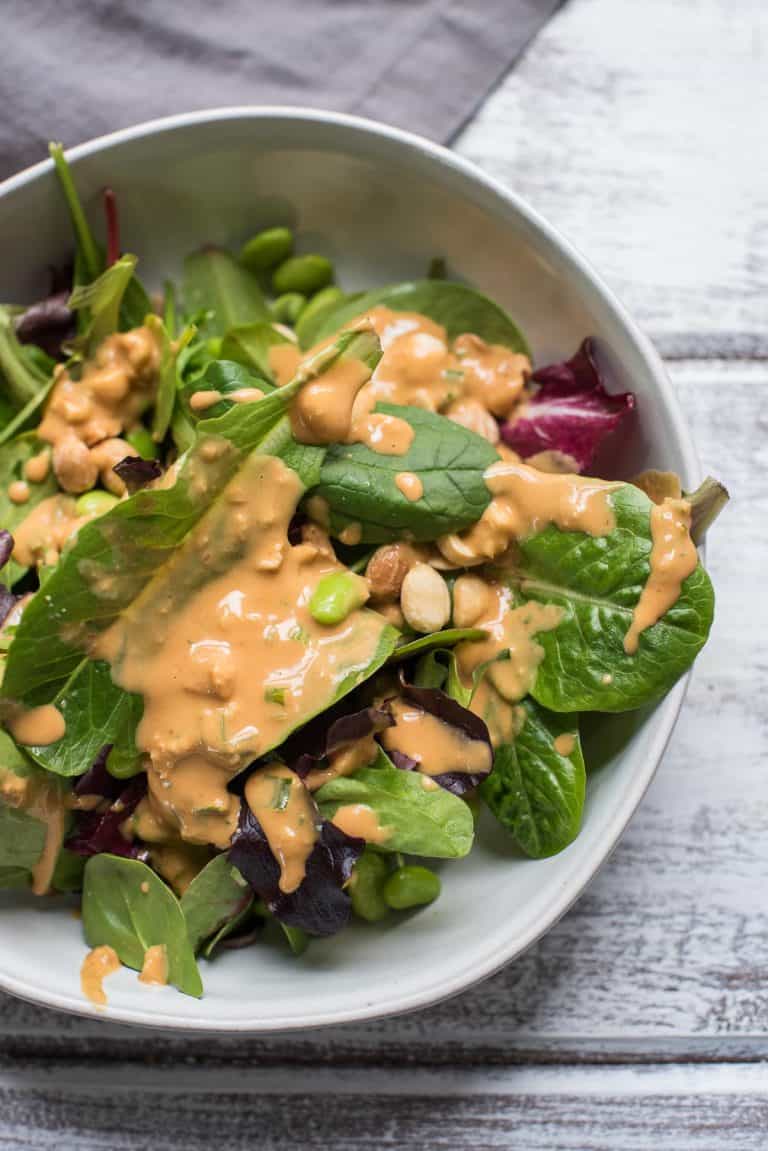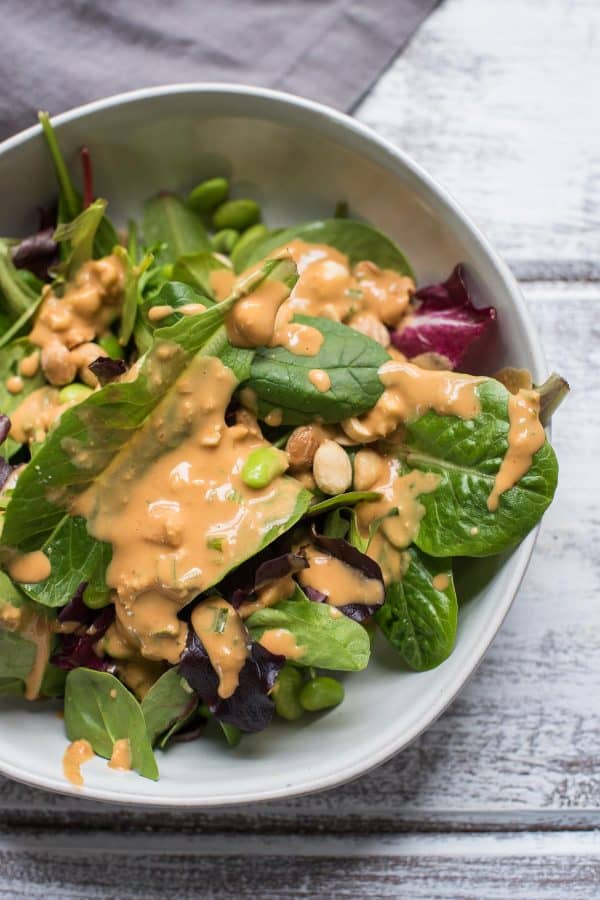 How to eat low-calorie thai peanut dressing
This sauce and veggies are going to be BFFs. Like the kind that always get along and can sit in comfortable silence together but also make fun of each others poor dating choices (what are friends for, right?)
My favorite way to eat this is on a quick salad. Baby spinach or mixed greens, some pre-shelled edamame and sliced cucumbers. Red peppers and carrots are a great crunchy add in.
To add a peanut sauce twist to dinner time, try topping these Instant Pot Pad Thai Chicken Lettuce Wraps. The slightly sweet Pad Thai sauce cooked into the chicken is a match made in heaven with this savory peanut sauce.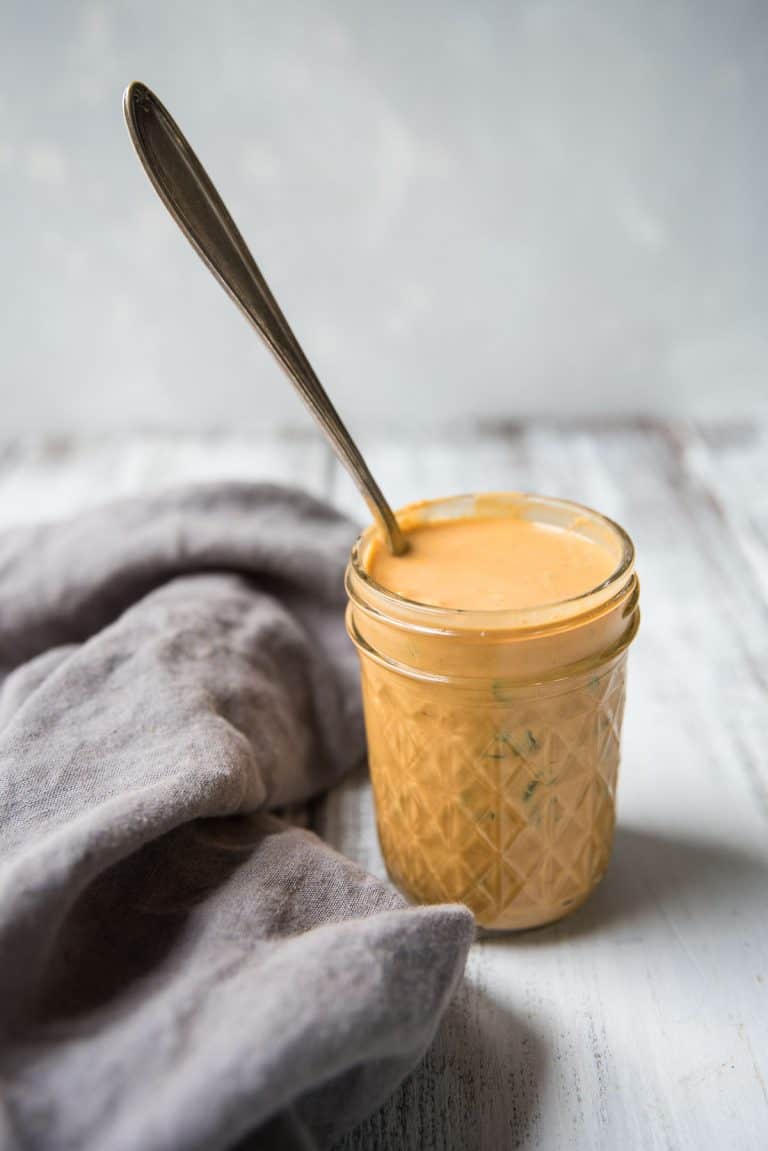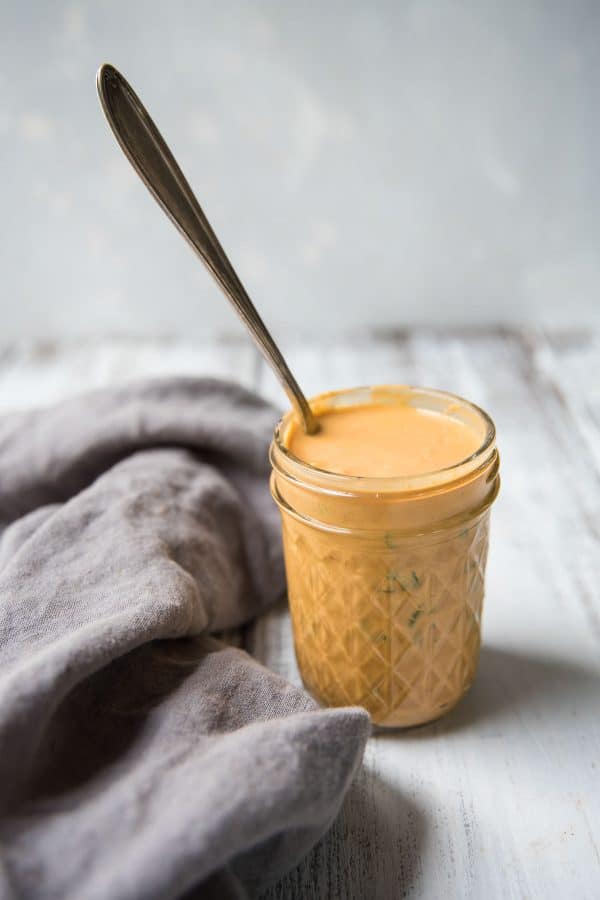 For your next get together, dinner party, or casual hang out serve your Thai peanut dressing alongside chopped veggies for dipping for a lighter, unexpected option rather than regular ranch or typical sour cream based dips.
Or you can do what I do and cut stand at the counter cutting up pieces of cucumber (this easy, inexpensive hand mandoline is my go to and stores easily in the kitchen drawer!) dipping them into the jar until the entire cucumber *mysteriously* disappears.
Huh, how'd that happen? Shhh, no one needs to know....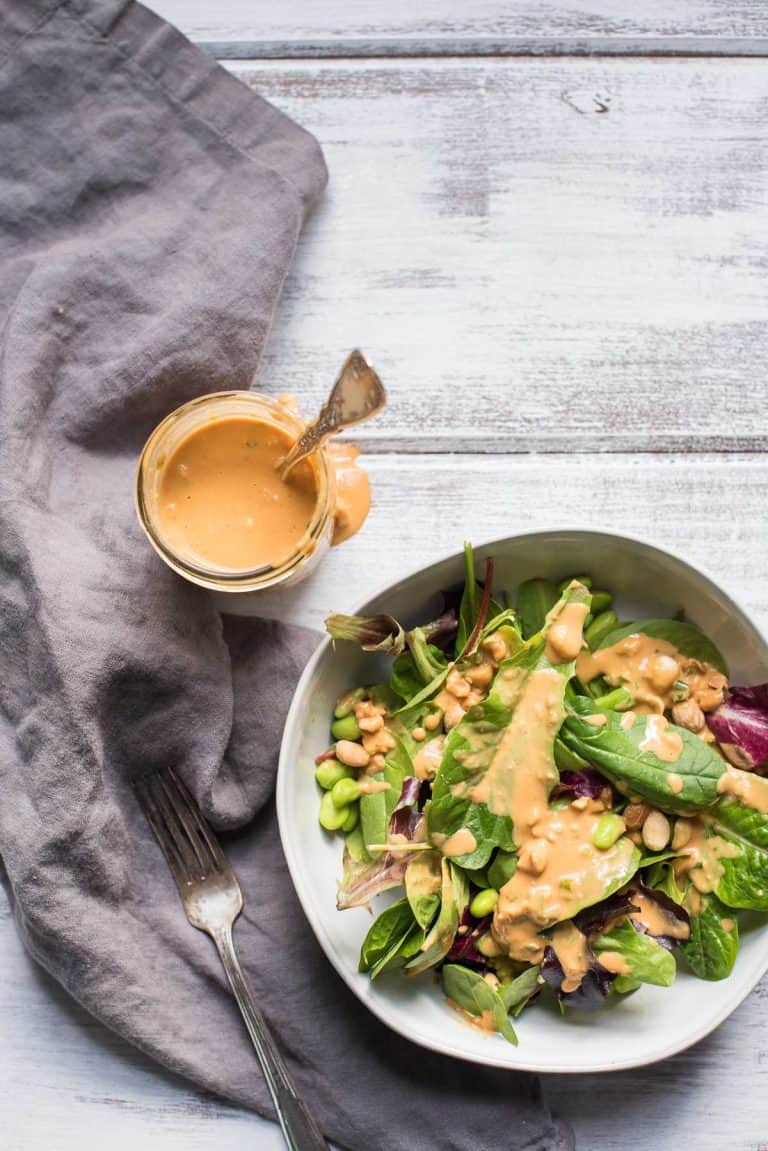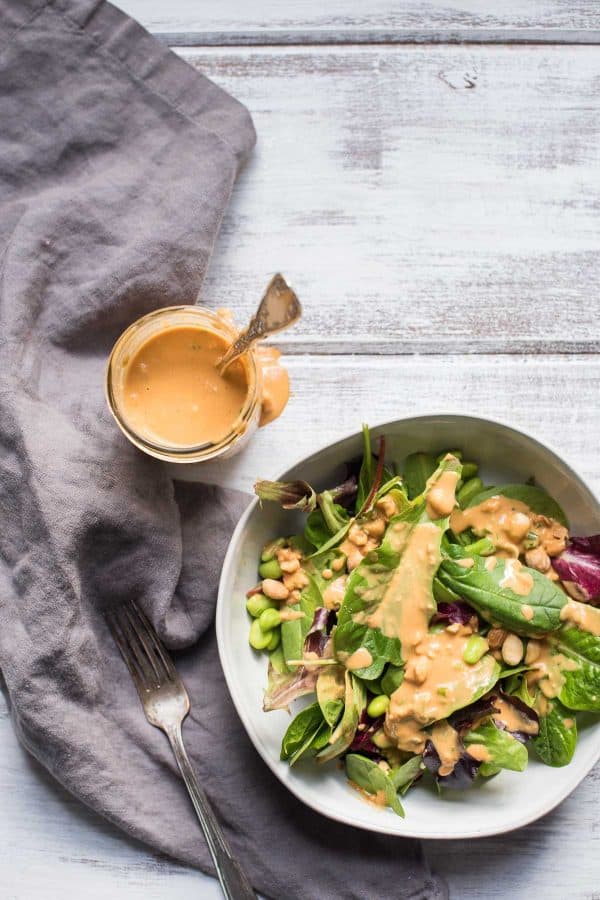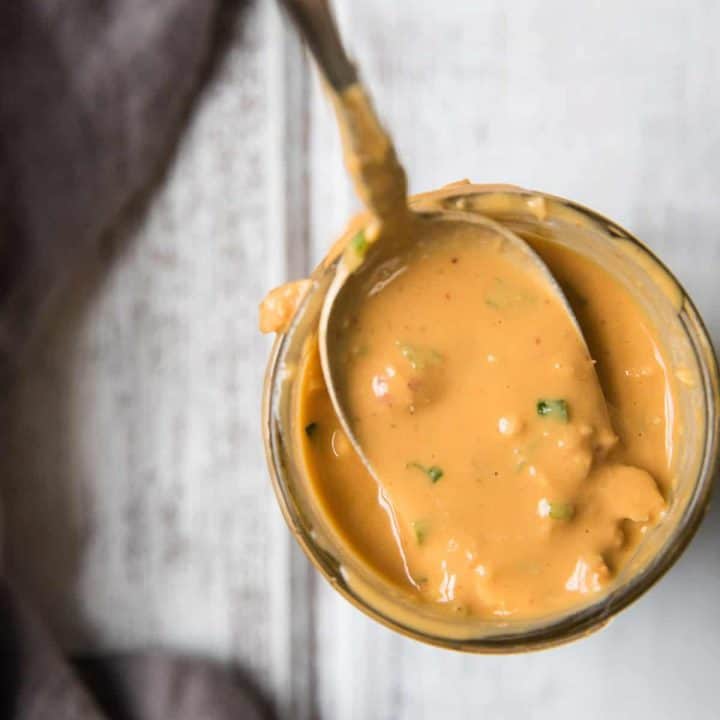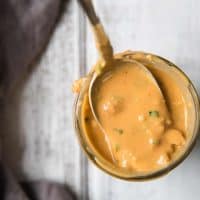 Low-Calorie Spicy Thai Peanut Dressing
Full of creamy peanut butter flavor, toasted sesame, savory scallions and a hint of spice this low calorie Thai peanut dressing is easy to make and perfect for salads or as a dip!
Print
Pin
Rate
Ingredients
Low-Calorie Spicy Thai Peanut Dressing
4

tablespoon

powdered peanut butter

2

tablespoon

water

2

tablespoon

toasted sesame oil

2

tablespoon

rice wine vinegar

2

ea scallions

(chopped)

1

teaspoon

fresh ginger

(paste or fresh grated)

2

teaspoon

Sriracha

¼

teaspoon

fish sauce

(optional)

2

tablespoon

whole unsalted peanuts
Instructions
Low-Calorie Spicy Thai Peanut Dressing
In a food processor, combine powdered peanut butter, water, sesame oil and rice wine vinegar. Blend for 10 to 15 seconds until combined.

Add scallions, ginger, sriracha and fish sauce. Blend for an addition 20 to 30 seconds until scallions and ginger are finely minced and incorporated.

Add peanuts and pulse 4 to 5 times so the pieces are broken but not blended. It should resemble the same size as 'chunky peanut butter' pieces or larger.
Notes
I really like the PB2 or Just Great Stuff brands for Powdered Peanut Butter options.
Ginger paste is a huge time saver and delivers the same great taste without peeling and grinding. You can find it in the produce section where the herbs will be.
Sriracha is totally optional. If you are sensitive to spicy foods, try adding just a little at a time and adding more depending on what you like. The spicy kick will hit your palate at the end of the taste.
Fish sauce adds really great salty flavor. The fish taste isn't noticeable, but if it freaks you out just substitute a pinch of salt.
Nutrition
Calories:
132
kcal
|
Carbohydrates:
5
g
|
Protein:
4
g
|
Fat:
11
g
|
Saturated Fat:
2
g
|
Cholesterol:
1
mg
|
Sodium:
131
mg
|
Potassium:
71
mg
|
Fiber:
2
g
|
Sugar:
1
g
|
Vitamin A:
88
IU
|
Vitamin C:
3
mg
|
Calcium:
14
mg
|
Iron:
1
mg