You looking for a big ole plate of good? Your order is up. The dish?
Avocado Pesto + Zucchini Noodles + Blistered Tomatoes.
Three little things equal major results when put together in a pan for a sauté party. Whether you opt for spiralized veggie noodles or old school pasta avocado pesto is the perfect coating.
What the heck is a zoodle?
Noodle, poodle, doodle - even my Macbook's autocorrect isn't up to speed on food terminology. Though I can't quite commit to using the term in the title of this dish, spiralizing vegetables is a recent obsession. Besides just being ridiculously fun to turn vegetables into curly cues, it's a great way to limit carbohydrate intake or substitution for gluten allergies.
If you're into that sort of thing. Or, you know, if you're allergic to gluten.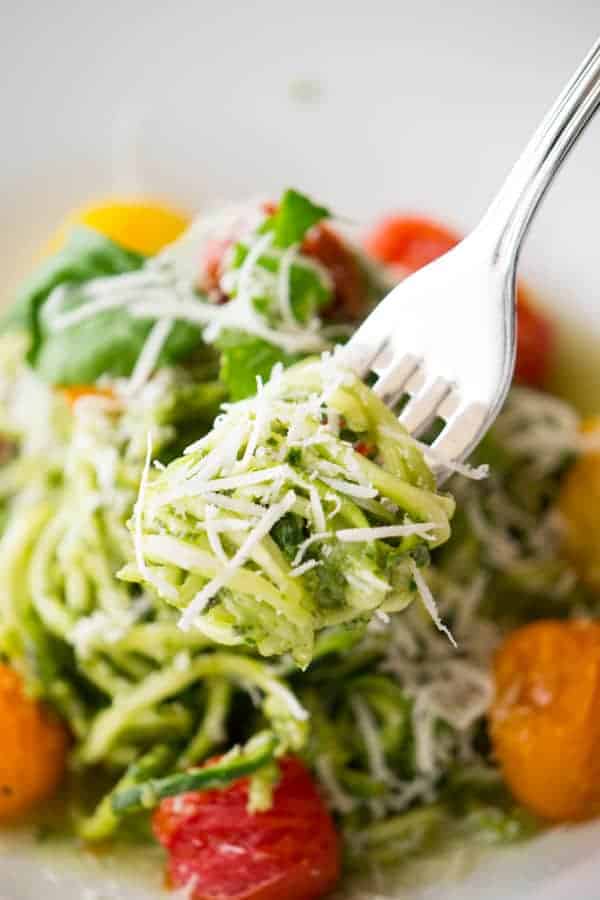 Tender yet still holding a bite, your first forkful will have you wondering why you didn't try this hip new 'zoodle' fad sooner. Ready to venture into the wild unknown of vegetable noodles? Here's an affordable Spiralizer
option available on Amazon and also the same model currently in my increasingly crowded 'kitchen gadget' cabinet. No really, my gadget obsession is a small medium problem.
Motivation is key
The idea of vegetable noodles not your thing? Or perhaps you need that carbohydrate fuel supplied by pasta. With the Boston Marathon just a quick three months away, it's a good reason for everyone to eat more pasta. 'Moral support' I tell myself.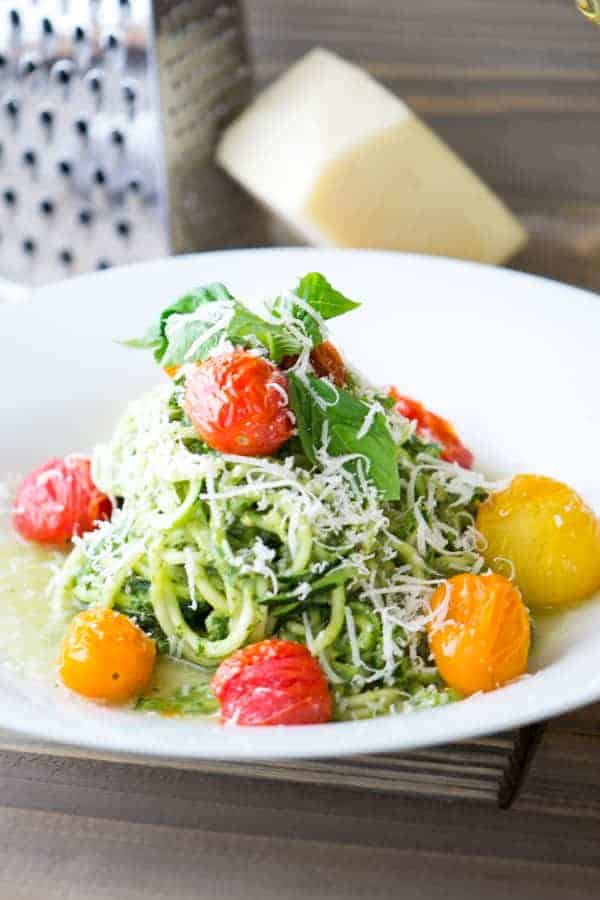 There was one year I was obsessed with running. After running my first 5k in April, shortly before the marathon the year after the bombing. That race was the first bib in a year's collection that would grow to include four additional 5k, two 10k races, two half marathons, and my second Tough Mudder. Considering my previous stance on running was something along the lines of, "if I'm running you should probably run too." This was quite a change.
Perhaps it this new found motivation came from my love for Boston and being on Boylston Street that day on April 15th. Part is definitely the euphoria of accomplishment that comes with crossing that finish line. But I would be lying to myself if I didn't admit that I did it mostly for pesto pasta. A tip received from my amazing multi-marathon running sister-in-law.
Pre-race pesto pasta is THE BEST.

Avocado Pesto
How do you make pesto even better? Beyond the super human strength that lies in those little green leaves and enough garlic to keep anyone from running too close to you, there's not much left to improve.
Well, hold on right there.
While Extra Virgin Olive Oil is better for you and your ticker than other oils, it does contribute quite a bit of grease to the sauce. [Insert lightbulb moment] AVOCADO.
Our pitted green friend wraps up good fats, creamy texture, and substance under it's hard skin. The best part? All you need is a food processor and you are mere pulses away from healthy, filling, fresh basil-garlicky goodness. See for yourself:
(Okay, but real quick. I made my first video. It clearly needs some improvements, but I'm going to take a minute and just give myself a little fist bump.)
To bring this dish together, add a little white wine or additional water during the cooking process. Though the melting of the parmesan cheese will soften the pesto so it will coat more easily, an additional liquid makes the process just a tad smoother (pun intended.) To balance the garlic and fresh herb flavors, lightly coat cherry tomatoes with olive oil and a sprinkle of salt and set under the broiler for about 10 minutes until the skin starts to blister. The naturally sweet yet acidic tomato juice that pops in your mouth after it burst from the pressure of your tongue will be the perfect companion for the fresh, vibrant basil.
Running may not be a requirement for eating this avocado pesto, but you might end up with people running to you for seconds.
Please Note: This post is not sponsored, but you will find affiliate links listed on this page. The price you pay at check out does not change, but I may make a small commission based on your purchase from the link! Thank you for your support of HungerThirstPlay!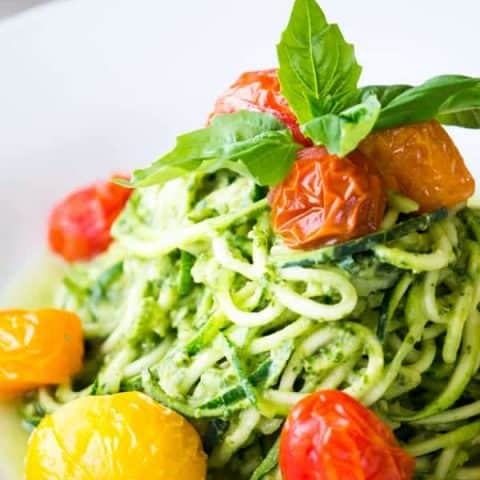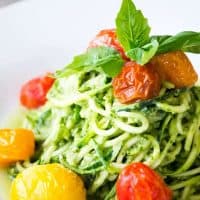 Avocado Pesto Zucchini Noodles with Blistered Tomatoes
Fresh basil pesto gets a face lift with healthy avocado and zucchini noodles while blistered tomatoes add the perfect 'pop!' of acidity.
Print
Pin
Rate
Ingredients
Avocado Pesto
¼

cup

pine nuts

(toasted)

2

cloves

garlic

2

cup

fresh basil leaves

(packed)

1

teaspoon

lemon juice

½

cup

parmesan cheese

(fresh grated)

¼

teaspoon

salt

3 to 4

tablespoon

water

½

avocado

(pit removed and cubed)
Avocado Pesto Zucchini Noodles with Blistered Tomatoes
2

medium

zucchini

(spiralized on spaghetti setting)

1

pint

cherry tomatoes

2

tablespoons

extra virgin olive oil

1

cup

Avocado Pesto

¼

cup

white wine
Instructions
Avocado Pesto
Spread pine nuts in an even layer on a baking sheet. Bake at 375°F for 3 to 5 minutes until fragrant and toasted.

In a food processor, add toasted pine nuts and garlic. Pulse until well blended and chopped into tiny pieces.

Add basil. Pulse 3 to four times to pulverize the leaves then run food processor until basil, nuts and garlic become a paste.

Add parmesan cheese, lemon juice, salt and cubed avocado. With food processor running, allow the above ingredient to incorporate (about 10 seconds) then slowly add water 1 tablespoon at a time until pesto is smooth, creamy, and rotates easily around the food processor.
Avocado Pesto Zucchini Noodles with Blistered Tomatoes
Lightly toss cherry tomatoes with olive oil and spread on a sheet pan. Sprinkle with salt. Broil for 10 to 13 minutes until skin is cracked.

Using a spiralizer tool of choice, spiralize zucchini and set aside.

In a large sauté pan add avocado pesto and soften over medium high heat, about 1 minute.

Add white wine and zucchini noodles to the pan. White wine will help liquify pesto so the noodles are evenly coated. Using tongs, toss the zucchini noodles with the pesto, cooking for 4 to 5 minutes until white wine evaporates.

Plate pesto noodles in desired serving dish(es) and top with blistered tomatoes.
Notes
Makes 1 cup of avocado pesto.
Will keep for 2 days in a air tight container, though top layer may brown.
Romano cheese is recommended for garnish for it's salty flavor!
Nutrition
Calories:
527
kcal
|
Carbohydrates:
25
g
|
Protein:
18
g
|
Fat:
40
g
|
Saturated Fat:
8
g
|
Cholesterol:
17
mg
|
Sodium:
741
mg
|
Potassium:
1502
mg
|
Fiber:
8
g
|
Sugar:
12
g
|
Vitamin A:
3089
IU
|
Vitamin C:
100
mg
|
Calcium:
414
mg
|
Iron:
5
mg