I say tomato, you say tomahto. You could say something I don't say in front of my toddler as long as that spoon makes it's way to my mouth. Tomato goodness lightly laced with spice and jam packed with vegetables. Literally, everyone wins.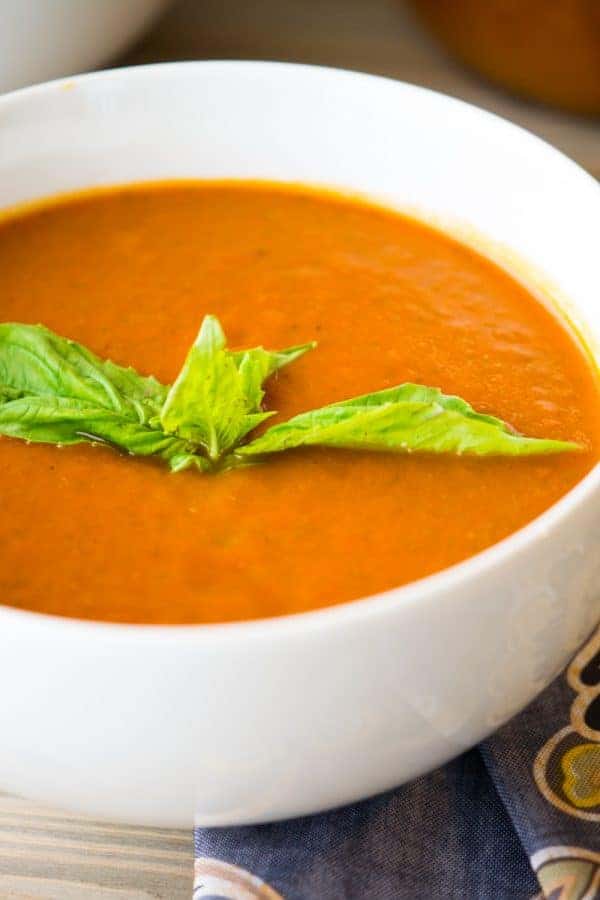 Sigh, it's the end of another weekend. I sit here snacking on these super awesome soft chocolate chip cookies from Pinch of Yum, sipping on my glass of Sunday red, watching the Miss Universe contest. Programs like Miss America and Miss Universe are a guilty pleasure of mine, my husbands and my in-laws. It's also a bit of a competition between us to pick the winner.
Somehow Henry always picks the winner. I swear he must have someone on the inside.
Swimsuits and evening gowns aside, it's time to prep for the coming week. One thing to take of my to do list? Lunch is covered. Having made this tomato soup to photograph on Saturday, I can guarantee you this is what I will be eating all week. A few years ago I fell in love with tomato soup and this is by far one of my favorite (and also strangest) recipe.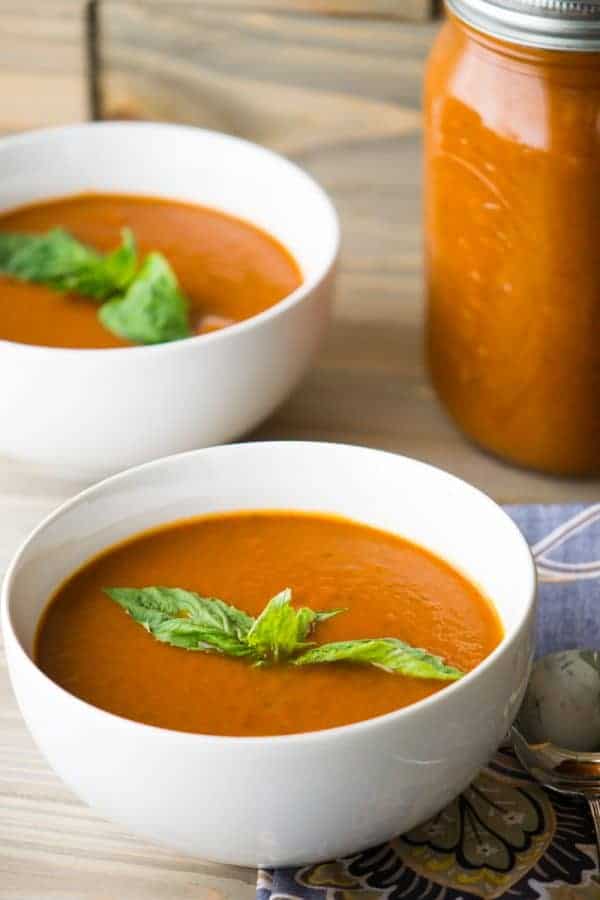 the (butter)nuts and bolts of this soup
Tomato soup is good for you by nature, right? Tomatoes, chicken stock, spices. If you're still trying to incorporate more vegetables than just that velvety red goodness, hang on to your hat. Beside a slight spice [thank you sriracha!] this soup packs an entire butternut squash and loads of baby kale.
You would never. know.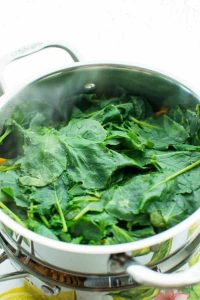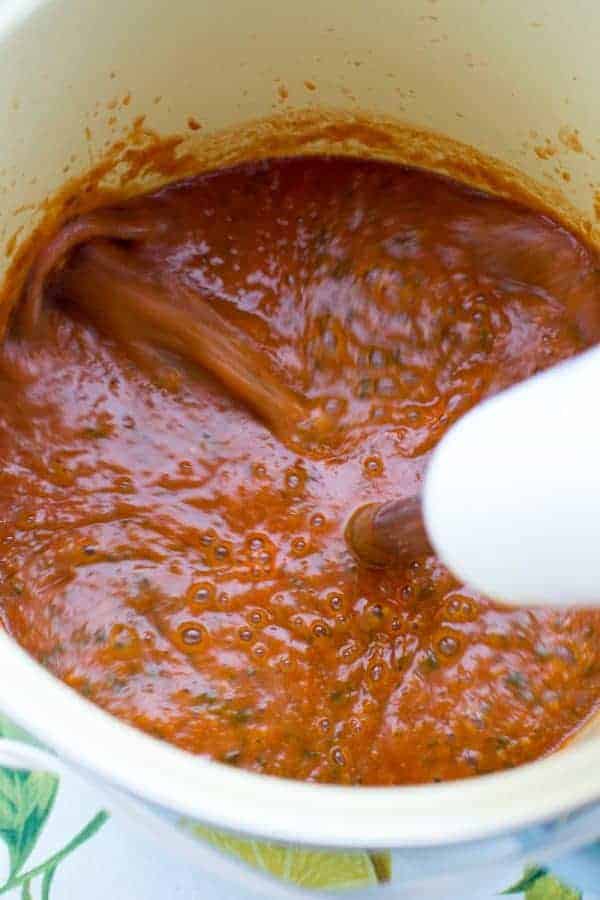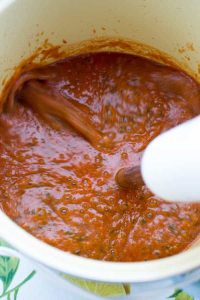 All tomato flavor and sneakily hidden vegetables. Just don't even tell your family. They don't need to know. It can be our little secret. While we smile to ourselves watching them dunk their grilled cheeses. I promise not to tell.
The key in balancing out the bitter kale and the thick butternut squash is all in the tomato ingredients. This soup has been made in my kitchen countless times. Having tried to make it countless different ways but without the canned tomato sauce (like this) and Newman's Own Pasta Sauce it just doesn't taste right. You're going to have to trust me on this, but I promise to do right by you.
To put the cherry basil on top of this bowl full of goodness, steam the squash and kale and add to a large pot with your sautéed onions. Add the other ingredients and blend with your immersion blender.
Not a fan of spice? Reduce the amount of Sriracha or scratch it all together. For my fellow spice lovers, 3 teaspoons is the perfect amount for a mellow heat after each spoonful without the Sriracha taste overpowering the tomatoes.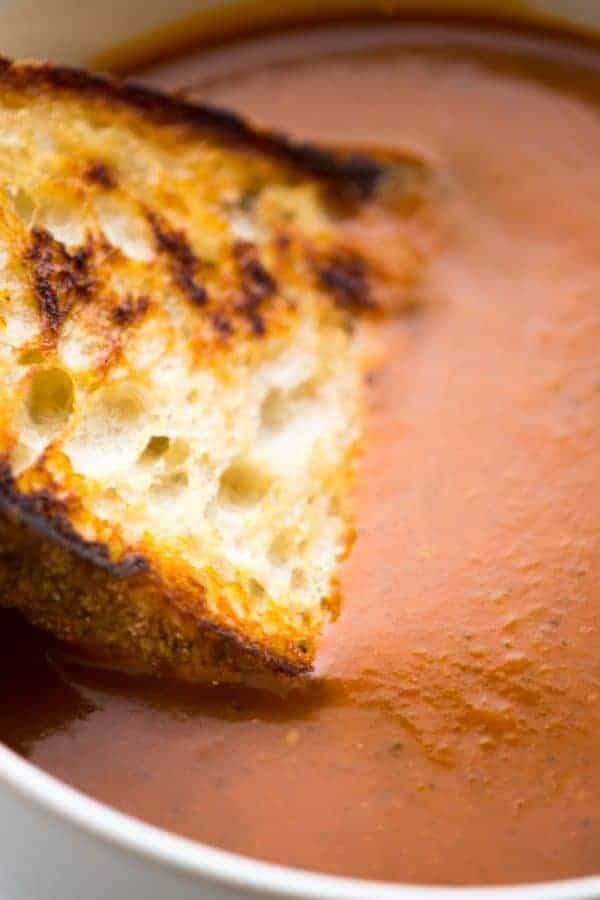 Just simmer for 15 minutes on low and you are D-O-N-E. Fifteen minutes for simmering sounds like more than enough time to make a crispy grilled cheese oozing with gooey sharp cheddar.
Go ahead, get your grilled cheese and tomato dip on.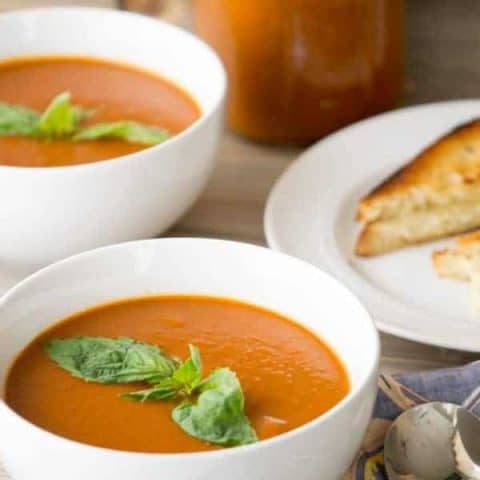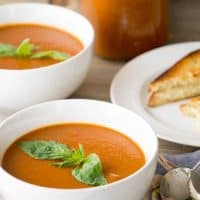 Veggie Packed Spicy Tomato Soup
Smooth, slightly spicy and packed tomato flavor you would never guess this tomato soup contains kale and butternut squash!
Print
Pin
Rate
Servings:
6
to 8 servings
Ingredients
2

pounds

butternut squash

(peeled, seeds removed, cubed and steamed)

3

ounces

baby kale

(steamed)

1

medium yellow onion

(diced)

2

tablespoons

extra virgin olive oil

3

15.5-ounce can

tomato sauce

(brand such as Hunt's)

1

24-ounce jar

tomato basil sauce

(i like the Newmans Own or Raos brand)

6

cup

chicken stock

2-3

teaspoon

Sriracha

½

teaspoon

kosher salt
Instructions
Add butternut squash to steamer system of choice. After 15 minutes of steaming, squash cubes should be almost completely soft. Add baby kale and cover, steam 3-4 additional minutes

In a large pot, heat olive oil over medium high heat. Sauté onions until translucent. Sprinkle with salt and pepper.

Remove squash and kale from steamer and add to onions. Stir to combine. Add tomato sauce and jarred pasta sauce. Stir to incorporate. Add chicken stock.

Using immersion blender, blend ingredients thoroughly. About 3 to 5 minutes of continuous blending, moving immersion blender around the pot.

Using your preference for spice, add 2 to 3 teaspoons of Sriracha sauce to soup along with ½ teaspoon kosher salt. Stir to combine and simmer for 20 minutes.
Nutrition
Calories:
344
kcal
|
Carbohydrates:
53
g
|
Protein:
13
g
|
Fat:
11
g
|
Saturated Fat:
2
g
|
Cholesterol:
7
mg
|
Sodium:
2162
mg
|
Potassium:
1973
mg
|
Fiber:
10
g
|
Sugar:
25
g
|
Vitamin A:
19130
IU
|
Vitamin C:
72
mg
|
Calcium:
170
mg
|
Iron:
5
mg