It's Fri-Yay! Are you ready for the weekend? If you're a New England local, you are most likely counting down the hours until kick off on Sunday. The "I'm too excited to sleep!" Disney commercial comes to mind.
Only two more sleeps until the Super Bowl.
Though I'm not much of a football connoisseur, I have a fond appreciation of snacks and beer. Most of all, I appreciate that there is not 6 feet of snow on the ground. Opposite of the last time the New England Patriots won the Super Bowl. The city continued with the Monday parade plans and it took me over two hours to get to work.
Some of you may be saying, "Oh that's not so bad." But considering I lived less than 5 miles from work...it was fairly infuriating. Past frustrations aside, who doesn't love an excuse to drink at 11 in the morning watching Gronk dance on a duck boat? So let's go boys!
Putting football aside for a few moments, today I'm sharing four cool things that happened throughout this week. Shall we?
One
At the recommendation of a friend, Shea and I bounced out early Monday morning to SkyZone in Everett, MA for Toddler Time. It was a blast! She had oh, so much fun. If you need a smile and you think small kids are super adorbs, here's a little video for you: Shea at Sky Zone. (The way she pats the blocks is my favorite part.)
If unfamiliar with the company, SkyZone is a trampoline park with several different 'courses' available depending on which of the 365 locations you attend. Our local park, that I just learned about last week is a whopping 15 minutes from my house in Everett, Ma. Oops.
The SkyZone Everett location offers Toddler Time on Monday's and Wednesday's from 9:30a-11a. The cost? $16 will gain you and your small entry to the toddler course and the smallest speciality 'SkyZone socks' that will still be a bit too big for his/her feet. If you plan to go on the course with them, you'll also have to purchase a pair, so be prepared to cough up an addition 2 bucks.
You can call me selfish, but I was a little jealous of all the trampoline fun Shea was having. On offer from SkyZone is an attached, but blocked off trampoline course that the parents can use while their littles jump themselves to a good, long nap. Let's just say the former cheerleader in me was dying to go jump, but Shea's not ready for that kind of distanced supervision. Damn those parental responsibilities ::eye roll::
Two
Let's talk about the beautiful, fermented goodness that is beer.
It is my sincere hope that my readers don't think I have a drinking problem, but a sincere appreciation for libations that also happen to be alcoholic. Having distanced myself from beer for a bit, I splurged at my latest adventure at Total Wine. This 'splurge' was a $4 bottle of Great Divide Yeti Imperial Stout - seen in the background of the photo above (recipe coming next week!!) Not a crazy monetary splurge, so all in all, it was 100% worth the extra purchase.
Side Note: If you don't know what Total Wine is you should definitely click that link and find the closest one. It's like Target...for booze. And ours is right next to Babies R' Us, which is both hilarious and convenient.
Over the past six years, I developed a deep appreciation for beer and actually brewed my own beer a few holidays ago. A former hater of IPA and Stouts, they're actually now my preferred style. If you appreciate a good stout and a kick in the pants - drink this Great Divide Yeti. Beside the brewery itself being a cool place to bike to in downtown Denver, they make some pretty rad beers.
This Imperial Stout did not disappoint. Just the right amount of carbonation without an overbearing amount of bubbles you lose the flavor. It has a bold malty flavor on the initial sip that melts in creamy chocolate and toffee. That heavy roasted malt is also going to bring lots of caramel flavor as well. And at 9.5% per bottle, let's say it comes with a nice glow too.
Three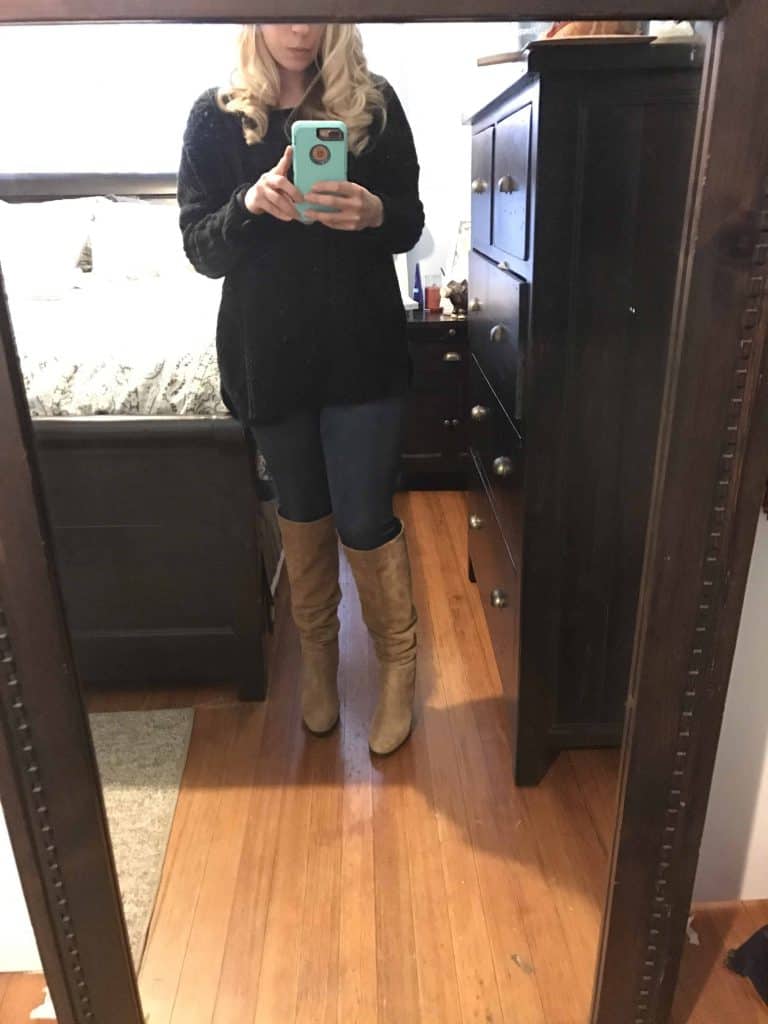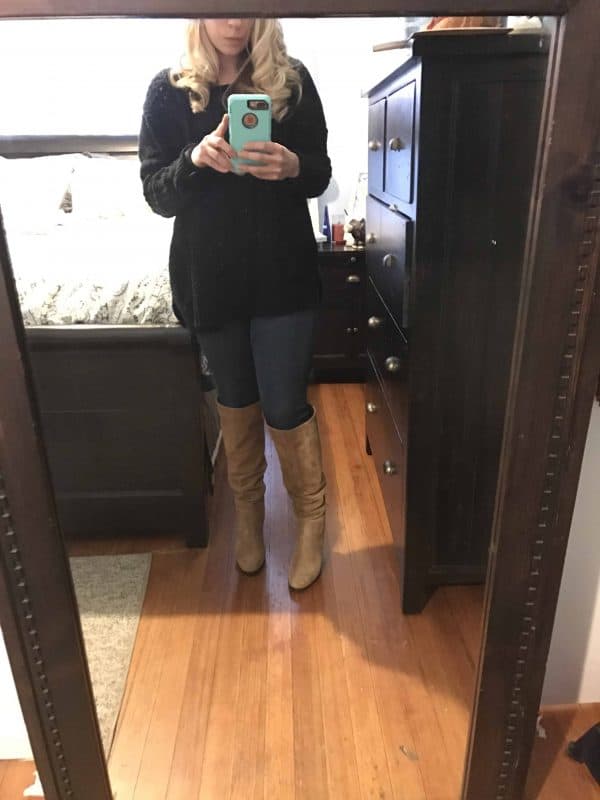 THESE BOOTS. Ugh, I am in love and obsessed. I first eyed these boots via PaleOMG on Instagram. Even if you're not strictly paleo, she posts really great recipes and has fashion posts as well. We have a fairly similar style (with exception that I most definitely do not have a 6-pack) so I love to see her Like to Know it posts.
It's beautiful and dangerous. All you have to do is like a blogger's post that it tied to LiketoKnowit and the details get email straight to your inbox. After a two year hunt, I finally found the perfect replacement for my favorite slouchy suede boots that 100% walked into pieces.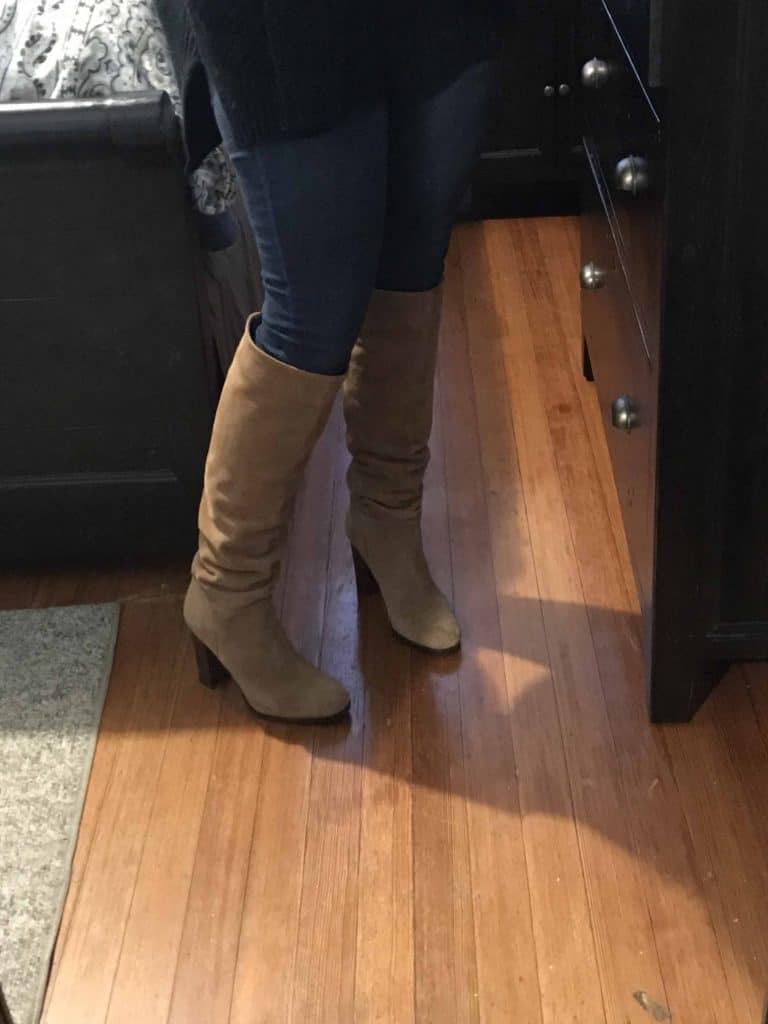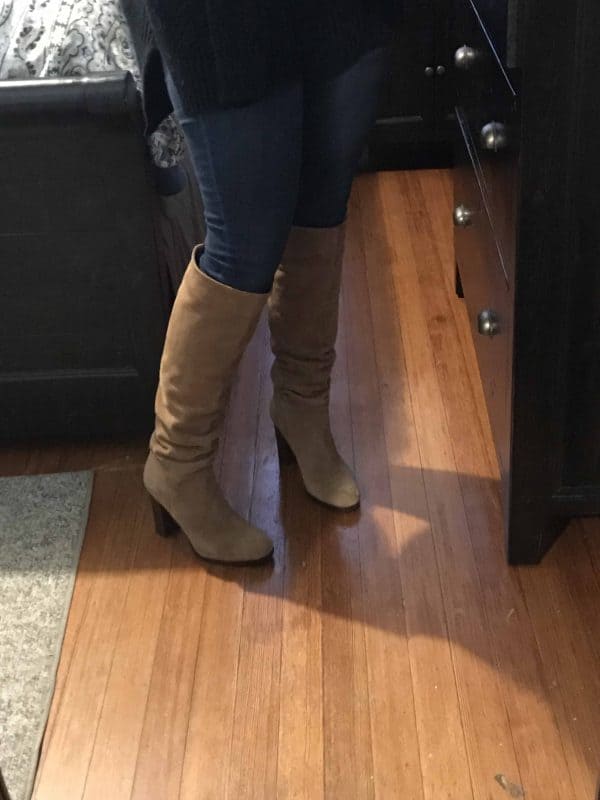 These Sam Edelmen boots were worth every penny. With a higher heel than normal for everyday boots, they are like walking with little sass-strutting clouds attached to your feet. The perfect amount of slouch and not to tight around the calves. Though this style is currently sold out, the 'Silas' style is pretty similar and currently 50% off!
Four
Tuesday was going to be a day filled with lots of cooking, video and photography for this week's recipes:
Veggie Packed Spicy Tomato Soup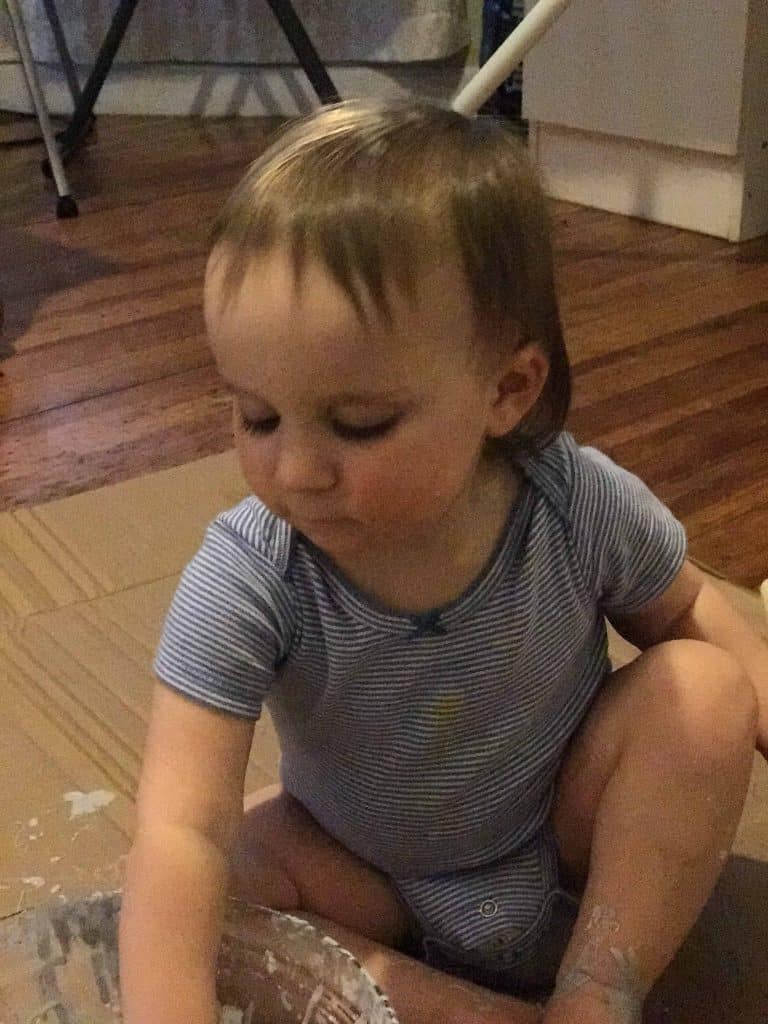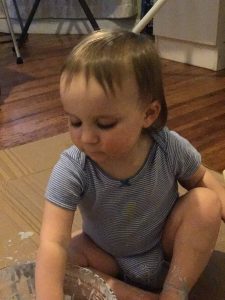 So in addition our SkyZone adventure, Shea and I experimented with a little science.
Now we weren't pulling out the chemistry set and breaking out our safety goggles. But if you were in elementary school anytime in the 80s and 90s, I'm sure your teachers at one point let you experiment with Flubber.
Besides being a poorly rated movie via Rotten Tomatoes (sorry Robin, we still love you) its also a great sensory activity for kids. A combination of corn starch, shampoo, water and food coloring Flubber is a solid when held tight and a liquid when held loosely. It is also great for making a mess - hence the cardboard box on the floor for easy clean up.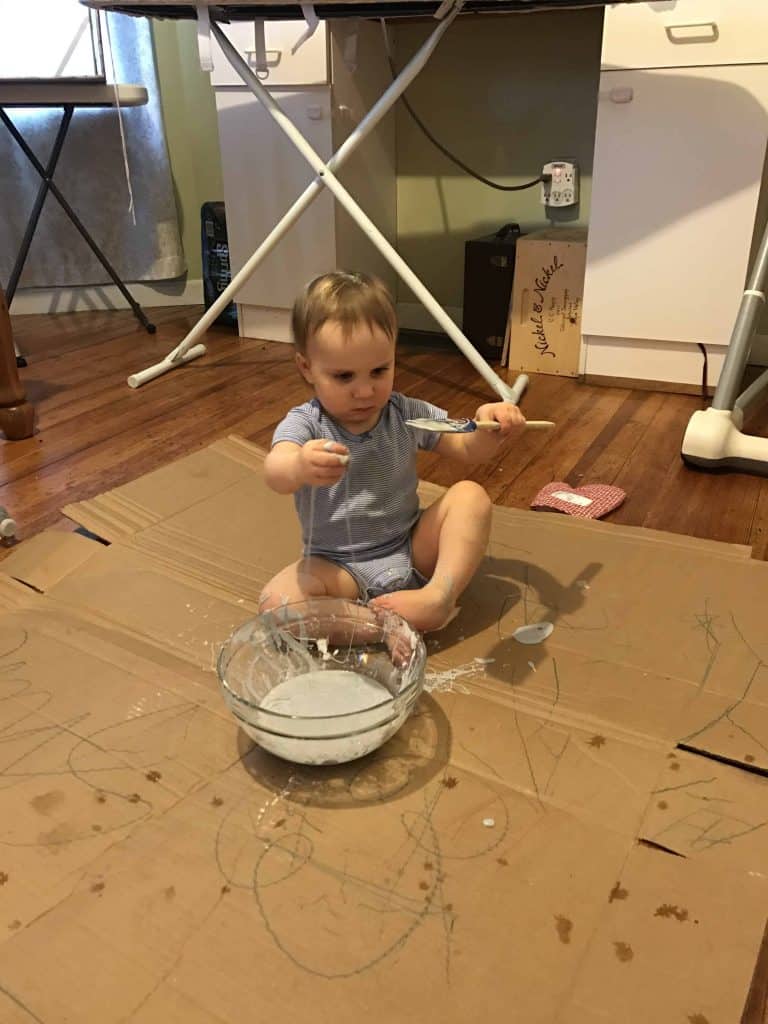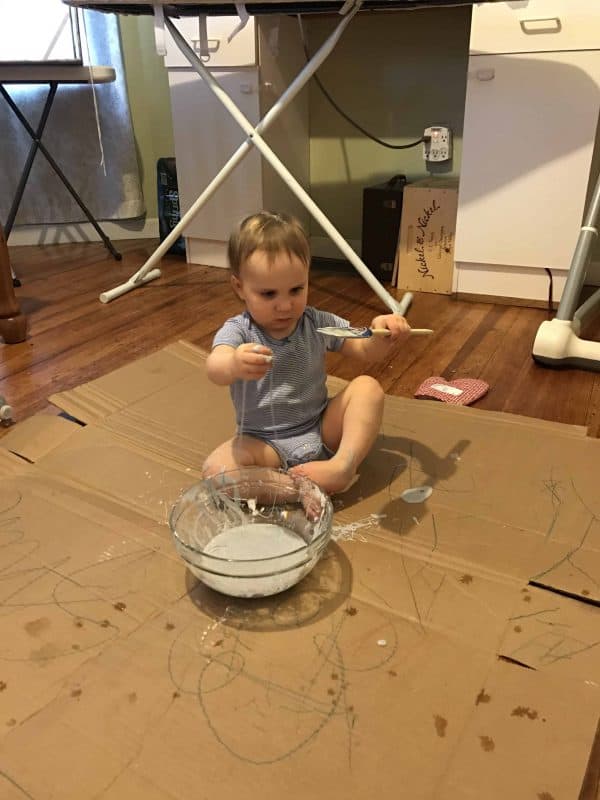 To make flubber, here's what you need:
1 cup + 2 tablespoons cornstarch
¼ cup thick gel-based shampoo
4-6 tablespoon water
Food Coloring (optional)
Mix everything together and you are ready to experiment!
Thank you so much everyone for stopping by! I hope you had a lovely week and an enjoyable two days off. Whether you'll be watching the big game on Sunday or not, cheers to a weekend of good eats and small adventures!
xo
Lauren