It's hot. I am 5,000 months pregnant. Let's have a sorbet party my friends. Then maybe in a few months it can be a sangria party or a fall whiskey cocktail party. But for now, let's indulge in some cold, fresh sweet treats.
Honeydew Lavender Sorbet. I am ready to eat this on repeat for the rest of the summer. It's just the right amount of sugar sweet with all the good flavors of honeydew melon. AND then...when you're just being pleased by that honeydew taste this subtle, floral lavender flavor comes through in the most perfect way.
By perfect I mean it doesn't taste like soap, because that's the trick when it comes to cooking with lavender. You need enough to taste it but not so much you relive getting your mouth washed out for saying bad words.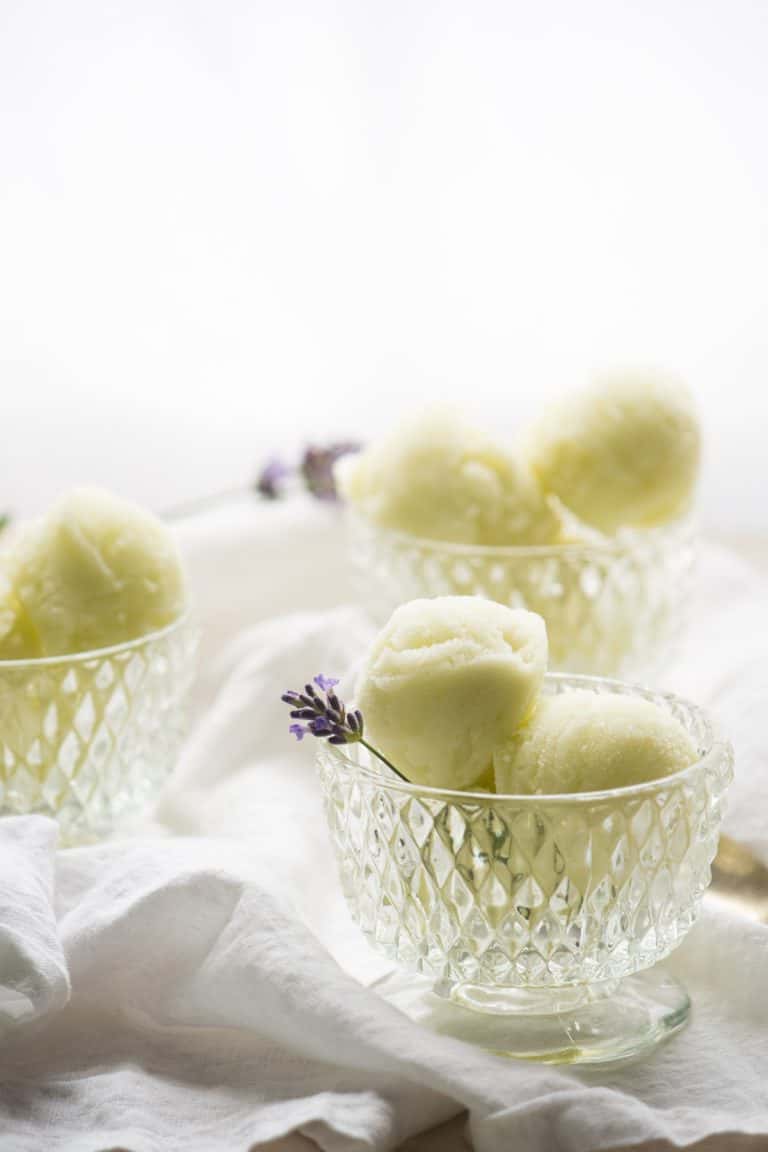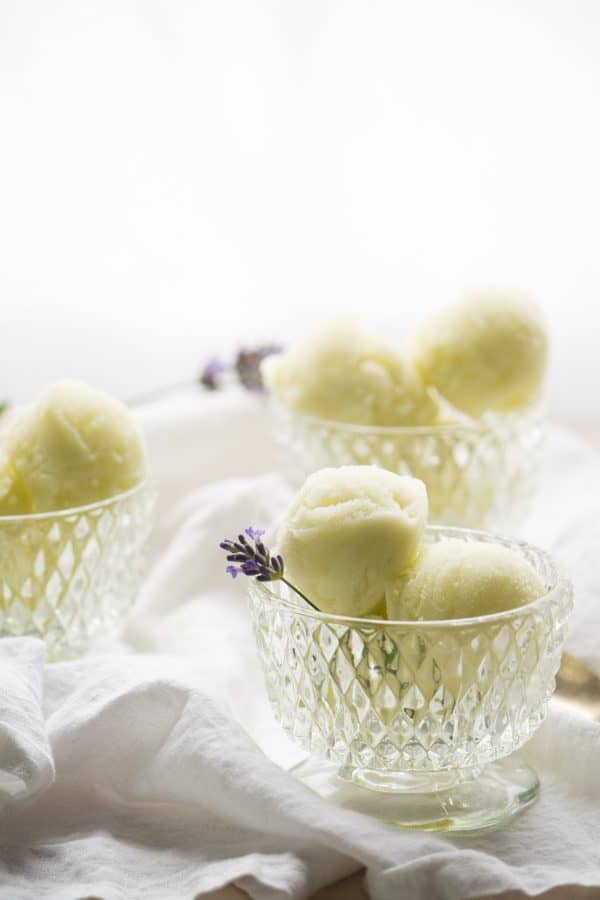 How to make the perfect sorbet
The key to making sorbet the perfect consistency and flavor all comes down to sugar content. So while this recipe has totals for ingredients, you add a little, then test it, then add more if needed. That might mean adding a little more lavender simple syrup or adding a little water or fruit juice. It all depends on the natural sugar content of your fruit sorbet base.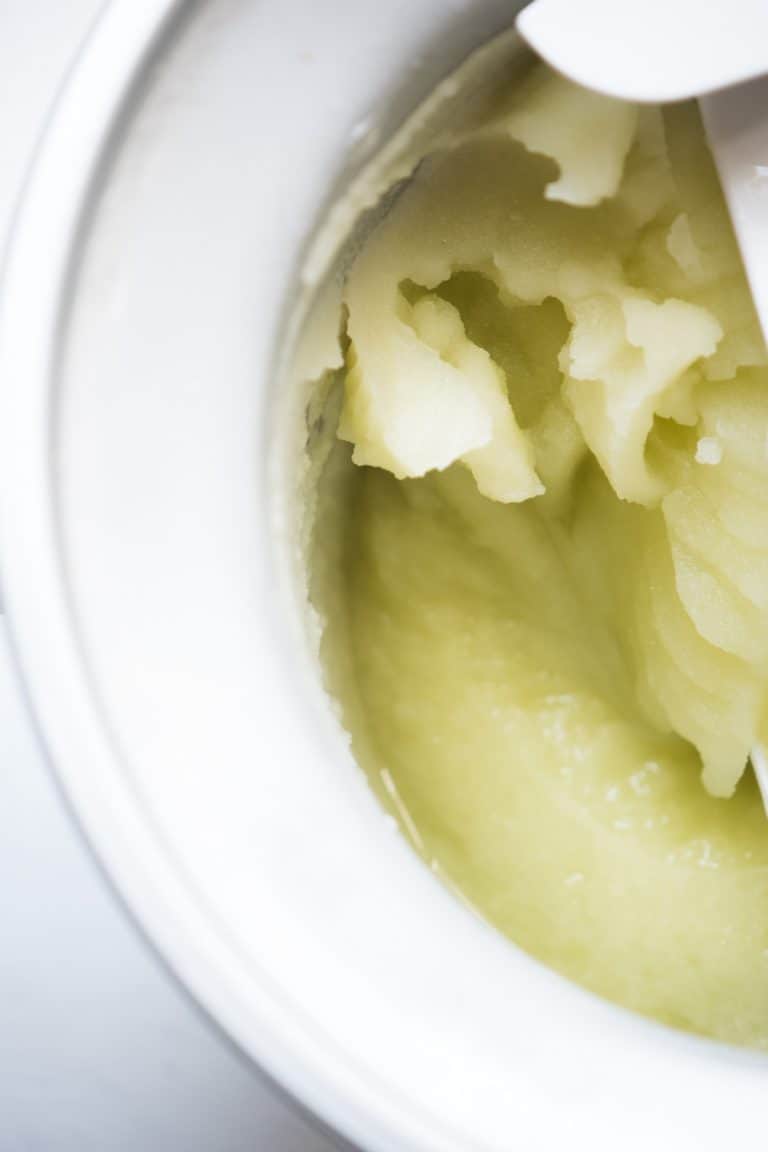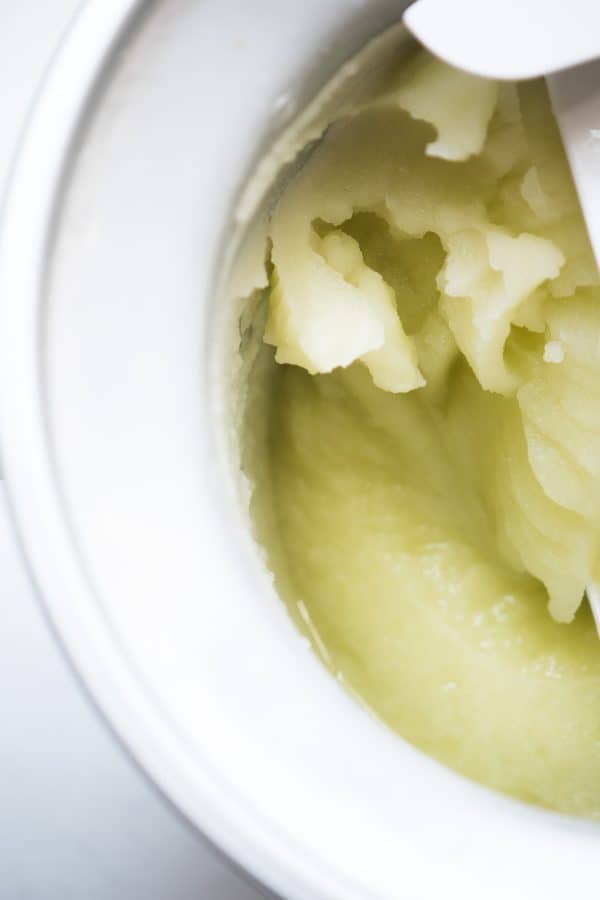 Preparing the sorbet base
You'll need a few kitchen tools to get started. These are some of my personal favorites:
After pureeing the honeydew melon into a liquid, you still will want to strain it through the fine strainer. Use the spatula to move around the pulp that stays but don't push it through. Then go ahead an clean that egg.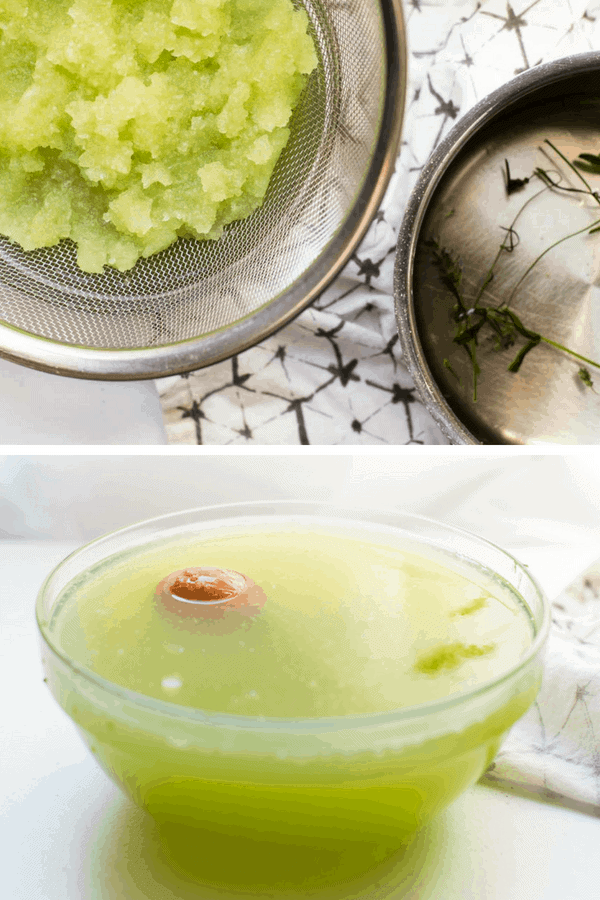 Egg Test
We can thank The Kitchn for this tip resulting in fail proof sorbet texture. Starting with about half your cooled lavender simple syrup, add it to the honeydew sorbet base. Then lightly float the egg on top to test the sugar levels and watch for this:
Nickel sized amount off egg showing - your sorbet base is perfect! Congrats and move on to the next step
Dime sized amount of egg showing - you need more sugar! Add more of the simple syrup
Quarter sized amount of egg showing - you need less sugar. Add in more honeydew base if you have it or a little water.
Corn Syrup Option
While we're cutting out some fat by making sorbet versus ice cream, let's be real. There's a fair amount of sugar going on in here. After spending a questionable amount of time freezing my hands off in the ice cream isle checking ingredient lists on name brand sorbets, almost all of them use corn syrup to achieve that creamy but non-dairy texture.
After testing two batches - one with corn syrup and one without - here's the scoop. They both taste amazing. The batch with the corn syrup had a much better, smoother and less icy texture. So the corn syrup option is up to you my dears.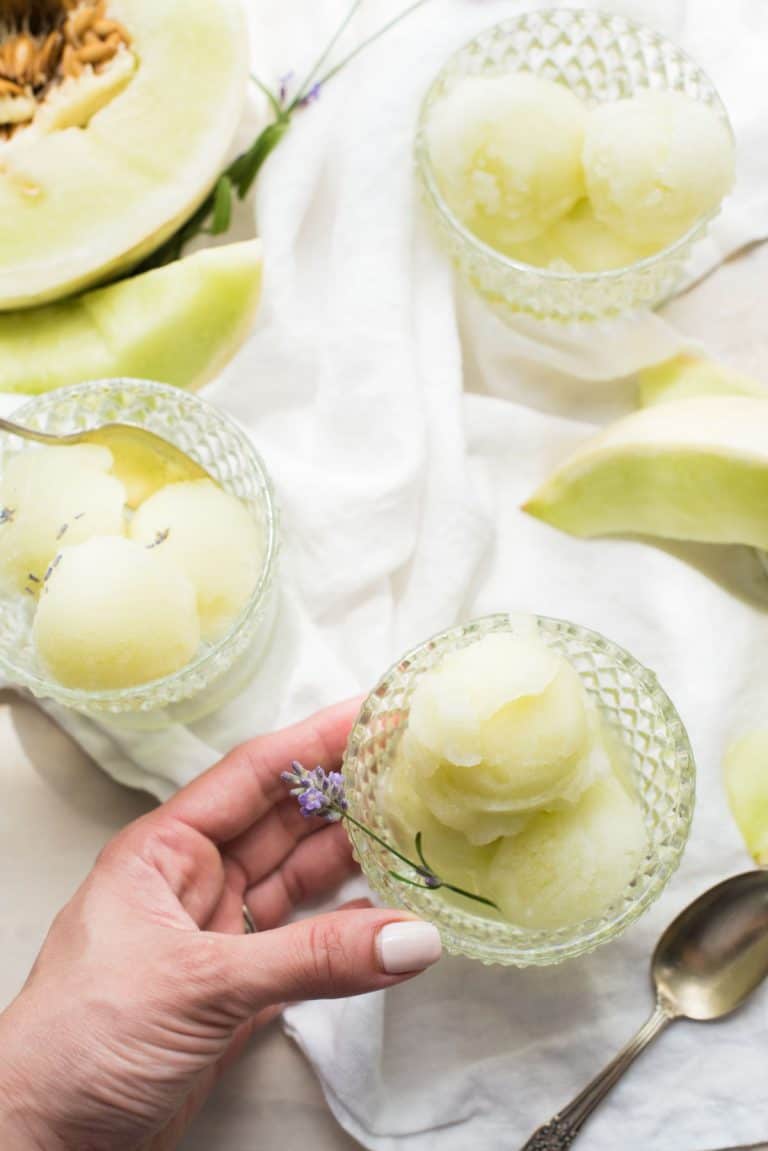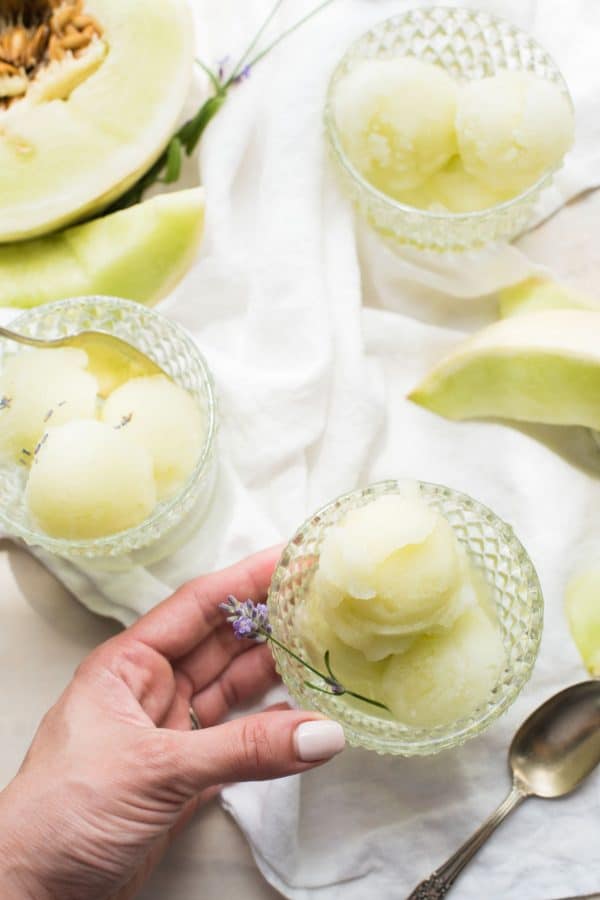 Prep a little, enjoy a lot
Honeydew Lavender Sorbet is simple to make, but it does take a bit of time to get things chilled and frozen between the steps. My recommendation is to make this a few days before you plan to eat it so you can make it at your leisure.
At the end of the last freezing you'll have roughly 1 quart of delicious, fresh, perfectly summer Honeydew Lavender Sorbet at a fraction of the cost of a grocery store pint. So let's sit back, relax and dig into a scoop of that!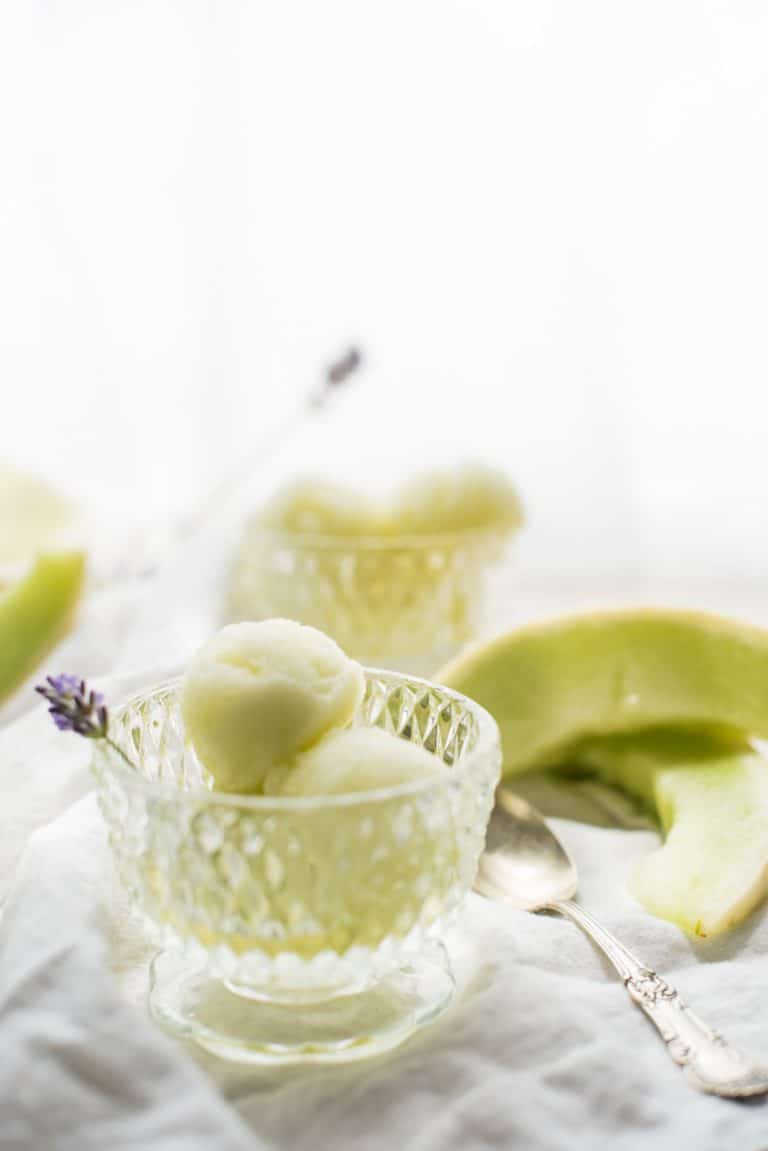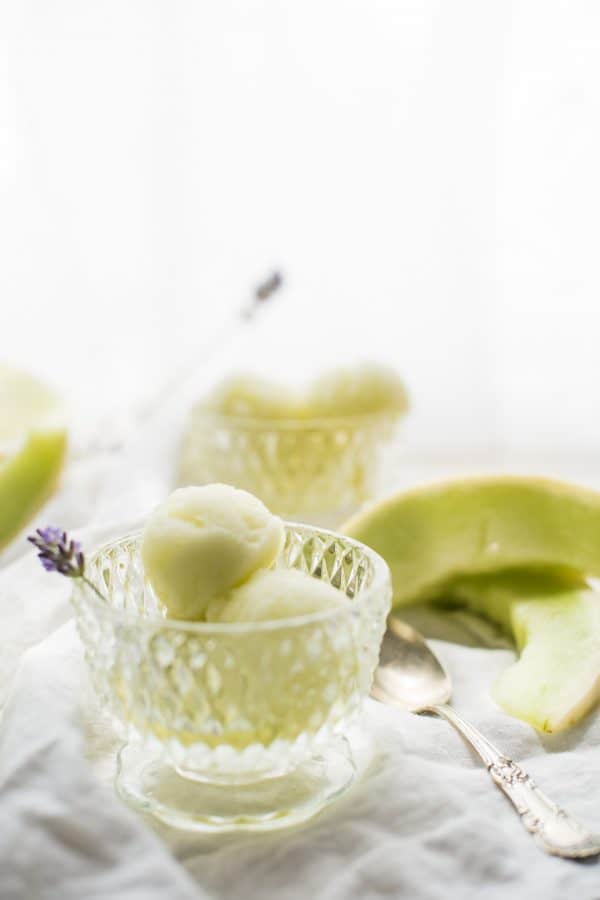 Did you make this recipe? I'd love to hear about it. Any requests for other sorbet flavors? Tell me in the comments.
Pin this recipe for later ????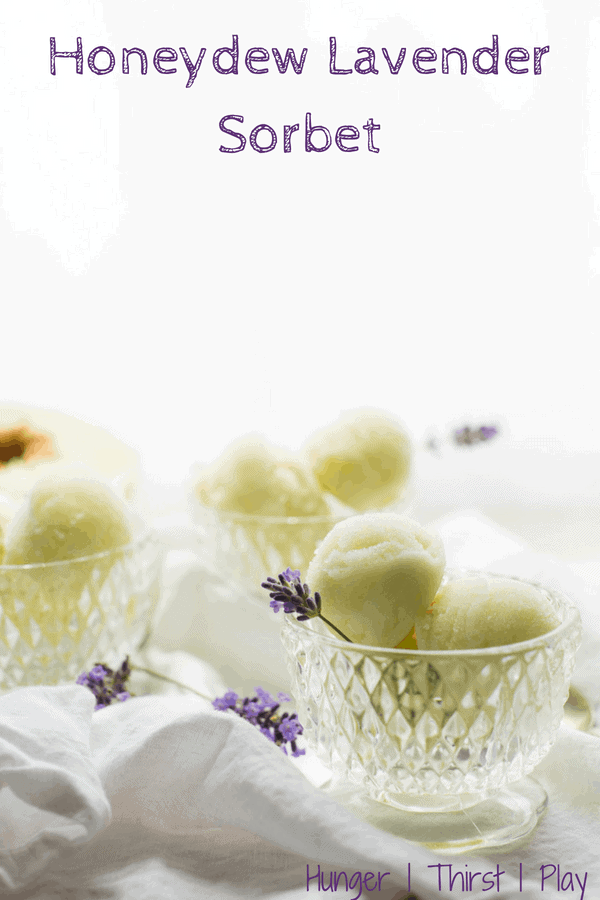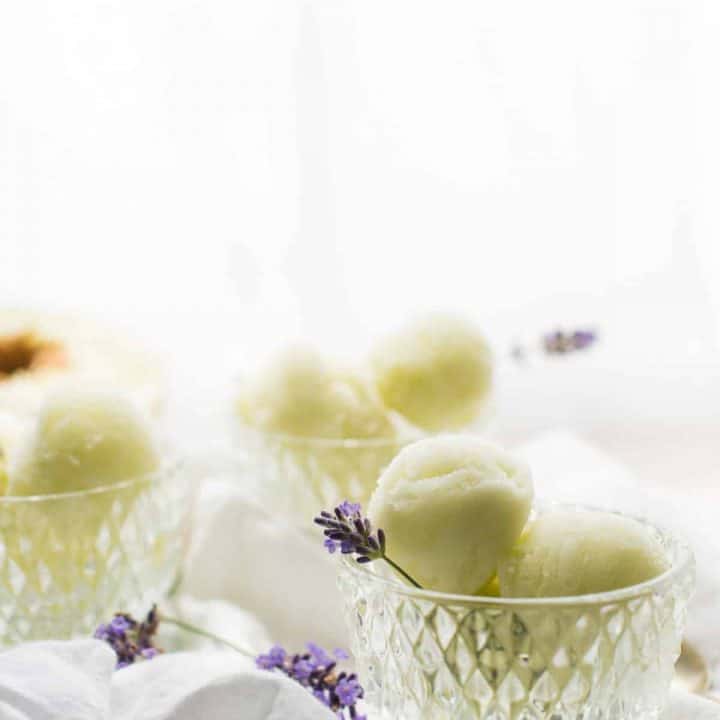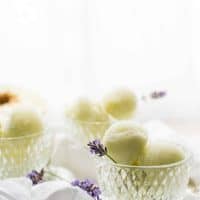 Honeydew Lavender Sorbet
Honeydew Lavender Sorbet is the perfect summertime sweet treat! Fresh honeydew melon and light, floral lavender flavor in an smooth, frozen sorbet.
Print
Pin
Rate
Ingredients
2

pounds

honeydew melon

(about 4 cups after cutting into cubes)

1

cup

sugar

1

cup

water

5

sprigs fresh lavender

(or 2 teaspoons dried culinary lavender)

2 to 4

tablespoons

lemon juice

optional: ¼ cup light corn syrup

(see notes)

1

large egg for testing sugar content
Instructions
Freeze Ahead: Make sure the ice cream base is in the freezer for at least 24 hours.

Cut + Blend: Remove the seeds and skin from the melon and dice into 1 to 2 inch cubes. You should have 4 to 5 cups of chopped fruit. More or less is fine, you will adjust with the amount of simple syrup you use. In batches, blend the honeydew until it is liquified.

Strain: Strain the honeydew juice through a mesh strainer. Use a spatula to move the solids around without pushing through.

Steep the Syrup: Combine the sugar, water and lavender in a medium saucepan. Bring to a boil over medium-high heat. Boil for 2 minutes, turn off heat and let steep for 5 minutes. Strain out lavender and cool completely.

Build the base: If using the corn syrup, whisk into the honeydew base. Whisk in half the simple syrup then test the base using the egg test. Wash and dry a large egg and lightly float into the base. You want to see a 1-inch circle, about the size of a nickel, of the egg. Too little egg - add more simple syrup. Too much egg - add more honeydew juice or water.

Add the tart: Stir in the lemon juice 1 tablespoon at a time, tasting after each addition until you reach the right acidity.

Chill + Churn: Chill the honeydew lavender sorbet base for at least 1 hour. After completely chilled, pour into the ice cream maker and churn for 10 to 15 minutes.

Freeze: Freeze the churned sorbet a storage container for at least 4 hours. Let soften on the counter for 5 minutes before scooping.
Notes
Replacing ¼ cup of the simple syrup with ¼ corn syrup will result in a 'creamier' smoother and less icy sorbet. After testing both methods, using the corn syrup will produce a texture consistent to store quality sorbet but is still delicious without it.
If you can't find fresh lavender, you can purchase culinary lavender at a speciality food shop or Whole Foods. Be sure to use culinary lavender and not the kind you get at the craft store. You probably won't become ill, but why chance it?
Nutrition
Calories:
139
kcal
|
Carbohydrates:
36
g
|
Protein:
1
g
|
Fat:
1
g
|
Saturated Fat:
1
g
|
Sodium:
22
mg
|
Potassium:
263
mg
|
Fiber:
1
g
|
Sugar:
34
g
|
Vitamin A:
59
IU
|
Vitamin C:
22
mg
|
Calcium:
10
mg
|
Iron:
1
mg