No Bake S'mores Bars are the perfect shareable treat! Crunchy graham cracker crust, creamy chocolate truffle center and gooey toasted marshmallow topping. Best of all, no oven needed.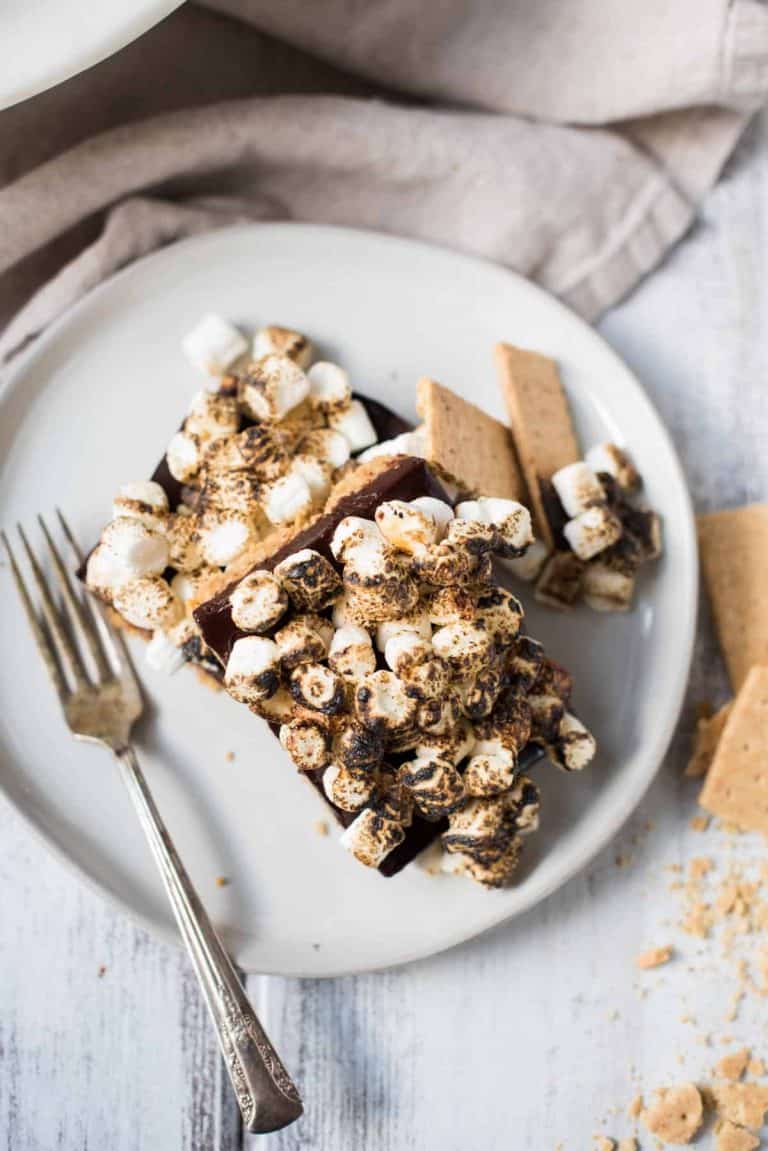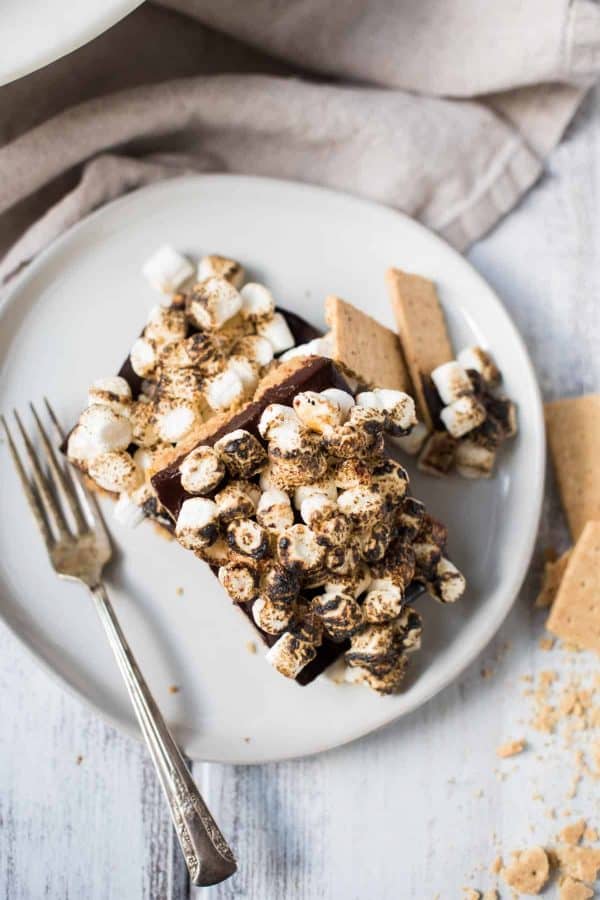 Have you ever said to yourself, "You know what? I've always wanted a reason to own a blow torch." Here ya go.
No bake s'mores bars are like the combination of childhood summers spent camping and the quick fixes of adulthood. Like, you get the gooey marshmallow and chocolate treat but you don't have to sleep outside and get bug bites. Personally, that's the ultimate win for me.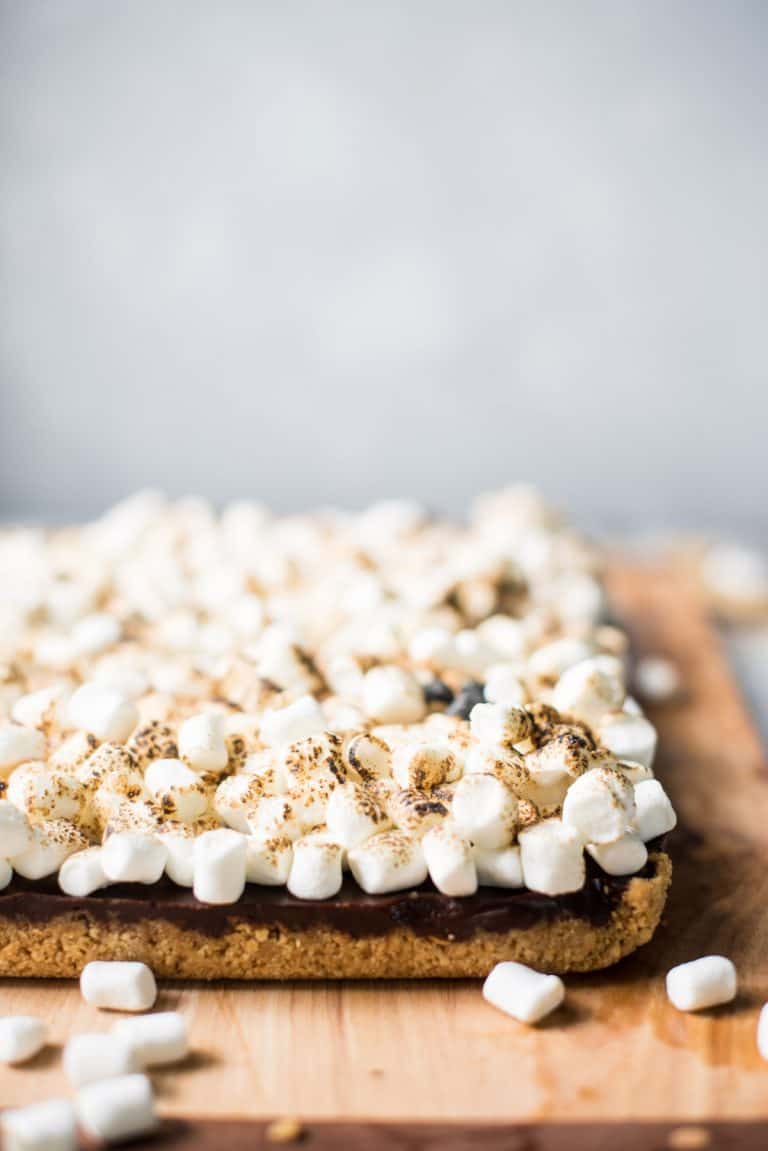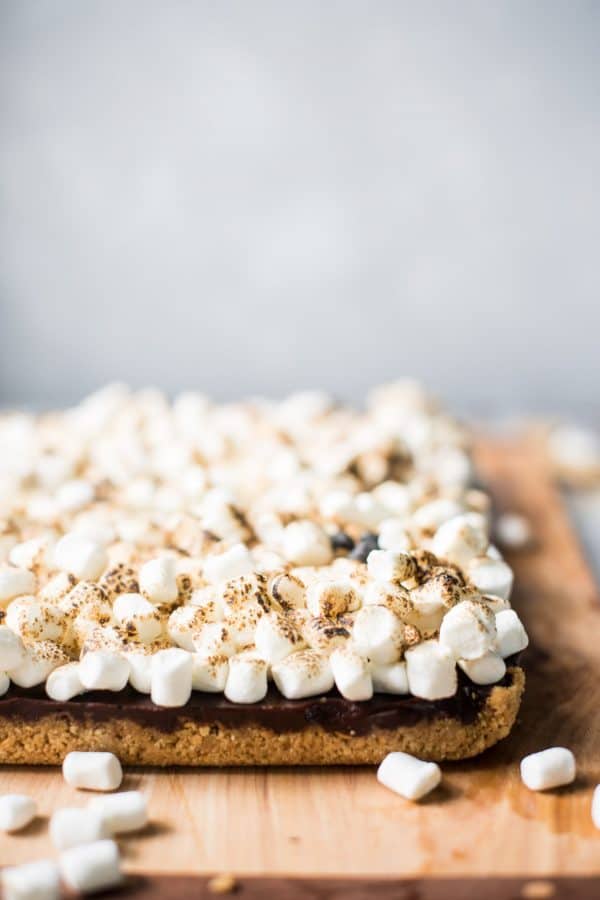 Don't get me wrong, I loved camping as a kid. But like, the campground with bathrooms and sinks and a short walk to the beach kind of camping. That's about as "roughing it" as I can get. The emergence of 'glamping' - I AM ALL OVER IT. Good thing we can still get our s'mores fix on without all our clothes having to smell like campfire. Phew!
Or maybe you totally love that kind of stuff, but these No Bake S'mores Bars are here to help out with that sweet treat craving without worrying about your marshmallow falling into the fire pit.
Simple and Quick No Bake S'mores Bars
Even better than the taste, even better than the nostalgic childhood treat - these S'mores Bars are super simple and super quick to whip up.
If you don't have a food processor, you can always approach the graham crackers old school style - plastic bag and meat mallet/large bowl/toddler feet, etc.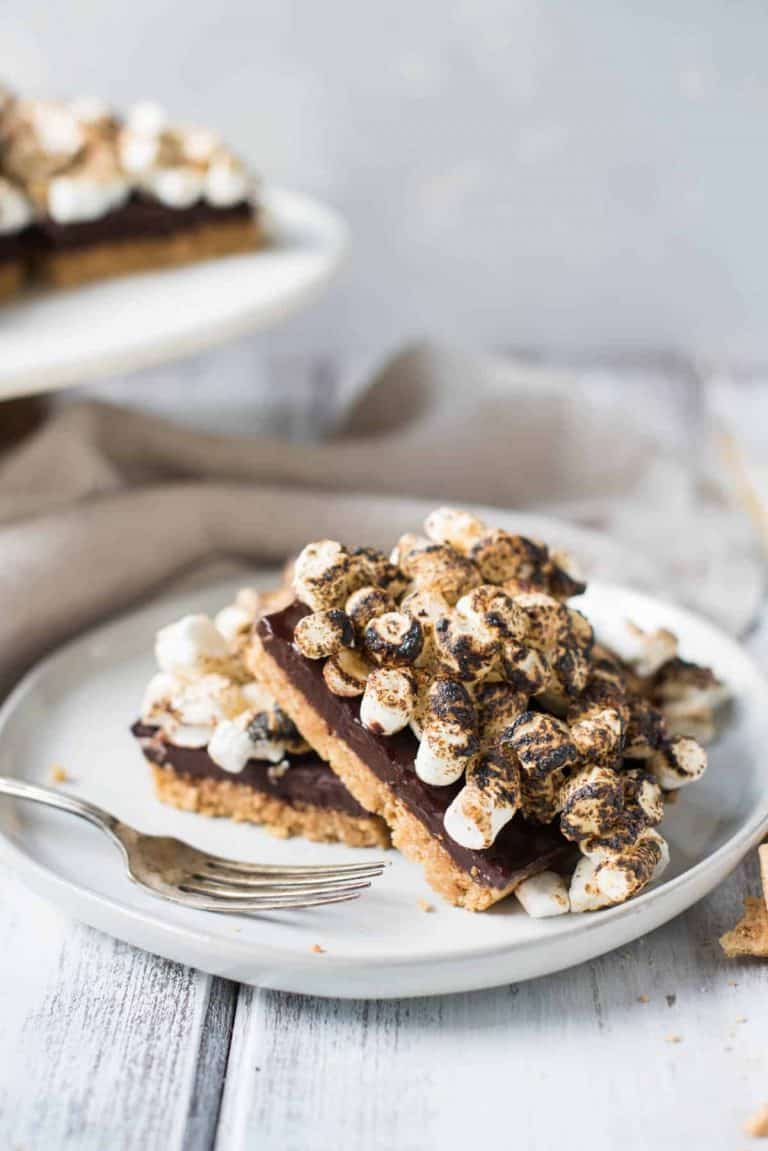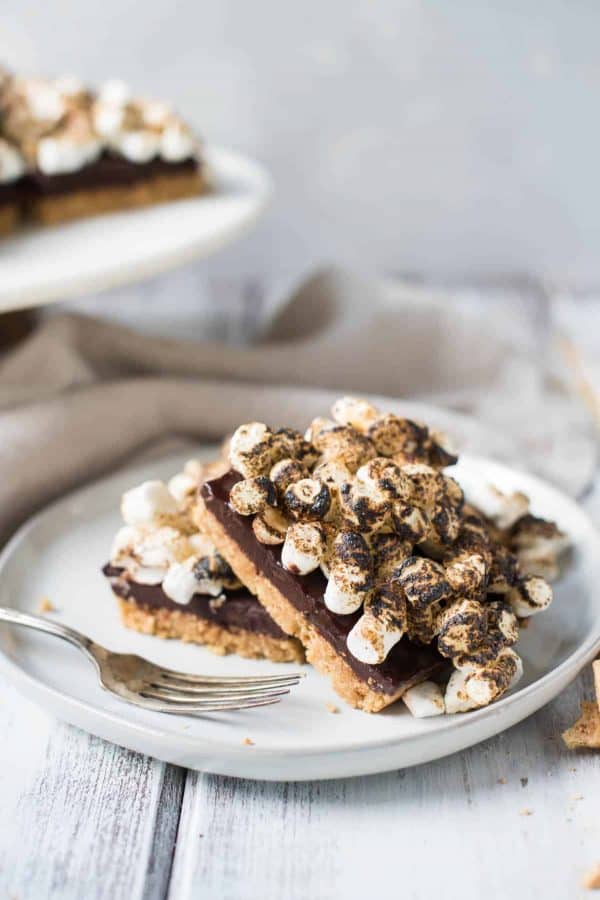 Tips for making the S'mores Bars
Spray the 13x9 pan with cooking spray and line with parchment paper. A light rubbing of butter will also work. Just enough to get the parchment paper to stick. Unless you plan on cutting them in the pan in which case proceed with the naked pan.
Top the bars with the mini marshmallows before chilling so they'll stick the to chocolate layer.
Once your s'mores bars are chilled and set, remove from the pan to a fire safe (something like this Boos Maple Cutting Board.
REMOVE THE PARCHMENT PAPER BEFORE TORCHING MARSHMALLOWS. Let's not start any indoor campfires shall we?
If any of the marshmallows light under the flame of the torch, just blow out the flame like a birthday candle. Wish making optional.
For easier cutting, run a sharp knife under super hot water first.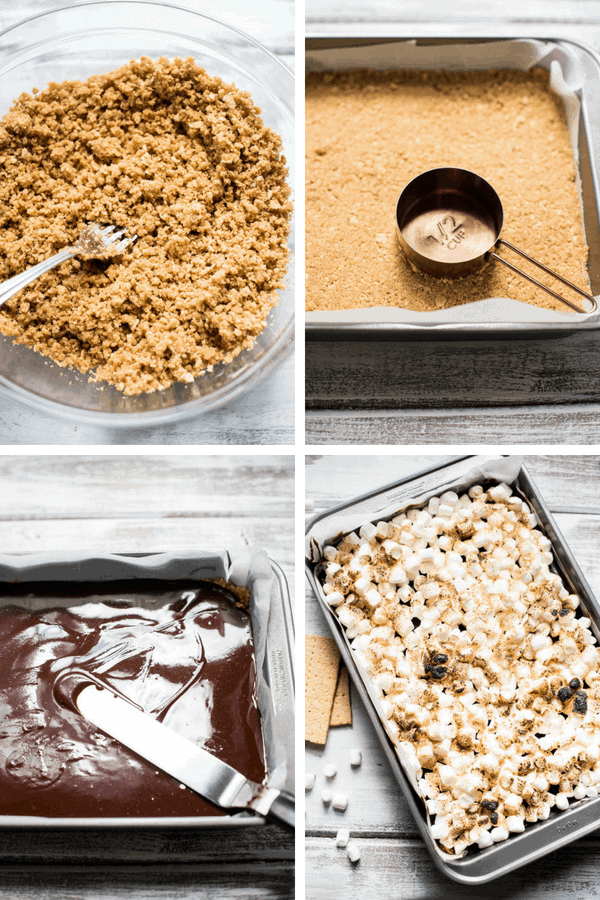 Let's talk about the Torch
A simple, easy to use blow torch is what you'll need to get those mini marshmallows perfectly toasted. This Blow Torch
is the one that I use. It's simple to fill, easy to use and comes with a gauge to adjust the flame and to lock it. You'll have to buy the Butane
separately, otherwise you just have a torch and no fire.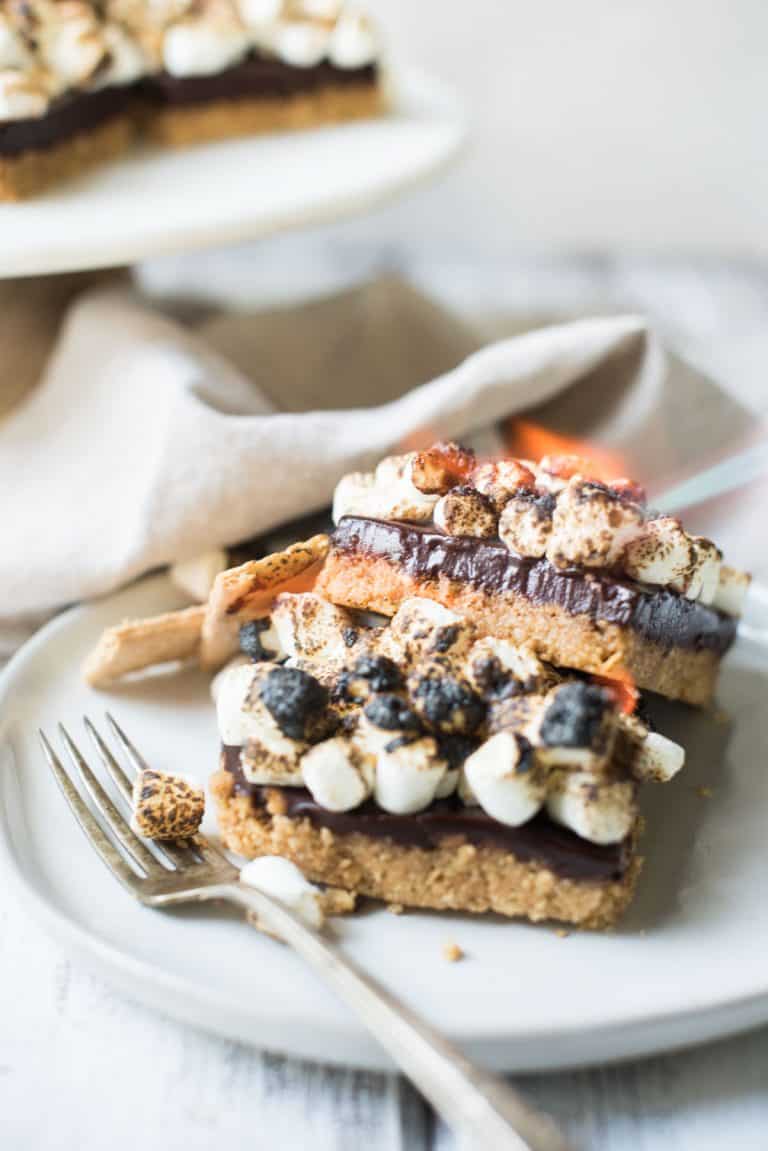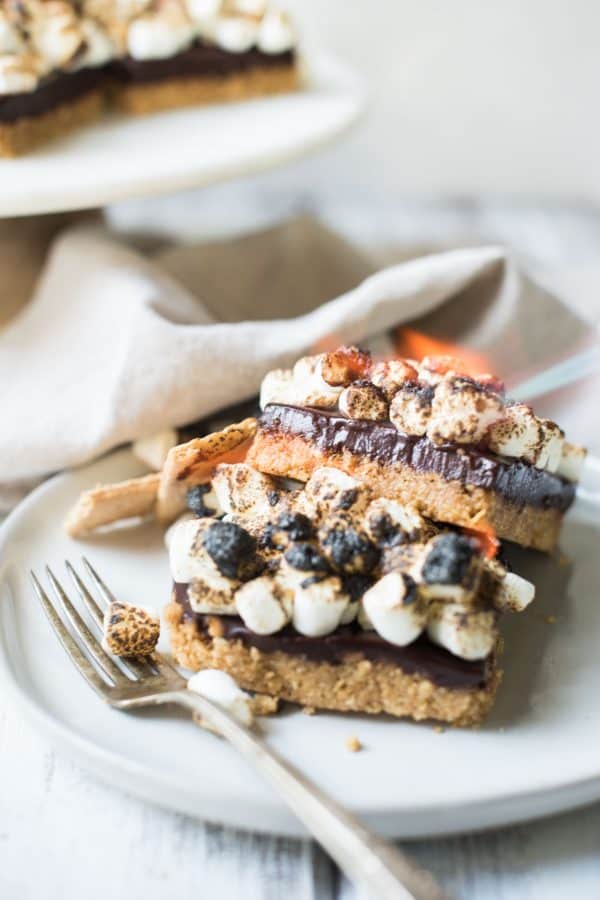 Now, how toasted you want those marshmallows - now that's on you. #teamgoldenbrown and slightly charred over here. If you're one of those "I'm just going to light my marshmallow on fire and let it become a charred gooey burnt sugar blob" well, I just don't know about you. To each their own right?
Other uses for your torch:
Now that you have this handheld fire maker, let's put it to use! These s'mores bars are an easy option for summertime crowds, but here are some other tasty treats to try out:
Ready to enjoy put that torch to some use? Whip up some No Bake S'mores Bars campfire treats without having to sleep outside? We recommend enjoying them fort style in the living room for added ambiance.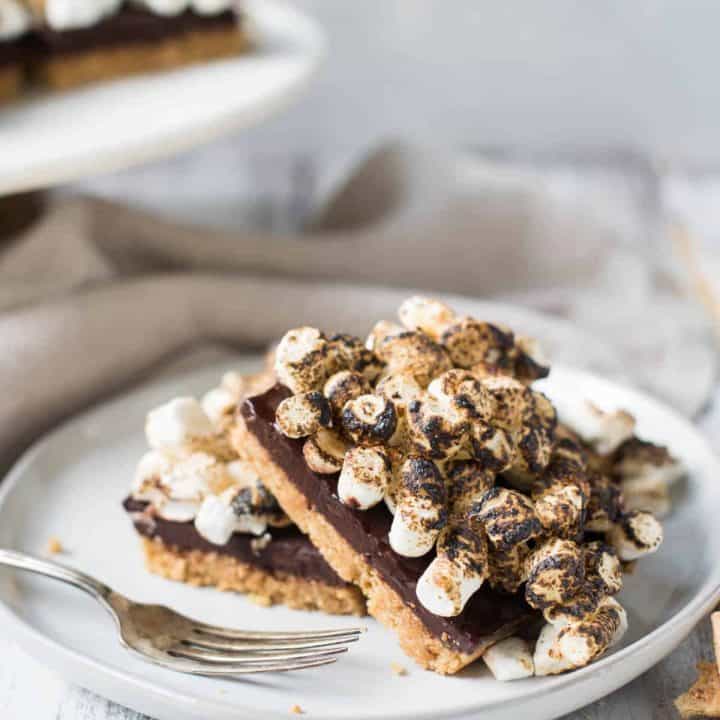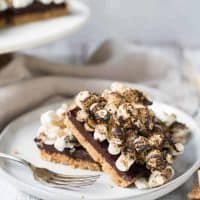 No Bake S'mores Bars
No Bake S'mores Bars are bringing everything good about summertime camping without the bug bites. Crunchy graham cracker crust, creamy chocolate center and gooey toasted marshmallow topping. Best of all, no oven needed.
Print
Pin
Rate
Servings:
12
to 16 servings
Ingredients
1

box

graham crackers

(3 packages)

3 ¾

sticks

unsalted butter

(divided)

2

12-ounce bag

semi sweet chocolate chips

⅓

cup

heavy cream

1

10-ounce bag

mini marshmallows
Instructions
Prepare the crust:

In a food processor, blend the graham crackers into a fine crumb and add to a large bowl. Melt 2 ½ sticks unsalted butter. Slowly pour into the graham crackers while stirring with a fork. Transfer the buttered crumbs to a 13x9 pan lined with parchment paper. Smooth into an even layer and press down using the bottom of a measuring cup.

Melt the chocolate:

In a large saucepan, melt the remaining 1 ¼ stick unsalted butter over low heat. Add the chocolate chips, stirring until mostly melted. The chocolate may appear like it is about to seize, but will smooth after incorporating the heavy cream. Add the heavy cream, stirring continuously until all the chocolate is melted and smooth.

Layer the bars: Pour the chocolate over the graham cracker crust and smooth into an even layer. Top with mini marshmallows and chill for 2 to 4 hours to allow the chocolate to set. Remove from the pan and parchment paper. On a fire safe surface, use the blow torch to toast the marshmallows.

Cut: Run a sharp knife under super hot water for 20 seconds. Wipe dry and cut the s'mores into bars.
Notes
Remove the parchment paper before torching the marshmallows, just in case.
Torch on a fire safe surface.
Nutrition
Calories:
421
kcal
|
Carbohydrates:
26
g
|
Protein:
3
g
|
Fat:
35
g
|
Saturated Fat:
20
g
|
Trans Fat:
1
g
|
Cholesterol:
85
mg
|
Sodium:
231
mg
|
Potassium:
75
mg
|
Fiber:
1
g
|
Sugar:
8
g
|
Vitamin A:
980
IU
|
Vitamin C:
1
mg
|
Calcium:
40
mg
|
Iron:
1
mg