Tender pasta with a pleasant bite cloaked in garlicky, wine simmered sauce.  A burst of fresh tomato and fresh basil are here for the party, too.  Back pocket recipe that tastes great, takes no time and is good for you too?  Not talking unicorns here, it totally exists and it's this Garlicky Diced Tomato Sauce with Black Bean Spaghetti.
Got 20 minutes?  Let's get cooking!  You can live in a world full of delicious pasta and tomato sauce in no time at all.  That's a world I want to live in…oh wait, I do.  Well come on over already and join me would ya?!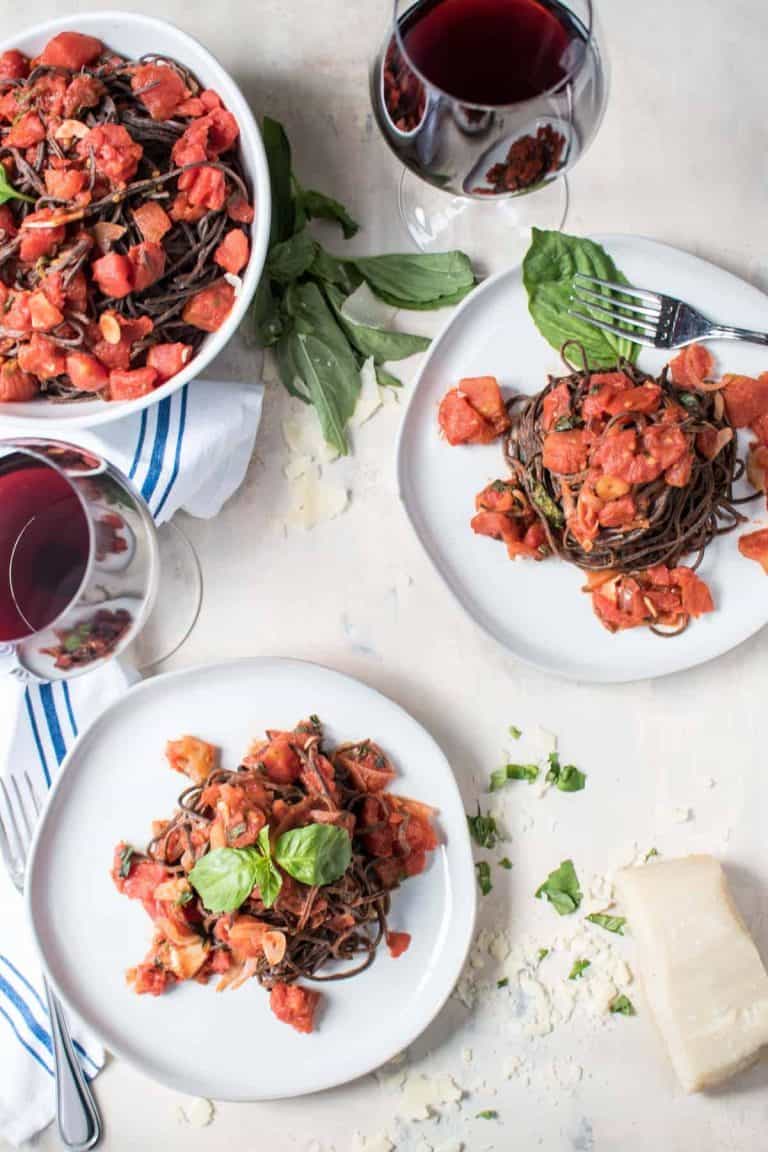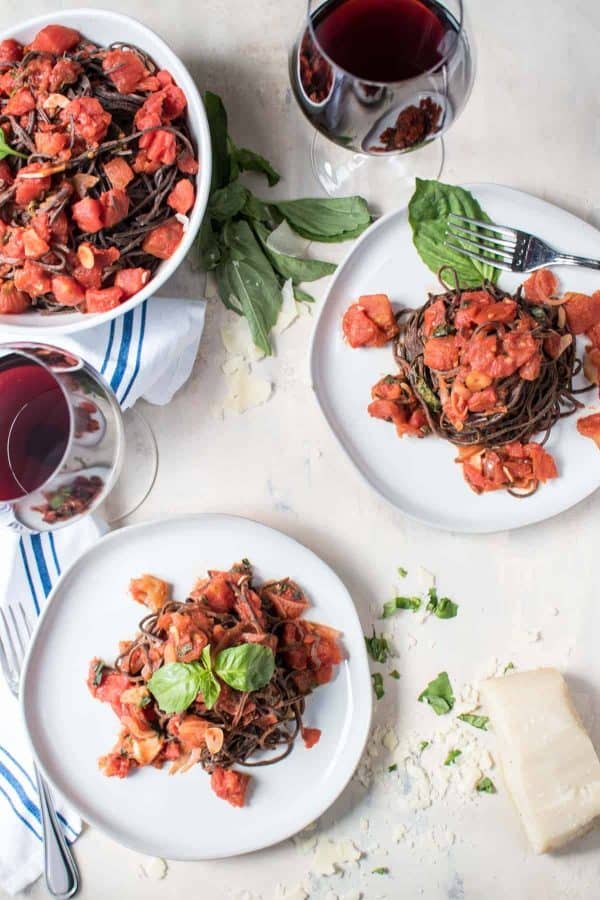 Chunky diced tomato sauce makes my heart happy.  So does pasta.  And as much as I love to try my luck with a challenging dish, when you just want to get something healthy on the table that's not going to make a ton of dishes and just be healthy with loads of flavor.
Ooooh, let's pick that one.
Black Bean Spaghetti
Have you tried the new pasta alternatives?  The initial approach can be defined in one word.  Skepticism.
Picking this off the shelf, there was intrigue and curiosity, so hell, why not give it a try.  The result?  Incredibly impressed!  Like, eyebrows raised going in for another forkful levels of impressed.  The option of black bean pasta is a great gluten free substitution and full of protein.  Making the choice for Meatless Monday a little more appealing for the carnivores in the family.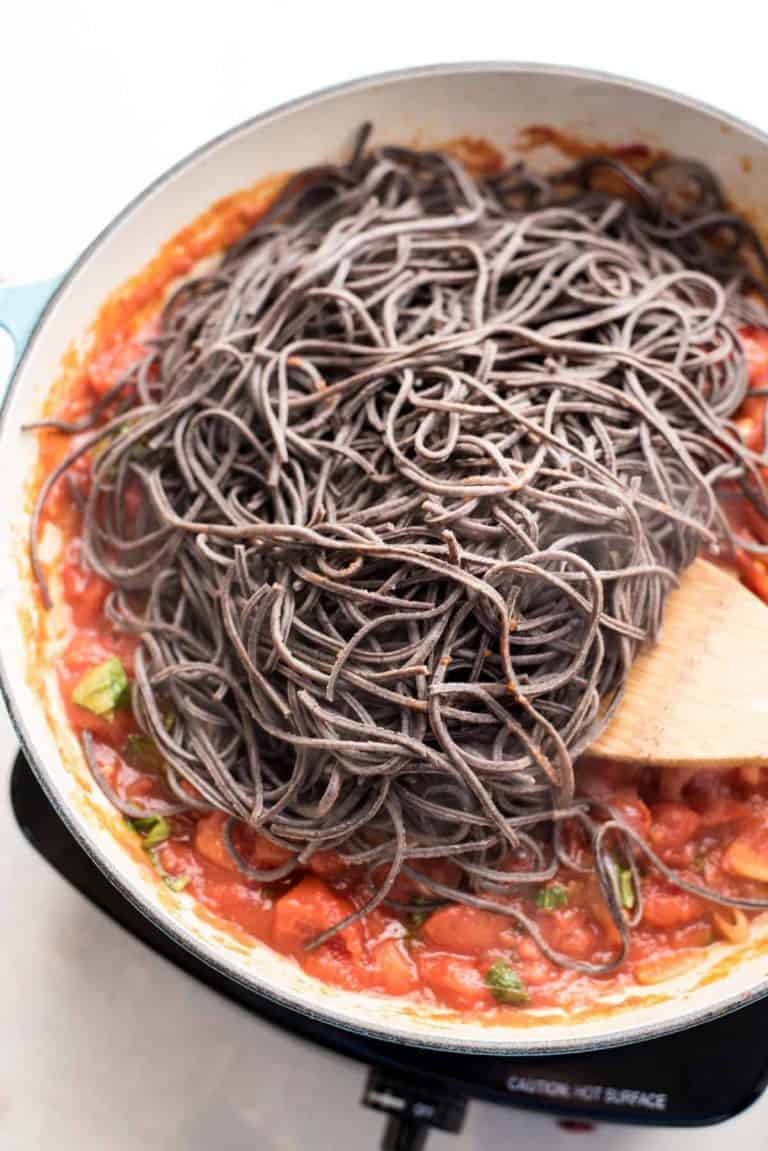 You might think the pasta would disintegrate into a mushy mess, but it doesn't!  That's one of the best things.  This black bean pasta has a mild flavor with a springy bite that is very close to the all to familiar texture of regular al dente pasta.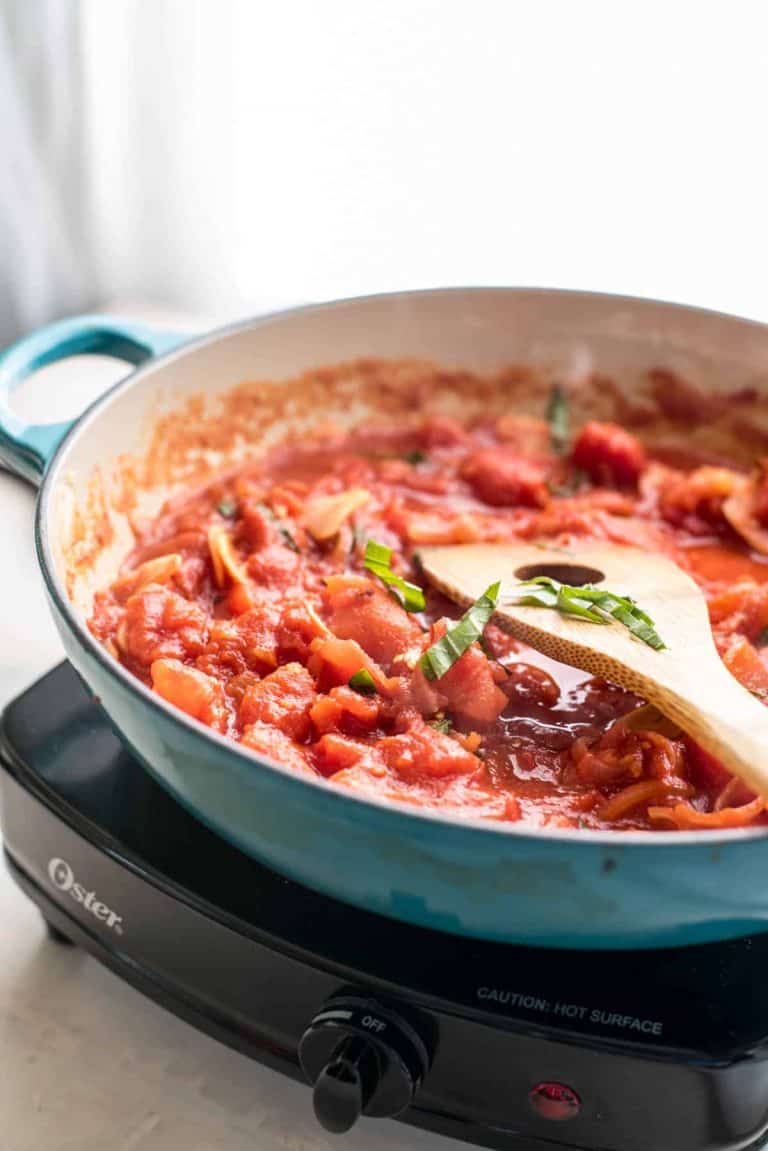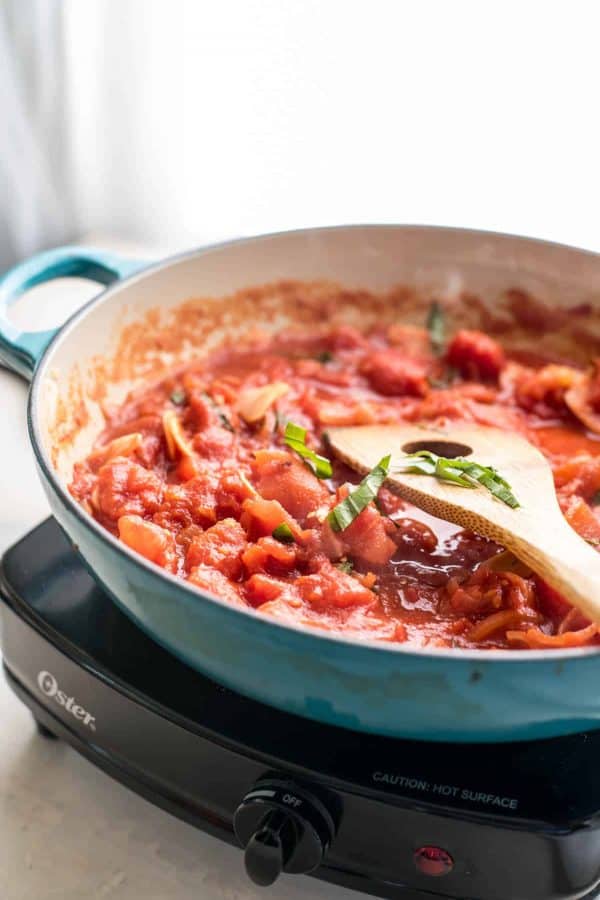 Garlicky Diced Tomato Sauce
Great protein fueled pastas are great and all, but let's get on to the more important things in life….garlic. Legit, every time I go home to see my mom she asked me if I've eaten garlic.  Ummm….yes.  Like every meal but breakfast.
It's not like I don't brush my teeth or anything (I have very good dental habits, thank you very much.) Garlic just tends to be a strong flavor that sticks around for a while, but it's delicious and such a beneficial addition to sauces.  Well, I just can't help my damn self.
Like these Mussels Fra Diavolo, the sauce is very similar and equal amounts of delicious garlic goodness.  If your heart – and tummy – are still on the search for protein, Italian Braciole is one of my favorite roasts to dish out with pasta.  And if it's more veggies you're on the hunt for, an Arugula Caprese Salad is just as simple to prepare and the perfect partner in crime for your garlicky diced tomato sauce with black bean spaghetti!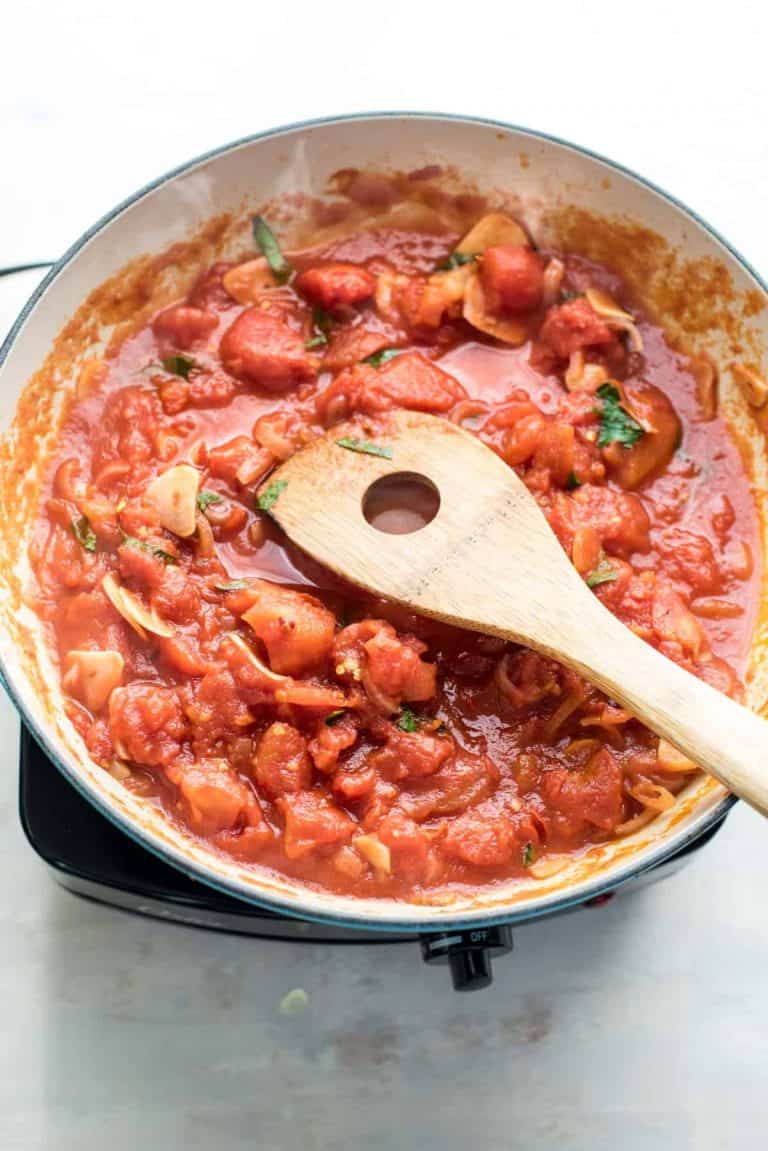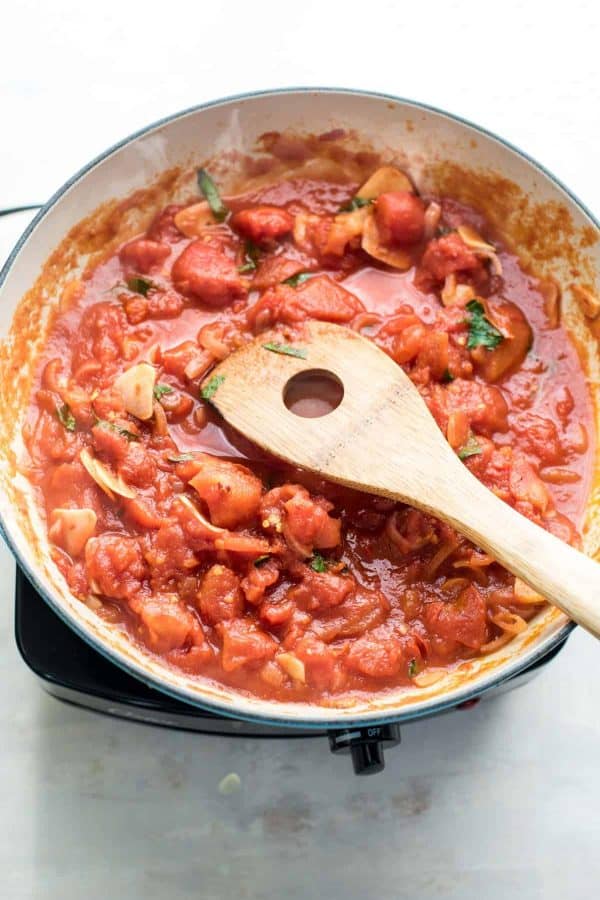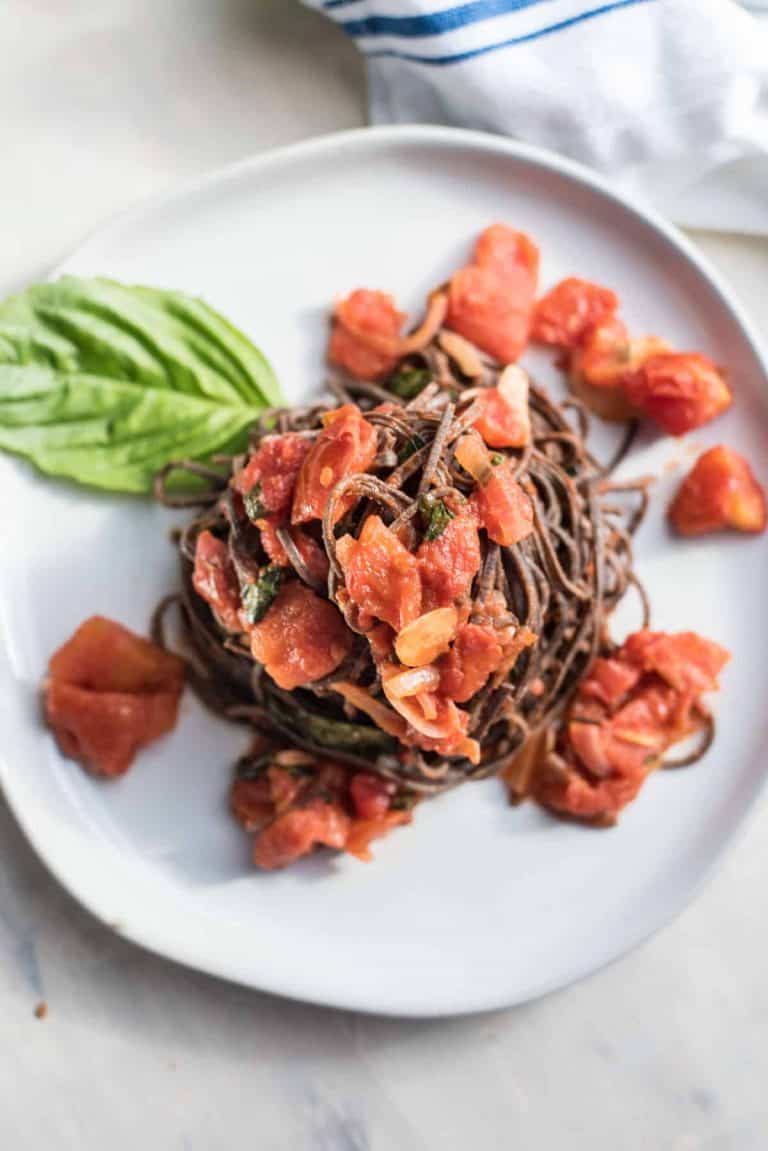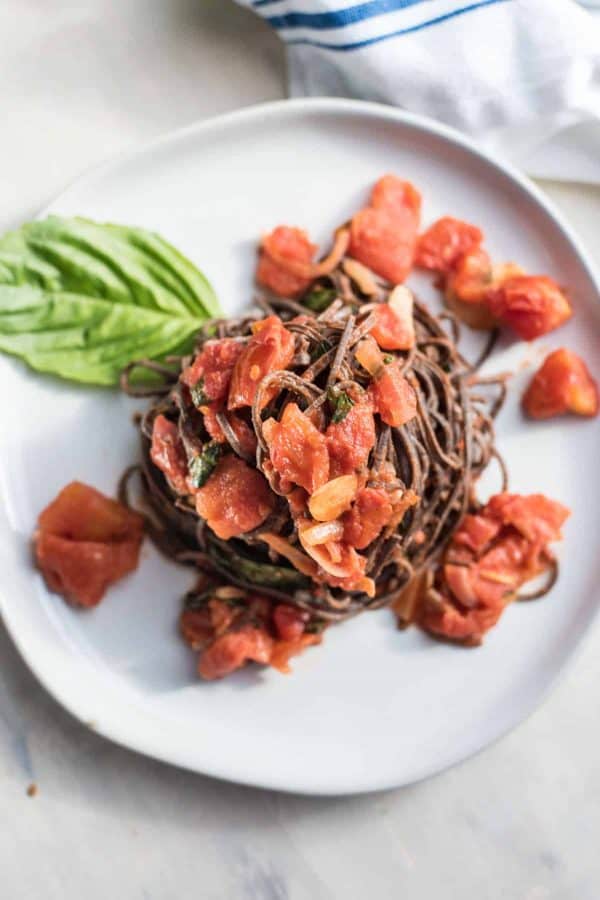 For our quick and easy back-pocket garlicky diced tomato sauce, we're going to go with old school thin sliced garlic.  Goodfellas style.  Then build what is similar to an arrabiatta sauce but with out the super intense heat.  If arrabiatta means 'angry' in Italian, let's suppose this is a 'mildly irritated' sauce.  Simmered slivered garlic, shallots and just a pinch of red pepper flakes to warm you up.
You know what else is super convenient?  Opening a can of diced tomatoes and dumping it into a pan.  Can we please just keep this simple?  Garlic and shallots then wine and tomatoes, add spices and simmer then toss in fresh basil and spaghetti.
Doesn't that feel so nice.  Dinner is done.  You have two pans to clean up and everything else can go in the dishwasher.  Pour a glass of wine and put your feet up…or just imagine it because you still have 100 things left to do in the day.  But one thing is for sure, a quick, simple and totally tasty dinner is in the bag.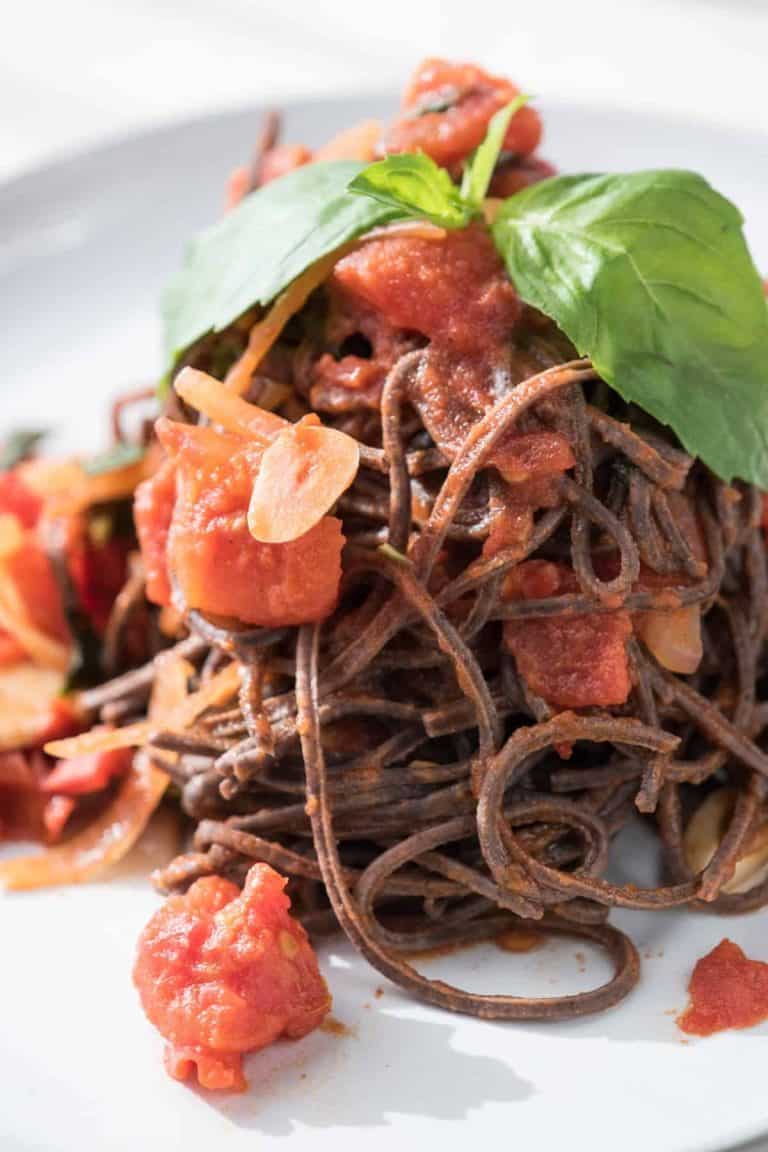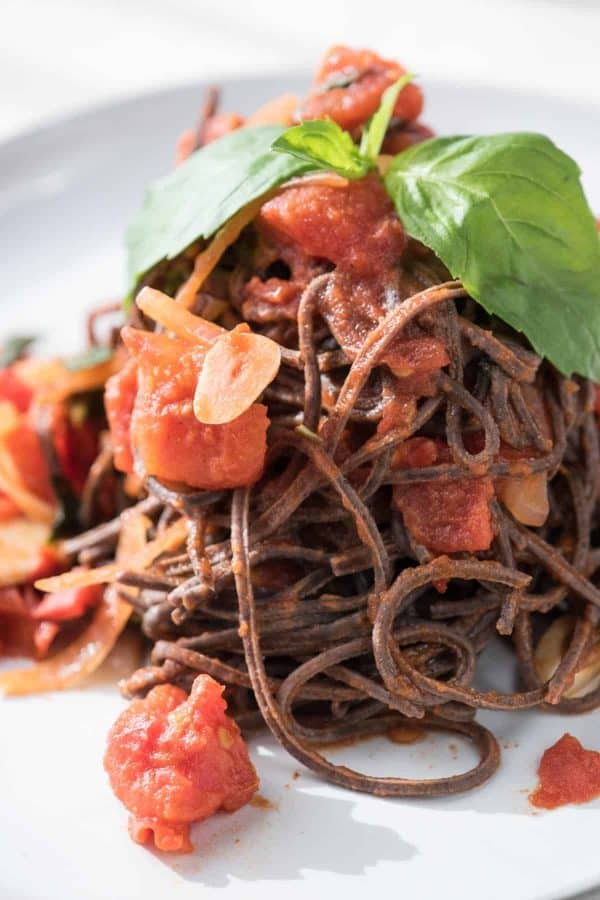 Print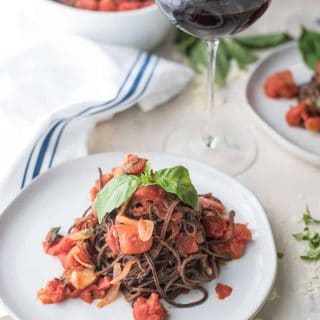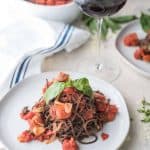 Garlicky Diced Tomato Sauce | Black Bean Spaghetti
---
Author:

Prep Time:

5 minutes

Cook Time:

20 minutes

Total Time:

25 minutes

Yield:

4

to

6

servings

1

x
Description
Quick, simple garlicky tomato sauce with bursts of diced tomato and fresh basil tossed with protein packed, gluten free black bean spaghetti.
---
Scale
Ingredients
2 tablespoon

s extra virgin olive oil

4

garlic cloves, sliced thin on a mandolin

1

shallot, halved and sliced in half moons

1 cup

white wine

2

cans diced tomatoes, with salt

1 teaspoon

kosher salt

1/4 teaspoon

red pepper flake

1/2 cup

fresh cut basil

8

-ounce package black bean spaghetti
---
Instructions
Set water to bowl in a large sauce pot.  Once water comes to a rapid bowl, add pasta and cook 7 to 8 minutes until al dente.¹
Using a mandolin, or carefully with a knife, slice garlic cloves thinly.
Heat olive oil in a sauté pan over medium high heat, add garlic and sauté 1 to 2 minutes until slightly translucent.  Add shallots to the pan and cook an additional 2 minutes, stirring frequently so the garlic doesn't burn.
Carefully pour white wine into the pan.  Add canned diced tomatoes with sauce, salt, red pepper, and fresh basil to the pan.  Let simmer for 5 minutes on high until reduced.
Drain pasta well and sauté pasta with the sauce.
---
Notes
¹If pasta is done before the sauce is complete, drain and let sit in the colander.  Run hot water over the spaghetti before adding to the sauce.
Recipe Card powered by