Tender rope grown mussels bathed in a spicy diced tomatoes sauce with garlic and pancetta. Spicy Mussels Fra Diavolo is a great appetizer or entree that is easy and quick to make.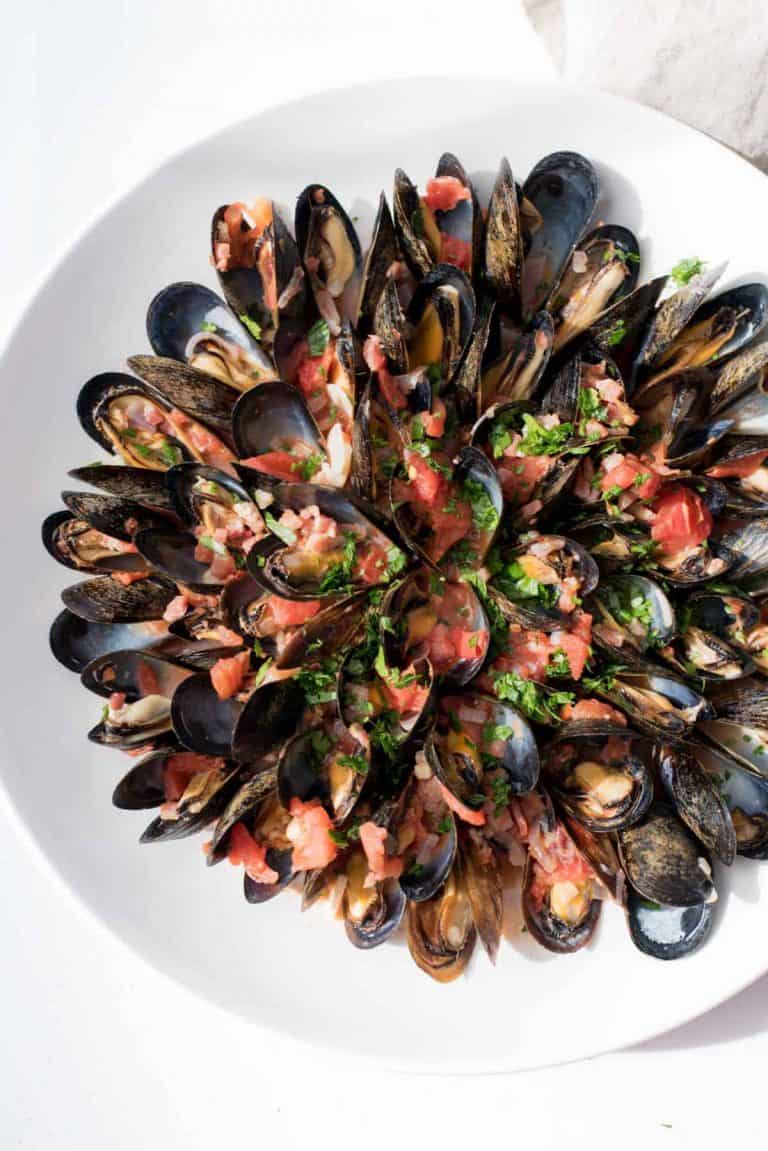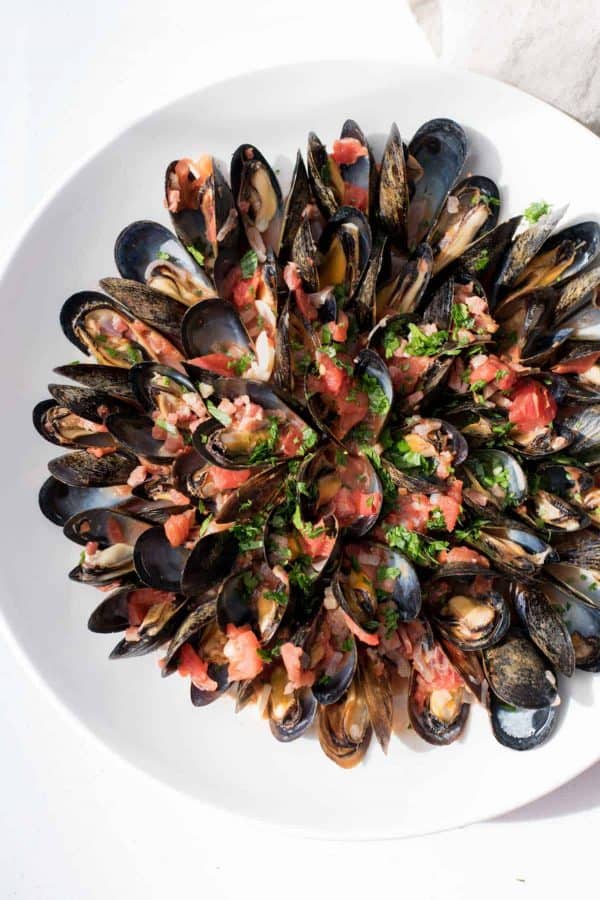 Need a quick appetizer? Craving a seafood dish for dinner? Yep. It's both. And yep, it's allllll sorts of tasty. And yep, it's easy peasy. These mussels fra diavolo ingredients need to go on your shopping list...like no.
If you like seafood, shellfish in particular, mussels fra diavolo are calling your name. Whispering through their little mollusk mouths. I'm pretty sure mollusks don't have mouths, but you get it.
Technically, I think they have bi-valves not mouths, but that's far too many high school science classes ago. Too many cobwebs to clear from that ole memory bank...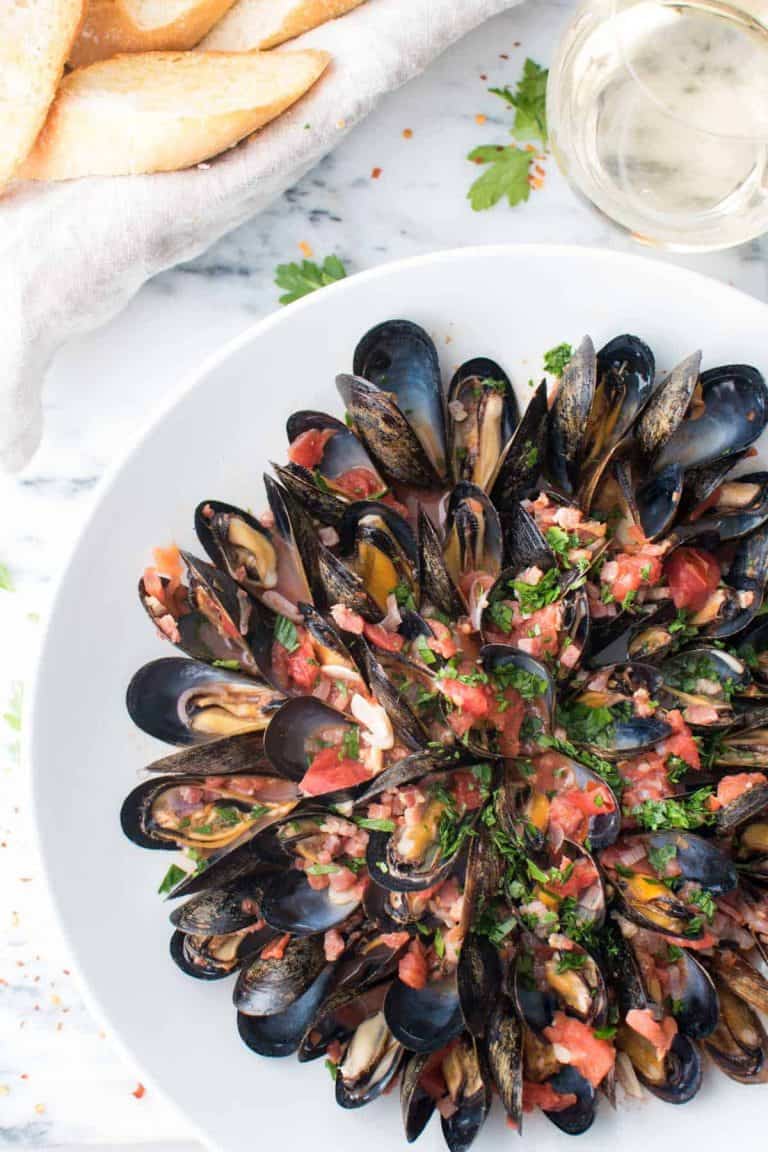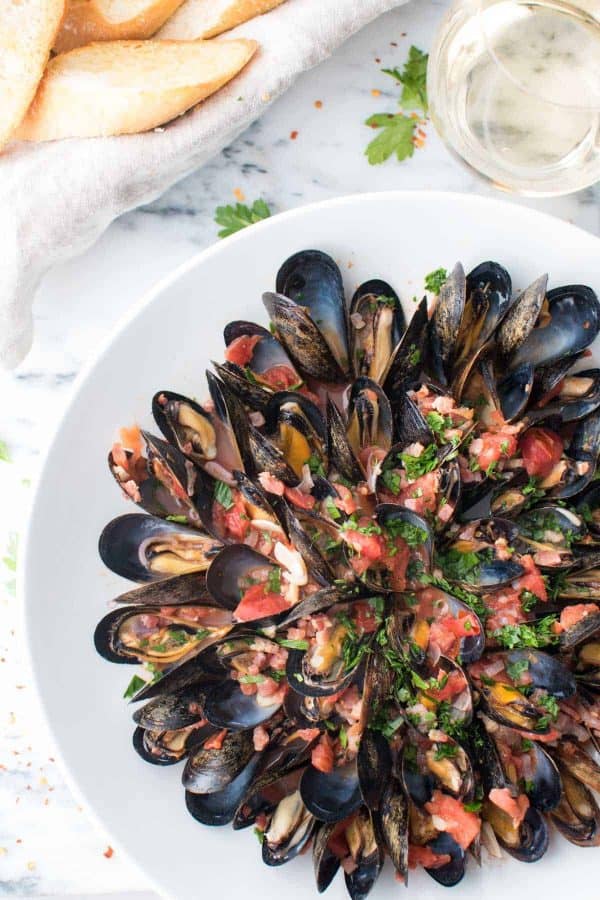 You know what is about to be clear? Everybody's plates!
Woot woot!
Mussels fra diavolo are a go to appetizer that gets a lot of love around here. The staples for it are always in the house, just a quick trip to the grocery store for a bag of fresh mussels and a loaf of fresh crusty bread.
'Cause if you're not scooping up all that tasty sauce somehow, you're seriously missing out.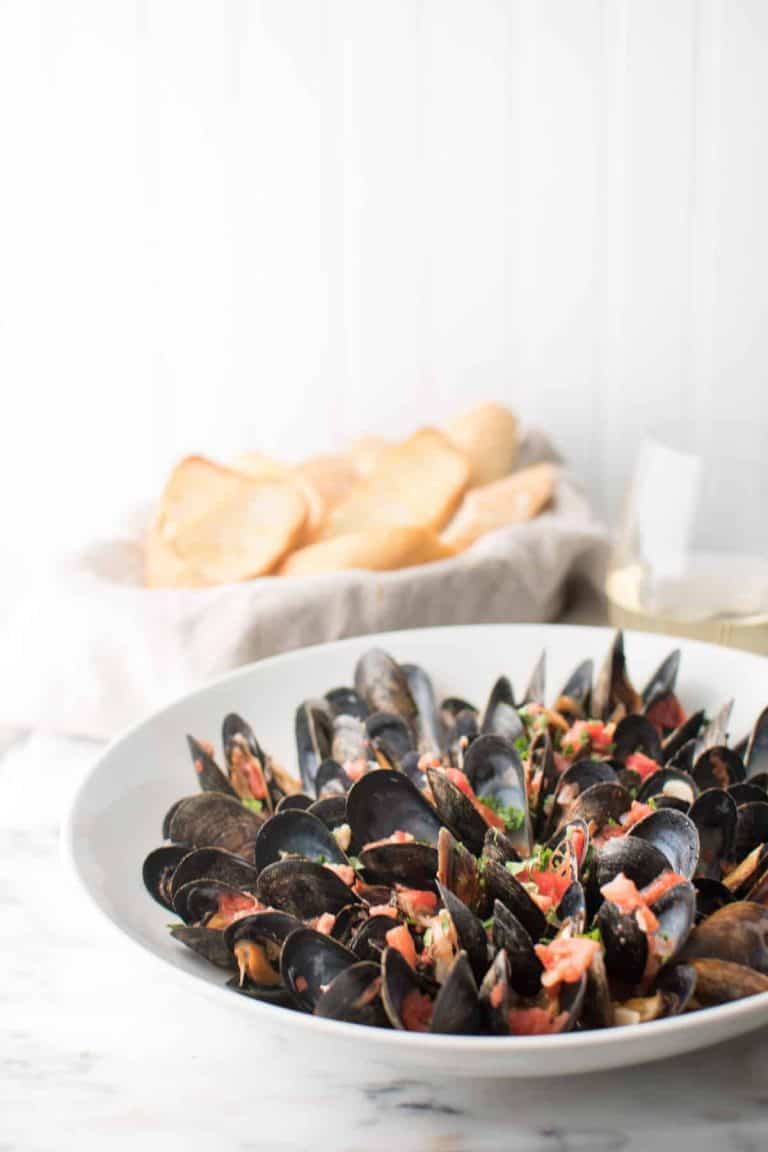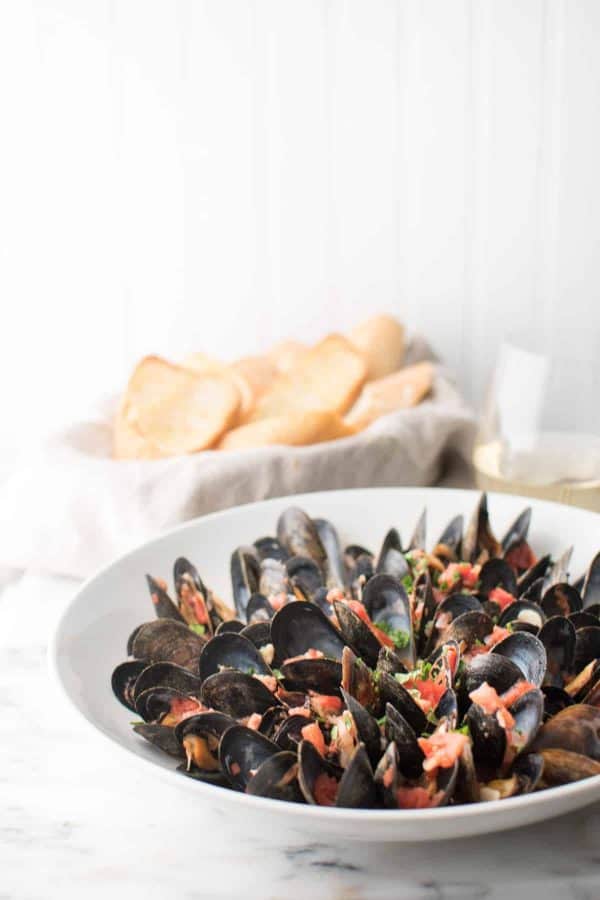 Mussels Fra Diavolo
Which mussels should you buy?
Mussels are a great shellfish if you're just getting started in the realm of seafood cooking. Additionally, they're pretty accessible for the east coast year round. We always look for rope-grown so they're plump, tender and not sandy.
If fresh is not an option, you can always buy the cryovac frozen bags as well. Those will need to defrost and are precooked, but a workable substitute if you're nervous about cooking fresh shellfish or if you're land locked.
How to prep them
For the fresh mussels, be sure to rinse them well with cold water.
Pick through and discard any that are open or have broken shells.
You might see some of the fresh mussels have these grey rope looking things attached to them. These are called 'beards' you'll want to pull those off as best as you can. They taste gross, just trust me on that one.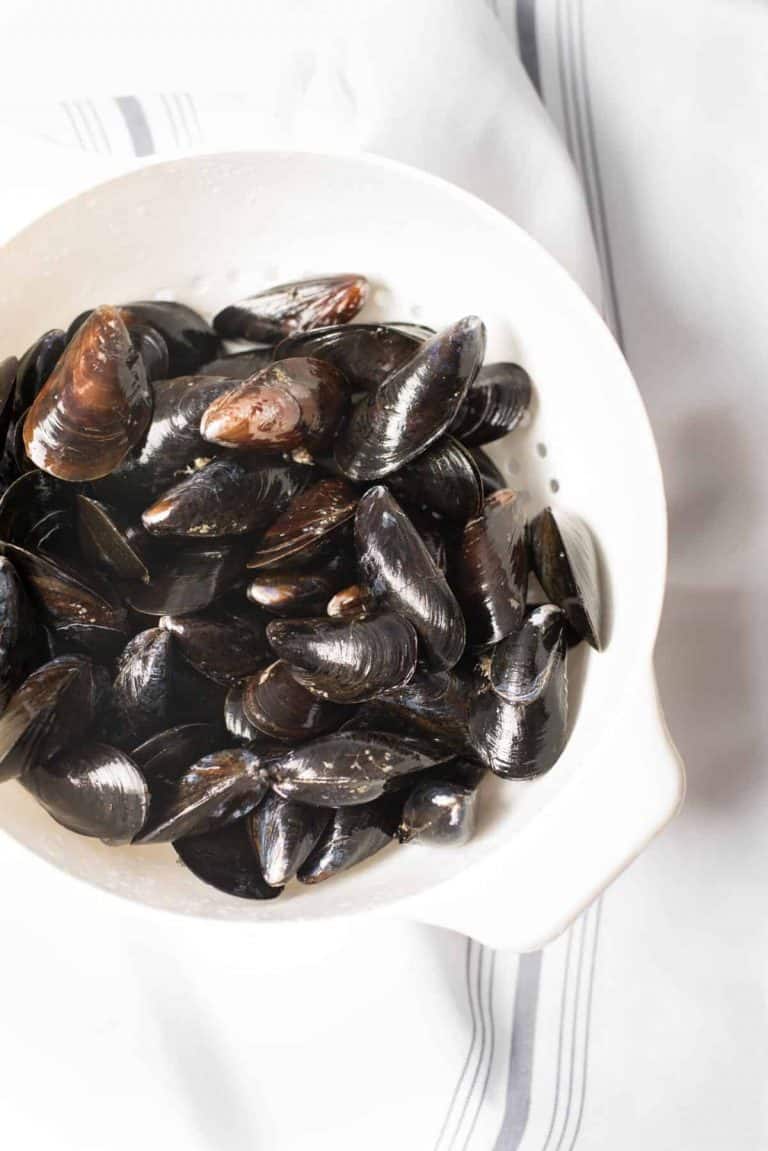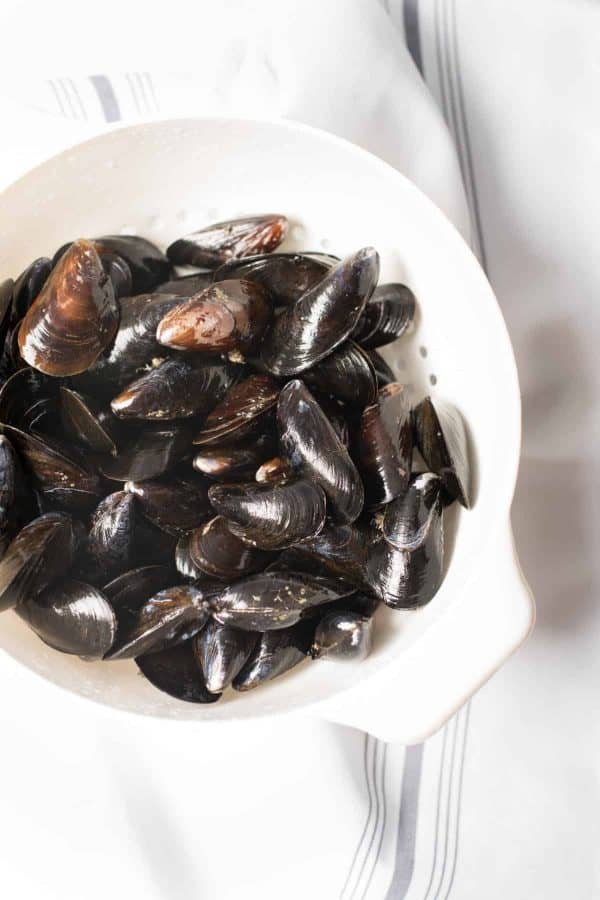 How to make fra diavolo sauce
Pancetta, garlic and shallots are for real like the holy trinity in this kitchen.
The pancetta - cured pork - for a touch saltiness and to add a balance of fat to a naturally acidic sauce. Of course, you can always leave out the pancetta if pork isn't your thing, but if opting to leave it out add just a touch of butter at the end of cooking to add that teeny bit of fat to the flavor.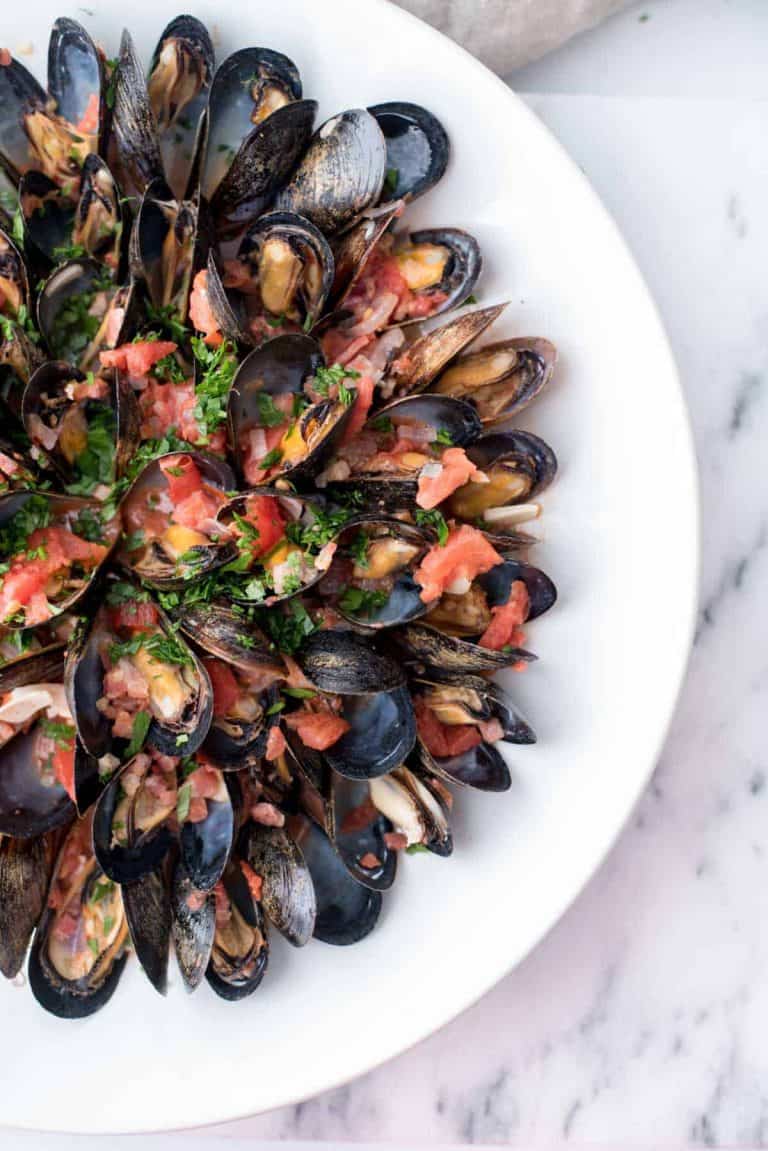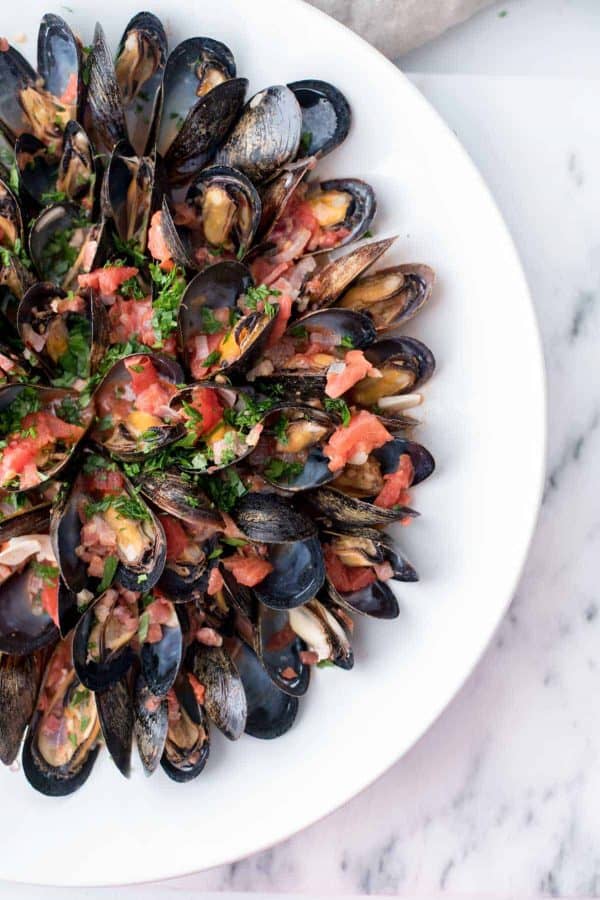 Garlic is bringing all that's good with the world to these mussels fra diavolo. When you're cooking and the garlic hits the pan and there is just that bloom of fragrant garlic smell that coasts throughout the house. It's intoxicating.
Maybe it's just me, but I don't understand why there aren't sautéed garlic scented candles...could you get on that Yankee Candle?
You'll want the garlic to brown just a bit. Not to the point of burning, but maybe just a minute or two before that. Browned around the edges is usually the point of cooking to aim for, especially since it will continue to cooking while you add the next ingredient.
Browning the garlic adds a natural spiciness to the finished sauce before you even touch the red pepper flake. Browned garlic is the star player in arrabiatta sauce; aka angry sauce, aka spicy, also see: sister to Fra Diavolo.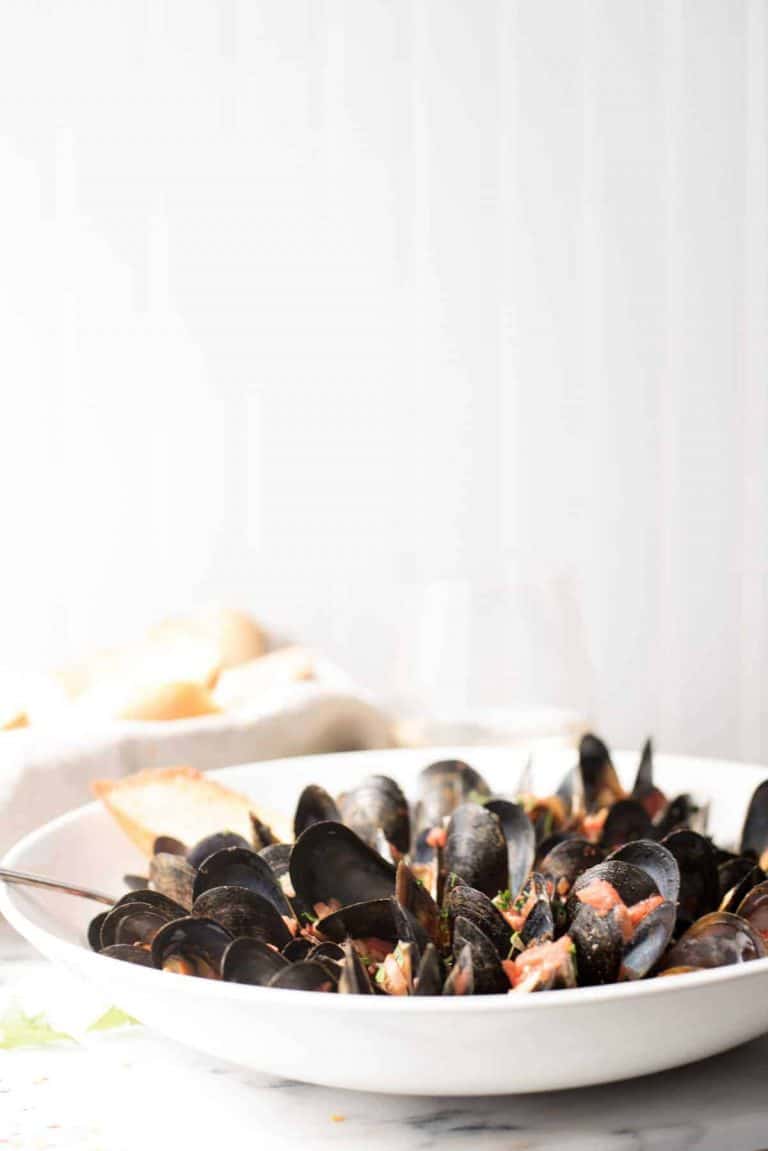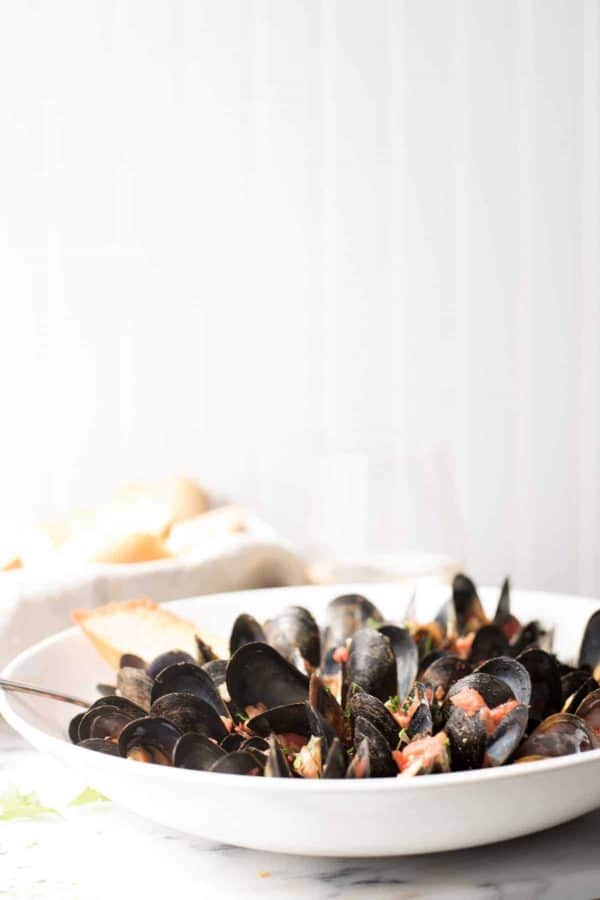 No sauce? No problem! A jar or can of diced tomatoes is all you need to add tomato goodness to your 'devil' sauce.
Just like arrabiatta means 'angry' sauce, fra diavolo is 'from the devil' and typically a spicy sauce reserved for pastas and seafood dishes. In fact, if you're craving seafood and pasta you could absolutely toss this entire Mussels Fra Diavolo over pasta.
Red pepper flakes are the source of heat in this sauce. If you're a super spice lover, you can always toss in a few more pinches or add them over the finished dish. As it is, this recipe will bring the heat without requiring a nearby glass of water, so adjust to your preference.
Finishing touches
While it might seam weird adding the mussels before the wine and tomatoes, it's to ensure those little pillows of tender seafood perfection absorb all that beautiful sauce as they steam open. Which takes about 5 to 7 minutes. Just keep a close eye.
The mussels should be fully open and release from the shell easily. They should be tender and soft, not rubbery or slimy.
As mentioned before, the bread is the supporting actress to this seafood feature film.
A loaf of traditional Italian bread, ciabatta, or even a baguette is perfect. Slice on a bias and toast with a drizzle of olive oil and a sprinkle of salt and pepper for maximum soak ability. Otherwise, tear yourself a piece, dive right in and get your Mussels Fra Diavolo on.
Looking for more ways to shellfish? If you loved these Spicy Mussels Fra Diavolo, try these recipes:
Whichever you choose, there's plenty of flavorful seafood options to share...well, if you're not too shellfish.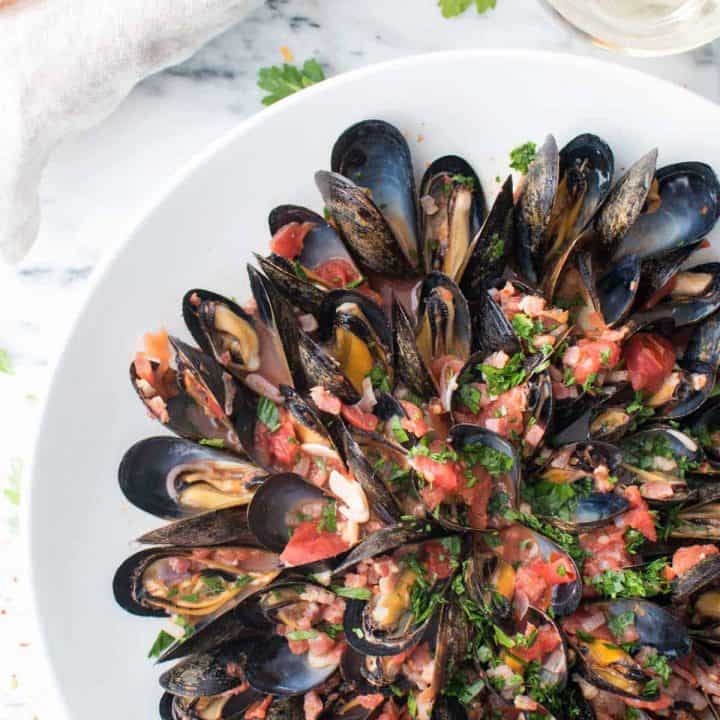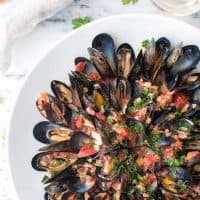 Mussels Fra Diavolo
Sweet, tender mussels in spicy, garlicky, diced tomato sauce. Mussels fra diavolo take minimal effort for maximum flavor!
Print
Pin
Rate
Servings:
4
to 6 servings
Ingredients
4

cloves

garlic

(thinly sliced)

1

large shallot

(finely diced)

3

ounces

pancetta

(chopped)

1

tablespoon

extra virgin olive oil

¼

teaspoon

red pepper flakes

1

bag fresh mussels

14.5

ounce

can diced tomatoes

(with juice)

½

cup

dry white wine

pinch

of salt
Instructions
Prepare the mussels: Open bag of mussels into a colander. Rinse with cold water. Inspect mussels and remove any 'beards'. Discard any open mussels or mussels with broken shells.

In a large saute skillet heat olive oil over medium to medium-high heat. Add pancetta and cook until fat is rendered and pancetta is lightly browned.

Add sliced garlic and cooking, stirring or sautéing until just browned, about 2 minutes. Add shallots and cook for 1 minute.

Carefully add mussels to the pan and immediately deglaze the pan with the white wine. Stir with a wooden spoon or spatula, making sure to scrape the bottom of the pan.

Add tomatoes, salt, and red pepper flakes. Stir to combine. Let the heat from the sauce steam the mussels open while the sauce reduces, about 5 to 7 minutes. Stir occasionally.

Best if served right away. Especially with crusty bread for dipping.
Notes
Pancetta can be left out for a pescatarian version. If leaving out, add ½ tablespoon of butter to the final sauce for a little fat to cut the acidity of the tomatoes.
Nutrition
Calories:
221
kcal
|
Carbohydrates:
9
g
|
Protein:
11
g
|
Fat:
13
g
|
Saturated Fat:
4
g
|
Trans Fat:
1
g
|
Cholesterol:
30
mg
|
Sodium:
458
mg
|
Potassium:
477
mg
|
Fiber:
1
g
|
Sugar:
3
g
|
Vitamin A:
258
IU
|
Vitamin C:
16
mg
|
Calcium:
59
mg
|
Iron:
4
mg