Making homemade pasta seems like an expensive, technical and daunting task but it really is as simple as the ingredients. There is just something about that light, smooth, sauce soaked texture of homemade pasta that just keeps me replenishing my flour and eggs supply. Especially if it's the seducing dark, ink color of squid ink pasta all tossed together with heirloom cherry tomatoes bursting with tart acidity, garlic and wine.
To make homemade pappardelle (my favorite), tagliatelle, fettuccini, or really any flat pasta all you need are those ingredients, your hands, a rolling pin and a sharp knife. Of course, an attachment for your mixer is going to save you a little elbow grease in the rolling department, it can certainly be done without it.
That's just the tip of the iceberg, tomato paste will give your pasta a vibrant red color and a beautiful sweet tomato flavor, substituting whole wheat flour is also an option, adding well chopped greens will add some bonus vegetable serving points and forest green color, or as made here, adding just 2 tablespoons of squid ink will give you this beautiful, bold, inky pasta that is just slightly reminiscent of ocean salt.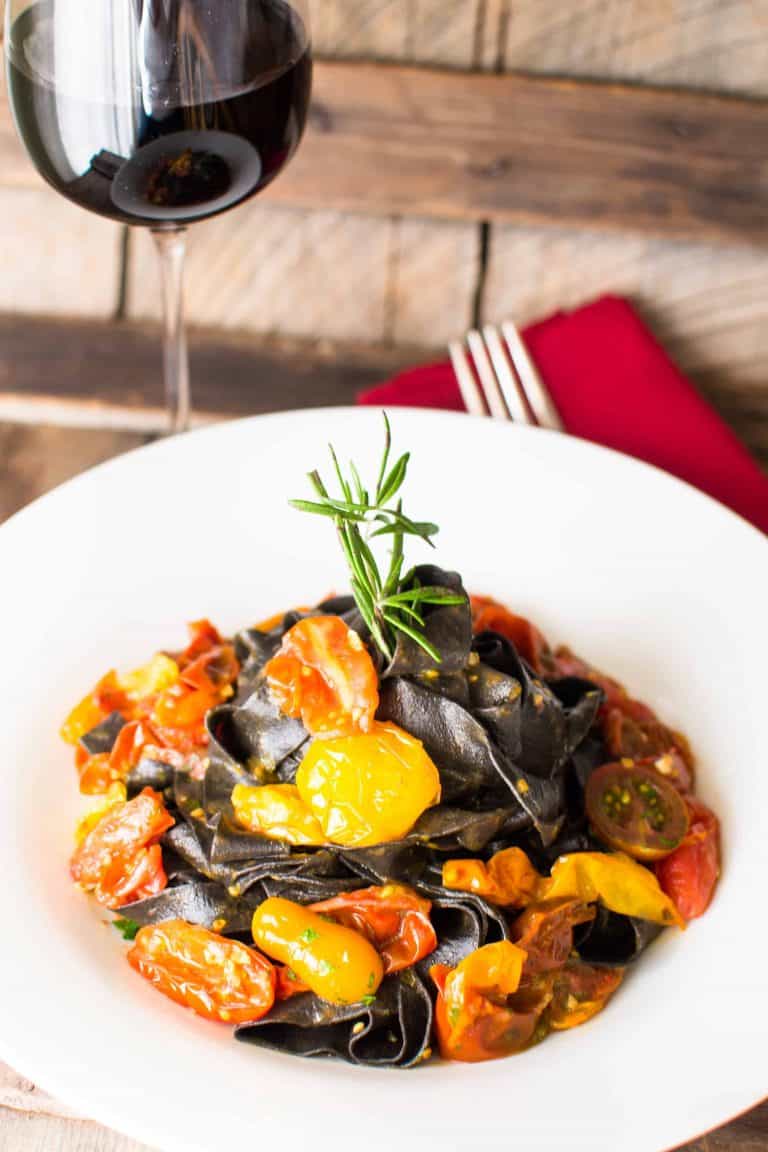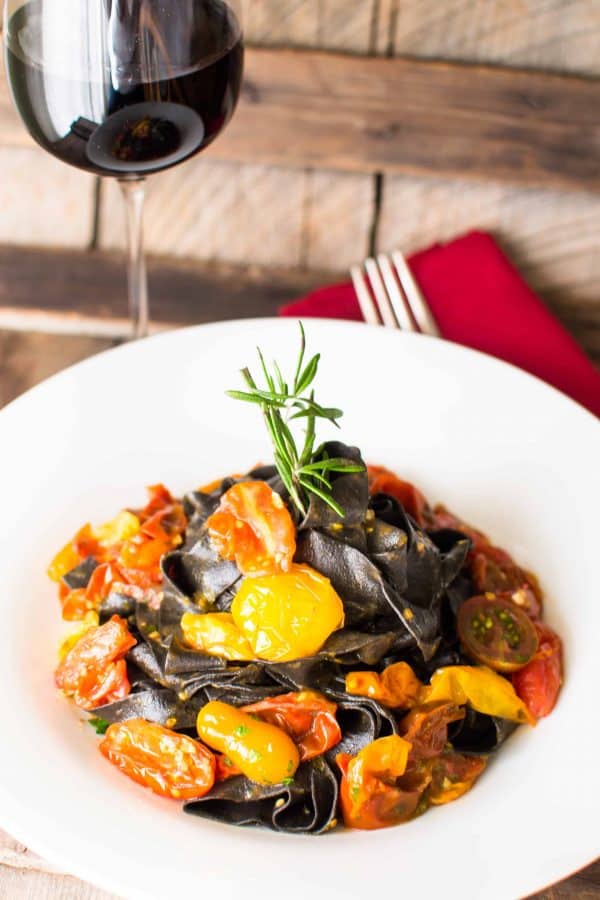 Squid Ink Pasta
Not so sure about the ocean salt thing but love the idea of that inky black pasta? Don't fret, though that ocean-y smell is present during the pasta making process, the taste of the pasta truly takes on the taste of the sauce with the squid ink adding just a hint of salt. Whatever you do, do NOT sniff the squid ink. I forget every time...and I regret it every time.
To make the pasta, mound up your flour and make a well. Add your eggs and squid ink. Since squid ink can be a little difficult to buy, I typically rely on my good pal, Amazon Prime, to supply. Beat your eggs with a dinner fork and slowly incorporate the flour. You may need to use your free hand to stabilize the walls of the well from falling apart. And you know what? If all goes to hell and your well walls break and eggs start leaking everywhere, just ditch the fork and start mushing everything together with your hands.
It is definitely not pretty and it is certainly messy, but it's better than throwing in the towel and wasting eggs, flour, and squid ink. However, your pasta ball comes together, don't forget the most important part - your arm work out. Kneed that ball of dough for at least 10 minutes to activate the gluten in the dough, the dough should be smooth and elasticy once done.
Heirloom Cherry Tomato Sauce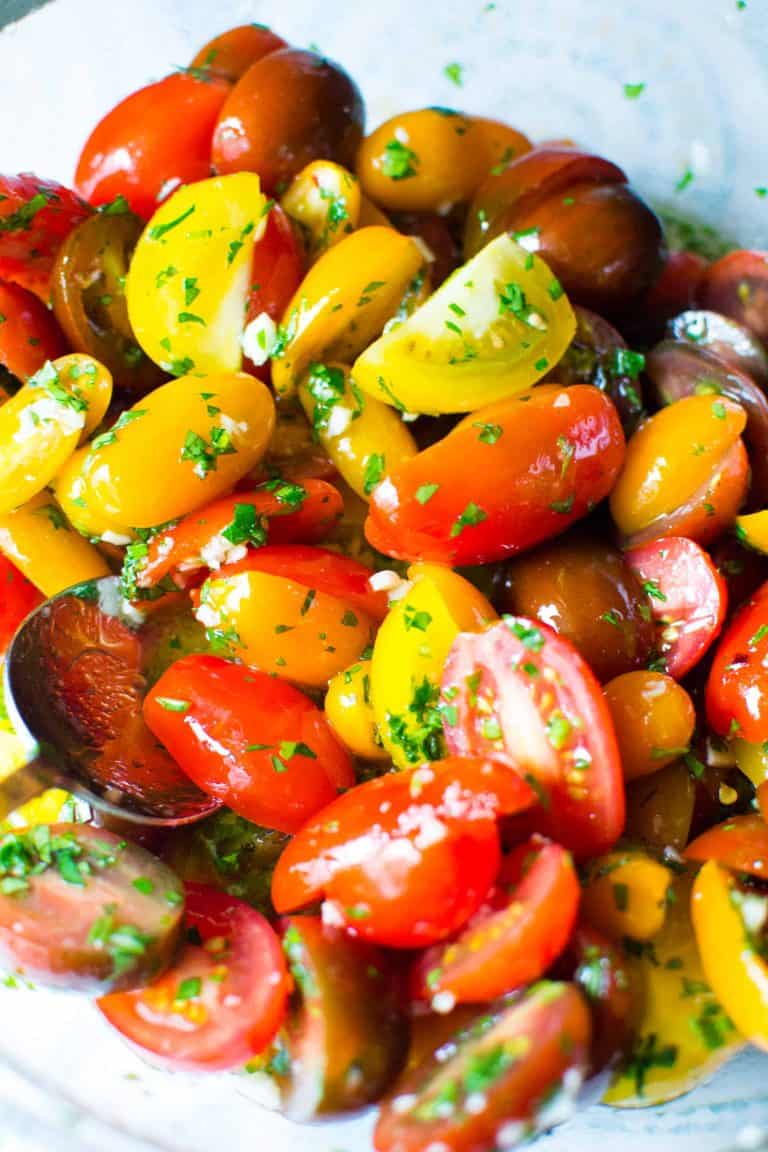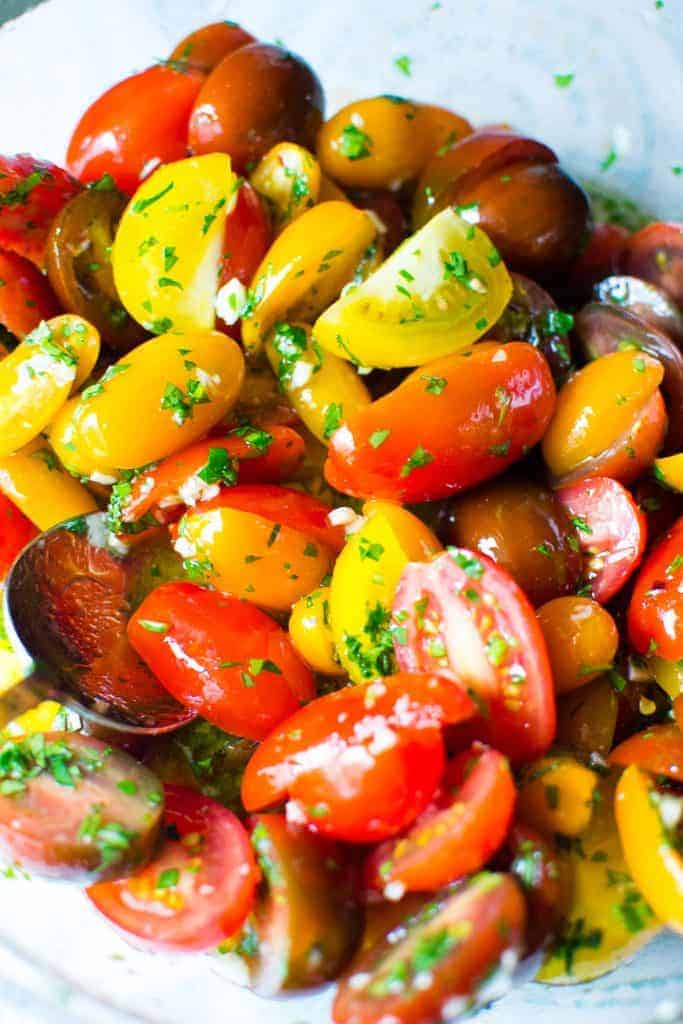 Heirloom Cherry Tomatoes have become an obsession and make the perfect variety of tomatoes for this sauce. An assortment of size, colors and sweetness they bring dynamic fresh tomato acidity married with garlic, white wine and fresh parsley. Besides the array of bright colors and the great taste, this sauce is super quick and super simple to make.
Slice tomatoes in half, chop garlic, combine with white wine, extra virgin olive oil, salt, white pepper, and fresh chopped parsley. Let it sit for at least 4 hours, overnight is best so that the salt allows the tomatoes to soak up the flavors of the wine, oil and garlic. Are you drooling yet? Someone please grab me a napkin.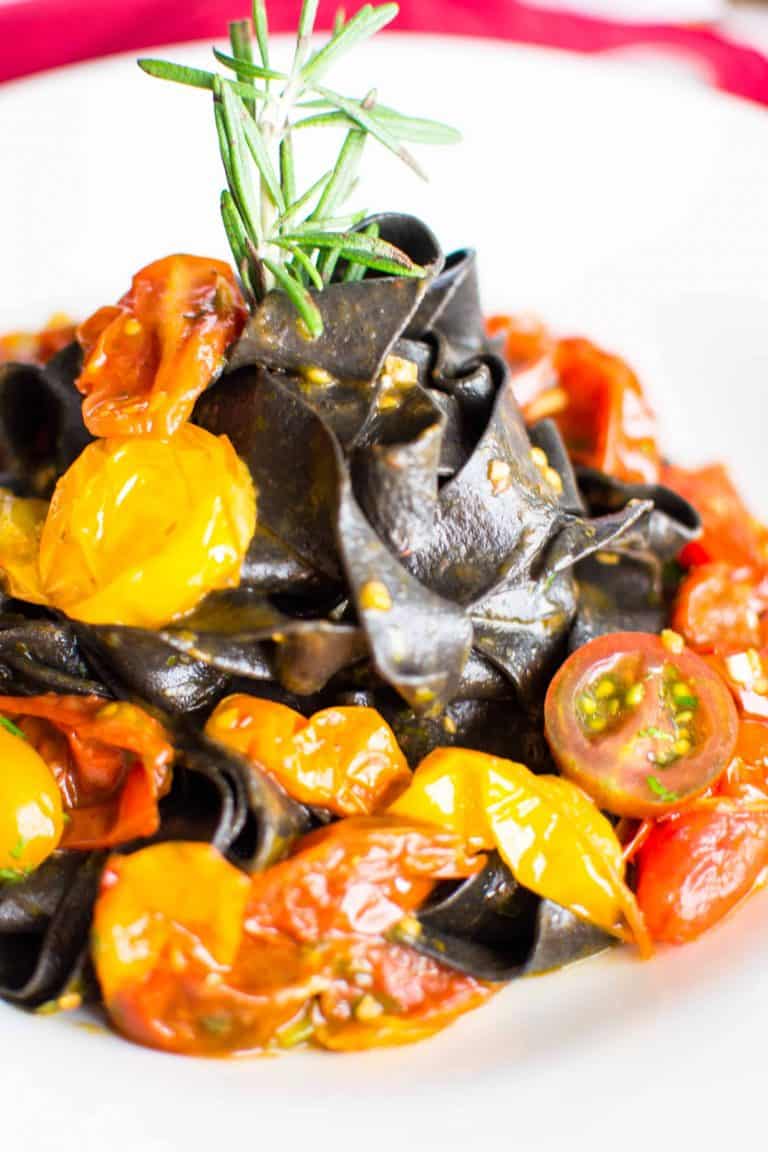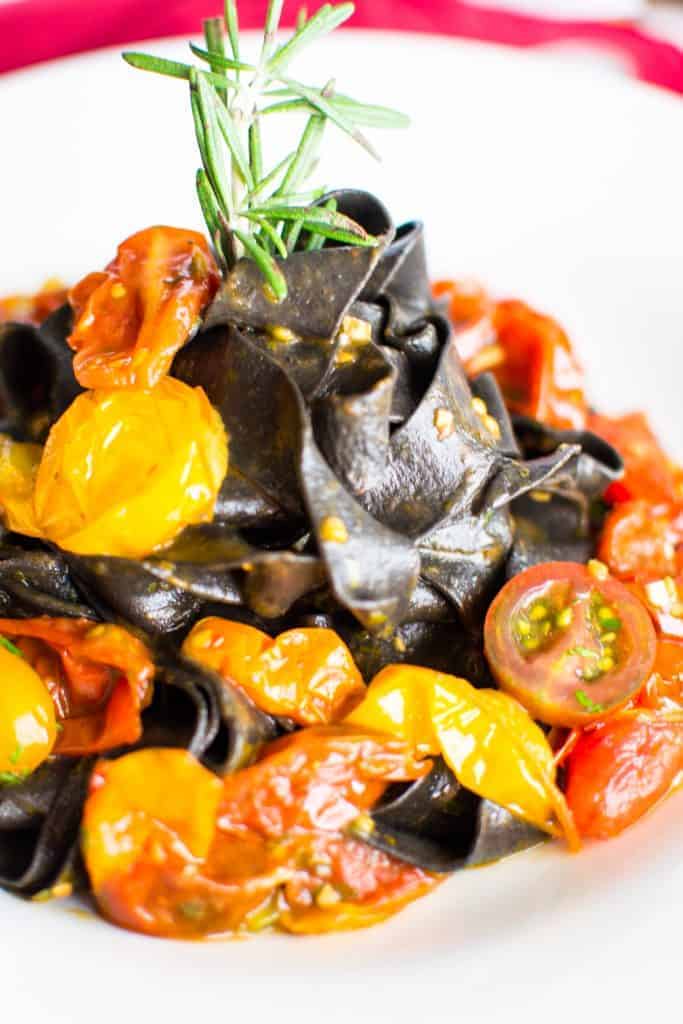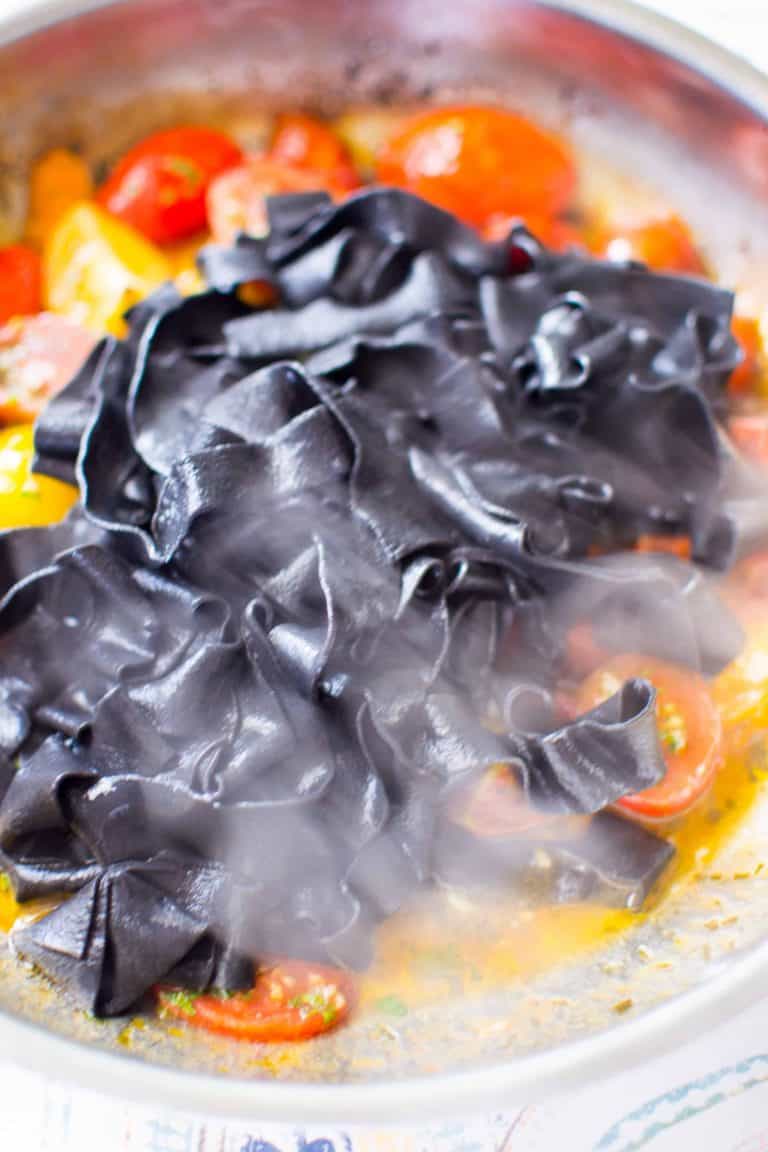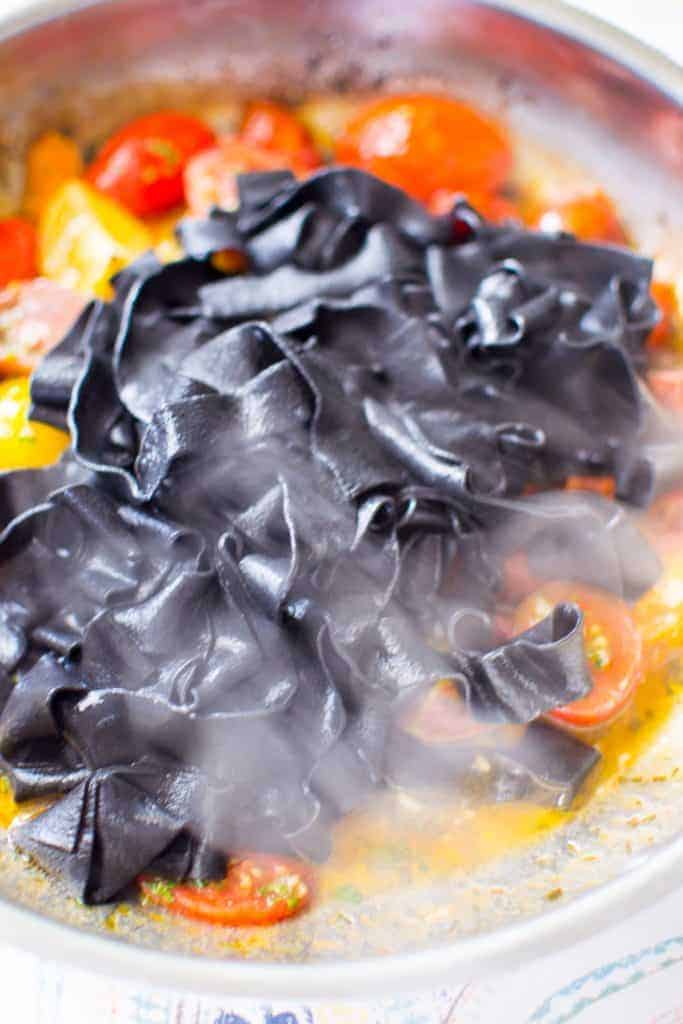 Tomatoes meet Pasta, Pasta this is Tomatoes...
To finish off this beautiful dish, get a pot of water boiling with about 1 teaspoon of salt. In a large sauté pan, let the sauce simmer, so the tomatoes start to breakdown and the liquid is absorbed. If using the fresh squid ink pasta, it will cook up quick. Once the pasta begins to float, it will be done, about 3 to 4 minutes.
You will want to reserve about a ½ cup of pasta water to add to the sauce once the pasta is incorporated. The starchy pasta water will help bind the sauce to the pasta an tighten it up on the whole. Sounds odd that adding water to the sauce will help thicken it, but it's true. Then all you're left with is this beautiful, light, oh so delicious dark ribbon pasta with fresh tomatoes. Buon Appetito!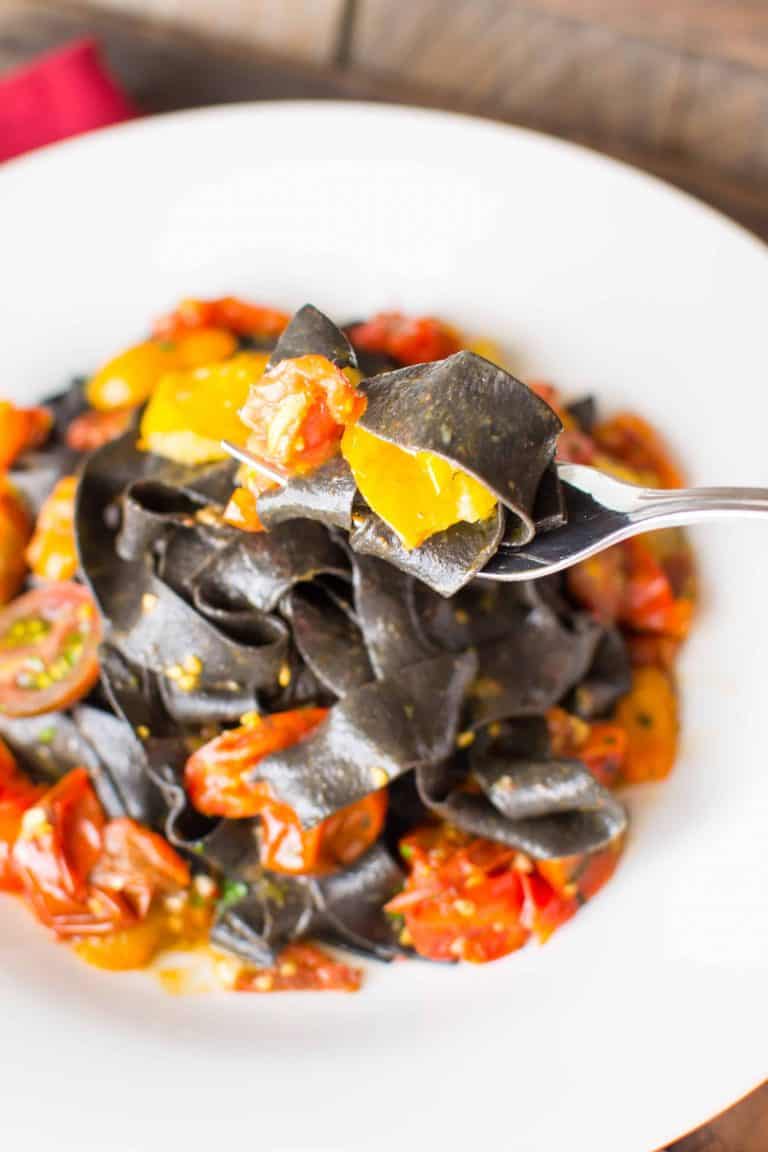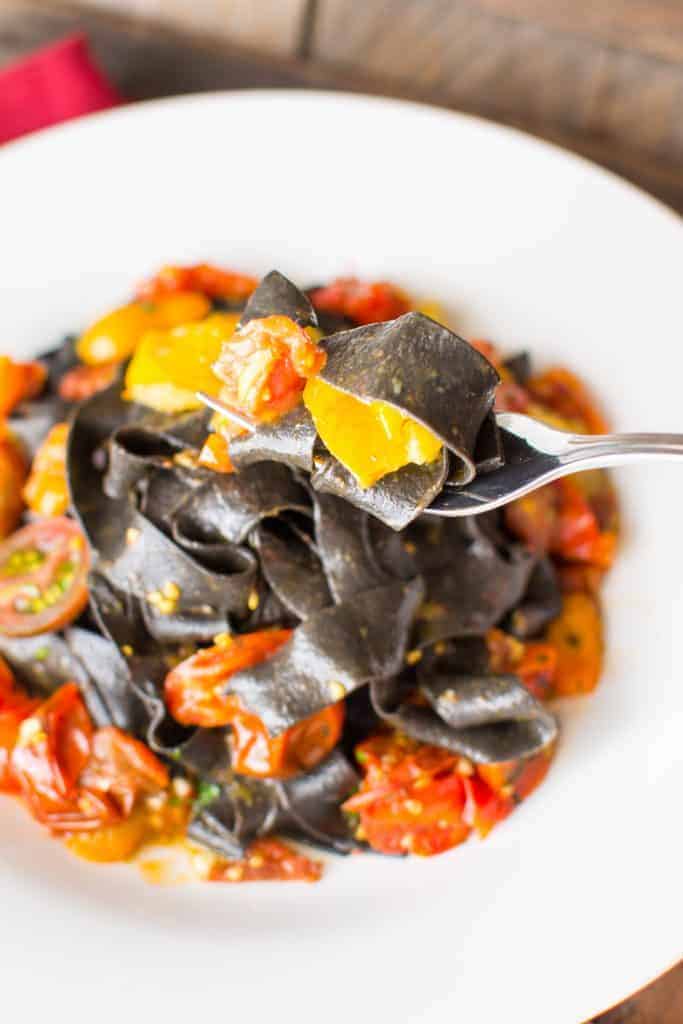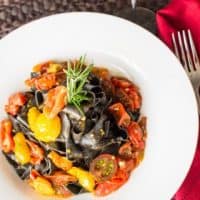 Squid Ink Pasta with Heirloom Cherry Tomatoes
Tender, inky black pasta ribbons coated in wine and garlic soaked heirloom cherry tomatoes.
Print
Pin
Rate
Ingredients
Squid Ink Pasta:
3 ½

cups

all-purpose flour

5

large eggs

2

tablespoons

squid ink
Heirloom Cherry Tomato Sauce
1 ½

pounds

heirloom cherry tomatoes

¼

cup

extra virgin olive oil

½

cup

dry white wine

3

garlic cloves

(minced)

1

tablespoon

chopped parsley

⅛

teaspoon

white pepper

⅛

teaspoon

red pepper flakes

1 ½

teaspoons

salt
Instructions
To make the pasta:
Measure out pasta onto a clean, flat surface. Shape the flour so there is a well in the center and walls are high enough and wide enough to hold 5 large eggs.

Add eggs and squid ink to the well. Using a fork, begin whisking the eggs and squid ink together and slowly incorporate flour from the sides of the well. Use your free hand to push the outside sides of the well as they start to expand outward when whisking the flour.

Pasta will come together in an almost stringy mass when a little over half the flour is incorporated. At this point, begin using both hands to finish incorporating flour by forming ball. Push any excess flour off to the side.

Kneed dough for 10 MINUTES by bringing the closest part of the dough ball up with the outside of your hands and pushing down with the palm of your hands. If dough is still sticky, add flour.

Form dough into a ball and cover with plastic wrap. Let rest for 30 minutes.
To make pappardelle:
Cut dough into fours, cover the remaining dough sections with a thick kitchen towel while working.

Shape each section into a circle, flatten out so the center is thicker than the outside edges.

If using a pasta roller attachment on your standing mixer, roll the dough through on the widest setting (1). Fold in thirds and repeat two more times. Adjust roller size to the next level (2) and run pasta through two more times. Repeat this process until you reach the third to last size (6) on your pasta roller. If using a rolling pin, dust rolling surface with a fair amount of flour. Begin rolling dough in a somewhat rectangular shape until almost paper thin. Add flour whenever needed to prevent sticking.

Dust the rolled out dough with flour, cut in half so pasta pieces will be about 12 inches long once cut. Fold each half over and trim so dough is uniform. Fold over two more times. Using a sharp knife, cut pasta 'ribbons' ¾-1 inch wide. Unfold each piece and form small piles of noodles to let dry. Freeze any remaining pasta.
For the sauce:
Cut each cherry tomato in half and add to a large bowl or storage container. Add minced garlic, olive oil, white wine, parsley, salt and pepper. Stir to even coat tomatoes with ingredients.

Store for at least 4 hours, overnight is best.
To make the dish:
Bring a large pot of salted water to a boil. Once at a rapid boil, add ½-pound fresh pasta and cook about 3 to 4 minutes until pasta begins to float. Reserve ½ cup of the starchy pasta water before draining. Add cooked pasta to prepared sauce.

While waiting for the water to boil, heat a large skillet and add cherry tomato sauce, including liquid. Cook on medium high until almost all the liquid is absorbed or evaporated. Add cooked pasta and sauté. Add reserved pasta water. Simmer for 1 minute to allow pasta to absorb the sauce flavor and starch water to thicken sauce.
Nutrition
Calories:
681
kcal
|
Carbohydrates:
98
g
|
Protein:
21
g
|
Fat:
20
g
|
Saturated Fat:
4
g
|
Trans Fat:
1
g
|
Cholesterol:
205
mg
|
Sodium:
977
mg
|
Potassium:
596
mg
|
Fiber:
4
g
|
Sugar:
5
g
|
Vitamin A:
1148
IU
|
Vitamin C:
39
mg
|
Calcium:
74
mg
|
Iron:
8
mg