Comfort food isn't all soups and fall weather foods. When it's hot and you need something quick that'll soothe that seafood craving ache, fire up those skillets. We're about to get some fresh East Coast mussels in that belly. Mussels in Dijon & White Wine that is.
Versatility of Mussels
A classic dish that's good all year round. A slurpy, bread soaking, shareable appetizer to share between pals. Split with your partner as a dinner that will delight your taste buds and fill your bellies. Tender, sweet mussels, spicy dijon, dry white wine are just some of the important players to this all-star cast of ingredients.
But I must give credit where credit is due, to the strongest supporting character (at least in this house).
You know....That entire flaky, crunchy baguette that manages to disappear while soaking up all that velvety sauce. Ripping off soft spongy bread encased in its crusty flour armor will bring a kick start to the drooling can't wait to get this in my mouth party.
Is there ever a bad time for mussels? Well, perhaps at a business lunch. But I wouldn't judge you.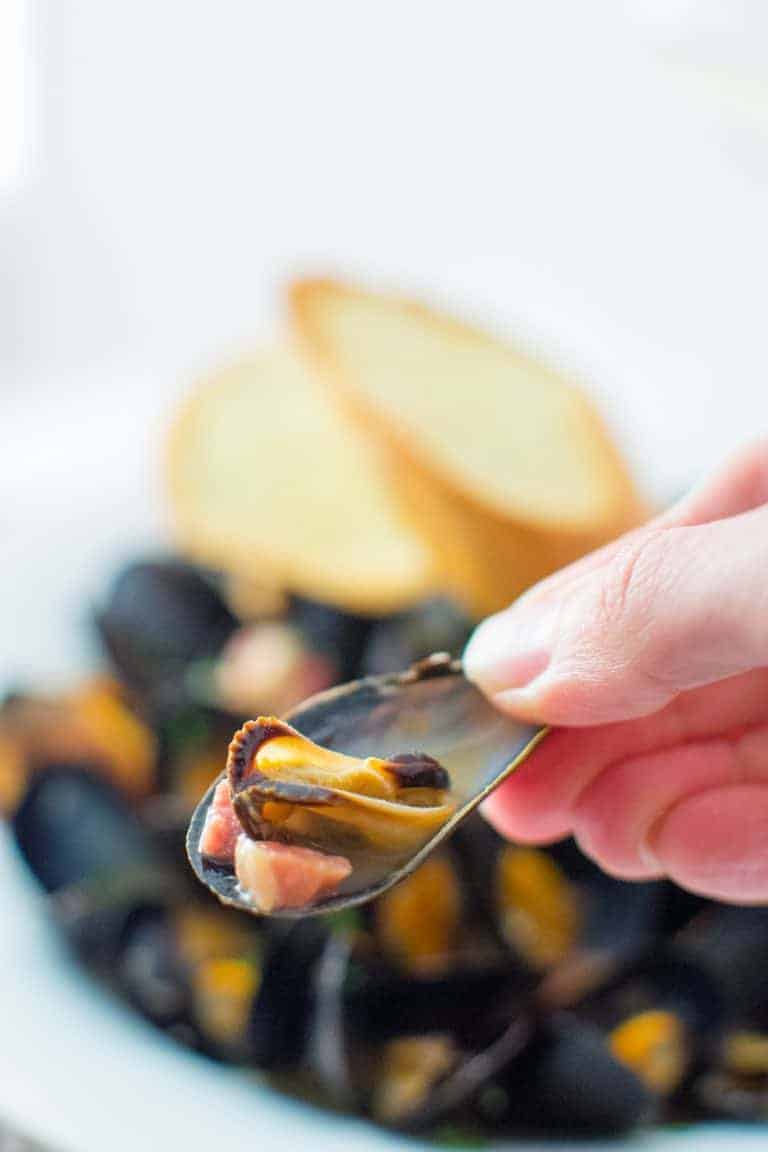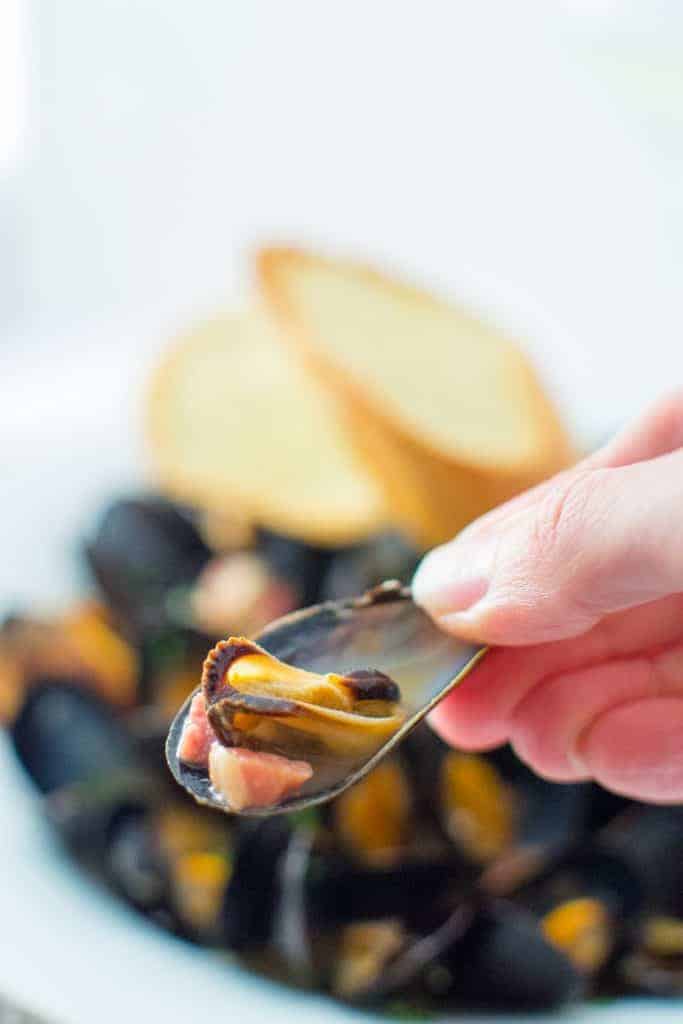 Living on the East Coast it's easy to get spoiled. Though pricing is always the best during the summer, it's typically always accessible and, in most cases, affordable to eat seafood.
My sister moved from Massachusetts to Colorado for her residency after medical school. There is a lot to love out there. Whenever she comes home for a visit, it's pretty much fresh, New England seafood for every meal. These Mussels in Dijon & White Wine are always a no brainer. So easy to make and super quick to put together. Just watch how fast - or to check out my pretty rad rooster apron and general on camera awkwardness - on this episode of What's Cooking in Blackstone:
Side note: these two ladies are pretty spectacular and a whole lot of fun. Can't wait to go back and cook again!
Mussels, Mollusks, Things between shells
While perusing the aisles at the store, opt for a bag of live Prince Edward Island mussels for this Mussels in Dijon & White Wine dish. Generally an easy find on the East Coast, especially in the summer. Fun fact: PEI mussels are 'rope-grown' rather than in the sand. What's with the rope? Traditionally, mussels live in the sand but when grown on a rope the end result is clean, plump mussels with very little to no sand or grit.
No sand, no grit = plump, easy eating mussels, without that 'sand in my sandwich at the beach' feel.
Land-locked troubles got you down? No sweat. You can buy pre-steamed frozen mussels, and you know what? They're pretty dang tasty and score extra bonus points for easy prep. Simmering in this dijon, white wine sauce they absorb all those delicious flavors as the steam themselves open, whether fresh or frozen.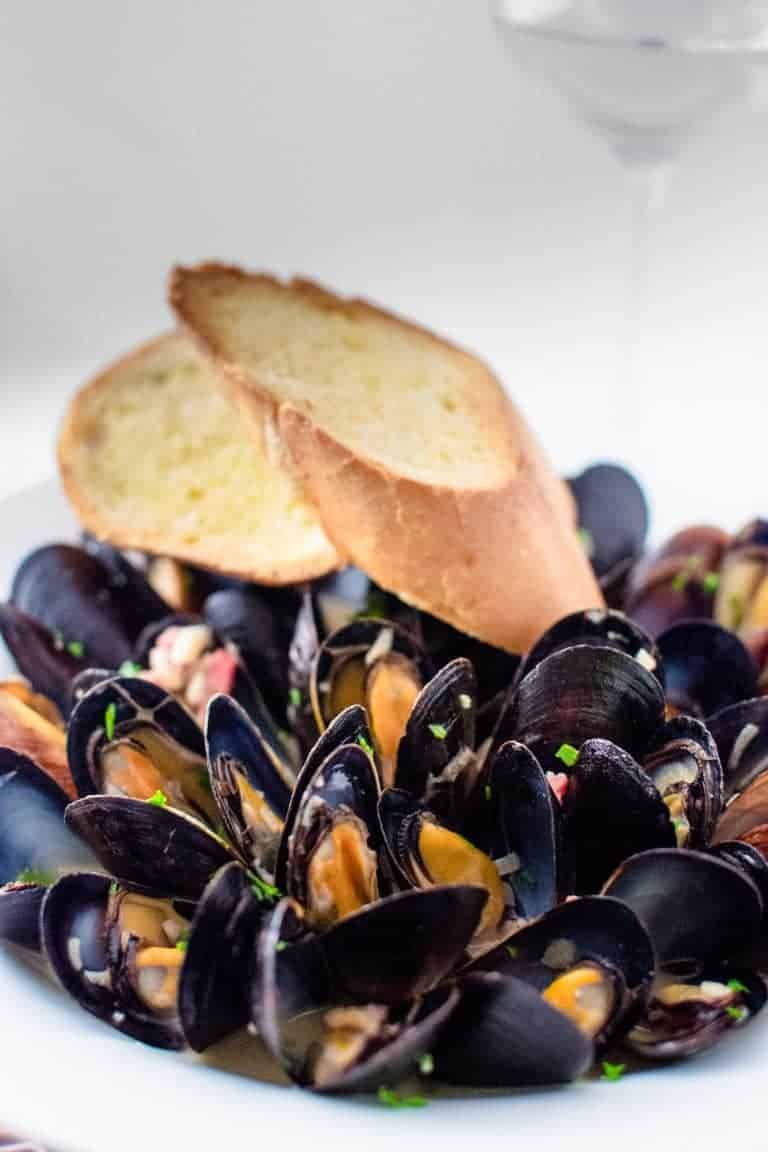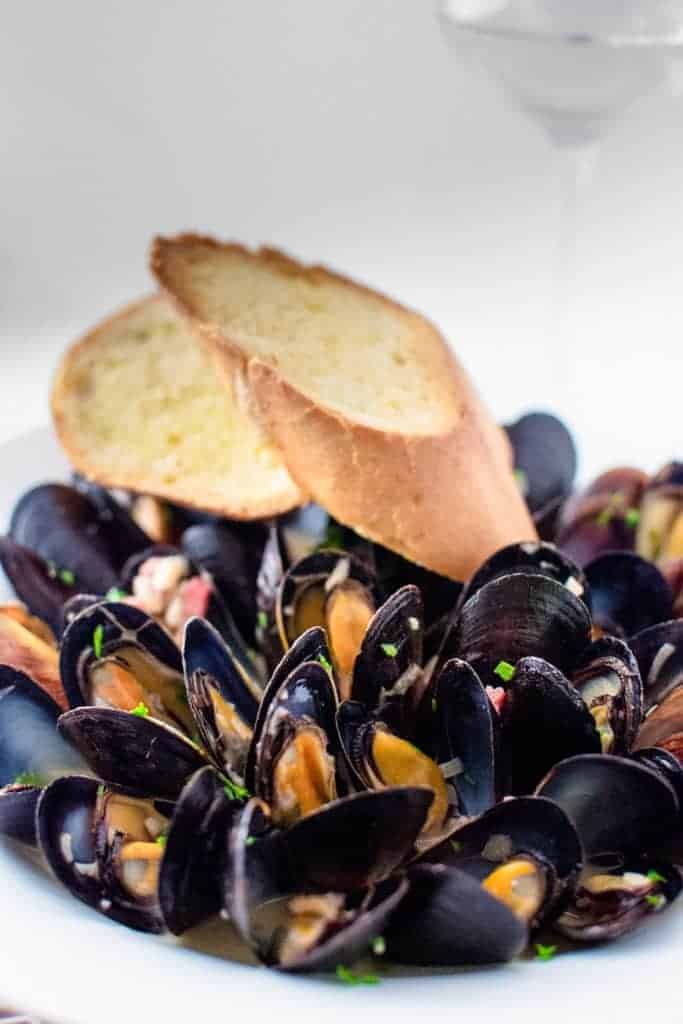 Mussels in Dijon & White Wine
In cooking, the holy trinity often refers to the cajun cuisine staples of onion, celery and bell pepper. Or for soup, it's onion, celery and carrot. In this kitchen, it's pancetta, shallots and garlic. No lies, it's pretty much involved in 4 out of 7 dinners a week - particularly involving vegetables. Like these Pancetta Roasted Brussel Sprouts or what can only be described as Best-Ever Braised Kale. I can call it that because my kale-hating husband now eats it.
Pancetta should be available in your deli, either behind the counter and have it sliced or in the specialty section of pre-packed meats. If you can't get shallots, a small yellow onion will work just as well. A dry white wine is recommended, but work with what you have in the house. Sauvignon Blanc or Sancerre would be the go-to recommendation, since it's a good pairing to drink while eating these succulent little mollusks.
Or to drink while cooking.... A little for the pan....a little for the cook...anyone with me? Julia Child was on to something.
Clean, sauté, simmer. This easy app or shareable dinner will have your dinner table partners raising impressed eyebrows.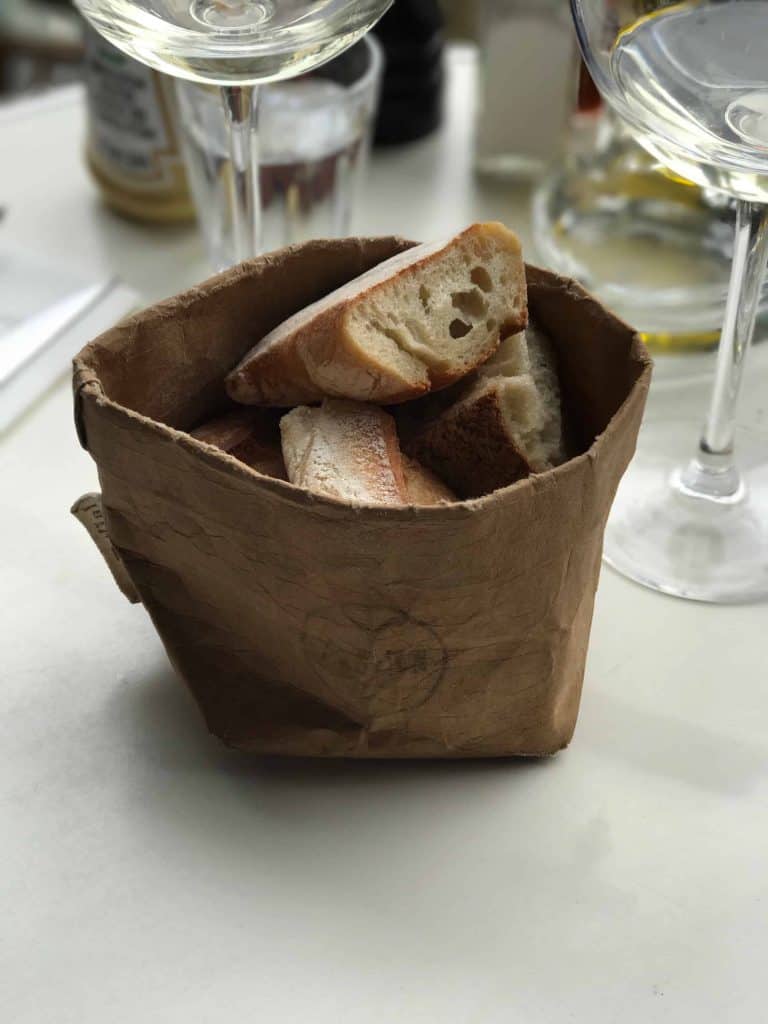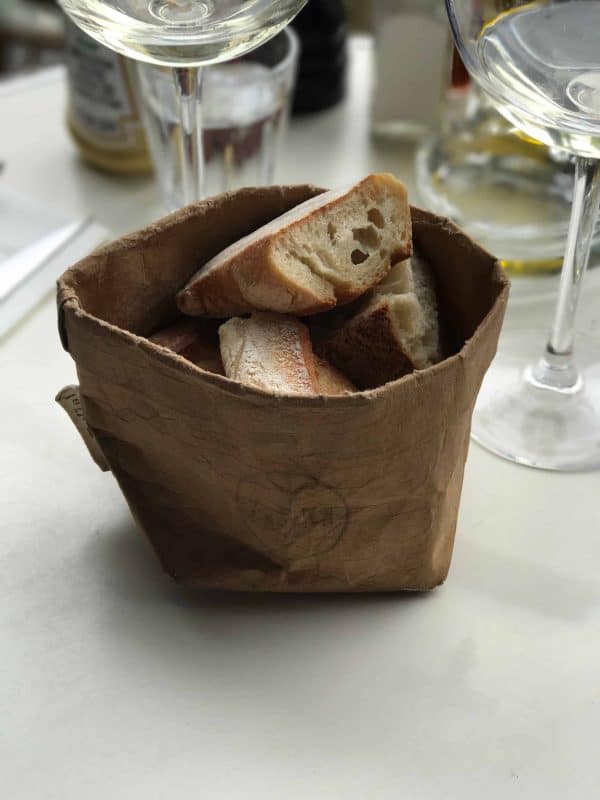 Don't forget to serve up a toasty, chunk of baguette to soak up the dijon-spicy, pancetta-salty, white wine garlic sauce. Bon appetite!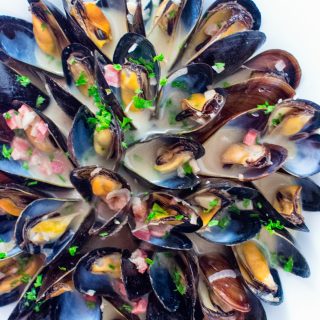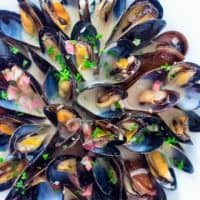 Mussels with Dijon & White Wine
Tender mussels soaked in wine, dijon and garlic with crispy pancetta. Serve with fresh, crusty bread to soak up this velvety, slightly spicy and all too easy to make sauce.
Print
Pin
Rate
Ingredients
1

bag

Prince Edward Island mussels

(about 2-3 pounds, rinsed well and cleaned)

1

large shallot

(finely diced)

3

ounces

pancetta

(3 slices, ¼" thick, finely diced)

1

tablespoons

extra virgin olive oil

2

cloves

garlic

(minced)

2

tablespoons

Dijon mustard

1

cup

white wine

1

tablespoon

fresh chopped parsley

(optional)

1

french baguette or crusty white bread

(sliced and toasted)
Instructions
Empty mussels into a colander and rinse thoroughly. Remove any beards and dirt. Discard any cracked or open shells.

In a large, deep skillet or dutch oven heat extra virgin olive oil over medium high heat. Sauté pancetta for 1 minute then add shallots.

Once shallots are translucent, add garlic. Cook an addition 2 minutes until pancetta is slightly browned, shallots are translucent, and garlic is fragrant.

Add mussels, then white wine. Sauté to coat mussels with pancetta, shallots and garlic. Using a wooden spoon or spatula, scrape any rendered fat from the bottom of the pan.

Avoiding mussel shells, add Dijon mustard. Stir to incorporate dijon mustard.*

Cover pan and let simmer, 4 to 5 minutes, until mussel shells have opened. Garnish with fresh chopped parsley.

Transfer to serving dish and serve immediately.
Notes
*Dijon will thin out and fully blend with the wine sauce as the ingredients simmer with the lid on the pan.
Nutrition
Calories:
305
kcal
|
Carbohydrates:
9
g
|
Protein:
21
g
|
Fat:
16
g
|
Saturated Fat:
4
g
|
Trans Fat:
1
g
|
Cholesterol:
55
mg
|
Sodium:
644
mg
|
Potassium:
590
mg
|
Fiber:
1
g
|
Sugar:
1
g
|
Vitamin A:
329
IU
|
Vitamin C:
14
mg
|
Calcium:
55
mg
|
Iron:
6
mg