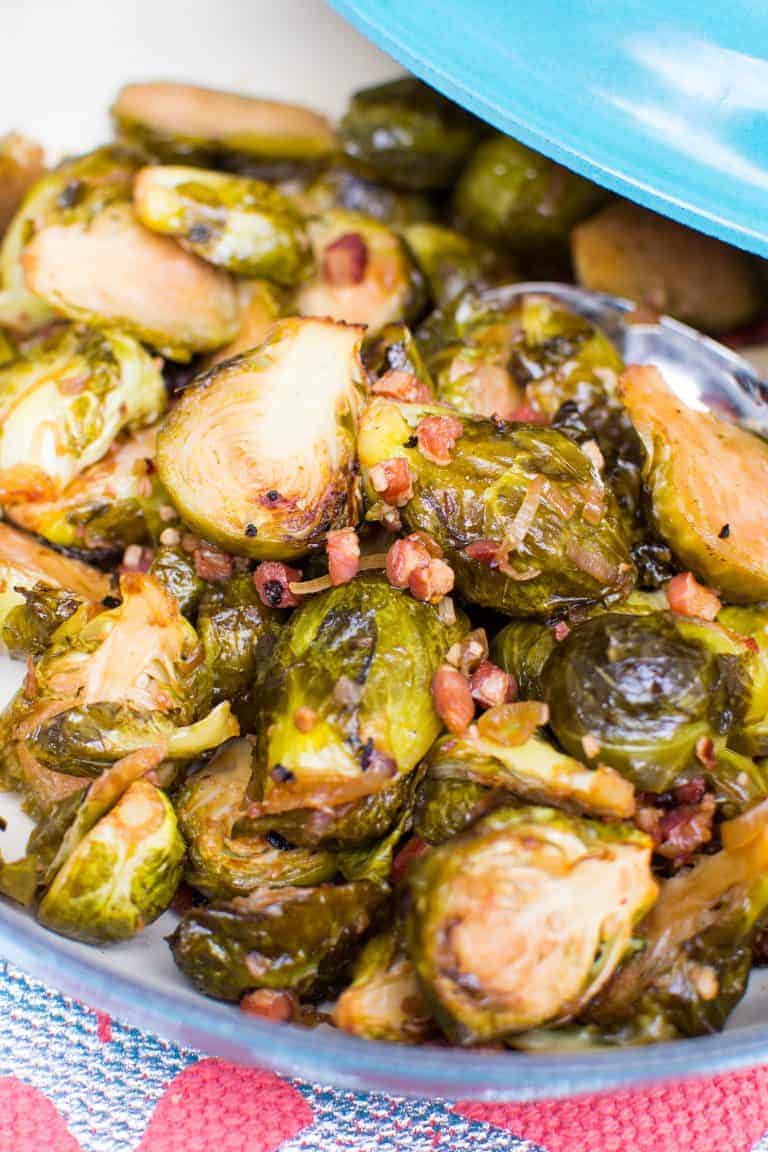 Anyone else out there suffering from a candy hangover? We went through 7 bags of candy this halloween...not like tiny bags either, like 80 piece bags. Leaving us with one bag of delicious Reese's, still in the bowl, staring at me from the front door. Ugh, beat it Reese's, why you so dang tasty? My ill will feelings towards the peanut buttery chocolate treat aside, we had a good turn out Monday night. Not without a hand full of weirdos - including the kid who was definitely at least 17 and not wearing a costume - but lots of families and some really creative costumes. By far the best costume were the twins from The Shining and mom and dad dressed as Jack and Wendy. With the first fall holiday in the books, it's time to take down our 8-ft inflatable scary cat and start planning for the next holiday Thanksgiving!
Brussels Sprouts are one of my favorite fall produce selections. Though you can find them throughout the summer, they're just never as good (and probably from far away) as they are in the fall and winter. Particularly the smaller ones are my favorite! Though the thought of mini cabbages are a turn off for vegetable nay-sayers, but truly and honestly, if they are cooked properly you can turn even the biggest sprout skeptic into a supporter. Case in point - my husband. Though he is always a good sport and will eat whatever weird vegetable I am making, he was never a big fan of Brussels Sprouts until I started making them this way.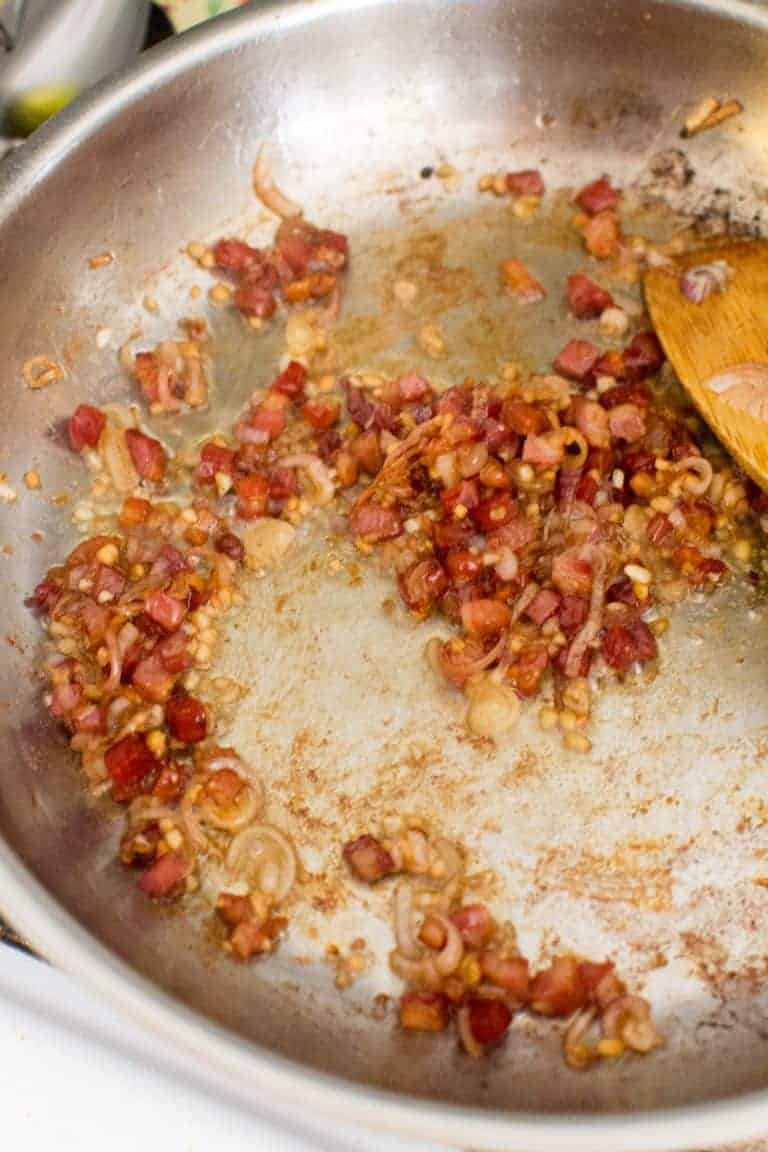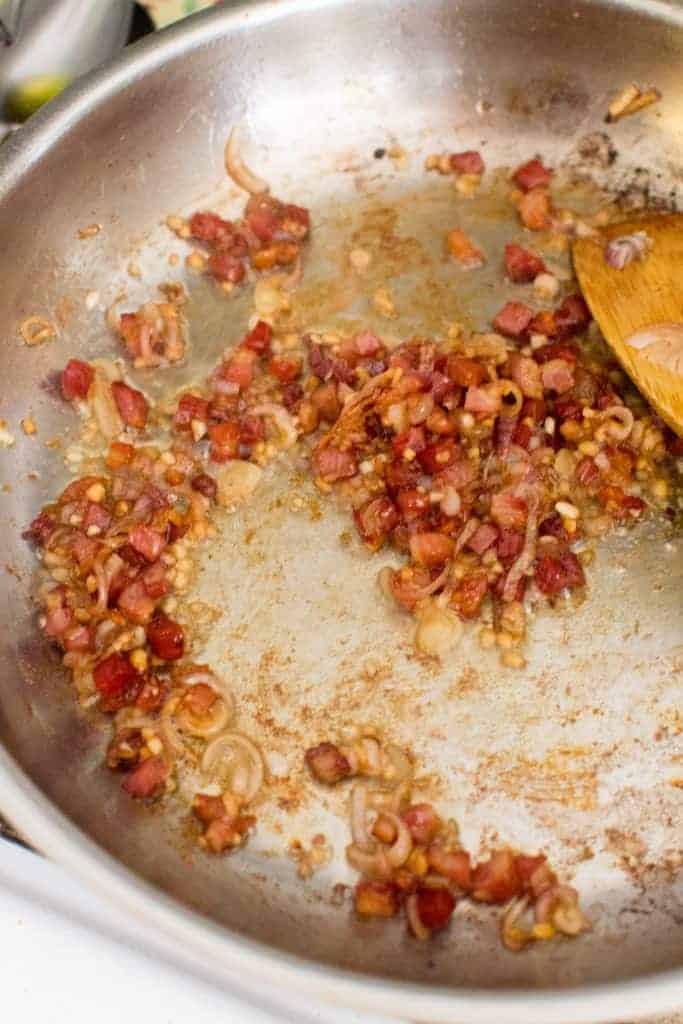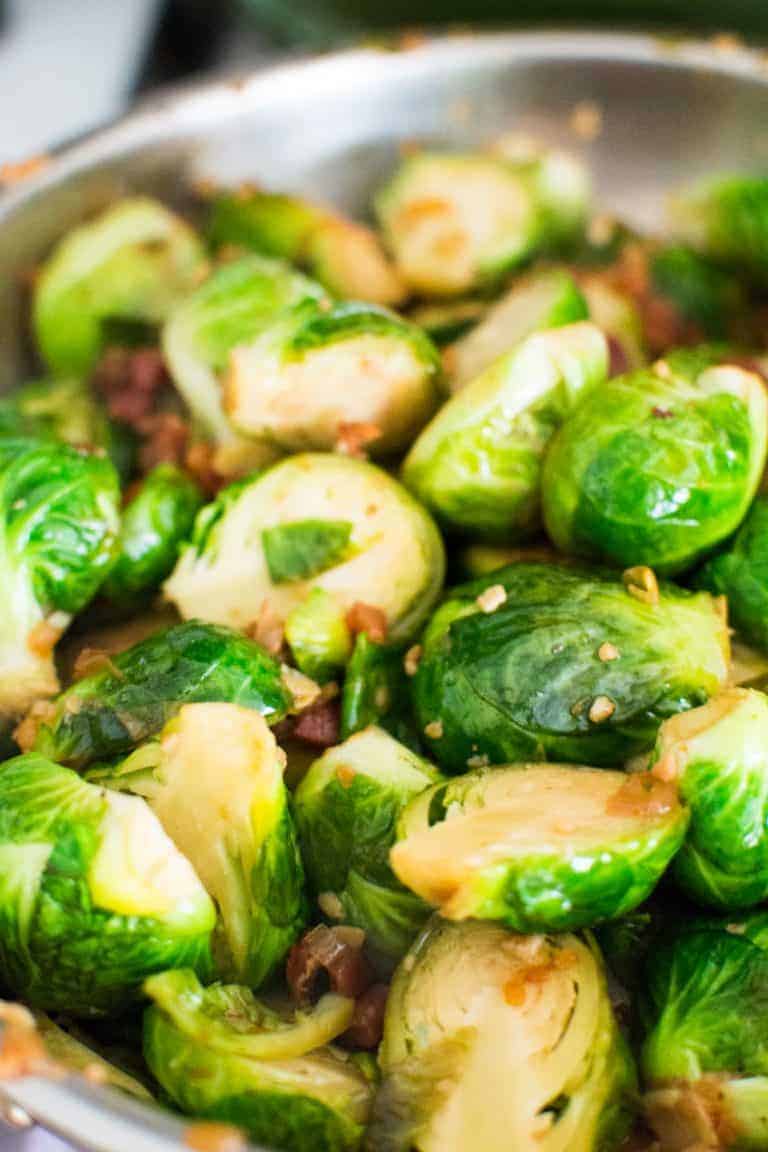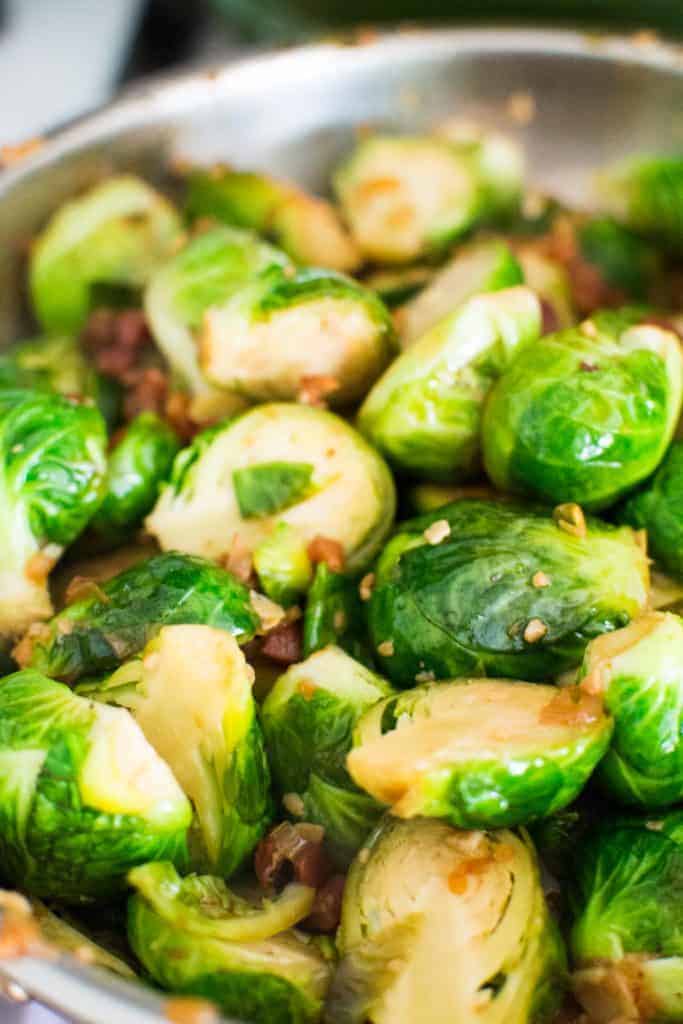 What makes this recipe stand out in flavor is a combination of texture and flavor. The crispy pancetta provides a slightly salty flavor while contributing a small amount of fat for richness. The shallots offer a subtly sweet onion flavor. The white wine simmers all those tastes into the little sprouts while making them tender. And the final roasting crisps up the leaves just enough so they are still tender but not mushy. The best part is that though it sounds like a lot of moving parts, this recipe is incredibly easy. Especially if you have a lot going on in your oven the day of Thanksgiving. You can certainly make this the day before and just roast for a few minutes the day of the big feast.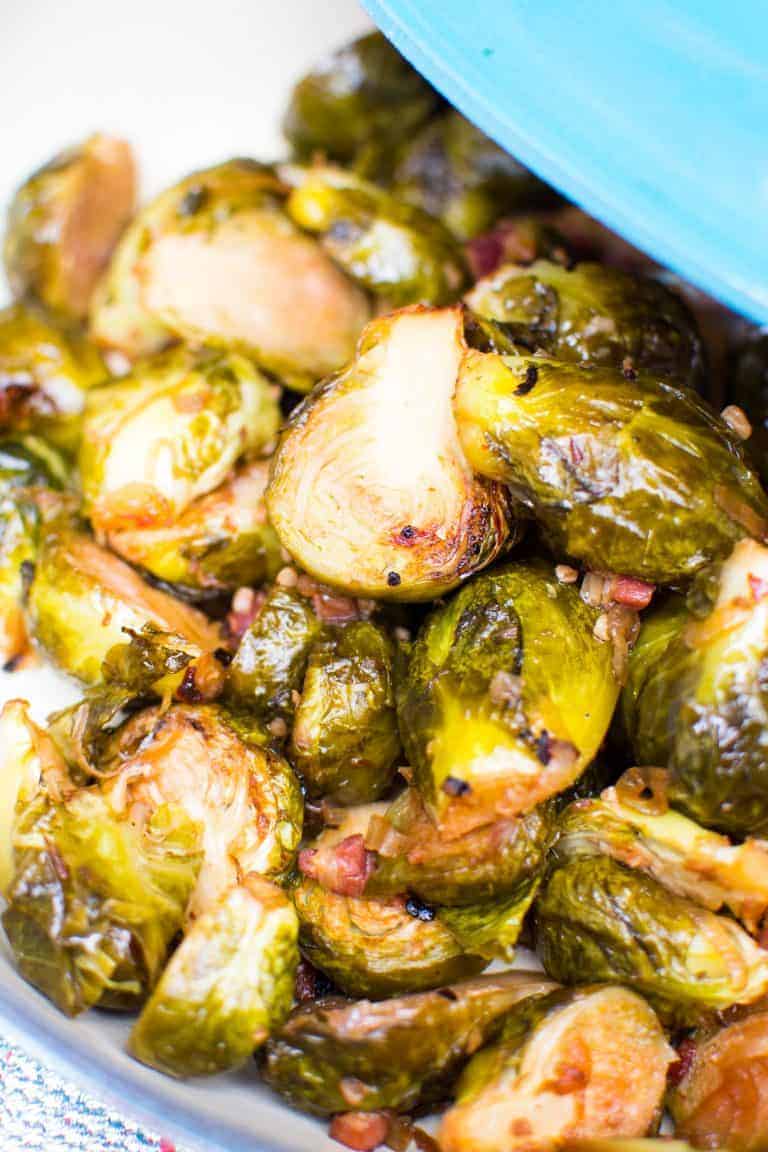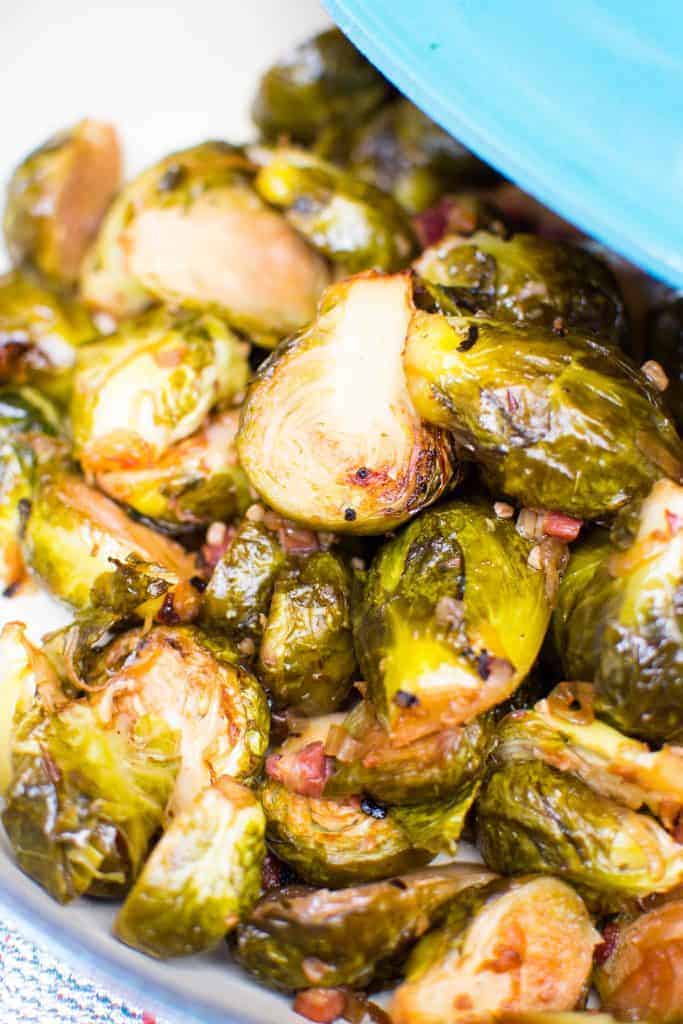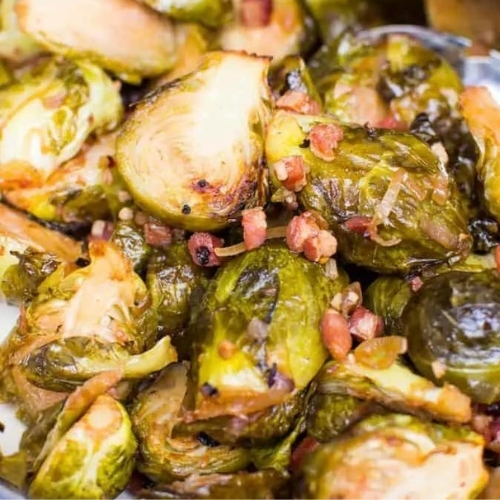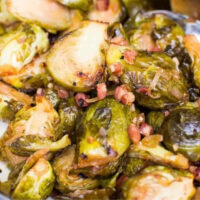 Pancetta Roasted Brussels Sprouts
Even the most skeptical vegetable eater will fall for these succulent little sprouts!
Print
Pin
Rate
Ingredients
2

ounces

pancetta

(¼" dice)

1

tablespoon

extra virgin olive oil

1

large shallot

(finely diced)

2

cloves

garlic

(chopped)

1 ½

pounds

brussels sprouts

(halved)

¾

cup

white wine

⅛

teaspoon

red pepper flakes

kosher salt

(to taste)
Instructions
Preheat oven to 375F

In a large oven-safe skillet, heat 1 tablespoon olive oil. Add pancetta and sauté. Once pancetta begins to crisp up add shallots and chopped garlic, sauté until shallots are translucent.

Season lightly with kosher salt - pancetta will add salty flavor.

Add brussels sprouts and stir so pancetta, garlic and shallots are evenly coating the sprouts. Cook for 2 to 3 minutes to slightly char the sprouts on the hot pan, adding ½ cup of white wine before garlic and shallots turn brown. Sauté or stir brussels sprouts, scraping the bottom the pan to release the flavors cooked on from the pancetta.

Add red pepper flakes and cook on high heat until most of the wine has been absorbed or evaporated. Add the final ¼ cup of white wine and transfer pan to the oven. Roasted at 375F for 30 minutes or until sprouts have a dark roasted color and some of the leaves are crispy.
Nutrition
Calories:
207
kcal
|
Carbohydrates:
18
g
|
Protein:
8
g
|
Fat:
10
g
|
Saturated Fat:
2
g
|
Trans Fat:
1
g
|
Cholesterol:
9
mg
|
Sodium:
141
mg
|
Potassium:
750
mg
|
Fiber:
7
g
|
Sugar:
5
g
|
Vitamin A:
1307
IU
|
Vitamin C:
146
mg
|
Calcium:
81
mg
|
Iron:
3
mg