Creamy and rich this root vegetable meets above ground vegetable soup is seriously one to kick the chill right out of those bones. Parsnip Cauliflower Bisque to the cold weather rescue.
Crushing on Soup
Oh man, I love soup. Have I mentioned that before? Hmm, perhaps. But seriously, what's not to love? It's usually (mostly) healthy, it's incredibly diverse, it doesn't take a ton to fill you up, and it really just makes you feel warm and cozy from the inside out.
Literally almost all the things to love about food - besides the missing essentials like wine and dessert. Dessert soup is just a terrible idea, just don't, trust me. What you should trust me on is this new edition to my plentiful soup repertoire - Parsnip Cauliflower Bisque. Packed with so much delectable veggie flavor, full of healthy and hearty ingredients, and a super creamy texture without busting the buttons on your new Black Friday sale jeans.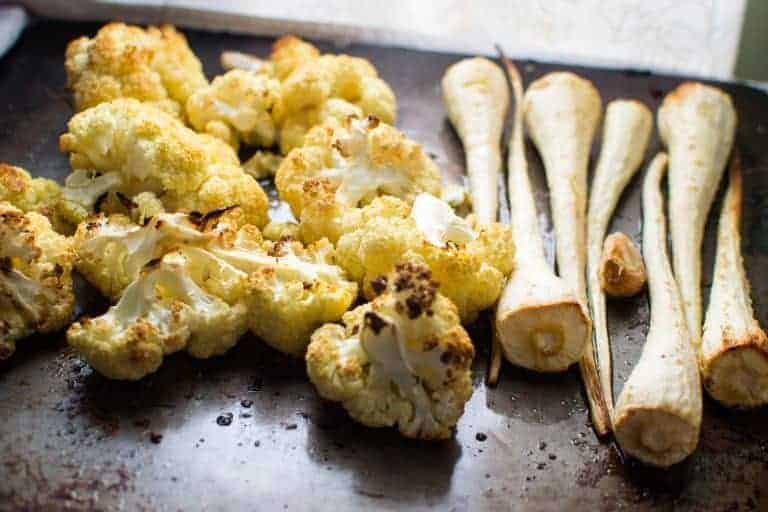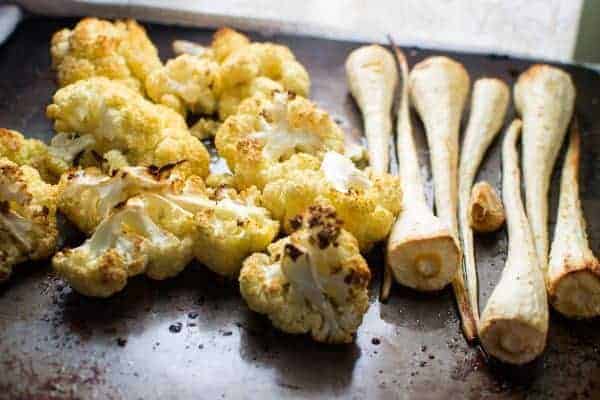 Parsnips, the sneaky good vegetable
Parsnips are sneaky good. I never even knew they existed until a few years ago. After roasting they develop a slightly sweet flavor. And if the idea of cauliflower has you running for the hills, try it roasted first. Seriously. I used to hate cauliflower until it was the 'vegetable of the day' at the restaurant for lunch, roasted with olive oil, a little garlic, and salt. That sulfer-y taste and smell disappears and you're left with crunchy yet tender, tasty florets. So naturally, those two yummy flavors should come together for a creamy, winter soup!
To keep the calories down fat free half and half is used to add the 'creamy' flavor - however - this recipe can absolutely be made with substitutes such as almond milk, heavy cream, or even whole milk. Though fat free half and half will keep out the calories from fat, there are additional sugars (usually from corn syrup) added. So, it's really up to you and how you feel about your dairy or dairy substitute products.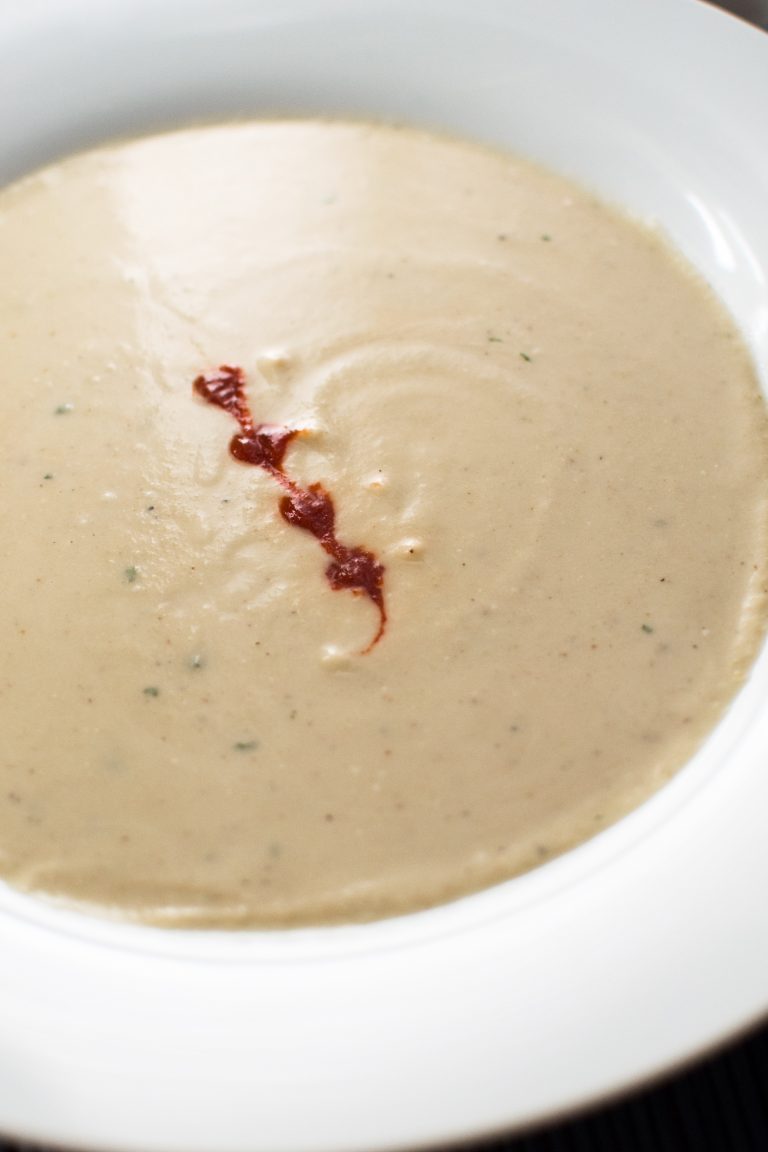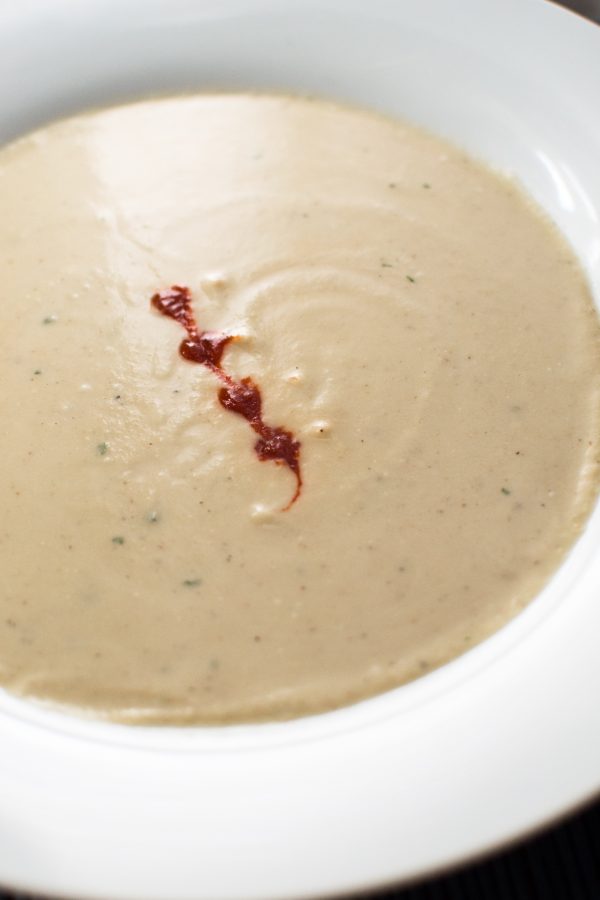 My personal favorite garnish for this soup is a two way tie. A little dollop of Sriracha will add a slightly sweet spice or a few crispy fried leeks will add a great crunchy texture against the smooth bisque with a subtle onion flavor.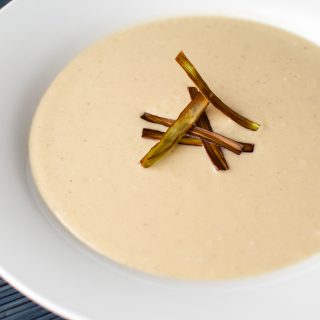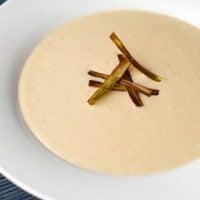 Parsnip Cauliflower Bisque
Healthy, hearty and creamy in texture - this soup only tastes like an indulgence!
Print
Pin
Rate
Ingredients
1

head

cauliflower

1

pound

parsnips

3

cloves

garlic

1

leek

(reserve a small amount for garnish)

2

tablespoons

extra virgin olive oil

½

cup

white wine

8

cups

vegetable or chicken stock

3

sage leaves

2

thyme sprigs

⅛

teaspoon

coriander seeds

2

bay leaves

¼

teaspoon

white pepper

1

tablespoon

kosher salt

1

cup

fat free half and half
Instructions
Preheat oven to 350F.

Remove cauliflower florets from core, peel parsnips and remove tops. Liberally coat cauliflower, parsnips and garlic cloves with extra virgin olive oil and salt. Roast at 350F for 30-40 minutes until golden.

In a large stock pot, heat 2 tablespoons olive oil. Add leeks, season with salt and black pepper. Once leeks are translucent, add roasted vegetables, white wine, stock, and the next 6 ingredients. Bring to a simmer, about 20 minutes, to ensure roasted vegetables are softened. Remove bay leaves, set aside.

Using a hand blender, purée until smooth. Add half and half and purée again to ensure incorporated. Add bay leaves back to the pot and simmer for 15 minutes.
For the garnish:
In a medium sauce pan, heat 2 cups of vegetable oil. Once hot, add a small amount of leeks at a time, frying until crispy. Use caution, oil will splatter as leeks are added.
Nutrition
Calories:
217
kcal
|
Carbohydrates:
27
g
|
Protein:
9
g
|
Fat:
7
g
|
Saturated Fat:
2
g
|
Cholesterol:
9
mg
|
Sodium:
1275
mg
|
Potassium:
778
mg
|
Fiber:
5
g
|
Sugar:
10
g
|
Vitamin A:
219
IU
|
Vitamin C:
47
mg
|
Calcium:
84
mg
|
Iron:
2
mg