A series of mishaps. Finger in the KitchenAid trying to sneak a taste of sweet vanilla cake batter. Or getting hair caught in the beater doing the exact same thing. Then there was that time the strawberry shortcake batter was laced with drips of red. But instead of sweet summer strawberries it was the unfortunate ending of my stupidity with trying to use an immersion blender. A trip to the hospital and eight stitches in the pointer finger on my left hand landed me a sizable lesson in kitchen safety by my parents.
Weird experimentations in the kitchen. That one time I tried sprinkling cinnamon on the pizza crust. My mom dancing the line of trying to be supportive of creativity and teaching why that was a terrible idea. Loving to pull the cheese off my pizza and eat it last. The smell of melting Country Crock in the skillet while broken spaghetti browns for the start of rice pilaf.
Of course there were the holidays. In true Laferriere fashion, always more food than anyone could finish, ending with jokes of stolen tupperware and baking dishes. Kielbasa bites an obvious attendee to the feast. Two ingredients of salty, sweet, and crispy polish sausage. French Canadian 'Chow Mein.' A weird, soupy, mishmash of pulled chicken, ground beef, celery and some sort of brown gravy topped with crunchy canned noodles. While this description may be off putting at first read, it is one of the most soul comforting dishes from my childhood. One of the first things I remember eating from my Memére's kitchen. And if there isn't Meat Pie at the table, well then don't even bother having anyone over.
She made clam chowder (New England, because let's face it...anything else is just soup) and stuffies. She had a business baking cakes for weddings and special occasions. A lover of sweets, but her favorite treat was fresh popped popcorn. There is so much in these sentences that ring true in my own life it makes my heart ache and swell with love simultaneously.
On Wednesday May 31st, 2017, I said good-bye to Memére for the last time as she would pass later that evening. Just a few short hours before her 82nd birthday. I can only imagine the festivities that awaited her on the other side.
In the years preceding her passing, she fought a courageous battle with dementia. It started slowly. A lover for painting, perhaps a way to recreate the artistic creativity from her time as a cake maker, there was that first time. She sat across from the canvas at a loss with what to do with the brushes.
Embarrassment, fear, and probably anger. I've been angry at my own body before. It's cruel how they can betray us. Locking out the routines that we know to be so familiar.
But before all that there was painting, and baking, and cooking, and cooking. And there was Chicken Soup.
Memére's chicken soup is a defining memory for me. A moment in my life I can pinpoint a significant mental shift, though I wouldn't come to realize it until much later.
In my family, chicken soup was and still is the go to dish. It's easy, comforting and hard to ruin. Made in nothing but a batch large enough to feed the neighborhood. Anyone who comes over on chicken soup day always leaves with a full Tupperware. And if no guests appear at the door, it gets divided into freezer bags to be used for busy days and quick dinners.
But, most important is the #2 true Laferriere trait that runs through the blood of each generation - because #1 is and will always be making too much food. Number 2 on the list is that we take a recipe, a perfectly good recipe and change it. Not necessarily to make it better, it was already good. Just the need for our own take, our own ingredients and adapted to fit with preferences and pantry provisions.
THE BAY LEAF
Standing in my Memére's small but effective kitchen, she hands my mother a Tupperware of chicken soup. From the clear exterior, I could see the green leaf pressed against the plastic. And there was a mental spark.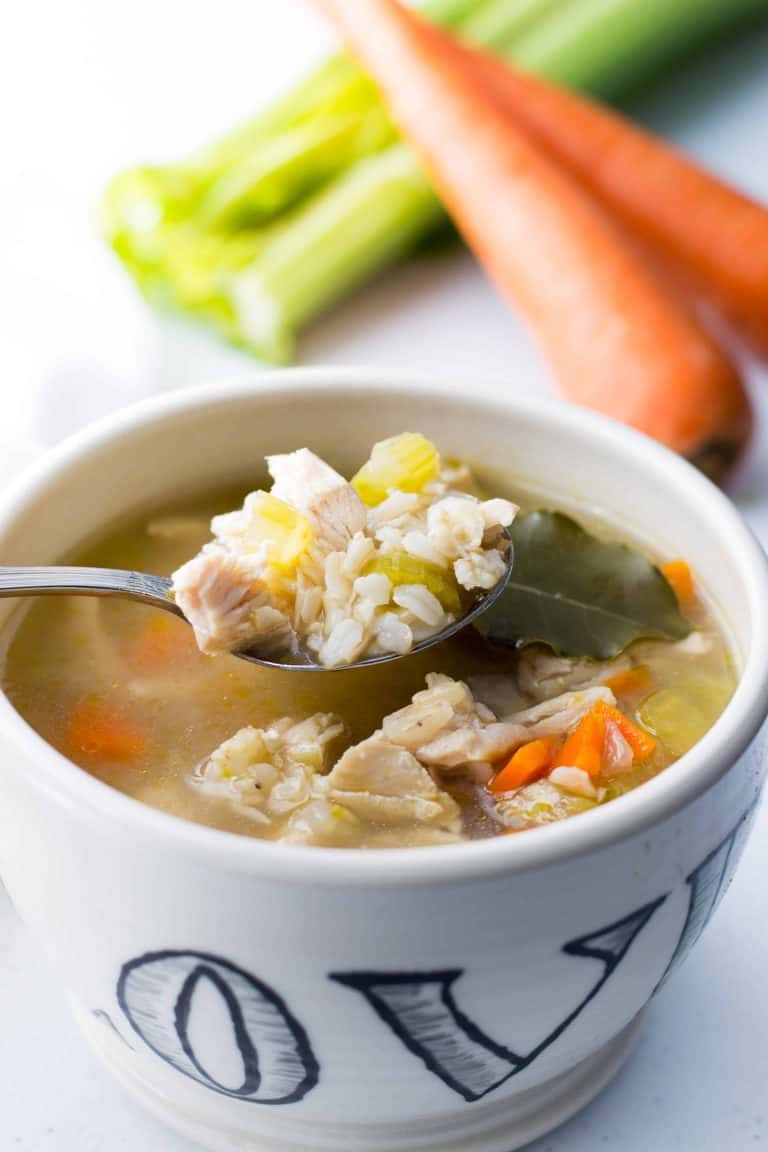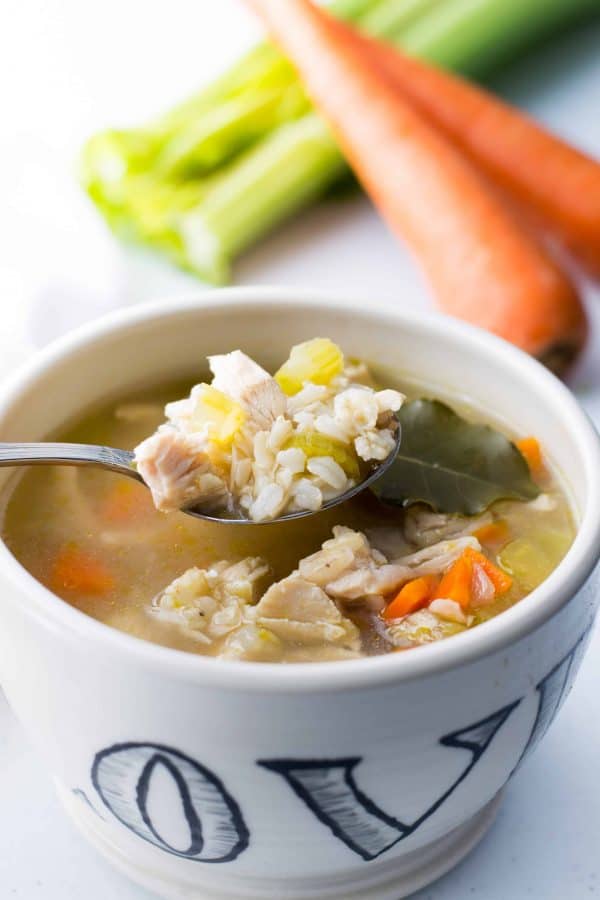 My mom made chicken soup all the time. But never had I seen a green leaf in the soup. This was new to me. While I had my Memére's chicken soup many times over, this is the first time I made the connection between the taste of my mom's chicken soup - robust in chicken flavor with just a touch of saltiness. My Memére's soup with the same elements - chicken, celery, carrots, onion and chicken flavor but with an underlying herbaceousness that I never could put a finger on. Like a lightbulb moment from a Looney Tunes cartoon, there was a spark. An important timestamp on the movie reel of my life. A developed flavor distinction of herbs and the effect on a dish.
While I wouldn't know it for a very long time, this moment in my life was groundbreaking in my desire to discover new flavors and in carving my own path of recipe making. And while I miss her every day, I can feel her in the sprinkle of salt, the whip of the buttercream, the bountiful spread of a family gathering that will end in leftovers and jokes about stolen tupperware.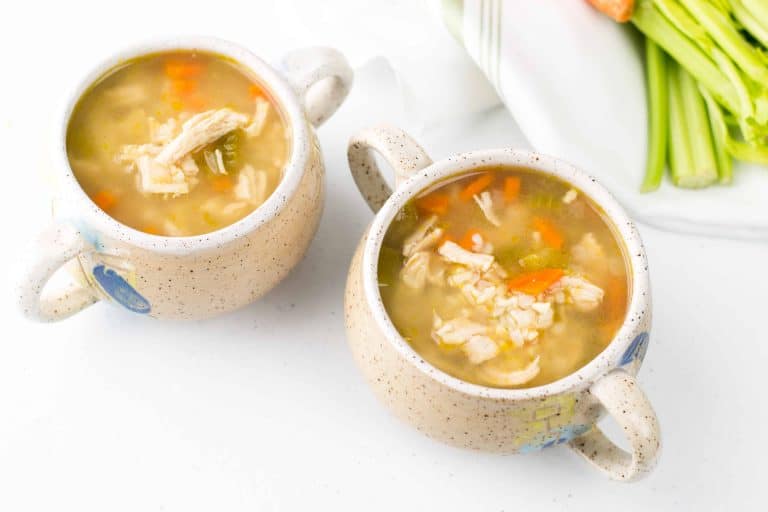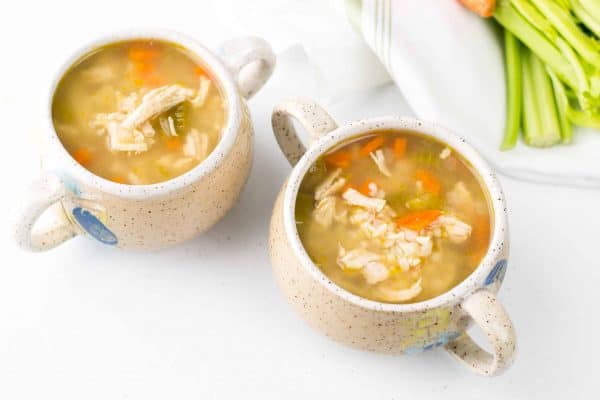 Lucille's Chicken Soup
There is something so restorative about soup, chicken soup in particular. Common colds, stomach bugs, cold rainy days or the need for a quick filling dinner. It fits the mold for whatever your mold is that day. And beyond all of that it's incredibly easy to prepare.
My favorite part of this recipe is that it falls with the true fashion of my mother's side of the family. I've taken Lucille's recipe and added just a touch of Lauren. While she was a supporter of the noodle version, the recipe below calls for brown rice. My personal favorite, but please, be a Laferriere and make this recipe your own.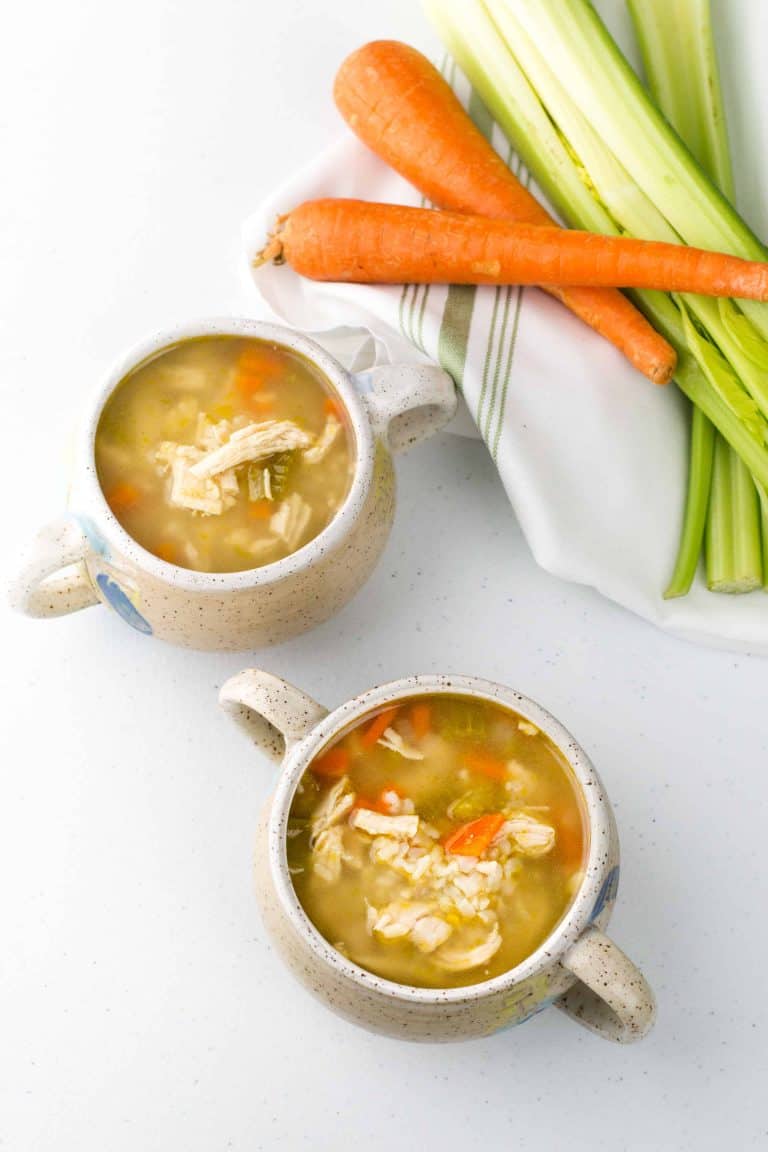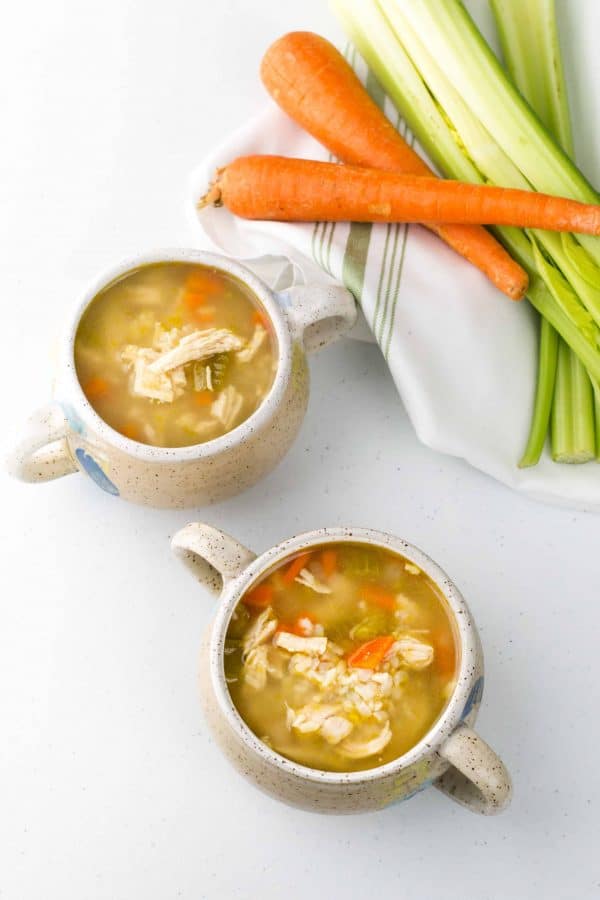 Oven baked chicken breast - or try my favorite hack of baking it in the toaster oven when you don't want to use the whole oven for two chicken breasts. On crazy nights, a quick trip to the grocery a rotisserie chicken to the rescue. Along with celery, carrots, onions and chicken stock - all refrigerator staples.
Oh, and of course, the bay leaf.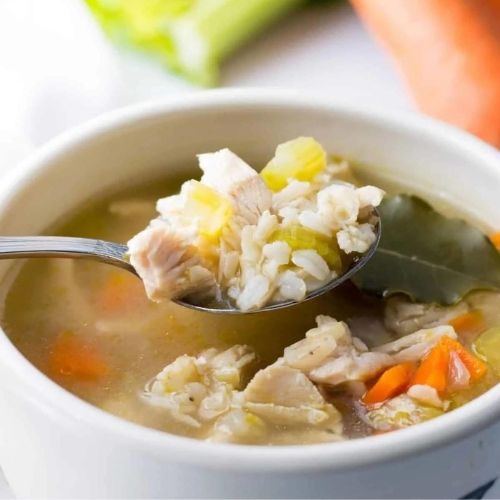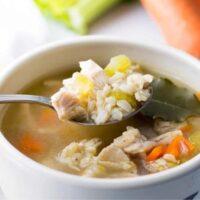 Lucille's Chicken Soup
A soul-comforting soup that comes together with ease. Robust chicken flavor with herbaceous undertones.
Print
Pin
Rate
Servings:
8
to 10 servings
Ingredients
2

lbs

chicken breast or 1 small rotisserie chicken

¼

cup

extra virgin olive oil

4

ribs celery

2

large carrots

1

yellow onion

1

cup

brown rice

3

quarts

chicken stock

(see notes)

2

dried bay leaves

salt and pepper to taste
Instructions
Preheat oven to 375°F. Lay chicken breast flat on a baking sheet. Cook for 20 minutes.

Let cool slightly and cut into small, bite-sized pieces, or pull apart with two forks for a rustic style soup.

In a large stock pot, heat oil. Over medium-high heat sauté celery, carrots, and onion, 5 to 7 minutes until translucent and celery starts to soften.

Add chicken, stir to combine.

Pour in chicken stock. Add rice and bay leaves, stir to combine.

Bring to a boil, about 15 minutes. Reduce heat and let simmer 30 minutes until rice and vegetables are soft. Add salt and pepper to taste.
Notes
Homemade chicken stock or low-sodium store-bought so you can add salt as needed.
If using a rotisserie chicken, remove skin and pull meat from the bones. Given a coarse chop with the knife or hand pull into bite-sized pieces.
Nutrition
Calories:
415
kcal
|
Carbohydrates:
33
g
|
Protein:
35
g
|
Fat:
15
g
|
Saturated Fat:
3
g
|
Trans Fat:
1
g
|
Cholesterol:
83
mg
|
Sodium:
653
mg
|
Potassium:
930
mg
|
Fiber:
2
g
|
Sugar:
7
g
|
Vitamin A:
2603
IU
|
Vitamin C:
4
mg
|
Calcium:
33
mg
|
Iron:
2
mg