You guysssss. Did you know food blogger heaven is in Minneapolis? It is. I was there for two days and it was worth every penny of the trip.
Well not just food blogger, but all things food photography. Speaking to the nooks, crannies and teeniest corners of my food loving heart. I went in feeling pretty ok about my photography skills but knowing there were definitely multiple areas for improvement - because perfection is boring.
Do you know what happened? I'm going to tell you! Aaaand some you some p.r.e.t.t.y. fun food photography along the way.
Side note: I'm obsessed with this dark wood and moody green surface from Erickson Woodwork Surfaces. Mine is already ordered. I quite literally can not wait.
Tasty Food Photography Workshop
So there's this blogger, Lindsey Ostrom, behind the extraordinary blog called Pinch of Yum. When Hunger|Thirst|Play first started, she basically paved the way for where to look for 'how tos' and taught me the basics of using a DSLR camera. Her ebook Tasty Food Photography was so incredibly helpful in the beginning of my journey.
For real though.
My photos went from this:
To this:
To THIS:
When the notification came through that workshops were opening up, you bet I sat there camped out in front of my laptop. Three days away to work on a newly developed passion, learning from a well respected photographer in the food blogging community.
Here's my money. I'm throwing it through the internet.
Upon returning home from Minneapolis, 100% it was worth it. Beyond just the workshop it was incredible to meet other bloggers and photographers. Also, Minneapolis is, in my opinion, a very underrated city. But more to come on the trip recap.
What You'll Learn: Tasty Food Photography Workshop
Manual Mastery
Do you find manual mode scary? Here's a true life photography story that's mildly embarrassing. Up until a few months ago, I thought the 'M' stood for 'Motion.'
Ah, nope. That's manual Lauren.
Manual means you'll be determining the ISO, Shutter Speed and Aperture for your camera. That was still in the scary territory that I occasionally ventured through. Most of my photography was shot using 'Aperture Priority Mode'. Not anymore! Look who's basking in Manual Mode sunshine - this girl ????????
Lighting & Angles
Lindsey teaches through classroom style, demonstration and hands-on approach to show different lighting techniques for the best natural light photography. While artificial light practice is on offer, it was hard to step away from these dreamy loft windows.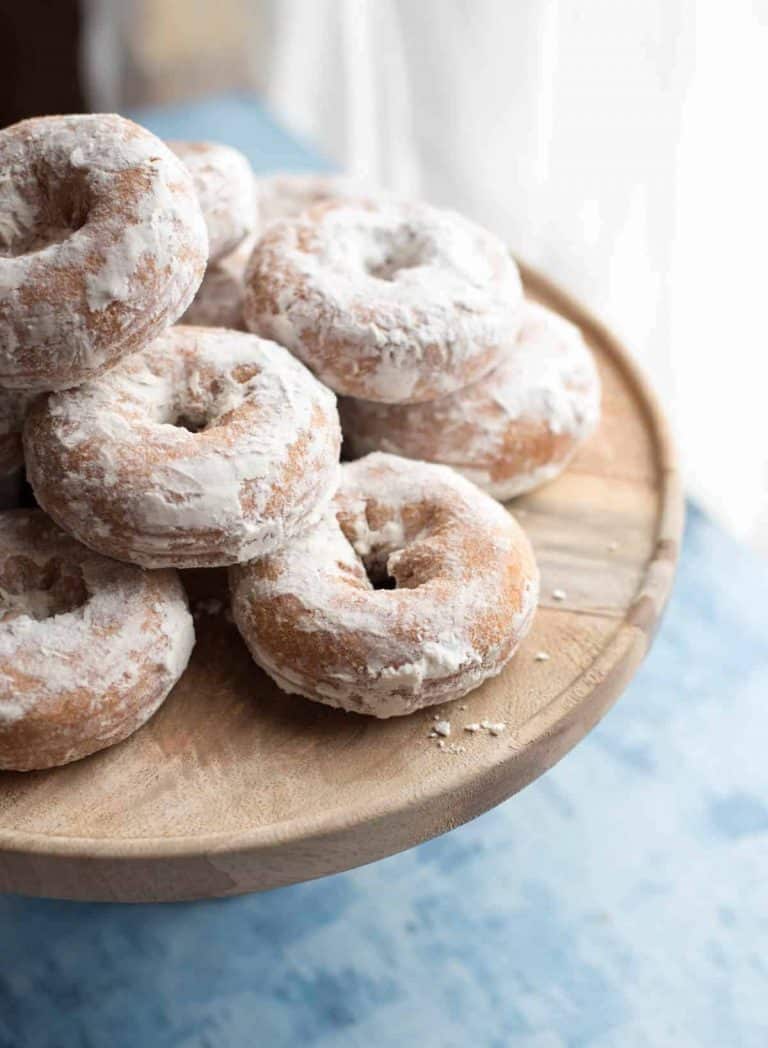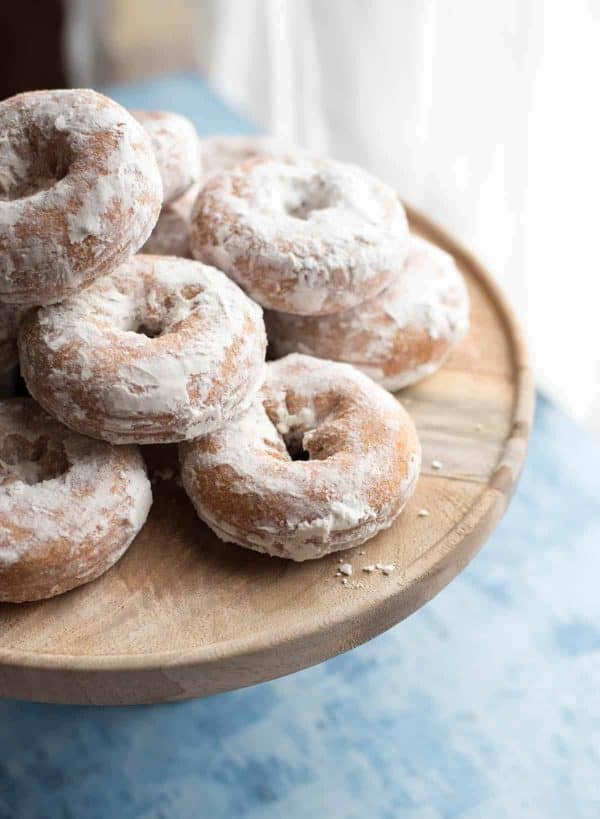 Highlights, shadows, scrapes. Backlighting, side lighting, reflectors, diffusers. There's a touch upon it all. Listening, watching, and primarily chopping at the bit to get your hands on all those great props and backgrounds. Most of my shots fall in the 45° angle range. Watching the process, tips and tricks for someone else shooting overhead, 90°, and "pour shoots" was beyond helpful.
Styling & Movement
Fun fact: Ogres are not the only thing that's like onions. Photos are like onions too - they have layers. Texture, props, interruption of line, horizon line...all things that I thought of during the shooting process but never to a deeper level. We dug in to this stuff like a favorite meal after missing breakfast and lunch, with our brains refusing to be full.
Pour shots. Why are pour shots sooo good?! Maybe it's the feeling of movement or that you could actually be there in front of those pancakes, waiting to dig in. Either way, we watched and practice the set up and execution of pour shots. My favorite part being Lindsey's term for awkwardly holding the camera with your non dominate hand, pressing the shutter release with a weird finger while you pour the liquid over the food.
AKA "Scrappy Style"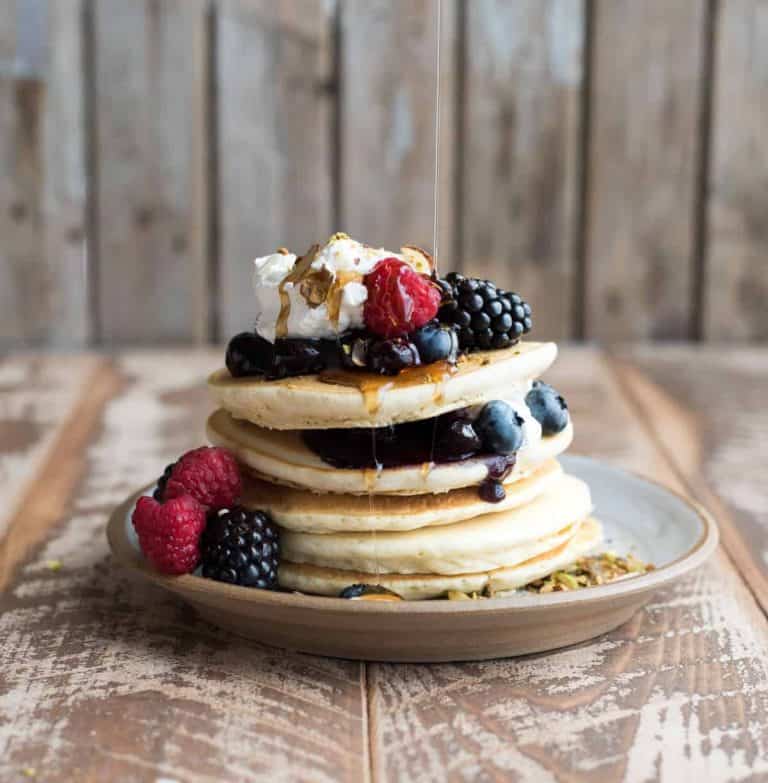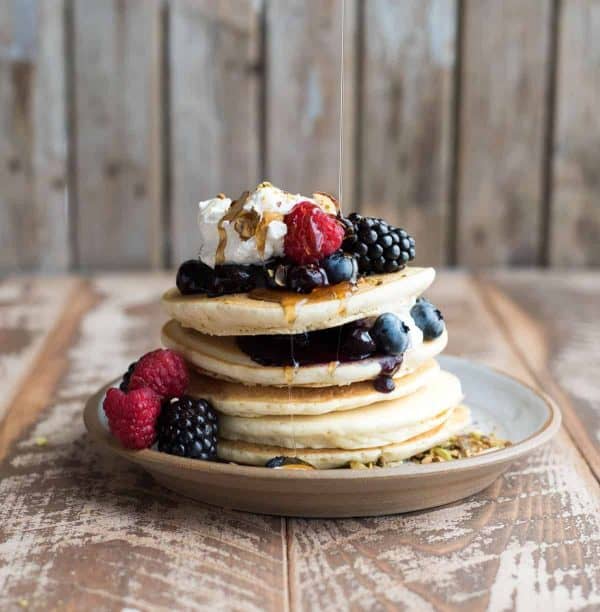 I'm not sure why this resonated with me so strongly. Perhaps it's because I'm moderately awkward and a lot a bit clumsy in real life. This scrappy style is a good summation of me anytime I'm trying to shoot an action, fork, or hand shot.
Scrappers fo' life.
Lightroom & Workflow
From shot lists, to importing and techniques for editing - we touched on it all. Shared tid bits from attendees about programs and applications they love to use.
Committing yourself to a schedule, and a list is a far more productive approach when you could spend all day doing tasty food photography. It turns out Lightroom has far more functions that I had self-taught in the last year, who knew? Lot's of people apparently. Oh well. It's good to learn new things. Lots of new things.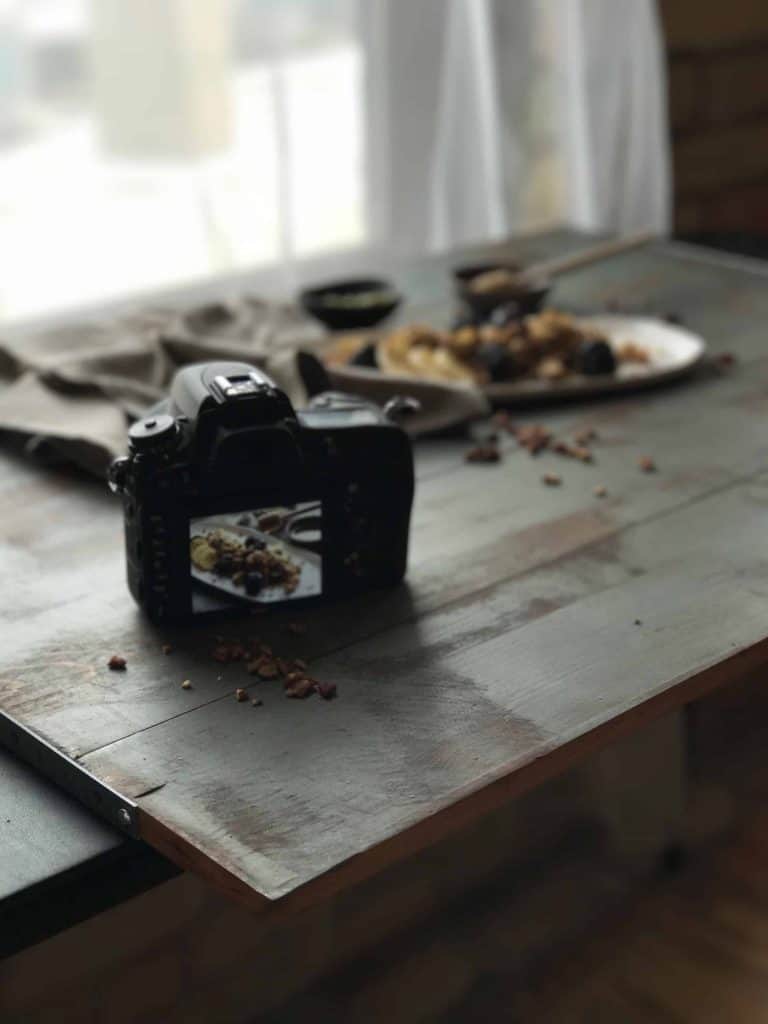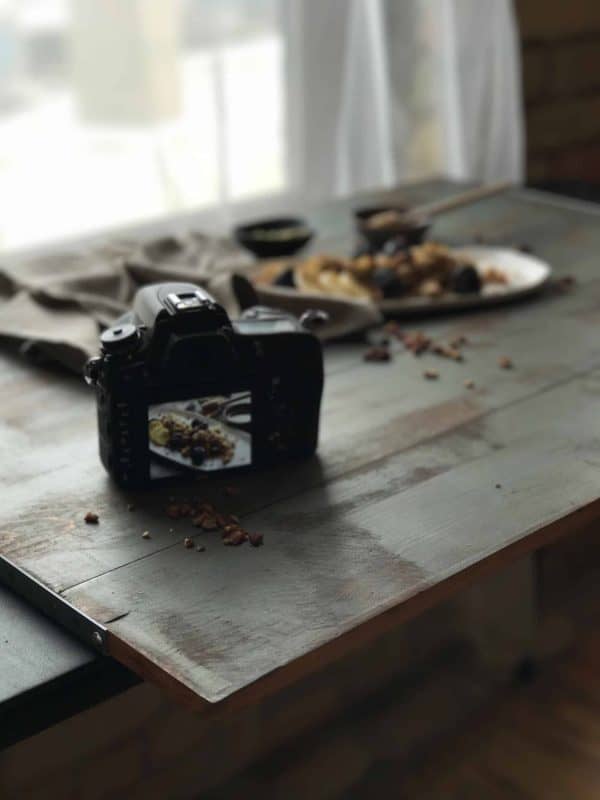 Meeting awesome people
Photography is awesome. Food photography is awesome x10. Meet other people that are equally obsessed with food photography? We're going to need a super computer over here to compute all that awesomeness.
While we were told that some groups hang out and get to know each other, some groups don't and pretty much just come to the workshop and then go home. Boy, am I glad to have the former situation because bonding with these food obsessed content creators was one of my favorite parts.
Food bloggers in general are a unique blend of cool, sweet, and genuine. The people working at the Pinch of Yum studio are extra level great, too.
I mean, c'mon, just look at these lovely ladies ????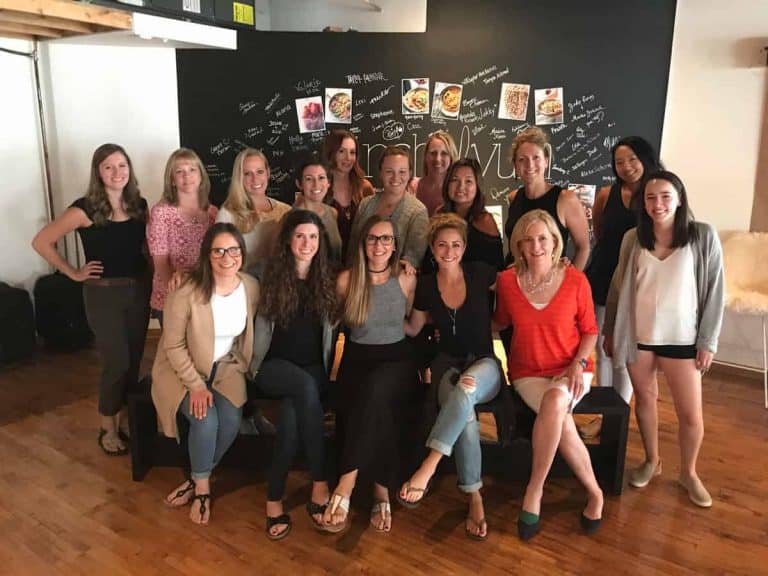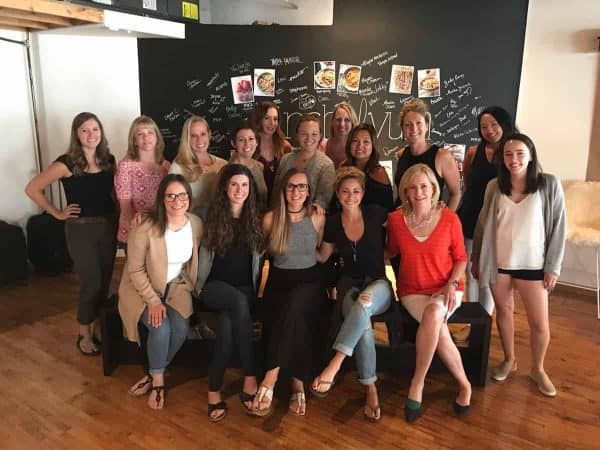 Bottom left: Sara at Real Balanced, Kathryne at Cookie and Kate, Lindsey at Pinch of Yum, Tawnie at Krolls Korner, Lee at A Well-Seasoned Kitchen, Alana from PoY studio.
Top Left: Jenna from PoY studio. Nancy whose blog isn't live yet but stay posted, yours truly at Hunger|Thirst|Play, Katie at Katie Cannon Photography, Erin at Platings and Pairings, Amanda who's restarting her blog but in the meantime catch her story on Instagram, Kathryn at Foodie Girl Chicago, Annabelle at My Nanay's Kitchen, Susie at Mom's Dinner, and Christina from PoY studio.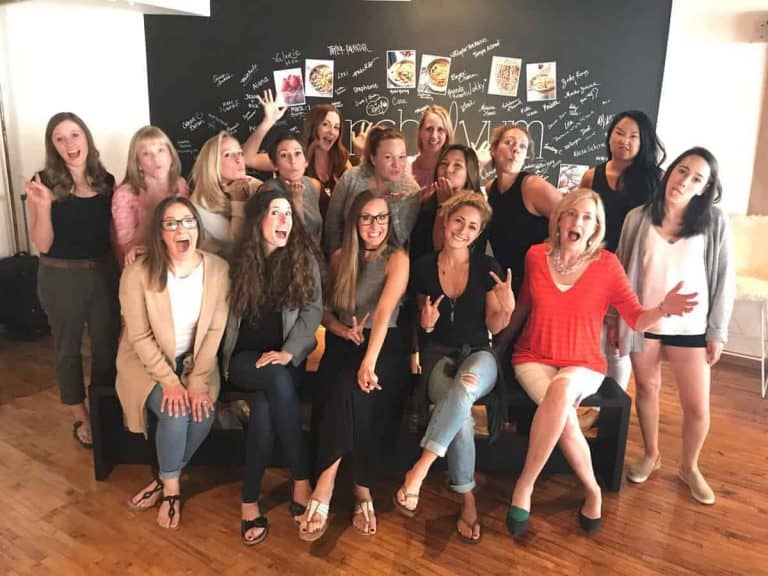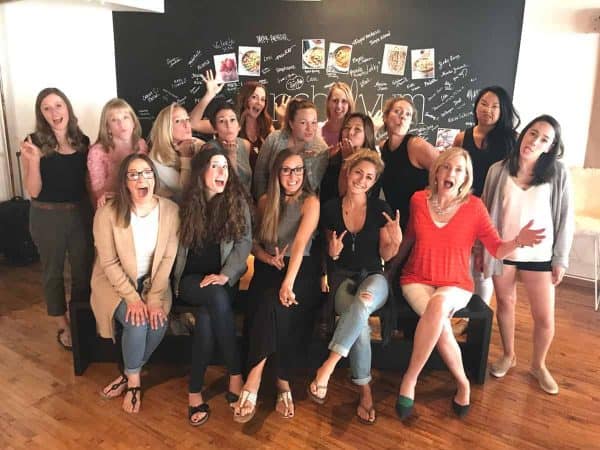 And if anything...go for the snacks
The snacks...so good. Perhaps its East Coast arrogance, but man oh man, I think Minneapolis is super underrated. Or at least I had it underrated in my mind. Every single morsel consumed in my quick three day trip there was damn delicious.
The workshop provided breakfast, lunch and snacks throughout the day. If you ever make another muffin in your life, you need to make these 5-ingredient banana bread muffins from Pinch of Yum. No joke, that was one of the best muffins I've ever consumed.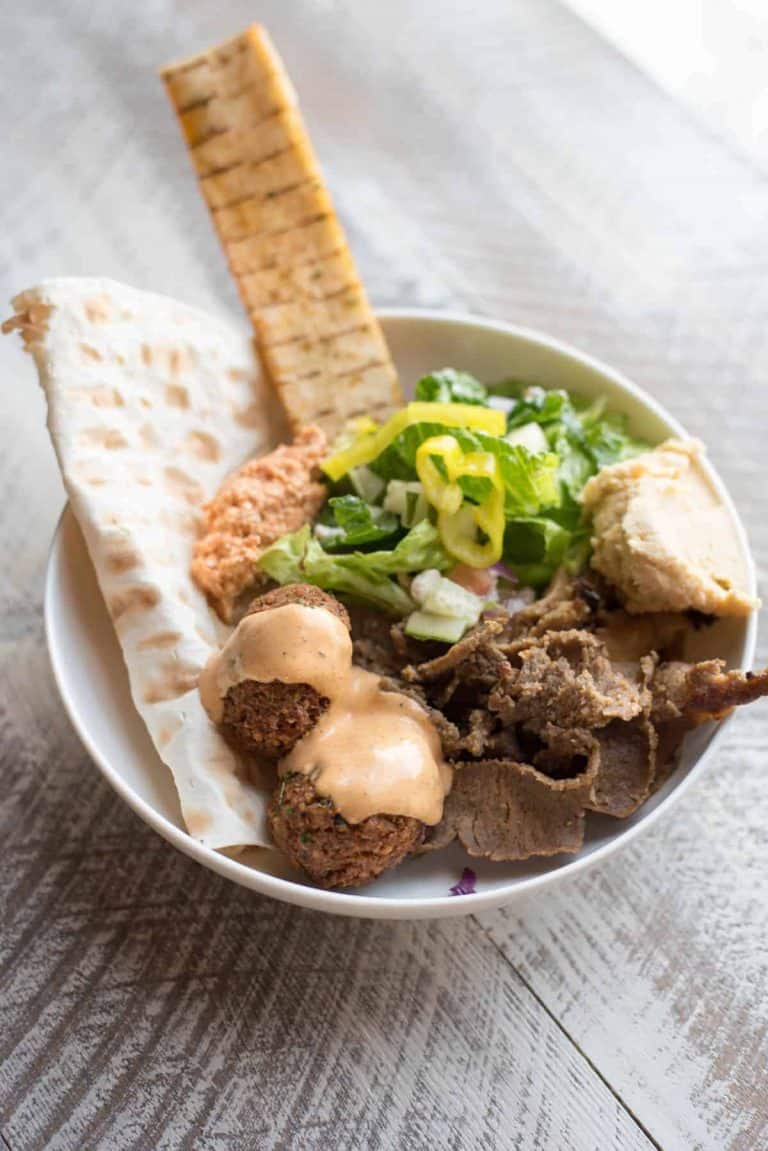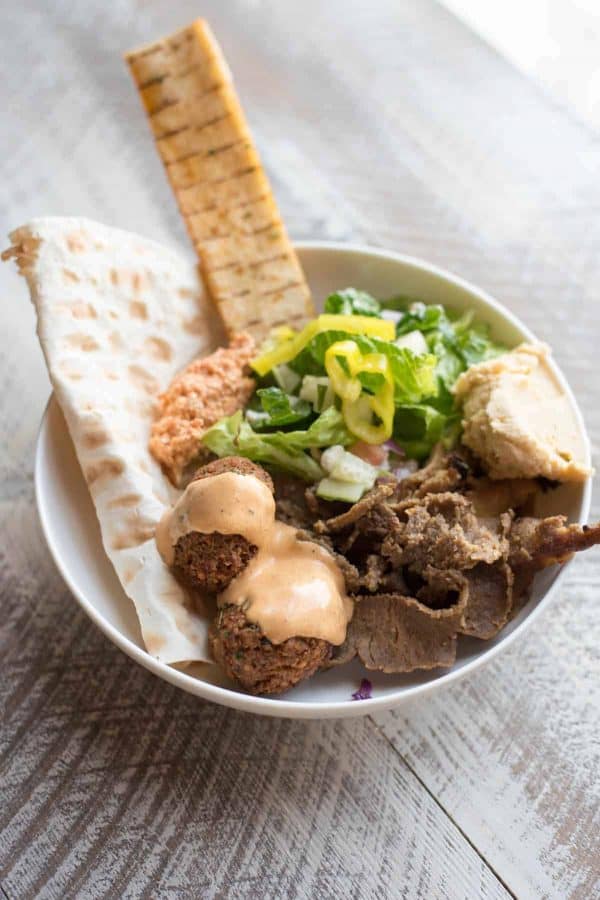 Not to mention this flavorful bowl of goodness! Lunch the first day was a feast of perfectly spiced lamb, lavash, falafel, salad and this spicy garlic aioli I want to take a bath in. Ok, maybe not a full bath, but you get the point. It will definitely be getting recreated to go with these Easy Lamb Gyros from earlier this summer.
Food photography, new friends, tasty eats. This trip was so good for my soul and my brain. Both sides of it. A friend said to me just last night, "When you work with art you need to be comfortable with being uncomfortable. Otherwise you'll never learn anything new."
Be comfortable with knowing you have skills to develop, new things to learn, continuing to master your craft. Whether it's a food photography workshop, local cooking class, or learning to do something new get comfortable with being uncomfortable of learning something new!