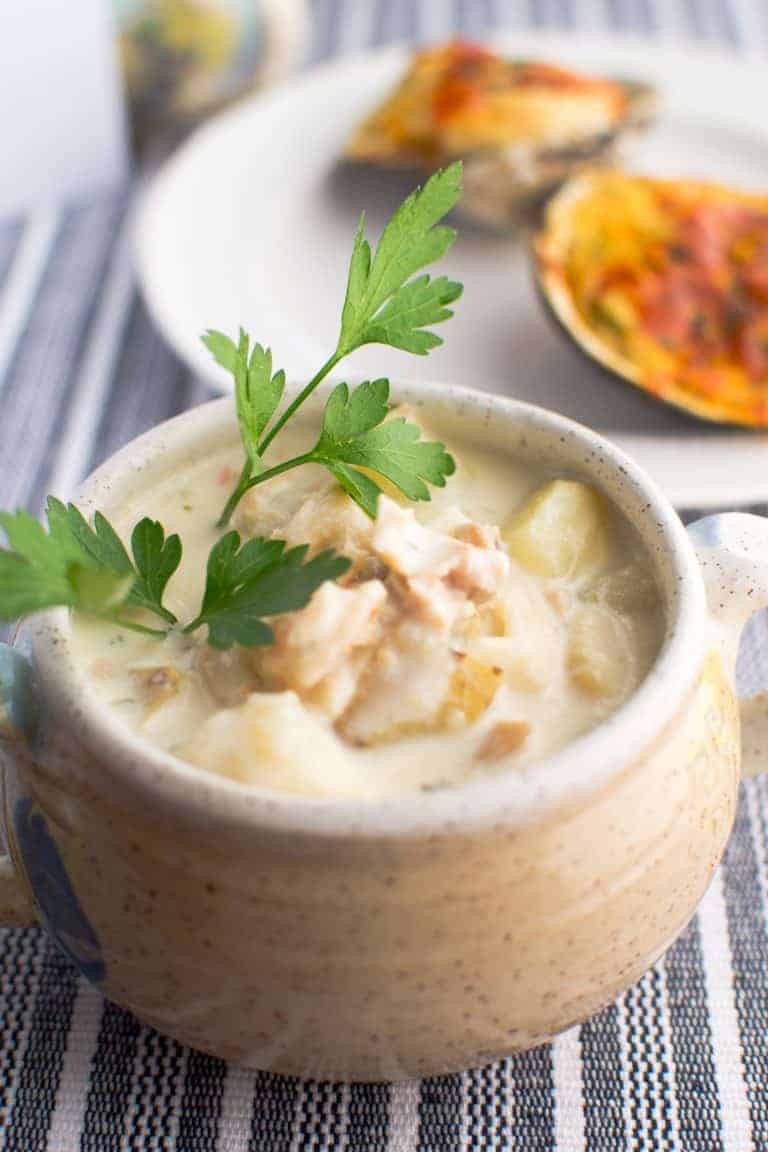 Summertime is almost at an end!  While we wait for the calendar to officially mark the date, I'll be over here getting as much of all the delicious summertime eats this weather has to offer.  As mentioned many times over, I am a New England girl born and bred.  Beyond enjoy the best the four seasons has to offer – though I am a fan of the claw foot tubs, I'm talking about Winter/Spring/Summer/Fall seasons and not the swanky hotel – there is seafood.  Like, fresh from the docks, seafood.  Caught that morning seafood.  Seafood magically simmered with sautéed vegetables, potatoes, and velvety creamy milk.  It doesn't matter if is 90 f*ing 5 degrees outside.  It's never too hot for chowder.  Ok fine…maybe for some people, but not for me.  Beside a New England girl, I am a soup lady through and through.  I could eat soup every damn day.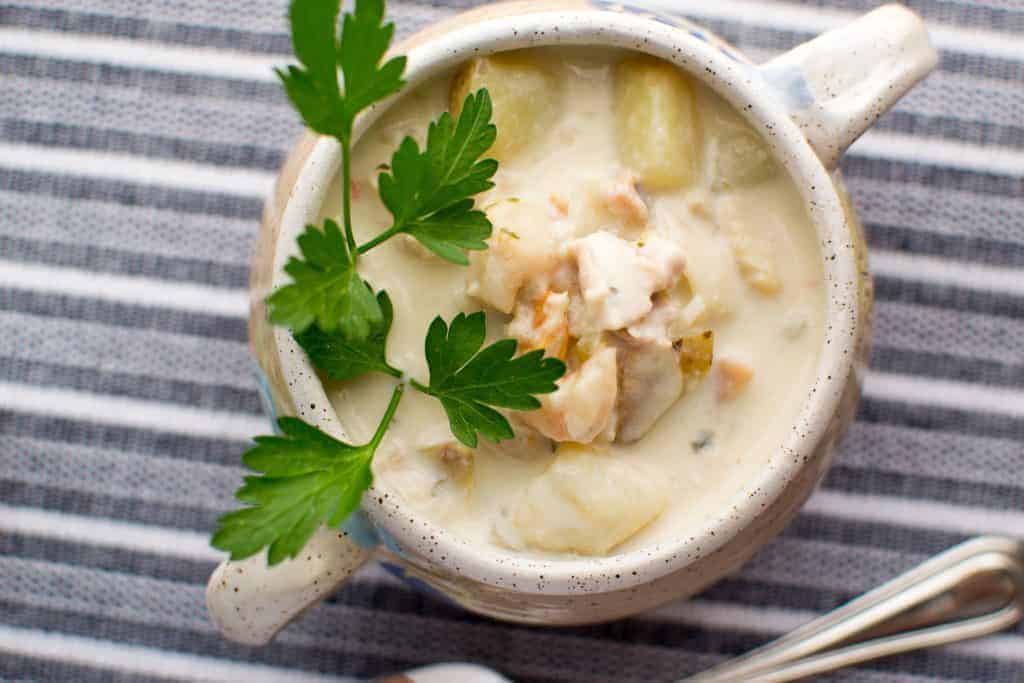 Seafood also holds a special place in my life as where I cut my teeth in the crazy, restaurant business life.  One, a mom and pop with less than 100 seats and had a systematic way of shouting your orders to the kitchen rather than using a ticket system.  Literally, no tickets, cash only, divey awesome.  The other, one of the major seafood 'chains'  on the east coast where that store did an average of $13 million in sales.  Everyone in the restaurant industry should have to work in an old school restaurant or bar without computers, at least once in their career.  Because sometimes computers fail or you lose power and with that previous experience you won't lose your shit in the middle of the Friday night rush…because we all know, the computers only ever fail in the middle of the rush…anyways I digress…let's talk about Chowdah.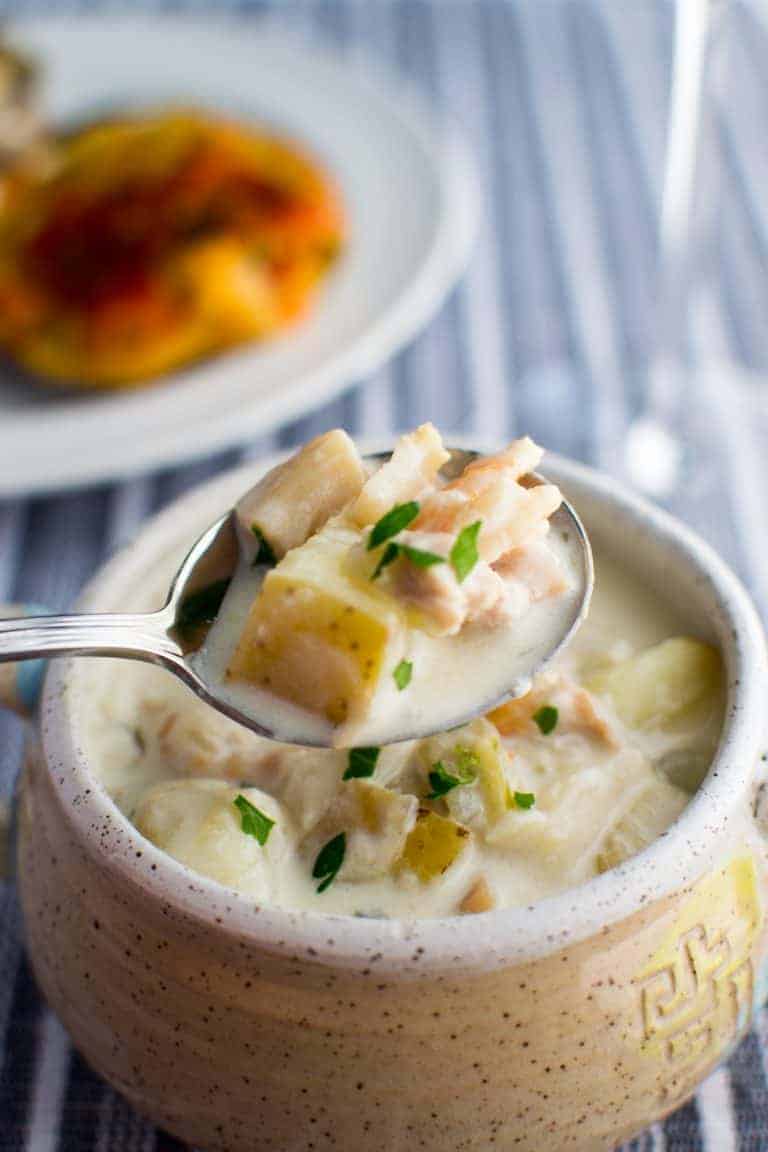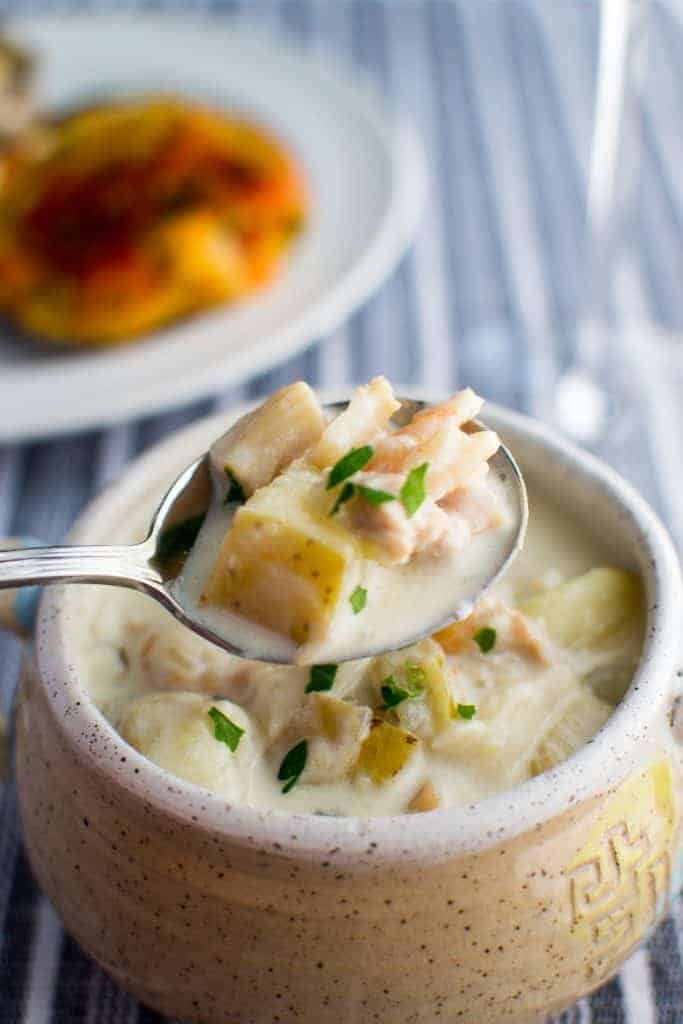 I love Manhattan, but they can keep their tomato based chowder.  And there's that weird clear-broth cousin, Rhode Island style chowder, no thank you.  The only room in my heart is for that creamy, smooth, buttery, dairy-filled richness that is New England style chowder.  Now I will admit, the French Canadians from the Blackstone Valley have a tendency to make their chowder a little thinner than what you would typically get from a restaurant in Boston – but that's my favorite part!  You can have a whole bowl (or two…or maybe three…don't judge me) and not feel like you have a cement brick in your belly.  Now, if you eat the whole bread bowl and feel that way, that's on you.  My other favorite thing about this chowder is that it's more than just clams.  The addition of scallops, shrimp, and crab not only contribute flavor but wonderful texture as well.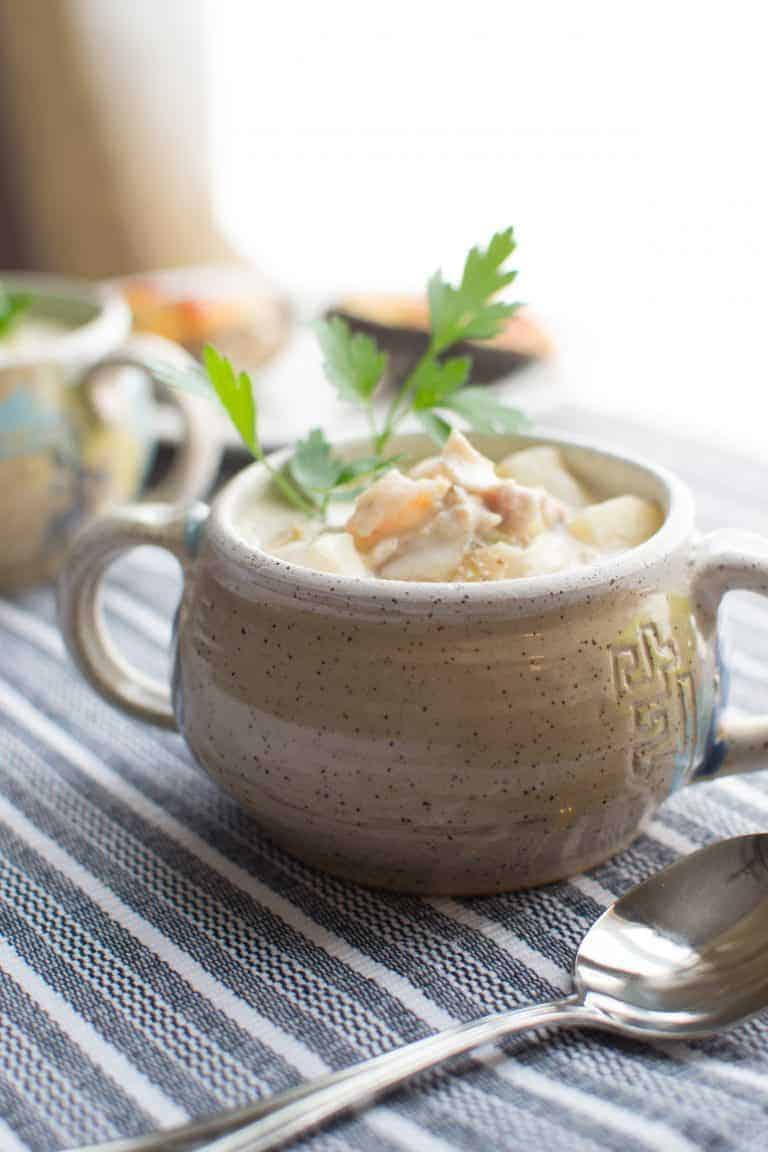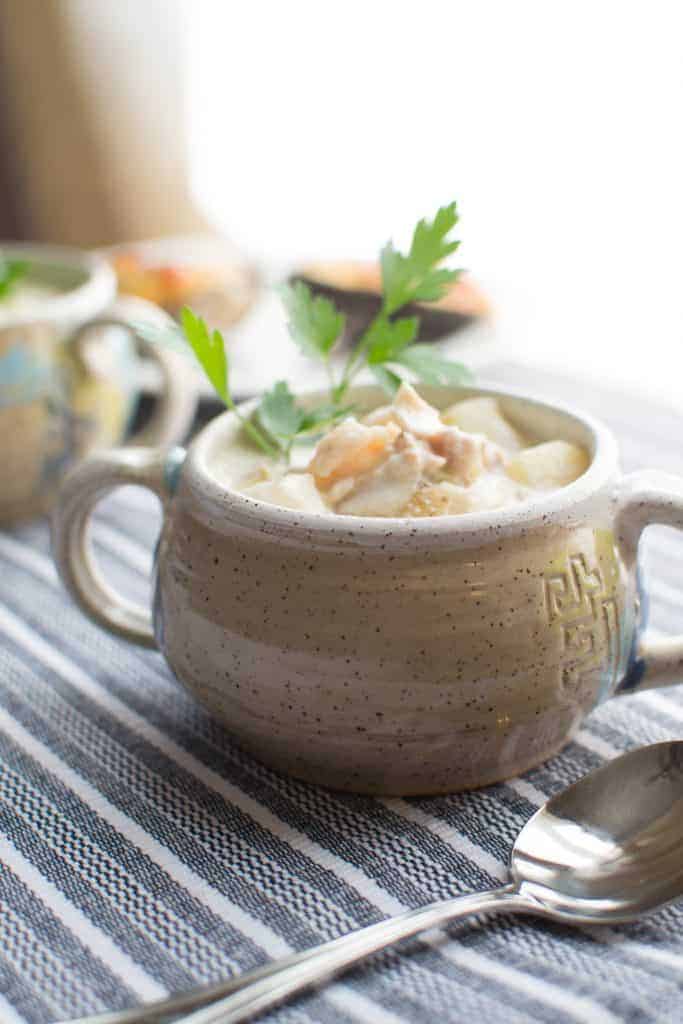 This chowder is filled with so much nostalgia for me, it makes me so happy just writing about it.  This isn't even my recipe, it's my mother's, and it is the real. freaking. deal.  Best of all, it's incredibly simple to make if you've never made a milk based soup before.  It's thick enough to have a proper chowder consistency, but not so thick you feel gross after eating it.  It's perfect for dipping clam cakes and has more than just clams to provide a balance in texture between the sautéed vegetables, potatoes and clams.  Oyster crackers are a perfect accoutrement and if you're a Laferriere, you douse that sh*t in black pepper regardless of whether or not it's perfectly seasoned.  (It's actually very funny to see us all eat together because we just pass the black pepper around the table to the next person.)  Whether you are a pepper fiend or not, you can't pass up making this summertime New England staple.
Print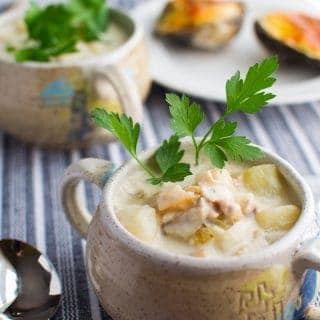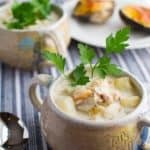 Seafood Chowder
---
Author:

Prep Time:

30 mins

Cook Time:

90 mins

Total Time:

2 hours

Yield:

20

1

x
Description
Feel the summertime vibes with this classic New England staple!
---
Scale
Ingredients
1

large yellow onion, finely dice

3

ribs celery, finely diced

1 1/2

lbs Yukon gold potatoes, bite sized cubes

3

T unsalted butter

8

T (1 stick) unsalted butter

1 cup

all purpose flour

1/2 gallon

whole milk

1 quart

half and half

2 tsp

clam base

1/2

lb bay scallops

1/2

lb small (salad) shrimp

5

cans Snow's chopped clams, drained (

5.5 ounce

can)

1/2

lb imitation crab meat, hand shredded
kosher salt
black pepper
---
Instructions
In a large pot, bring 1 gallon of water and cubed potatoes to a boil and cook until tender. Drain and set aside.
In a saute pan, melt 3 tablespoons unsalted butter over medium-high heat. Add onion and celery, season with salt and pepper and sauté until translucent, about 8 minutes. Set aside.
In a large, heavy bottom stock pot, melt 1 stick of butter over low heat. Add flour, stirring until butter and flour are combined and there are no lumps.
Very gradually add milk, starting with 1/2 a cup at a time, continually whisking so there are no lumps.
Dilute 2 teaspoons of clam base in 1/2 cup hot water, add to milk base.
Add sautéed vegetables, scallops, shrimp, clams, and crab to milk base. Add half and half and any remaining milk. Add potatoes, stir to combine. Season with kosher salt and black pepper.
Bring chowder to a low simmer over low heat, for 1 hour.
---
Notes
If lumps are present after incorporating milk, use an immersion blender to remove lumps before adding additional ingredients.
Recipe can be completed over a few days if preparing for a party. Sauté vegetables and cube potatoes 1 day prior (store potatoes in cold water.)
Category:

Seafood

Cuisine:

American
Recipe Card powered by