Juicy, tender pork reveals a fall themed center of chicken sausage, kale, apples and marsala wine. Each bite of this pork roast is laced with the sweet and savory flavors. Apple and Sausage Stuffed Pork Roast is bringing some serious eats to the table...and perhaps a few funny stories.
Apple and Sausage Stuffed Pork Roast
If you are looking to elevate your roast repertoire, whether for your next dinner party or just a Tuesday night, a stuffed pork roast is sure to impress and delight, with much less effort required than it appears. For that reason, this recipe has become a staple in our household. It's a great dish for the colder weather months, especially since the oven will be in use. The house is warm and smells like apples and marsala and vegetables. Yuh-um.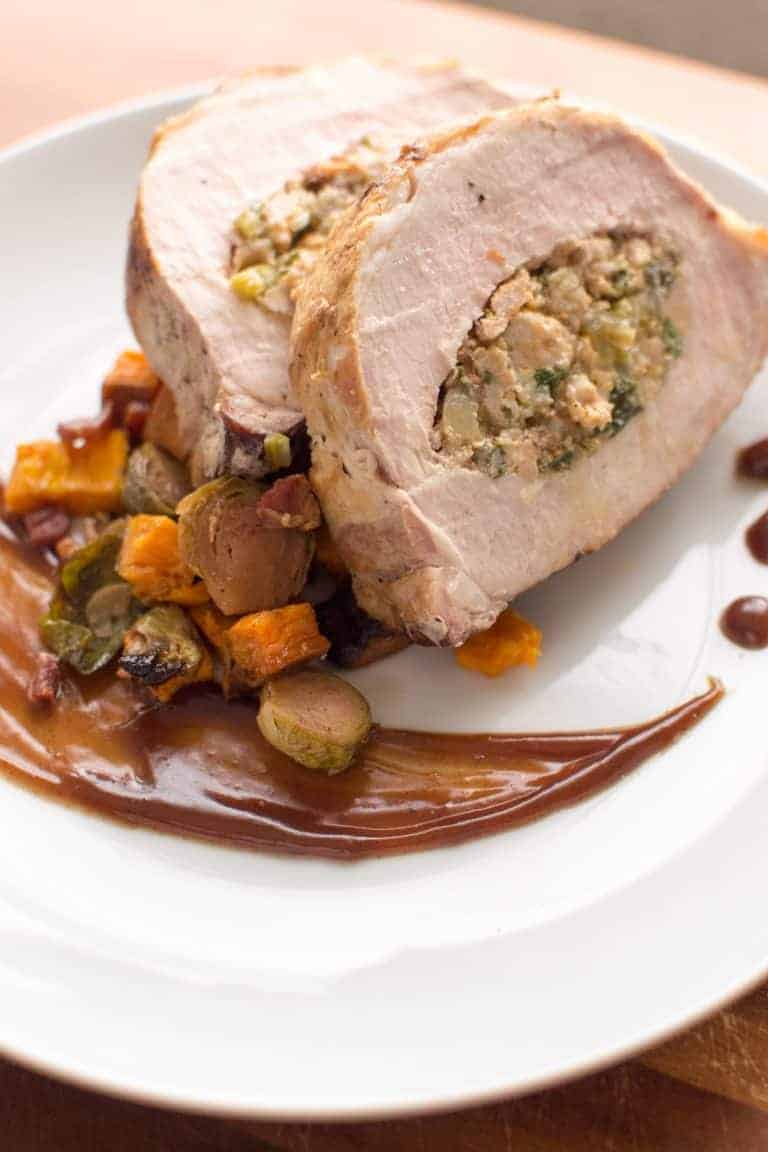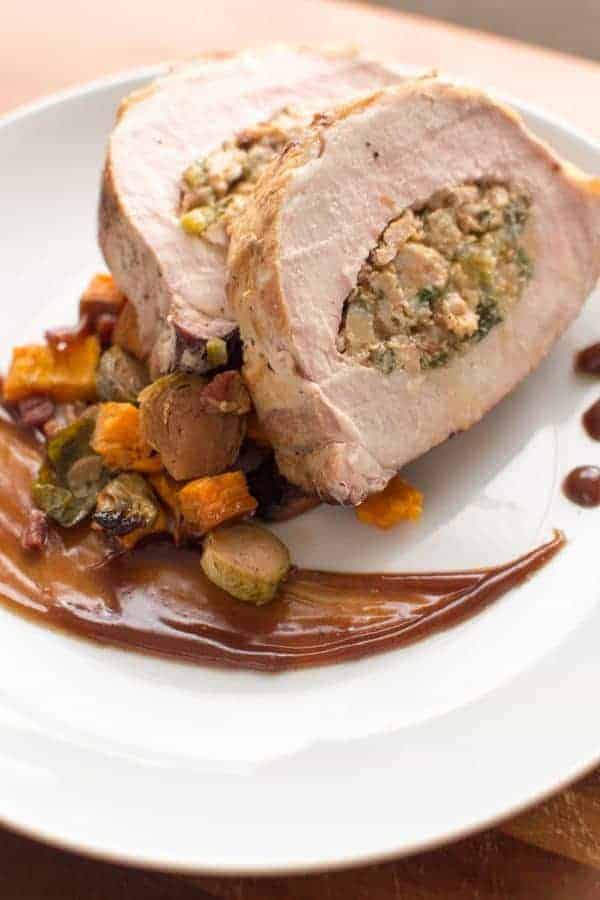 Tough Stuff...ing
The only hitch to this recipe is that the physical 'stuffing' of the roast is a mildly uncomfortable event. After making an incision with a large knife, you'll have to using a wooden spoon or spatula to, umm, "encourage" the frozen stuffing to fit in the roast.
Real talk: What I have found to work the best is to literally stick my fist through the roast. It feels incredibly inappropriate, but it creates the perfect amount of space for the stuffing and is much faster (and in the long run, less awkward) than struggling with a knife, wooden spoon, and a frozen log of stuffing that won't fit. It's pretty much 50 Shades of Grey - the kitchen edition. Super awk.
I recommend doing this step of prep work without witnesses, however, it does provide some funny material for later after the wine starts flowing.
The results of your efforts will be paid for in juicy, tender pork with textured bites of sausage, tangy kale, sweet apples and subtle marsala flavor. If you are not a fan of kale, baby spinach can certainly be substituted or the greens can be left out all together.
This + That
The pan sauce is incredibly easy and is perfect for those of you who like to have a sauce or gravy with any roast (like yours truly.) After resting, the roast will have a small ring of subtle pink but will be cooked through. Side dishes for this are incredibly flexible and can be customized for your flavors. Pictured in the photos are these pancetta roasted brussels sprouts with garlic and shallots and diced roasted sweet potatoes.
Other recommendations would be garlic mashed potatoes or any roasted vegetables with fresh herbs such as rosemary and sage. Happy eating!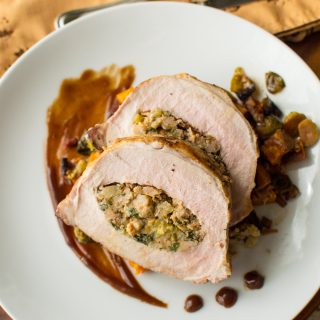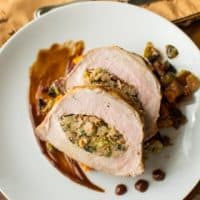 Apple and Sausage Stuffed Pork Roast
Jazz up your next roast with delicious flavors of fall!
Print
Pin
Rate
Ingredients
3

pound

pork roast

1

pound

sweet italian chicken sausage

(out of the casing)

1

rib celery

(finely diced)

1

small yellow onion

(finely diced)

1

cup

baby kale or spinach

1

apple

(peeled and diced)

¾

cup

marsala wine

2

cups

chicken stock

1

cup

red wine
Instructions
To prepare the stuffing:
Set a large saute pan over medium high heat, coat with olive oil.

Add celery and onions to saute pan, season with salt and pepper. Cook for 3 minutes or until the vegetables soften slightly, add the apples and kale. Continue to cook vegetable mixture for another 2 to 3 minutes until vegetables are soft and translucent.

Remove vegetables from pan to a separate dish. Add sweet Italian chicken sausage to the pan, breaking apart the sausage with a spatula or wooden spoon while cooking.

When sausage is cooked half way, add ½ cup marsala wine to deglaze the pan.

Add vegetable mixture back to the pan and stir to combine. Once the apples and vegetables absorb most of the wine, add the remaining ¼ cup of marsala wine. Continue cooking on medium-low heat for 15 minutes or until almost all the liquid is reduced, about 3 tablespoons will remain. Remove from heat and let cook for 5 minutes.

Set up area to wrap the sausage/vegetable mixture. Lay out a cutting board and a long piece of plastic wrap.

Add sausage mixture to the plastic wrap in a long skinny row to prevent any liquid from running of the plastic wrap. Bring the two longest ends together over the sausage mixture tightly, removing as much air as possible and compacting the mixture into a 'log' form. Mixture will still be hot, but the heat will help plastic wrap stretch and stick to itself. Tie off the plastic wrap on each end to prevent juices from running.

Using a second piece of plastic wrap, the same size as the first, wrap the mixture again, compacting the ingredients as much as possible so it will freeze as a solid piece. Place in freezer for at least 5 to 6 hours, overnight is best
To prepare the roast:
Insert a long knife in one end of the pork and carefully repeat on the other side, lining the cut up with the previous one. Wiggle a wooden spoon* back and forth inside the cut to create enough space for the frozen stuffing log.

Remove the stuffing log from the freezer and discard the plastic wrap. Slide the stuffing log through the pork roast. It may require a little elbow grease, but it should go through the entire roast with some of the stuffing hanging out of each end. Any stuffing not inside the log will eventually roast off and flavor the pan sauce. Season the roast with salt and pepper.

Pre heat the oven to 375F.

Heat a roasting pan over medium high to high heat and coat with olive oil. Braise the roast on all sides until brown, about 10 minutes total. Remove the roast from the pan and discard any fat/grease.

Add the roast back to the pan along with 1 cup of chicken stock. Place roasting pan in the oven and roast for 35 minutes or until most of the liquid has been evaporated. Add remaining chicken stock and red wine. Addition chicken stock can be added if liquid is reducing too quickly. Continue roasting for 25 more minutes or until a meat thermometer reads 130F. Be sure to measure the temperature for the inner most part of the pork and not the stuffing. Total cooking time should be about 1 hour.

Allow to rest 15 minutes before slicing.
For the sauce:
Strain the drippings from the pan. Lightly lay a piece of regular bread over the top of the sauce to remove any excess grease. Both side of the bread can be used.
Nutrition
Calories:
586
kcal
|
Carbohydrates:
18
g
|
Protein:
65
g
|
Fat:
21
g
|
Saturated Fat:
5
g
|
Cholesterol:
199
mg
|
Sodium:
1009
mg
|
Potassium:
1099
mg
|
Fiber:
1
g
|
Sugar:
9
g
|
Vitamin A:
759
IU
|
Vitamin C:
5
mg
|
Calcium:
31
mg
|
Iron:
3
mg