Crisp, flaky, and equally soft puff pastry. Creamy, soft brie cheese. The sweet balance of fresh figs. Baked Brie with Fresh Fig Jam is going to be your new go to for an appetizer, dessert or sinful cheese sandwich.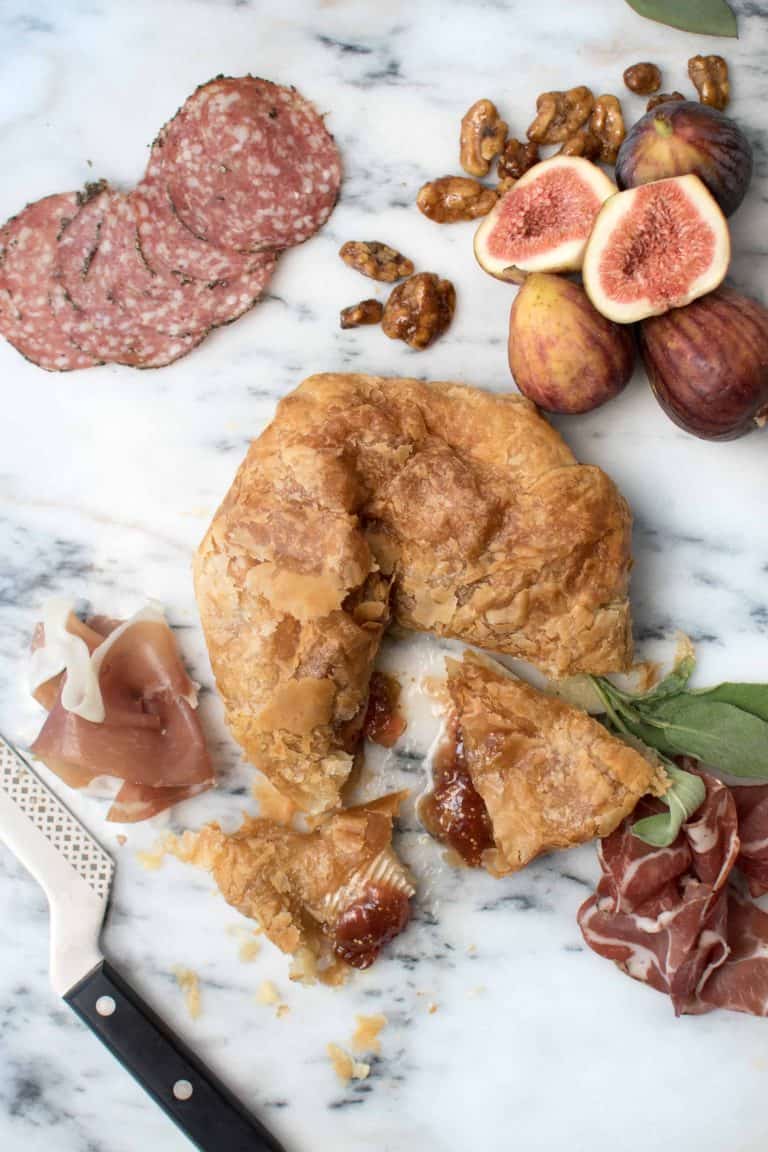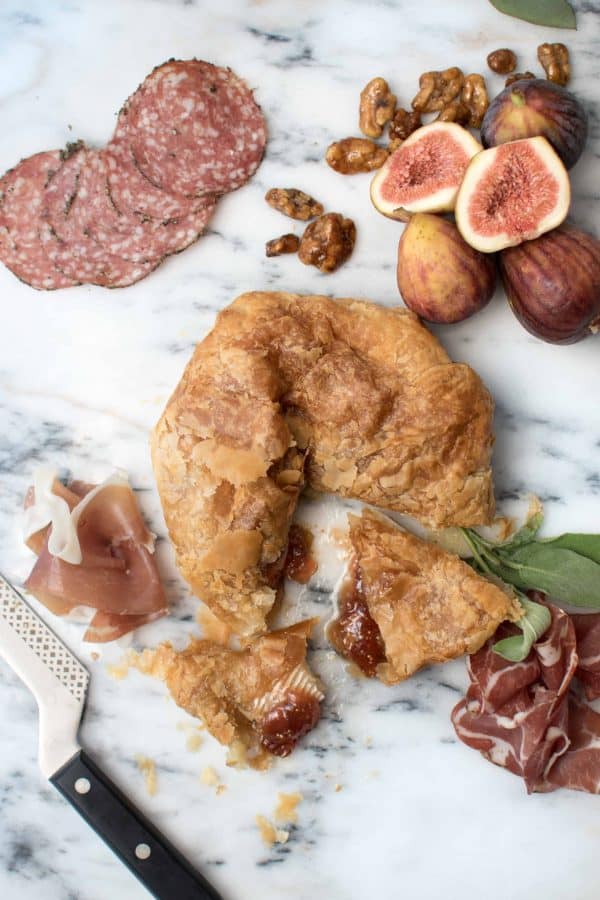 Are you ready for instant swooning? Ok, the cheese sandwich might be a bit of a stretch, but trust me....it was a decadent post-photos breakfast for a Tuesday morning. Baked Brie with Fresh Fig Jam for breakfast? #noregrets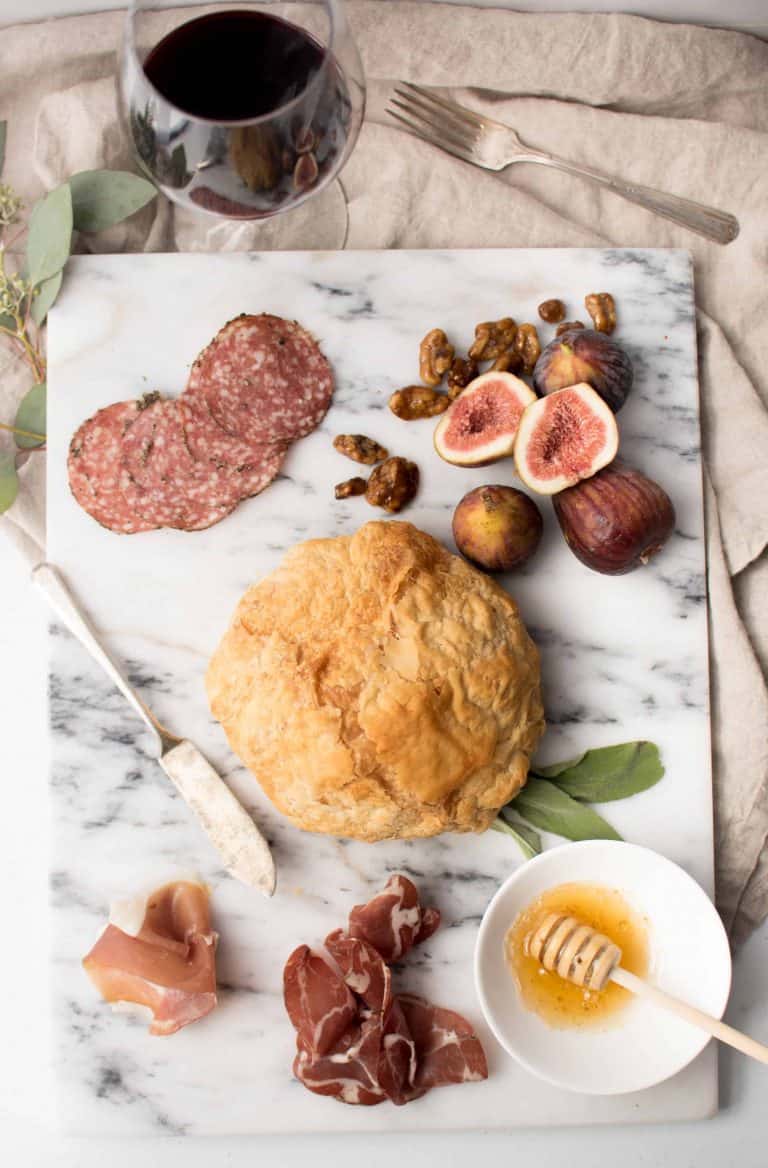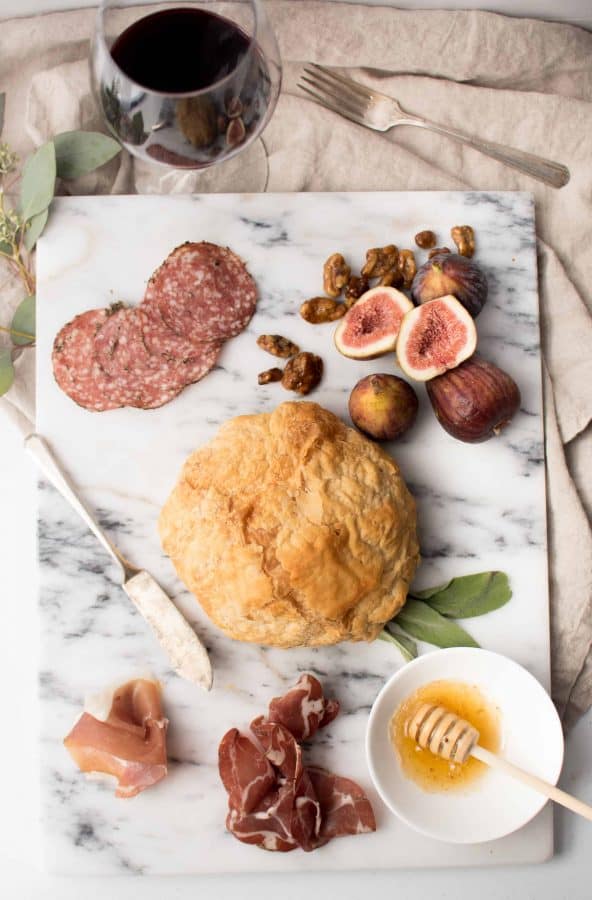 The only thing better than eating Baked Brie with Fresh Fig Jam might be how ridiculously easy it is to put together. Dinner party goals achieved, like. a. boss.
What is Fresh Fig Jam?
I'm just a girl, in this world, who seriously loves figs. And cheese. And things that go well with wine.
Which is pretty much everything in this Baked Brie with Fresh Fig Jam.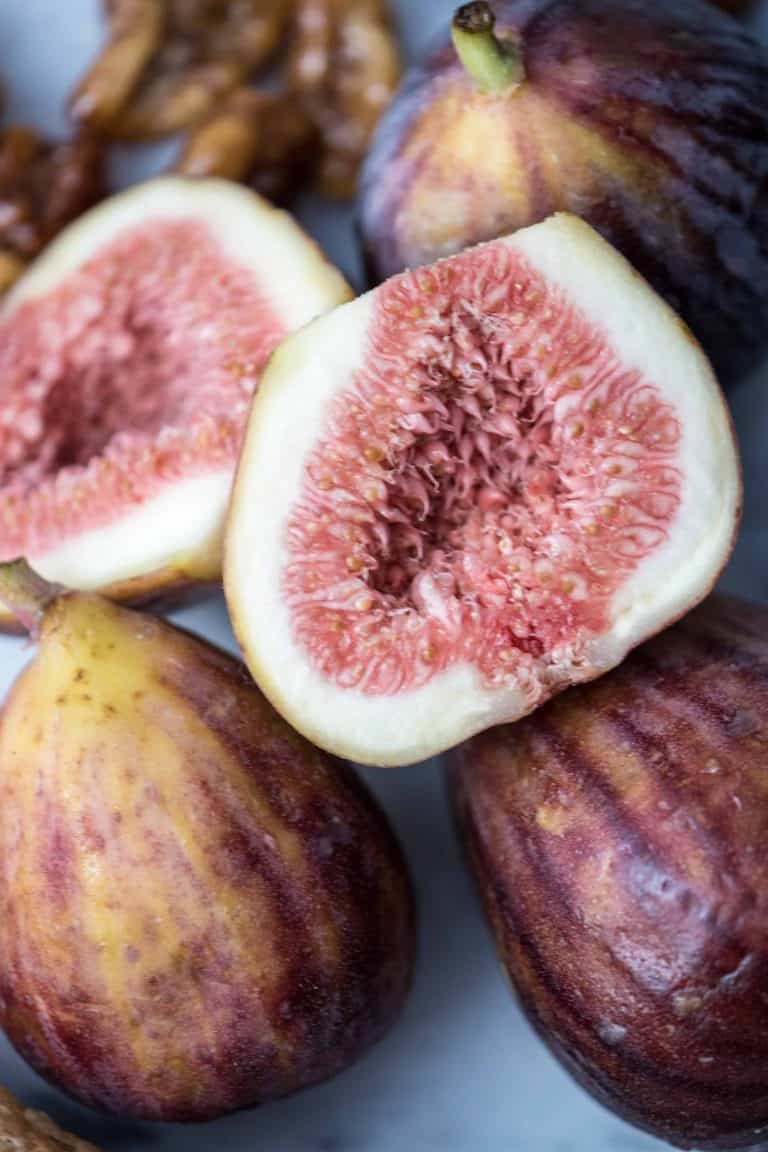 BUT the figs. Fresh figs are available in New England for, like, 3 hours.
Mild exaggeration, but it's not always an easy feat to find fresh figs that aren't moldy or over ripe or totally under ripe. So when perfect tear drop, seedy, sweet fruit lovelies hit the shelves we should make the most of it don't you agree?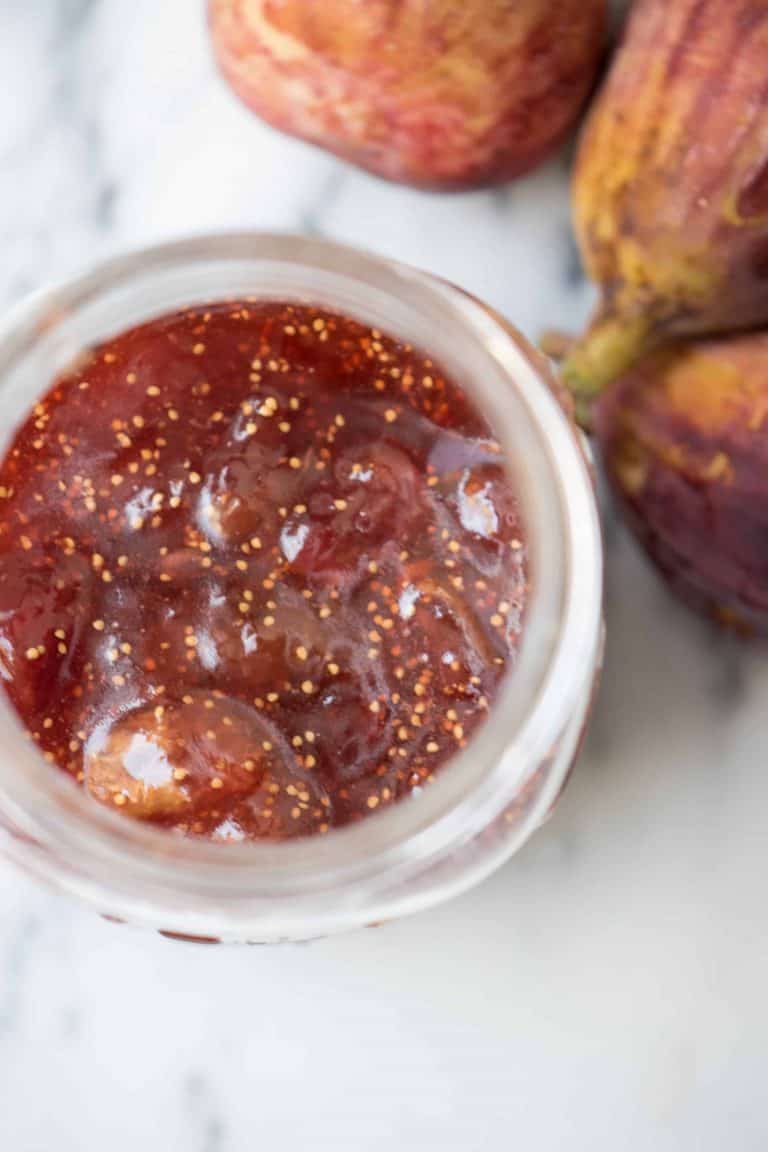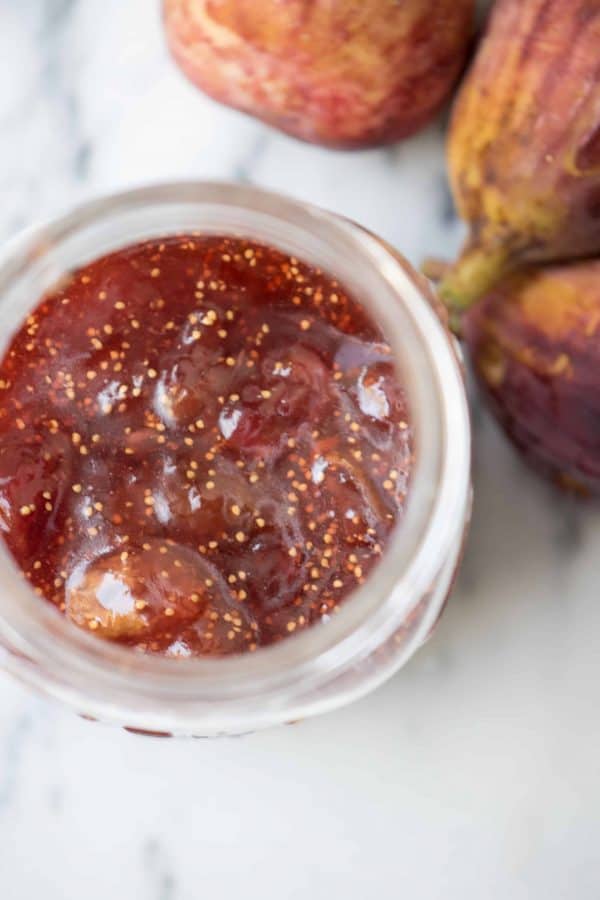 Diced figs simmered with sugar and a touch of balsamic. It's seriously no sweat, but if time is of the essence, you can totally grab a jar of fig jam off the shelves. Sometimes convenience is the key, am I right?
But when the day allows, let's get figgy with it. If there's a few left over figs, try these ridiculously easy Prosciutto and Gorgonzola Wrapped Figs. Or to satisfy the sweet tooth, I've been dying to test out these Dark Chocolate Covered Figs that my fellow Boston blogger, Leslie, has whipped up on Stress Baking.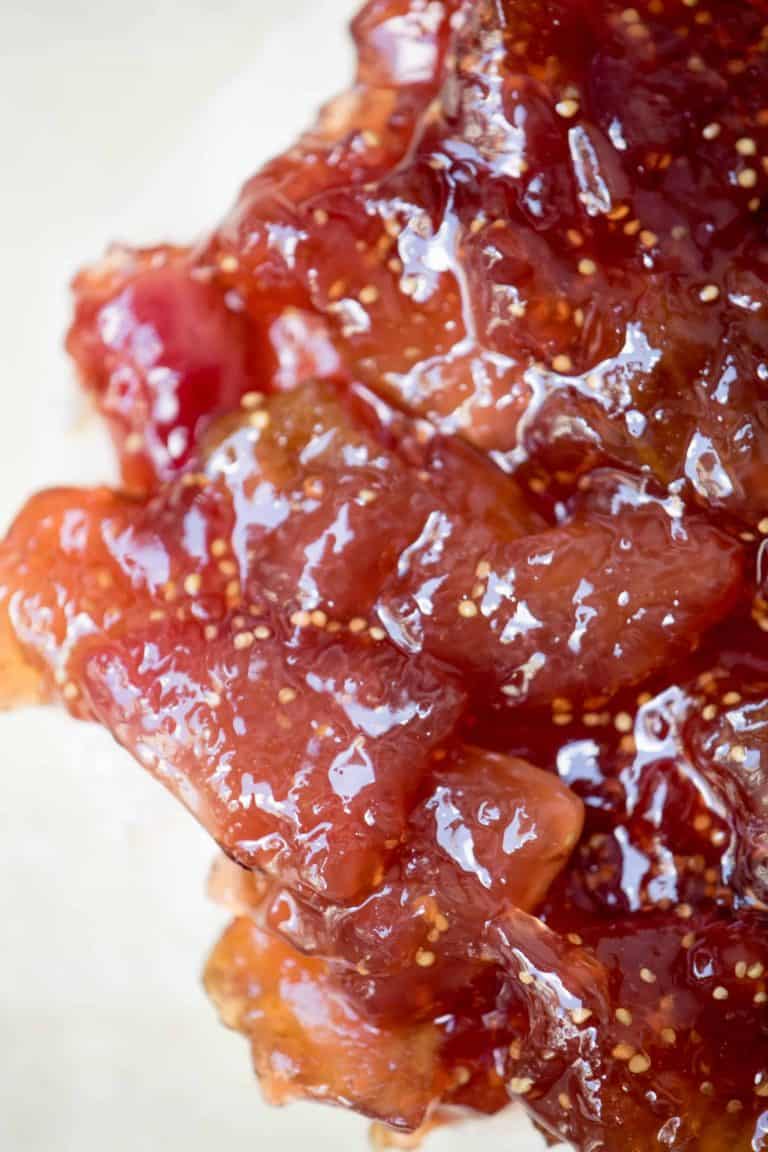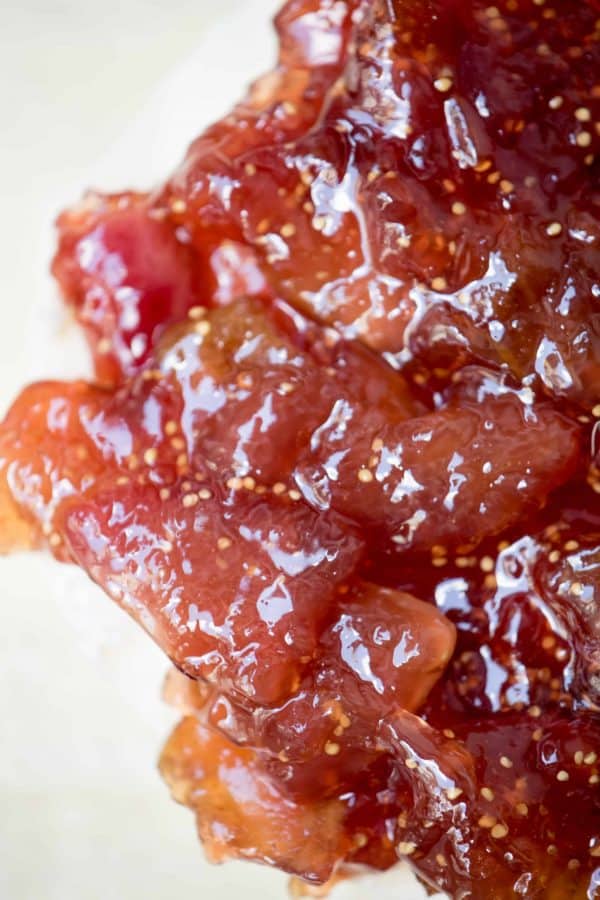 Baked Brie with Fig Jam
Don't you think starting a dinner party with a kick butt antipasto is just the best? Here are my reasons why I'm team charcuterie board:
It can be made ahead.
It's easy on the eyes.
It requires minimal plateware, and with the right ingredients, there can usually be a little something for everyone.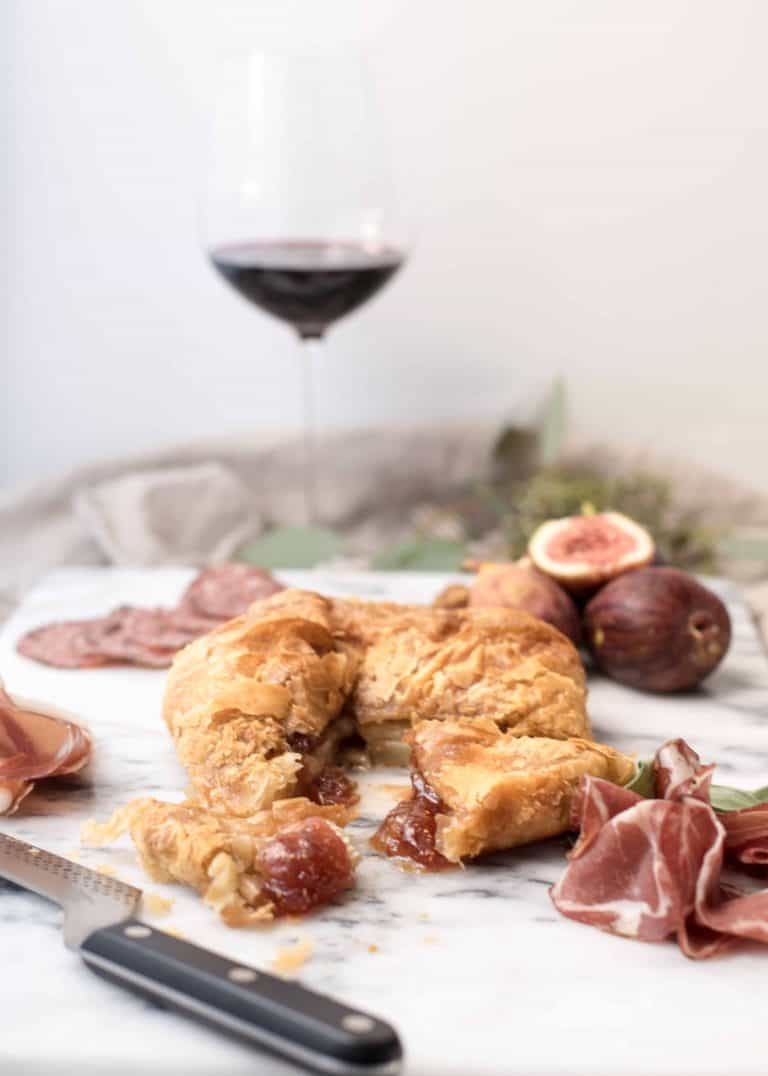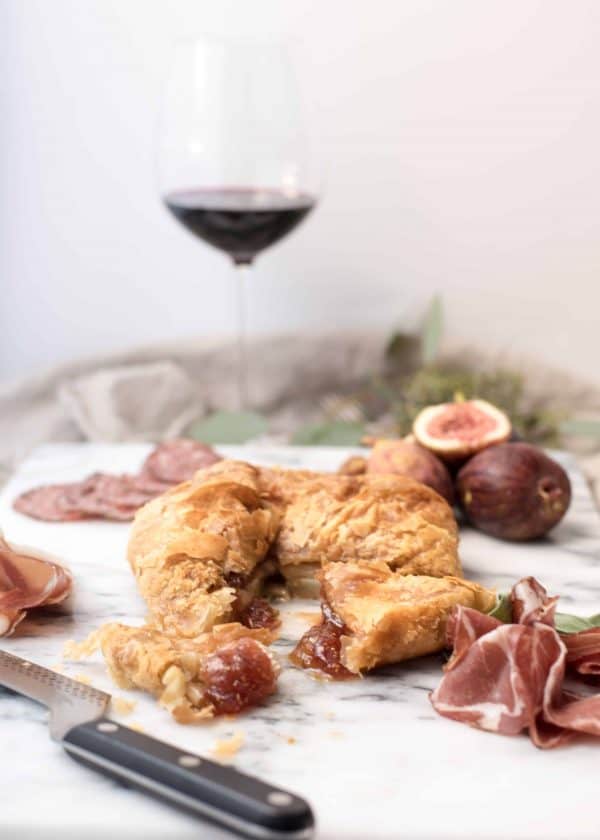 This Baked Brie with Fresh Fig Jam is totally the star, but the prosciutto and capicola rank high in my book.
For my vegan friends at the table, adding these Grilled Polenta Bruschetta bites from The Fitchen are also on the must have list.
To get started, whip up that fresh fig jam. You can do it right before or even a few days before. Or, you know...'whip up' that fresh fig jam by going to Trader Joe's and pulling it right off the dang shelf.
Defrost one puff pastry sheet in the refrigerator. Enough so it doesn't crack when you unfold it, but you want all the butter that's in the sheet to stay as close to frozen as possible. That's what allows for maximum puff-ilicousness.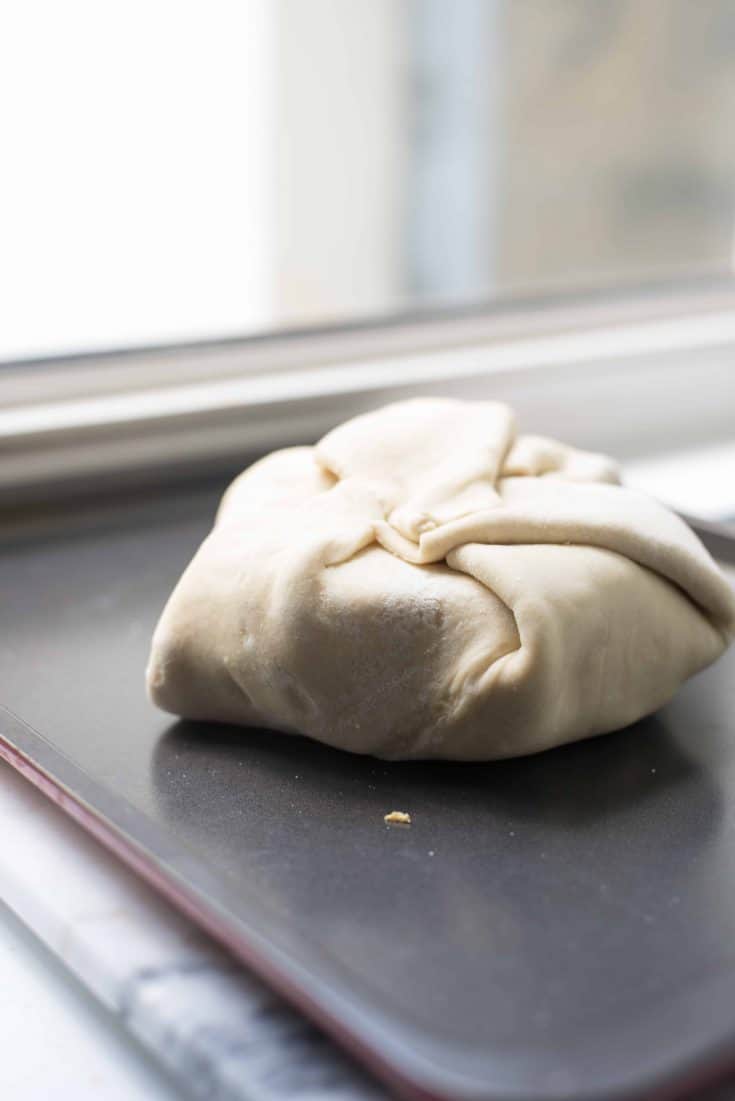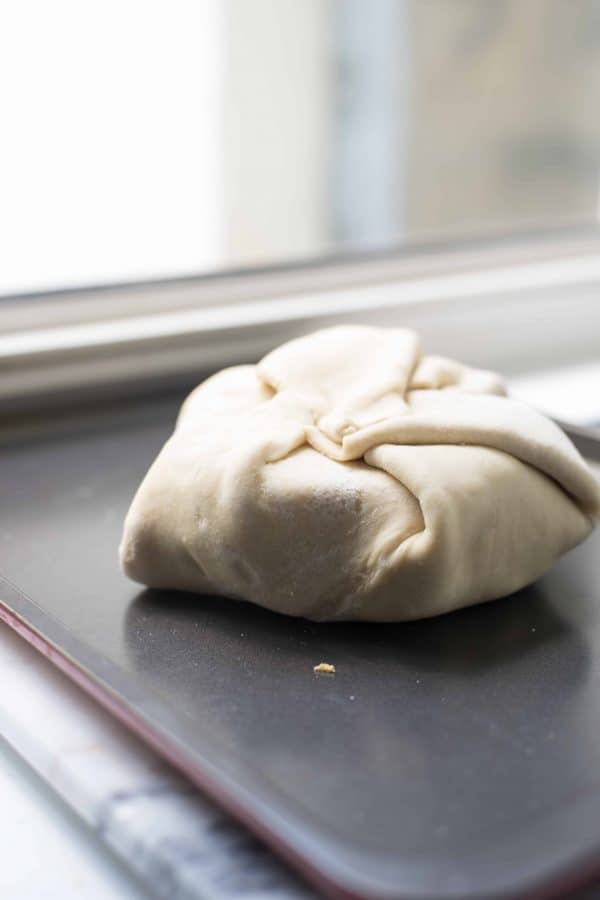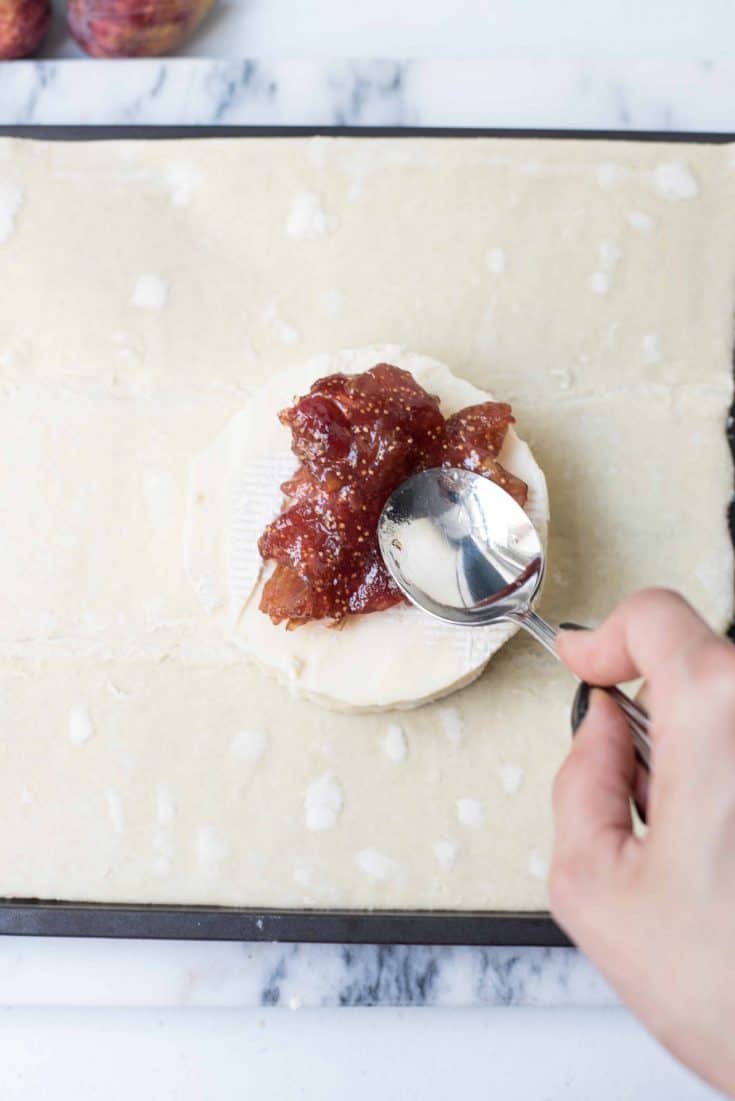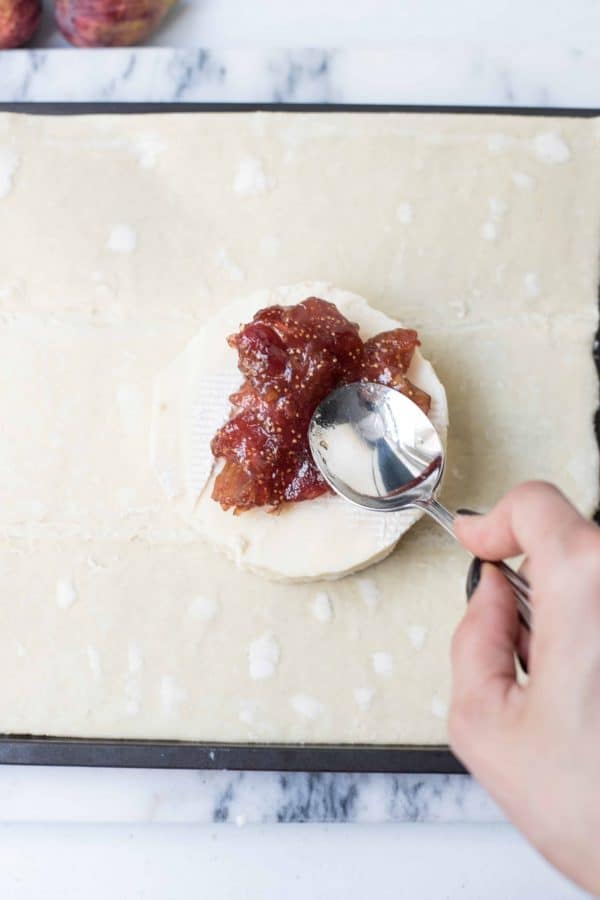 A round of brie from the fancy cheese section at the grocery store is your next step. You can shave the rind off or leave it on, it doesn't make much difference and it's all edible so do what makes you happy.
Then smother that creamy brie in fig jam, flip it, fold it up, flip it again so it is folded side down and bake it on a piece of parchment paper on a sheet pan. See? I told you this was easy, peasy.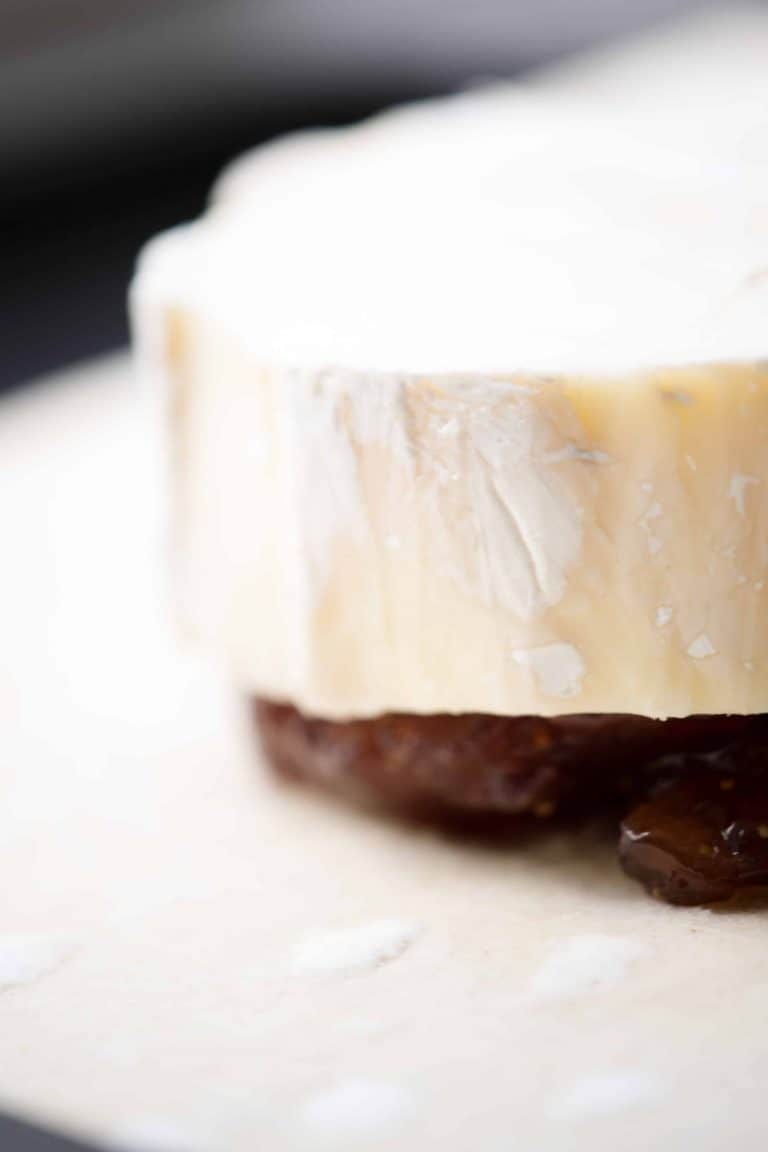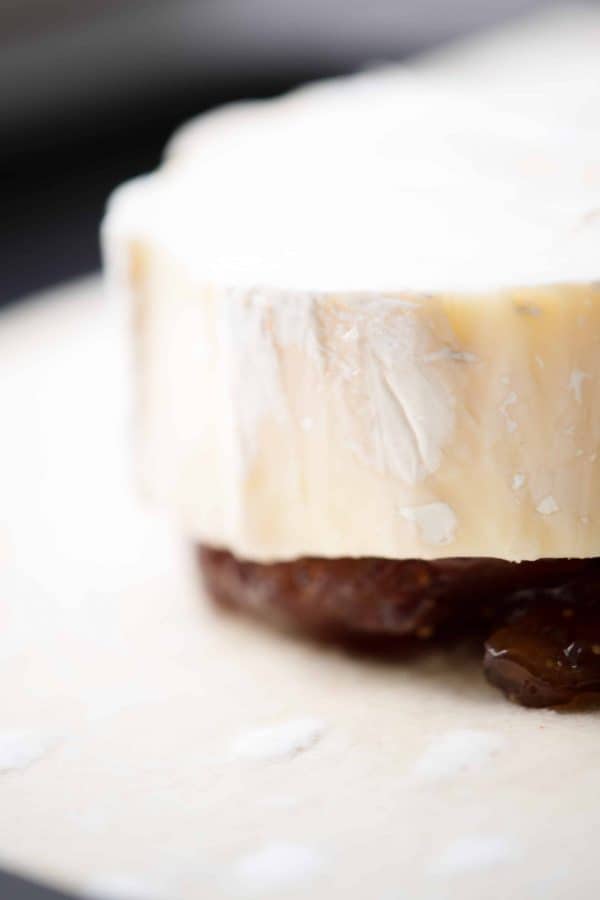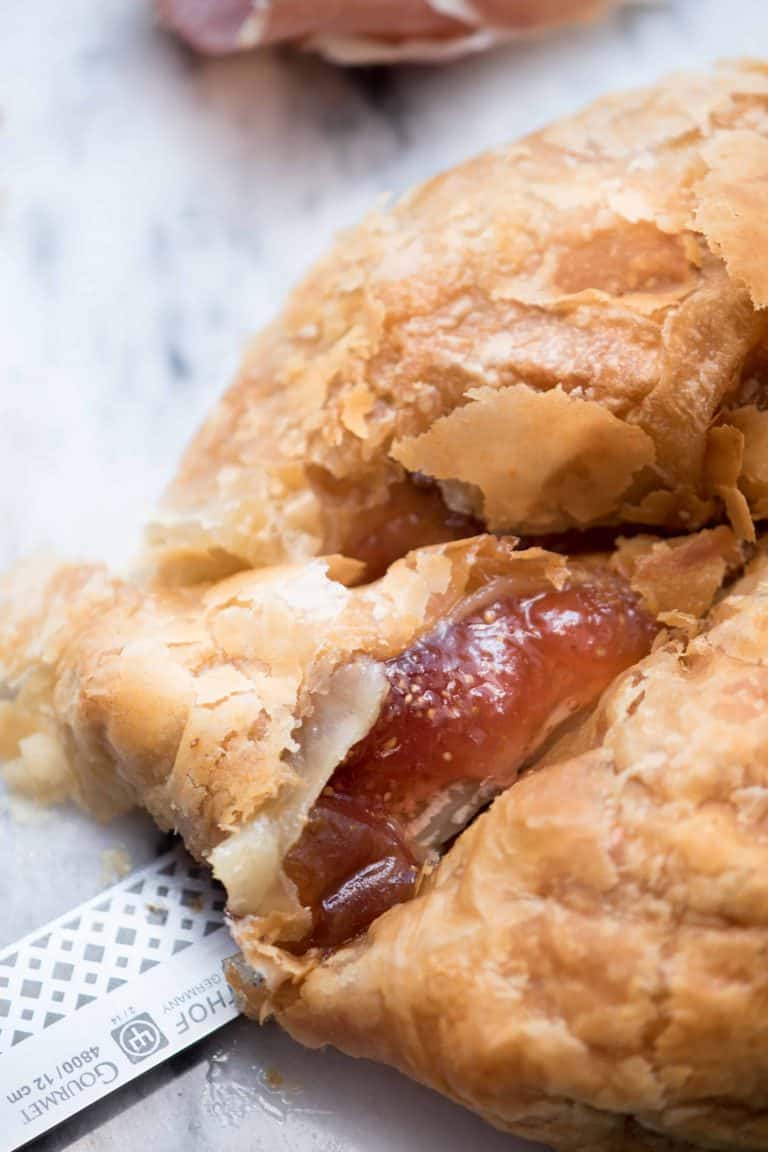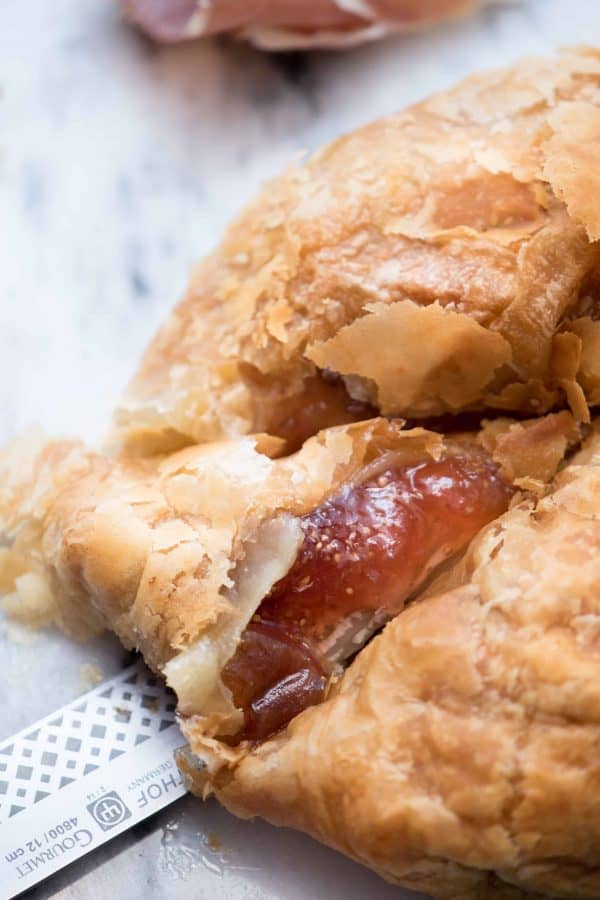 Serve it piping hot or let it hang out for a bit.
Great as an appetizer, this Puff Pastry Baked Brie with Fresh Fig Jam also makes for a divine dessert. A little sweet, a little savory and just enough of a nibble to close out a good meal without needing sweatpants.
Ok, since we're real here let's be honest. We might not need the sweatpants, but we can totally rock the sweatpant dinner party. Baked Brie required!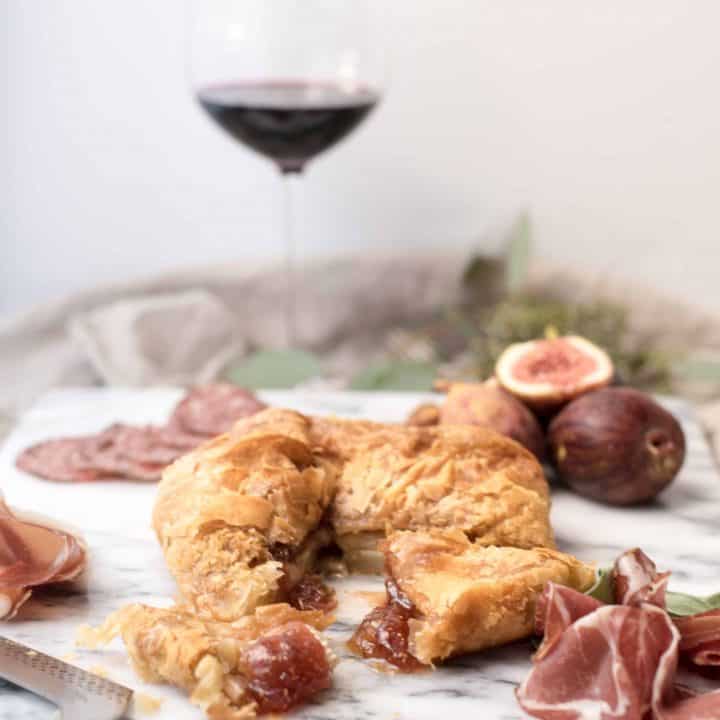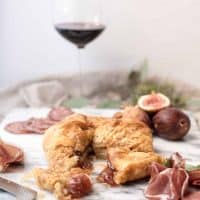 Puff Pastry Baked Brie with Fresh Fig Jam
Creamy, melted savory brie cheese smothered in sweet fig jam and wrapped in crumbly, crisp puff pastry. An easy appetizer, dessert or cheese snack!
Print
Pin
Rate
Servings:
4
to 6 servings
Ingredients
Fresh Fig Jam
¾

pound

fresh figs

(about 2 cups)

1

cup

+ 2 tablespoons granulated sugar

(divided)

1

tablespoon

+ 2 teaspoon lemon juice

1

teaspoon

balsamic vinegar
Puff Pastry Baked Brie with Fresh Fig Jam
1

sheet

puff pastry

¼

cup

fig jam

8

ounce

wheel of Brie cheese

1

tablespoon

unsalted butter
Instructions
Fresh Fig Jam
Chop figs in small diced pieces* (about ½ inch to ¼ inch)

Cover the figs with about half the sugar. (This doesn't have to be precise, you can eyeball it if you'd like.). Cover with plastic wrap and refrigerate for 45 minutes.

In a medium saucepan, add sugar coated figs. Bring to a boil over medium heat while stirring to ensure the sugary figs do not stick to the pan or burn.

Once the fig and sugar mixture comes to a boil, add the lemon juice and balsamic vinegar. Boil until mixture is thick, about 13-15 minutes. While the mixture is boiling, skim any foam that forms from the top with a spoon.
Puff Pastry Baked Brie with Fresh Fig Jam
Line a baking sheet with a piece of parchment paper. Preheat oven to 400°F.

Lay a defrosted, but chilled, piece of puff pastry flat on the parchment paper.

Place brie* in the center of the puff pastry and spread the top with fig jam. Flip the brie and jam over so the fig jam is touching the puff pastry.

Fold the edges of the puff pastry to 'wrap' the brie and fig jam. Flip the wrapped brie over so the folds are on the bottom during cooking.

Brush the puff pastry with melted butter for shine and bake for 35-40 minutes until puff pastry is gold brown, flaky and cooked through.

Serve as an appetizer, part of an antipasto or as dessert!
Notes
Figs will shrink a bit while the jam reduces, but not as much as strawberries would. If you like chunky style preserves, cut the pieces larger. For a smoother jam, cut figs in small dice.
To test the thickness, place a small plate in the refrigerator before starting to cook the figs. Once you're on the final steps of cooking, place a small amount of fig jam on the chilled plate. Wait about 15 seconds and stand the plate up. If it moves but doesn't run your jam is ready. If it is still runny, let the fig mixture boil a few more minutes.
You can leave the rind on or remove it. It's a matter of personal preference!
Nutrition
Calories:
725
kcal
|
Carbohydrates:
72
g
|
Protein:
17
g
|
Fat:
42
g
|
Saturated Fat:
18
g
|
Trans Fat:
1
g
|
Cholesterol:
64
mg
|
Sodium:
515
mg
|
Potassium:
338
mg
|
Fiber:
4
g
|
Sugar:
40
g
|
Vitamin A:
545
IU
|
Vitamin C:
4
mg
|
Calcium:
145
mg
|
Iron:
2
mg