Fresh juicy figs with their unique texture make for a fun and simple appetizer to bring to any style of gathering. Just slice the figs in half and top with creamy gorgonzola cheese, wrap with prosciutto and give them a quick bake.
You'll be amazed at how quickly they disappear!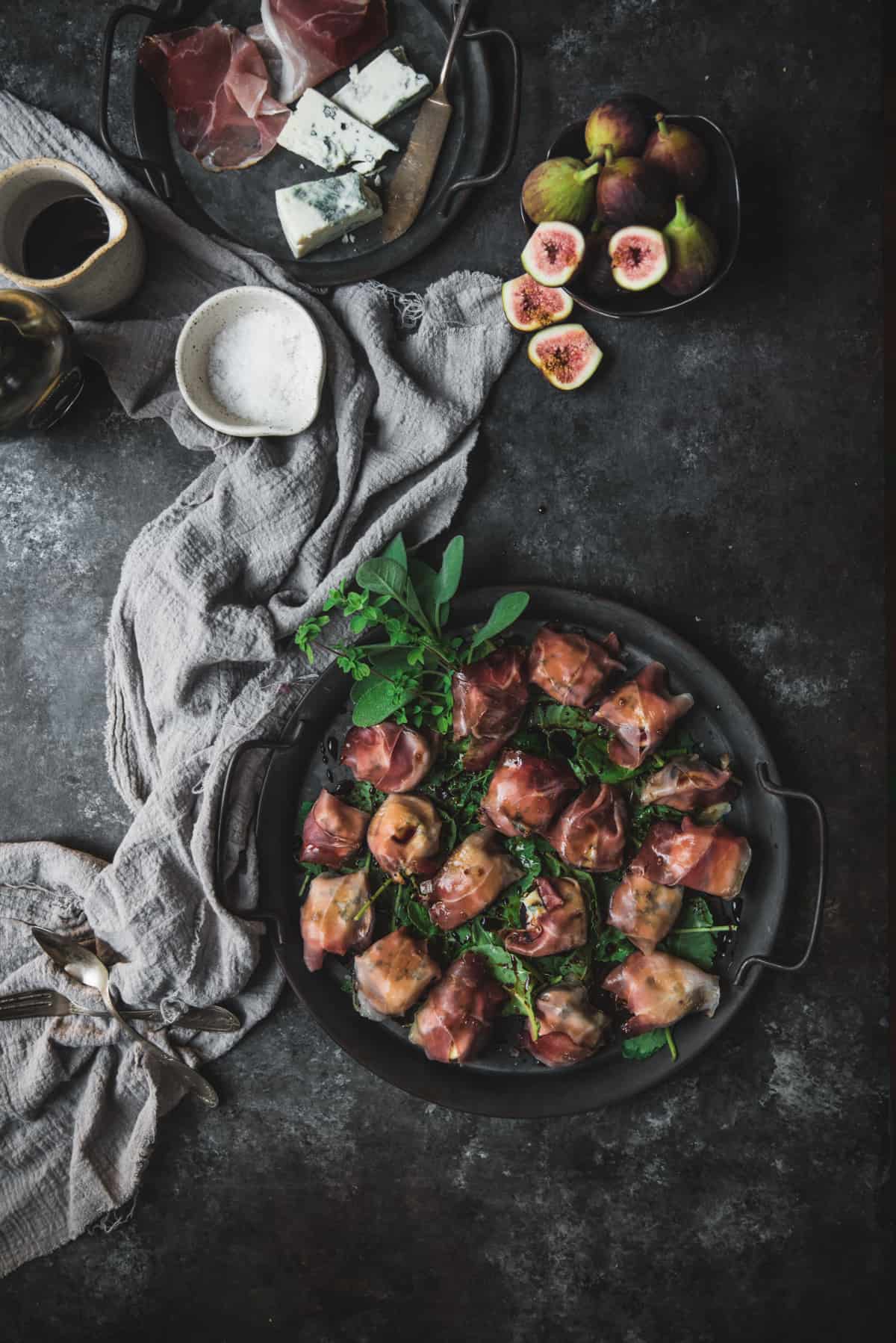 Can we clap it up for figs, please?
They can hold up for a savory or a sweet dish and the flavors and textures are so unique. When it's fig season, we need to find a way to enjoy nature's weird little fruits as much as possible. They're just too good to pass up.
Fun fact: figs are actually a flower! The entire thing is edible, though the stem is usually removed.
They're ridiculously delicious to pair with savory items - like this fig and goat cheese flatbread. Or you can serve them up in salads, on whipped ricotta toast with honey, or simmer into jam to bake with creamy brie!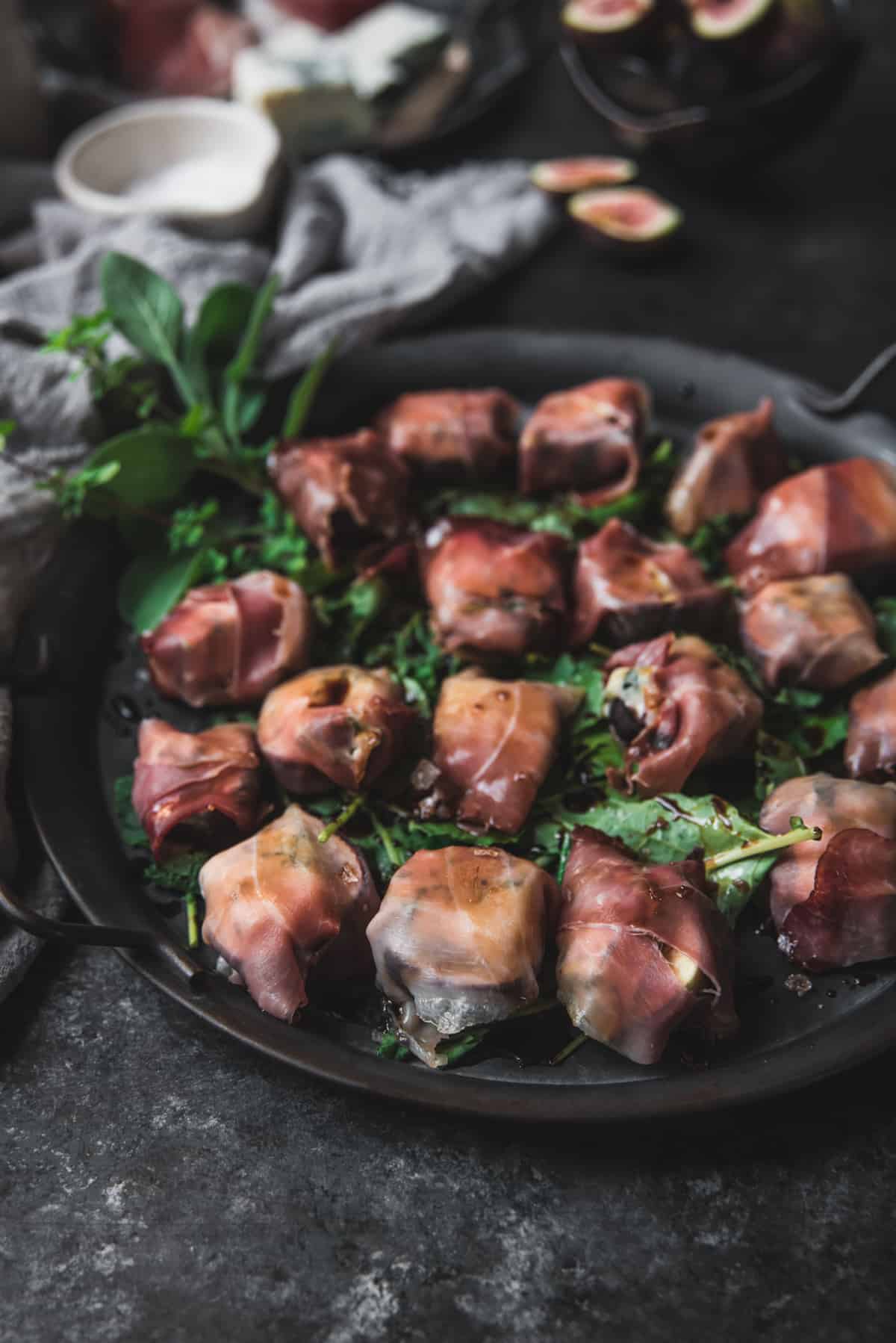 What kind of figs can you use?
There are quite a few varieties of figs! What's available to you might vary depending on the time of year and your location.
Some of the most popular and easy-to-find fresh figs are mission, brown turkey, and kadota. Any fresh fig can be used for this recipe.
Can you use dried figs? Sure! The dried fig will be much, much sweeter than fresh figs but it will still be delicious.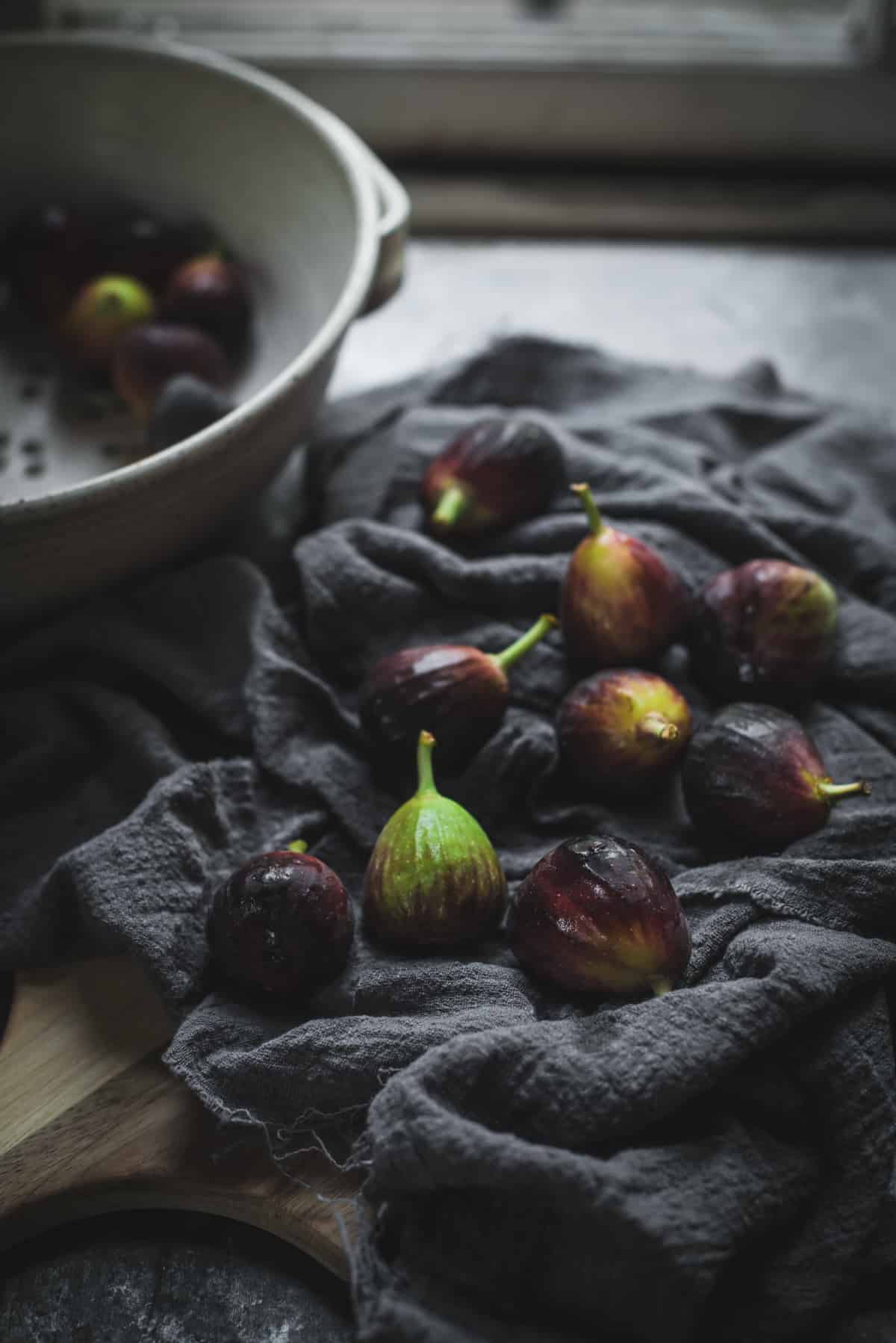 How to make prosciutto wrapped figs
It's always clutch to have a back-pocket, easy peasy recipe you can whip up for a last-minute gathering or afternoon with family. This is it, this is that recipe.
Remove the stem
Slice the figs in half
Top the flat side of the fig with gorgonzola
Wrap with prosciutto
Bake for 5 minutes at 375°F
Optional: drizzle with aged balsamic vinegar or balsamic reduction
Then call it a day and dig in!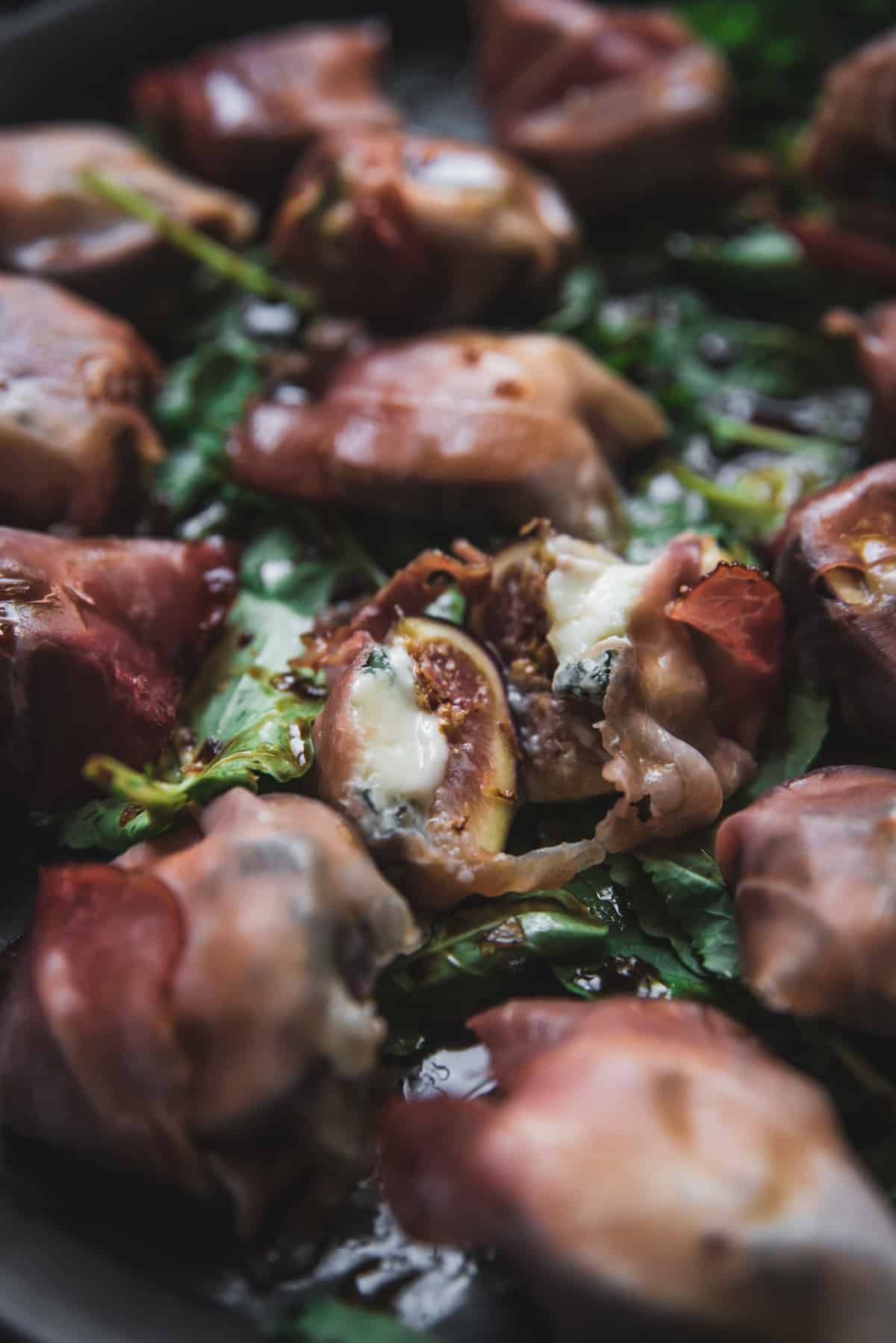 Tips for making the best fig appetizers
The figs should be slightly soft and tender but if they're very ripe you'll want to keep a close eye while baking so they don't come out mushy.
Blue cheese can be substituted for Gorgonzola if need be, but the Gorgonzola is a bit more mild in blue cheese flavor so it doesn't overpower the taste of the fig. It also melts a bit easier.
You can also substitute goat cheese for a creamier, more mild cheese.
The prosciutto should be sliced very thin so it will crisp up quickly without becoming a tough texture, and
Wrap the prosciutto around the half of fig (ends exposed) locking in the cheese.
The end result of these tips should yield a warm and tender, sweet fig with creamy and tangy gorgonzola and crisp, salty prosciutto.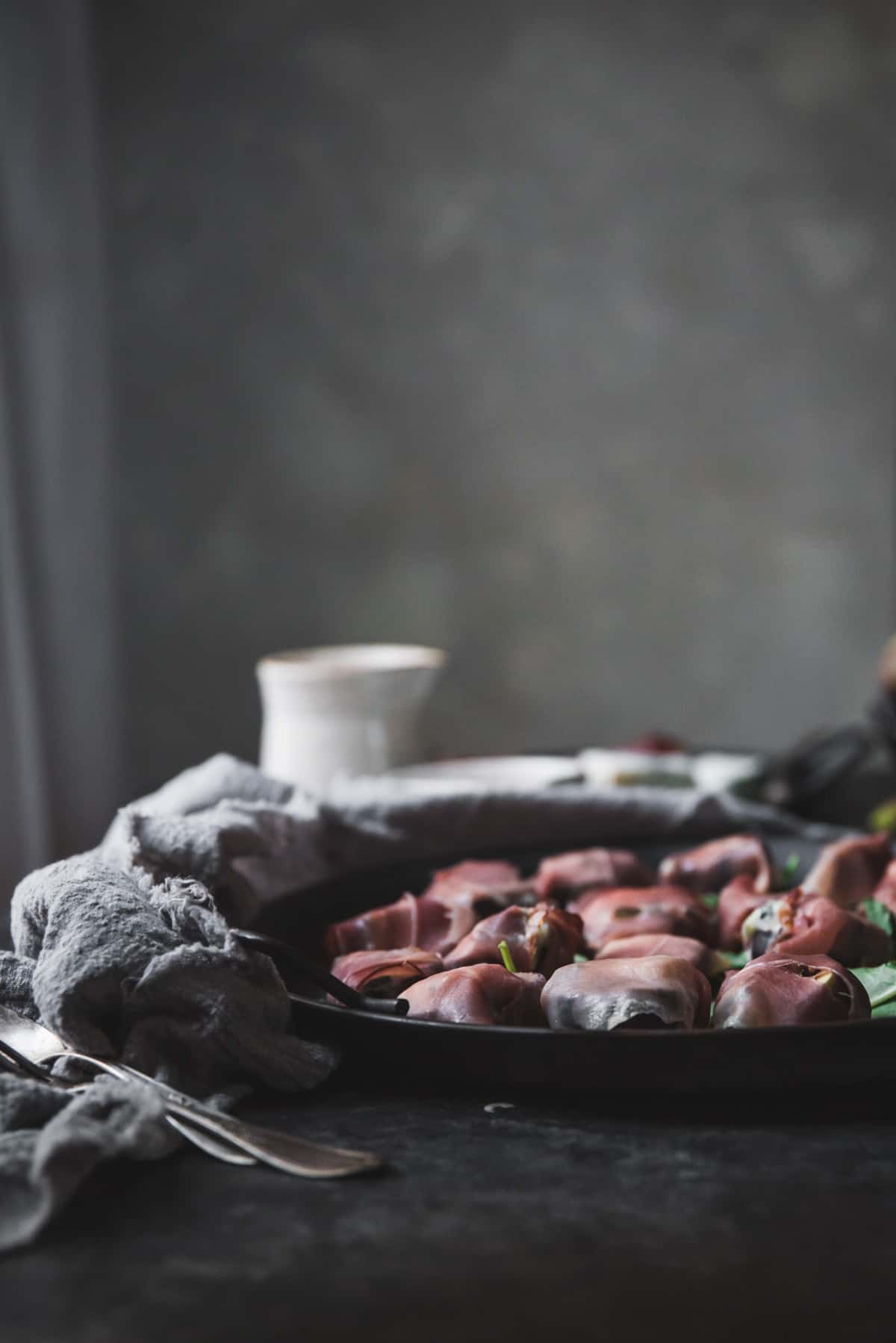 What's the difference between aged balsamic and balsamic reduction?
Aged balsamic or balsamic reduction adds a little complexity to the wrapped figs appetizer by providing a sweet yet acidic flavor.
My personal favorite is to buy quality aged balsamic vinegar. It can be a bit pricey compared to what you can buy at the grocery store, but the flavor is sooooooo worth it. But what's the difference right? Why the price tag?
The aging naturally sweetens the vinegar and develops the flavor.
Balsamic vinegar is made from grapes, so if you think about it like wine - most wine gets better with age and so does vinegar.
Balsamic glaze will provide a thick and sweet balsamic flavor whereas reduced balsamic vinegar will concentrate the naturally sweet balsamic flavor by removing the harsh acidity without the addition of lots of sugar.
It's very simple to make by cooking down balsamic vinegar over very low heat until the vinegar starts to thicken. Just remember it's also easy to burn if you try to rush the process.
Other ways to enjoy fresh figs
You don't have to stop at just appetizers! There are so many ways to indulge in figs!
You can have them raw or bake them just a little bit (my personal favorite). If you have any favorite ways to eat your figs tell me in the comments.
If you make this recipe, I'd really appreciate it if you could give it a star rating below in the recipe. Thanks for your support!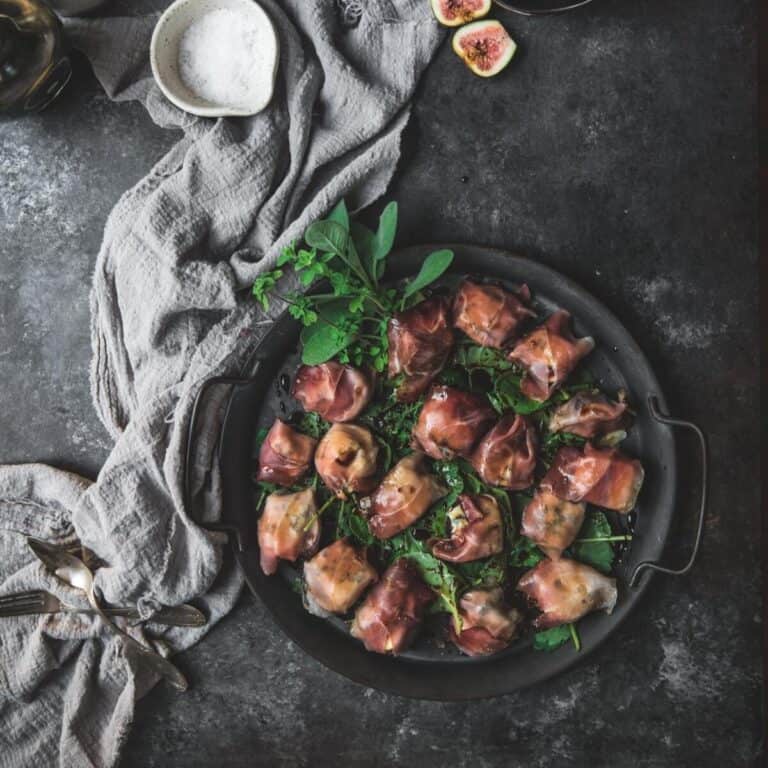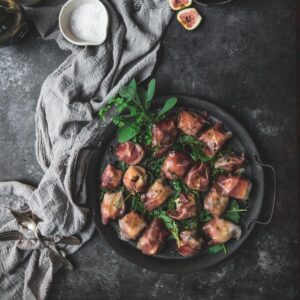 Prosciutto Wrappped Figs with Gorgonzola
Easy to make and sure to impress - with a balance of sweet and salty, creamy and crispy - this appetizer is always a hit!
Print
Pin
Rate
Ingredients
8

ounces

fresh figs

(about 9 figs)

¼

pound

prosciutto

(thinly sliced)

4

ounces

gorgonzola cheese

2

tablespoons

balsamic reduction or aged balsamic vinegar
Instructions
Preheat oven to 375°F. Gently clean figs, remove stem and slice each in half lengthwise.

Stack gorgonzola cheese pieces on each half fig.

Wrap fig and gorgonzola with thinly sliced prosciutto all the way around.

Arrange on a baking sheet and bake at 375F for 5 minutes, cheese should be soft and prosciutto has begun to crisp.

Drizzle with balsamic reduction.
For the balsamic reduction:
In a saucepan, heat 3 tablespoons good quality balsamic vinegar over very low heat.

Cook for 10-15 minutes or until the vinegar has started to thicken.
Notes
This appetizer can be served cold and is just as delicious! Baking the figs for 5 minutes will soften the cheese so it's just a touch melty and warm the figs.
Fresh figs are recommended. You can definitely substitute dried figs, they will be much sweeter and you will need to stuff them with the cheese instead of using half a fig.
If making in advance, wait until serving to drizzle with balsamic.
Nutrition
Calories:
61
kcal
|
Carbohydrates:
3
g
|
Protein:
2
g
|
Fat:
4
g
|
Saturated Fat:
2
g
|
Trans Fat:
1
g
|
Cholesterol:
9
mg
|
Sodium:
130
mg
|
Potassium:
58
mg
|
Fiber:
1
g
|
Sugar:
2
g
|
Vitamin A:
68
IU
|
Vitamin C:
1
mg
|
Calcium:
38
mg
|
Iron:
1
mg
This recipe first appeared on Hunger Thirst Play November 14, 2016. It has been updated with more useful information and updated photos but the recipe remains the same!