Shaken Espresso Maple Lattes are the coffee drink you'll want to sip on all throughout the fall season! Creamy and foamy espresso shaken with just enough sweet maple syrup your favorite type of milk served over with ice. A coffee drink that feels like fall still enjoyed cold!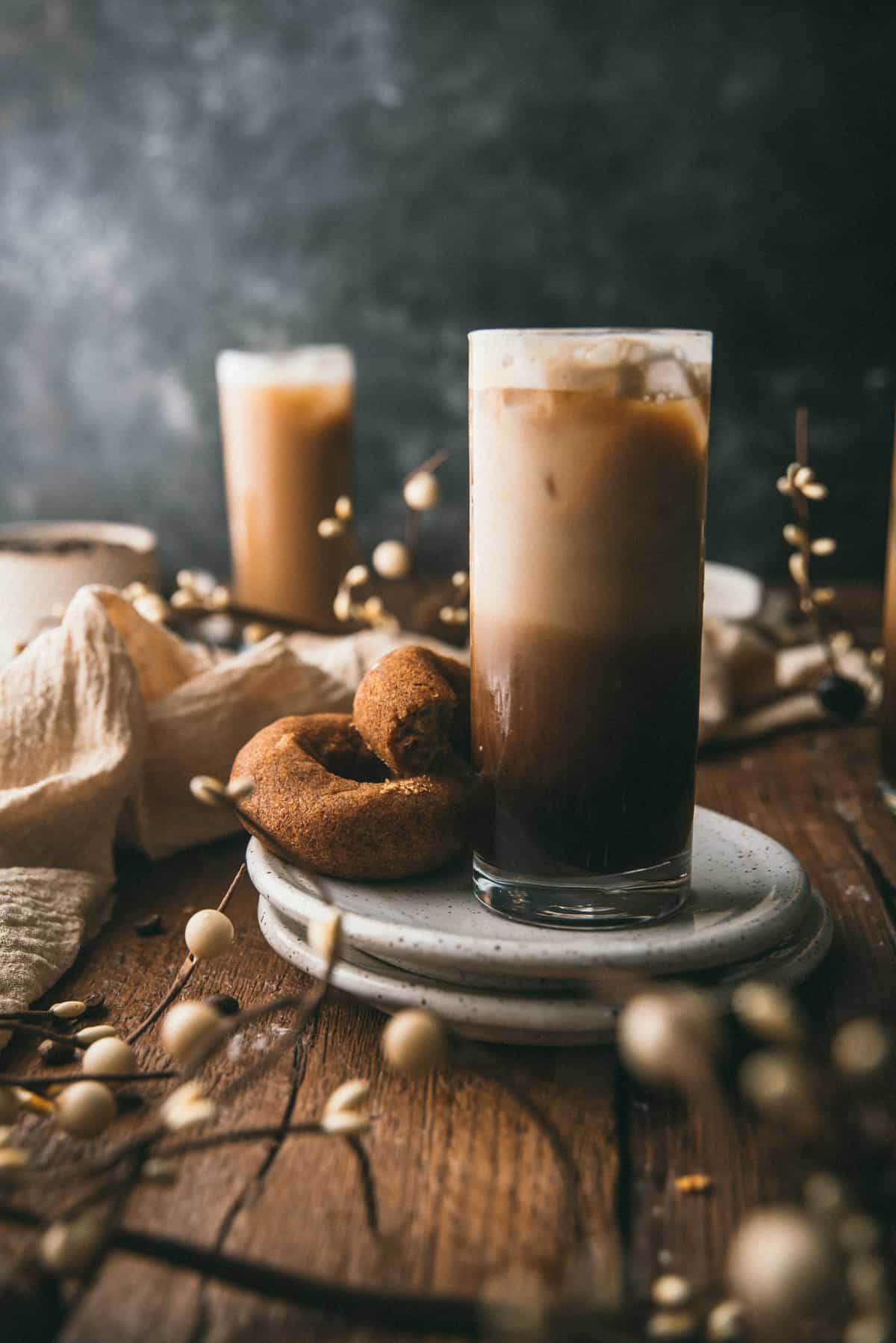 Who else here knows those early days of fall where the weather does not meet expectations?
You know what I'm talking about. You have your perfect fall outfit ready to go and by mid-day you're sweating like you just ran a 10K.
In theory, we're ready for all the fall things - pumpkin, apple, and all that - but the forecast has not quite caught up to sweater weather.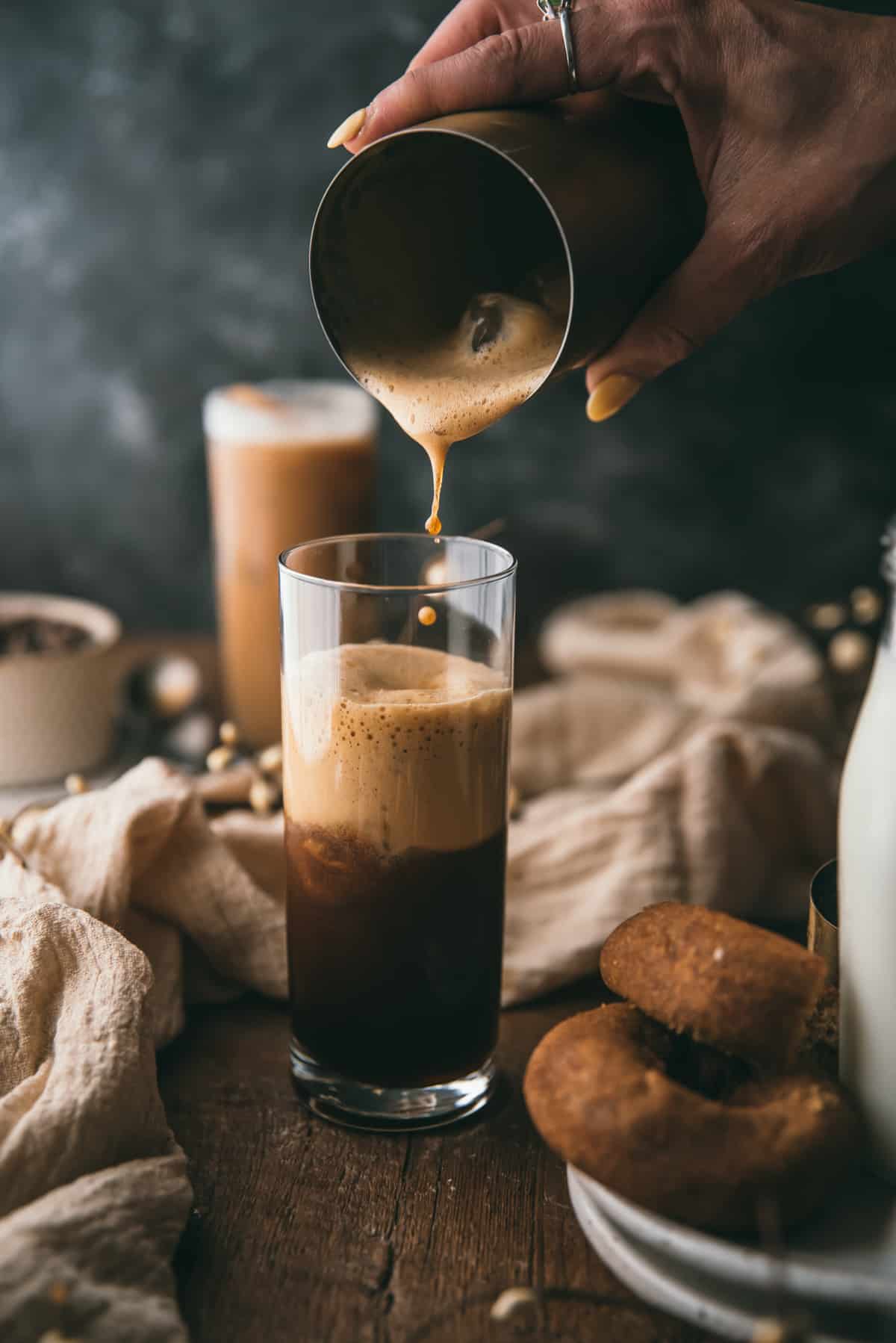 For days like this, I'm making Shaken Espresso Maple Lattes for my afternoon coffee pick up, and you should too!
What is shaken espresso?
Shaken espresso is freshly brewed shots of espresso poured into a container with some sort of simple syrup and ice, then covered and shaken like a cocktail.
The result is a creamy, foamy espresso that has a truly splendid texture. It's also a great way to chill down espresso fast without watering it down too much.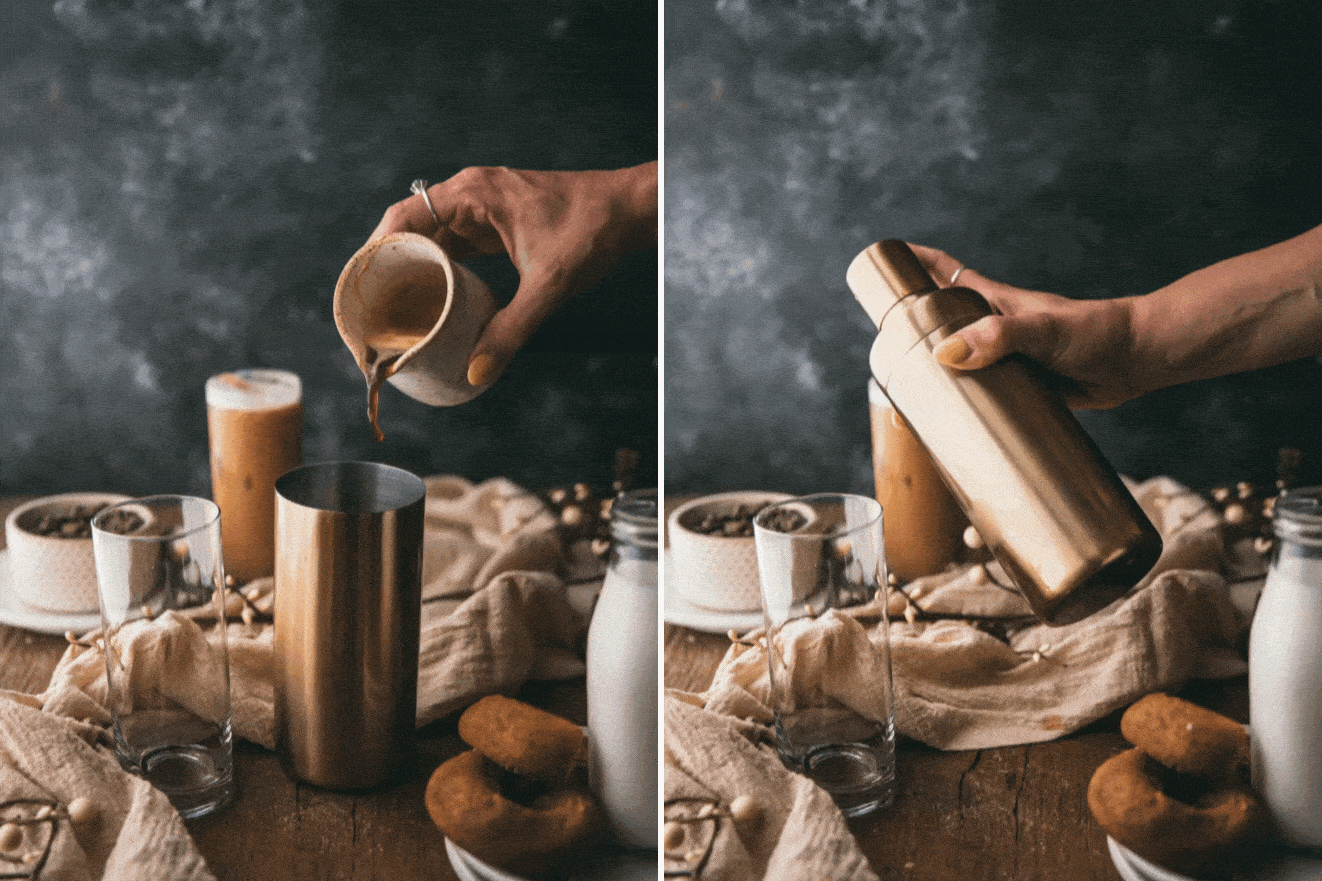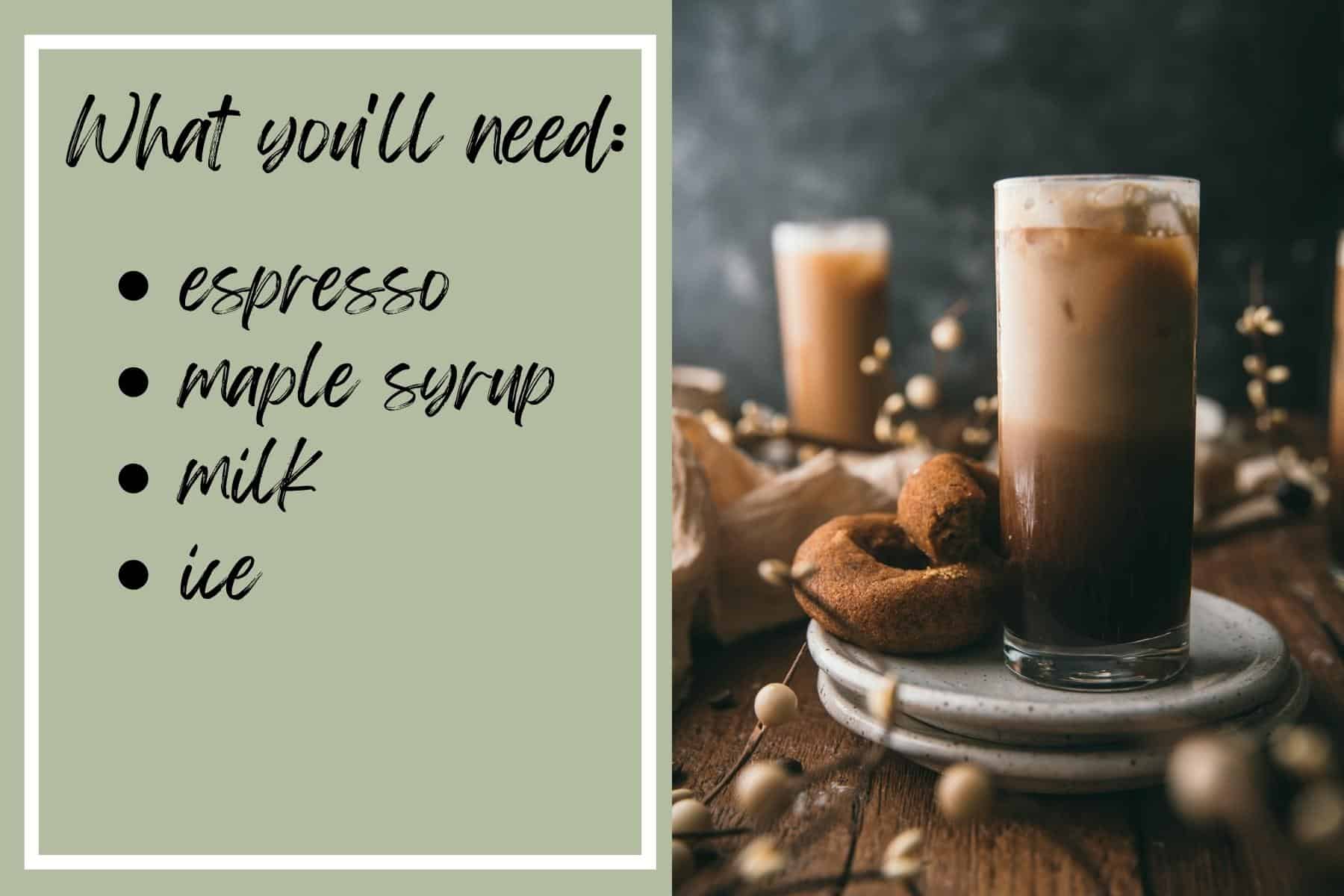 What does it taste like?
The combination of maple syrup and strong brewed espresso creates a deliciously, just right sweet flavor with a punch of caffeine.
How to make a Shaken Espresso Maple Latte
This is so so so easy! You'll have delicious coffee and also save yourself the time (and money) of going to the coffee shop!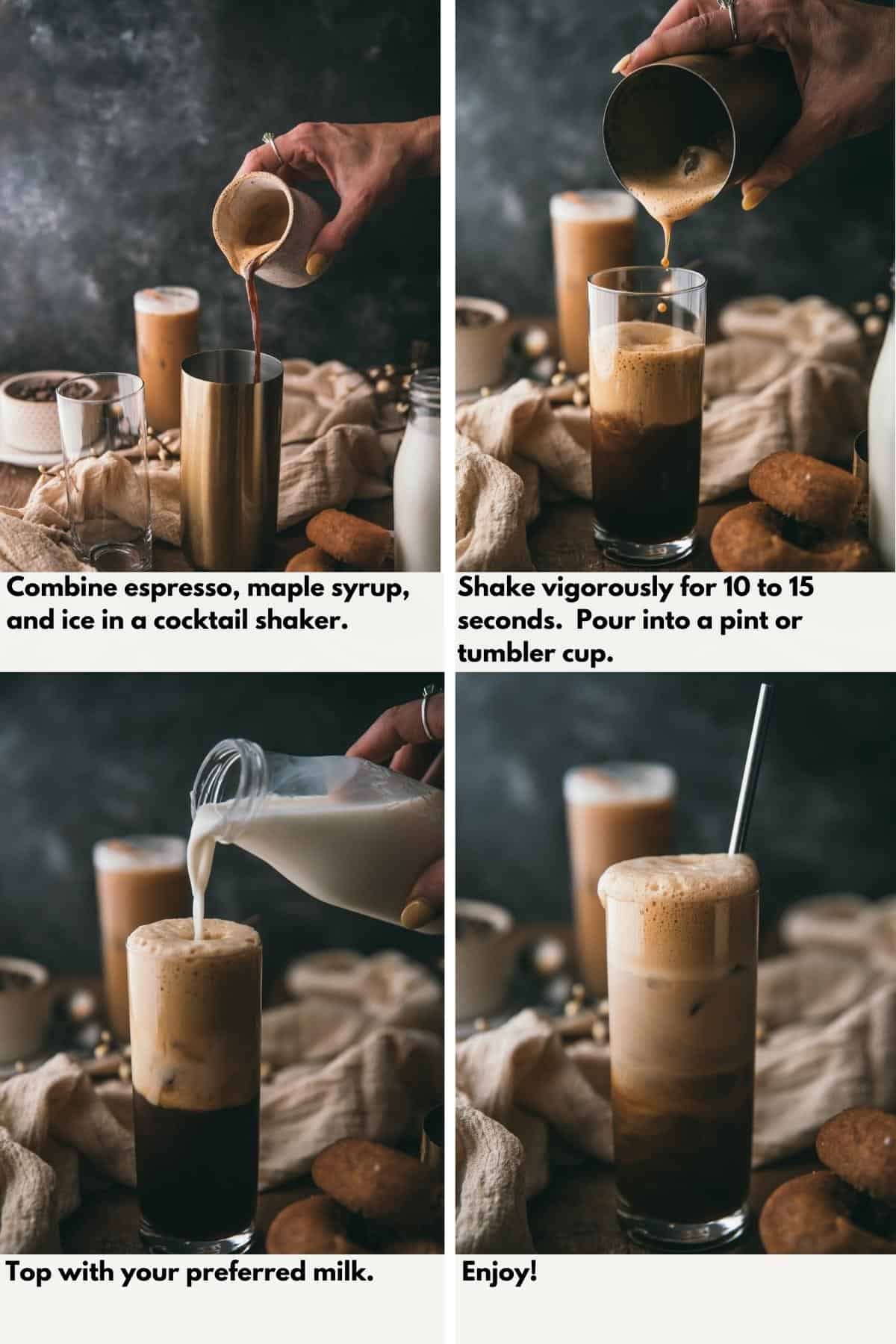 Brew two shots of espresso.
In a cocktail shaker, or a container with a tight fitting (like a mason jar!) combine the espresso, maple syrup, and 3 to 4 ice cubes.
With the lid tightly on, vigorously shake the espresso and syrup together for about 10 to 15 seconds.
Pour into a 14 to 16 ounce glass. Fill the glass with fresh ice and top with about ¼ cup of your favorite milk.
That's it! You're ready to enjoy this milky maple and caffeine infusion!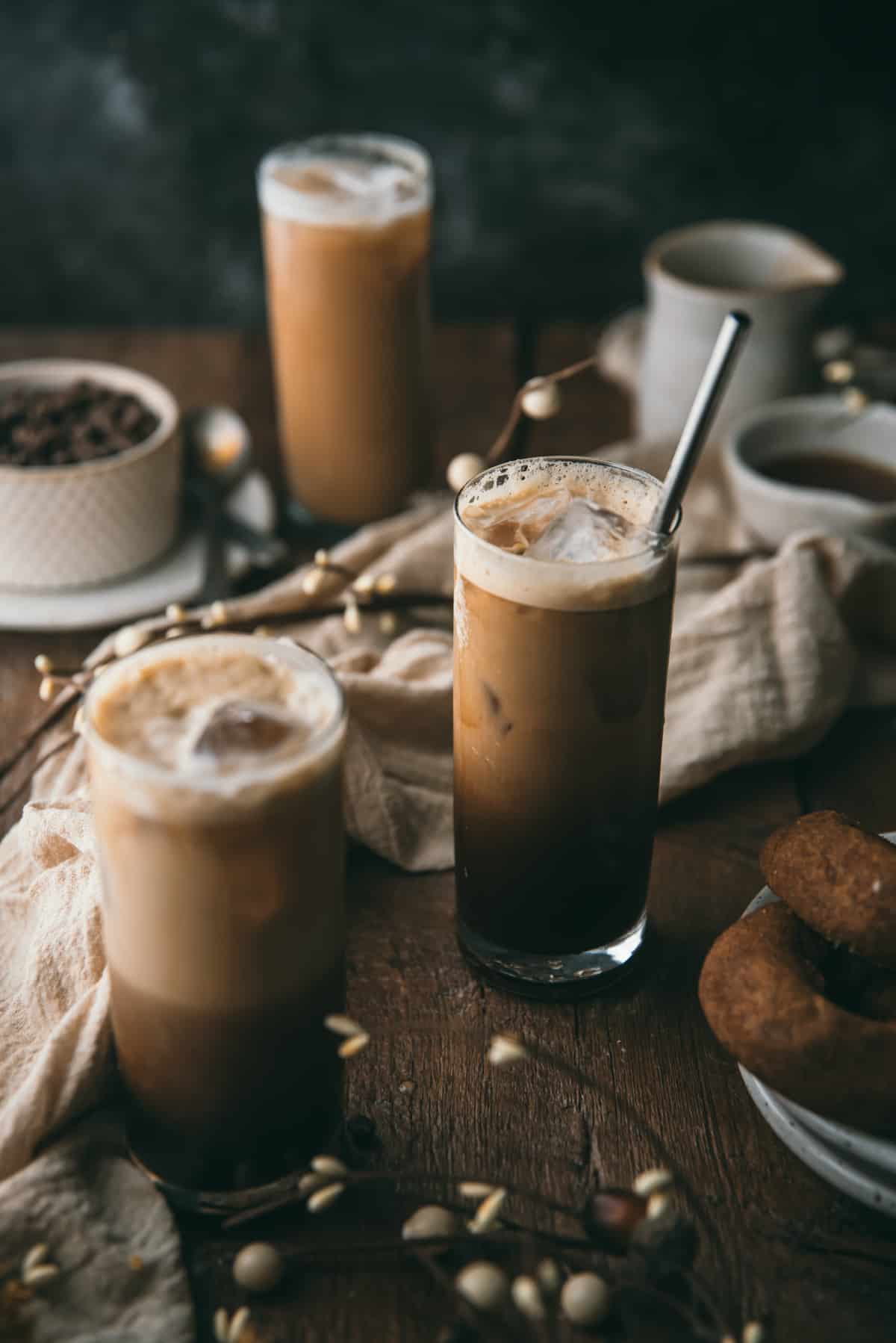 Tips & Tricks for at home lattes
There's something about having someone else make coffee that makes it taste better, I know. Trust me, I struggle with saying no to grabbing a latte during my Target runs, too.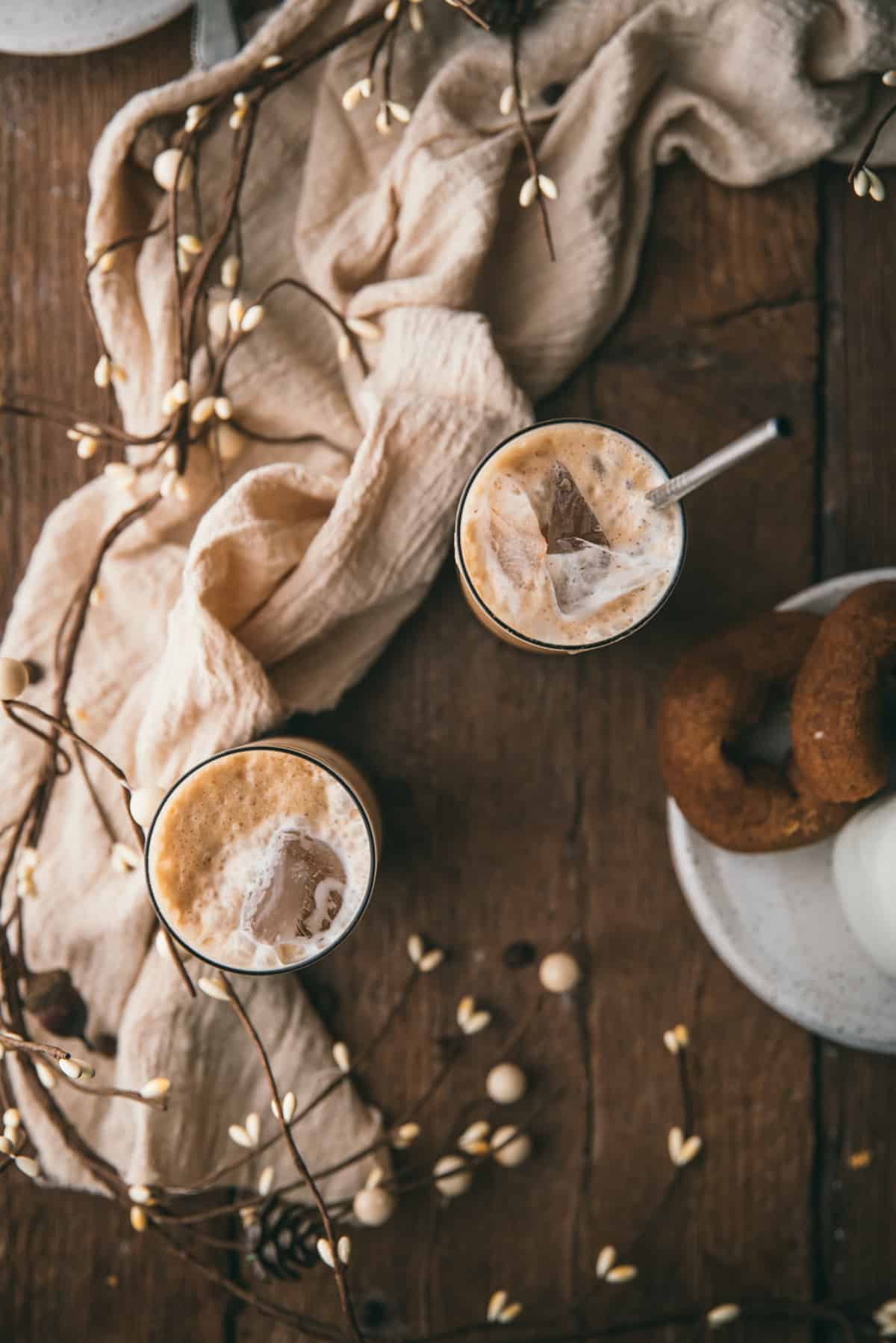 But I promise you these shaken espresso lattes are so good and so easy to make, you won't miss it. Here are some of my favorite tips for homemade lattes
Good quality espresso. Don't skimp on the espresso shots either. I usually estimate about 2 to 3 shots per latte.
If you don't have an espresso maker, you can finely grind espresso beans and brew them french press style. It's not exactly the same but its pretty darn close.
Invest in an air frother! Especially if you like hot lattes, that frothed milk is key. This air frother (aff link!) can also froth cold milk, which is a nice treat for iced lattes.
If you don't have an air frother, you can froth warm milk by whisking it in a pan over medium low heat.
My favorite tip: switch up your milk! Making lattes at home is a great way to experiment with your tastes and try new milks. Whether you love classic cows milk, oat, almond, or (my new favorite) flax seed, each will foam a little differently and bring different flavors.
Some latte inspiration...
If you're loving this shaken espresso maple latte, than give these similar coffee and tea recipes a try!
What's your favorite go to coffee? Let me know in the comments below! If you made this recipe, I'd love for you to leave a star rating right where the recipe is, thank you for your support!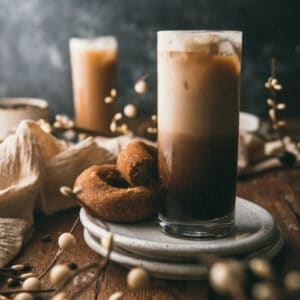 Shaken Espresso Maple Latte
An iced latte that is the perfect combination of refreshing caffinated pick me up and fall feels. Perfect for any day, but especially those warmer days of fall when a hot coffee just doesn't fit the mood.
Print
Pin
Rate
Ingredients
2

shots

espresso

2

tablespoons

pure maple syrup

¼ to ⅓

cup

milk

ice
Instructions
In a cocktail shaker, or a container with a tight fitting lid like a mason jar, combine the espresso and maple syrup.

Add 3 to 4 cubes of ice and screw the lid on tightly. Shake vigorously for 10 to 15 seconds. Pour into a glass. Add fresh ice and top with your preferred milk of choice (cows, almond, oat, flax, etc).
Notes
My general go-to measure is 1 tablespoon of syrup per shot of espresso, but If you prefer a sweeter style latte (think pumpkin spice lattes), add an extra tablespoon of maple syrup.
The amount of milk will vary depending on your glass and your preference. I use a 16 ounce pint glass with lots of ice. If you like a really creamy latte, try ½ cup of milk instead.
It's recommended to use real pure maple syrup. Its thinner, has better flavor, and isn't as sweet. Use whichever maple syrup you have available to you, just keep in mind the brand/type may affect the final taste to be sweeter.
Nutrition
Calories:
451
kcal
|
Carbohydrates:
97
g
|
Protein:
13
g
|
Fat:
2
g
|
Saturated Fat:
1
g
|
Polyunsaturated Fat:
1
g
|
Monounsaturated Fat:
1
g
|
Trans Fat:
1
g
|
Cholesterol:
5
mg
|
Sodium:
64
mg
|
Potassium:
3309
mg
|
Sugar:
27
g
|
Vitamin A:
60
IU
|
Vitamin C:
1
mg
|
Calcium:
240
mg
|
Iron:
4
mg