Super tender apple and spice cake layers filled with gooey caramel apple and coated in fluffy salted caramel buttercream. Apple Cider Cake is like going apple picking but not having to get out of the car, all the tastes of fall in one delicious cake!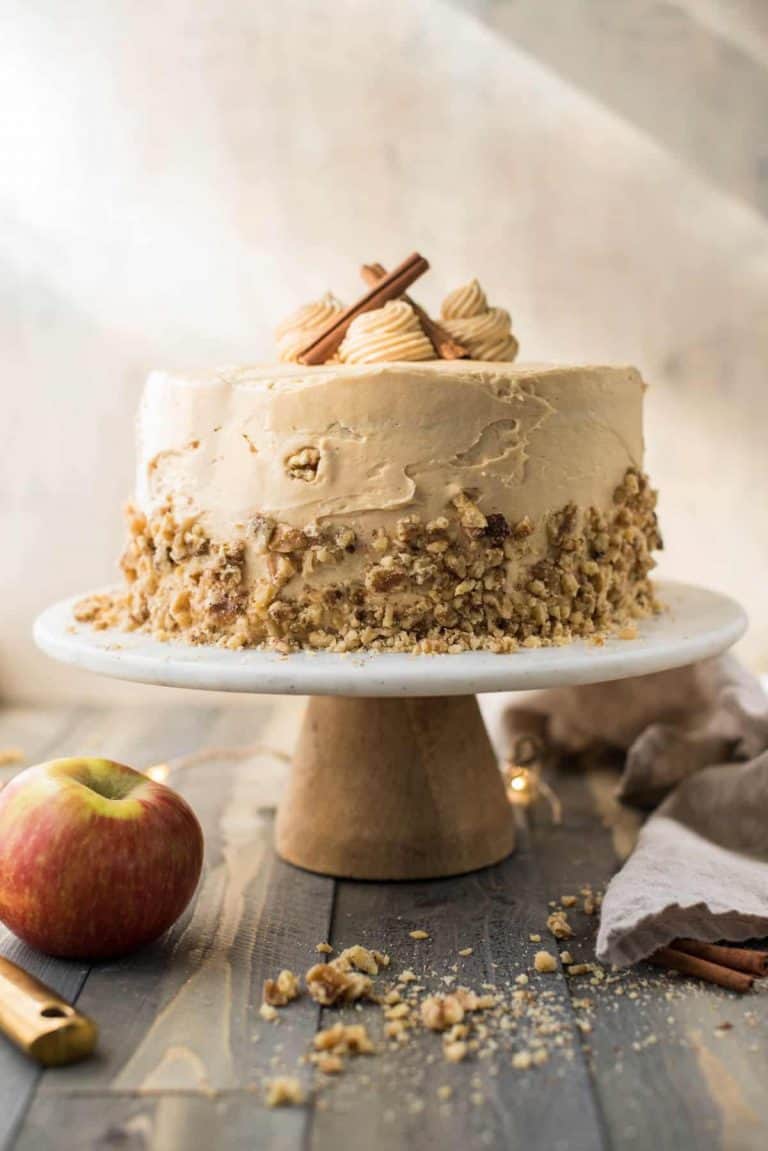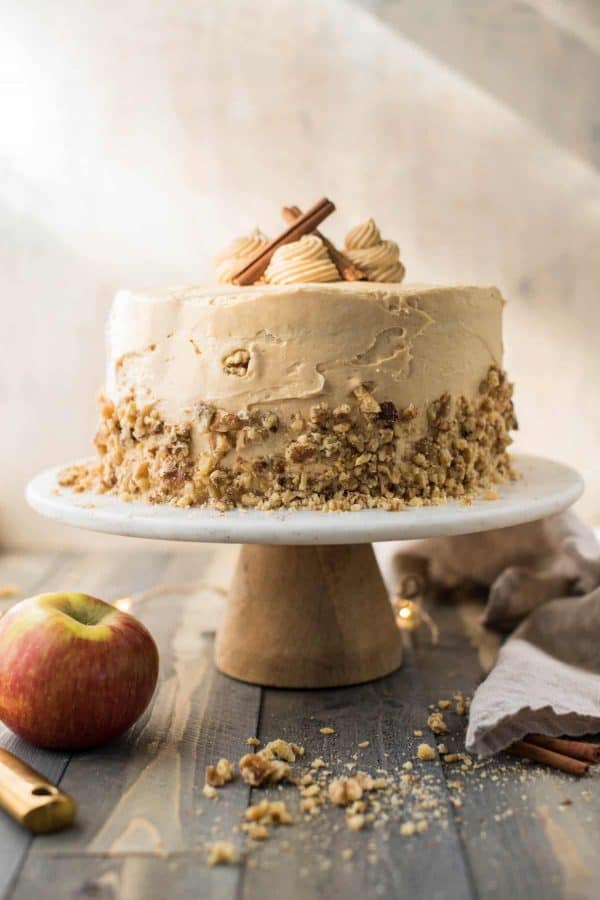 Today, we're taking fall and putting it on a fork. Sweet and fall spiced apple cider cake, gooey caramel apple filling and salted caramel buttercream is what's happening and it is so good.
Why you should make Apple Cider Cake:
tender cake with all the apple pie spices
pie-like filling with crisp apples and a twist of cinnamon caramel
Salted. Caramel. Buttercream.
All these things make it the perfect birthday cake for your favorite friend's fall birthday....or even just a nice acquaintance that happens to have an October birthday. Hey, any excuse for tasty cake right?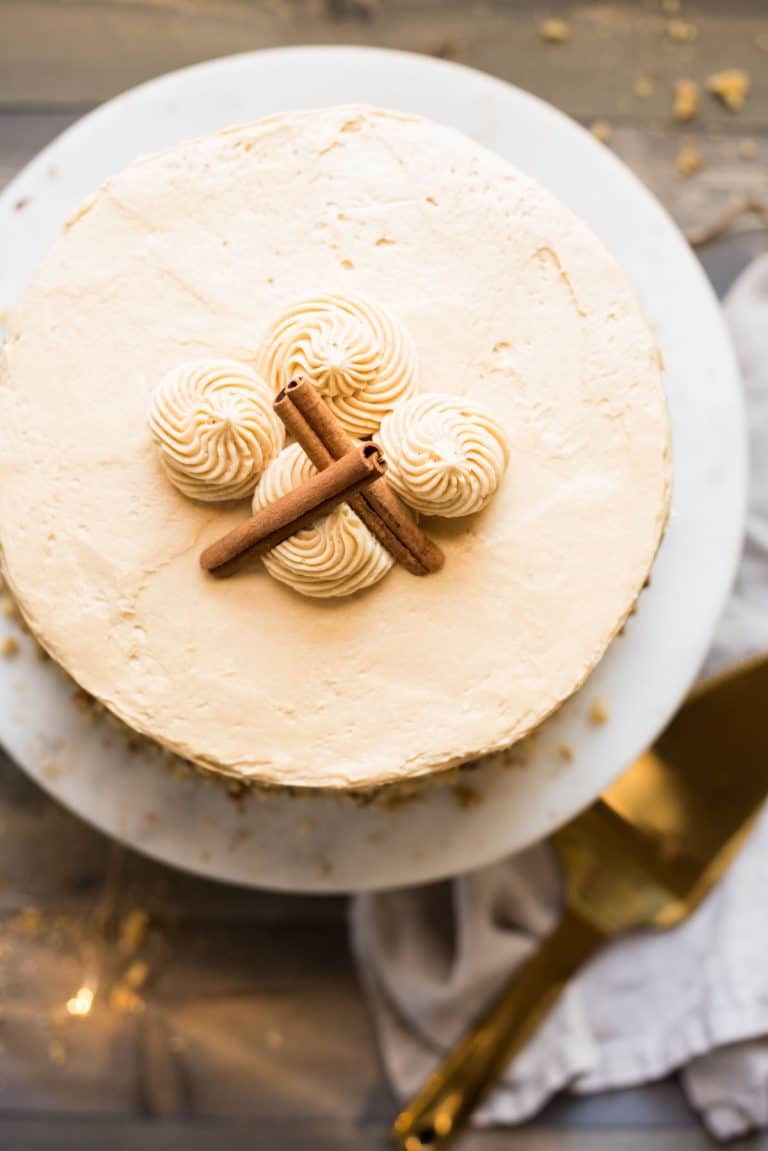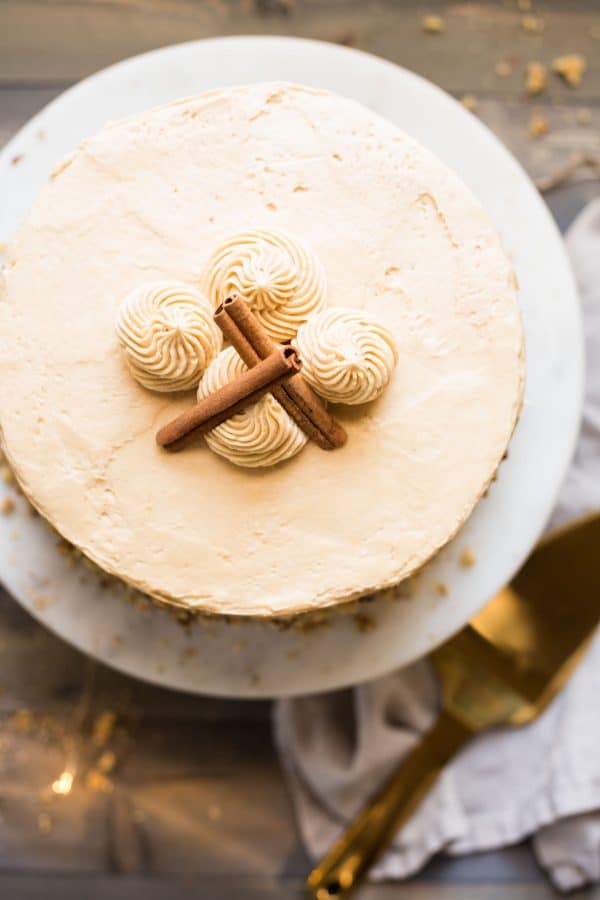 caramel apple filling
A cake can look good, but the inside has to be just as good right? I'm pretty sure I don't know anything as disappointing as a cake that looks nice but tastes mediocre. Well, that's not happening to us.
Besides tasty, moist apple cake we have apple pie filling...simmered in caramel sauce. It's gooey, it's sweet, it's crisp, it's awesome.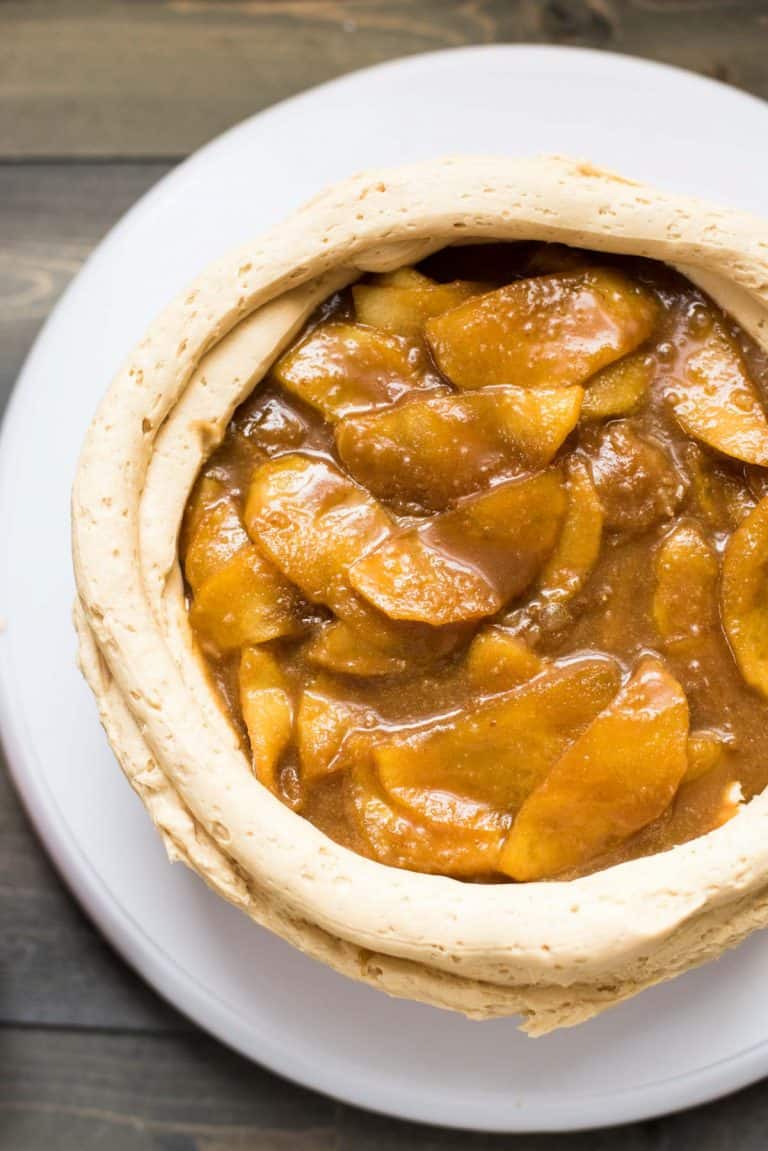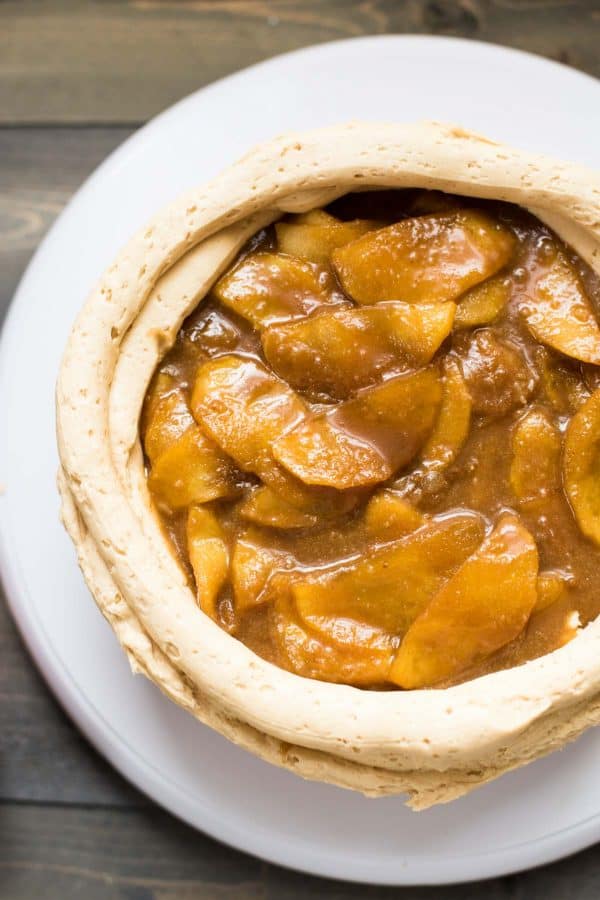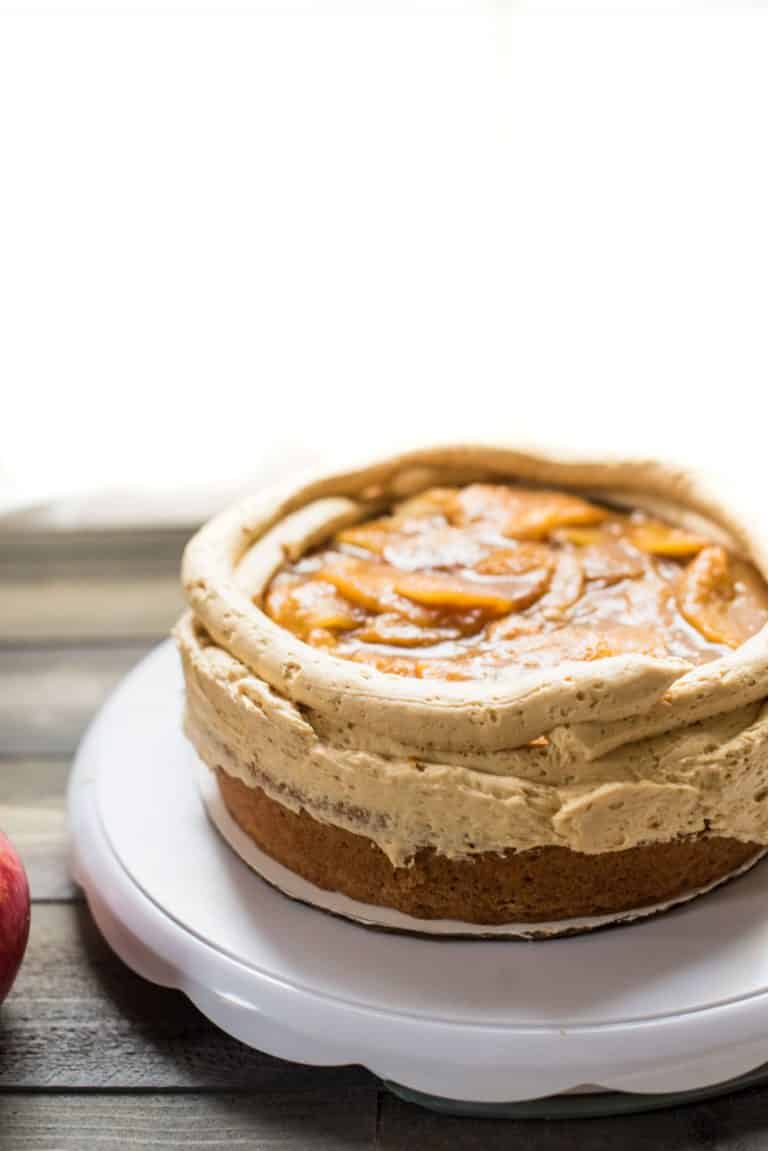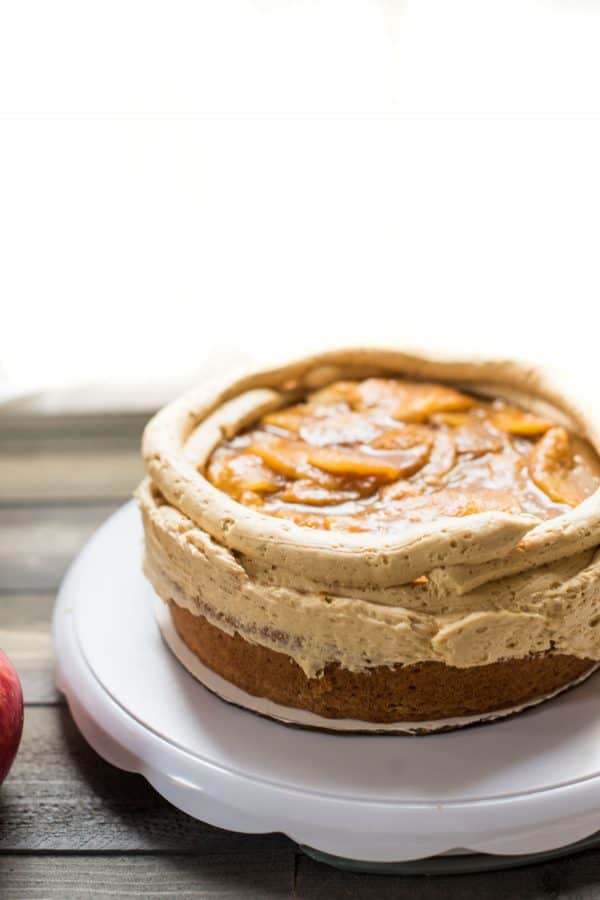 The filling starts with a sauté of thinly sliced apples in a little unsalted butter. The goal is just to soften them and not to cook them all the way. Then using either my faaaaaav Small Batch Salted Caramel Sauce or a store-bought caramel sauce, bring it to a boil with a touch of cinnamon and let it cool. If you're able, just stick the whole pan in the fridge.
The caramel filling won't get super hard in the cool refrigerator like a regular caramel because of the water in the apples. You want the filling to be thick enough it doesn't automatically absorb into the bottom layer cake. That wouldn't be the worst thing if it does happen, still tasty.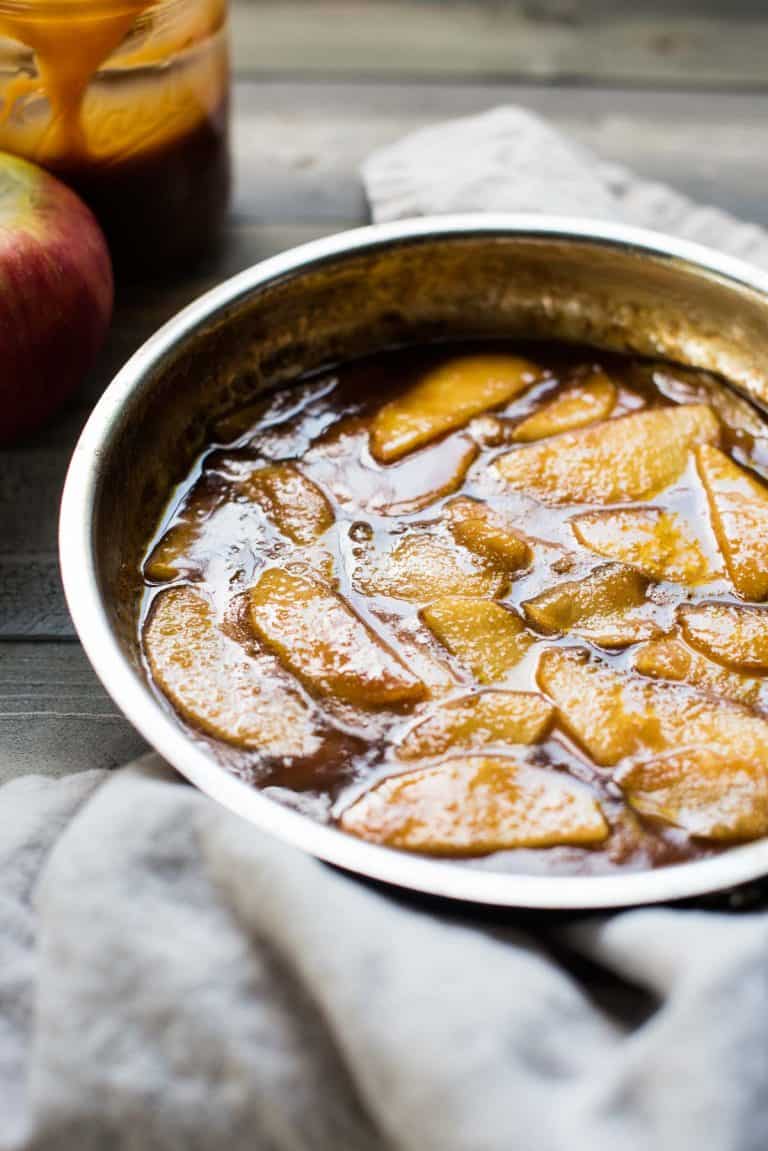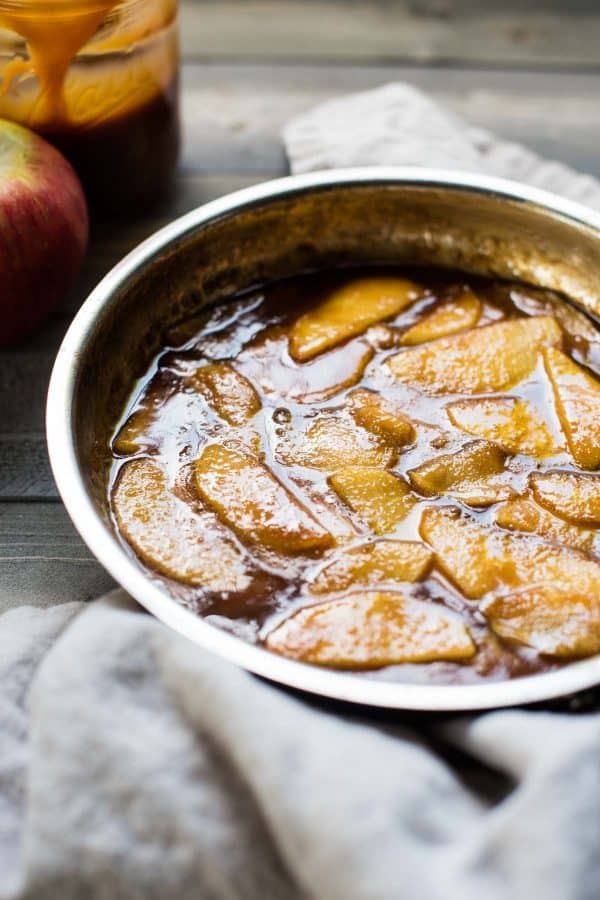 When filling the apple cider cake, you'll want to pipe a wall to hold it in. Pipe the salted caramel buttercream high enough so the caramel apple filling doesn't squish out the sides when you place the top layer of cake. I found that two times around the cake was the perfect height.
Salted Caramel Buttercream
Maaaaaybe we just call this the best frosting ever instead? Granted, I'm biased so you guys can tell me but here's what you need to know.
It's got that soft, yet sturdy texture of a perfectly pipeable buttercream with hints of tangy cream cheese that keep it light. The salted caramel and confectioners sugar bring sweetness without being cloying. They also make for a breeze of a frosting to whip together.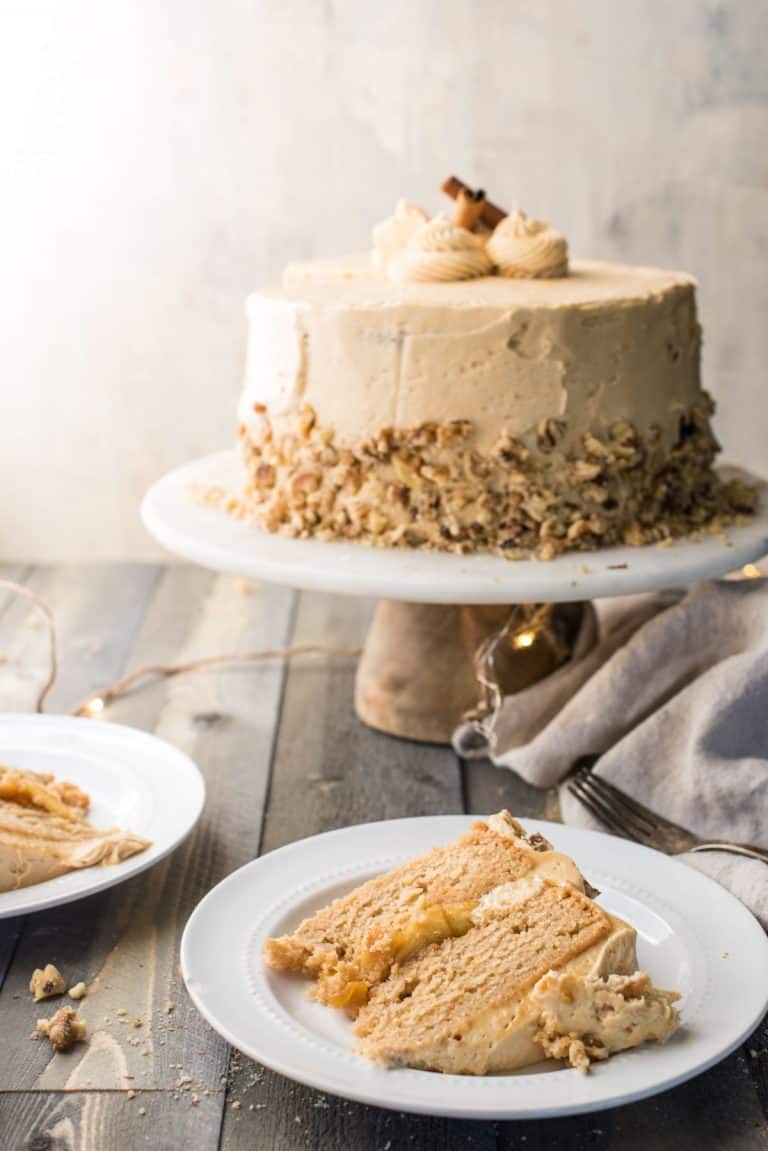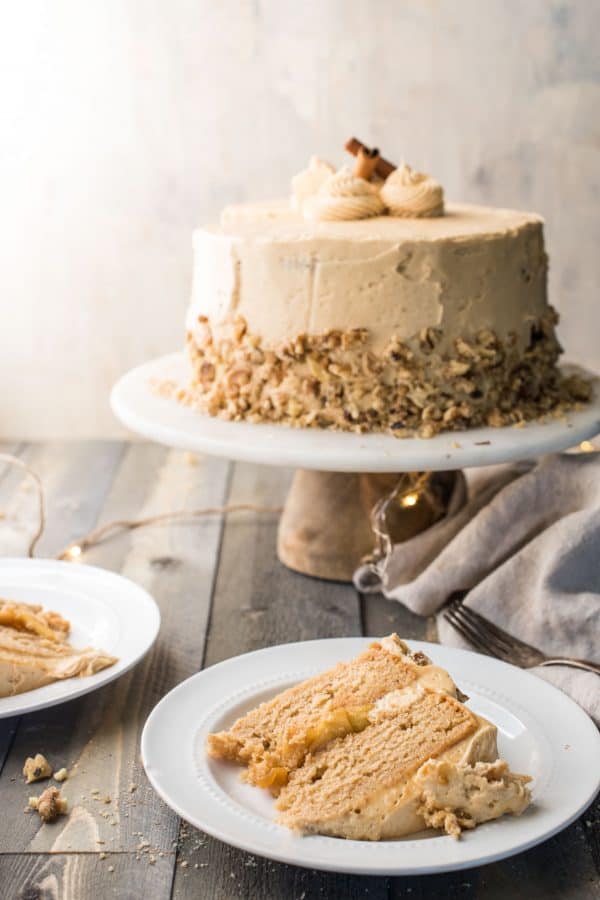 TIP: make sure your caramel is no warmer than room temp. I'd highly, highly recommend that if you're making the caramel yourself that you make it the day before. Otherwise, that pipeable cream cheese buttercream will be a sad, soft, not pipeable mess.
Not sure about you guys, but I'm ready to stuff a forkful of this fall spiced glory in my mouth. If you make it be sure to tag #hungerthirstplay...or send me directions so I can come grab a slice, k thanks.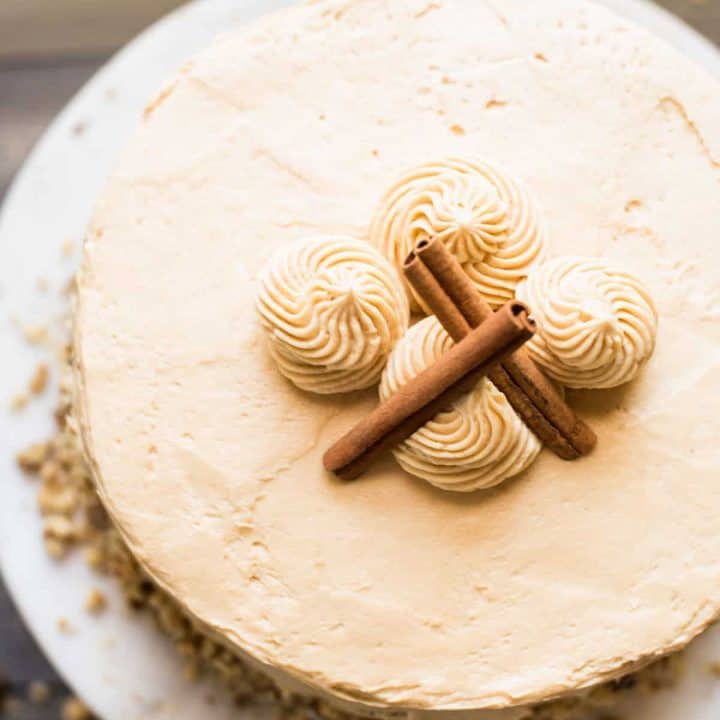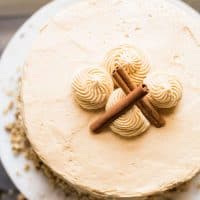 Apple Cider Cake with Salted Caramel Buttercream
Two layer apple cider cake, sweet and full of warming spices, gooey caramel apple filling and salted caramel buttercream.
Print
Pin
Rate
Servings:
10
to 12 servings
Ingredients
Apple Cider Cake
1

cup

unsalted butter

(softened)

1 ⅓

cup

brown sugar

(lightly packed)

4

eggs

2

teaspoon

pure vanilla extract

3

cups

all-purpose flour

4

teaspoon

baking powder

1 ¼

teaspoon

salt

2

teaspoon

cinnamon

½

teaspoon

nutmeg

¼

teaspoon

ground clove

1 ½

cups

fresh apple cider
Caramel Apple Filling
1

tablespoon

unsalted butter

1

apple

(peeled and thinly sliced)

⅛

teaspoon

cinnamon

½

cup

Salted Caramel Sauce
Salted Caramel Buttercream
1 ½

cups

unsalted butter,

(softened)

4

ounces

cream cheese

(softened)

3

cups

confectioners sugar

¾

cup

Salted Caramel Sauce

1

cup

walnuts

(optional)
Instructions
Apple Cider Cake
Preheat oven to 350°F. Grease and flour two 8-inch round pans.

In a medium size mixing bowl, combine all-purpose flour, baking powder, salt, cinnamon, nutmeg and clove. Whisk until combined and set aside.

Cream together butter and sugar in a mixing bowl on medium speed. Add eggs and vanilla, mix on medium speed for 1 minute, scraping down the sides of the bowl.

Working in 3 batches alternate adding dry ingredients and apple cider, starting and ending with the dry ingredients.

Mix on medium speed until incorporated, about 1 to 2 minutes.

Divide the batter between the two cake pans. Bake for 25 to 28 minutes or until a toothpick inserted into the center of the cake comes out mostly clean (a few crumbs is fine.) For 9-inch cake pans, bake for slightly less time as the layers will be thinner, about 22 to 25 minutes.
Caramel Apple Filling
In a sauté pan, heat the butter over medium high heat. Add the apple slices and sauté until coated in the butter and slightly soft, about 2 minutes. Sprinkle the cinnamon over the apples and add the caramel to the pan. Reduce the heat to low and bring the sauce to a boil.

Remove from heat and let cool completely in the refrigerator about 20 minutes until sauce is thickened.
Salted Caramel Buttercream
In the bowl of a standing mixer, cream the butter until pale and fluffy on medium high speed. Beat in the cream cheese, scraping down the sides of the bowl and beating until combined.

On the lowest speed add in the confectioners sugar 1 cup at a time. Bring speed up to medium high and beat for 1 full minute. Add the salted caramel sauce and beat for 2 minutes, stoping half way to scrape the sides and bottom of the bowl.
Assembling the cake
On the first layer of cake, pipe a wall around the outside edge. About two times around should be high enough to contain the filling. Fill the inside with the cooled caramel apple filling. Top with the second layer of cake and press down lightly.

Frost the outside of the cake with the remaining salted caramel frosting. Top with cinnamon sticks.

Optional: Place walnuts in a plastic food bag and crush with a meat mallet or rolling pin. Lightly stick to the bottom half of the frosted cake.
Notes
Since there is cream cheese in the frosting, store the finished cake in the refrigerator. Take out about an hour before serving.
Chopped walnuts or pecans can be used instead of whole walnuts.
Store-bought caramel can be substituted for homemade Small Batch Caramel Sauce. If opting to make the caramel sauce, be sure to allow for LOTS of time to cool. I highly recommend making it the day before so it will be room temperature. If using store-bought, Trader Joe's makes a salted caramel sauce that is almost identical to the linked recipe above!
This recipe can be converted into cupcakes and makes roughly 24 cupcakes. For the filling, dice the apples small and stuff them inside the center of the cupcakes.
Nutrition
Calories:
1018
kcal
|
Carbohydrates:
121
g
|
Protein:
9
g
|
Fat:
58
g
|
Saturated Fat:
32
g
|
Trans Fat:
2
g
|
Cholesterol:
194
mg
|
Sodium:
611
mg
|
Potassium:
257
mg
|
Fiber:
3
g
|
Sugar:
70
g
|
Vitamin A:
1626
IU
|
Vitamin C:
1
mg
|
Calcium:
186
mg
|
Iron:
3
mg