Warm tortillas stuffed with melt in your mouth tender beef, spicy crunchy cabbage, tangy sauce and crushed peanuts. Instant Pot Korean Beef Tacos are taking the savory, spicy and hint of sweet Los Angelos inspired street food straight to your kitchen with minimal effort. That's right, we're taking out the Instant Pot and achieving all your street taco goals in record time.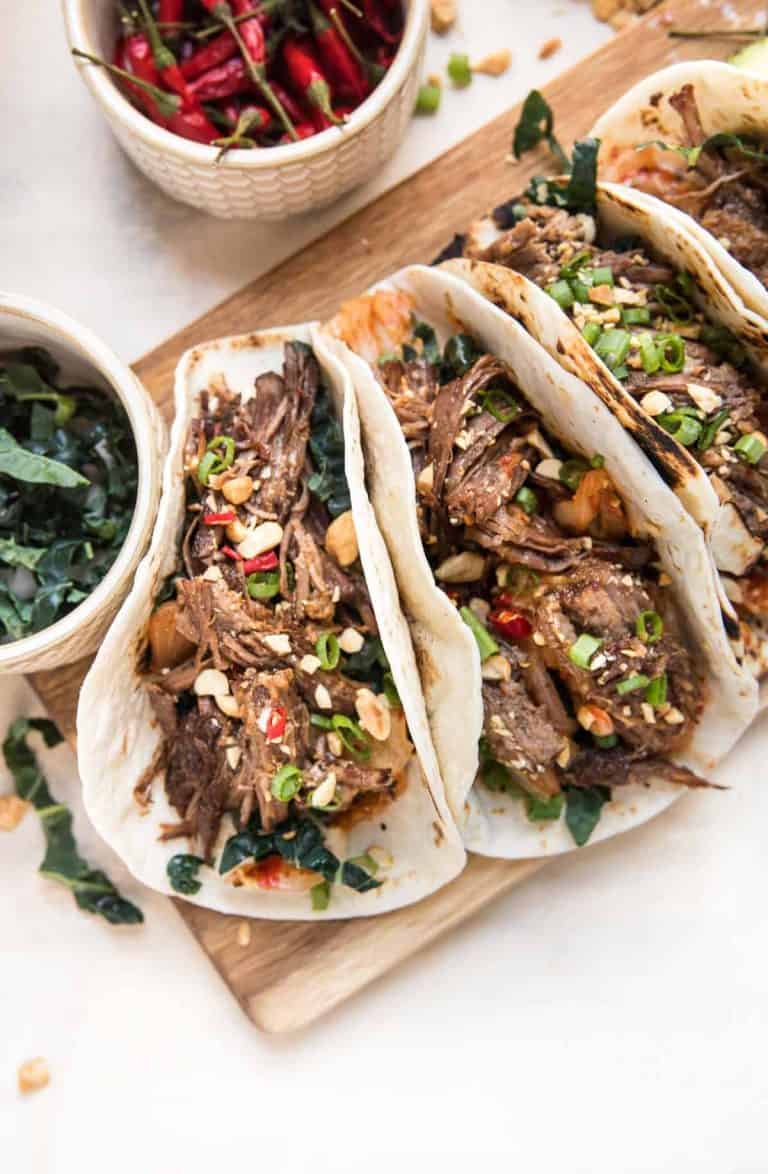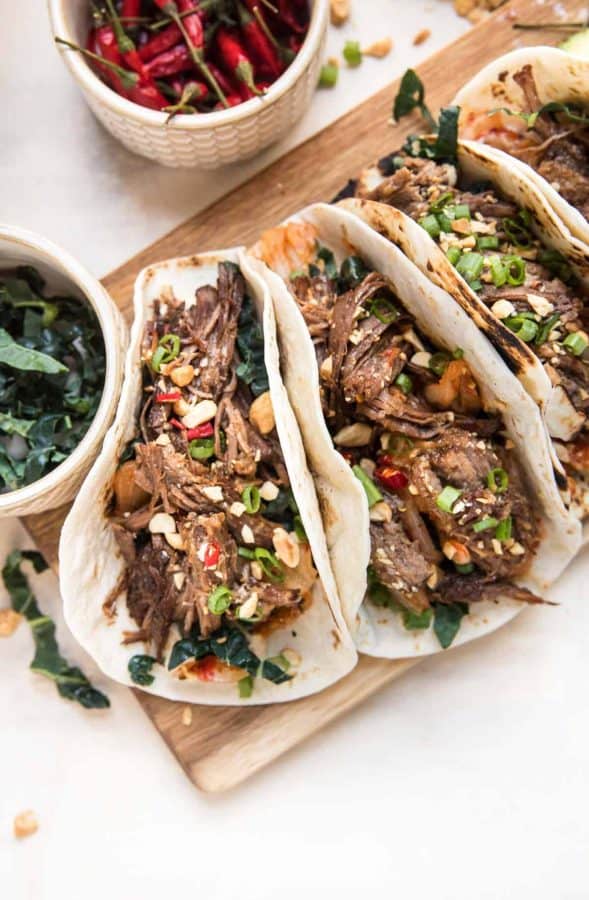 Why are tacos so good?! Please, does anyone have the answer to this? Maybe it's because you don't need utensils. Maybe its the little bit of everything - meat, veggie, sauce - stuffed into an edible vehicle. Maybe it's because they're just so darn easy to make no matter what you're stuffing in them.
I'm not sure what the correct answer is, but I am 100% here for these street food eats. Of course, my favorite part being that we get to take out our instant pots and achieve all day cook texture on what's normally a tough cut, but we get to do it in waaaaaaay less time.
Okay, but what is a Korean beef taco?
Korean tacos started out on the West Coast as street food. A fusion of Korean bbq beef and Korean-style pairings, like kimchi and more, loaded onto warmed tortillas. The flavors are mostly savory (soy sauce), a little sweet (brown sugar), with spice (chili or gochujang) and the texture of the beef is super duper tender.
Each bite of taco nirvana will have you hoping it doesn't end for these tasty reasons:
warmed, soft tortillas
spicy, creamy sauce - like sriracha mayo or chipotle dressing
crunchy veggies - shredded tuscan kale (or lettuce!) and kimchi
ridiculously tender korean style brisket with savory flavors and just a touch of sweet
chopped peanuts for that rich and crunchy flavor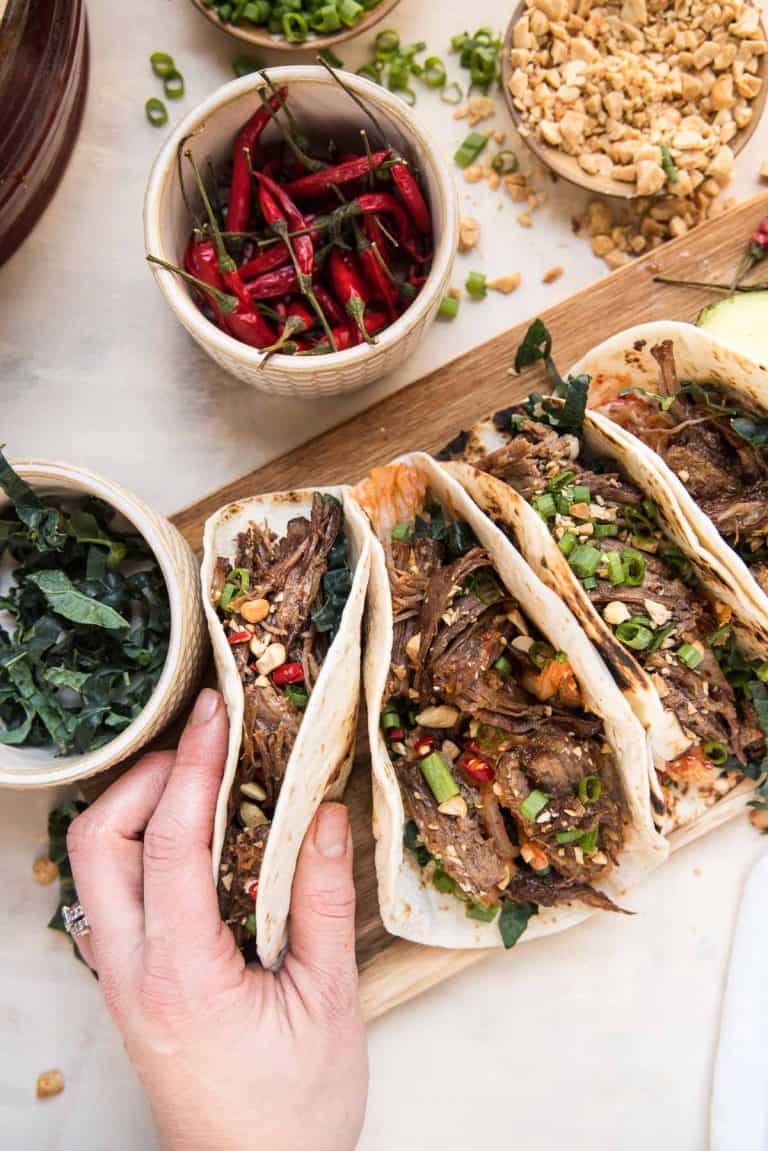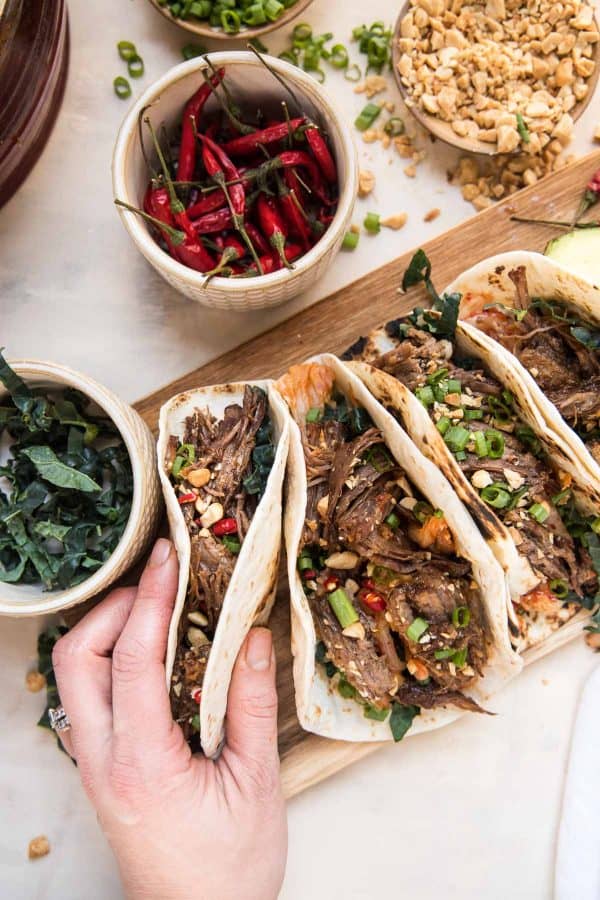 What cut of meat do you use for Korean beef?
Typically Korean beef uses a rib eye or sirloin when serving it as a main with traditional sides. For tacos, especially because we're using the pressure cooker, we can opt for the tougher cuts. You can use short ribs for a richer cut, top sirloin for leaner, but brisket is by far my favorite. Just the right amount of fat to meat ratio and it shreds like a dream.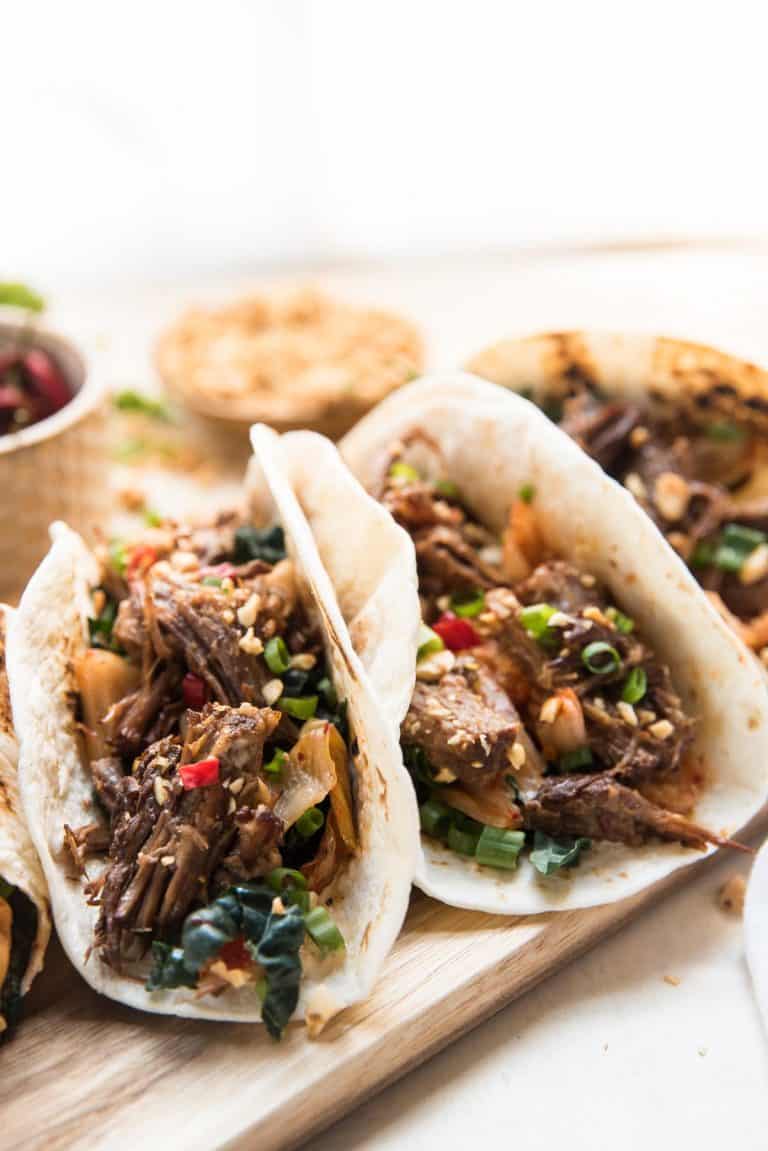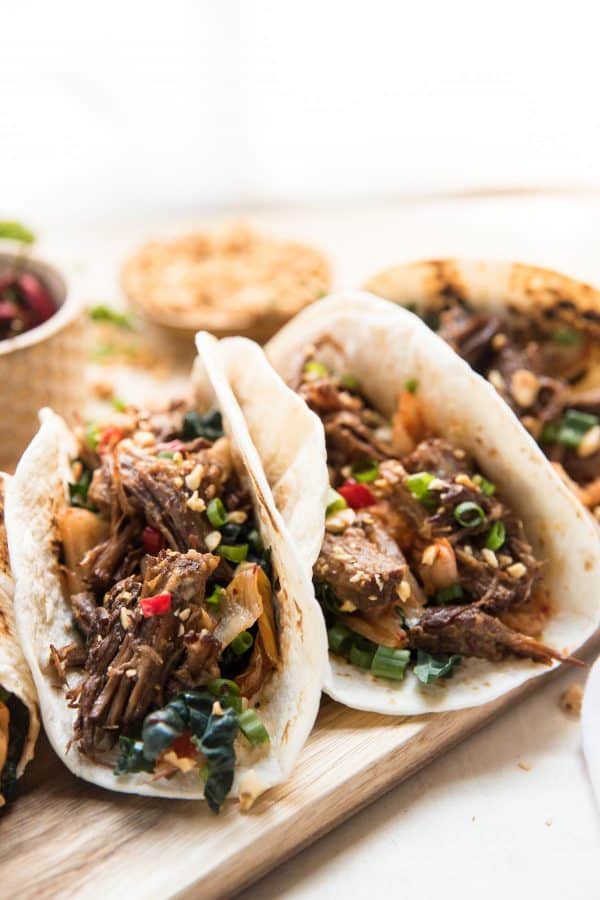 How to build the perfect taco
The beauty of tacos is that they can be as simple or as complicated as you want them to be. Case in point: I just shoveled two breakfast tacos into my mouth while typing those first paragraphs. Made with scrambled eggs, a little cheese on warmed corn tortilla and probably too much hot sauce. Making the perfect taco is all about balancing your elements.
TORTILLAS
Don't serve tacos in cold soft tortillas. You're better than that. End of story.
While flour tortillas is definitely an American thing, they're handy for really loaded tacos like these Korean beef tacos. If you're opting for corn tortillas and the stuff going in the taco is a little juicy (pico de gallo, marinated meat, etc.) try double layering your tortillas, that way if the first one breaks you have back up.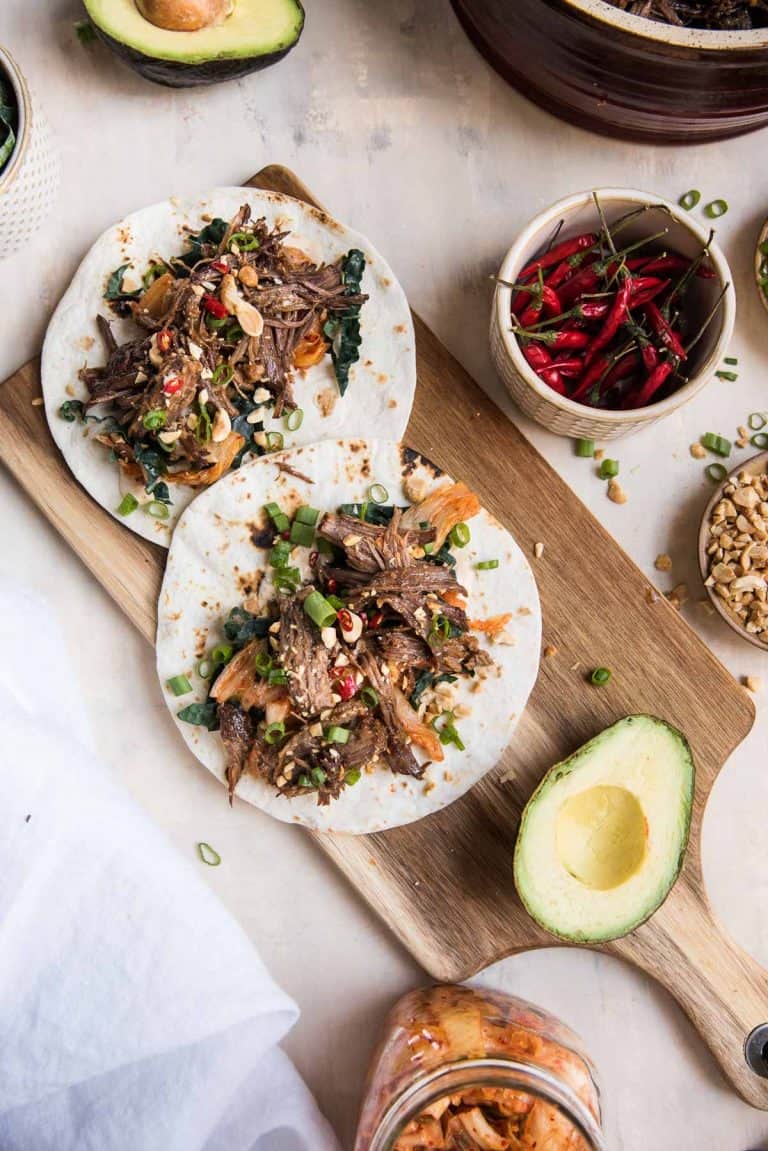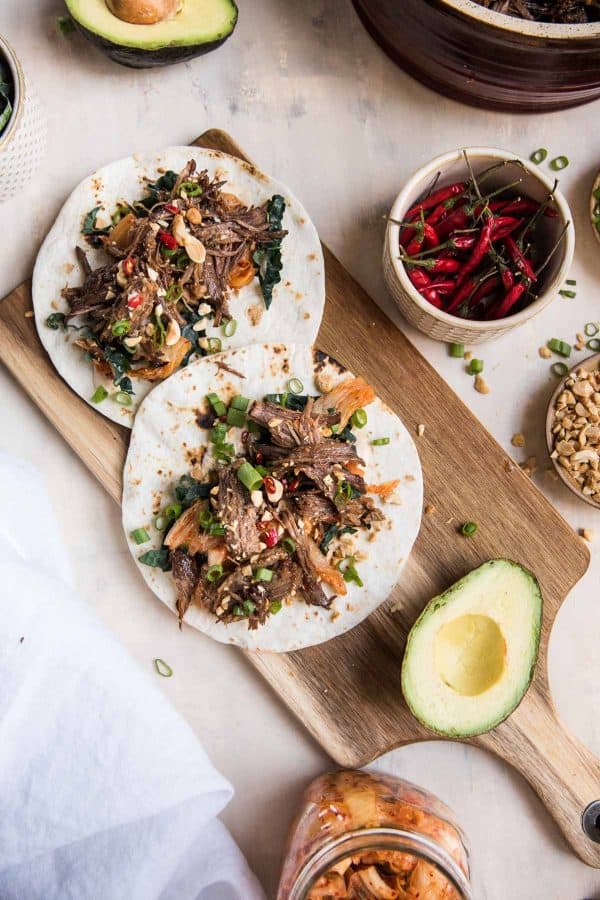 TO MEAT OR NOT TO MEAT...
The world of taco fillings is vast for both carnivores and herbivores alike. Want an all veggie fix? Lets roast sprouts and kale drizzle them with spicy tangy sauce for veggie tacos that are the exact opposite of lame. You can slow cook, sauté, marinate, or instant pot your way to flavor infused tender meat worthy of Taco Tuesday.
My tips for taco meat include either seasoning or marinating the meat. Tacos are awesome ways to serve tougher cuts of meat that also tend to be less expensive (bonus!). Just like in these pressure cooker Korean bbq tacos, we're using brisket but making it tender and shreddable by cooking it in the pressure cooker.
VEGGIES
Be it lettuce and pico or fancy it up with pickled cabbage, a good taco has some sort of veggie crunch. We're using kimchi to add crunch to our korean beef tacos. Kimchi is salted and fermented cabbage that has a good amount of spice to it. I also took the liberty of added a little shredded tuscan kale for extra crunch.
THE EXTRAS...
I like to think of it like if you were having this as a salad, what else would you put on it, then I put that on my tacos. Pico gives us the juice and tang of fresh tomatoes, cheese provides rich creaminess, hot sauce adds both acid and spice.
The korean style pressure cooked brisket is a little sweet, spicy with lots of savory. The soy and brown sugar combo makes me want to pair it up with peanuts, so that's what we do. I've always though of myself as a saucy girl, so sriracha mayo or chipotle dressing gives it the perfect creamy texture. For regular tacos this jalapeño avo crema is my go-to.
How to make Korean Beef Brisket in the Instant Pot
So now that we know what we want in our tacos, we have to make it. UGH. Kidding, it's really not that complicated.
Cut the brisket into smaller pieces so it cooks easier and faster, then just whisk together the marinade ingredients and add them all to the Instant Pot. Set it and forget it until the cooking is done. You can quick release the vent after cooking, but if you're busy with something else at the time a natural release will be just as perfect.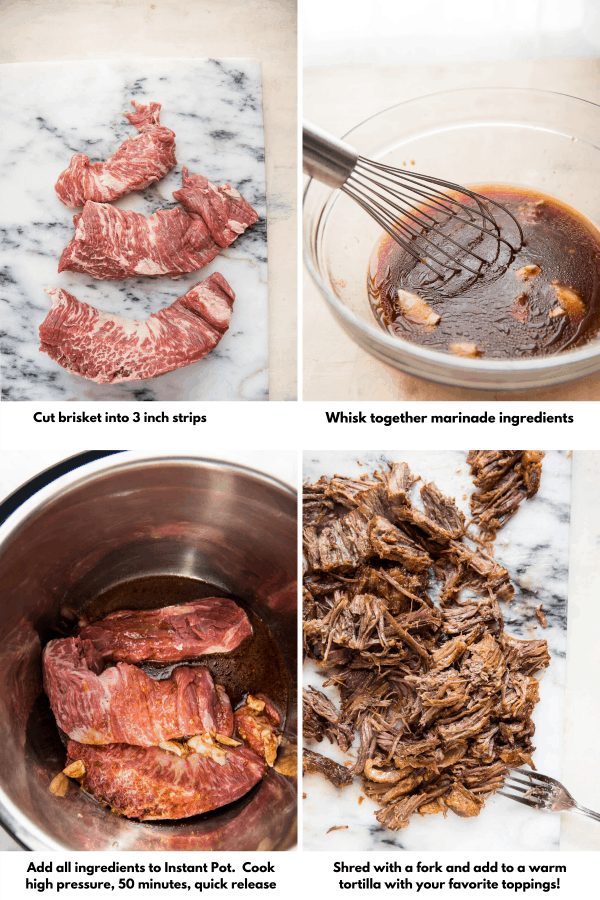 After cooking, remove the meat to a cutting board or plate to shred and reduce the remaining sauce. All you have to do is switch the Instant Pot to sauté. This is going to concentrate the flavors in the sauce and keep the meat moist when you return it to the pan after shredding.
Because you have this beautiful bath of extra sauce you can definitely make these ahead of time and heat up later.
That's it! You're ready to consume West Coast style, LA vibing, Korean beef. Make it tacos, throw it over salad, serving it alongside noodles or rice. No matter what you pair with it, it's going to be mighty satisfying and be sure to let me know exactly what you went with!
If you're a taco aficionado, first, welcome my dear friend. Second, be sure to check out all the taco goodness on the blog, or sign up to get these tasty recipes straight to your inbox.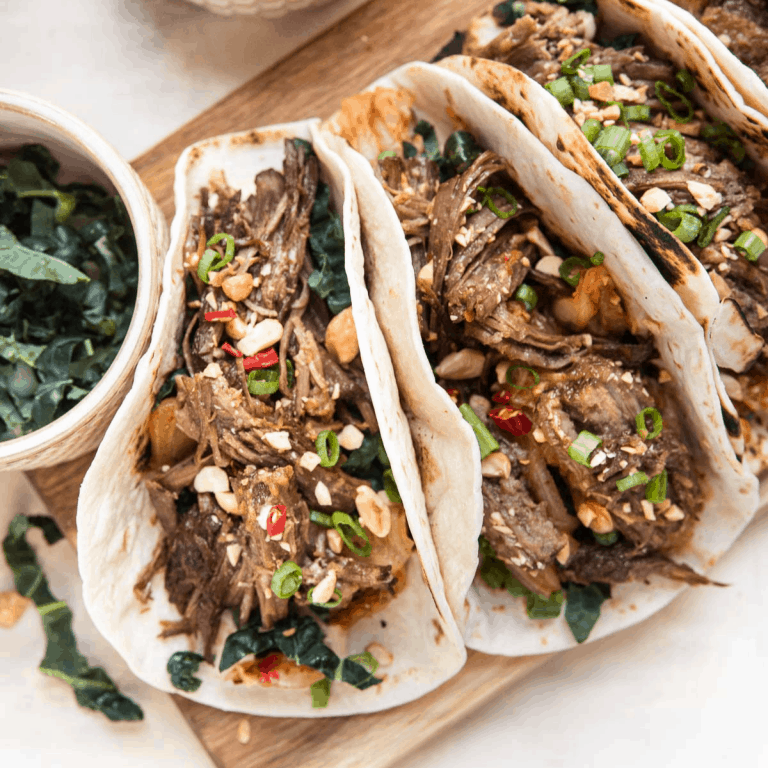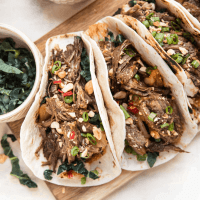 Instant Pot Korean Beef Tacos
Melt in your mouth, super tender Korean-style beef that taste like an all day slow cook thanks to the pressure cooker! Instant Pot Korean Beef Tacos are a touch spicy, a hint of sweet with shredded brisket, crunchy kimchi and crushed peanuts stuffed inside warm tortillas.
Print
Pin
Rate
Ingredients
Korean-style Beef:
2

lbs

boneless brisket

(point cut)

¼

cup

soy sauce

2

tablespoons

chili garlic sauce

2

tablespoons

ginger paste

2

tablespoons

brown sugar

2

cloves

garlic

3

tablespoons

sesame oil

2

tablespoons

rice wine vinegar

¼

cup

water
Taco Necessities:
tortillas

shredded tuscan kale or pickled cabbage

kimchi

chopped scallions

crushed peanuts

chipotle dressing or sriracha mayo
Sriracha mayo
¼

cup

mayonnaise

1 to 2

teaspoons

sriracha adjust to your spice preference

⅛

teaspoon

granulated garlic
Instructions
Prep the beef: Trim the brisket of any thick pieces of fat on the outside and slice into 3" strips. Place the beef in the instant pot.

In a small bowl, whisk together the soy sauce, chili garlic sauce, ginger paste, brown sugar, garlic, sesame oil, rice vinegar and water. Pour over the brisket slices.

Pressure cook the meat: Close the pressure cooker and set the vent to seal. Cook on high pressure (manual) for 50 minutes. Quick release the steam and transfer the brisket to a cutting board to shred. Reduce the remaining sauce in the Instant Pot on sauté for 10 minutes. Turn off the heat and add the shredded beef back to the sauce.

Warm tortillas and drizzle with sriracha mayo or chipotle dressing (see notes). Layer with kale, kimchi, beef, sprinkle with crushed peanuts, chopped scallions.

For the sriracha mayo: Combine ingredients in a small bowl and stir until thoroughly mixed. Add more or less sriracha based on your preference for heat - 1 teaspoons is a hint of spice, 2 teaspoons is noticeable heat.
Notes
Beef Options: Traditional Korean bbq beef uses a rib-eye or sirloin cut. If using rib eye or sirloin, reduce the pressure cook time to 45 minutes. For short ribs, flank steak or skirt steak, cook 25 minutes.
Slow Cooker Option: Convert this recipe to slow cooker method by cooking on low for 6 to 8 hours.
Sauces: On the tacos, I like a little creamy sauce. Sriracha mayo is my go to, because it's so easy to make but I also really love the chipotle dressing from Whole Foods when I'm trying to save time.
Nutrition
Calories:
385
kcal
|
Carbohydrates:
20
g
|
Protein:
27
g
|
Fat:
21
g
|
Saturated Fat:
5
g
|
Trans Fat:
1
g
|
Cholesterol:
73
mg
|
Sodium:
956
mg
|
Potassium:
445
mg
|
Fiber:
1
g
|
Sugar:
5
g
|
Vitamin A:
5
IU
|
Vitamin C:
1
mg
|
Calcium:
44
mg
|
Iron:
3
mg