Do you want the most delicious taco you will ever shove into that beautiful mouth of yours? It's right here. These Pork Carnitas Tacos are literally the best.
There's the well-seasoned, totally tender, subtly sweet pulled pork with just the right amount of caramelization. The spicy sweet and zesty pineapple mango salsa. The slather of jalapeño avocado crema, and it's all sitting on top of a warmed tortilla.
ARE YOU DROOLING YET?! I'm drooling. It's awkward.
This post may contain affiliate links.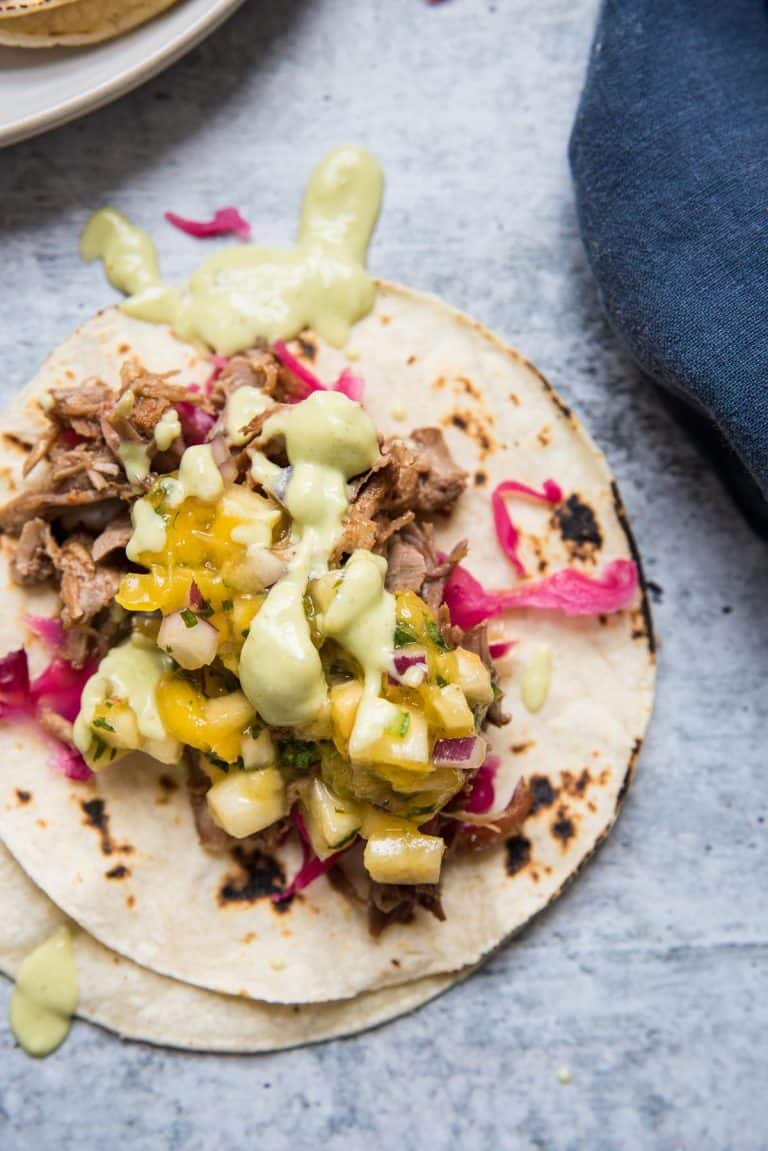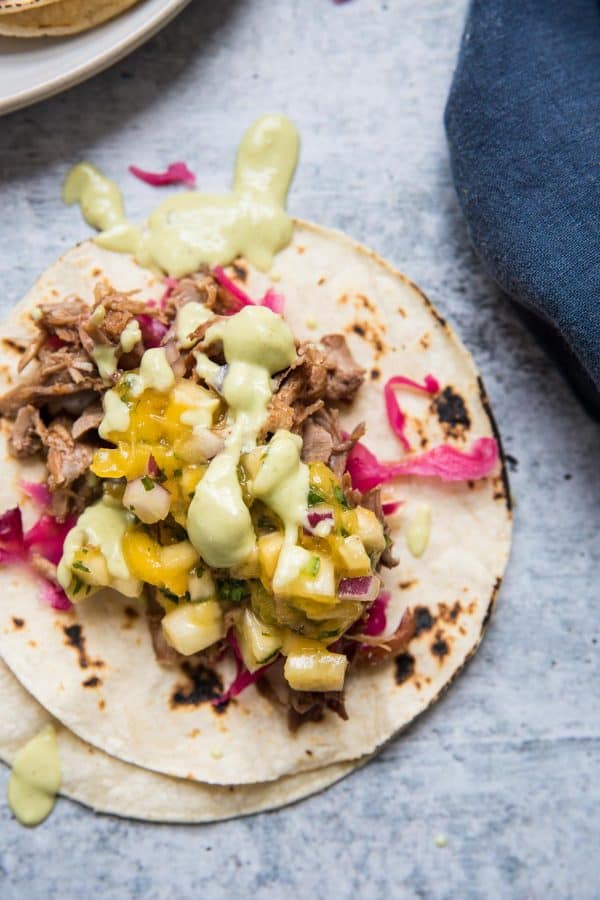 What is carnitas?
Besides the most delicious thing? It's tender shredded pork cooked low and slow - or in the Instant Pot for a time saving hack! - that's well spiced and cooked in some sort of braising liquid.
If your bags are packed for Carnitas-town, here's a few things to know about your travels there.
WHAT'S THE BEST CUT FOR CARNITAS?
You can really use any cut to make carnitas - I've used bone in chops and stew meat - but pork shoulder or butt are going to take the cake for best. Pork shoulder or pork butt are the same thing. Whether you choose bone-in or boneless doesn't really matter. Boneless is typically easier for me to find so I opt for that and cut it into large pieces so it's easier to season and braise.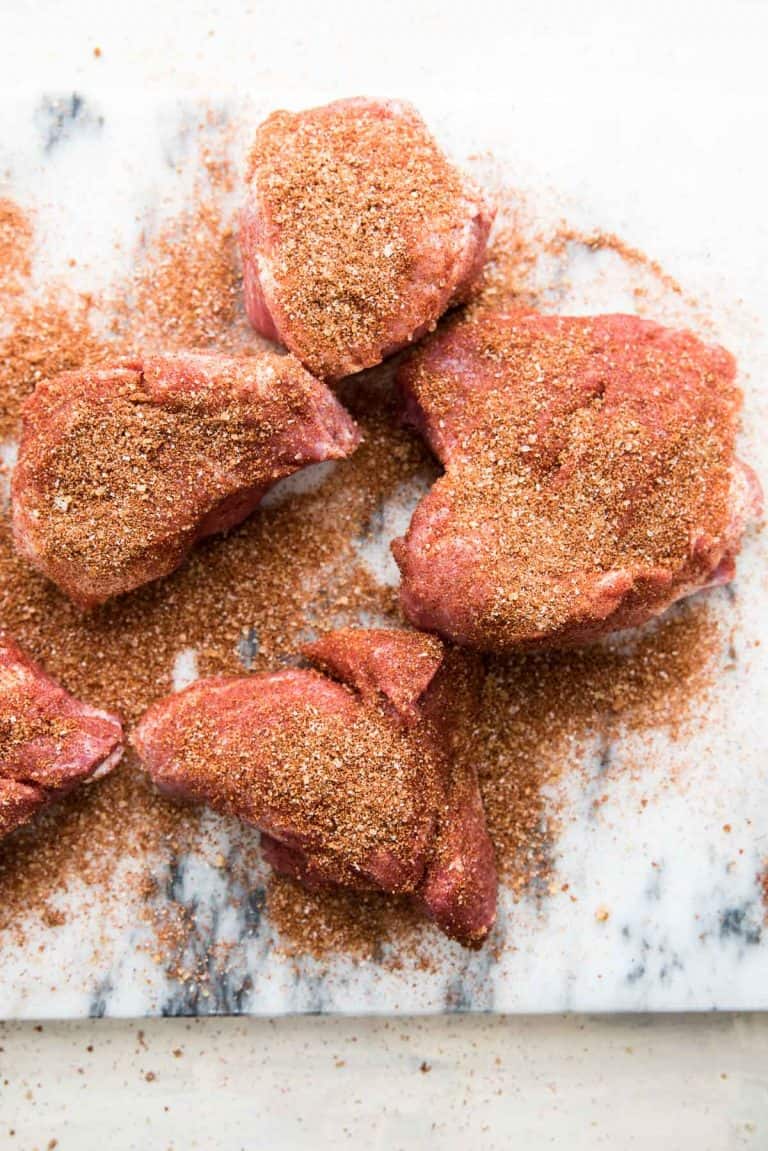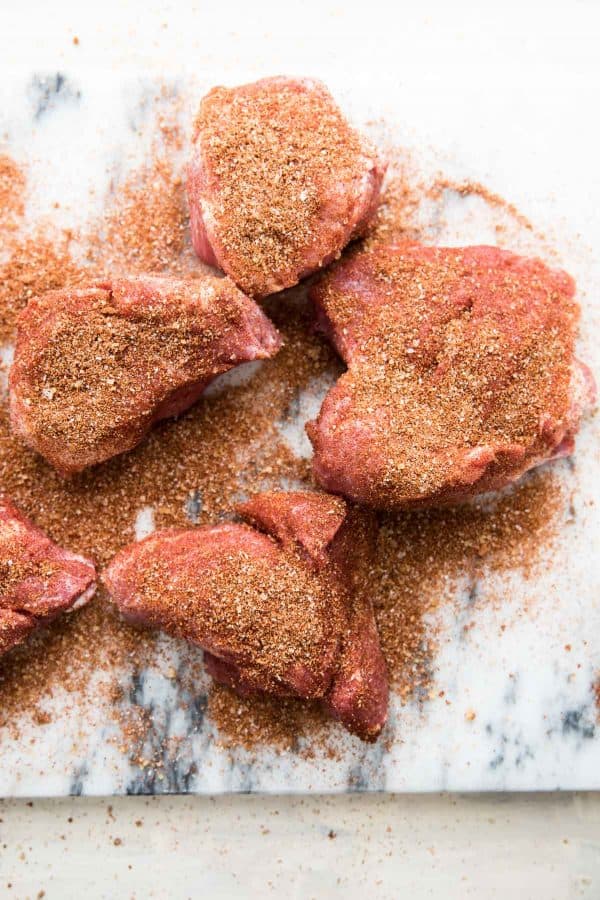 HOW SHOULD YOU SEASON YOUR PORK?
The majority of the flavor in carnitas is going to come from the braising liquid, which for this recipe is the perfect combo of sweet and savory. The spices you use to season should compliment your braising liquid. For this recipe, we're going to use this BBQ Spice Rub because it has all my favorite things that just so happen to be perfect for this carnitas recipe:
sweet brown sugar
tenderizing salt
caramelizing coarse sugar
smokey chili powder
black pepper heat
flavorful paprika
spicy cayenne pepper
If you're short on time, here's what I would do....mix together a little brown sugar, salt, pepper, chili powder and cayenne. Those are the star players in this rub and the flavors you definitely want to include.
HOW TO COOK THE PORK
You've got options my friend, it's a beautiful thing. You can cook pork carnitas tacos a few different ways. The end result is that you want easy to shred but not overcooked pork that has a low and slow cooked flavor. My favorite way is in the Instant Pot, but there are also instructions for the slow cooker and in the oven down in the recipe.
I mean, come on, the IP or any pressure cooker is the way to go. If you can do a 5-8 hour job in 30 minutes just as good, why would you not? We use this 8 quart instant pot (affiliate link!) but you could also get this done with a 6 quart.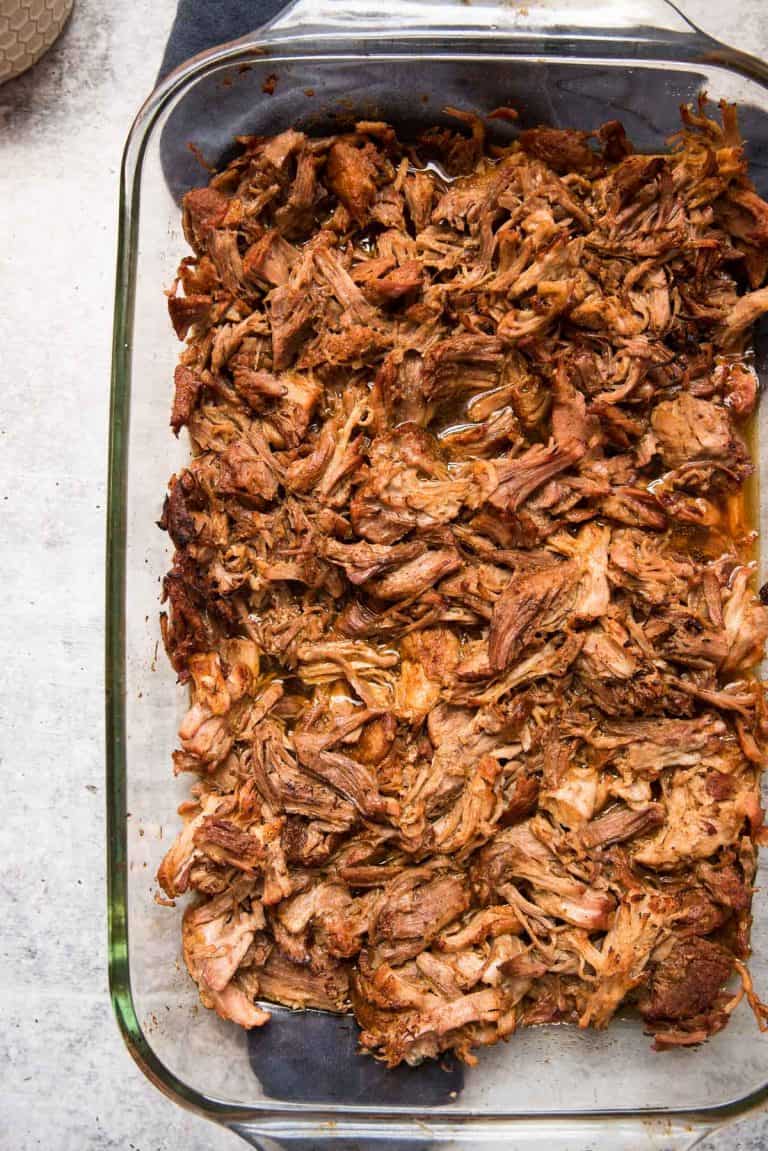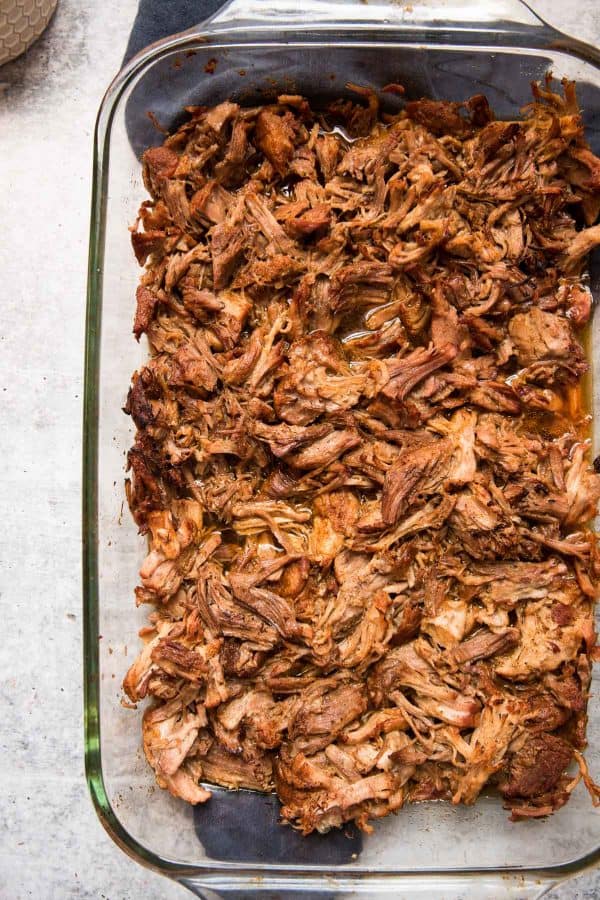 No matter the method, the procedure will be the same 6 simple steps:
Cut the pork into large pieces for easier seasoning and braising
Braise the pieces on each side in a hot pan with hot oil
Add liquid to the pain
Cooking time will vary depending on method
Pull the meat into perfect bites of pork heaven
Broil for crispy edges
But now I have something really important to tell you about. Now that we have the star of the dish taken care of, we're going to pair it up with the most amazing combo of flavors to make you some mind blowing carnitas tacos.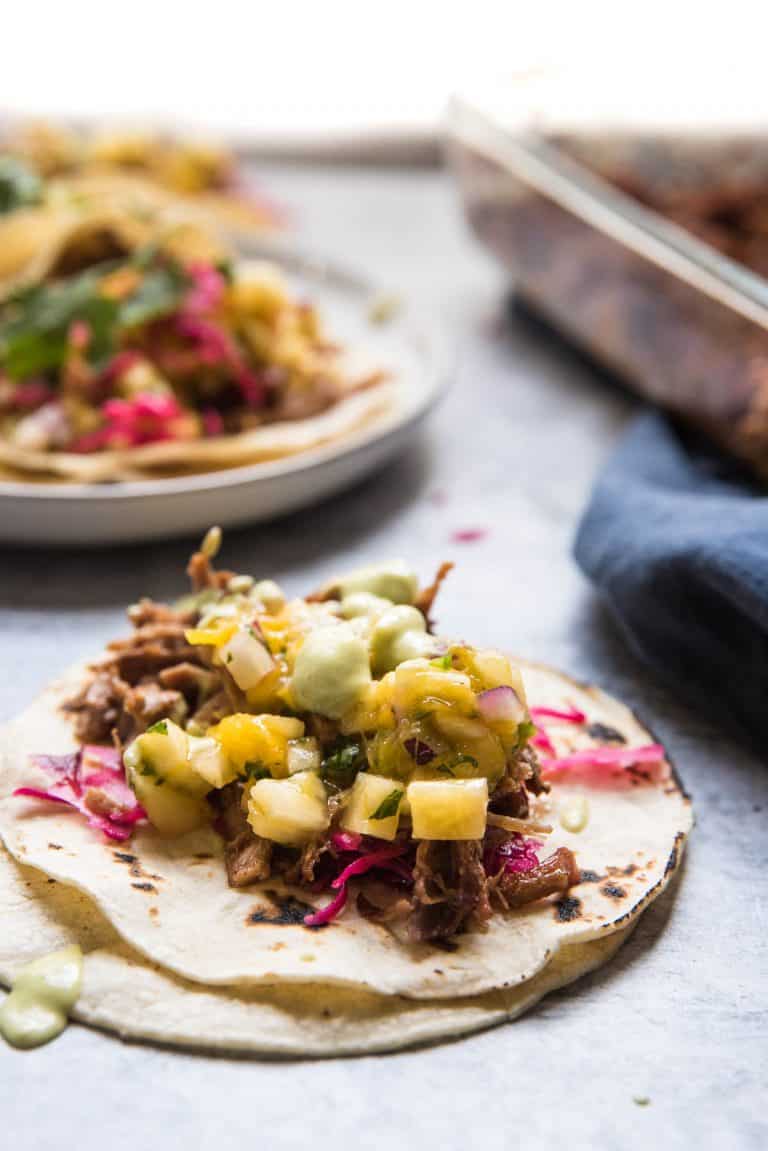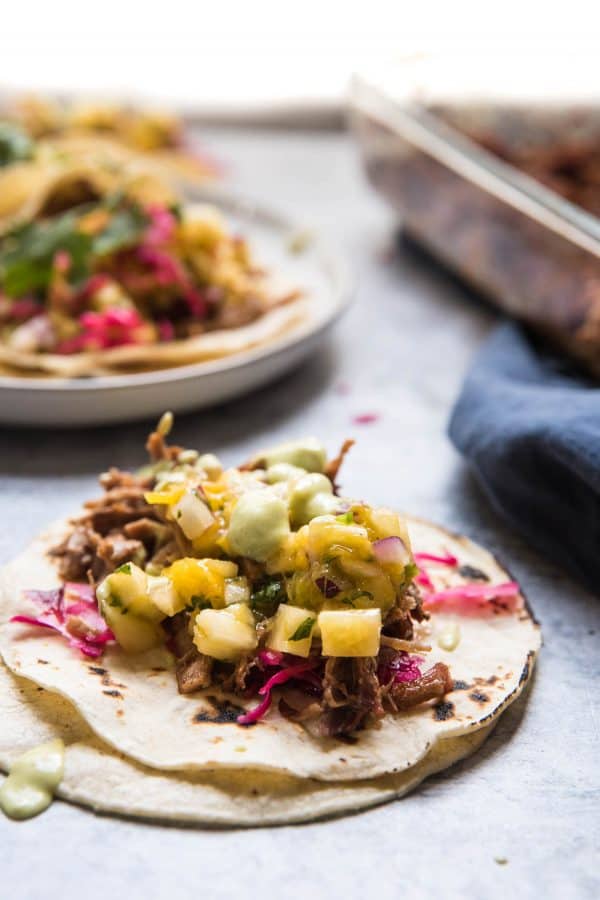 How to make the best pork carnitas tacos
What qualifies these as the best? Well, four out of four people I've served these to say they're the best tacos they've ever had. And it's not like we own a restaurant that specializes in tacos or anything....oh wait, WE DO. Here is what you are going to love about these tacos:
flour or corn tortilla - be sure to warm it up, double up if using corn.
pickled cabbage - the perfect crunch texture with beautiful acidity
sweet and spicy pork carnitas - tender, so flavorful, super easy
pineapple mango salsa - its sweet, a little herbaceous with a punch of fresh flavors
jalapeño avocado crema - game changing, kinda spicy awesomely creamy no mayo involved sauce.
So you've got all the things wrapped up in that tortilla - salt and fat (pork), acid (cabbage and salsa), heat (crema). You guys, it's a magical taco party and it's headed straight for your mouth.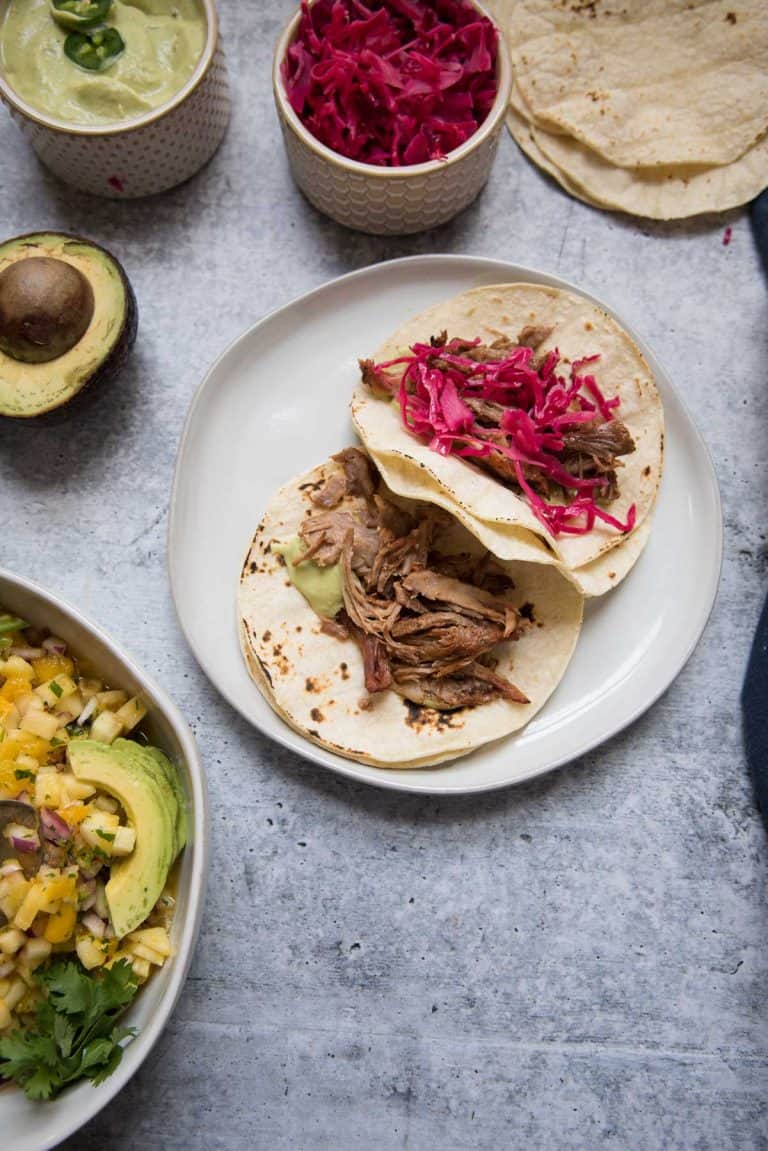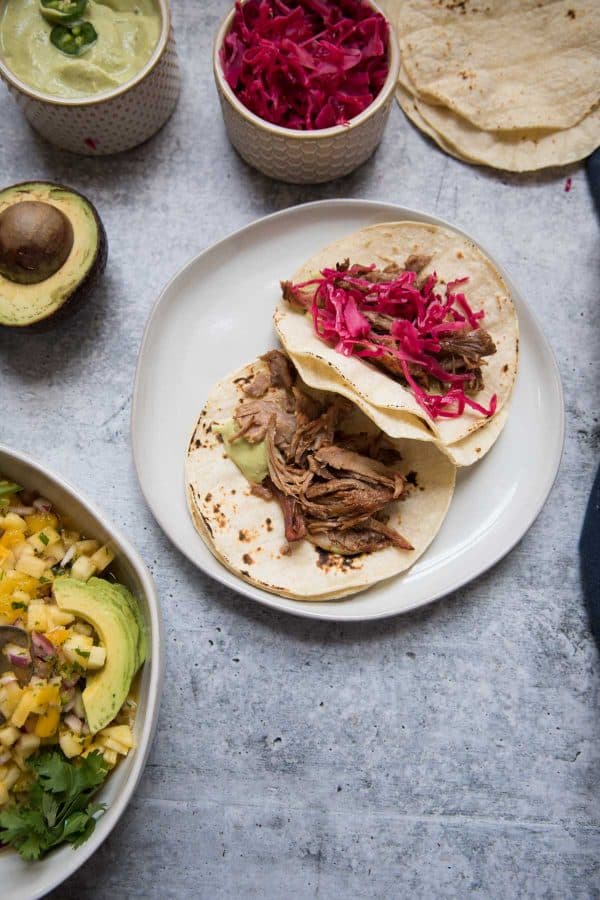 TIME SAVING TIPS:
I get it, there are a lot of moving parts to this recipe. Here's how I make these pork carnitas tacos in record time.
Make the BBQ Spice Rub in advance and just keep it in a mason jar or storage container in the pantry. It's great for seasoning all sorts of meats, so it won't go to waste.
If you're making this for dinner, the fastest option is to follow the Instant Pot directions. If you choose to go for the slow cooker or stove top methods, you'll need several hours to cook low and slow.
Nearly every grocery store has some sort of fruit salsa in the ready made produce section. This pineapple mango salsa recipe is a whole foods copycat. If I have the time I prefer to make it myself, but if I don't I swing by and pick up the same thing there.
The quick pickled cabbage is honestly that, quick. But it can also be made ahead and since it's pickled it keeps for a while. My tip is that I buy the pre-shredded bag of red cabbage in the produce section where the bags of lettuce are. Then all you have to do is steep and soak that.
If you've got these mastered, its time to pair up some sides and drinks! Try these HTP taco night favorites!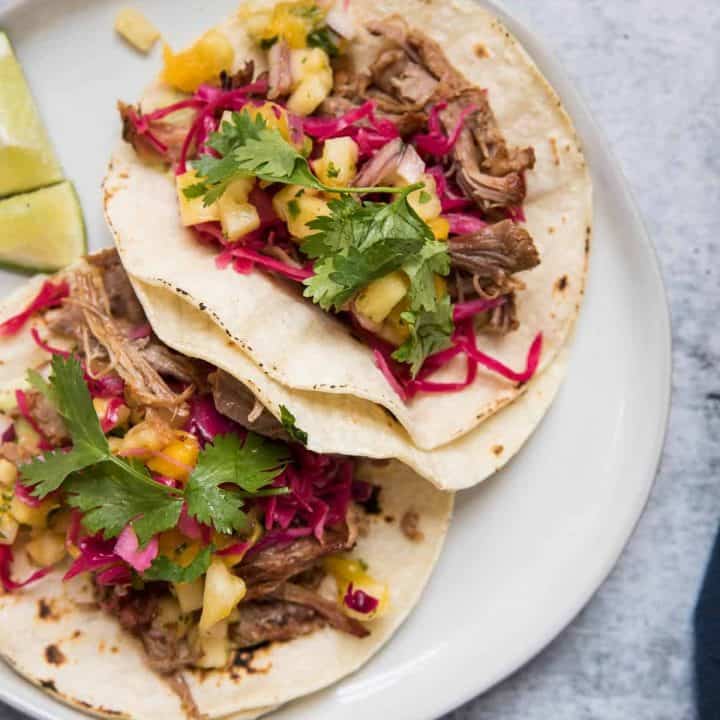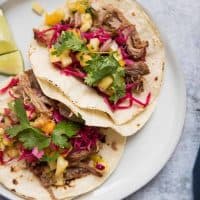 The BEST Pork Carnitas Tacos
Pork Carnitas Tacos are a game changer! Tender pulled pork, fresh fruit salsa, pickled cabbage and spicy jalapeño avocado crema are the most delicious combination of flavors.
Print
Pin
Rate
Servings:
10
to 12 servings
Ingredients
Pork Carnitas
3

pound

boneless pork shoulder

(cut in large chunks)

⅓

cup

BBQ Spice Rub

1

tablespoon

canola oil

1 ½

cups

pineapple juice

¼

cup

soy sauce
Pork Carnitas Taco Toppings
Instructions
Pork Carnitas
Instant Pot Instructions: Season the pork on all sides with spice rub. Heat the instant pot on the 'sauté' setting and add the oil. When the oil is hot, add the pork and sear for 2 minutes each side. Carefully pour the pineapple juice and soy sauce into the pan. Cover with the lid, seal, and set to high pressure for 30 minutes or the 'Meat/Stew' setting. Manually release pressure after cooking.

Crock Pot Instructions: Season the pork on all sides with spice rub.Heat a large skillet over high heat. Add the oil, once it shimmers add the seasoned pork and sear on both sides for two minutes each. Add the braising liquid and scrape any bits off the bottom of the pan. Cook for 1 minute and then transfer everything to the crock pot. Cover and cook on low for 6 ½ to 7 hours.

Stove Top Instructions: Season the pork on all sides with spice rub. Heat a dutch oven over high heat. Add the oil, once it shimmers add the seasoned pork and sear on both sides for two minutes each. Add the braising liquid and scrape any bits off the bottom of the pan. Reduce the heat to low, cover and simmer for 4 hours until meat easily falls apart at the touch of a fork.

After cooking on any method, preheat the oven to 'broil' on high. Transfer the pork to a 9x13 pan and shred with two forks into bite sized pieces. Pour 1 cup of the pan juices over the pork. Broil for 10 minutes to get that crispy carnitas texture.
The BEST Pork Carnitas Tacos
In a skillet or direction on a gas stove top, warm the tortillas over low heat on both sides. If using corn tortillas, stack two tortillas on top of each other so they don't rip from the juices.

Slather the center of the tortilla with about a tablespoon of jalapeño avocado crema. Layer with 3 tablespoons of well drained pickled cabbage, ¼ cup of pork carnitas and 1 to 2 tablespoons of pineapple mango salsa.
Notes
A quick spice rub of brown sugar, paprika, chili powder, cayenne, and salt can be used alternatively.
Nutrition
Calories:
215
kcal
|
Carbohydrates:
6
g
|
Protein:
32
g
|
Fat:
6
g
|
Saturated Fat:
2
g
|
Trans Fat:
1
g
|
Cholesterol:
82
mg
|
Sodium:
399
mg
|
Potassium:
589
mg
|
Fiber:
1
g
|
Sugar:
4
g
|
Vitamin A:
63
IU
|
Vitamin C:
4
mg
|
Calcium:
39
mg
|
Iron:
2
mg