Happy Memorial Day everyone! A weekend to remember to be thankful and appreciative for all those who take care of us at home and abroad.
If you are working in one of the industries that has this weekend off, you're probably enjoying some long-weekend plans.  If you are stuck working this weekend, I feel you, I've been there.  No rest for the weary.  Sending hugs from over the Internet.
The weather in New England this weekend has not been postcard perfect.  But that doesn't mean you have to skip the good eats and celebrations.  Stock up the fridge or cooler with your favorite libations and make sure the grill has plenty of gas or the smoker has plenty of wood.  It's going to be a great weekend.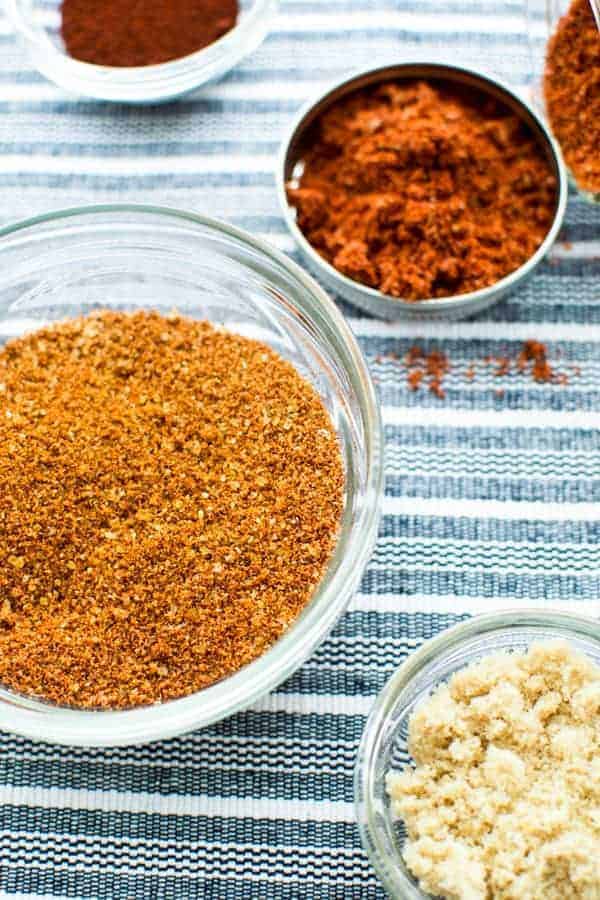 The backyard is open
No hot ovens, just firing up the grill and letting the gas, charcoal, smoke or any combination of the three do the work.  Our backyard is definitely not big compared to suburb standards, but for city living we have a pretty good gig.  Large enough for a grill, smoker, table, chairs, and a hammock – what more could you want?
Stepping out the back door and you enter my husband's domain.  Though I'm no stranger to using the grill and occasionally the smoker, that business to typically left up to him.  It's also the only time we can ever cook together.
I work inside preparing the ingredients and he works outside cooking them to perfection.  Perhaps it's the fact we are working in separate rooms that allows for this harmony of cooking skills.   Whatever the reason, we avoid the micromanagement of one another's decisions and the result is tasty barbecue – win, win.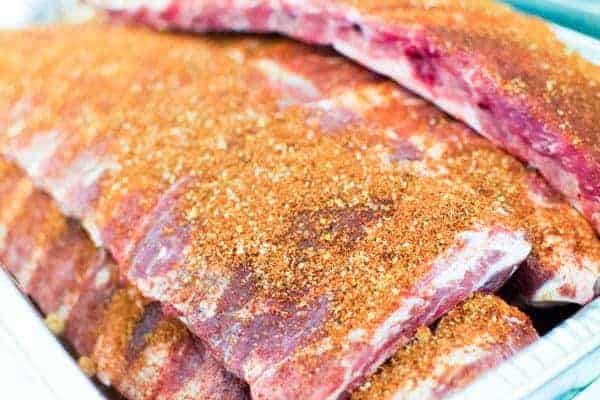 Ultimate Barbecue Spice Rub
When it comes to successful barbecue, beyond the meat, it's all about the rub.  A good rub seals the deal on flavor, texture, and if done right, can even eliminate the need for sauce.  If you're a lifetime member to the condiment club, the thought of going sans sauce can be a bit frighting.  So I assure you my own personal truth by stating that the proper amount of rub with the right amount of char will have you pushing the sauce to the side.
The secret to success for this spice rub is both the brown sugar and turbinado sugar combination.  The two provide a ton of moisture while almost creeping up on caramelization, sealing in the flavors of the spices so you're not left tasting any of the sweet.
When using this rub on ribs, we highly recommend sealing each rack in aluminum foil for about half the cooking time.  This will allow the ribs to become ooh sooo tender and moist, but by finishing them sans aluminum foil you will create a beautiful bark on the outside.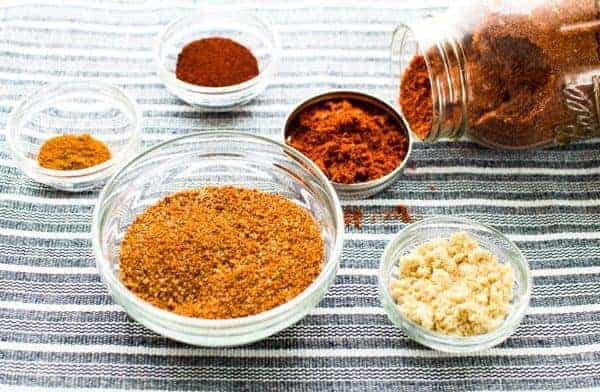 One recipe, multiple applications
Not a fan of ribs?  No access to a smoker?  Try this rub on some pulled pork, like this pulled pork recipe for example.  If you have a grill, I would definitely recommend using that to put a little char on the pork shoulder before sending it to the Crock Pot, but the braising method works great as well.
With just the right amount of heat from the cayenne and flavors from the chili powder, paprika and ground mustard, this spice rub has plenty of applications to keep your status as the neighborhood grillmaster.
Print
Barbecue Spice Rub
---
Author:

Prep Time:

10 mins

Total Time:

10 mins

Yield:

2 cups

Category:

Seasoning

Cuisine:

American
Description
Let your barbecue stand out with this perfect blend of spice, heat and sugar.
---
Ingredients
1 cup packed light brown sugar
1/4 cup turbinado sugar, such as Sugar in the Raw
1/4 cup kosher salt
1/2 cup paprika
4 tablespoons chili powder
1 tablespoon ground black pepper
1 teaspoon ground mustard
2 teaspoon cayenne pepper
1 tsp onion powder
---
Instructions
Add all ingredients to a large mixing bowl.
Using a whisk or clean, dry hands, thoroughly mix the spices.
Use liberally on protein of choice.
Store in an air tight container.
Notes
If doubling the recipe, reduce chili powder by 1 tablespoon.
The brown sugar may cause some clumping after storage, if it occurs, remix using a whisk.
Recipe Card powered by