Looking for a simple cornbread recipe that's moist and flavorful?! Stop right here because this super easy pepper jack skillet cornbread has crispy edges, cheesy soft inside, mixes in one bowl and bakes in the cast iron skillet!
Can we just sigh a big sigh for a minute? Like one of those content, happy, something good is here sighs. What's worth sighing about? It's barbecue season and we're bringing the Pepper Jack Skillet Cornbread.
Barbecue season is my favorite season. Don't get me wrong I'm a basic Pumpkin Spice Latte girl to my bones, but Spring has finally freaking sprung in Boston. Let's light up the smoker, do all the yard work and indulge in the barbecue eats.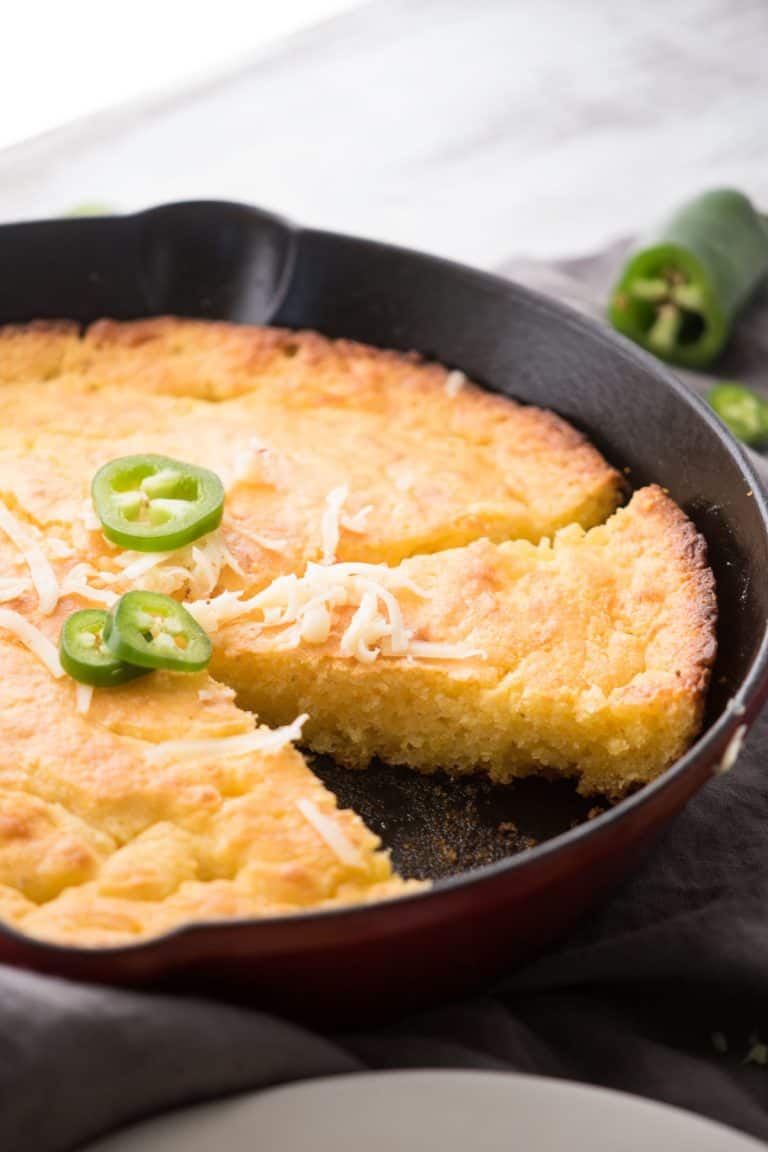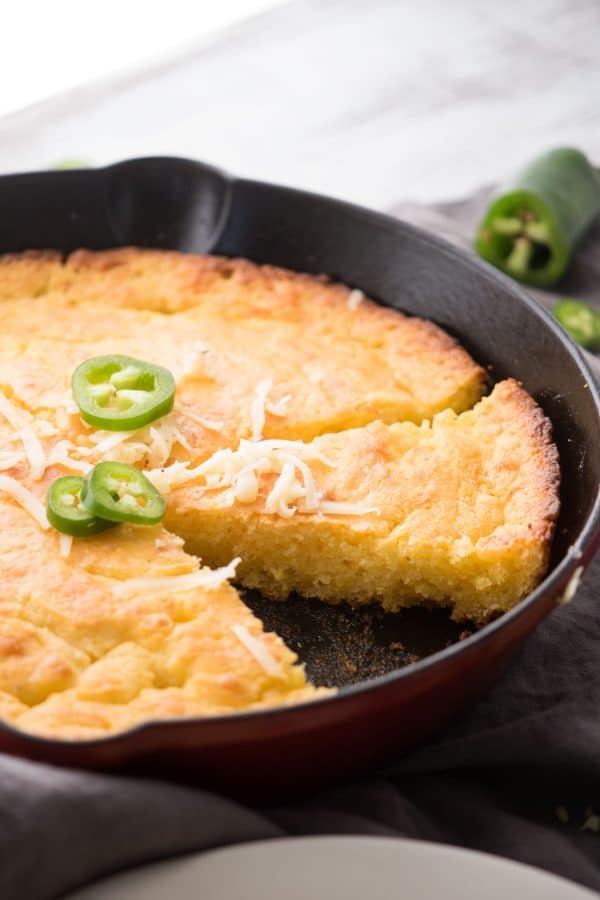 Quick Note: This post contains an affiliate link for my favorite cast iron skillet to use when making this recipe. The price you pay does not change, but I make a commission from the sale. Okay, now back to good eats.
Making skillet cornbread easy and delicious
Admittedly, cornbread has never been the first thing going on my plate when queueing up for the BBQ spread. As the years go by and we get older, wiser, and start making delicious, don't-suck-all-the-moisture-out-of-your-soul cornbread, things change. I'm willing to cut the line for this Pepper Jack Skillet Cornbread.
Maybe it's just how easy this recipe is, maybe it's the additional sour cream, or possibly it could be the ½ stick of butter it's cooked in (it's probably the butter.) The combination of all the tweaks to the original Jiffy Cornbread make for a perfectly moist cornbread with crispy edges and the right amount of cheesy kick.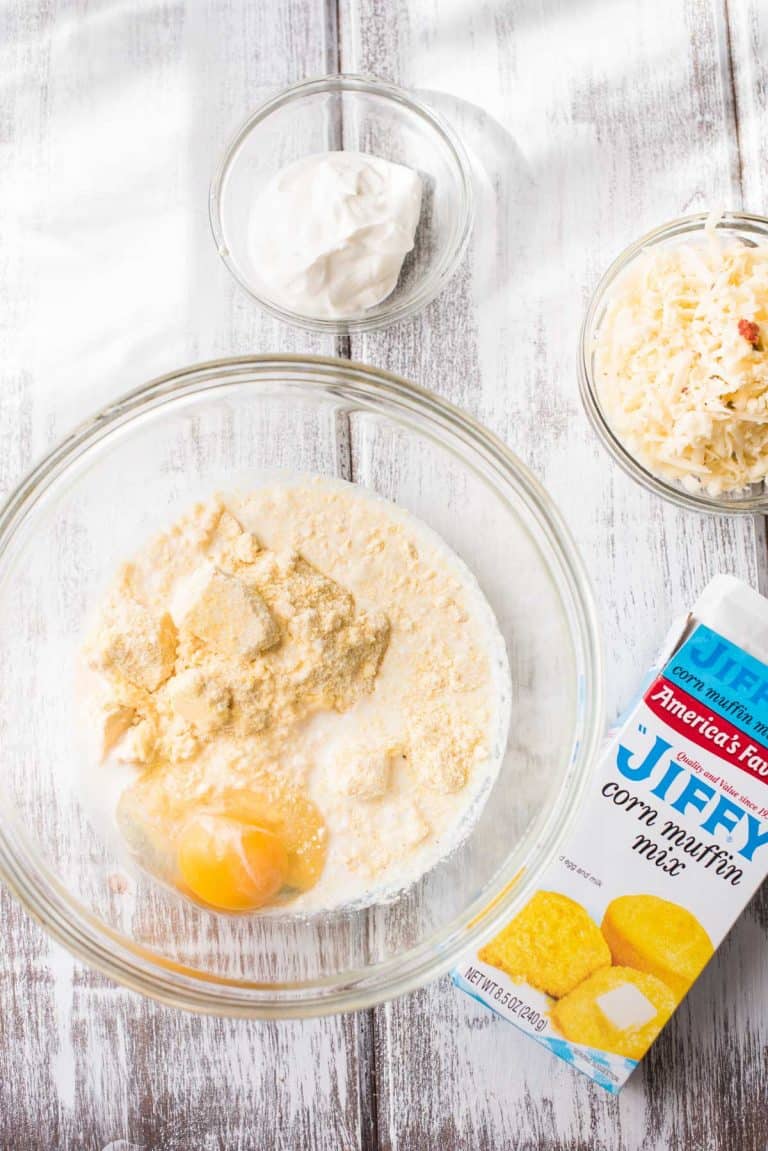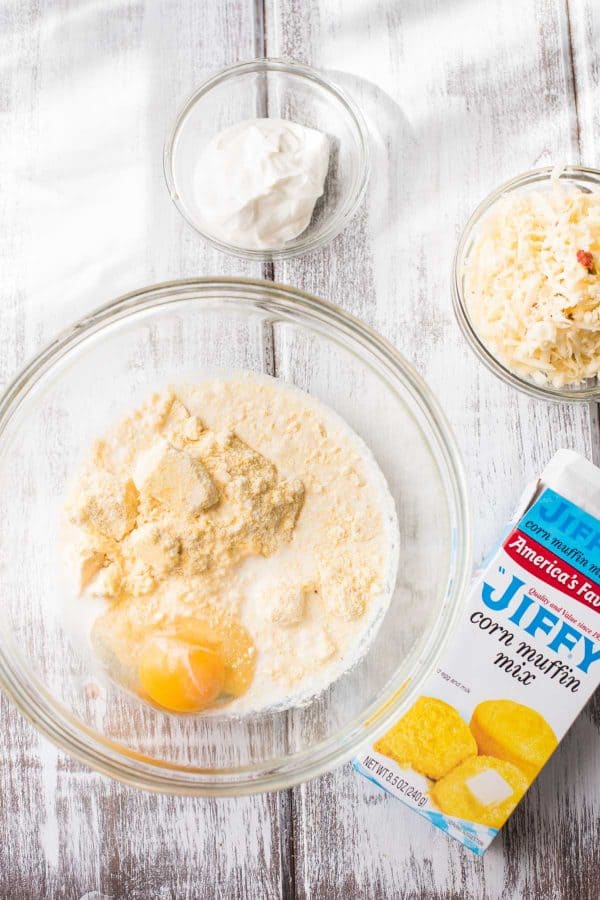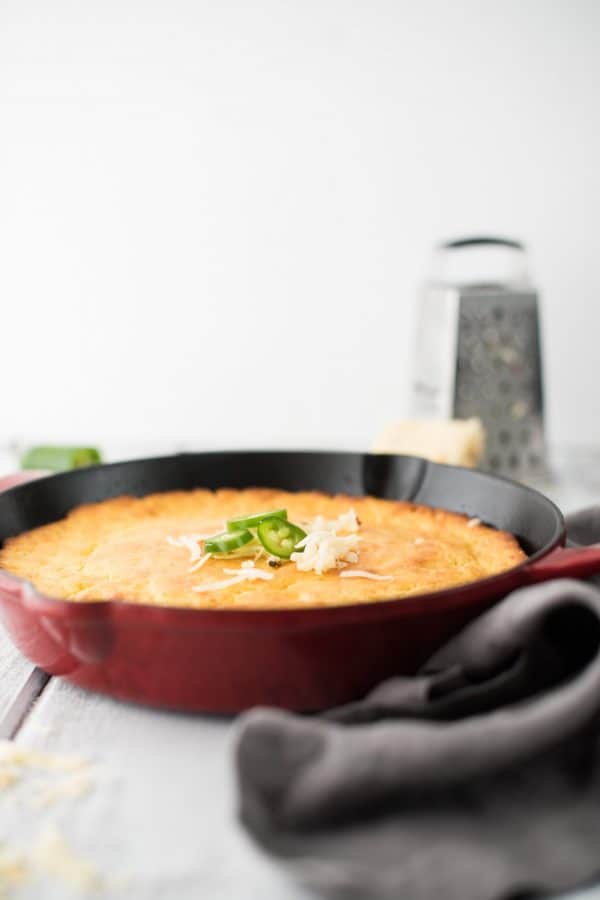 Besides the actual deliciousness of BBQ's best friend, this Pepper Jack Skillet Cornbread is ridiculously easy to make. When you preheat the oven, just throw the cast iron skillet inside to preheat along with it. Then once all your ingredients are whisked together, melting the butter will be quick and simple. My favorite is my 10" cast iron skillet, like the one you can get from Amazon right here
. It's perfect for small sides and proteins. I love my Lodge and Cuisinart cast irons equally, you know, like children.
There's going to be a thing that happens. You're going to pour the batter into the skillet and see the butter start pooling around the edges.
You'll be like, "Lauren, that's a lot of butter."
And I'll be like, "Yes. Yes it is.....and?" C'mon, you're doing all the spring cleaning and yard work and working on those really beautiful weather days that you just want to play hooky - treat yo'self.
Just spread the batter as evenly as possible and the rest will work itself out in the oven resulting in the perfect crispy edges and life changing cornbread. Especially when they're served up next ribs with the ultimate go-to Summer BBQ Spice Rub.
Not just for barbecue! Other ways to enjoy cornbread:
Not having a BBQ feast? Oh no worries, you too can still enjoy cornbread. My favorite ways so far have been:
Toasted with a poached egg on top
Crumbled over salad like croutons
Along side BBQ chicken quinoa bowls
Avocado toast cornbread
All the possibilities, easy peasy cooking. Let's get to it.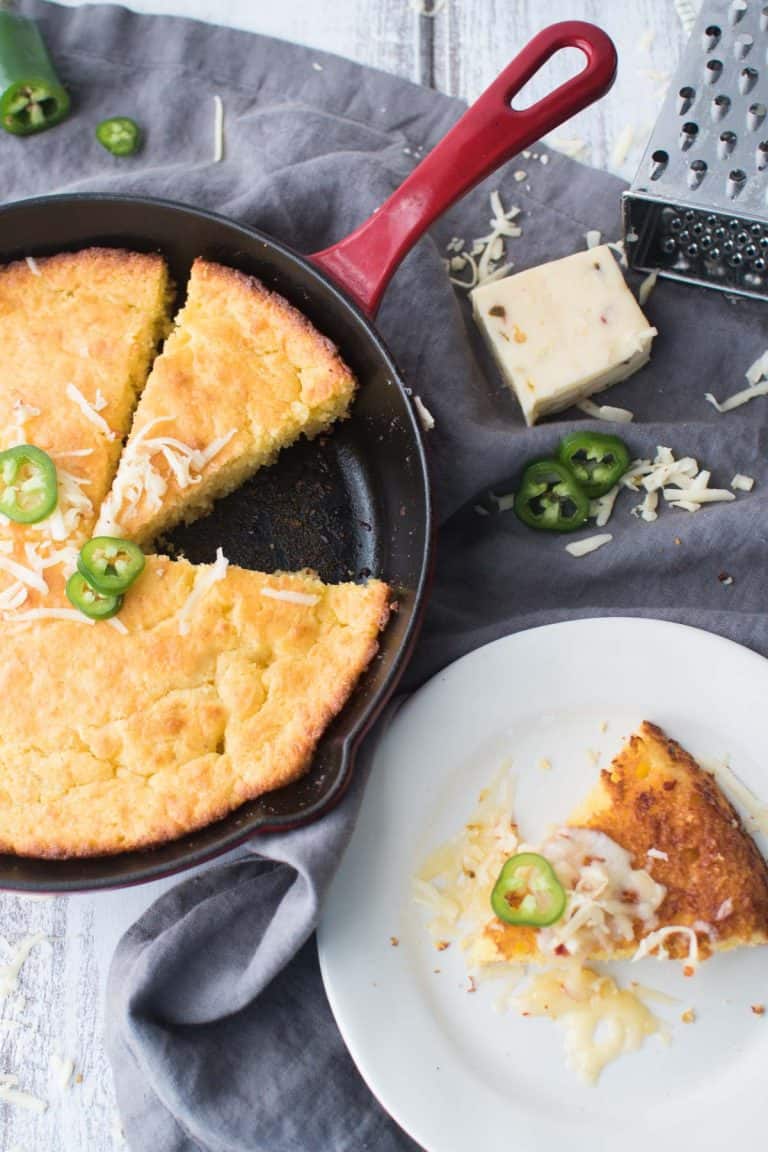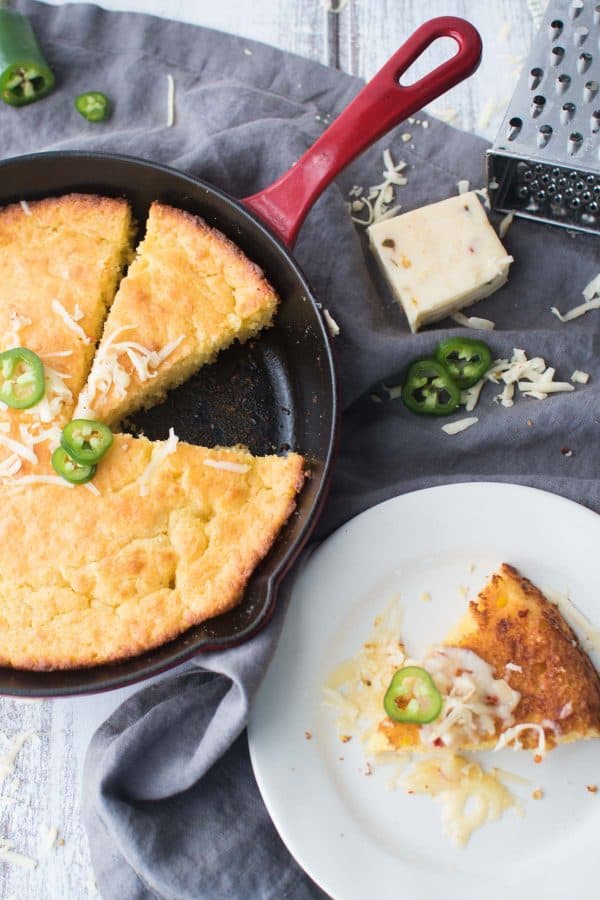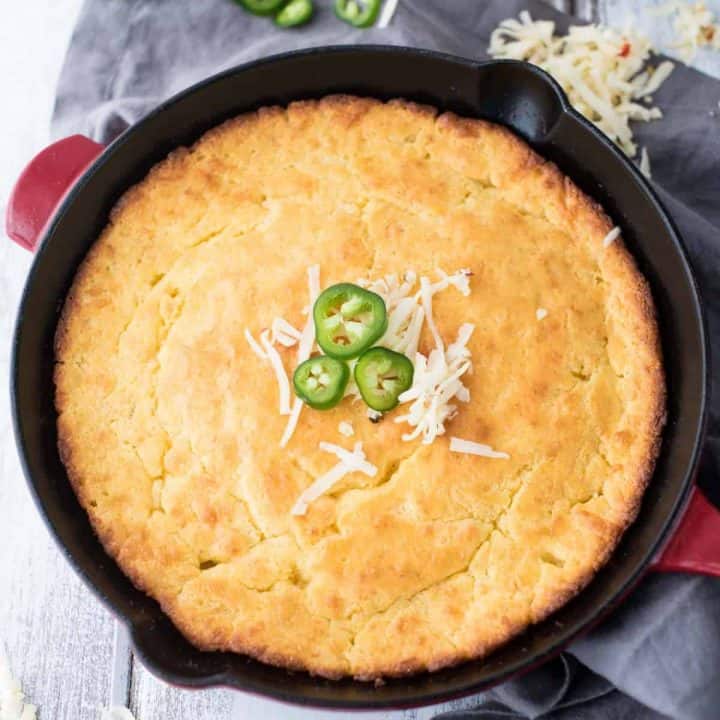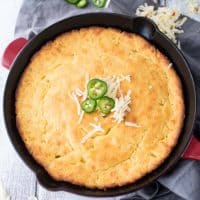 Pepper Jack Skillet Cornbread
Pepper Jack Skillet Cornbread is the perfect way to kick up a standard barbecue side dish. Buttery, crispy edges and tender, moist cornbread with just the right amount of spicy flavor.
Print
Pin
Rate
Ingredients
1

box

Jiffy cornbread mix

(8.5 ounce box)

⅓

cup

sour cream

⅓

cup

milk

1

egg

4

ounces

pepper jack cheese, grated

((½ block))

4

tablespoons

unsalted butter

(½ stick )
Instructions
Preheat the oven to 400°F with a 10-inch cast iron skillet inside. In a large bowl, combine the cornbread mix, sour cream, milk, egg and pepper jack cheese. Whisk until combined.

Remove the skillet from the oven and melt butter. Pour batter into the hot skillet spreading evenly with a spatula (butter may pool around edges.)

Bake for 15-20 minutes until the center is done and the edges are crispy.
Nutrition
Calories:
262
kcal
|
Carbohydrates:
22
g
|
Protein:
7
g
|
Fat:
16
g
|
Saturated Fat:
9
g
|
Trans Fat:
1
g
|
Cholesterol:
55
mg
|
Sodium:
343
mg
|
Potassium:
82
mg
|
Fiber:
2
g
|
Sugar:
7
g
|
Vitamin A:
424
IU
|
Vitamin C:
1
mg
|
Calcium:
150
mg
|
Iron:
1
mg