Looking for a delicious barbecue side dish but don't want to spend all day by the stove top? These Instant Pot Collard Greens are tender and savory with just the right amount of spicy heat and smoky flavor that just taste like they've simmered all day.
Guess who's back, back again....summer time side dishes! Yes, technically it's still Spring here in Boston, but let's be real. A lousy winter and even lousier beginning of Spring means cravings are officially on all the summer foods. Bring on the barbecue side dishes and these Instant Pot Collard Greens, we say! (You're with me, right?) This super flavorful, tender green, easy spin on the traditional side dish will not disappoint.
Are you #TeamGreen? There are a lot of cool things that are green. The Hulk. Yoda. Wally the Green Monster. Broccoli Salad. AND COLLARD GREENS.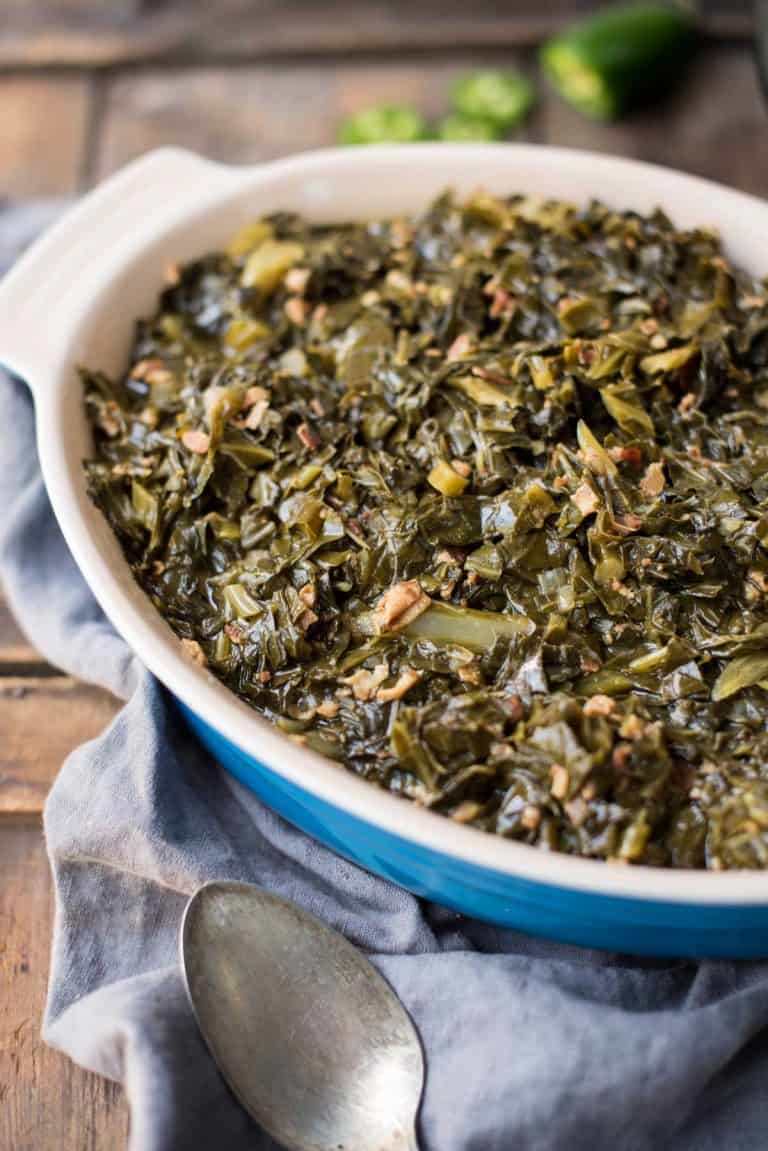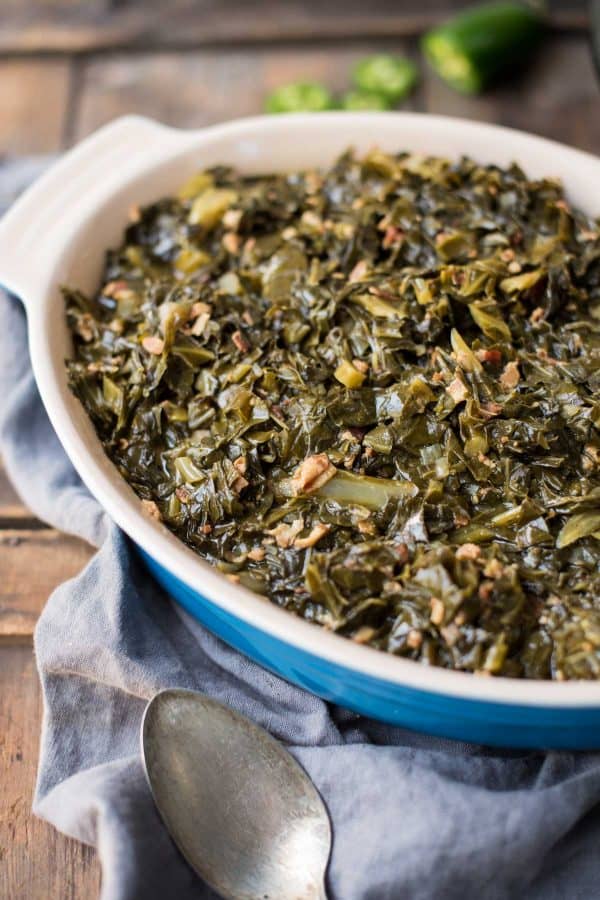 You may not believe me, but just hear it out for a sec. We're Instant Pot-ting these shreds of hearty greens so they're going to be a few things off the bat.
Flavorful AF
More tender than the heart of America after watching 'This Is Us"
Easy, peasy sauté some stuff, then press a button and let the beauty happen hands free.
Oh, and there's a pound of bacon up in the those greens. So even if you're not showing up for these Instant Pot Collard Greens, at least stay and try them for the bacon (and jalapeño!)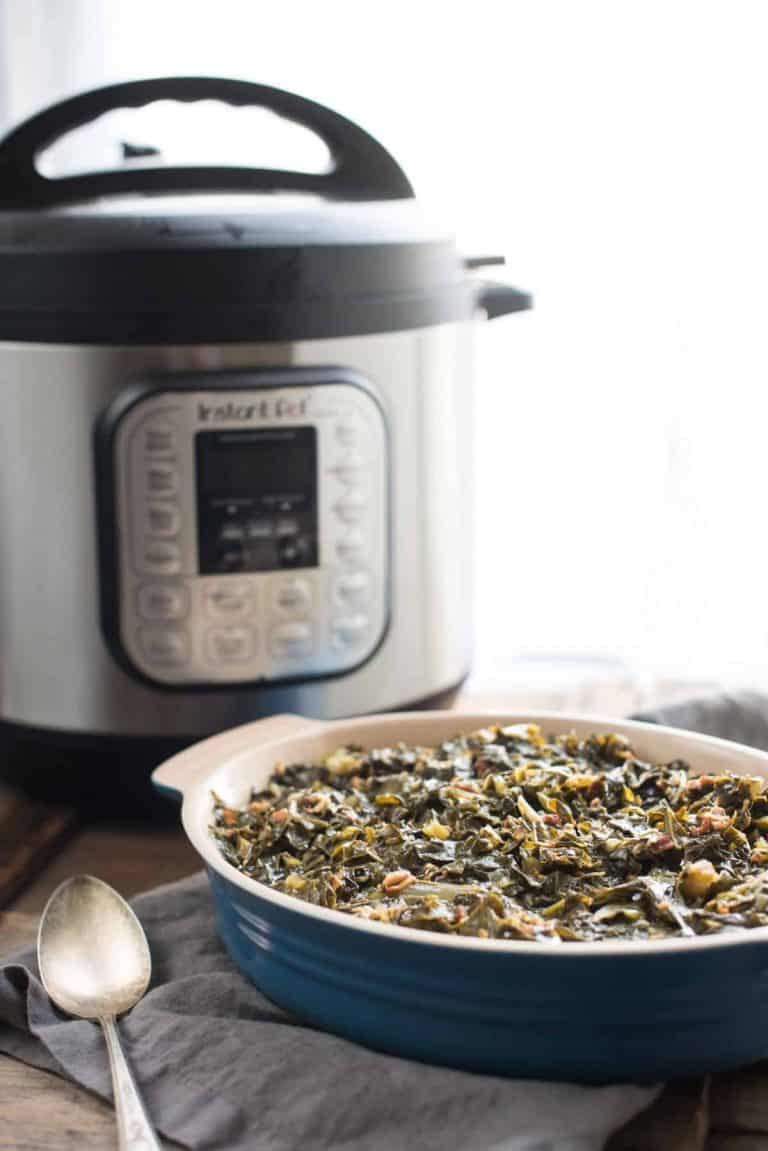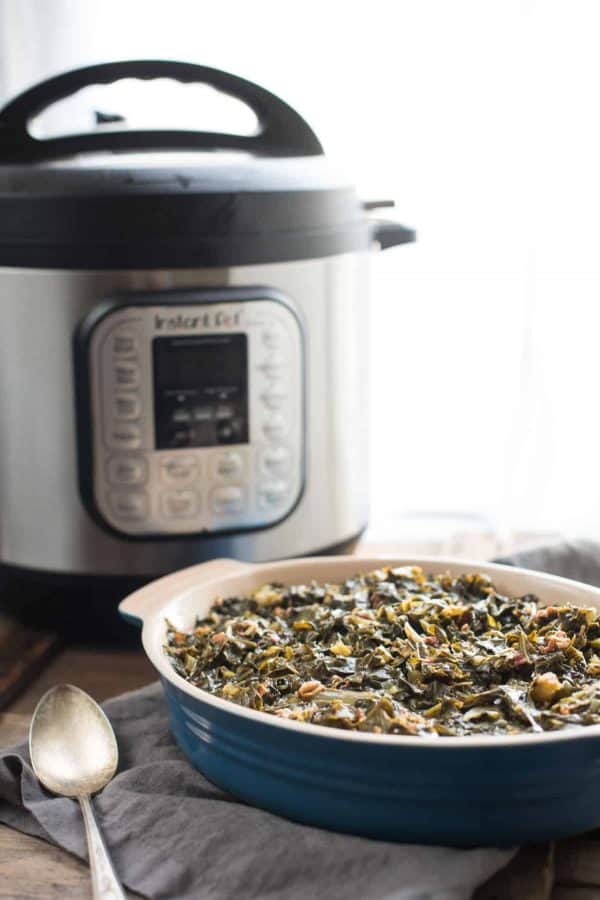 New to collard greens? Have a dramatic collard green experience from the past? It's ok, we can do this hand in hand. It's going to be worth it, I promise. A lot of folks tends to shy away from the greens strips of natures beauty because when they're bad, they're real bad - think gritty, chewy, dull. Instant Pot Collard Greens with Jalapeño + Bacon are none of those things because they're pressure cooked to be soft and tender with lots of flavorful ingredients like bacon, jalapeño, chicken stock, and dijon.
We start off sautéing up that pound of bacon, so things are already getting pretty good. Followed up with onion and jalapeños, then pre-cut bagged greens (my favorite part - so easy!), white wine, chicken stock and a few spices. THAT'S IT. Put a lid on it then let the pressure work it's magic breaking down the greens while infusing all the flavor.
Can we back up to the pre-cut collard greens part for a sec? You can usually find them in the produce department of your grocery store. The greens are cut in strips without the large part of the stem. Already pre-washed and ready to go. Don't you love having one less step? If this isn't available though, you can definitely de-stem, wash and cut about 2 bunches of collard greens to get the same result.
Things you should serve this with...
Can we dig in now? Let's get messy and full on all the barbecue things!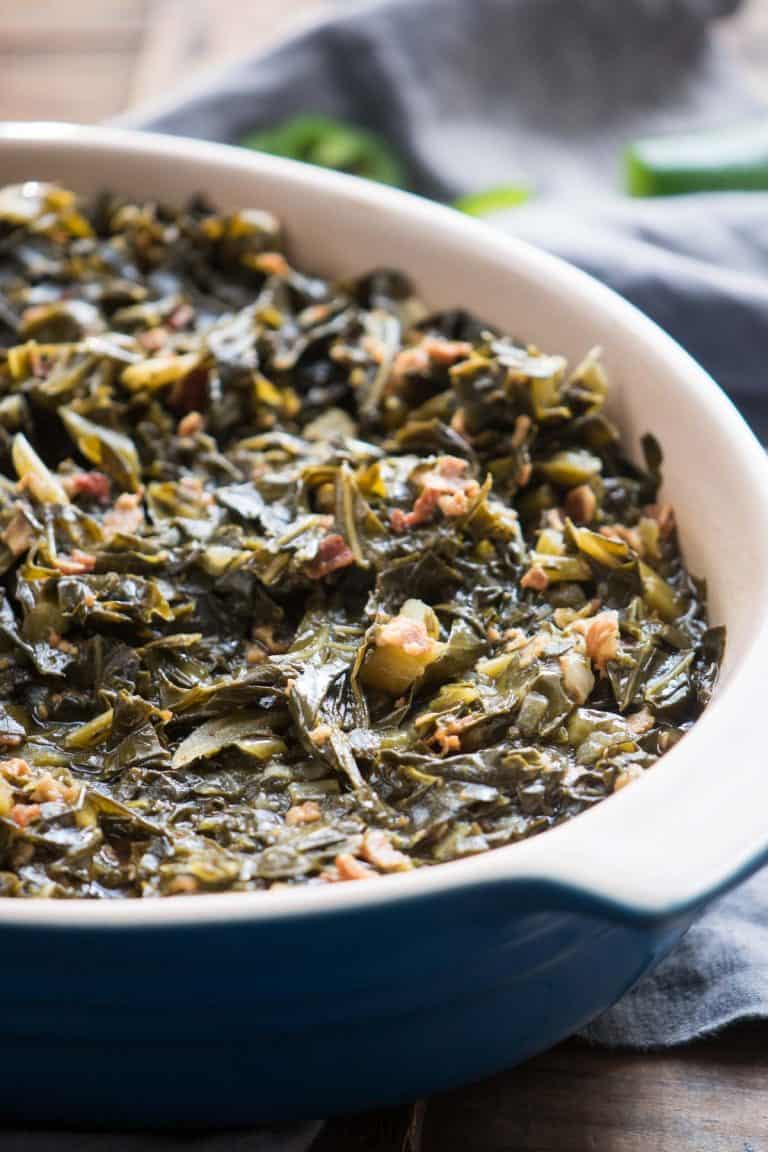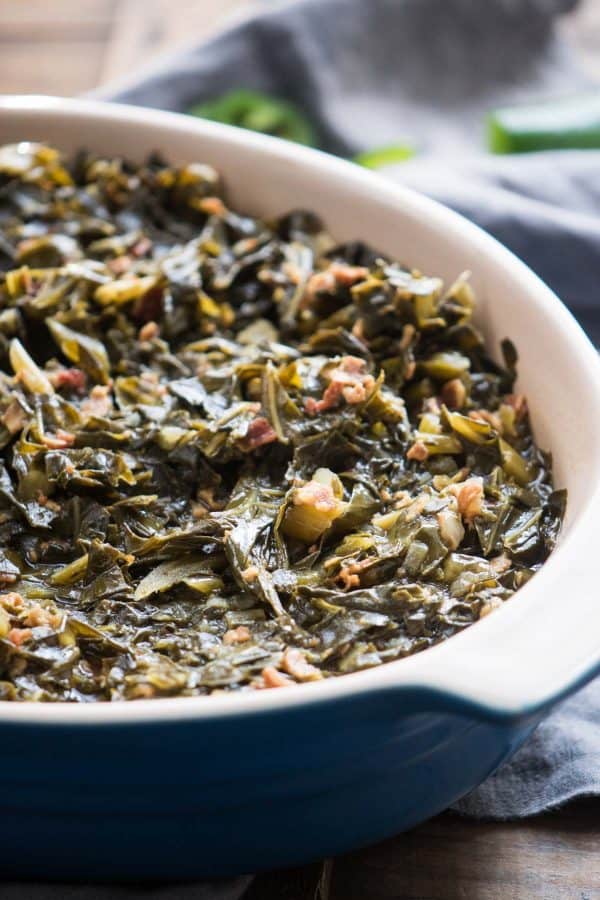 Did you make this recipe? Tell me about it in the comments! What's your go to barbecue side dish? Let me know! ????????????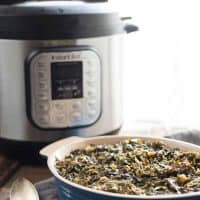 Instant Pot Collard Greens with Jalapeño + Bacon
Instant Pot Collard Greens with Jalapeño + Bacon are a simple way to make a classic barbecue side dish! Instead of stirring them on the hot stovetop, let the Instant Pot do all the work, resulting in tender, flavorful, rich collard greens with just a hint of spice.
Print
Pin
Rate
Ingredients
1

yellow onion

(½" dice)

1

jalapeño

(¼" dice)

1

pound

center cut bacon

(chopped)

2

pounds

shredded collard greens

(about 2 bunches cut into thing strips)

2

tablespoons

unsalted butter

½

cup

white wine

1 ½

cup

chicken stock

1

teaspoon

salt

¼

teaspoon

crushed red pepper

1

tablespoon

dijon mustard
Instructions
Set the instant pot to the 'sauté' setting. melt the nutter and add the bacon. Cook, stirring occasionally, for 10 minutes until the bacon is crispy and the fat is reduced. (Be careful as the fat in the pan may splatter as the heat rises.)

Add the diced onions and jalapeño to the bacon and cook for 3 minutes.

Stir the collard greens into the pot. Add the heat hits the greens they will start to wilt, making more room in the pot for all the greens. Pour in the white wine and chicken stock and stir in the salt, crushed red pepper and dijon mustard.

Close the lid to the Instant Pot and make sure the valve is sealed. Turn off the 'sauté' setting and set on normal pressure for 20 minutes ('beans/chili' setting on some Instant Pot models.)

After cooking, allow Instant Pot to depressurize for 10 minutes. Remove the lid and serve.¹
Notes
¹There will be liquid in the pot after cooking. You can strain the greens from the liquid or serve with it. If you keep the liquid, serve with a slotted spoon.
²Instant Pot Collard Greens will stay good for up to 4 days refrigerated in air tight container, reheat to serve.
Nutrition
Calories:
334
kcal
|
Carbohydrates:
10
g
|
Protein:
12
g
|
Fat:
27
g
|
Saturated Fat:
10
g
|
Trans Fat:
1
g
|
Cholesterol:
46
mg
|
Sodium:
774
mg
|
Potassium:
441
mg
|
Fiber:
5
g
|
Sugar:
2
g
|
Vitamin A:
5840
IU
|
Vitamin C:
43
mg
|
Calcium:
274
mg
|
Iron:
1
mg