Bright and tart lemon, sweet thyme infused simple syrup with herbaceous gin and a touch of bubbles. Lemon Thyme Gin Spritz cocktails are perfectly refreshing and great to make in batches for parties.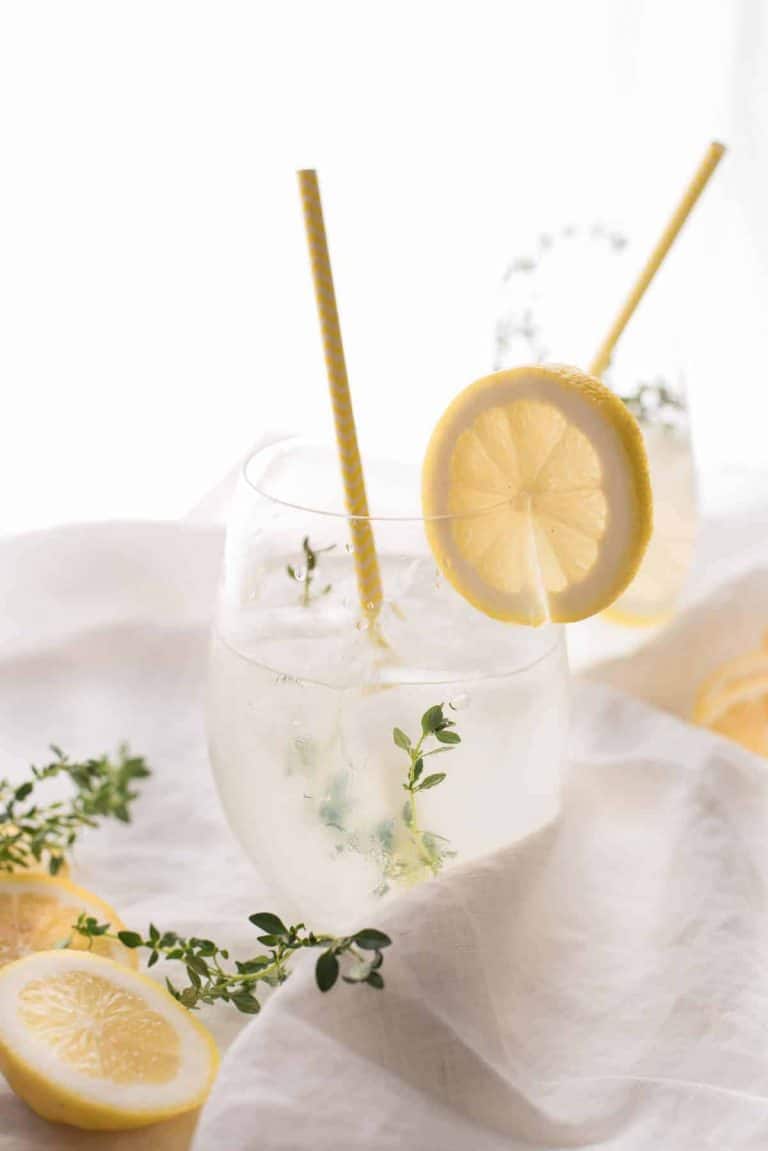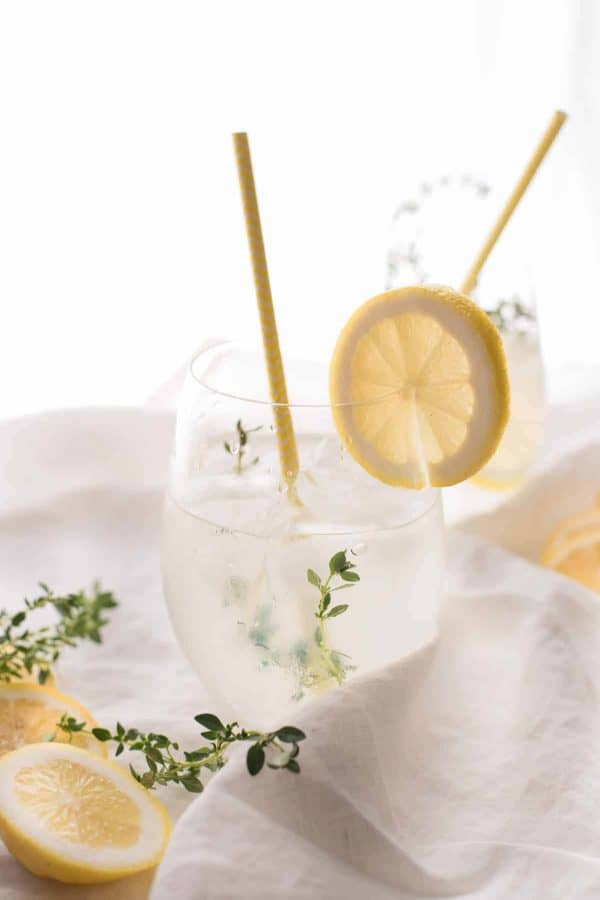 Sometimes there just isn't enough time. Sometime there's too much thyme. For when life throws you both, here's a cocktail that takes little time and a bunch of thyme.
Let's sip on these Lemon Thyme Gin Spritz cocktails and pretend that summer's never going to end.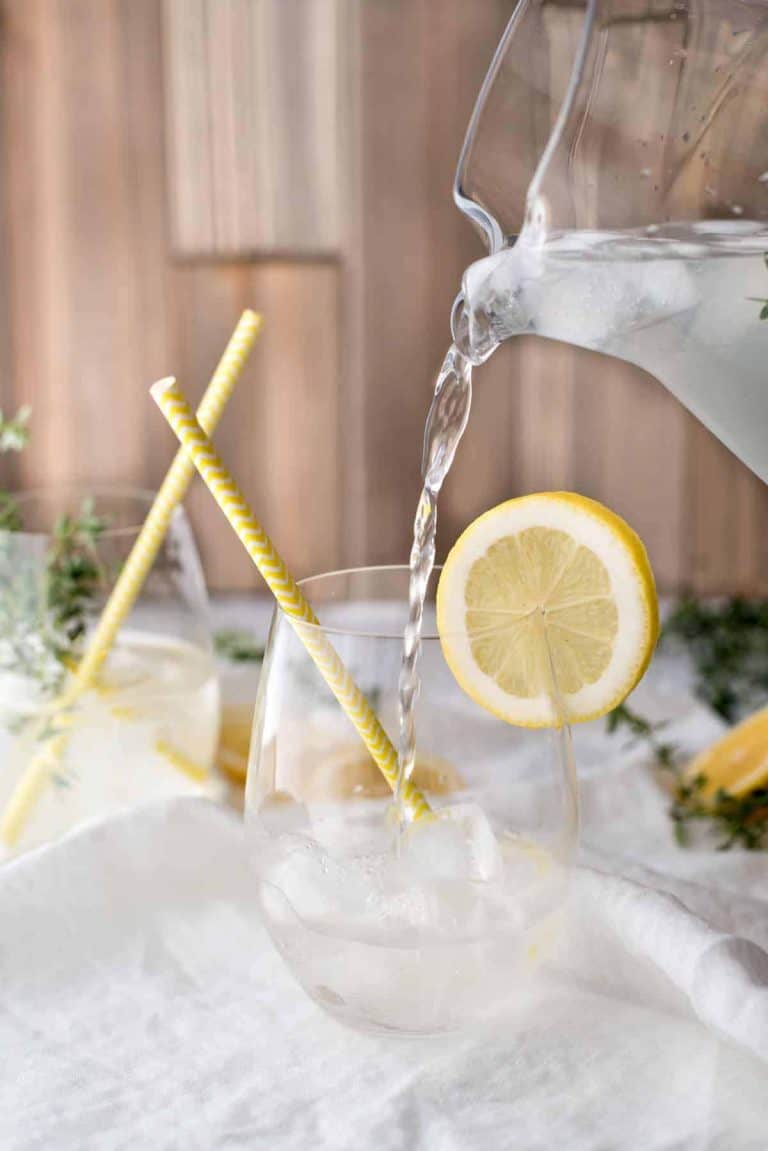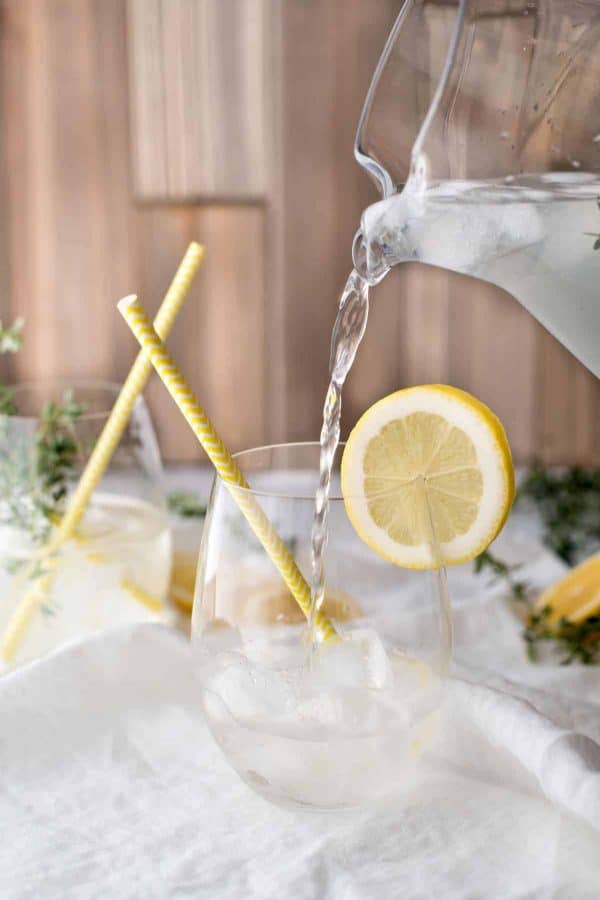 Lemon Thyme Gin Spritz
This is just about the time of year my herb garden goes berserk. Like lawn of the creepy old house in a scary movie berserk. But in the movie I'm watching, the old house would just contain a cranky, lonely, elderly inhabitant who's actually very sweet and then everyone becomes friends and the movie is actually not scary at all. And right before the credits they have a barbecue and drink these lemon thyme gin spritz drinks, and it turns out the movie wasn't scary at all.
Now that's my kind of movie. One that ends in snacks and cocktails and I didn't pay someone to help me lose sleep at night. I am truly the scarediest of scaredy cats.
Anyways, these cocktails are the perfect way to use up that overgrown thyme...hello summer in a glass.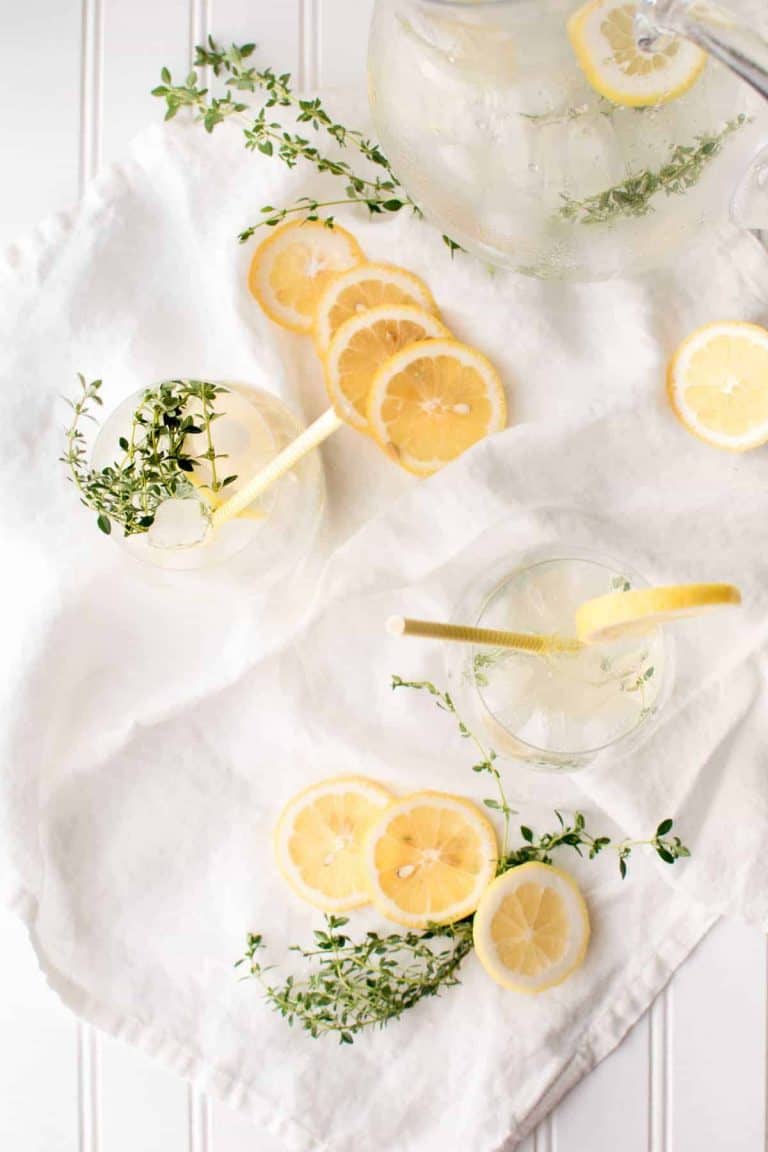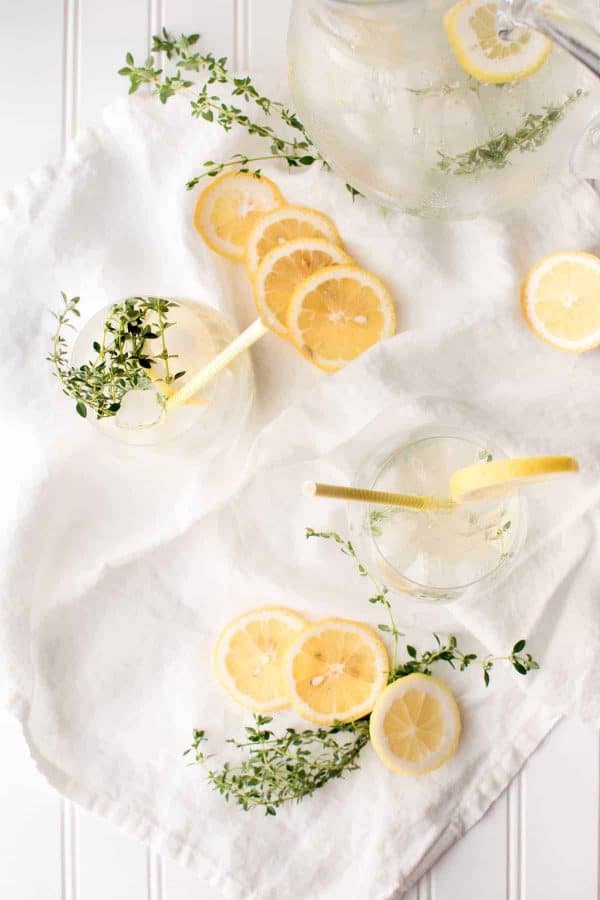 A touch of sweet and herbaceous flavor with crisp undertones of gin botanicals get touched with bright, lemony acidity.
You guys...I don't even like gin. The whole Christmas tree vibe, isn't really my drink scene. But these. I can seriously get down with a pitcher of these.
These drinks remind me of when you're on vacation - the beach, lake house, or even a staycation - and you're the first one up. You put on your slippers, or flip flops, and maybe a sweatshirt or long sleeve tee. The air is just a touch cool as you step outside, but the glow of the sun sends kisses on your skin.
It's quiet and peaceful and the sun is just giving you this really great hug. Soak it in.
Hug, meet glass.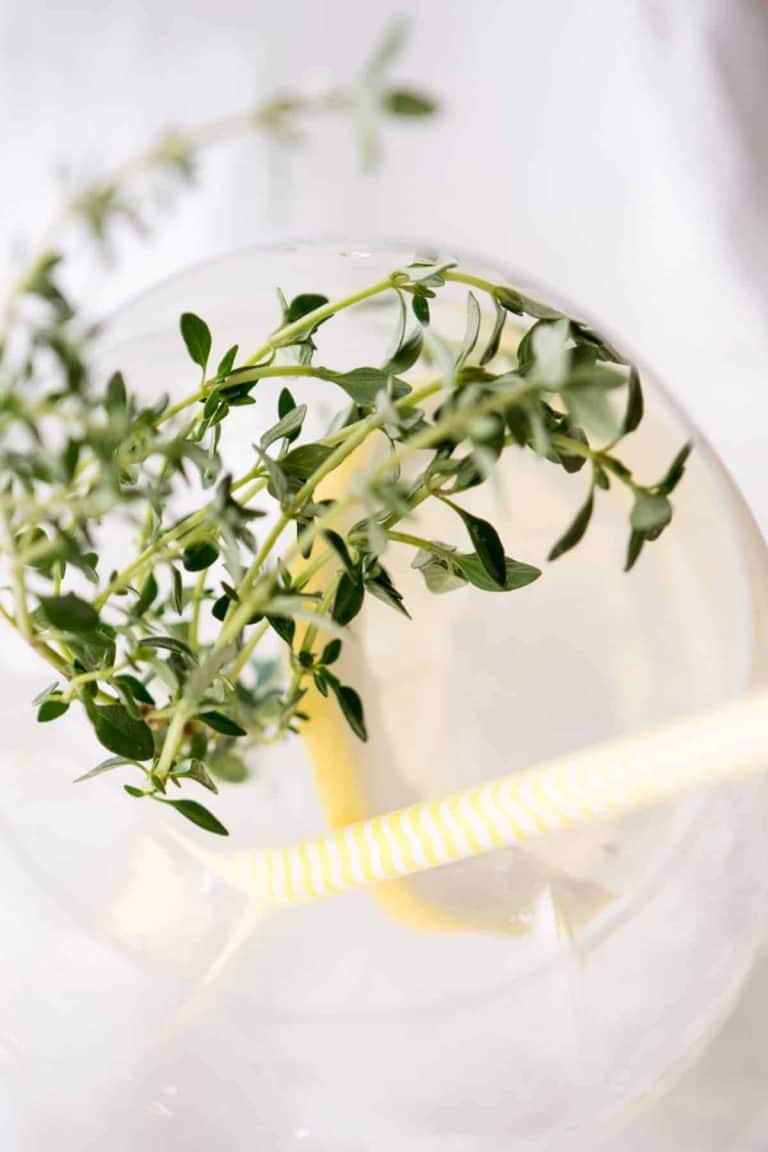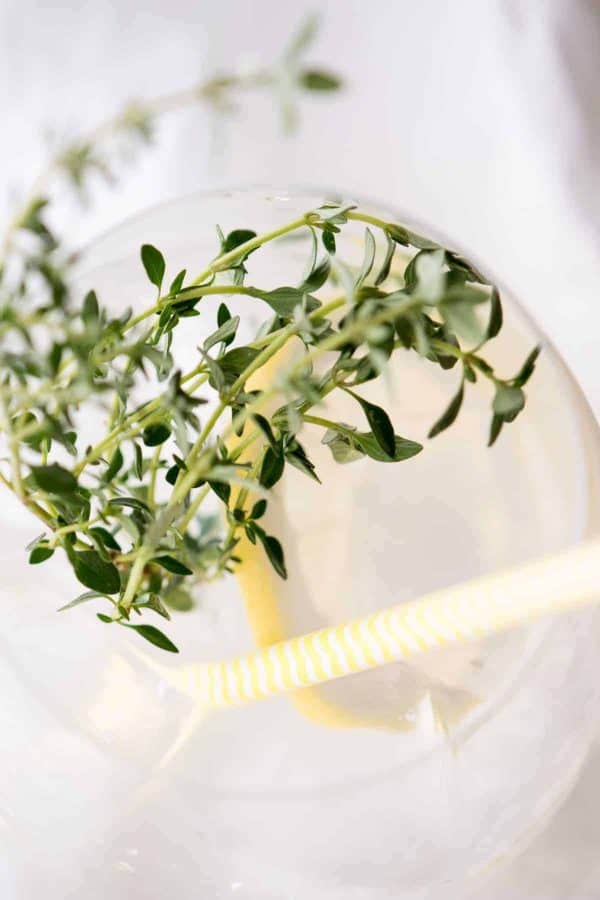 And while I would never judge you for having breakfast cocktails on vacation, these are personally my favorite to sip on as the day heats up later on and the barbecue starts cranking. Especially on the hot, humid days of the end of August.
Before you heat up those grills though, try mine & Henry's go to BBQ Spice Rub for whatever protein you plan on putting down. It's the yin and yang of sweet and spice.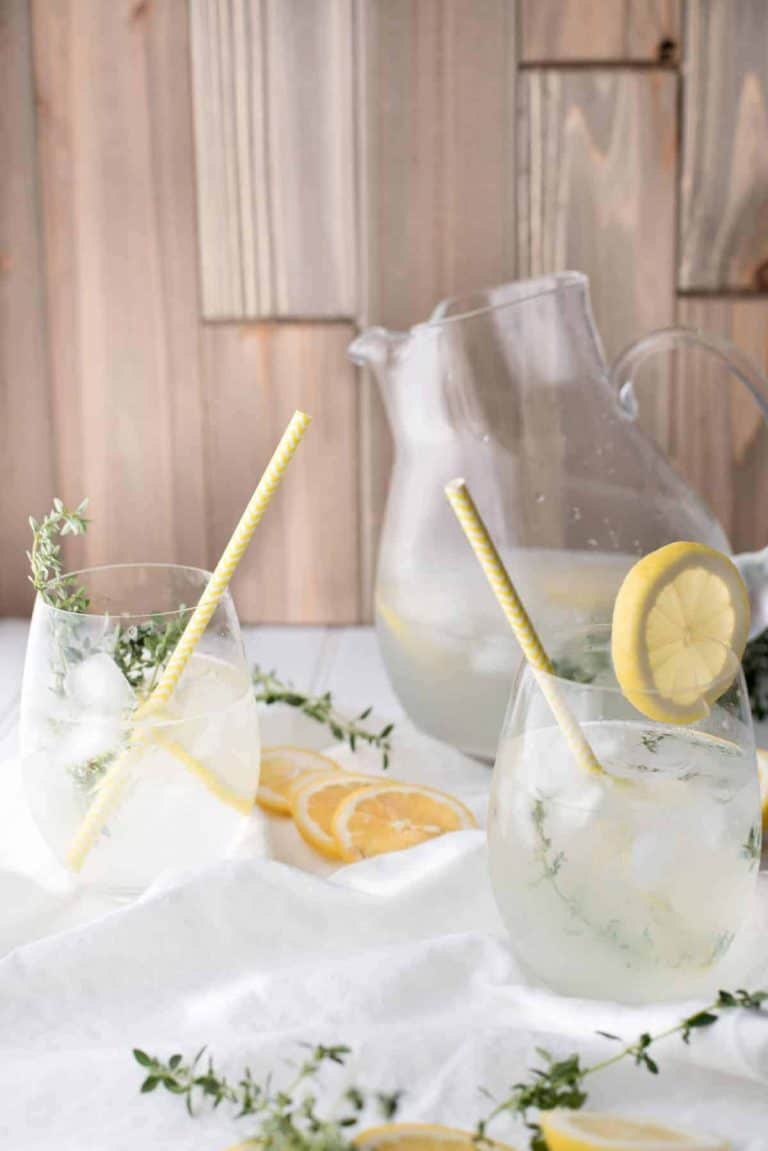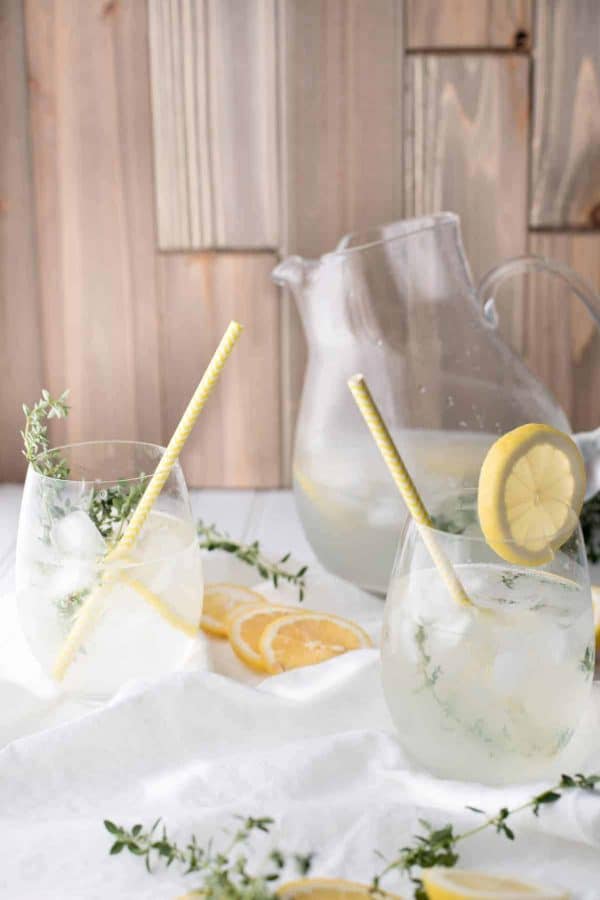 Hot humid days of summer
You know those days when its just so gross you literally can't? That's what these Lemon Thyme Gin Spritz's Spritzs Spritzes Spritz cocktails are for (btw, what is the plural of spritz??) I mean, maybe you don't know because you live in Arizona or Nevada and it's a "dry heat" but still, it's heat. Well these bad Larry's are going to cool you right the heck down.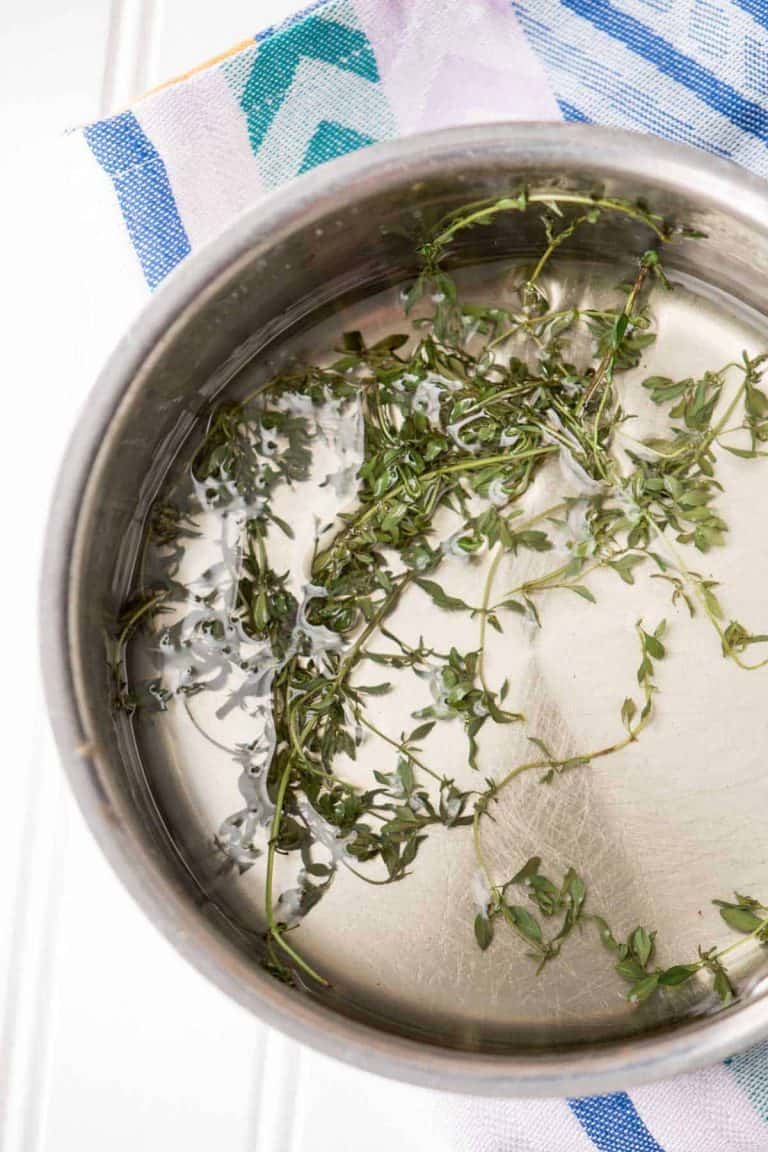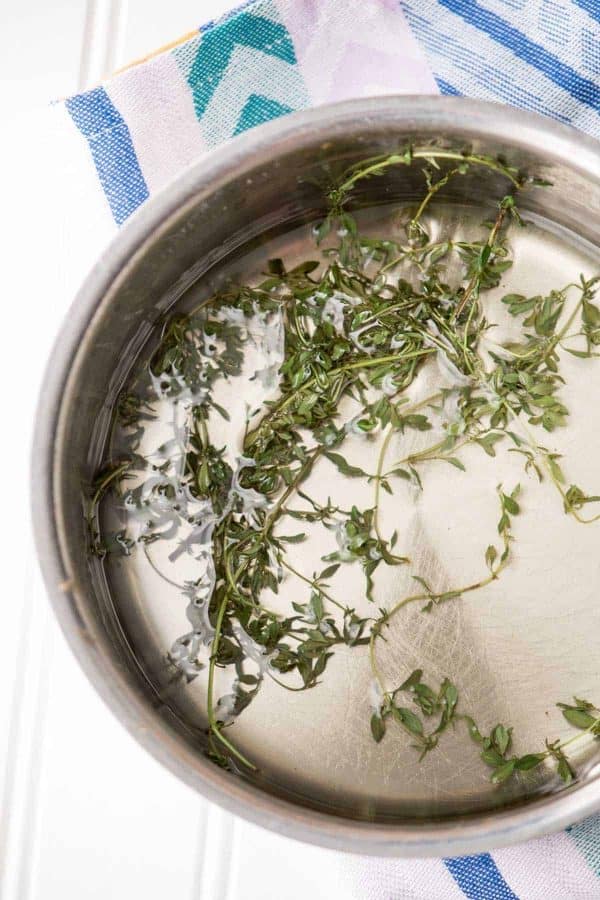 Simmer fresh thyme in equal parts sugar and water to create a herb infused simple syrup. You can either strain or just remove each piece of thyme after it cools. In your most favorite pitcher, stir together gin, thyme simple syrup, lemon juice (fresh or from the bottle!) and stir well before adding the club soda. You don't want to break all those bubbles!
I love the look of additional fresh thyme and lemon slices in the pitcher or the drinks for added color. As you can tell, these cocktails are very light in color and the bright yellows and greens add the perfect pop of color to the eye.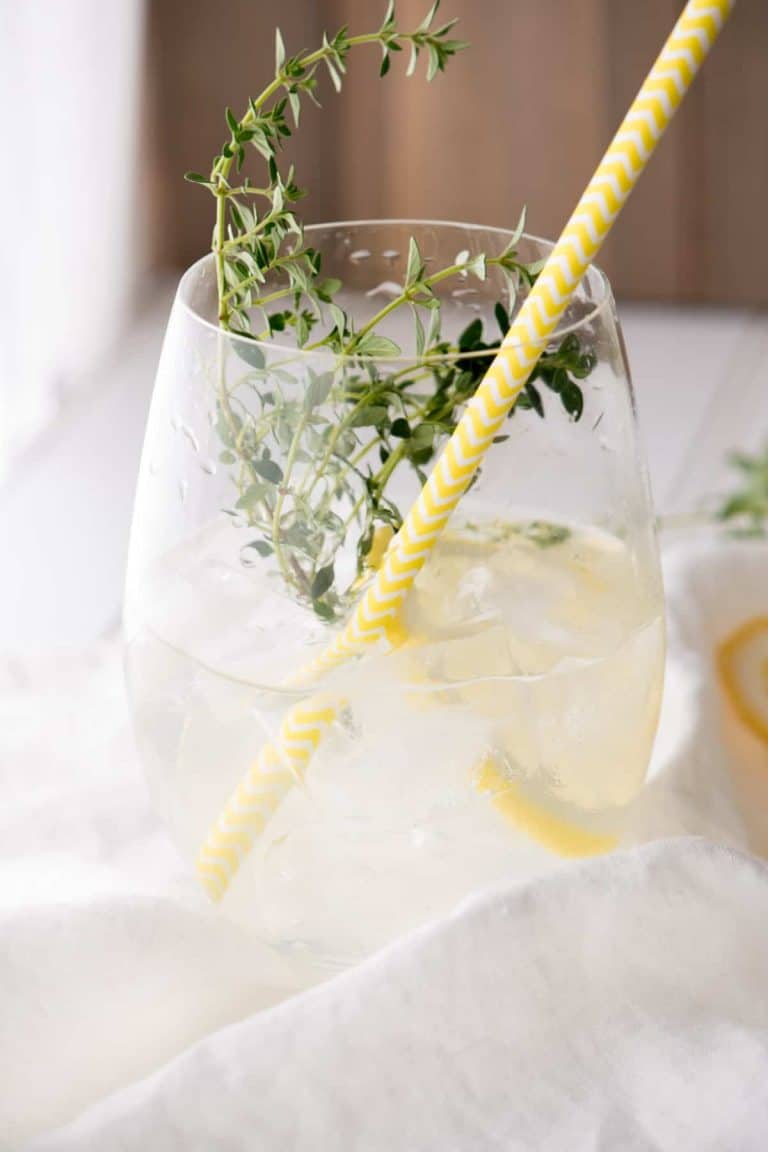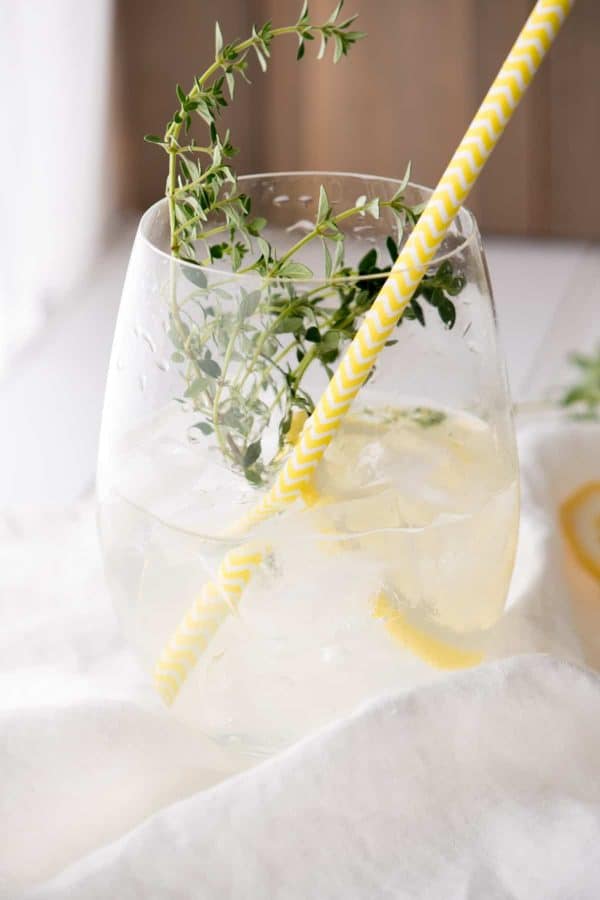 If you're hugging the last warm days of summer goodbye, welcoming the softness of spring after a snowy winter or taking the heatwaves head on, have these Lemon Thyme Gin Spritz drinks by your side. Especially by the pitcher and your friends will show up reeeaal quick to help out!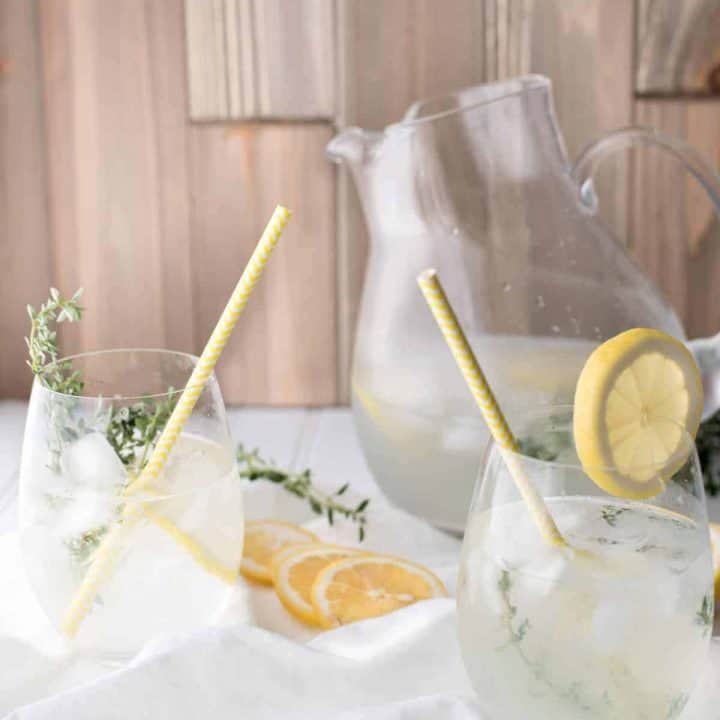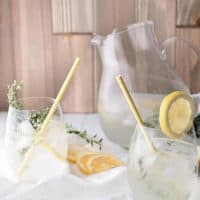 Lemon Thyme Gin Spritz
Crisp and bright with a subtle herbaceous sweetness, Lemon Thyme Gin Spritz cocktails are perfectly refreshing!
Print
Pin
Rate
Ingredients
Thyme Simple Syrup
½

cup

water

½

cup

sugar

10-14

sprigs of fresh thyme
Lemon Thyme Gin Spritz
thyme simple syrup

½

cup

+ 3 tablespoon gin

¼

cup

lemon juice

2

12-ounce cans

club soda
Instructions
Thyme Simple Syrup
In a small saucepan, combine sugar and water. Add thyme.

Bring to a boil. Reduce heat to low and simmer for 5 minutes.

Let cool for 10 minutes. Remove thyme sprigs.
Lemon Thyme Gin Spritz
In a pitcher, add thyme simple syrup, gin and lemon juice. Stir to combine.

Add club soda and ice (optional) or chill in the refrigerator.

Optional: add thyme and fresh lemon slices to the pitcher or drink glasses for a little flair.
Nutrition
Calories:
169
kcal
|
Carbohydrates:
26
g
|
Protein:
1
g
|
Fat:
1
g
|
Saturated Fat:
1
g
|
Sodium:
2
mg
|
Potassium:
17
mg
|
Fiber:
1
g
|
Sugar:
25
g
|
Vitamin A:
1
IU
|
Vitamin C:
6
mg
|
Calcium:
2
mg
|
Iron:
1
mg