Hi friends! A special treat is coming your way and we're keeping it simple - simply enjoyable for our friends and family (or ourselves) with allergies and those without! This Gluten Free Nut Free Cheesecake Crust is a food allergy safe option that does not compromise on taste or texture.
After years in the restaurant industry, more and more food allergy friendly options are continuously added to menus. In my experience, one of the biggest struggles with gluten free options is replicating the taste and texture of similar non-gluten free options. In addition, more often gluten allergies also come with additional allergies such as nuts, especially when it comes to desserts. Well we're saying, "not today!"
THIS POST CONTAINS AFFILIATE LINKS. THE PRICE YOU PAY STAYS THE SAME, BUT I MAKE A COMMISSION FROM THE SALE.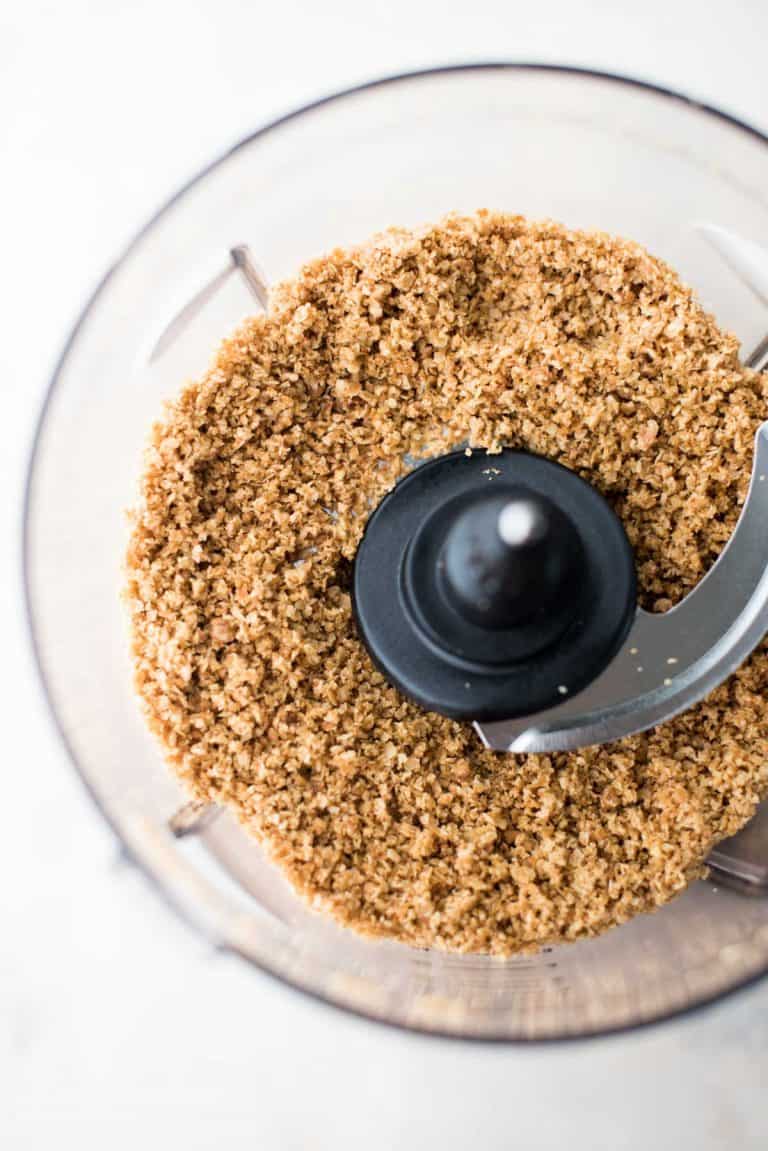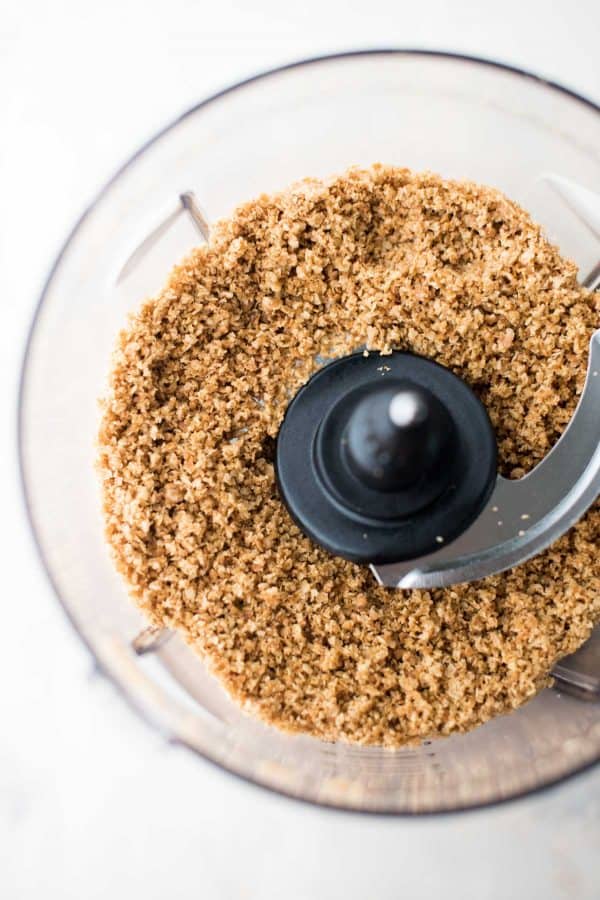 Honestly, this gluten free nut free cheesecake crust is so flavorful, wonderfully crumby and crunchy, I prefer it over using regular graham cracker crumbs or wafer cookies. What's going to set this crust apart from soggy, bland gluten free options is the toasting of gluten free oats with cinnamon, brown sugar and honey so we're left with super awesome gluten free granola goodness.
Right now, I've been able to find two brands with gluten free oats pretty easily. Bob's Red Mill
and Quaker Oats
. If you subscribe to Thrive Market, you can find them there too.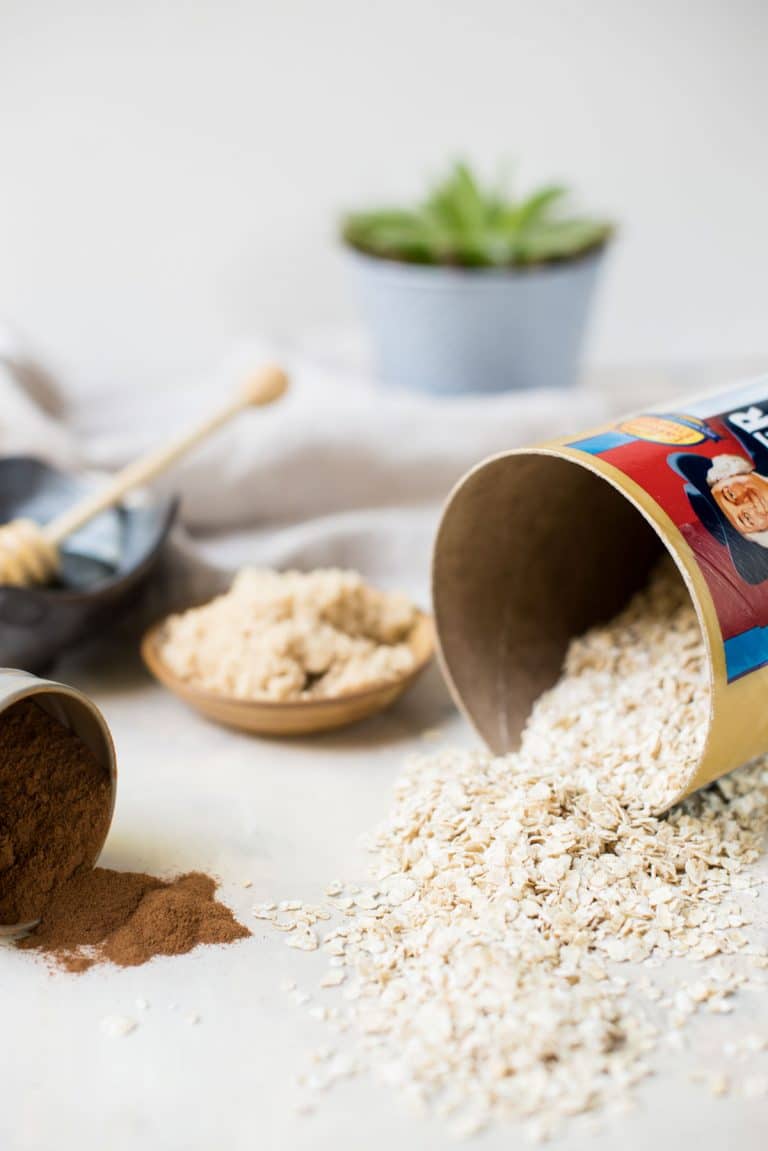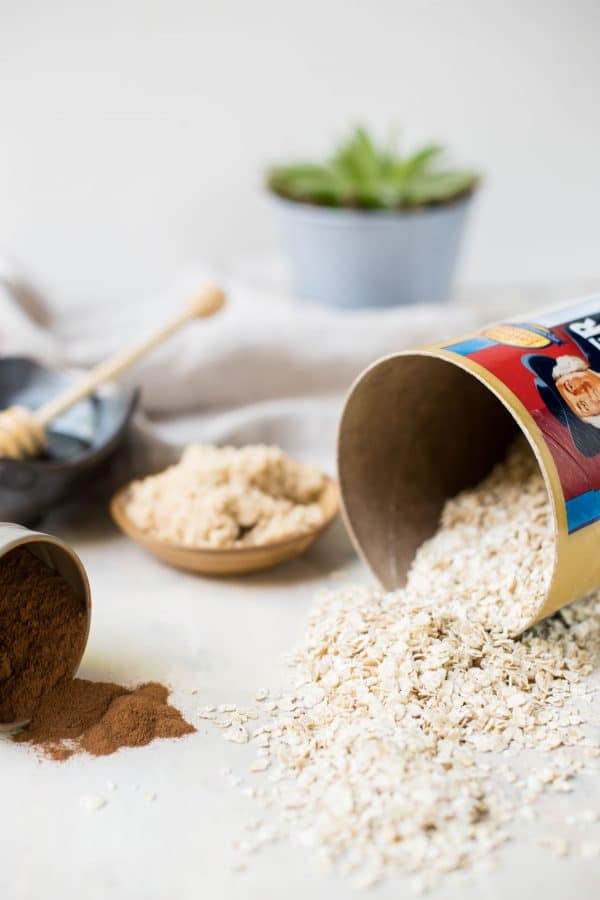 Besides being delicious in cheesecake crust, these gluten free oats are a perfect substitution for regular oats in everyday life. Try them in these Gingerbread Banana Motivation Muffins for a gluten free jump start to your day. Or just make cheesecake, because that's an acceptable breakfast....right?
Once your crust is crumbed, buttered, baked in cooled what you put in it is totally up to you! There's a gluten free New York style cheesecake recipe coming your way real soon. This one...right here...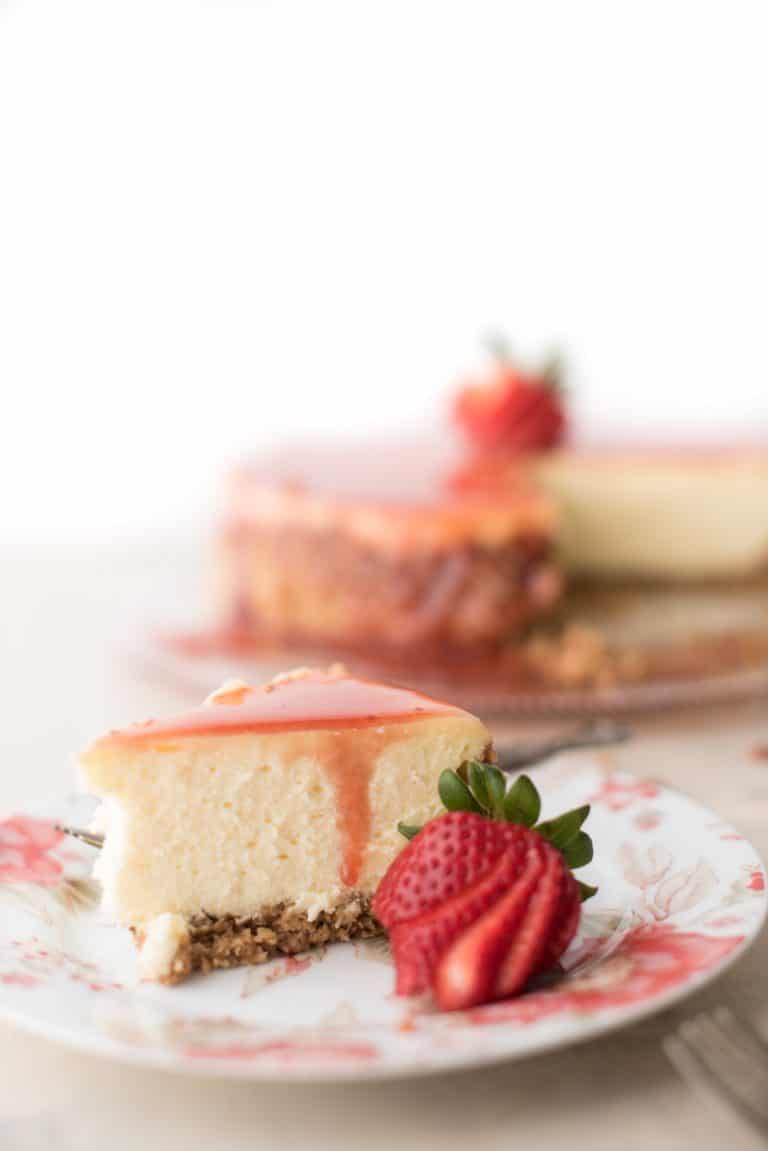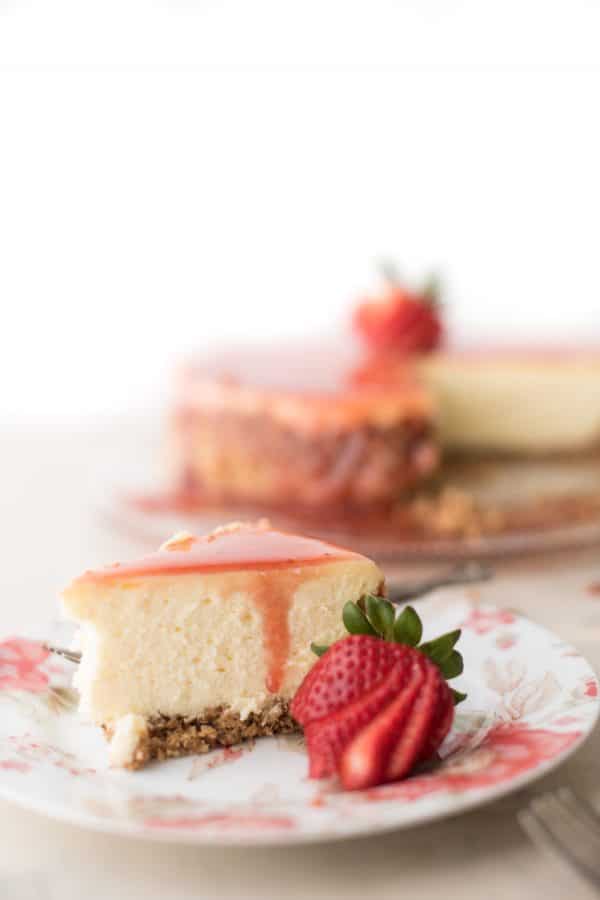 But in the meantime, these Raw Lemon Cheesecake Bars from Stress Baking are my current swoon-worthy summertime treat. If you're looking to go totally gluten, nut and dairy free try filling your fresh Gluten Free Nut Free Cheesecake Crust with Foodal's Dairy Free Chocolate Cheesecake.
Honestly though, if you just ate this as granola and decided "to hell with the cheesecake" you would have my full support. Crunchy, sweet, and superbly tasty this Gluten Free Nut Free Cheesecake Crust is going to satisfying in all the stages of cooking!
Did you make this recipe? Tell me about it in the comments! Looking for other go to's for gluten free, nut free options - I want to know!
Pin this recipe here!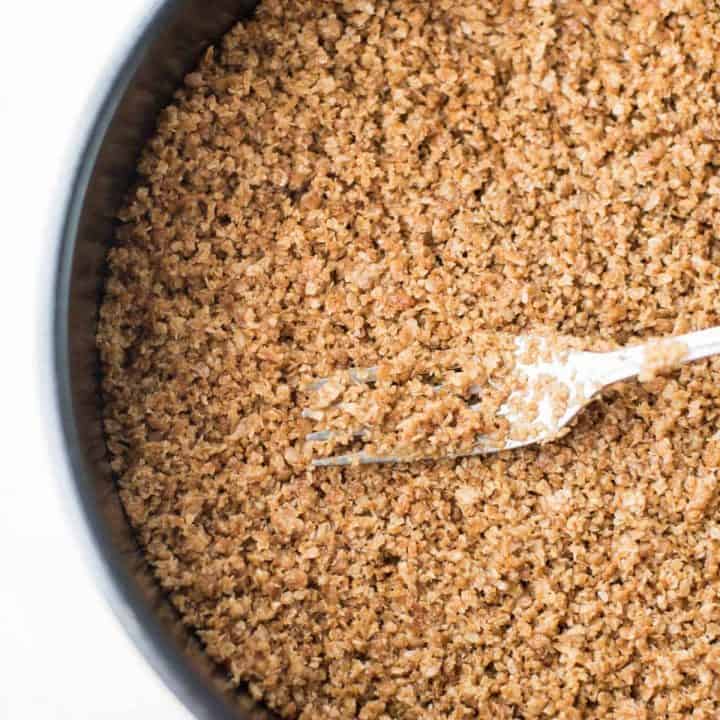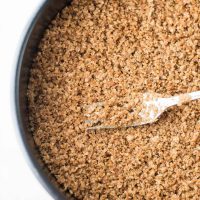 Gluten Free Nut Free Cheesecake Crust
Crisp, crunchy and sweet with a subtle touch of warming cinnamon. This gluten free nut free cheesecake crust can be enjoyed by those with food allergies and those without!
Print
Pin
Rate
Servings:
1
cheesecake crust
Ingredients
3

cups

gluten free oats

(255g )

½

cup

light brown sugar

(113g )

2

tablespoons

honey

1

teaspoon

ground cinnamon

¼

teaspoon

kosher salt

¼

cup

+ 1 tablespoon olive or coconut oil

6

tablespoons

unsalted butter

(melted (for a dairy free option, try substituting vegan baking butter))
Instructions
Preheat oven to 350°F. In a 13x9 pan, combine the oats, brown sugar, honey, cinnamon, salt and oil. Using your hands, evenly distribute the ingredients. Spread into an even layer in the pan. Bake for 30 minutes, stirring every 10 minutes.

After baking let the oats cool completely, about 10 to 15 minutes. Oats will harden as they cool to a granola-like texture, stir occasionally to keep from sticking to the pan.

Transfer to a food processor. Pulse 2 to 3 times to break up any larger pieces then process on high for 30 to 60 seconds until the oats resemble coarse crumbs.

Add the coarse oat crumbs to a medium size bowl. While stirring, slowly pour melted butter over the oats. Once all the crumbs are coated with the melted butter, transfer to a springform pan to make the crust.

Optional: If you want to remove the full cheesecake from the springform pan prior to serving, lightly grease the bottom of the pan with butter and line with a circle of parchment paper before adding crumbs.

Lightly spread crumbs into an even layer on the bottom of the springform pan. Using your fingers or the bottom of a measuring cup, press the crumbs into the bottom of the pan and up the sides. Bake at 350°F for 7 to 8 minutes. Let cool completely before adding cheesecake batter of choice.
Nutrition
Calories:
2544
kcal
|
Carbohydrates:
309
g
|
Protein:
33
g
|
Fat:
138
g
|
Saturated Fat:
93
g
|
Trans Fat:
3
g
|
Cholesterol:
181
mg
|
Sodium:
638
mg
|
Potassium:
1077
mg
|
Fiber:
26
g
|
Sugar:
144
g
|
Vitamin A:
2105
IU
|
Vitamin C:
1
mg
|
Calcium:
261
mg
|
Iron:
11
mg