You know...can't say I've ever met a taco I didn't like. Like, even if the shell gets too soggy you can still eat the insides with a fork and it's still delicious taco domination. BUT, not all tacos are created equal you guys. Yes, they're all delicious, but there are different levels of tasty in the taco hierarchy. These Cilantro Lime Flank Steak Tacos? We're talking top level stuff. Come on, let's taco 'bout it.
Cilantro Lime Marinated Flank Steak Tacos
Cilantro Lime Flank Steak Tacos are superbly simple with lots of tasty flavors and textures going on all wrapped up in that warm tortilla.
Flank steak is my favorite cut of beef for tacos. It holds the flavor of marinade well, cooks up super quick, and is ridiculously tender.
The Cilantro Lime Marinade has fresh cilantro, bright lime juice, savory garlic and a touch of sweet pineapple juice too so it gets just the perfect touch of sweetness and caramelizes just a smidge in the pan.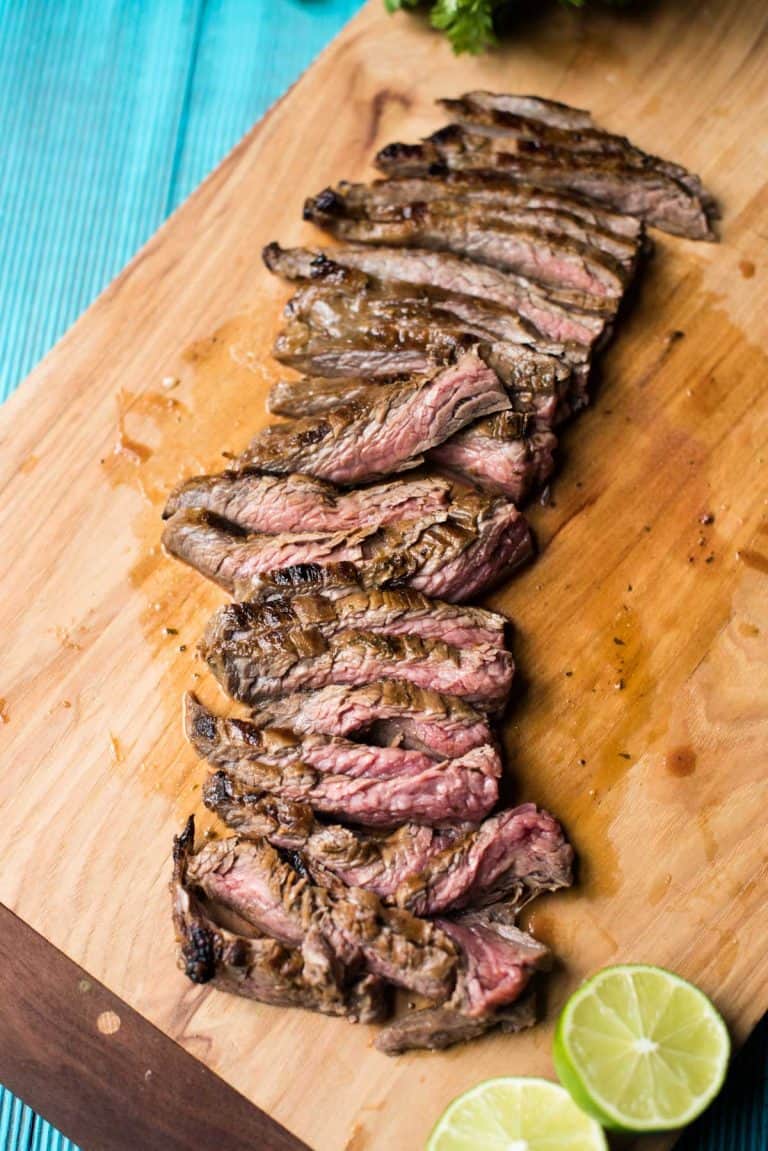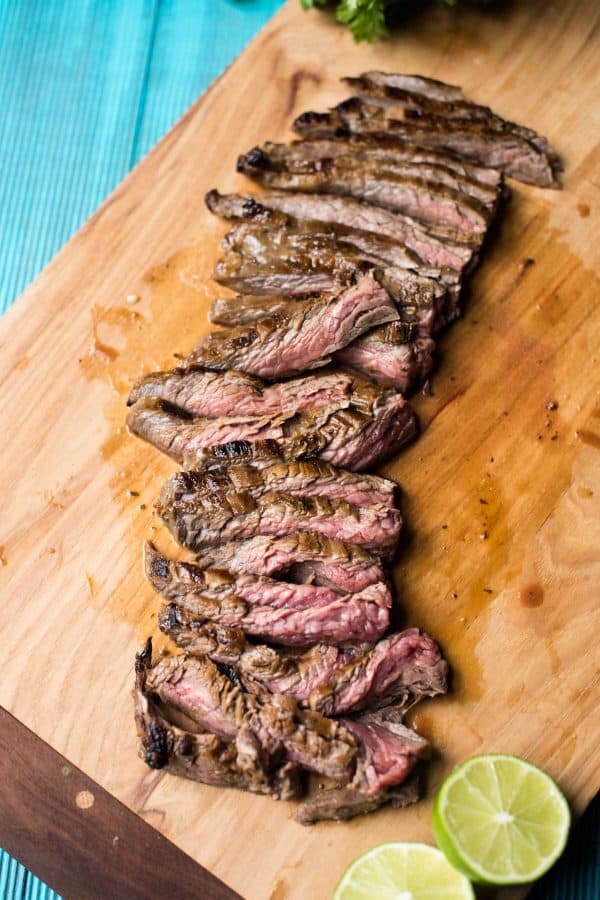 Our tacos are off to a superior start with tender flavorful beef. Now let's pile on all the extras that are currently making me swoon for these Cilantro Lime Flank Steak Tacos.
Up next? Crispy Roasted Sweet Potatoes. Yup. It's happening, stay with me.
They're diced really small so they crisp up in the oven, honestly they're almost like cubed sweet potato fries. Adding a bit more contrast between sweet and savory flavors but with crunch.
On the bottom of the taco, I like to layer fresh baby spinach or kale to protect the tortilla from getting soggy. Plus, more greens and less sides means more room for necessities like Watermelon Basil Margaritas.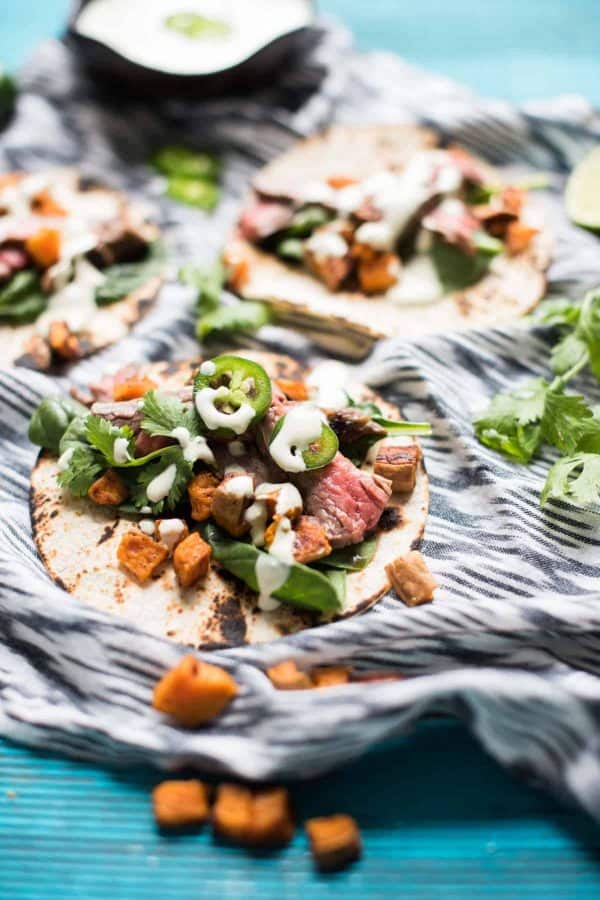 Ok, ok, ok...let's get amped up because this next part is my new favorite taco condiment and that's a big deal.
Jalapeño Crema
Let's not kid ourselves. Crema? It's a fancy way to say flavored sour cream.
This Jalapeño Crema is cool, creamy, and just a the right amount of spicy. Enough spice to make you go, "Oooh, ok I'm feeling that," but you can still taste all the other good things in your taco.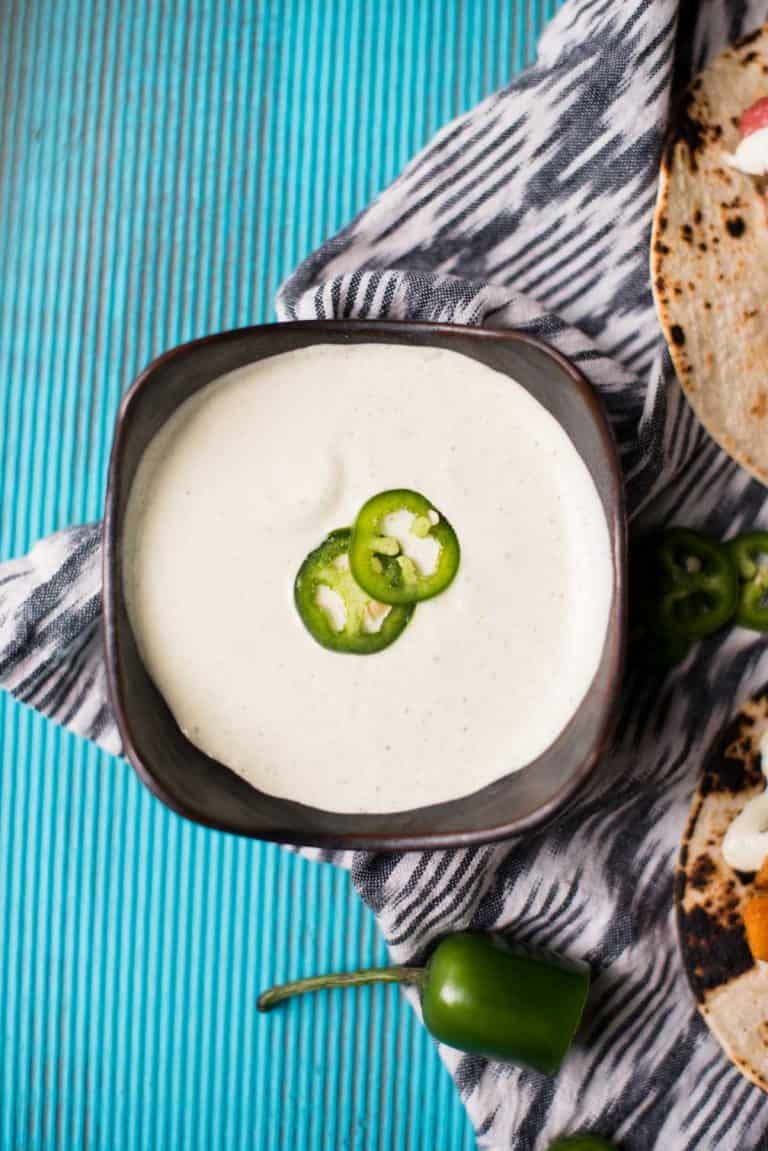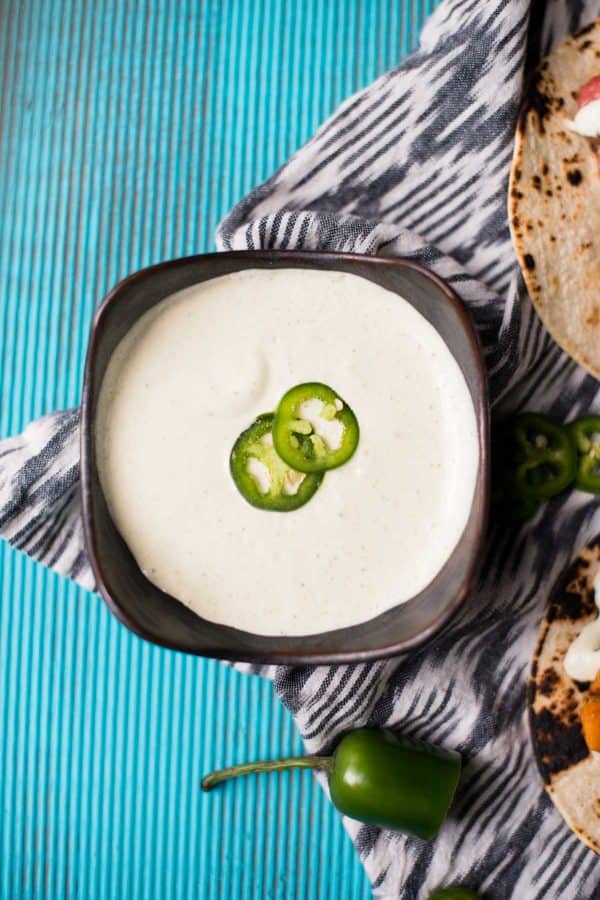 The other really great thing is that after pureeing everything together in the food processor or blender, the sour cream looses a bit of it's thickness so you can easily drizzle it and you won't end up with a mouthful of condiment. I want to put it on all the things.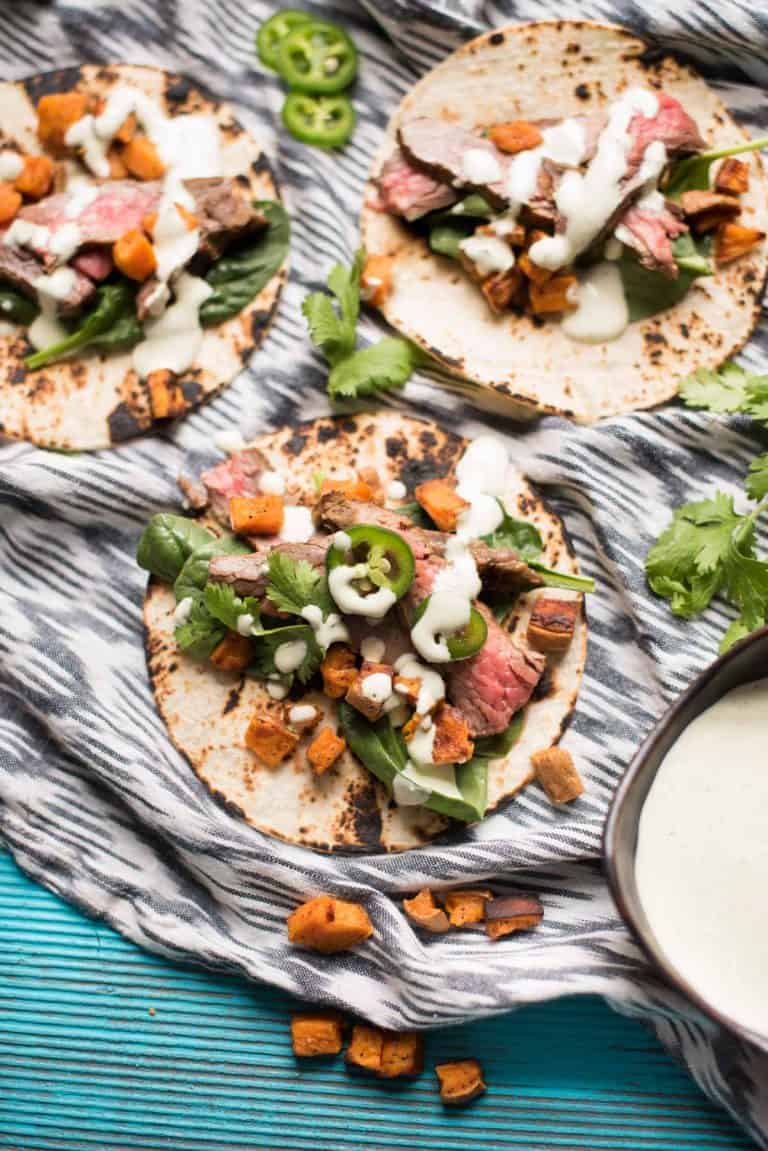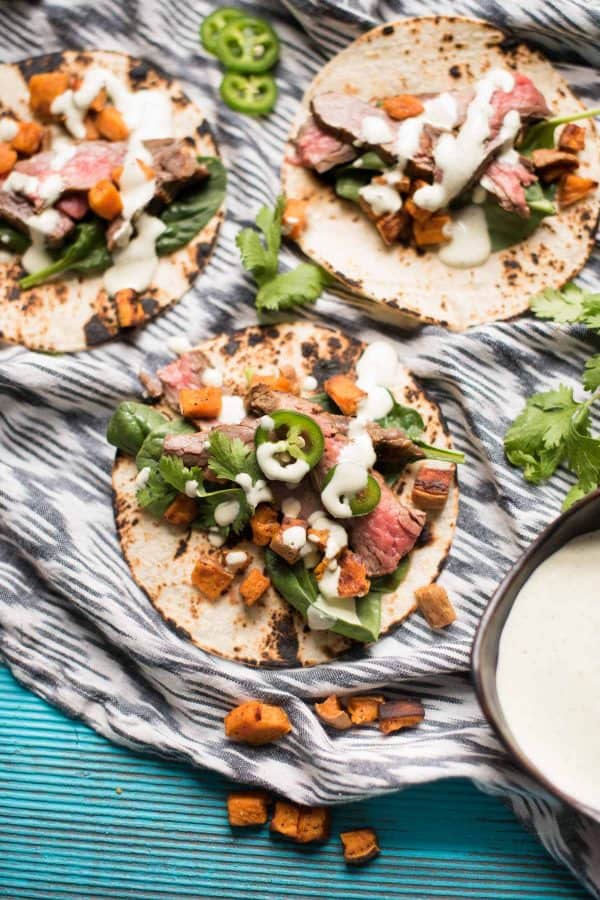 Tacos? Check. Slightly spicy condiment, aka Jalapeño Crema? Check. What's next on the list?
DRANKS PEOPLE. Okay and maybe some sides. But mostly drinks.
Recommended Beverages:
What to serve on the side:
Are you ready to assemble your taco crew? Because I'm starving. So uh, don't forget my invitation please.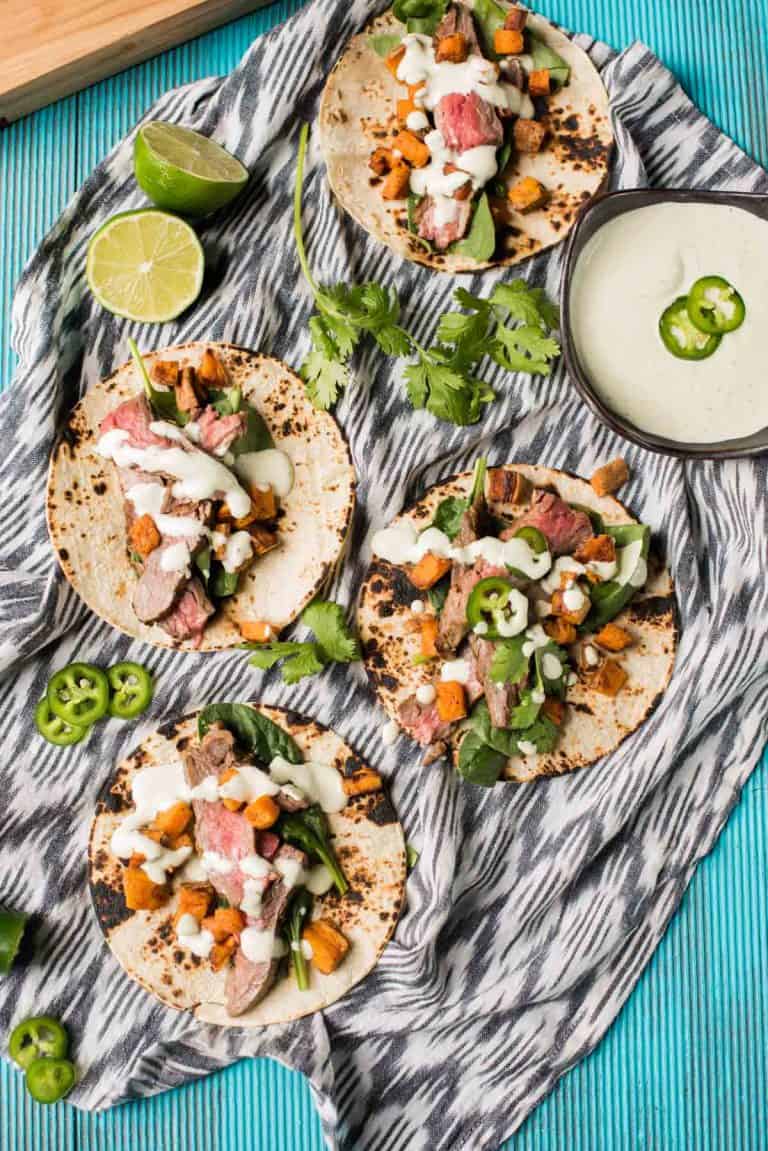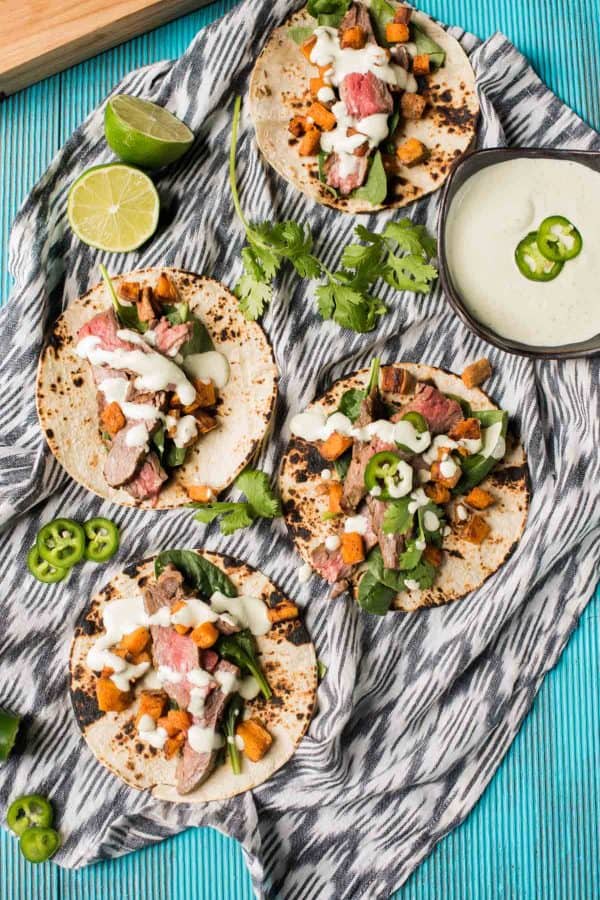 Did you make this recipe? What's your favorite kind of taco? Are you a flour or corn tortilla person? Tell me about it in the comments!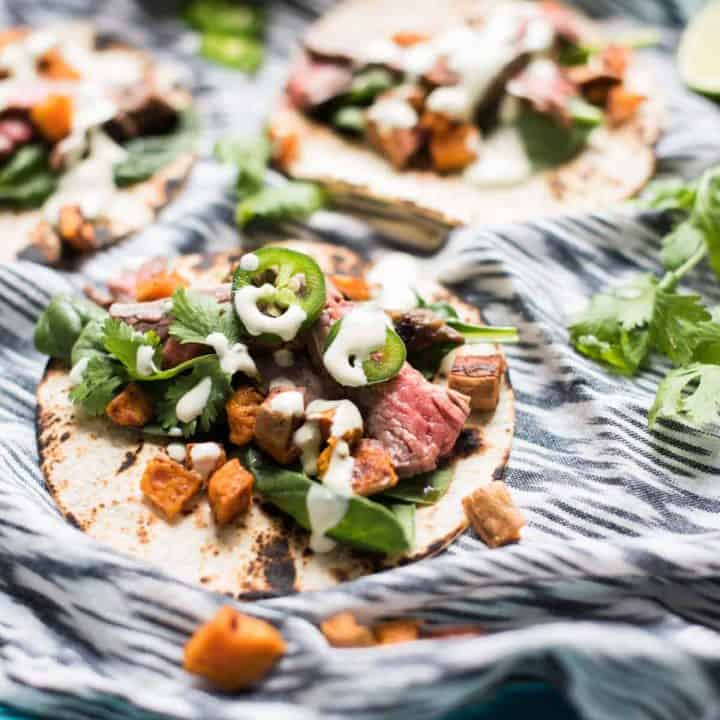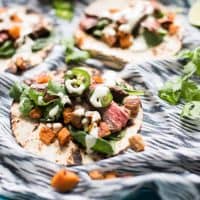 Cilantro Lime Flank Steak Tacos | Jalapeño Crema
Marinated in fresh cilantro, lime, garlic and pineapple for the perfect blend of flavors, Cilantro Lime Flank Steak Tacos cook up ridiculously quick and easy, with a simple jalapeño crema sauce that can be made in the blender or food processor.
Print
Pin
Rate
Ingredients
Cilantro Lime Marinade
1 ½-2

lbs

flank steak

¼

cup

+ 2 tablespoons fresh lime juice

(about 4-6 limes depending on size)

½

cup

cilantro leaves

(about ½ bunch)

1

cup

pineapple juice

¼

cup

olive oil

(plus additional for cooking)

4

cloves

garlic

(minced)

1

teaspoon

kosher salt
Jalapeño Crema
2

jalapeño peppers

(seeds removed and chopped)

1

small garlic clove

(minced)

2

teaspoons

olive oil

1

cup

sour cream

salt + pepper for seasoning
Crispy Roasted Sweet Potatoes
2

medium size sweet potatoes

(diced small)

¼

cup

olive oil

½

teaspoon

salt

¼

teaspoon

black pepper
Cilantro Lime Flank Steak Tacos
Cilantro Lime Flank Steak

Crispy Roasted Sweet Potatoes

Jalapeño Crema

1

cup

baby spinach or kale

10 to 12

taco size tortillas

(corn or flour)

Optional: Additional lime wedges or cilantro for garnish
Instructions
Cilantro Lime Marinade
Combine all ingredients in a food processor. Pulse 3 to 4 times, then blend for 30 to 60 seconds until garlic and cilantro are finely chopped.

Remove the flank steak from the packaging and pat dry.

In an air tight container, like a ziplock bag or Tupperware container, cover the flank steak with the marinade. Let sit refrigerated for at least 8 hours or up to 2 days.
Jalapeño Crema
Heat the olive oil in a small sauté pan over high heat. Cook the jalapeños and garlic for 2 minutes. Sprinkle with a little salt and pepper (about ⅛ teaspoon of each.)

Combine the jalapeños, garlic and sour cream in a food processor or blender and puree until smooth.

Jalapeño crema will stay fresh for up to 4 days in an air tight container.
Crispy Roasted Sweet Potatoes
Preheat oven to 425°F. If leaving skins on, wash potatoes thoroughly or peel the skins. Cut sweet potatoes into a small dice, about ¼" to ½" pieces. You'll want them on the smaller side so the sweet potato pieces fit in the taco shell.

On a large sheet pan, coat the diced sweet potato with olive oil, salt and pepper. Roast for 30-35 minutes, stirring halfway through and then again about 10 minutes before they're done.
Cilantro Lime Flank Steak Tacos
Cook the flank steak: Let the cilantro lime flank steak sit at room temperature for 20 to 30 minutes before cooking. Heat a large cast iron skillet or grill pan over high heat until hot - about 3 to 5 minutes. Coat the pan with 2 tablespoons olive oil.

Carefully place flank steak flat in pan, as some of the marinade may sizzle when coming into contact with the hot oil. Cook on each side for 4 minutes,¹ only touching the flank steak to flip in the pan.

After cooking the opposite side, remove from the pan and place on a cutting board to rest for 10 minutes before slicing. Once the Cilantro Lime Flank Steak is rested, slice the steak in half length wise, so that the final pieces are not so long. Cut the two portions of steak into thin ¼" slices.

Prepare the tacos: Warm the tortillas. If you have a gas stove top, taco shells can be warmed over low heat on each side, right on the burner. Do NOT try this with an electric range. Alternatively, tortillas can be warmed in a pan on the stove top over medium heat or in the oven wrapped in a damp kitchen towel.

Layer each taco with a few leaves of baby spinach, top with cilantro lime flank steak, crispy roasted sweet potatoes and drizzle with jalapeño crema. Serve immediately.
Notes
¹Most cuts of flank steak are uneven in thickness. Cooking 4 minutes per side in a hot pan will provide a medium rare center on the thickest part and medium well center on the thinner parts of the cut. Add a minute to each side to increase the final temperature.
Nutrition
Calories:
387
kcal
|
Carbohydrates:
30
g
|
Protein:
19
g
|
Fat:
22
g
|
Saturated Fat:
6
g
|
Cholesterol:
53
mg
|
Sodium:
638
mg
|
Potassium:
535
mg
|
Fiber:
2
g
|
Sugar:
6
g
|
Vitamin A:
6926
IU
|
Vitamin C:
10
mg
|
Calcium:
96
mg
|
Iron:
3
mg