Lobster Guacamole, you magical, green, mildly spicy, creamy delicious dip, spread, and sometimes condiment. This guacamole recipe is a summertime twist on the classic loaded with creamy avocado, a hint of lime, garlic, cilantro, and roma tomatoes for a pop of color buried under a pile of butter-poached, succulent lobster meat.
The only thing 'extra' about this guacamole is how fancy it looks and tastes! The bonus is that you can use fresh or frozen lobster meat; it only takes 5 additional minutes than if you were making it plain.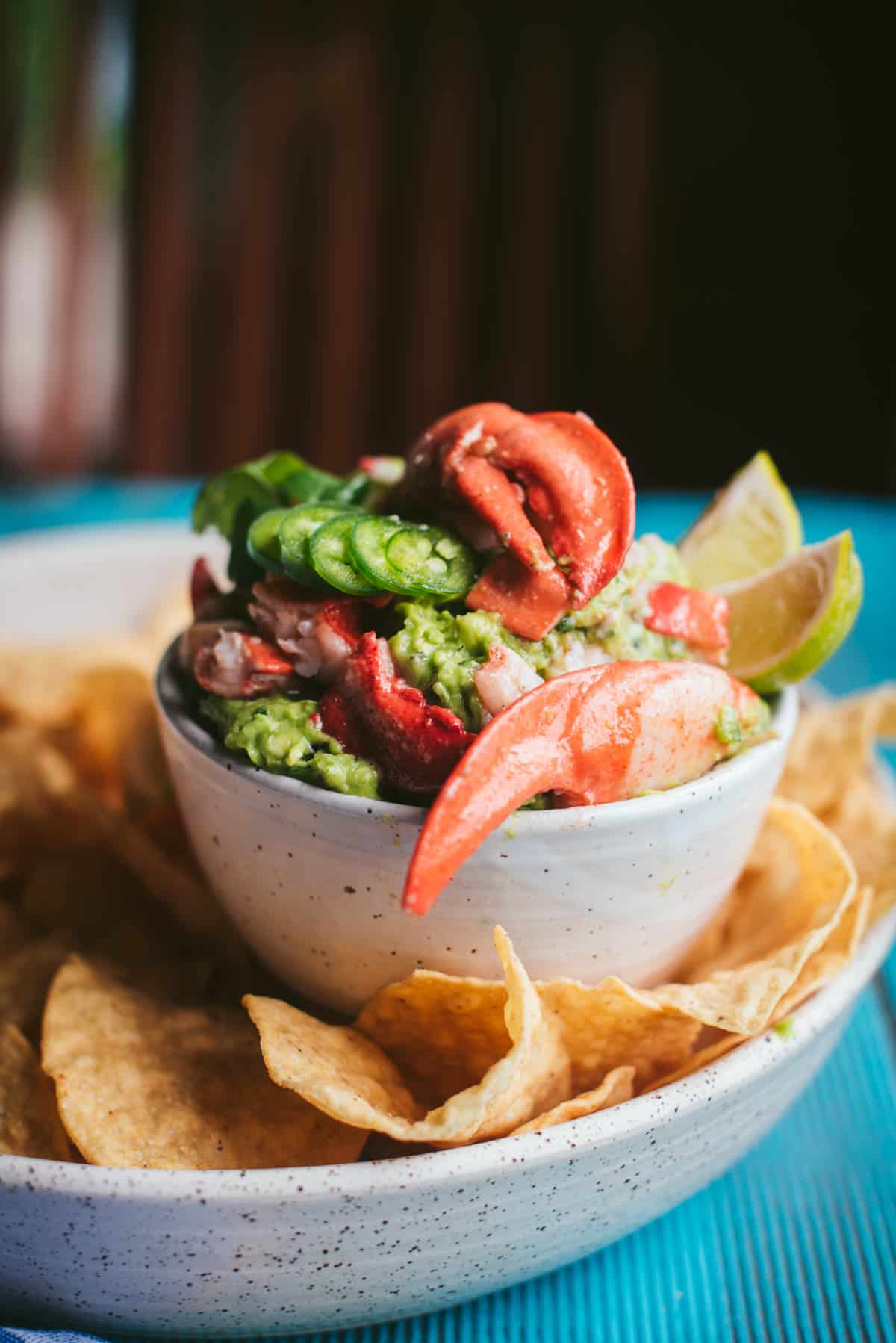 You're just a few ingredients and perhaps a quick trip to the grocery store to having this extra fancy guacamole without extra fancy costs or stress. This homemade Lobster Guacamole is simple to prepare with some slicing and dicing and mashing. And then the lobster...don't be scared! This is going to be easier than pie.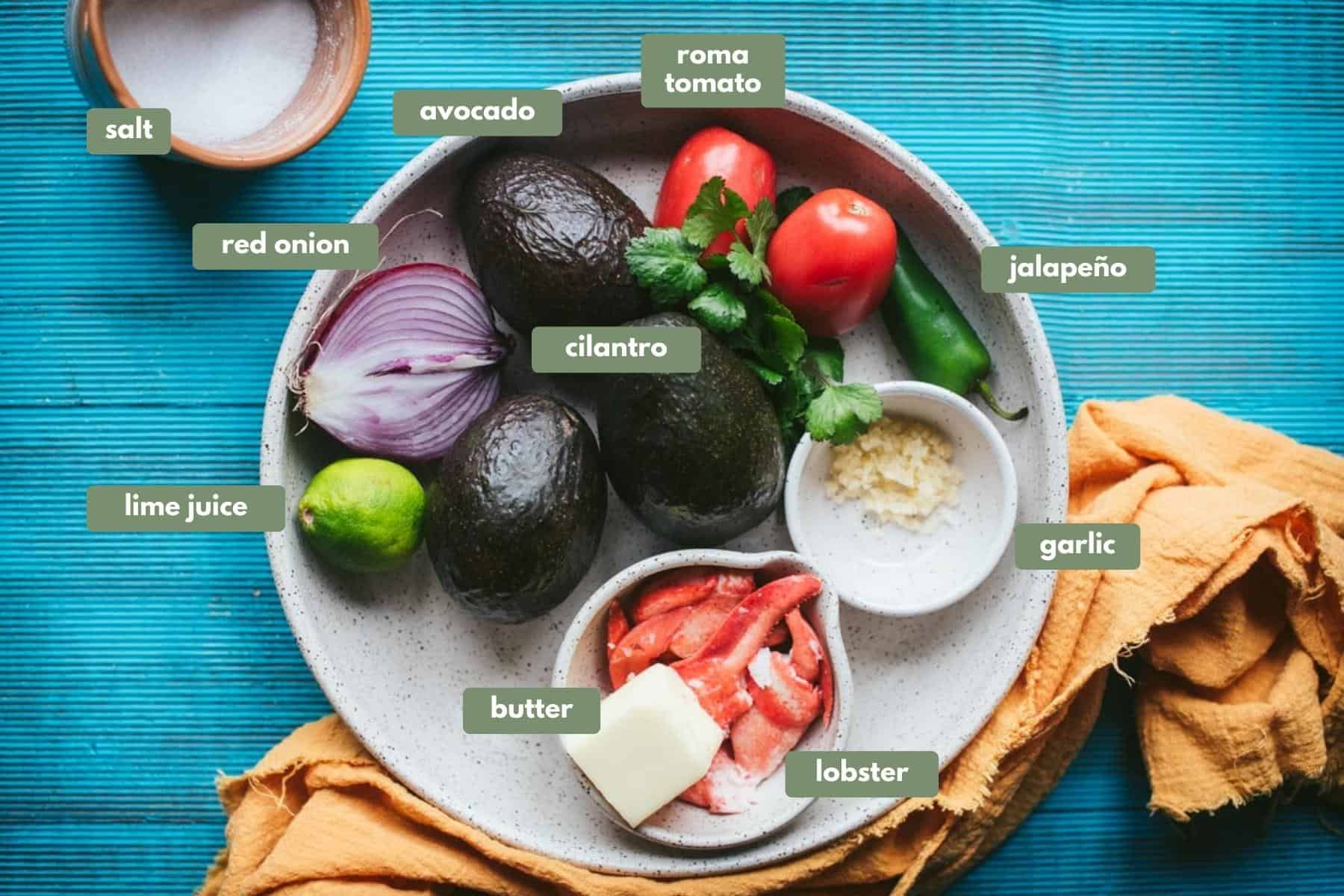 It's the Honest, Lobster Truth.
Did you know that this delectable crustacean was original served to prisoners during the colonial era due to the plentiful population and the work involved in retrieving the meat out it's spiny shell?
Times have certainly changed....I suppose growing up in New England inherently breeds you to be infatuated with seafood facts. But the good news is you don't have to be an expert on edible ocean dwellers to make this over-the-top guacamole.
Everything is fancier if you put lobster on it right? The best part for anyone that has a hard time putting a live crustacean in a boiling pot of water is simple...not to do it and use this tasty shortcut!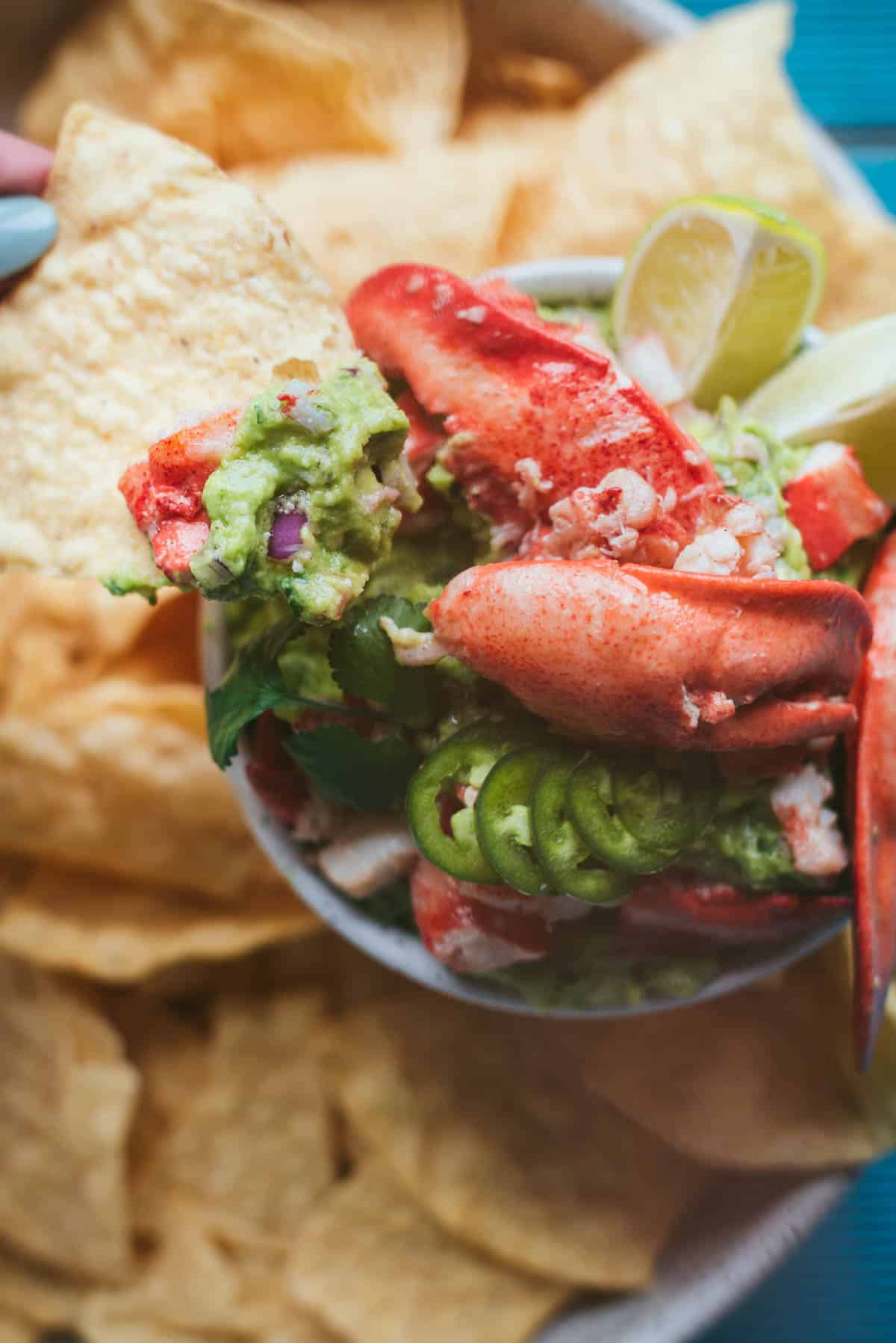 Easy Lobster Prep
There is no live lobster boiling, shell cracking, lobster juice mess making involved. How do we do it? We buy chunk, previously frozen lobster meat. Wait! Before you move on to the next Google search, just hear me out.
After thawing the lobster meat, you'll poach it in a bath of butter (sounds nice doesnt it?) not to cook it, but to coat it in flavor.
Of course, if you can go the traditional route of deshelling and using fresh lobster meat, that is totally acceptable. If you've never cooked a lobster before, check out this super helpful post on how to cook and eat lobster!
Another option is to buy fresh lobster meat at the seafood counter. This is a great choice because you can typically request for more specific pieces of the lobster meat.
To make this chip and dip party next level, try serving up one or two of these refreshingly delicious margarita round up. From Spicy Pineapple Jalapeño Margaritas to Watermelon Basil with a Chili Sugar Rim, there's something for every margarita lover in this collection!
Ingredients and Substitutions
Guacamole is typically a mild and creamy dip, if however, you want to crank up the heat a bit, leave some seeds and the white pith of the jalapeño and it will definitely add spice.
I know everyone seems scared to cook lobster themselves at first, but I promise, there is no need for fear, I've made this recipe super simple and easy to follow.
Frozen lobster meat is poached in a bath of butter, but you can easily substitute the lobster for shrimp, scallops or even crab! They all taste wonderful alongside this delicious homemade guac.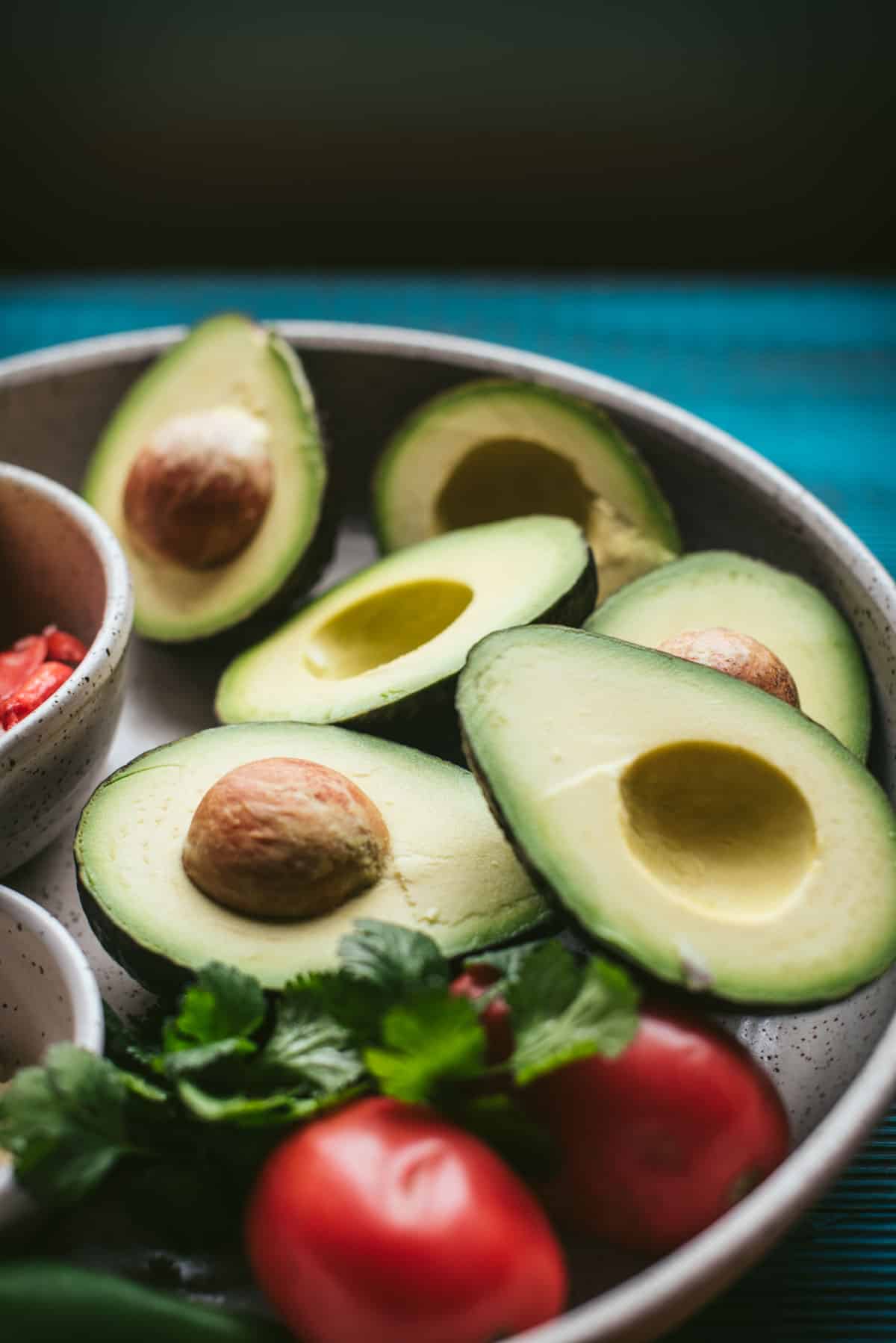 If you or anyone coming to your Mexican inspired feast is dairy free, then you can simply swap in some vegan butter and voila!
Now if you are in a rush, and let's be honest, a lot of us usually are, you can completely skip all the steps in making your own homemade guacamole and buy store bought, cook up your lobster, put them together in your favorite bowl and you are good to go!
How to Make Lobster Guacamole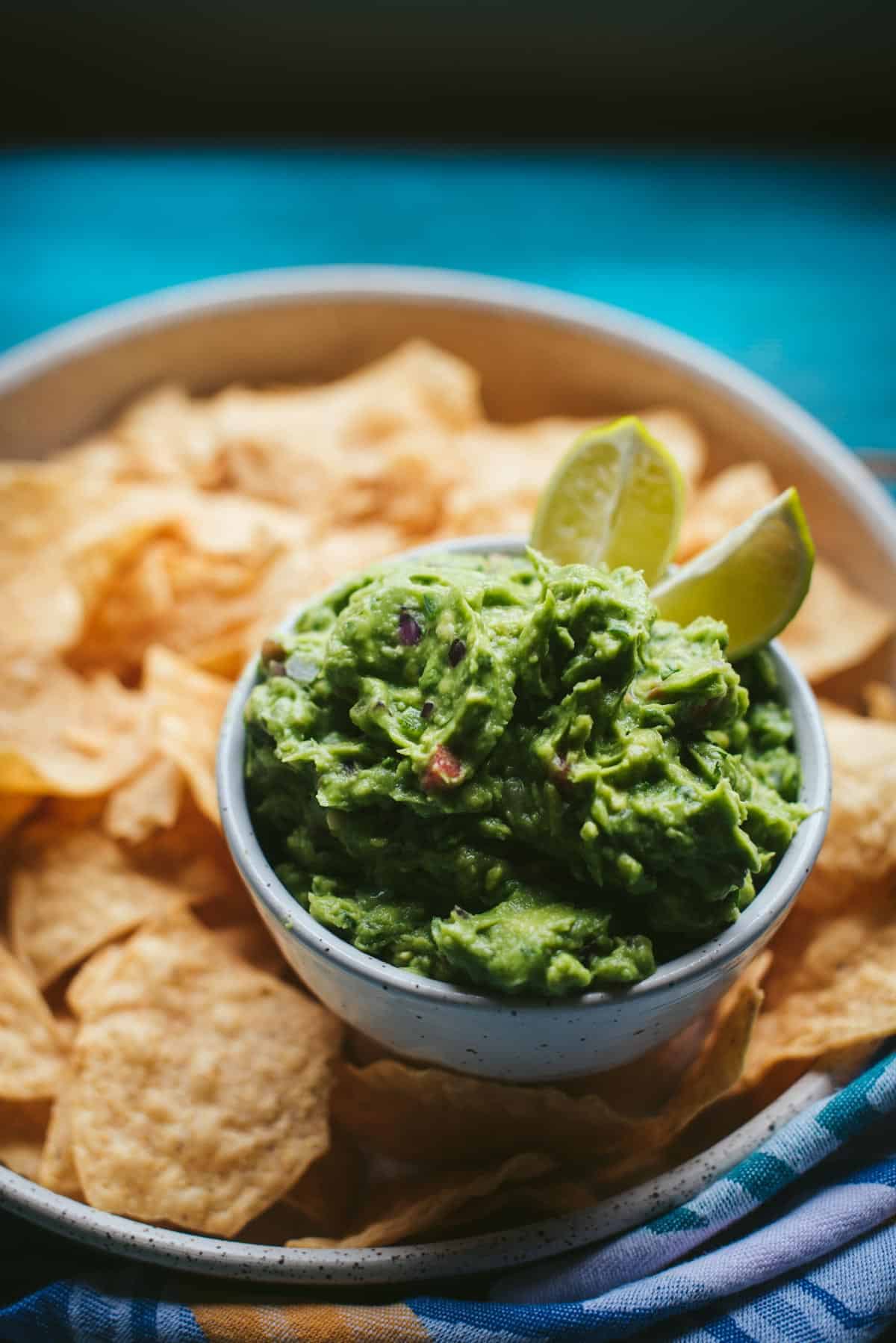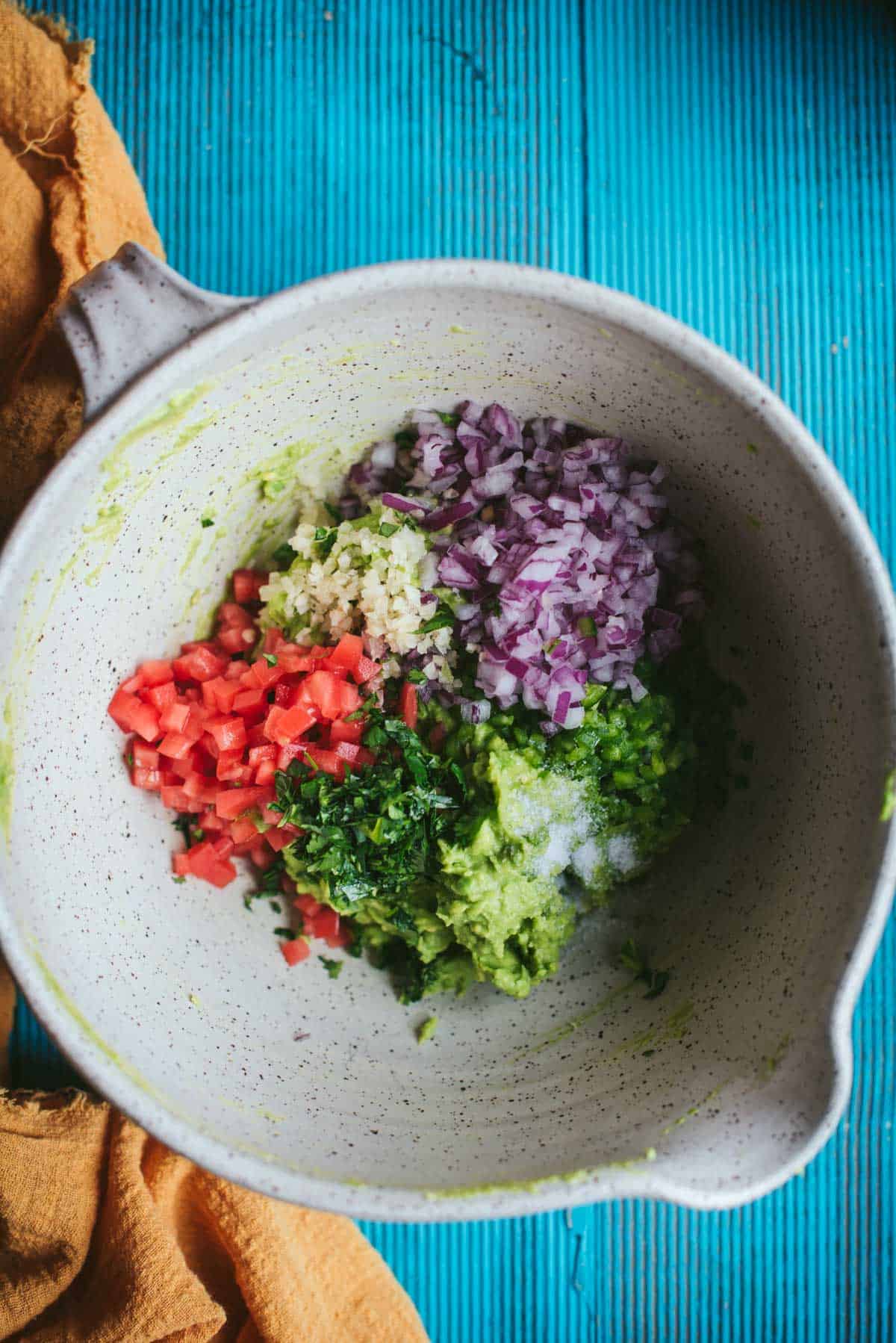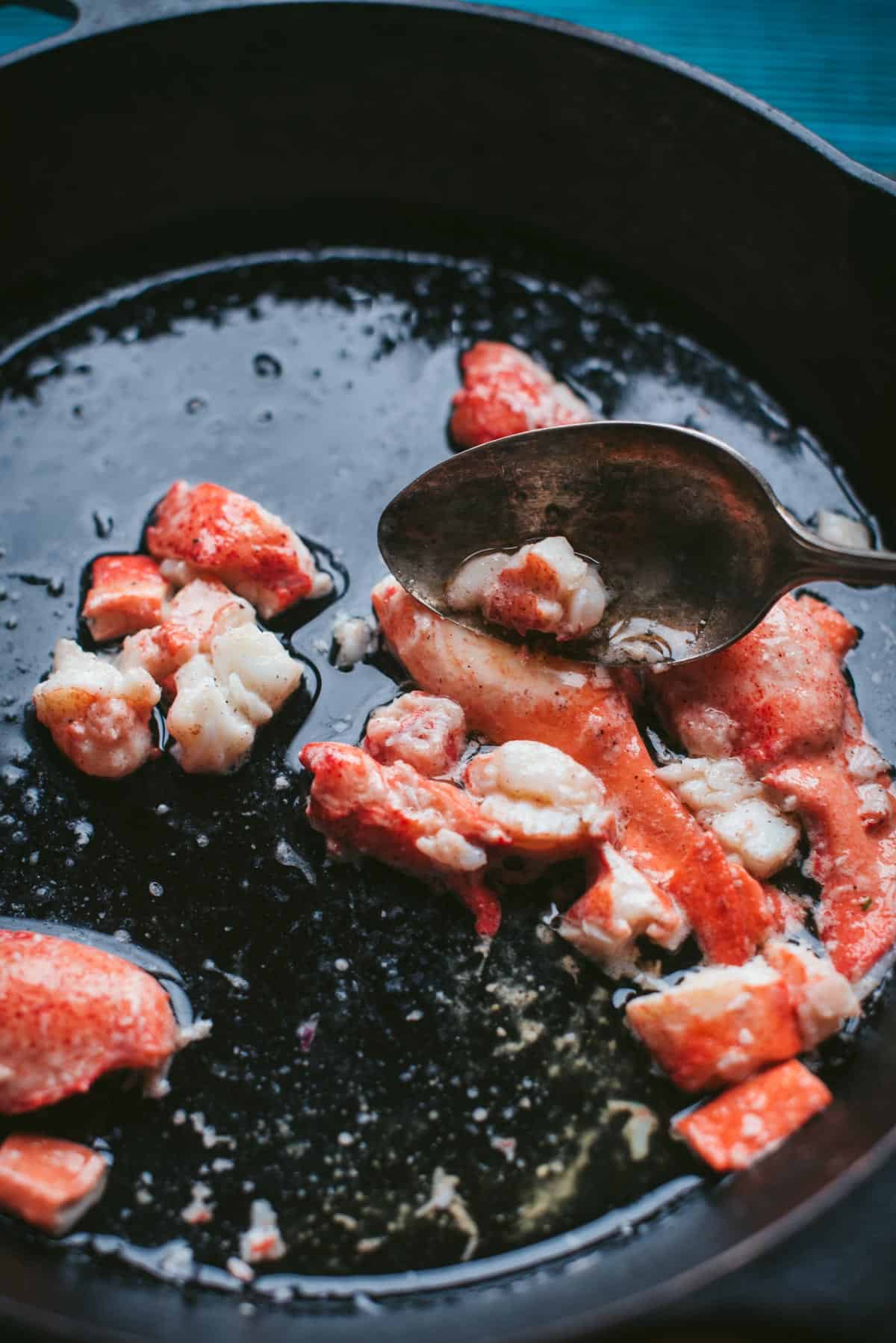 TIP: Scoop the lobster out with a slotted spoon or tongs and pile it on top of the guacamole. You want to shake off any excess butter before adding it so it doesn't pool on top of the guacamole.
Serve the lobster guacamole immediately or refrigerate until you're ready to serve.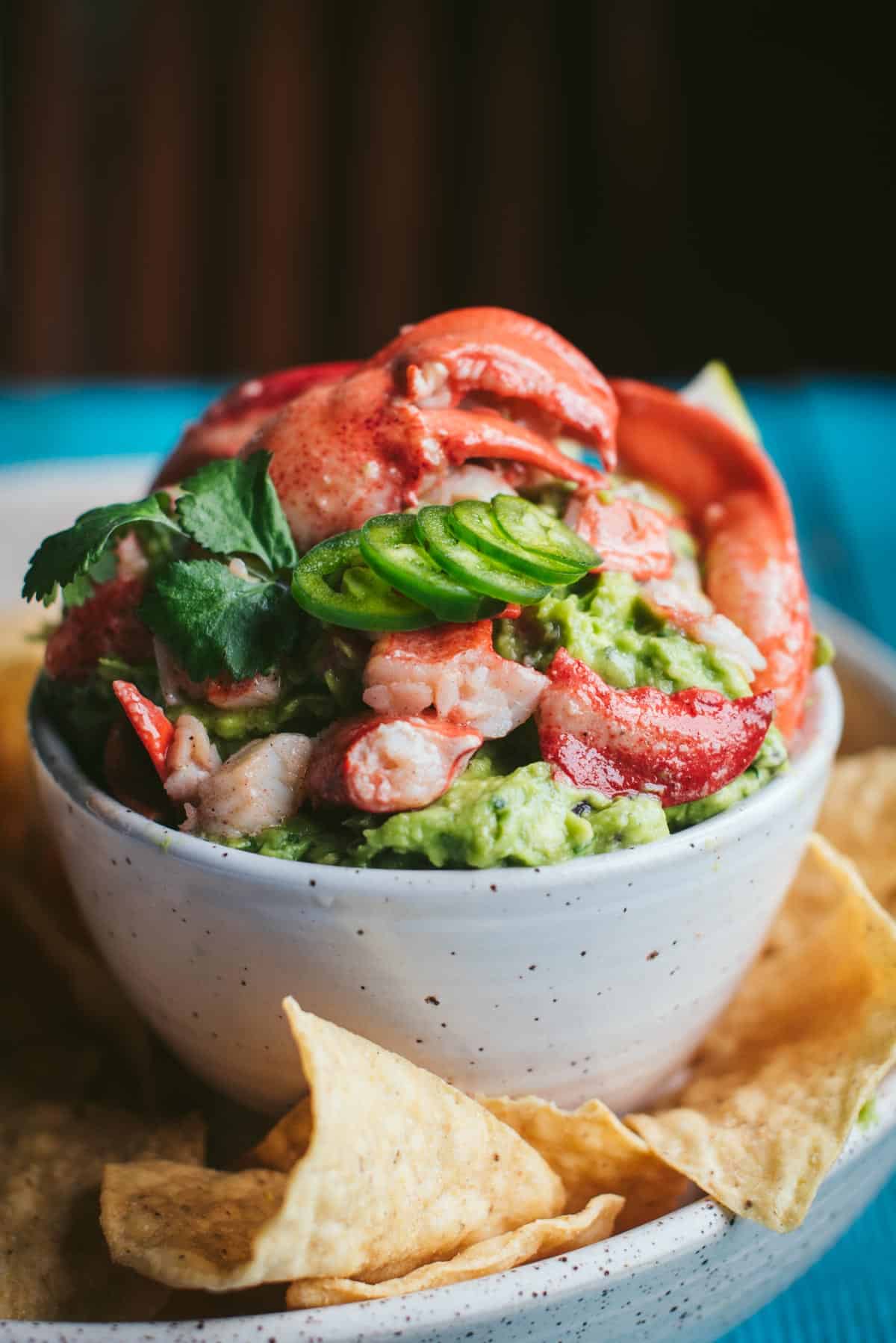 FAQS
I've received a few questions regarding this recipe so let me clear them up here:
How long does the lobster guacamole stay fresh?
It usually last about 1-2 days if stored in the fridge. You can even give it an extra squeeze with lime juice on top before you seal it tightly and refrigerate it. The lime juice will help prevent it turning brown.
Can guacamole be frozen?
YES! It can be stored up to 3 months in the freezer, but make sure to get rid of any air bubbles first! I find the best way to do this is using Ziplock bags.
How do I know if my lobster is cooked?
If you're unsure if the lobster is cooked all the way through, simply slice a piece in half, if its white all the way through, then it's cooked!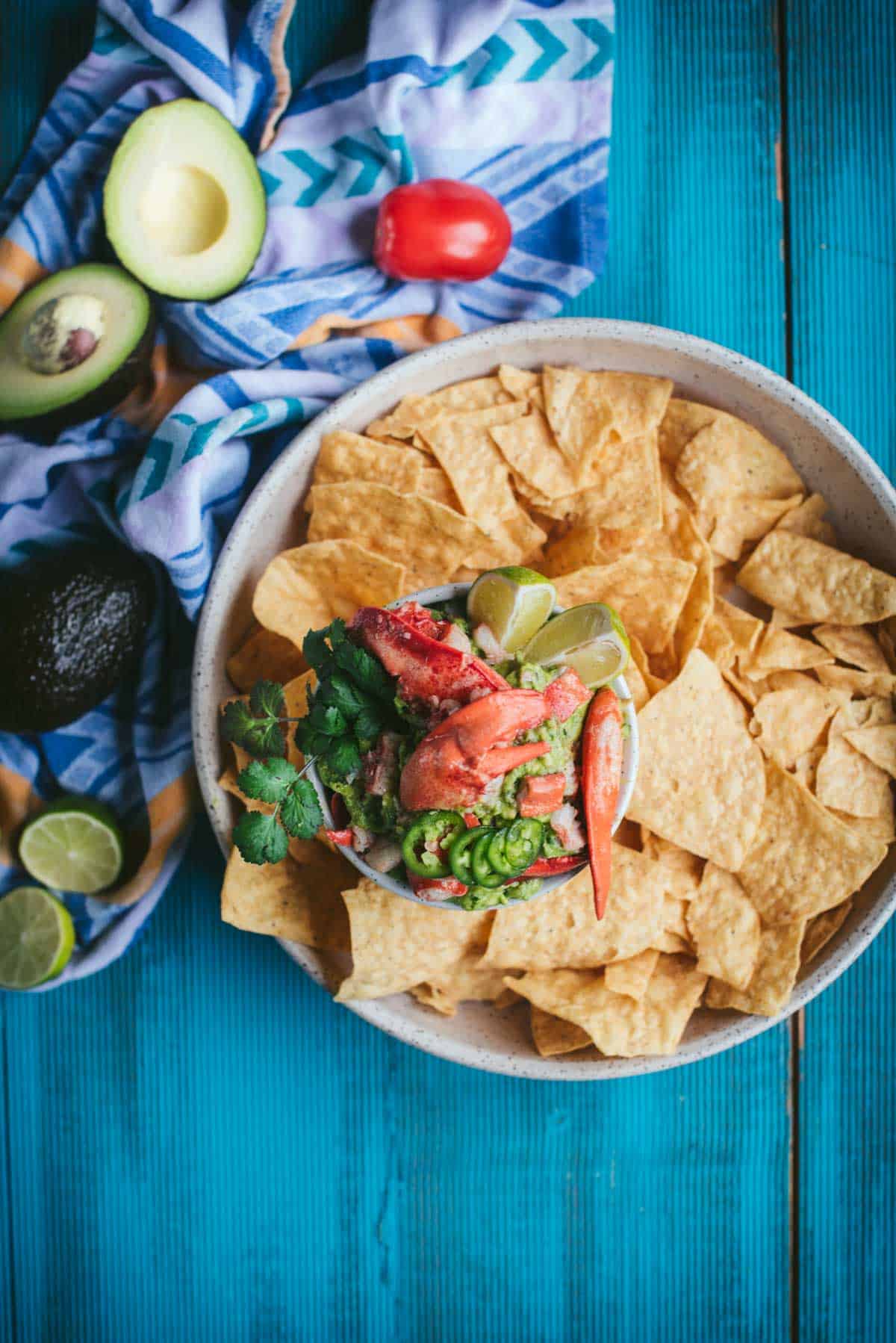 Want To See More?
LOVE LOBSTER?? Lobster Paella is a delicious seafood feast that can also feed a crowd! This dish is great for summertime gatherings.
If you can't get enough of this delicious, homemade Lobster Guacamole dip, try out some of my other Mexican inspired dips like this Jalapeño Avocado Crema, it goes so wonderfully on top of tacos or even just chips!!
Looking for other wonderful Lobster side dishes for your evening of hosting? Try my Leek and Lobster Potato Gratin, it's a one pan, sauté-layer-bake that hits all the right flavors.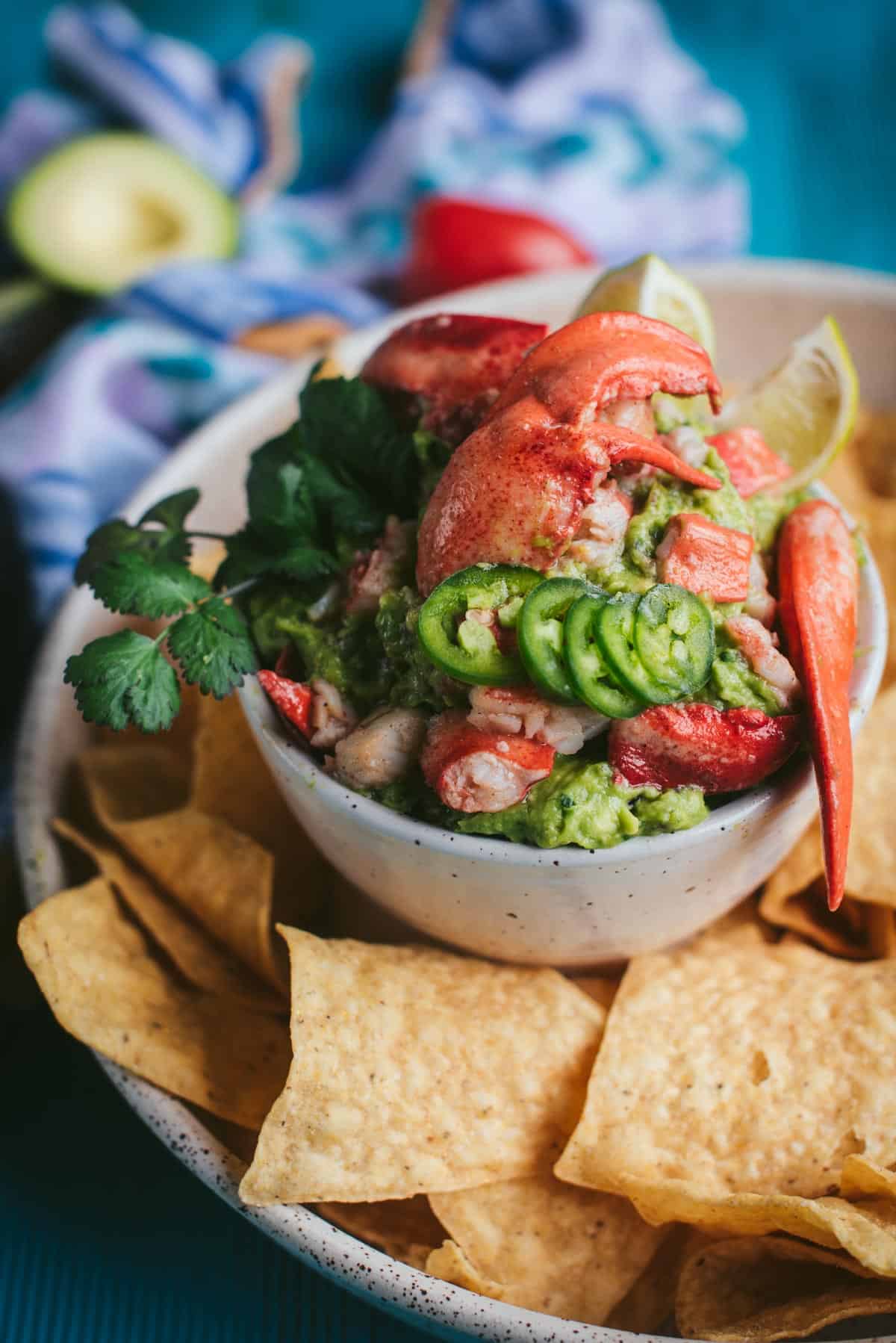 Don't forget to comment below if you tried out this recipe, or share on Facebook or Instagram, I love hearing your stories!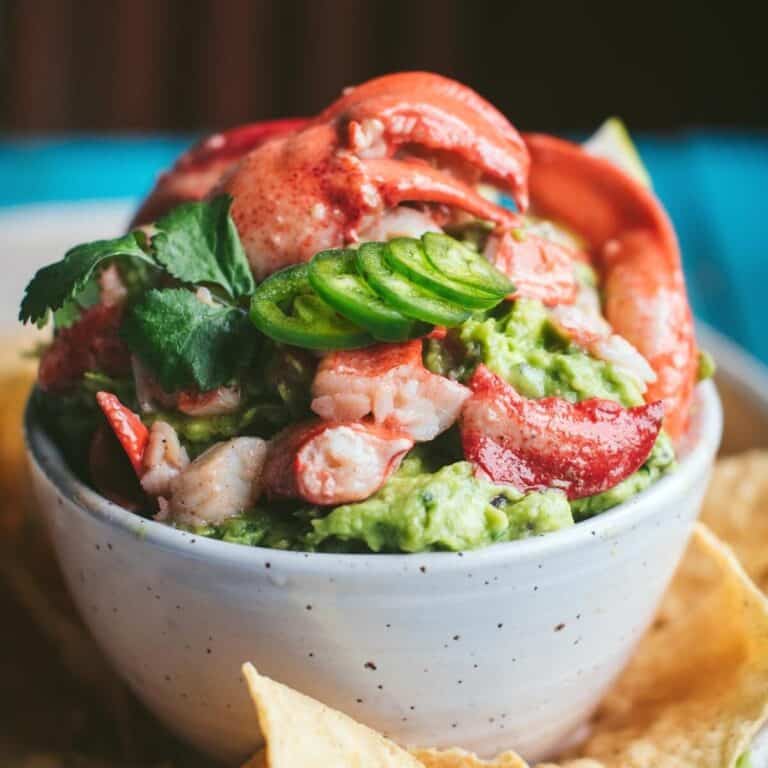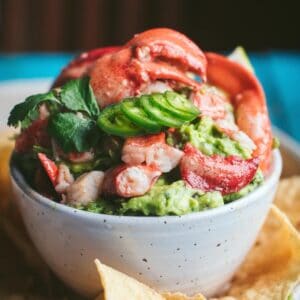 Lobster Guacamole
Fancy and flavorful, this guacamole is sure to impress your friends and your tastebuds without a lot of effort! Perfect for a fun summer spin on the classic guacamole recipe.
Print
Pin
Rate
Ingredients
3

avocados

juice of 1 lime

(about 2 tablespoons)

1

jalapeño

(seeds and pith removed, minced)

½

red onion

(finely diced)

2

clove

garlic

(minced)

1

tablespoon

cilantro

(chopped)

1

roma tomato

(seed removed, diced)

½

teaspoon

kosher salt

4

ounces

frozen lobster meat

(about 1½ lb lobster if using fresh lobster meat)

4

tablespoons

unsalted butter
Instructions
Carefully cut the avocados in half, remove pit and skin. Using a large whisk or potato masher, mash the avocados and mix ingredients together. This will create a smooth guacamole but still leave some larger avocado pieces for texture.

Add the lime juice, jalapeño, red onion, garlic, cilantro, roma tomato, and salt. Transfer to the bowl you plan to use for serving. Be sure to leave enough room to pile the lobster on top.

In a small saucepan, melt the butter on low heat. Add the thawed lobster meat, simmer on low for 4 to 5 minutes while continually spooning butter over the meat.

Scoop the lobster out with a slotted spoon or tongs and pile on top of the guacamole. You want to shake off any excess butter before adding so it doesn't pool on top of the guacamole.

Serving immediately or cover and refrigerate up to 1 to 2 days.
Notes
You can use frozen, fresh, or prepared lobster meat. Frozen is the easiest and most cost effective choice. If choosing to buy a whole lobster, see my post on how to cook a lobster for tips of cooking and removing the meat. Buying prepared lobster meat from the seafood counter is the easiest option, but the priciest.
When cutting the aroma tomatoes, remove both ends, slice in half and remove the seeds and 'meat' of the tomato. Dice the firmer piece and skin that's left over.
Nutrition
Calories:
187
kcal
|
Carbohydrates:
8
g
|
Protein:
4
g
|
Fat:
17
g
|
Saturated Fat:
5
g
|
Polyunsaturated Fat:
2
g
|
Monounsaturated Fat:
9
g
|
Trans Fat:
1
g
|
Cholesterol:
33
mg
|
Sodium:
212
mg
|
Potassium:
432
mg
|
Fiber:
5
g
|
Sugar:
1
g
|
Vitamin A:
373
IU
|
Vitamin C:
11
mg
|
Calcium:
27
mg
|
Iron:
1
mg