Roll up those sleeves and let's get cracking. Lobster cracking. Everything you need to know about how to boil and eat lobster, aka the New England summertime staple, is right here!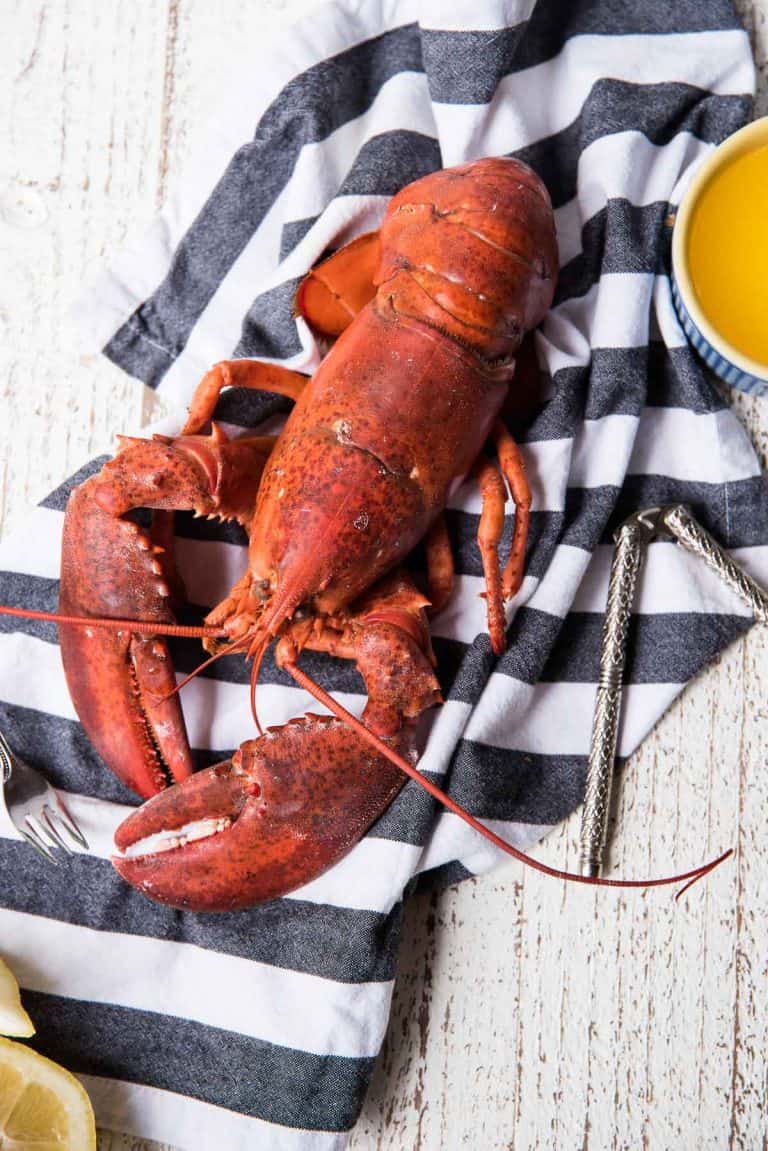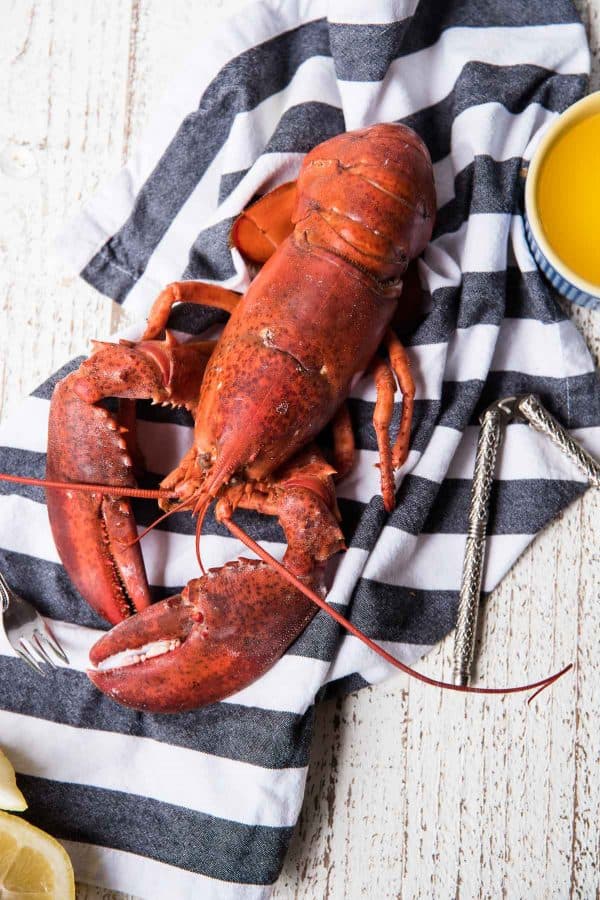 What says summer in New England better than lobster? Ok, maybe a day at the beach or sitting in traffic to go over the Bourne, but this is a much easier, far more delicious experience. New to these spiny, clawed creatures? Curious as to what the fuss is all about? Let me tell you what you're in for...
Once you break the meat from its shell and you'll taste:
firm and tender texture similar to crab and shrimp
underlying sweetness
not briny like oysters or clams
and then there's that butter and lemon...
It's simple and flavorful all at the same time. Best of all, it doesn't require a whole lot of ingredients to have your very own seafood fest right at home!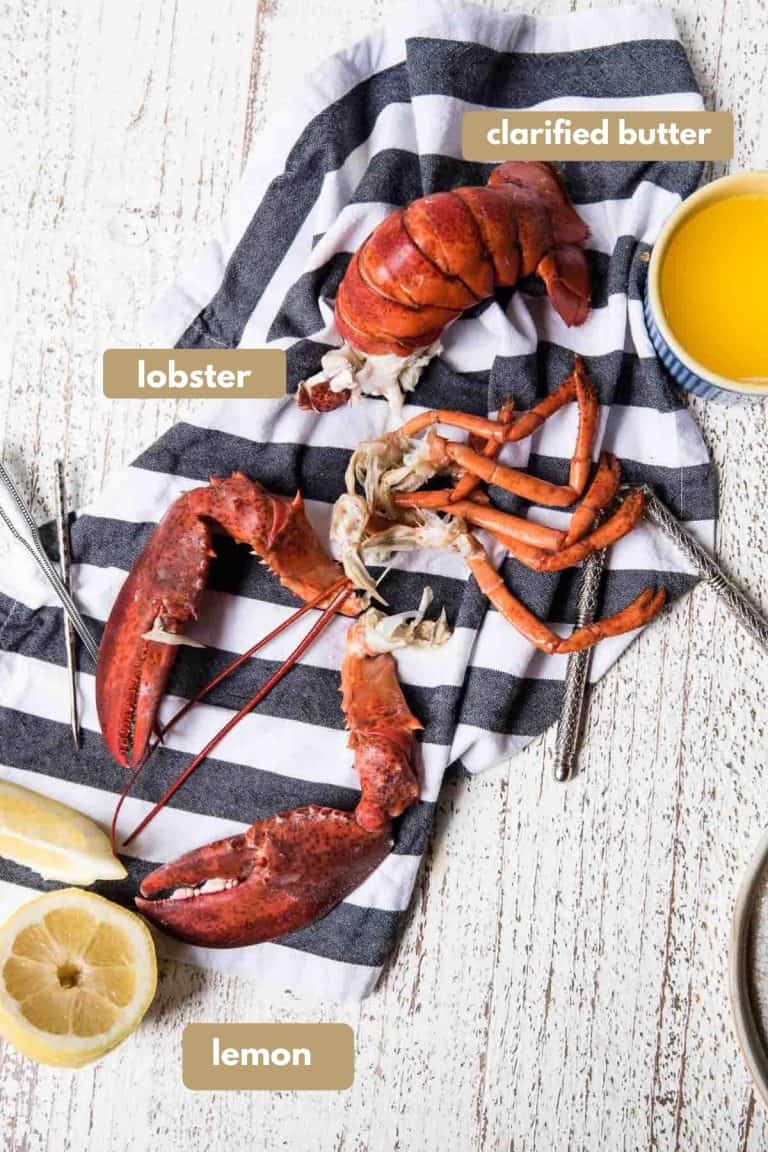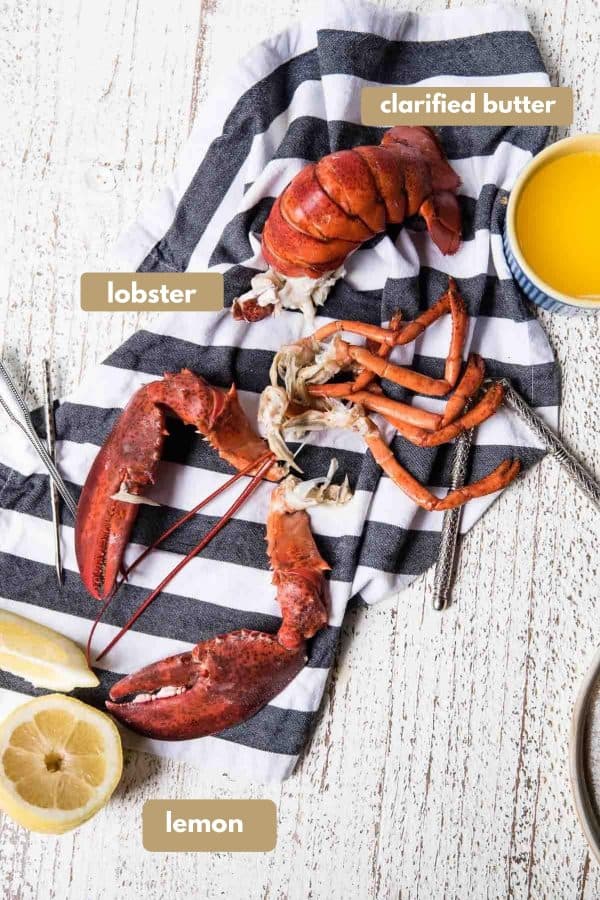 How to boil lobster
There are many ways to cook a lobster. Each of them has their own advantage and will yield tasty cooked crustacean. You can broil, steam, stuff and bake, grill, or roast - but the simplest method is just to boil!
Every summer growing up we would go camping down the Cape or in Rhode Island for a long weekend with another family. One night would always be some kind of seafood feast with lobster, steamers, corn on the cob, and whatever else could be prepared over a small camping stove. This is where I learned a few important things:
how to buy lobsters
how to boil them
where to find all the meat
and that it's a messy kind of meal
For me personally, eating whole lobsters will always be an 'at home' kind of meal so you can enjoy every single bite without worry about getting lobster juice on your favorite dress or having to wear a bib. Great news! This option is also less expensive. Win win.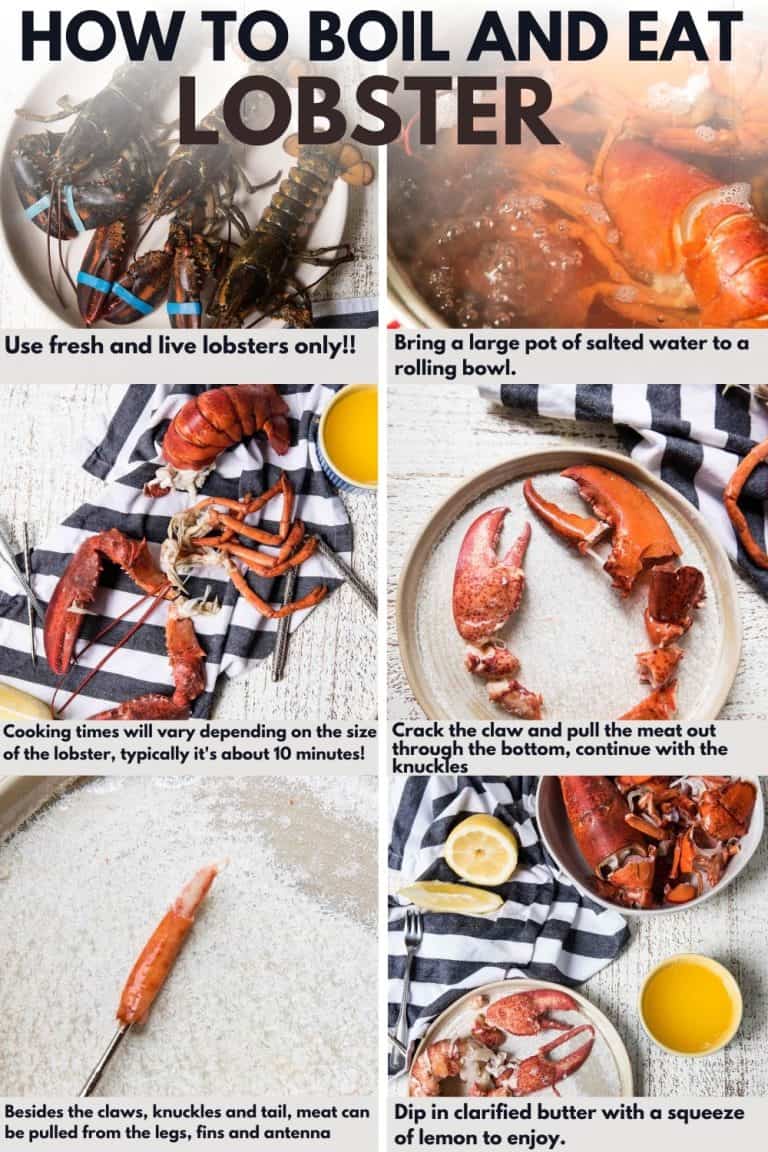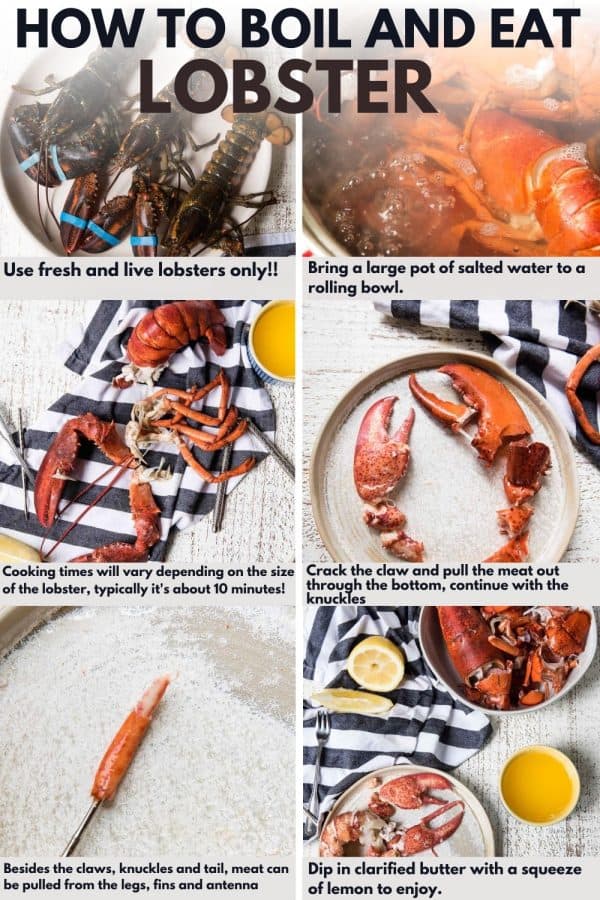 TIPS FOR BOILING LOBSTER
While the steps are pretty simple - have water, bring to a boil - there are a few factors that will help you knock it out of the park when it's time to eat.
Lobsters MUST be fresh, alive, and active! Cooking whole lobsters that have died is a fast route to food poisoning since they release harmful bacteria into their bodies if they died before cooking.
Buy hard shell lobsters, about 1 ½ to 2 pounds per person.
To cook more than one lobster, be sure to choose a large pot or multiple pots. You need enough water and a lid to cover the lobsters at a rolling boil.
Salt the water. (You salt pasta water, right? Same reasoning goes for lobster water!)
Grab the lobsters by the back and add them to the water headfirst.
Recover the lobsters and water and bring back to a boil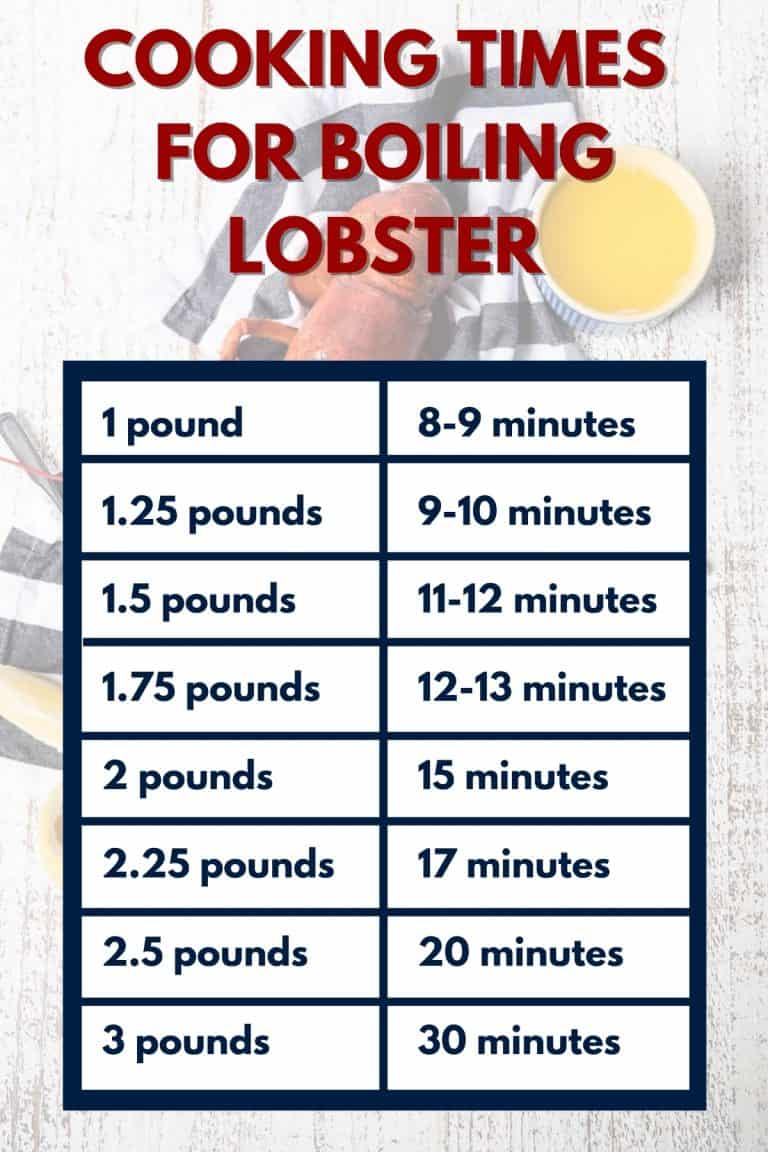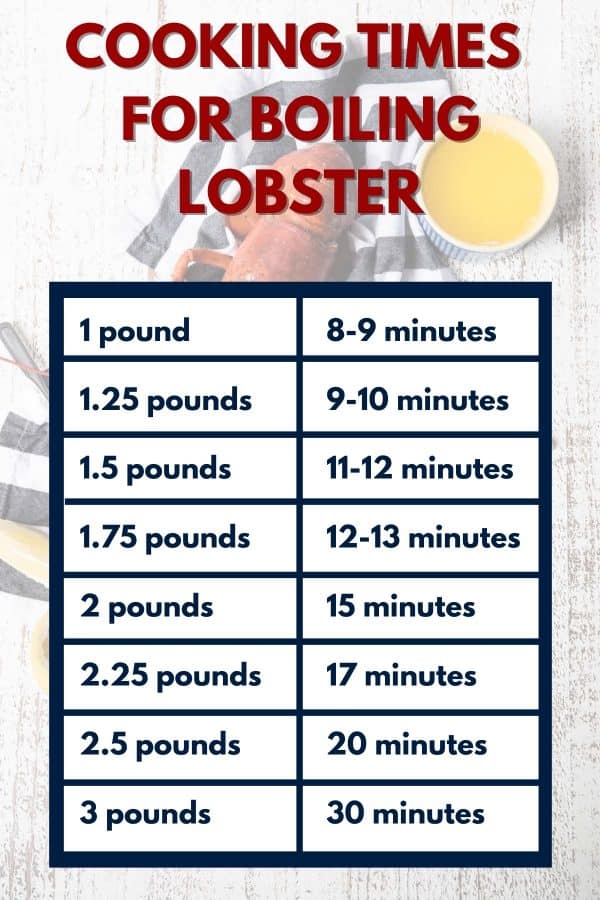 HOW FAR IN ADVANCE CAN YOU BUY LOBSTER?
While lobsters can live up to 36 hours out of the water, it's best to plan to cook them the day you buy them.
Don't store them on ice - freshwater kills lobsters!
If you can get them with fresh seaweed, that's best (but unlikely)
Best option: Leave them in the damp brown paper bag from the seafood department and get the bag into the fridge as soon as possible.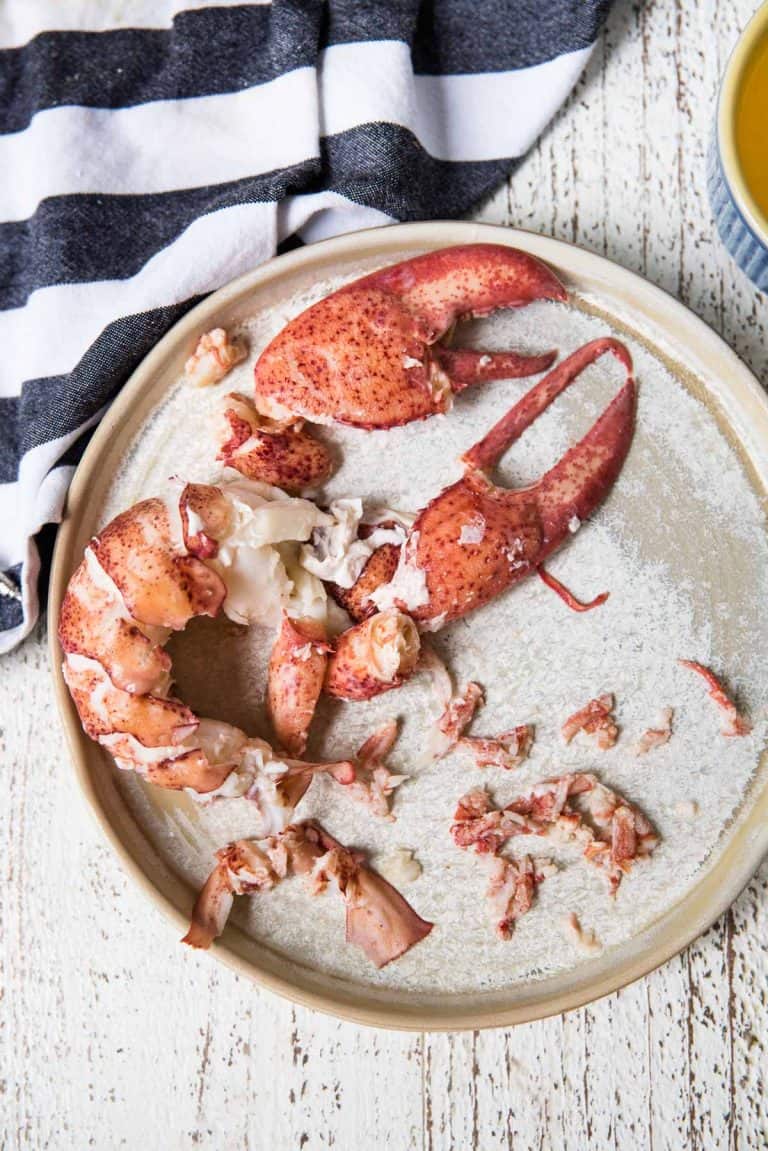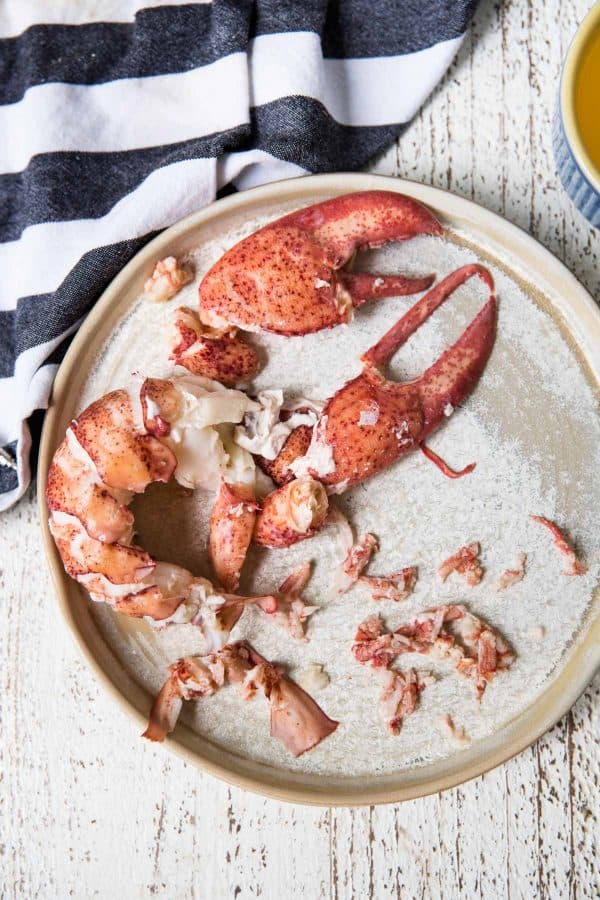 How to eat a whole lobster
You've put in the work, now it's time for the reward. We need to roll up those sleeves and dig in! Bib optional.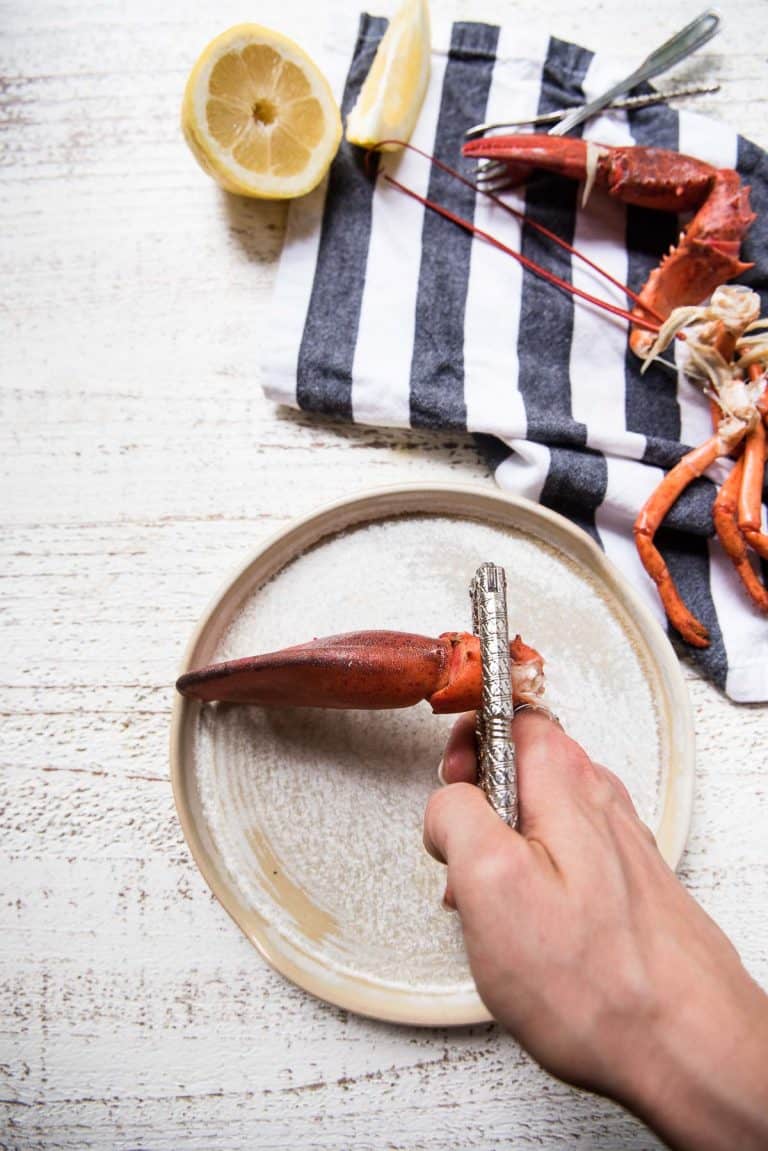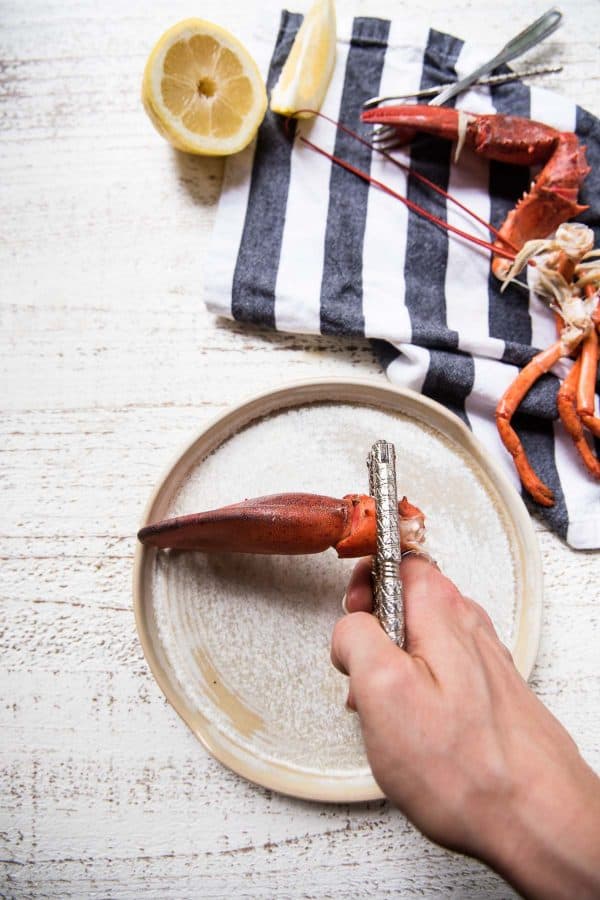 To get the most out of your lobster you need to get all the meat and there's a lot more to it than just claws and tails. Here's where to check for meat.
Most commonly eaten lobster parts:
Claws - the little one is called the pincher and the big one is the crusher
Knuckles - the 'arms' of the claws that connect the claws to the body
Tail
Legs - the legs are tedious work since it's a lot of poking the meat out so a lot of people skip them
Tomalley - in some lobsters there may be a green paste-like substance, this is the liver and pancreas and considered a delicacy (raise those pinkies) it's not my personal cup of tea but it is very much edible.
Less Common Lobster Parts
Fins - the fins of the tail have meat that can be poked out or sucked out
Antenna - there is a very small amount of meat in the antenna, you can suck it out much like the fins, but most people skip this
Body - under the 'rib cage' along the inside of the shell there's meat
Head
Roe - the tiny red balls inside the lobster means it's a female lobster and those are the eggs. If they are still black, they need to be cooked further, once bright red they are edible
Are you also seeing white fluffy stuff in the water while you boil? This is just congealed blood. Lobster blood is transparent while they're alive. Once cooked, it turns white. It is totally edible.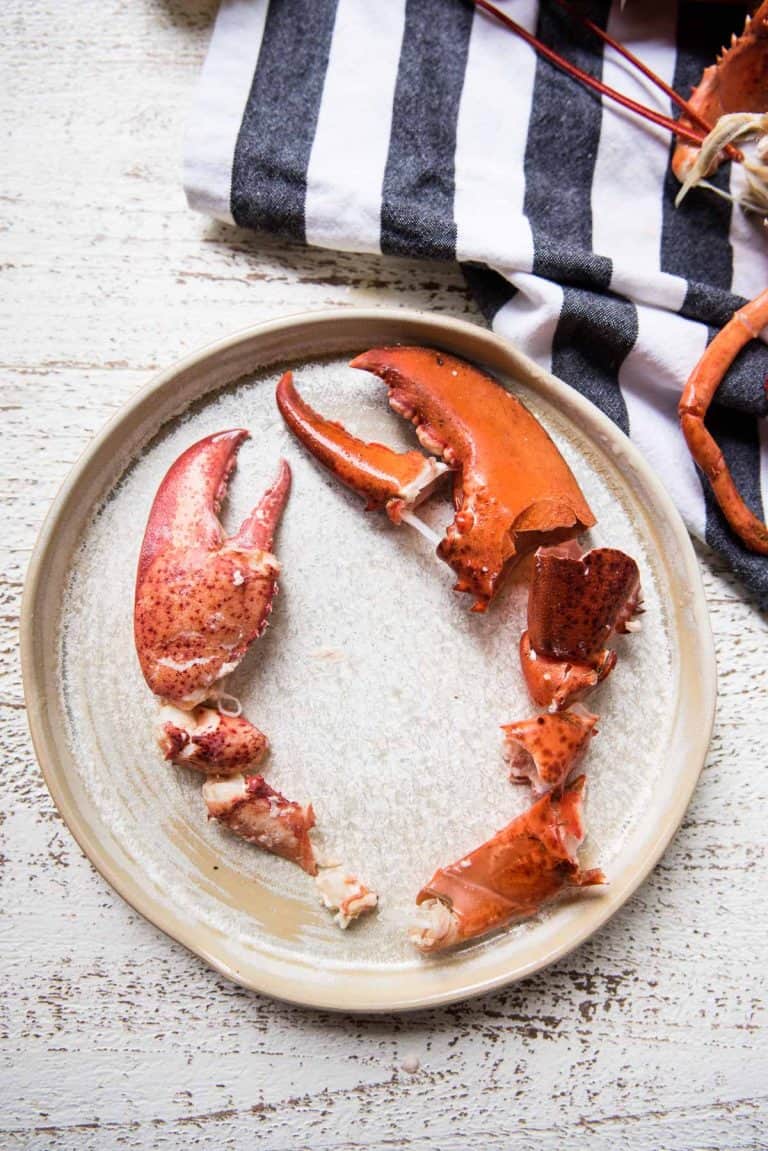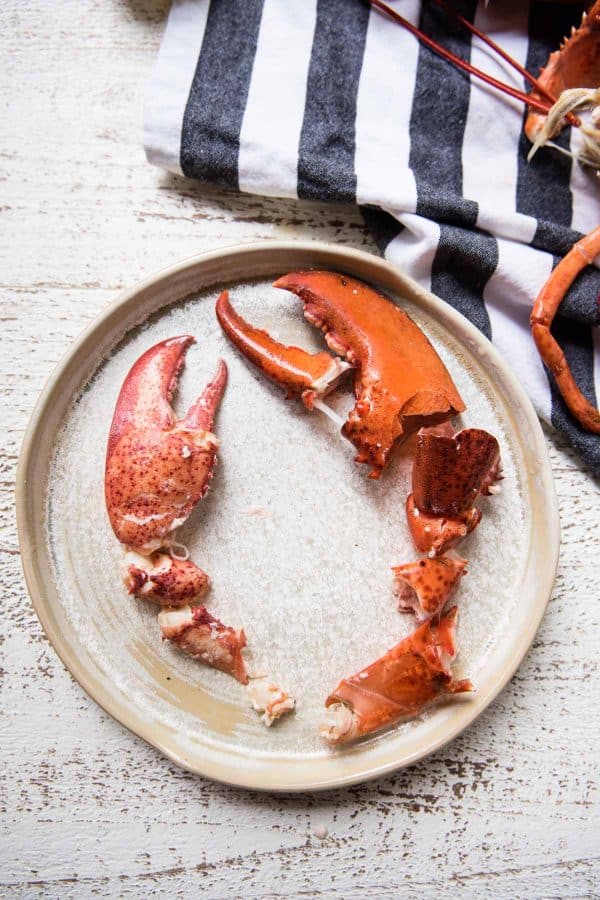 What you'll need to go with it
In addition to serving the lobster, you'll need some tools and tasty additions!
First and foremost, butter and lemon. Typically clarified butter is served in restaurants. You can do this by melting the butter then letting it sit. The milk solids will fall to the bottom and the butter on top is clarified butter.
Be sure to serve the lobsters on a large plate with a lip. Once the body is cracked a lot of liquid will come out of the body. A pie plate makes for a great serving plate and is a fun change of pace. For easy cleanup and fun New England flair, cover the table in newspaper rather than a tablecloth!
Have a large bowl for each person or in a reachable area on the table for the shells. The shells can be saved and used to make seafood stock!
Most 'lobster tool kits' (aff link) will have a cracker and a small seafood fork perfect for poking the meat out of the legs. Some might have a small hammer, but you can always use a meat mallet if it doesn't.
You'll need a lobster cracker to get the meat from the claws and knuckles. You can also use it on the tail to loosen it up or cut the tail up the inside seam with kitchen shears.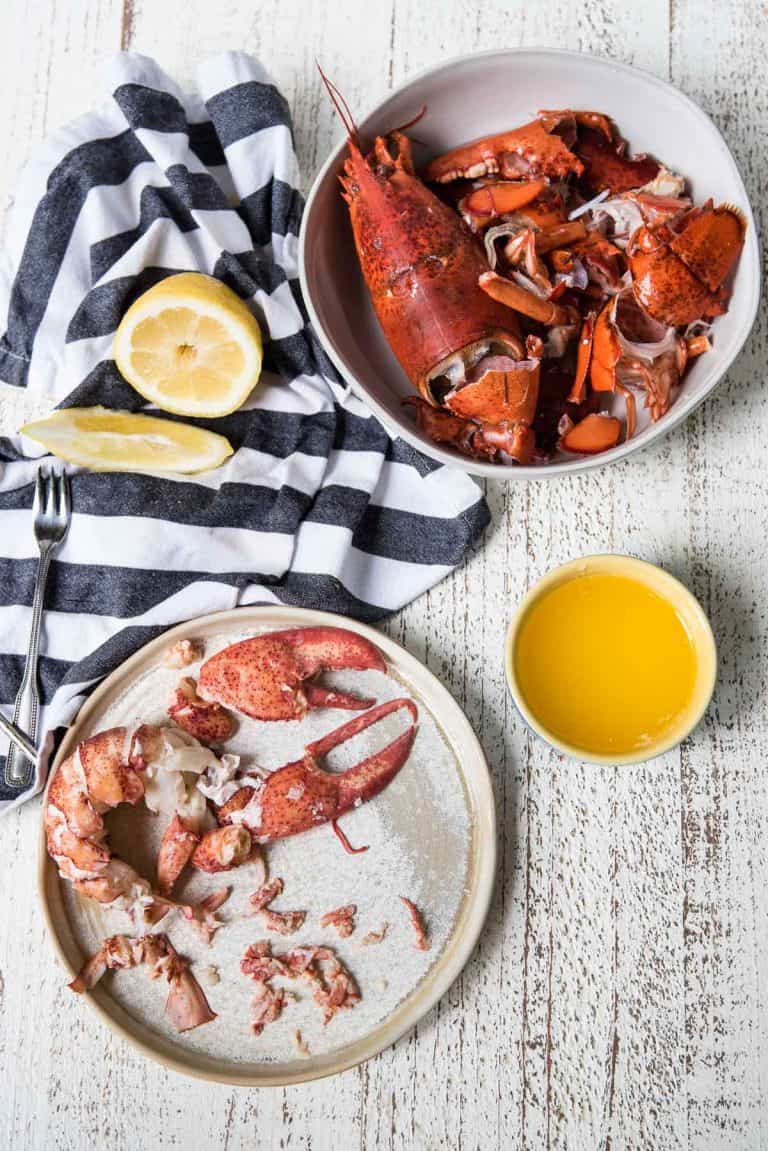 What to serve with whole boiled lobster
More seafood, of course! If you're going in on a seafood fest, Rhode Island style baked stuffed clams - aka 'stuffies' - are a must. New England style chowder is a great first course or side dish and you can't forget that summer corn on the cob.
What if you boil, crack, and eat but there's still leftover lobster? SAVE IT. There are so many good options for adding leftover lobsters...
The possibilities are truly endless! What's your favorite way to enjoy lobster? Be sure to tell us all about your lobster love in the comments!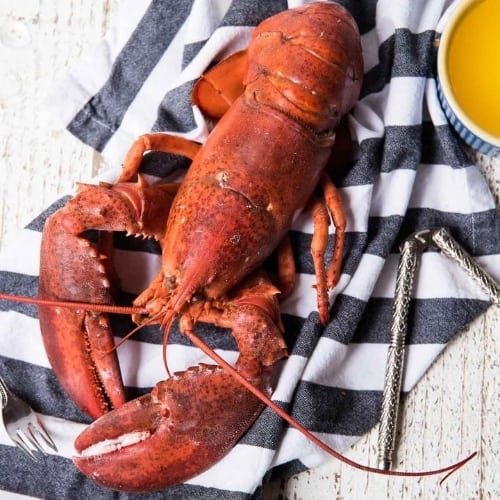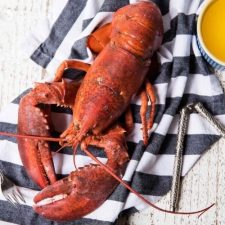 How to Boil and Eat Lobster
It's not summer in New England until you have your first taste of lobster! Cooking lobster at home is the easiest and most fun way to enjoy this classic summer seafood.
Print
Pin
Rate
Ingredients
1

lobster per person

(1.25 to 2 pounds)

a large stock pot

water

salt

butter

lemon
Instructions
Prep. Fill a large stock pot with water and salt generously. You'll want a large enough pot that the water will cover the lobsters. Leave at least two inches from the top to avoid boiling over. Cover and bring the water to a rolling boil over high heat.

Add lobsters. Grab the lobsters from the back shell, not the claw or tail. Add each lobster to the boiling water head first. Optional: You can freeze the lobsters for 10 to 15 minutes before boiling to limit the amount of kicking. See notes regarding the rubber bands.

Cook. Cover the pot and return to a boil. Stir the lobsters halfway through cooking. Cooking times will vary depending on size, about 10 minutes 1.25-pound lobsters to 15 minutes for 2-pounders.

Eat. After cooking, remove from the water and serve immediately with butter and fresh lemon wedges.

How to shuck a lobster. Serve the lobster on a deep lipped plate with a side bowl for the shells. Remove the arms and claws. Crack the claws using the lobster cracker and remove the meat from the bottom. Dip the meat in butter and enjoy or add a squeeze of fresh lemon. Repeat with the knuckles. Break the tail from the body and remove the tail meat either by cracking the shell or cutting it with kitchen shears. If there is green substance in the tail, this is called 'tomalley' and is the liver and pancreas. It is edible and considered a delicacy.

Finding the uncommon meat. Remove the legs from the body and use the lobster fork to poke the meat through the shell. Meat can be sucked from the fins, antenna, and the head. In the body, there is meat along the inside of the shell as well. If there are small, bright red eggs in the body, these are roe and can be eaten as well.
Notes
You do not have to remove the rubber bands from the claws but some people find it affects the overall taste. I have never found that to be the case and value by fingers more, but you do you.
If this is your first time cooking lobster, please take a minute or two to read all the information in this post! There are tons of helpful tips for buying, storing, cooking, and eating lobster.
Recommended cooking times for boiling lobsters are based on weight. 1 pound starts at 8 to 9 minutes, then add 1 to 2 minutes for each ¼ pound - there's a super easy to read graphic in the post above that has this all listed.
Nutrition
Calories:
97
kcal
|
Protein:
21
g
|
Fat:
1
g
|
Saturated Fat:
1
g
|
Trans Fat:
1
g
|
Cholesterol:
160
mg
|
Sodium:
533
mg
|
Potassium:
252
mg
|
Vitamin A:
5
IU
|
Calcium:
106
mg
|
Iron:
1
mg