Summertime means its time for all the ice cream treats! Fancy cereal treat waffle cones combines everything you love about chewy marshmallow coated cereal and cool, sweet ice cream in an easy to make summer dessert.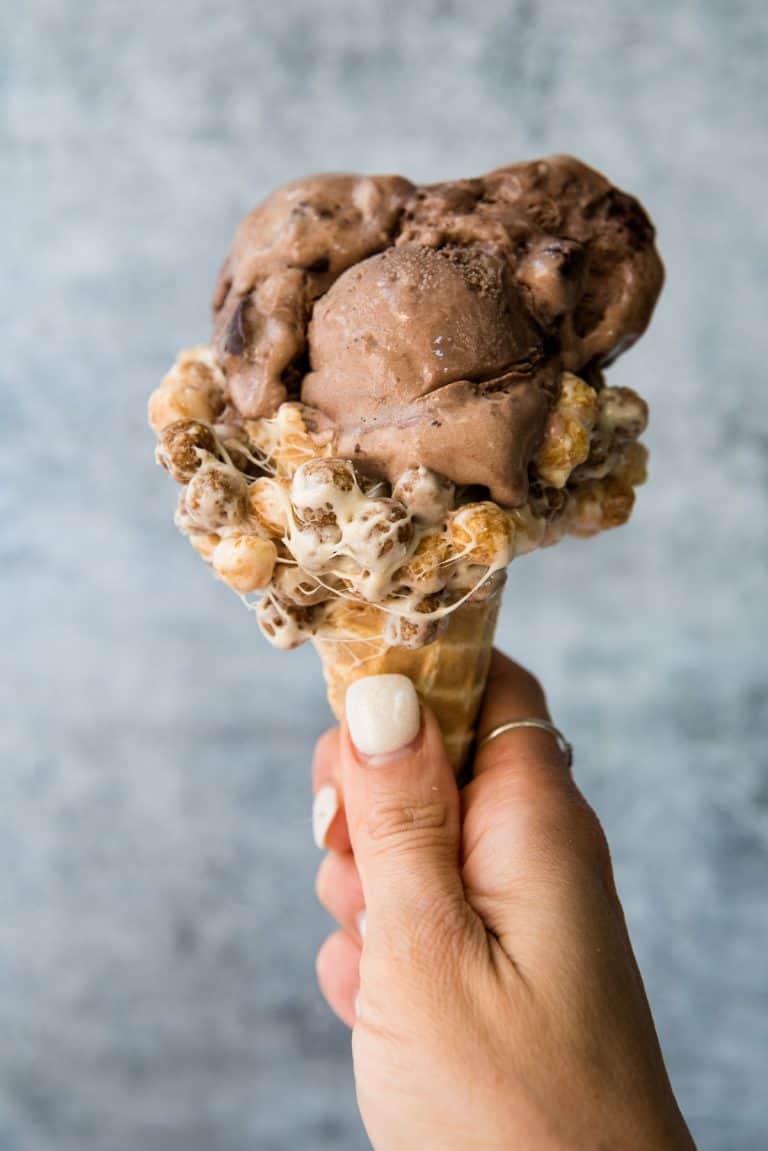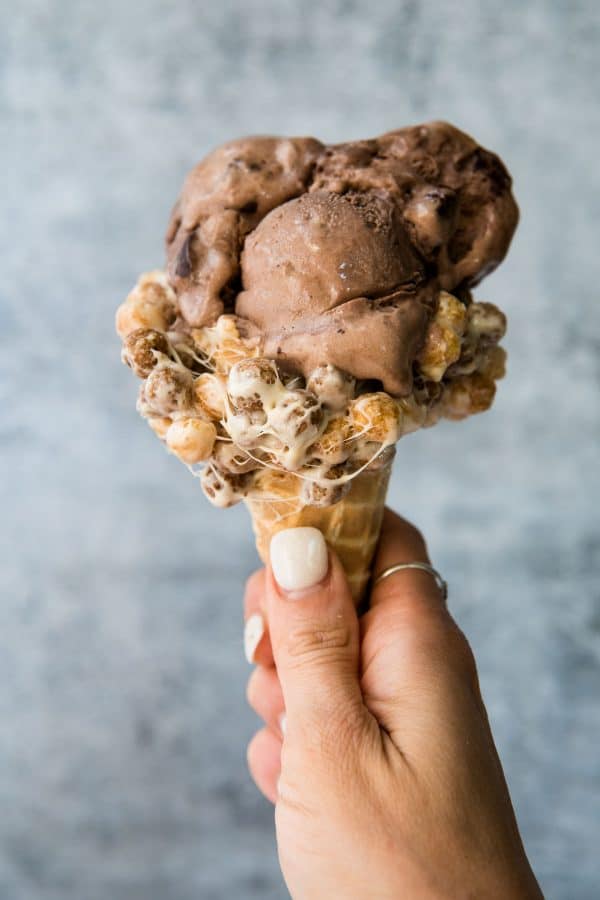 I mean, ice cream and waffle cones are pretty dang good....am I right? But so are rice crispy treats. They're sweet, a little sticky, chewy, fun, and super easy to make. So while we're sweating out this summer heat we might as well cool down and upgrade our go-to ice cream vessels, yes? YES.
These decorated waffle cones are SO. MUCH. FUN. It's like you took all the awesome things about ice cream cones and everything nostalgic about cereal and combined them into one powerhouse summer dessert.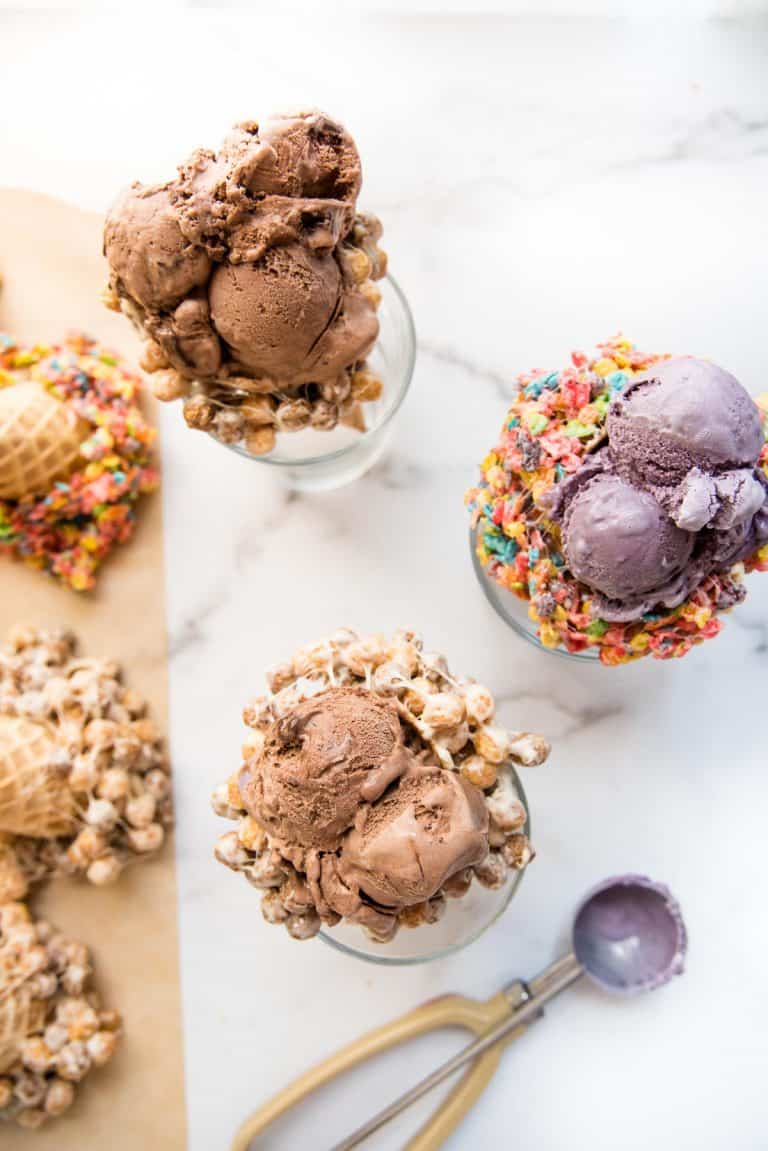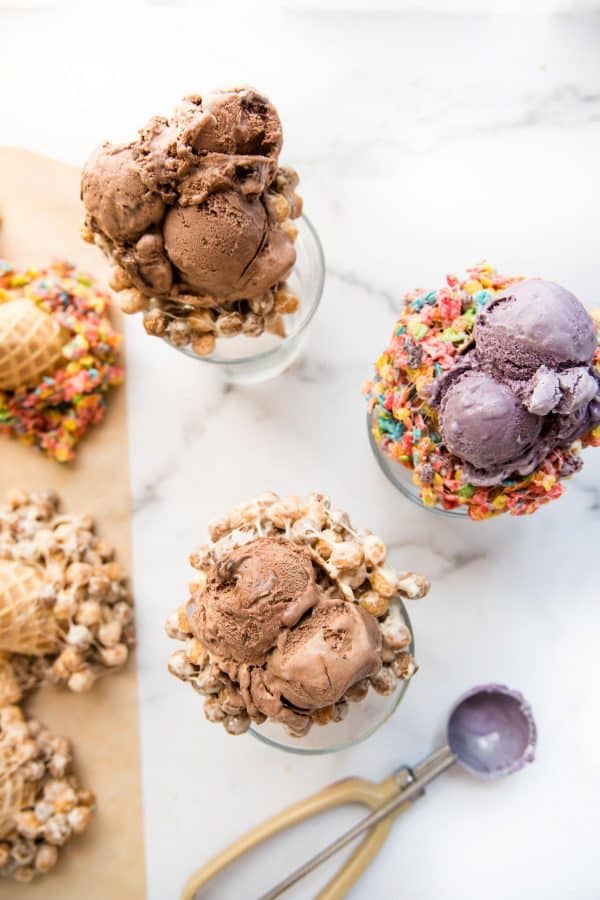 Aaaaaand....it's stuffed with ice cream.
Oh ok, let's do this.
How to make cereal treat waffle cones
You need four ingredients plus your favorite ice cream or sorbet. So close your eyes think back to childhood - or maybe whatever cereal you had for breakfast - and grab that plus waffle cones, marshmallows and butter.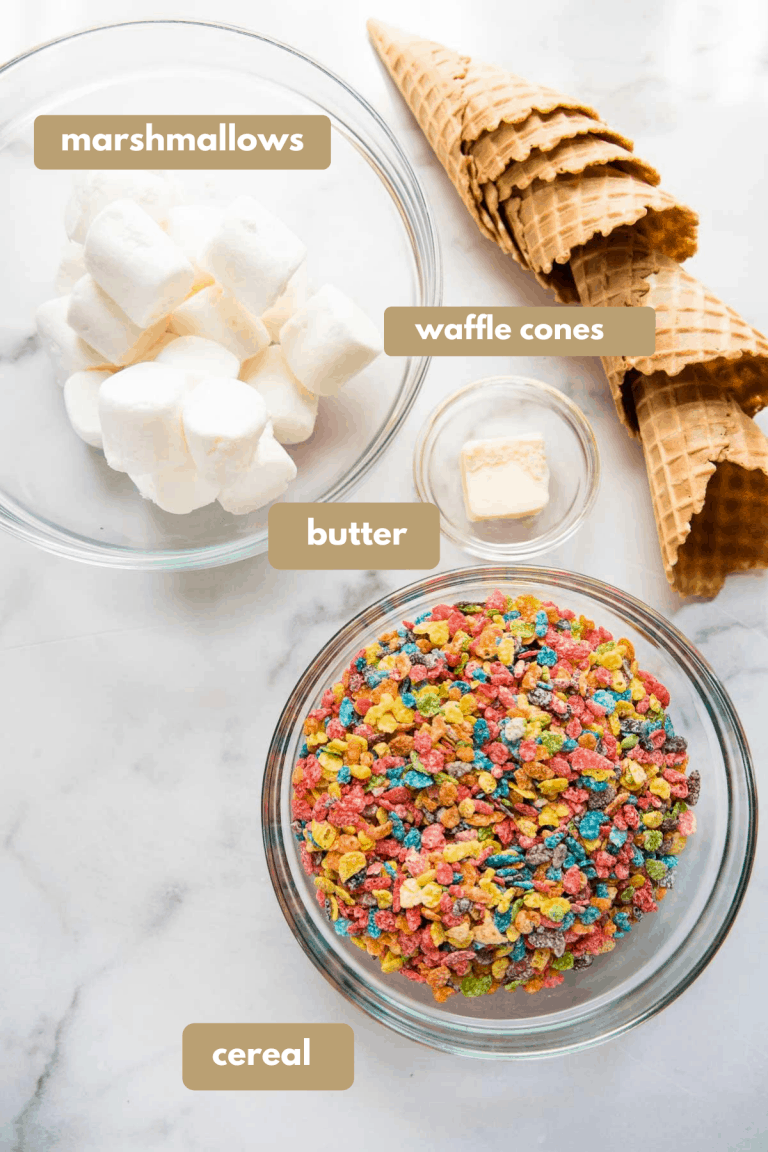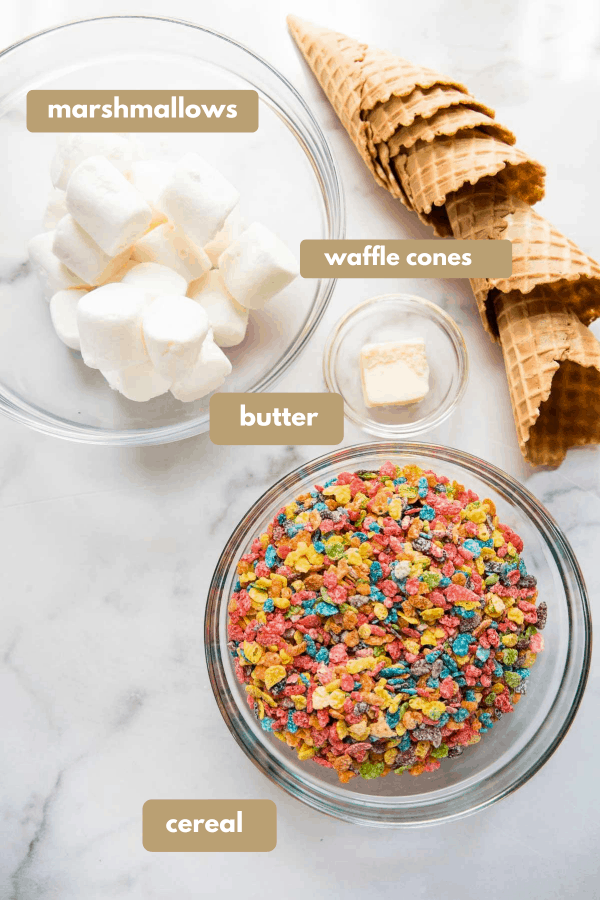 Not only are these low maintenance when it comes to ingredients, but they're not labor intensive either. It's just a matter of melted butter and marshmallows, mixing with cereal and then working quickly before the marshmallow cools.
The key to getting an easy coating of cereal treat to stick to waffle cone is that this recipe uses a touch more butter and marshmallow than the original cereal treat recipe.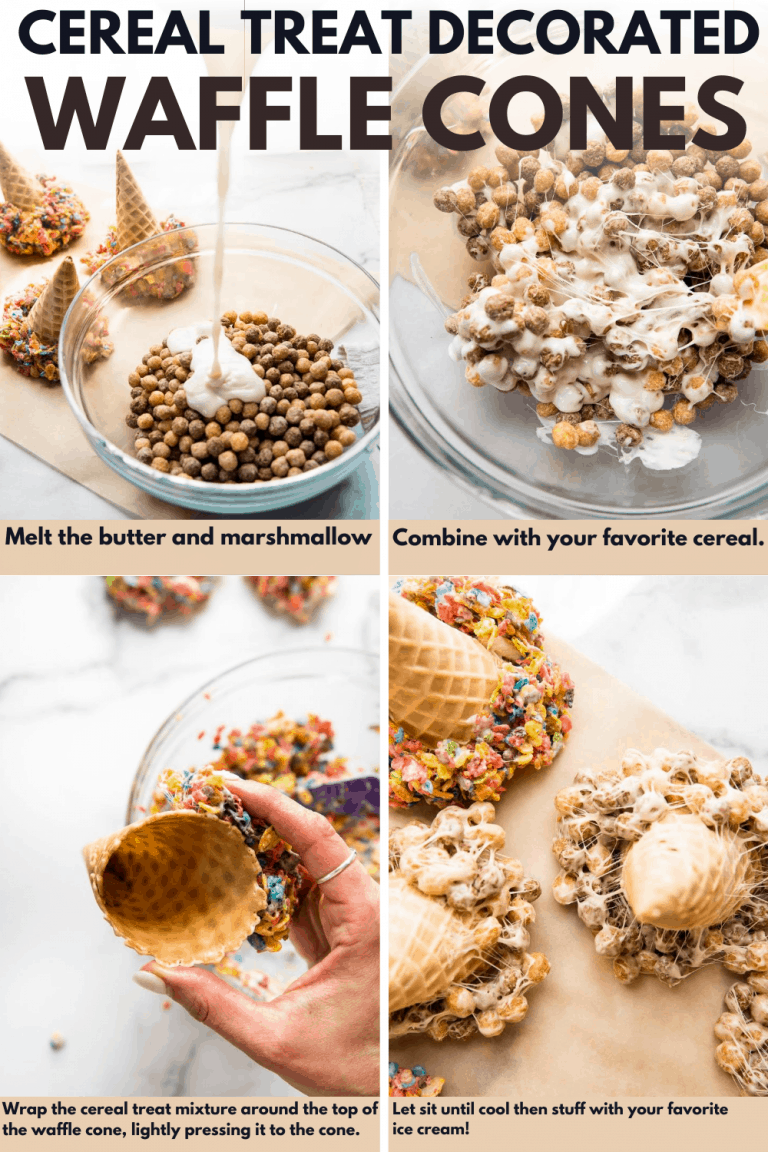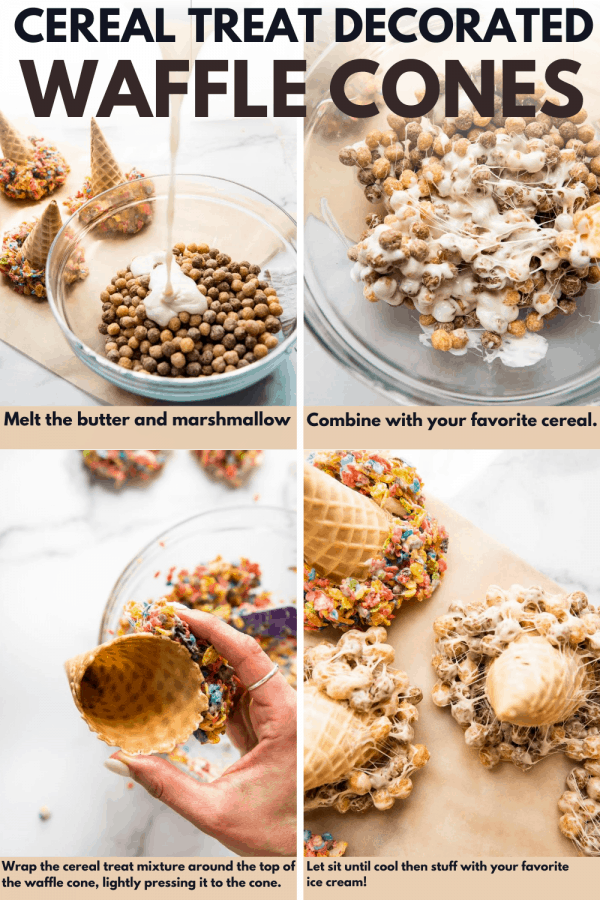 Tips for easy cone wrapping
The first cone I made was super awkward and there were fruity pebbles stuck to my entire hand. Great news for you though, I worked out all the kinks so you can have these done lickety-split.
Start by getting your work area ready. Place a piece of parchment paper or a nonstick mat down so you have somewhere to store your already made cones.
You'll also want either a little extra room temp butter for greasing your hands or a small bowl of water. Both will work, my preference is the butter so there's no concern about getting the cereal treats too wet.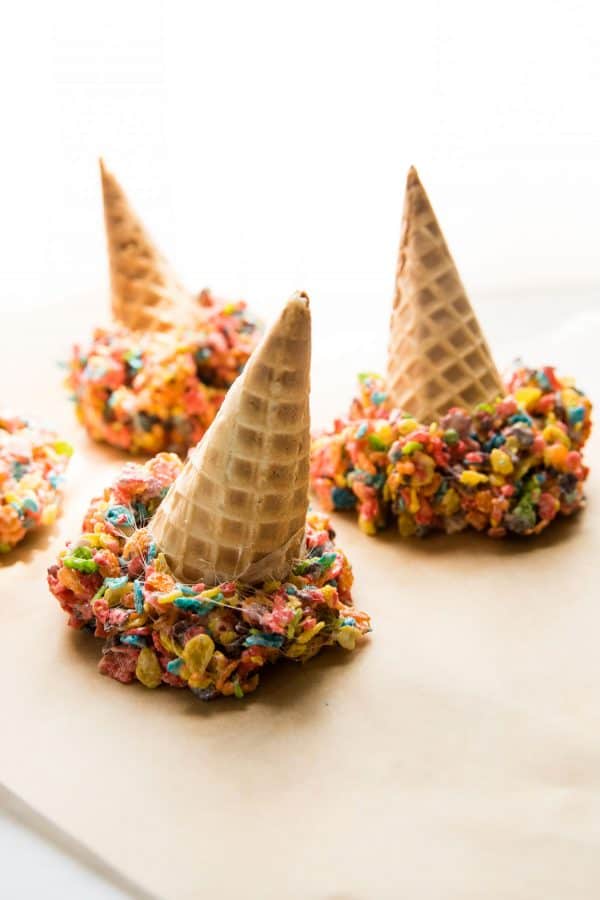 Time does matter. The faster you work, the easier it is. If you've ever made cereal treats/rice crispy treats, you know the faster you press them into the pan the better it all goes. The same applies here. As the marshmallow cools, the treats get stiffer and harder to stick to the cone.
Troubleshooting tip: If the cereal treats get too cold, just pop them in the microwave on high for 10 seconds at a time until they're easier to work with again.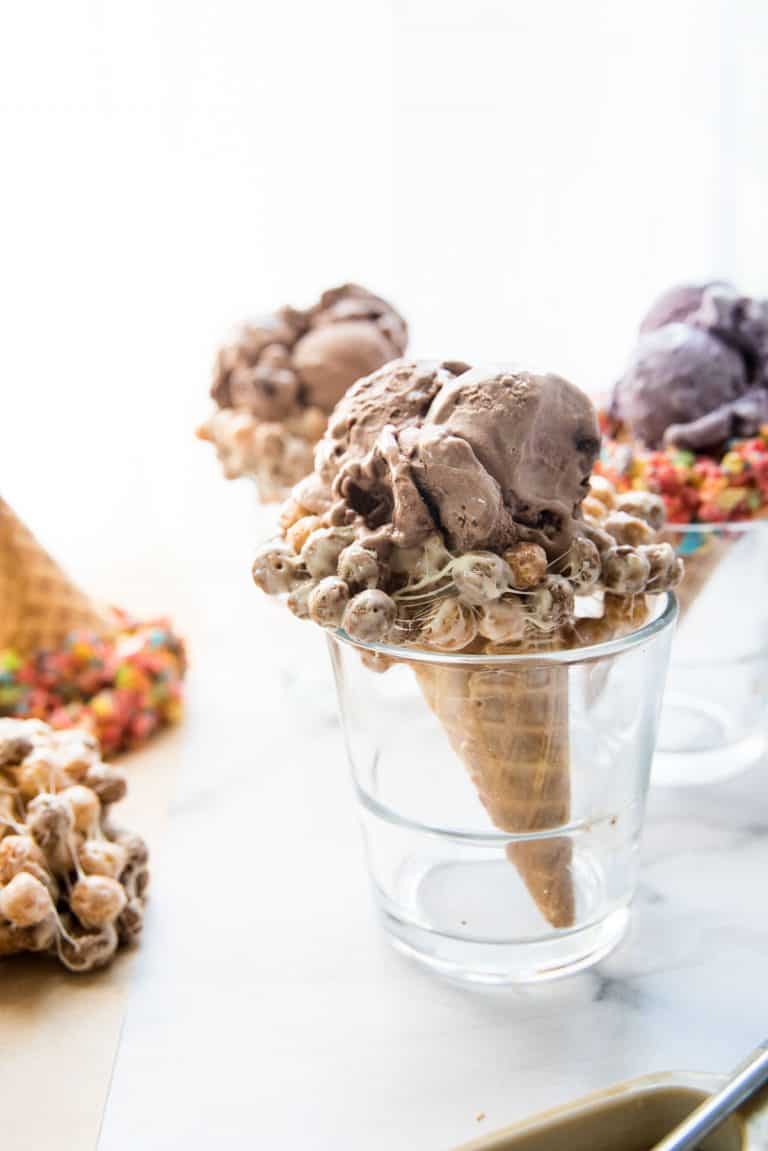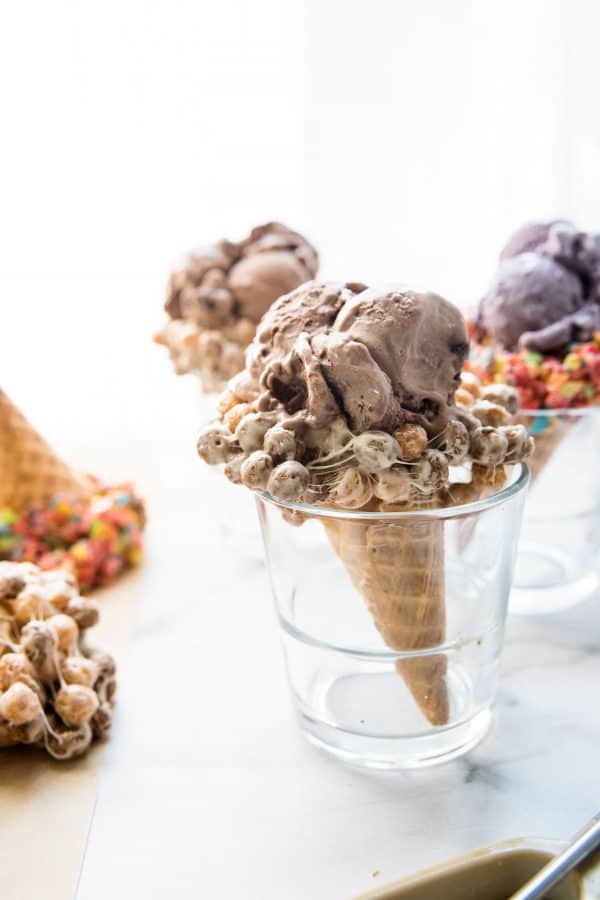 Last tip! If you're just doing this for the first time, try a cereal that's smaller in size like rice crispies or fruity pebbles. The bigger the individual pieces are, the trickier it gets - not much but a smidge!
Just let them cool on the nonstick surface for about 15 minutes before you stuff them and eat them so the marshmallow is cool and set. If you're feeling extra Martha, go ahead and make those waffle cones yourself!
My recommendation is that you pick a chocolatey cereal if you like chocolatey ice creams and fruity cereals for fruity ice cream. We did pb and chocolate puff cones with brownie batter ice cream and fruity pebbles with black raspberry, but do whatever makes your heart happy!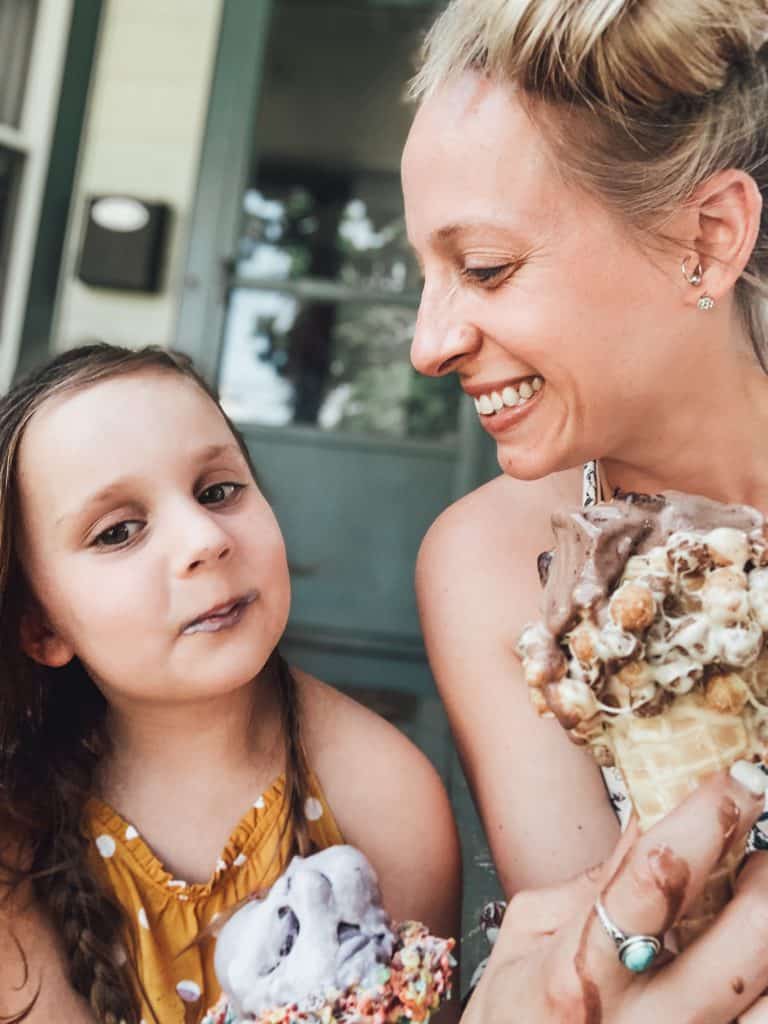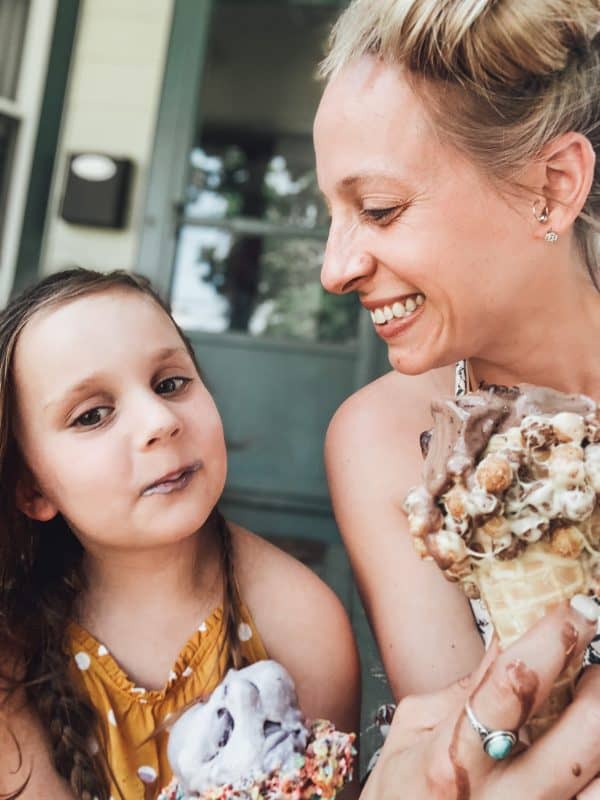 We loved making these cereal treat waffle cones together as a fun kid and mom activity! The girls helped with mixing the butter and marshmallow on the stove, and of course, picking out the cereal and ice cream. We hope your summer is full of sweet treats, melty ice cream, messy hair, and sunshine.
What's your favorite childhood cereal? Tell me your cereal treat and ice cream combo below and don't forget to leave a rating for this recipe! If you shared it on social media, be sure to tag us so we can see!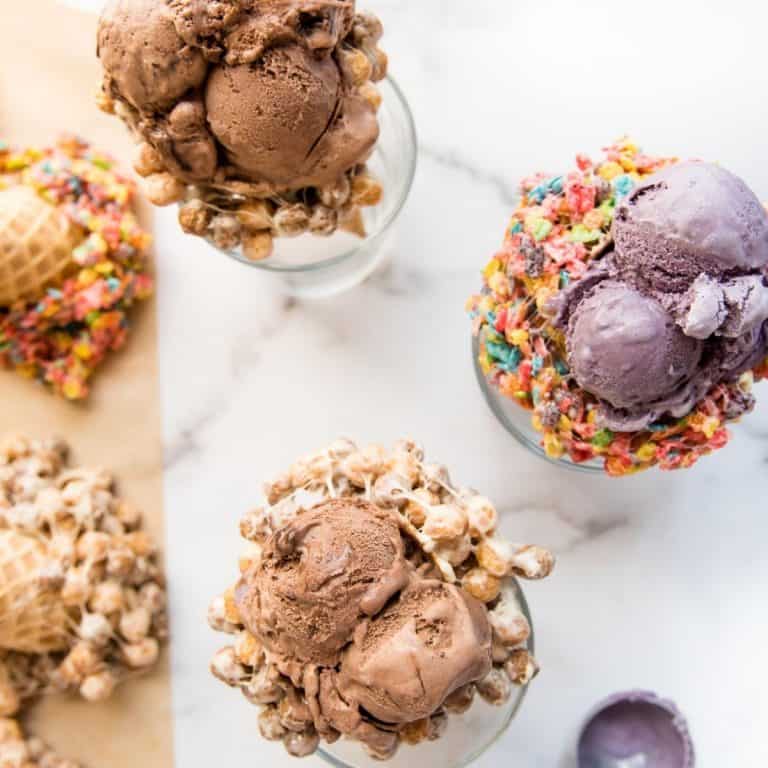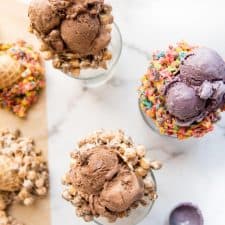 Cereal Treat Waffle Cones
Crispy, marshmallow covered cereal wrapped around classic ice cream waffle cones. These fancy cones are the perfect way to beat the heat and enjoy a sweet treat in the summer!
Print
Pin
Rate
Ingredients
6

waffles cones

2

tablespoons

butter

(plus extra for coating hands)

2 ½

cups

marshmallows

3

cups

cereal
Instructions
Prep. Place a piece of parchment paper or a Silpat mat on your work surface. Pour the cereal into a medium bowl and have cones unwrapped and ready to go. Once the cereal treats are made, the faster you work the easier it is so it's important to have everything ready to go.

Make the cereal treats. In a medium saucepan, melt the butter over low heat. Stir in the marshmallows, stirring frequently until completely melted and mixed with the butter. Pour the butter and marshmallow mix into the cereal and stir with a rubber spatula until everything is coated.

Wrap the cones. Using a rubber spatula scoop about ½ cup cereal treats and start wrapping the cereal treats around the first 2 inches of the top of the cone, using the marshmallow to help stick. With a greased hand, lightly press the cereal treats to the cone. Repeat until the top of the cone is completely wrapped.

Let cool. Let the decorated waffle cones sit until cool. Fill with your favorite ice cream and enjoy. To store, wrap each cone in parchment paper then place in an airtight container.
Notes
The colder the marshmallow gets, the hard it will be to wrap the cones. So the faster you work the easier it is!
If the cereal treats cool too much, you can pop them in the microwave 10 seconds at a time until warm enough.
Smaller cereal, like Rice Crispies or Fruity Pebbles, is easier to work with than larger pieces, like Reese's Puffs or Lucky Charms.
You can grease your hands with butter or even just wet them with a little bit of water.
Nutrition
Calories:
207
kcal
|
Carbohydrates:
50
g
|
Protein:
3
g
|
Fat:
1
g
|
Saturated Fat:
1
g
|
Cholesterol:
1
mg
|
Sodium:
180
mg
|
Potassium:
136
mg
|
Fiber:
4
g
|
Sugar:
24
g
|
Vitamin A:
508
IU
|
Calcium:
22
mg
|
Iron:
6
mg