Refreshing with simple ingredients and just the right amount of sweet to tart flavor, homemade blueberry lemonade is the perfect afternoon sip! If you got a little too ambitious with your blueberry picking this summer, have some wrinkly oldish blueberries in the bottom of the produce drawer, or want to free that bag of frozen ones, this is the cooldown summer beverage you need.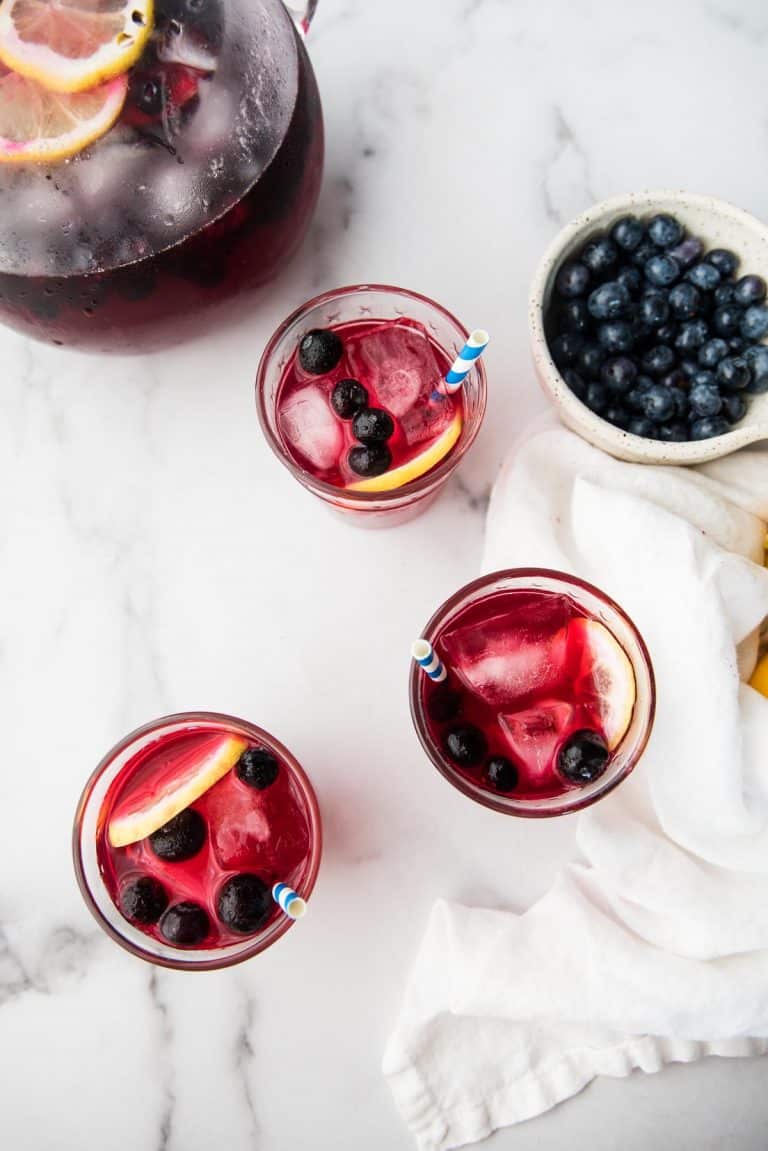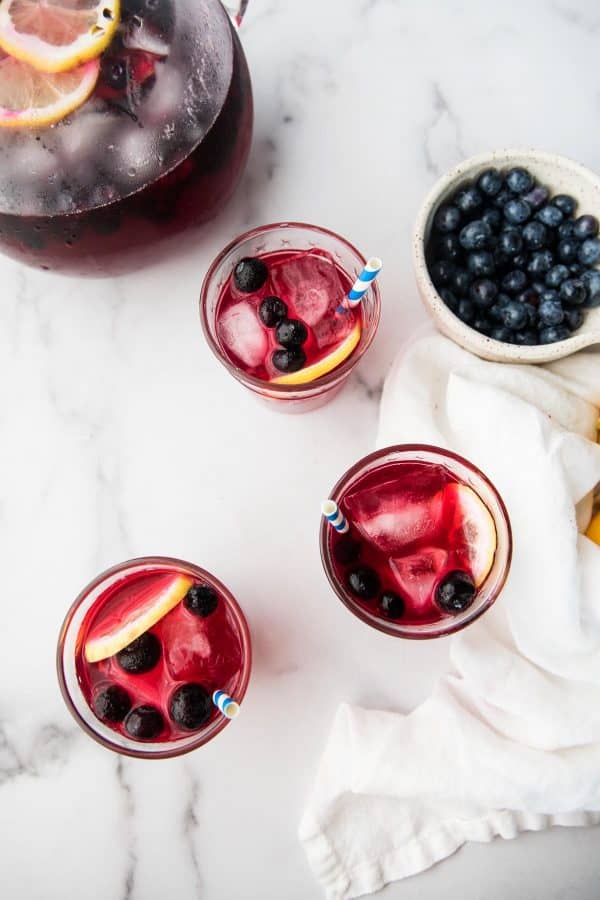 It's sweet, it's tart, and it's just such a pretty color you kinda just want to look at it. JUST KIDDING. I'm going out to the porch, putting my feet up and sipping on some homemade blueberry lemonade. No one bother me, please and thank you.
Well, you can, if you want to share this delicious little treat with me and maybe we can snack on summer flatbreads and chit chat (sigh, that sounds pleasant-ly adulty.) Here's what I'm loving about this non-alcoholic afternoon refresher:
great way to use any type of blueberry - you know, the ones that are getting a little wrinkly at the bottom of your fruit drawer? GO GET EM.
You can use fresh or bottled lemon juice (but fresh is best and it's not that much extra work promise!)
It's just sweet enough without being cloying or worrying about your kids turning into sugar devils.
It can easily be made into a cocktail, just add your favorite liquor or wine....or both.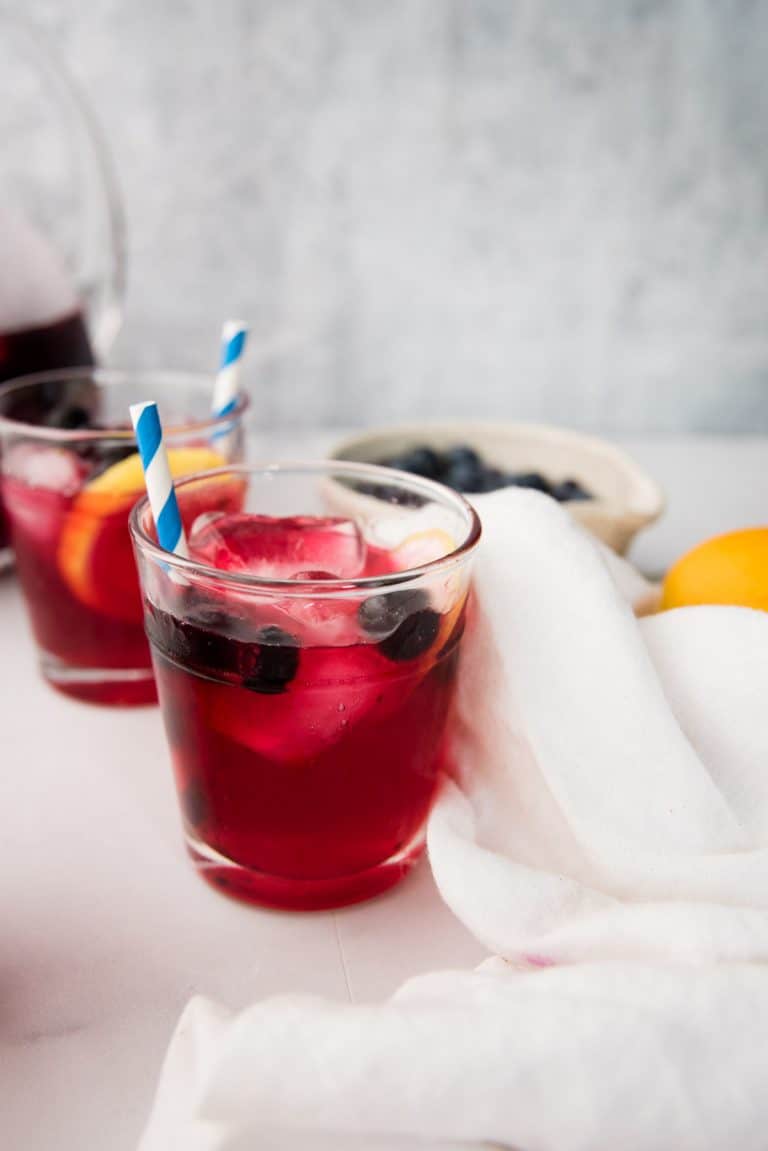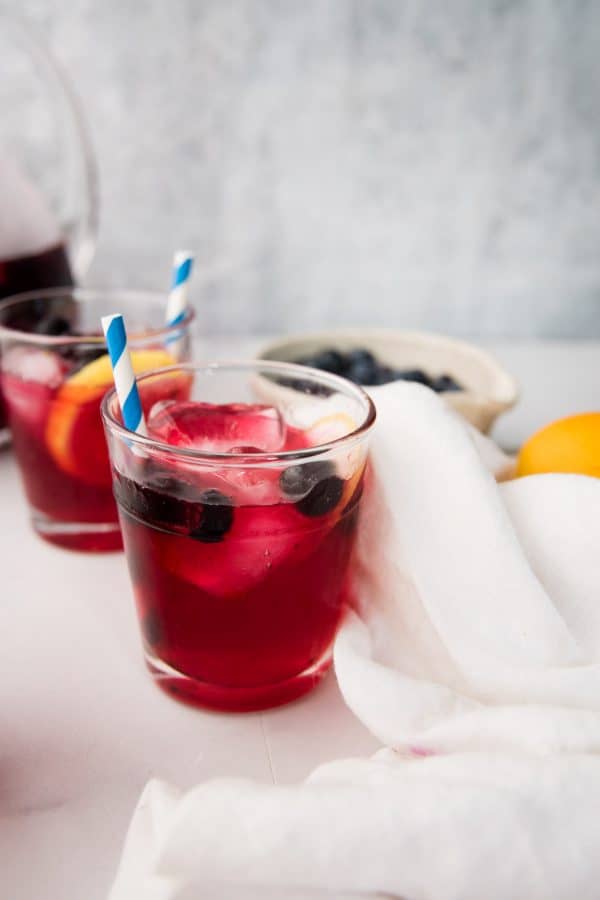 How to make flavored lemonade
It's really not complicated, we're just making simple syrup! The difficulty level is right there in the name, simple.
We combine water, blueberries, and sugar on the stovetop to make a luscious blueberry infused syrup that is kind of magical in color. You can either strain out the blueberries or if you want the lemonade hearty with bits of fruit, just leave them in there.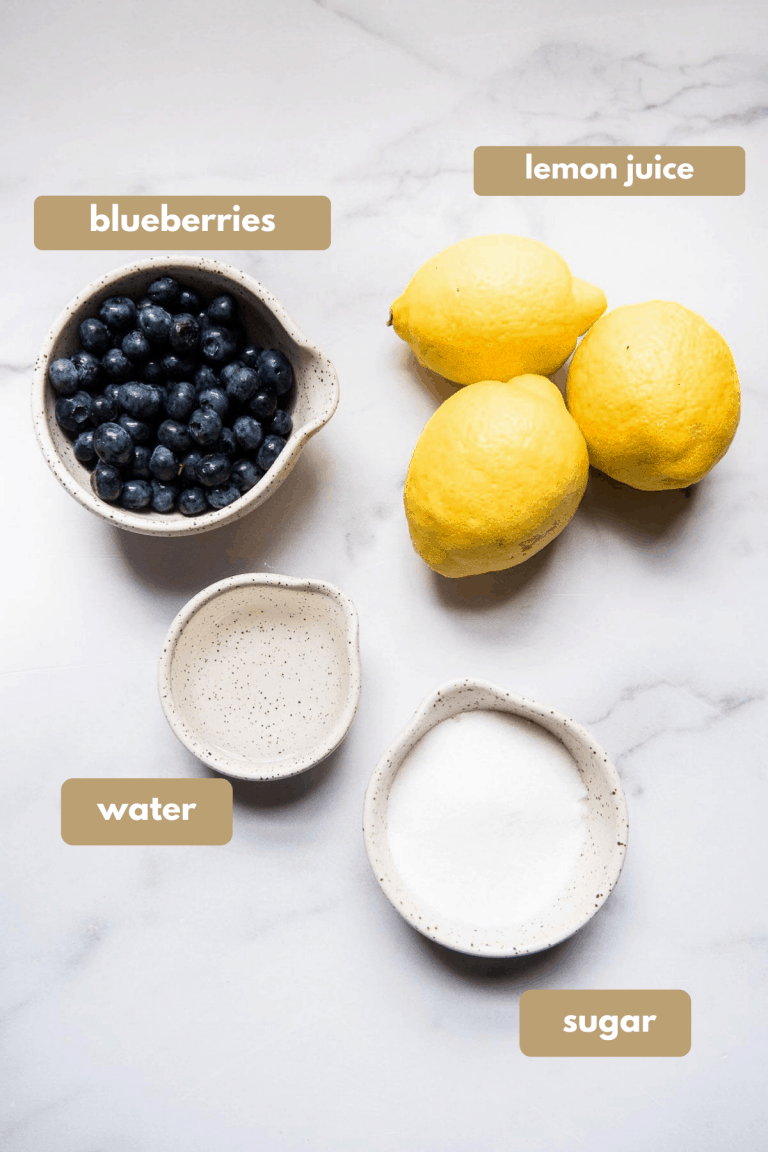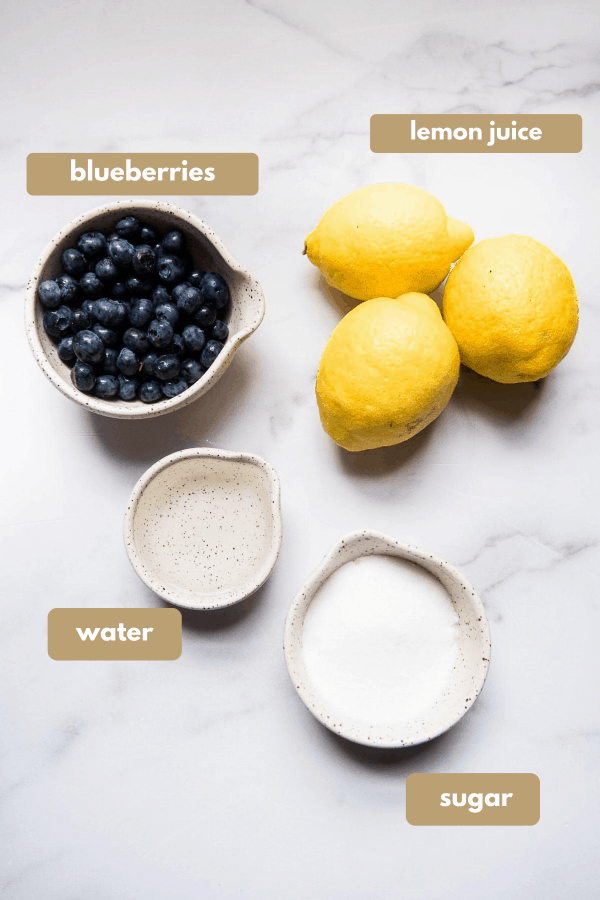 The easy addition of lemon juice, cold water, and ice is all it takes before you have a glass of fruit-flavored lemonade.
Truly, we're only adding one more ingredient from the traditional recipe and this simmer of fruit and sugar ensures the sweet doesn't end up a gritty mess at the bottom of the glass. It's an all-around win-win.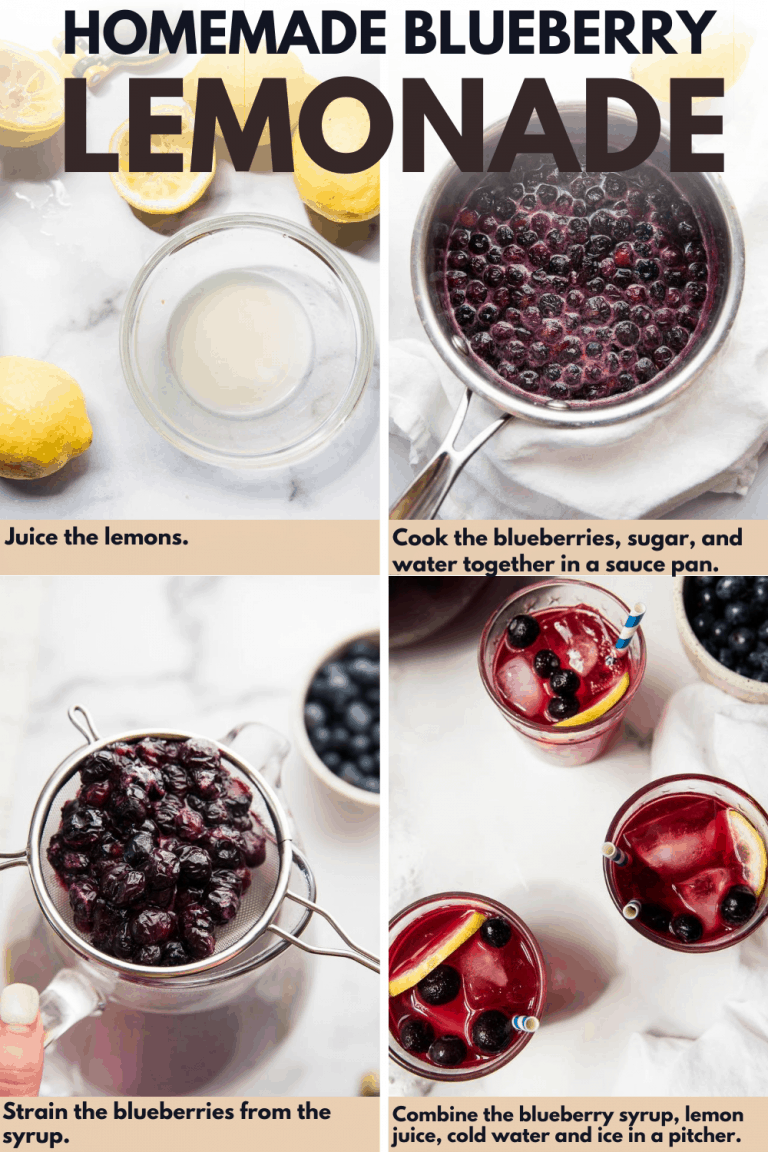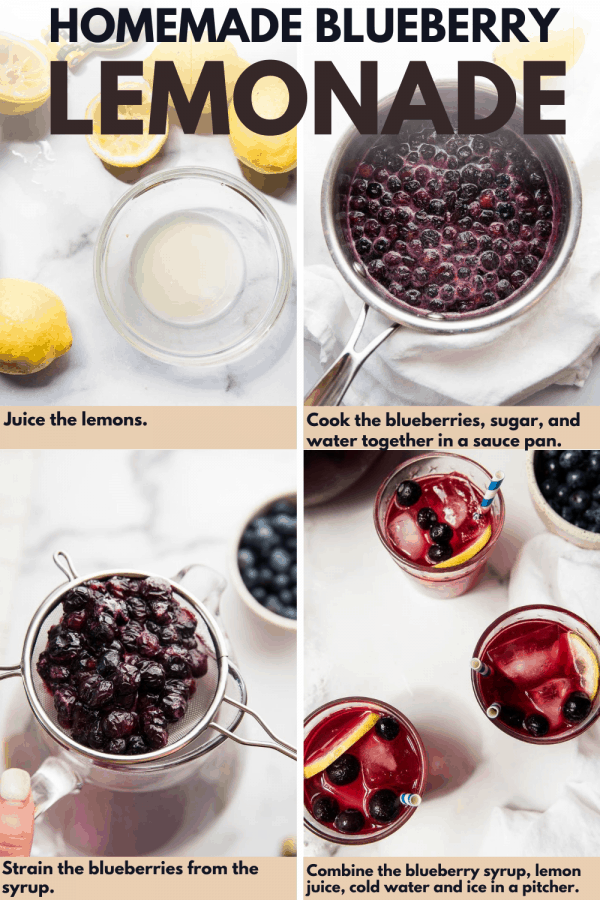 Tips for making homemade lemonade
My first job out of college was doing the same thing I did during college, bartending. Of all the things, the lemonade was coveted. Handmade, high food cost, low price point, and poured by the bartender like all high-cost beverage things.
NO, I will not fill your kid's cup with lemonade Susan, I know you do not have any tables.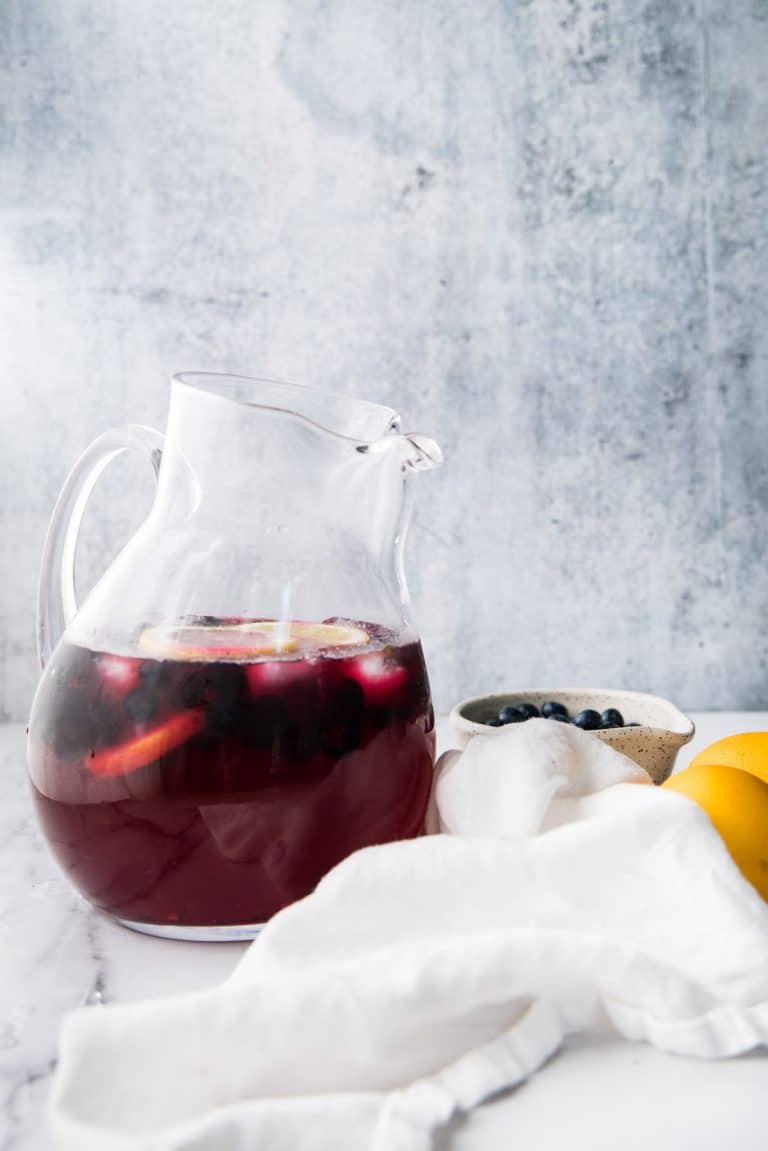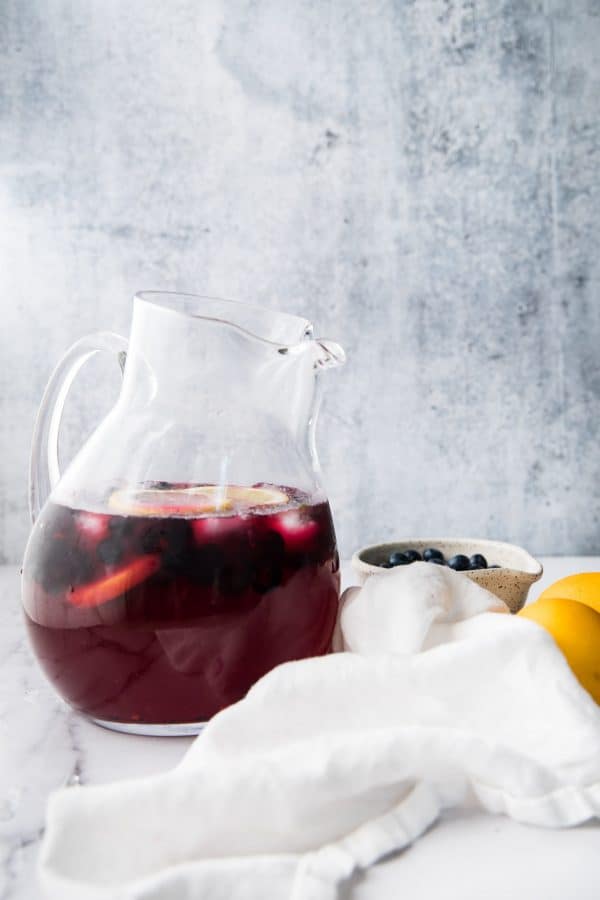 I digress. The result of the torturous work of that lemonade is picking up a few tricks along the way.
If you're not working with an electric juicer, give those lemons a squeeze! Roll and press them into the counter before cutting and juicing them.
Leave them out at room temp or soak in a little warm water before juicing.
Swap out regular lemons for Meyer lemons if they're available! They're naturally sweeter and juicier.
Use fresh lemon juice whenever possible.
If your sugar is gritty and not melted, add a little hot water first and mix until melted before finishing with cold water.
That's about it! You're a lemonade pro now. Set up that stand, grab your blueberries and lemons, and get ready to upcharge for your deliciously fruity homemade blueberry lemonade!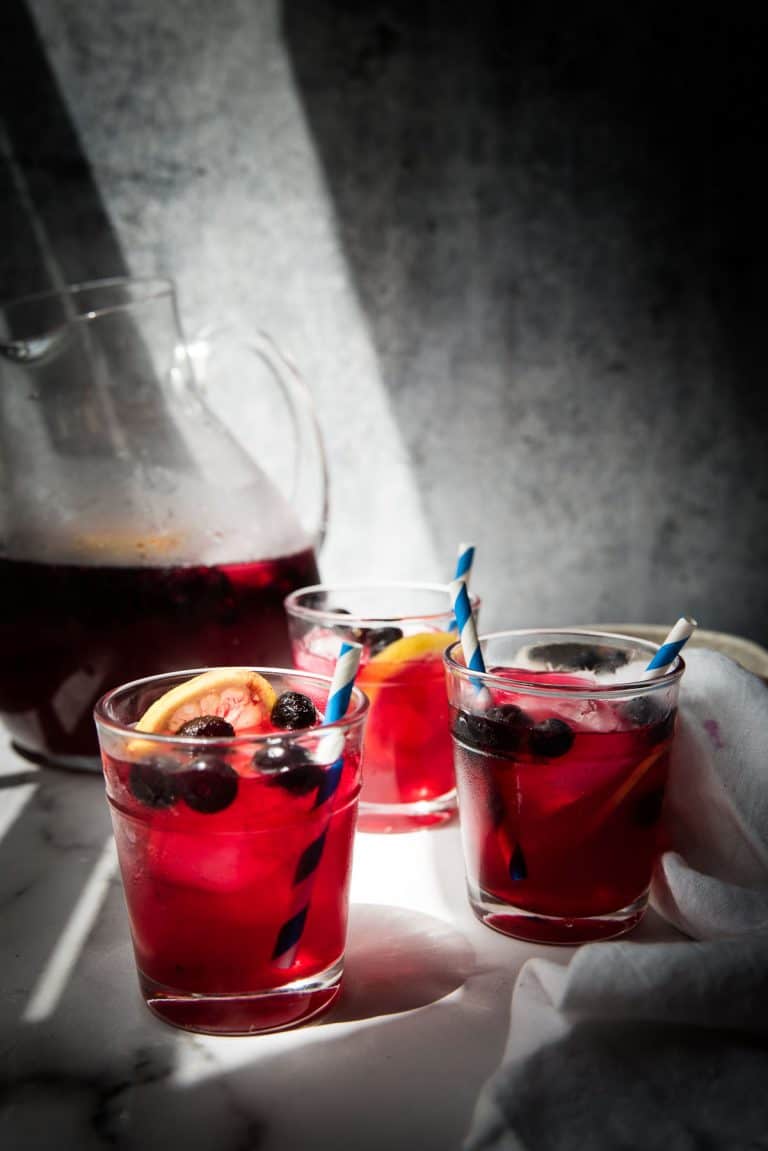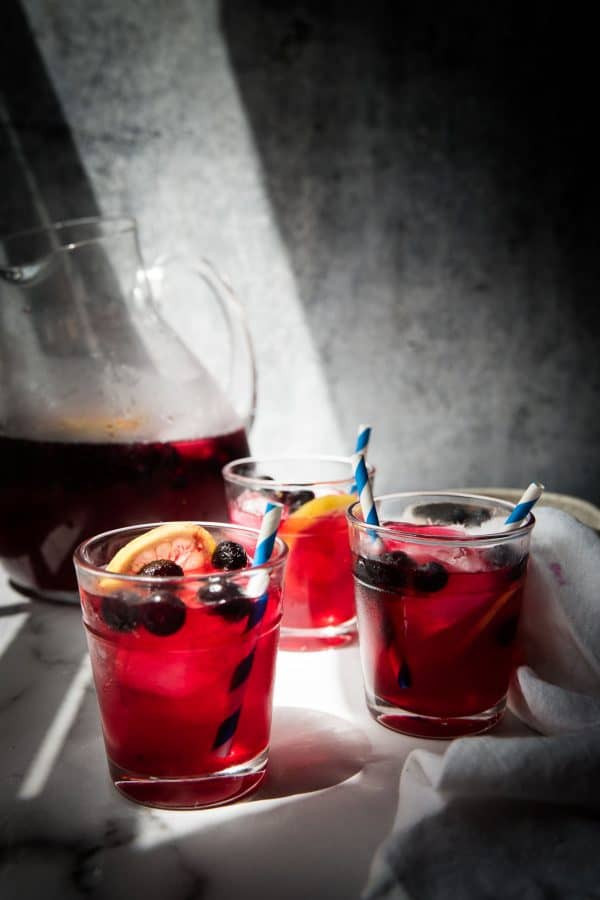 Great news! This recipe can be adapted for any type of fruit you have kicking around the produce drawer. Swap out the blueberries for blackberries, strawberries, watermelon - it's all delicious!
Did you make this recipe? Please let a rating and comment below or share a photo of your creation on Pinterest!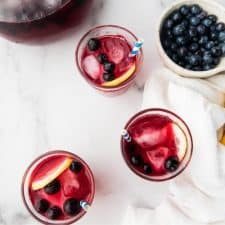 Homemade Blueberry Lemonade
The refreshing taste of summer in one glass! Homemade blueberry lemonade is super easy to make and great for fresh, frozen, or those less than perfect blueberries!
Print
Pin
Rate
Ingredients
1

cup

blueberries

1

cup

sugar

1

cup

water

1

cup

lemon juice

(4 to 5 lemons)

3 to 4

cups

cold water
Instructions
Make the blueberry syrup. In a medium saucepan, combine the blueberries, sugar, and 1 cup water over medium-low heat. Bring to a boil, then reduce to low heat and simmer for 5 minutes. Remove from the heat and let cool for 5 minutes.

Strain the syrup. Strain the blueberries from the blueberry syrup. This step can be optional, but the skins sometimes separate from the berries. Adding fresh or frozen blueberries to the finished lemonade is highly recommended as an alternative.

Make the lemonade. Juice the lemons, straining any seeds that come through. In a pitcher, combine the lemon juice, blueberry syrup, and cold water. Chill and serve or add fresh or frozen blueberries and serve immediately over ice.
Notes
Fresh lemon juice is the best option, but you can substitute bottled if needed.
Keep your lemonade extra cold by freezing blueberries and lemon slices for garnish.
This blueberry lemonade makes a great non-alcoholic beverage but can also be used as a mixer for alcohol. Vodka, gin, or sparkling wine make for a great cocktail!
Nutrition
Calories:
152
kcal
|
Carbohydrates:
40
g
|
Protein:
1
g
|
Fat:
1
g
|
Saturated Fat:
1
g
|
Sodium:
9
mg
|
Potassium:
62
mg
|
Fiber:
1
g
|
Sugar:
37
g
|
Vitamin A:
16
IU
|
Vitamin C:
18
mg
|
Calcium:
9
mg
|
Iron:
1
mg