Quick pickled onions are the most simple, flavor-packed punch your next sandwich, burger, or taco is desperately crying out for. They're so easy to make, last for weeks, and add such a boost of well-balanced taste you'll be walking from the kitchen with your eats like a culinary master.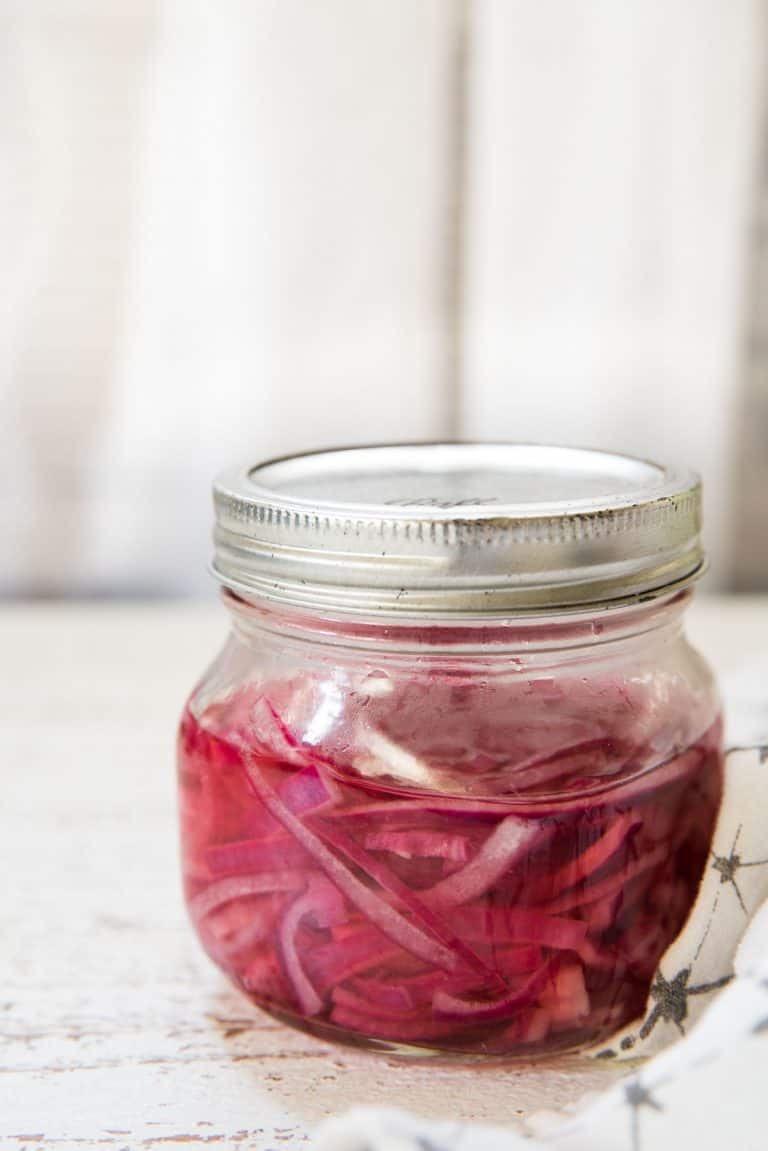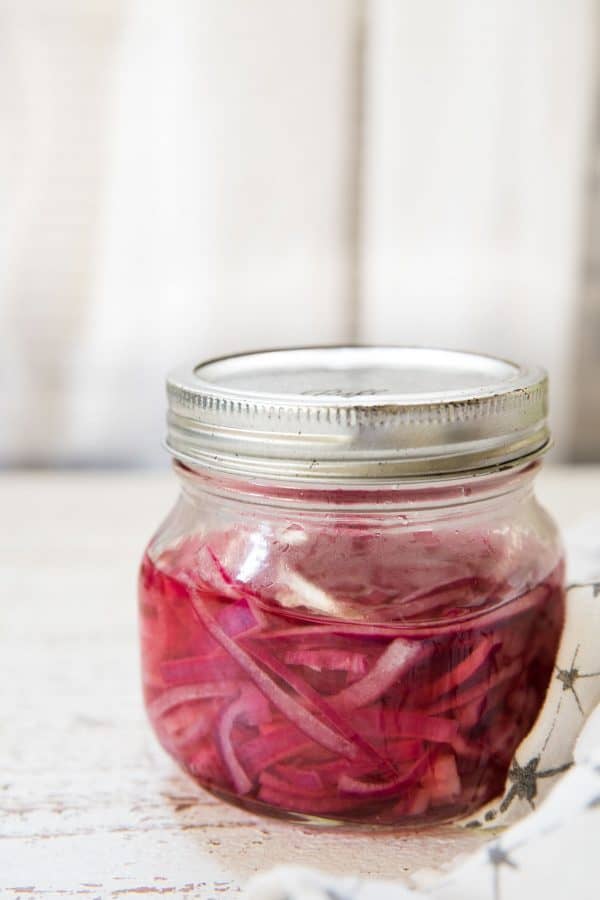 Remember way back when we were making gorgeous pickled cabbage and putting it on all the tacos? Me too, because I'm still doing it. Except now it's summer and while tacos are the fastest way to my heart I'm also crushing on burgers.
If you really want to show a burger a good time, top it with some pickled onions. Or stuff it in a pita with baked falafel and tzatziki because all the flavors at that party are BFFs (4eva). Here is my own personal dedication as to why pickled red onions are worthy of the space in your fridge:
the perfect blend of spicy onion,
acidic vinegar,
and a touch of sweet
go great on pretty much anything
they take about 10 minutes to make
keep for a few weeks in the fridge
There are plenty of reasons to be in love with pickled onions. Next to the taste factor, it's probably how super simple they are to make. All you need is the onion, hot water, vinegar, and a little sugar.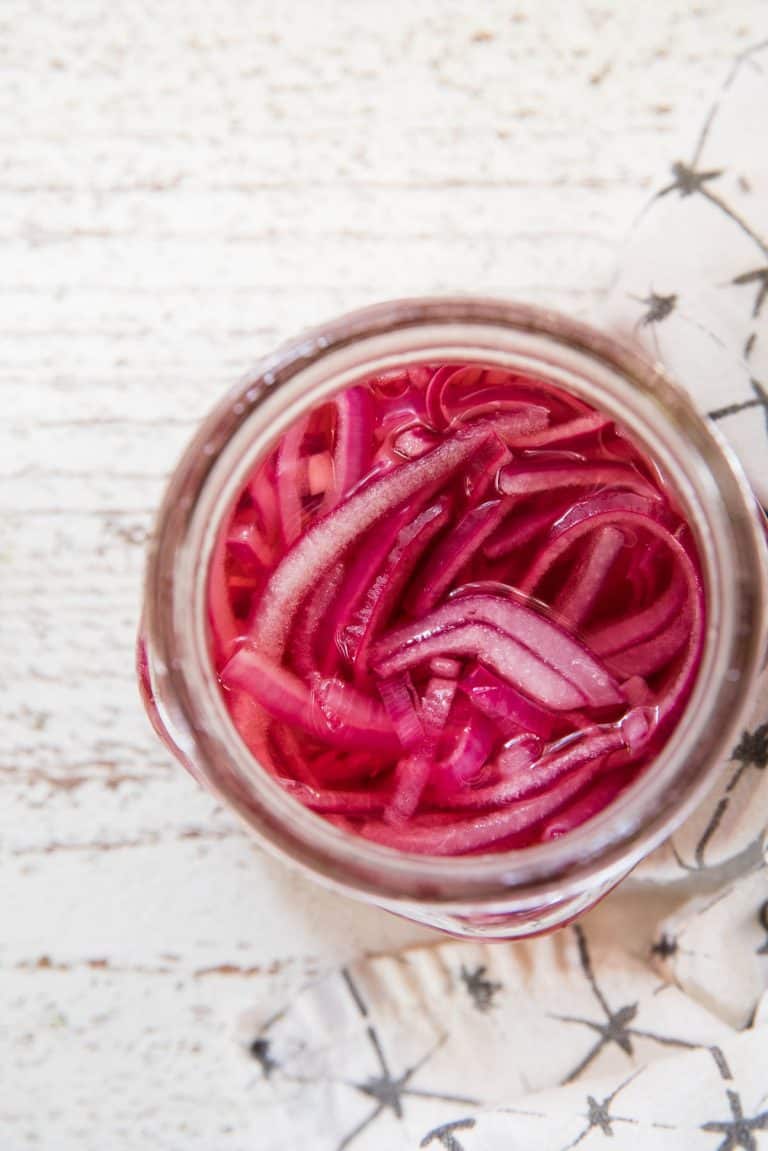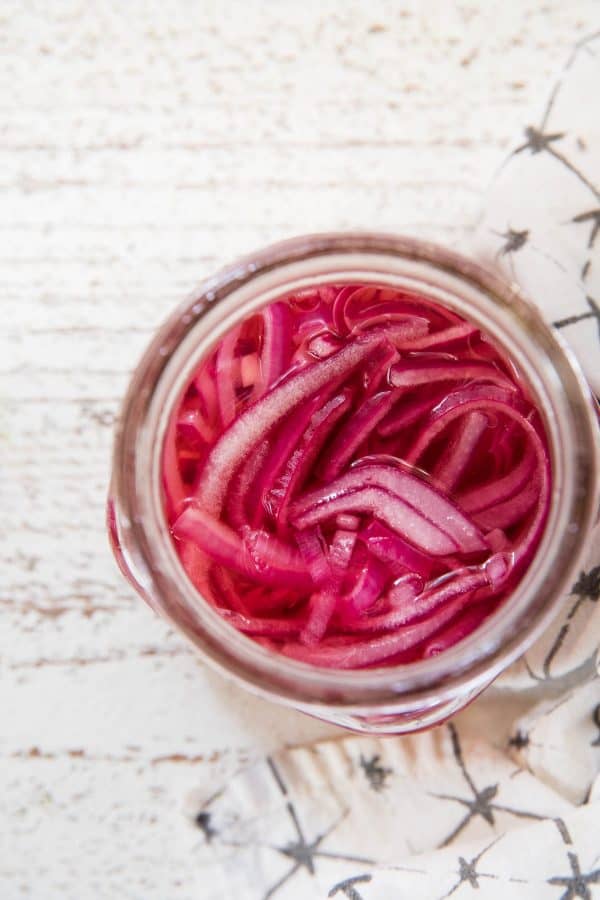 How to make quick pickled onions
Step 1, don't bother rolling up your sleeves because it's not that hard. Set about 3 cups of water to boil on the stove. Meanwhile, stir together your vinegar and sugar (and spices if going that route) in whichever container you plan to keep the onions. A mason jar is perfect for this, but you can also you a storage container.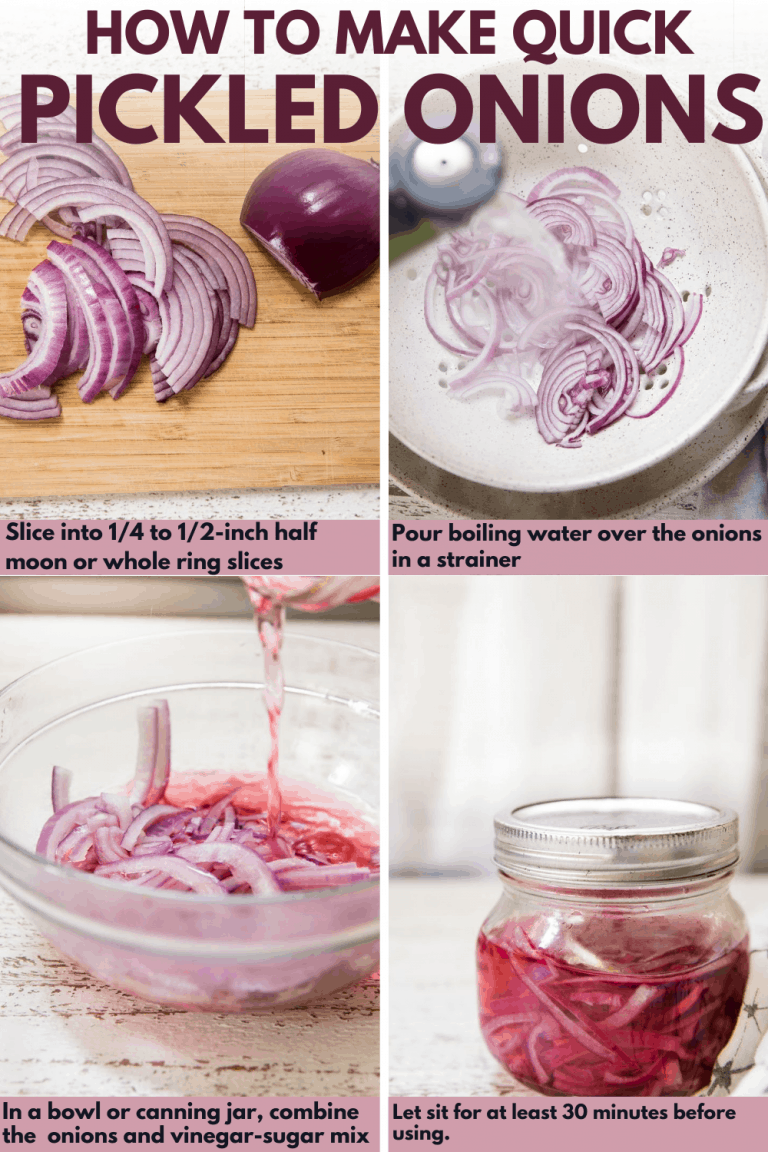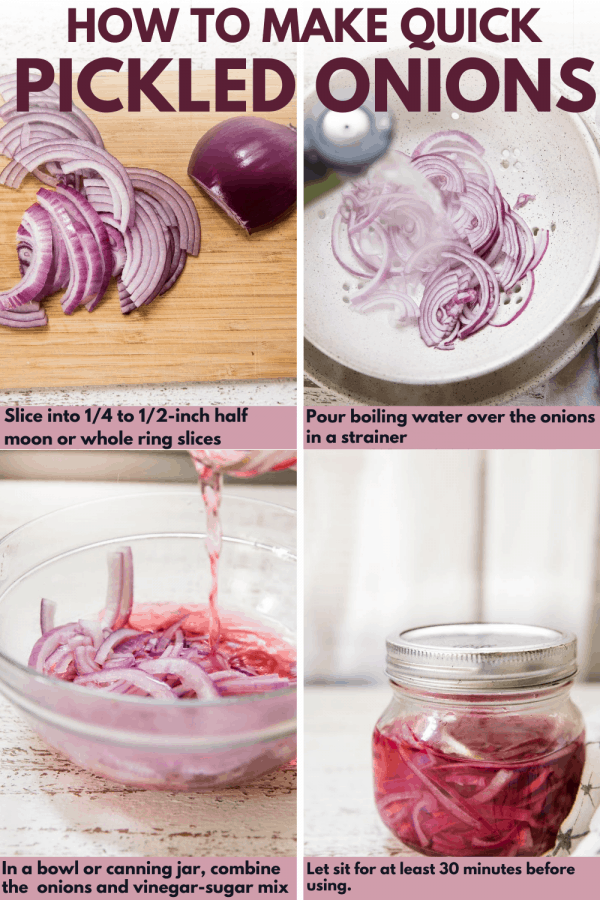 Set your sliced onions in a strainer either over a bowl or the sink and once the water is boiling simply pour the hot water over the onions, blanching them. Then all you need to do is transfer the blanched onions with the vinegar-sugar mixture and voila! Pickled onions.
Tip: while you can use them right away, it's best if you let them sit for at least 30 minutes.
HOW BIG SHOULD THE ONIONS BE?
It's a matter of personal preference, but I'd shoot for ¼ inch to ½ inch thickness. I like mine sliced in half-moon slices, but you can slice them in whole circles if you'd like them to stack better on sandwiches and be easier to fish out of the container.
what to eat with pickled onions
Like we need another excuse to whip up tacos, but seriously, quick pickled onions are the awesome added crunch to any sort of spicy taco. These chipotle bbq fish tacos are perfect for the pairing of acidic pickled onions with spicy, smoky bbq sauce.
Some other options are to top off burgers, layer over sandwiches, or spruce up boring salads. Try pairing it up with falafel style turkey burgers too! You won't be sad about it, promise!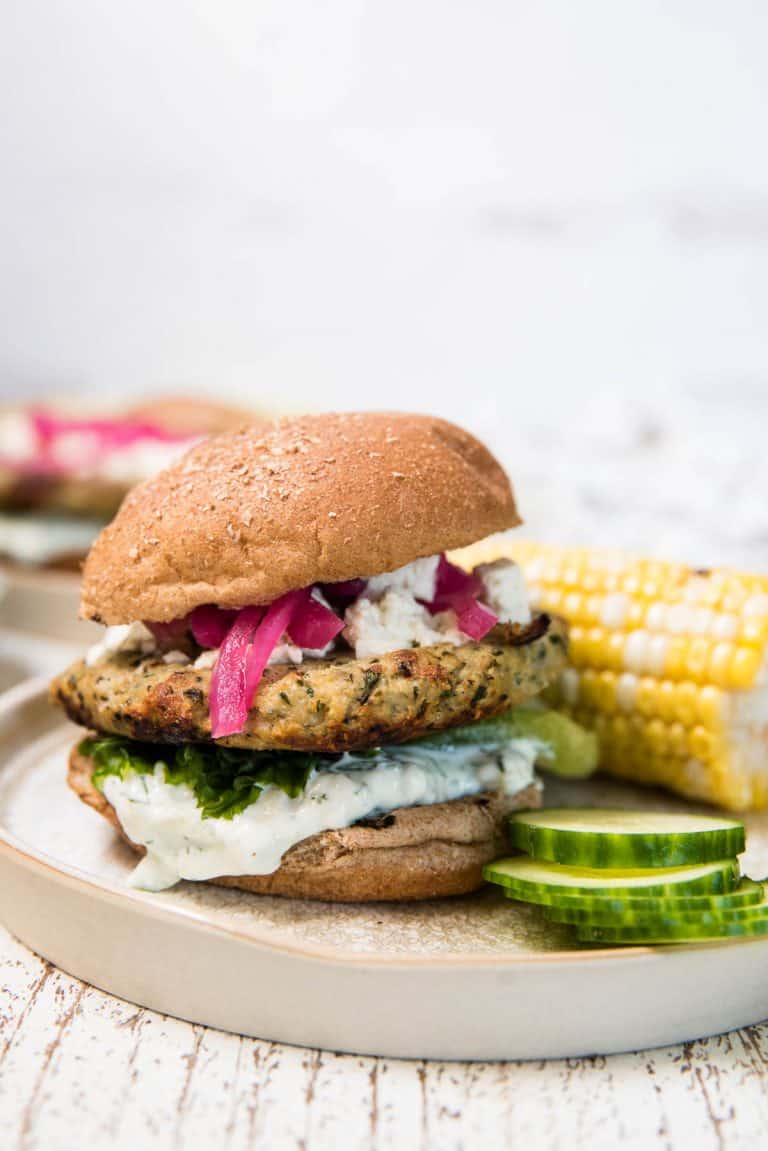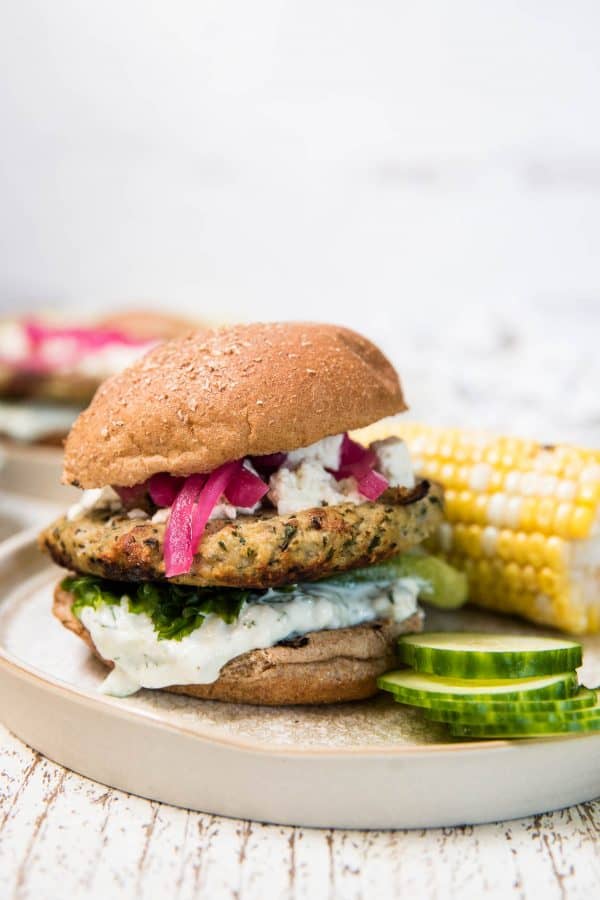 How are you layering up your pickled onions? Tell us in the comments and if you make this recipe be sure to snap a pic of your creations to post on Pinterest!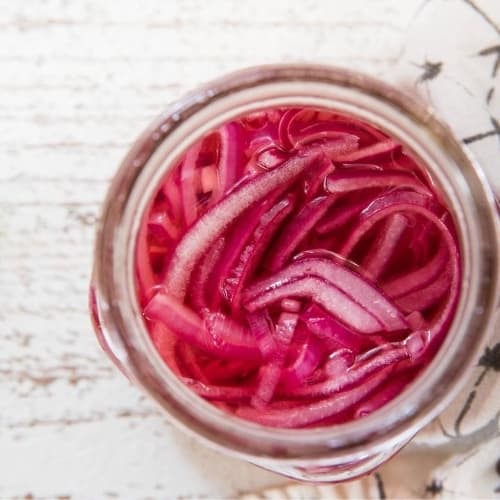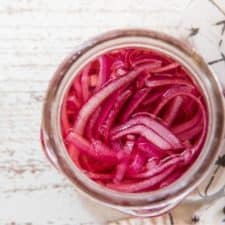 How to Make Quick Pickled Onions
Pickled red onions are super easy to make and great to have around for an added, flavor-packed crunch on tacos, sandwiches, burgers, and more!
Print
Pin
Rate
Ingredients
1

large red onion

(halfmoon slices)

1

teaspoon

granulated sugar

½

teaspoon

salt

¾

cup

rice wine vinegar

(apple cider vinegar can be substituted)

optional: add spices like black peppercorn or fresh herbs
Instructions
Boil the water. Set 3 cups of water to boil in a kettle or a saucepan. In a container with a lid, like a mason jar, add vinegar, sugar, salt, and any spices if you choose. Stir to combine.

Blanch the onions. Place the sliced onions in a strainer. Once the water is boiling, pour slowly over the onions until all the water is gone. This can be done over the sink or over a large bowl.

Pickle the onions. Transfer the onions to the container with the vinegar mixture. Let sit for 30 minutes before using. The flavor will develop and the harshness of the vinegar will mellow the longer it sits. Store covered in the refrigerator for up to 2 weeks.
Nutrition
Calories:
94
kcal
|
Carbohydrates:
14
g
|
Protein:
1
g
|
Fat:
1
g
|
Saturated Fat:
1
g
|
Sodium:
1171
mg
|
Potassium:
165
mg
|
Fiber:
2
g
|
Sugar:
9
g
|
Vitamin A:
2
IU
|
Vitamin C:
8
mg
|
Calcium:
38
mg
|
Iron:
1
mg