Creamy, herbed falafel meets juicy ground turkey, tangy tzatziki and feta with the perfect crunch of pickled onions on a whole wheat bun. If you're looking to quench that burger craving while keeping it light and healthy these falafel turkey burgers are just the thing!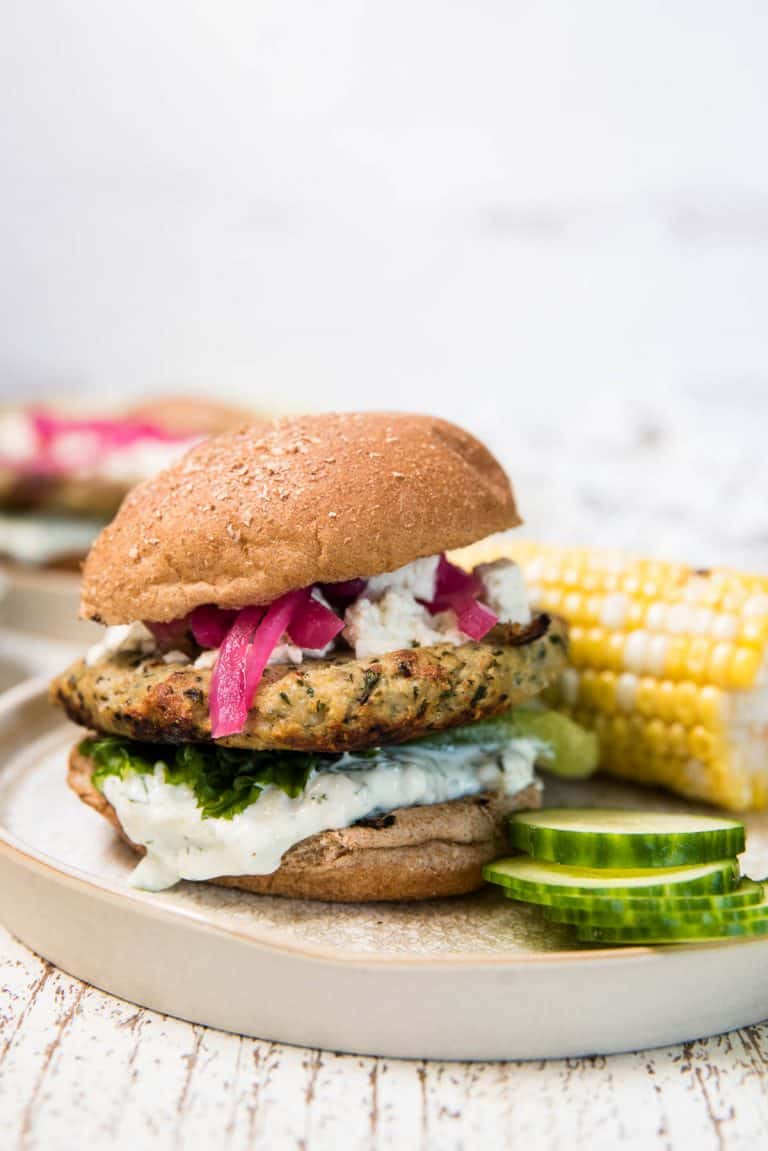 Especially great for anyone trying to add more lightened up protein or stick to a weight watchers style diet – these bad boys are only 3 blue plan points! How are we getting something that is both delicious and healthy? Food fusion!
Let's take the idea of a traditional burger and swap out the beef for leaner, but still satisfying, ground turkey then add that to traditional falafel ingredients. Ta Da! Delicious falafel burgers coming your way in no time.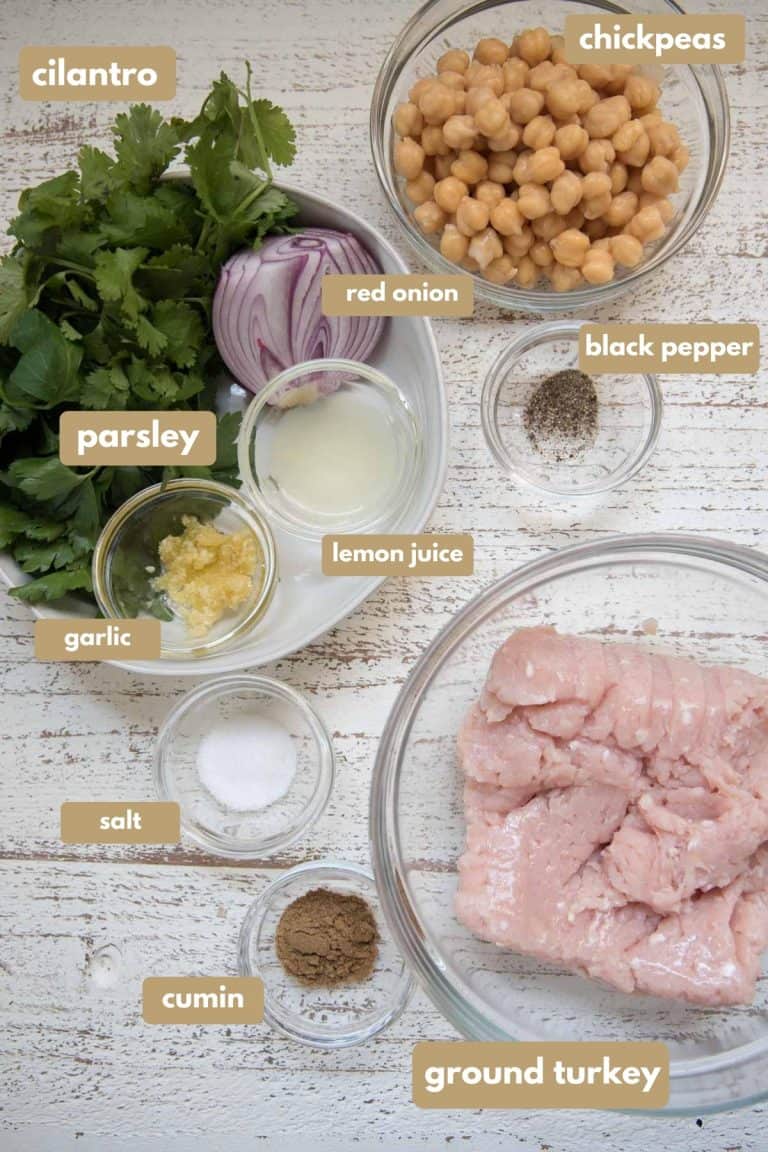 Here's the break down on what's going in between the bun:
Protein-packed hybrid falafel-turkey burger patty
creamy, fat-free tzatziki
tangy feta cheese (fat-free or not, up to you)
crunchy, acidic pickled red onions
Friends, we're talking about a bonafide taste sensation coming at you.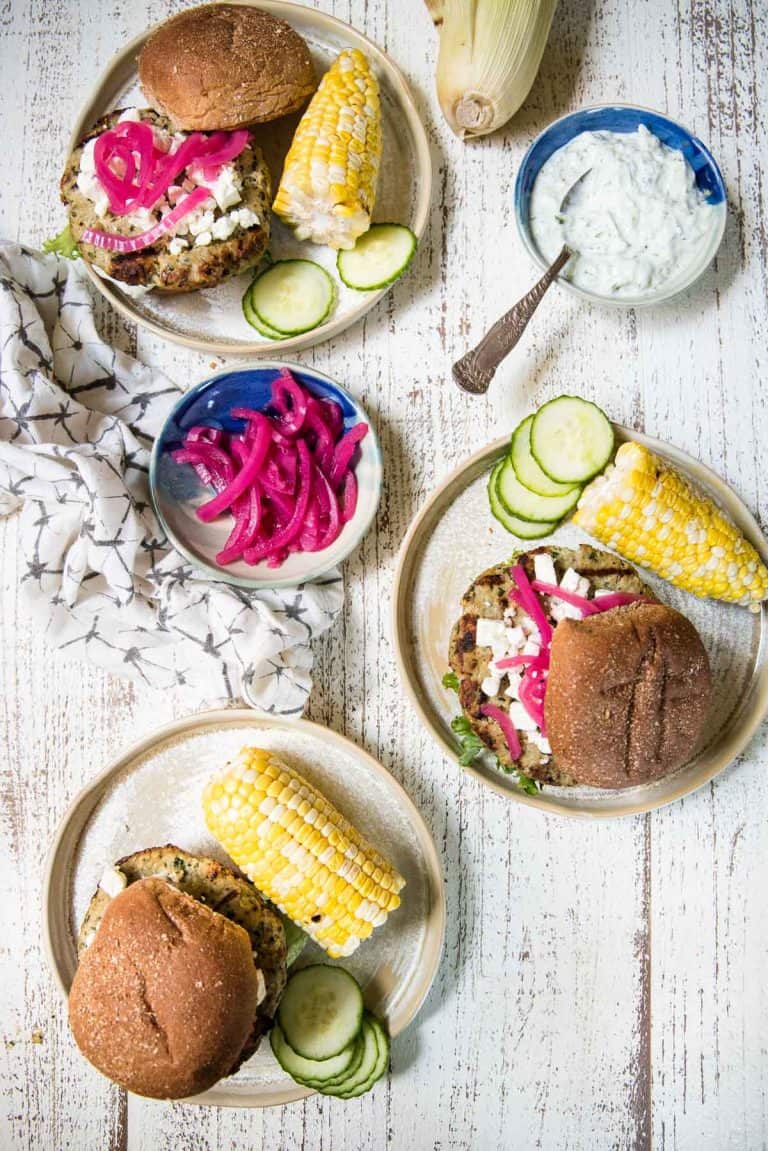 How to make falafel turkey burgers
Hello food processor! We heart you.
We're breaking out the food processor to pulse the ingredients in three stages. Once to chop up the herbs and onions, again for the chickpeas and seasoning, then one more time to mix in the ground turkey.
Can I make this without a food processor?
Absolutely! It will take a little more time though. You'll need to finely chop the herbs, onion, and chickpeas. Once that's done all the ingredients can be combined in a medium-sized bowl.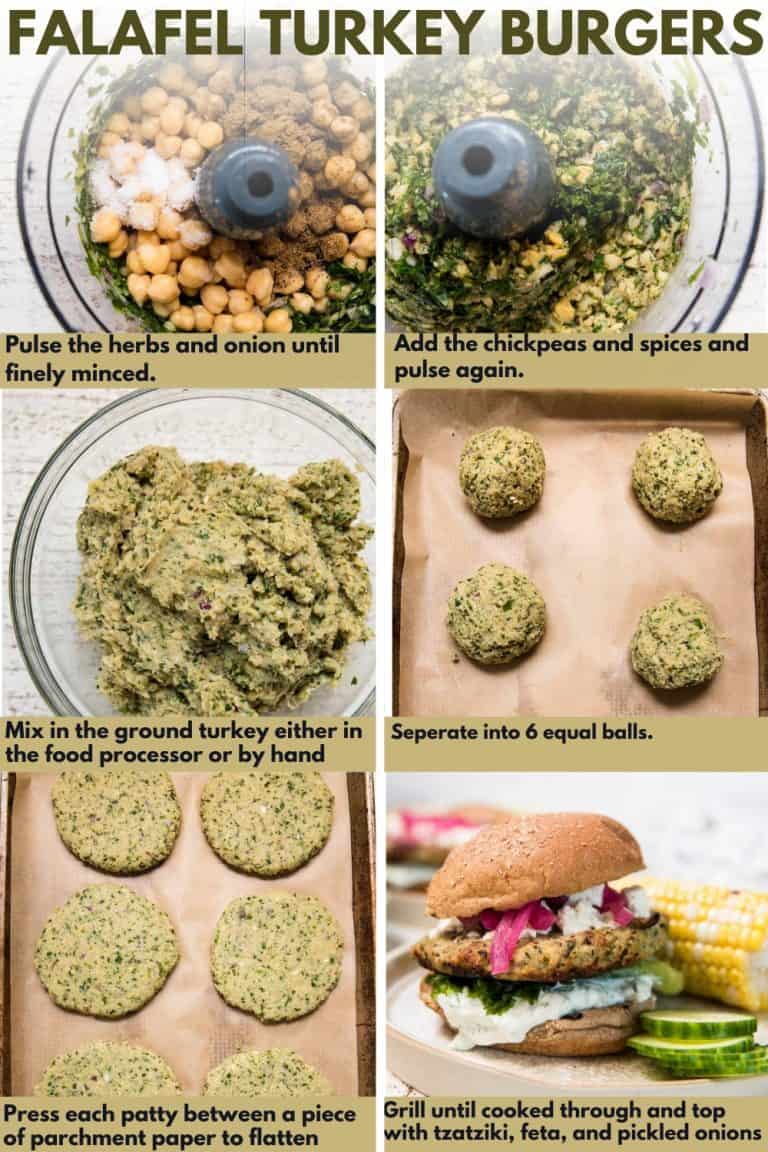 Forming the burger patties
The burger mix is a little sticky so I like to use parchment paper to shape the patties. The burger mix can be divided into 6 equal portions – technically it works out to 5 ½ ounces each. Form them into a ball and then place in between two sheets of parchment or wax paper. (You can also just use a larger sheet folded in half.)
Press the ball of burger mix between the parchment paper with a plate or saute pan until it's about ½ inch thick. Then heat up the grill or sauté pan!
Do you have to use ground turkey?
Use whatever makes you happy! You can switch the ground meat to whichever you like. These falafel turkey burgers are great with 93/7 lean ground turkey, 99% fat free ground turkey, ground chicken, or even ground beef.
Can you make vegan falafel burgers?
Yes, these burgers can be made vegan but try using this traditional baked falafel recipe instead. The meat is what helps bind the ingredients together in this recipe, so using the baked falafel recipe you'll have alternative binding ingredients so they don't fall apart while cooking.
Once the falafel is cooked, build the burger however you'd like with vegan alternatives.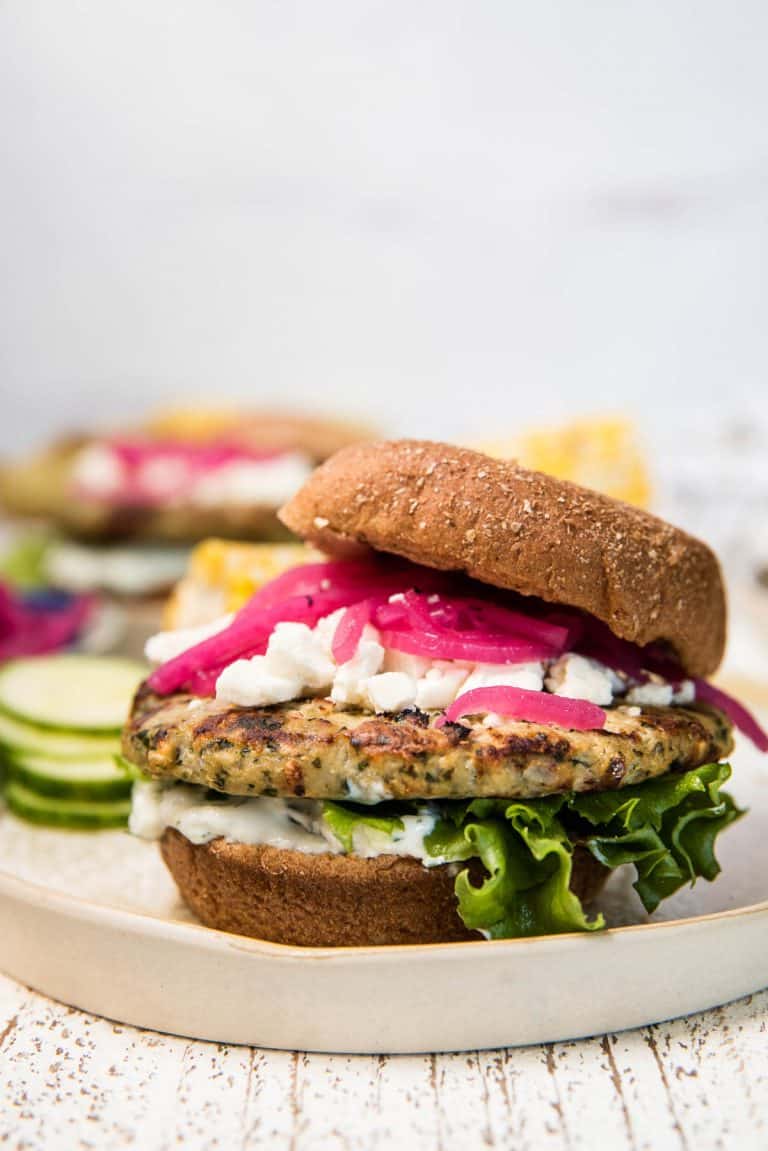 Tips for the best falafel burgers
If you're able to make the mix and shape the burgers ahead of time, letting them sit for a little will help the ingredients bind together. This isn't a required step, but the ingredients are super lean so it's helpful if you're going to pan sear instead of grill them.
Best of all, you can freeze the patties once they're formed and then just grill one whenever you want! Give the patty about 30 to 60 minutes to defrost in the fridge before cooking.
When it comes to building your burger, we're adding classic falafel toppings because the taste combination is a go-to win. Plus, they're easy to make or buy pre-made. Here are some topping ideas:
whole wheat burger buns
feta cheese
pickled red onions
lettuce
tomatoes
cucumbers
tzatziki sauce (or try this avocado tzatziki!)
hummus
Get adventurous and stuff the burgers with feta like these stuffed lamb burgers! So juicy and delicious! If cheesing the top of the burgers, add it about halfway through cooking the second side.
If you make them be sure to let us know with a rating and a comment below, especially with your topping choices! And if you snapped a pic of your masterpiece, post it with the pin on Pinterest so others can see your work of art!
Print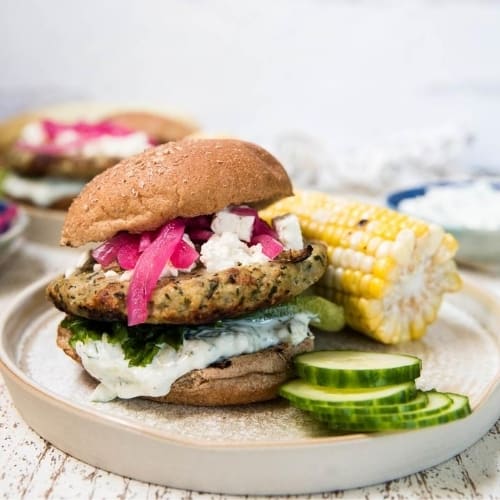 Falafel Turkey Burgers
---
Author:

Prep Time:

15 minutes

Cook Time:

10 minutes

Total Time:

25 minutes

Yield:

6

burgers

1

x
Description
Light, fresh, and satisfying! We love grilling up falafel turkey burgers when we're in the mood for a juicy, messy burger but want to keep the meal light and lean!
---
Scale
Ingredients
Falafel Turkey Burgers
1

can chickpeas, 15.5 ounce can, drained and rinsed

1 cup

fresh parsley

1 cup

fresh cilantro

½

red onion, quartered

2

garlic cloves

1 ½ teaspoon

cumin

1 teaspoon

salt

½ teaspoon

black pepper

1 tablespoon

lemon juice

⅓

lb package 99% lean ground turkey
Suggested Toppings:
whole wheat burger buns
feta cheese
tzatziki or hummus
pickled red onions
lettuce
cucumbers
tomato
---
Instructions
Chop the ingredients. In a food processor, pulse the parsley, cilantro, garlic, and red onion about 10 to 15 times or until well chopped. Add the cumin, salt, pepper, lemon juice, and chickpeas and repeat until minced.
Make the burger mix. Either in the food processor or in a bowl, combine the ground turkey with the minced falafel ingredients.
Make the patties. Divide the mix into 6 equal portions in a rough ball shape (5 ½-ounce patties.) Place between two pieces of parchment paper and press down with a plate or saute pan until the patties are ½-inch to ¾-inch thick. You can also form the patties by hand without parchment paper and jut wetting your hands with a little water to keep the mix from sticking to your hands.
Grill the falafel burgers. Over medium-high heat, grill the burgers 5 minutes on each side until cooked through. When the burgers are about half-way done cooking on the second side top with any cheese.
Assemble. Stack the cooked burgers on toasted whole wheat buns, feta cheese, tzatziki sauce, and pickled onions.
Notes
To make these without a food processor, finely mince the herbs, onion, and chickpeas. Once that's done all the ingredients can be combined in a medium-sized bowl.
You can switch the ground meat to whichever you like. These falafel turkey burgers are great with 93/7 lean ground turkey, 99% fat free ground turkey, ground chicken, or even ground beef.
On the blue points weight watchers plan, these turkey burgers are 3 points each and include the burger patty, whole wheat bun, fat free feta, pickled onions and tzatziki made with fat-free Greek yogurt.
The burger mix can be made ahead of time. If you want to pan sear the burgers instead this is a great way to allow the ingredients to bind together for easier cooking.
Shaped, raw patties are great to make ahead and freeze! Just thaw for 30 to 60 minutes before cooking.
Category:

Bugers

Method:

Grill

Cuisine:

Mediterranean
Keywords: falafel burgers, turkey burgers, falafel turkey burgers, weight watchers turkey burgers, healthy burgers
Recipe Card powered by