Sweet, juicy peaches paired up with creamy, melty burrata cheese, salty prosciutto, and spicy arugula for a simple, fast, crowd-pleasing dish to enjoy the best of peach season. You'll love this quick peach burrata salad for dinner on hot nights, as a super easy appetizer for company, or to snack on while sipping summer wine.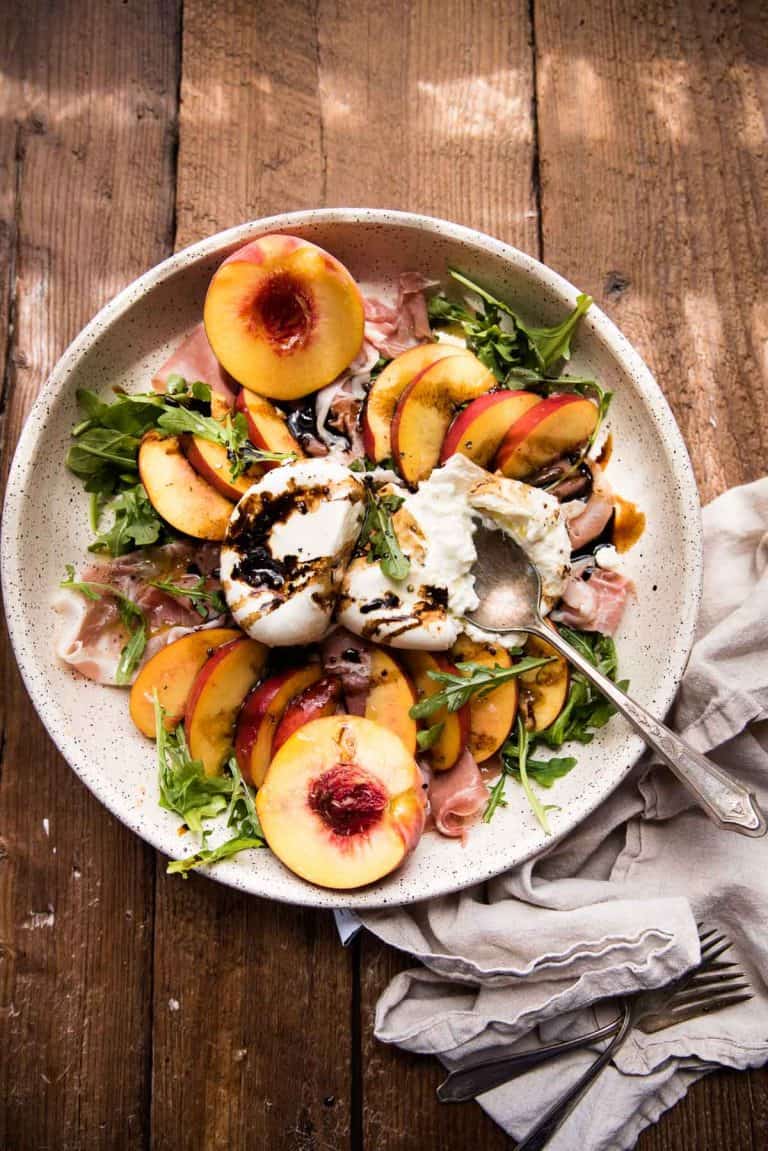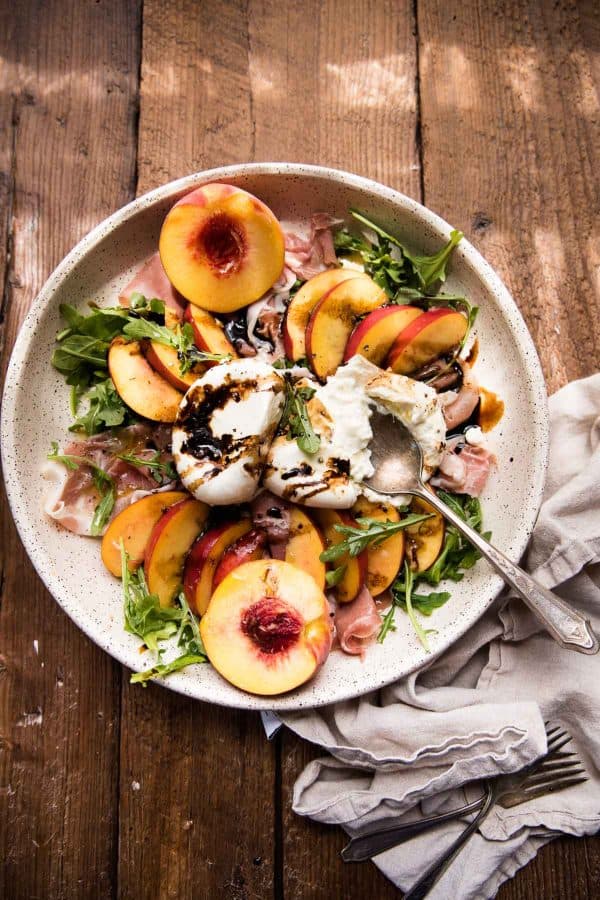 ALL THE PEACHES! ALL THE BURRATA!
It's peach season and can we please just bask in the glory of those fuzzy sweet fruits? Like, dribbling down your chin, hot summer, easy snacking, sweetness. SO GOOD.
And let's just be real with ourselves...it's burrata season always. Ain't no shame in my cheese-loving game friends.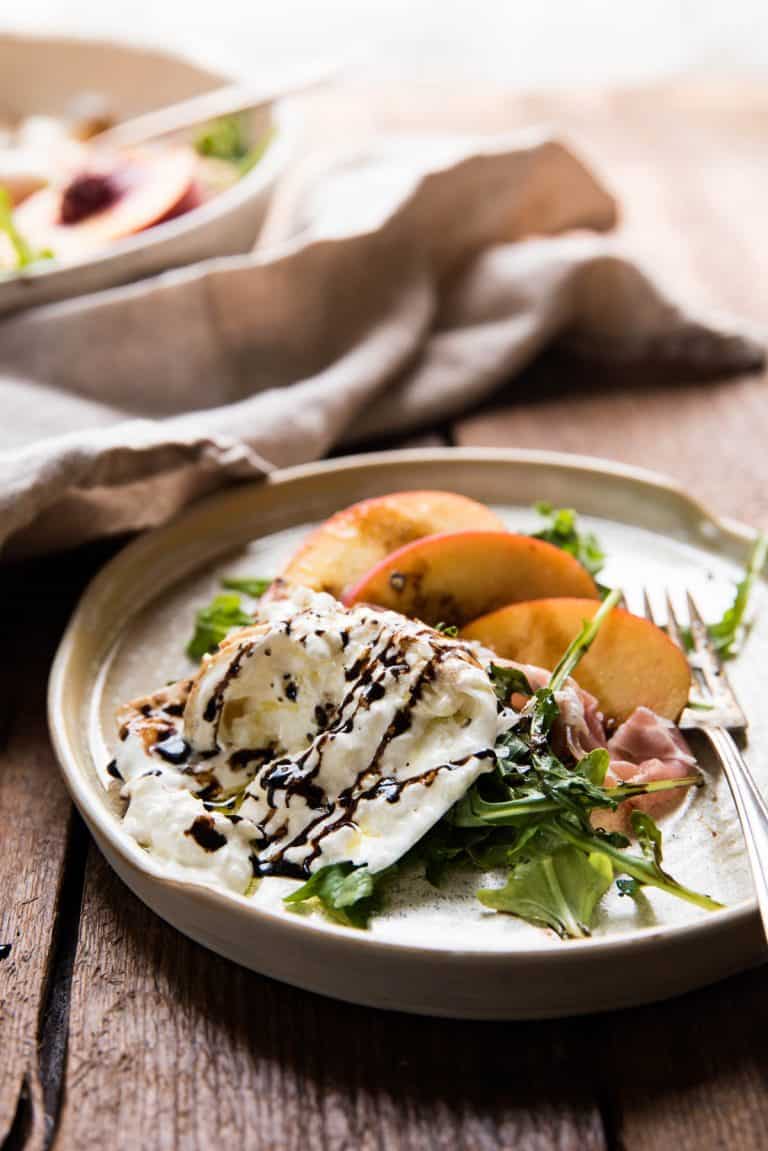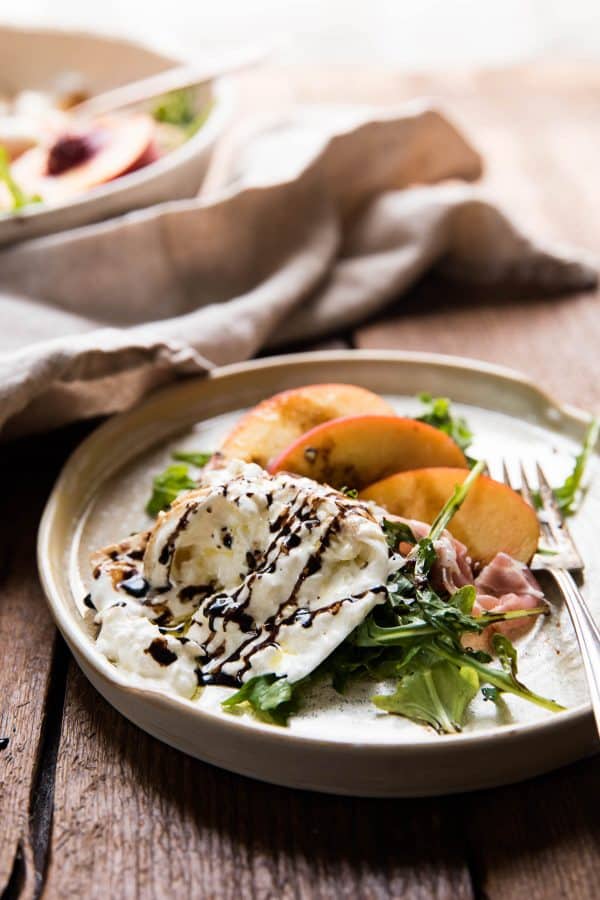 Besides this salad takes just minutes to put together, the combination of flavors is absolutely perfect. A little bit of everything! Here's what you're in store for:
naturally sweet, ripe peaches
spicy arugula
tart lemon
creamy, cheesy burrata
salty prosciutto
rich olive oil
tangy balsamic
All that goodness in just a few ingredients!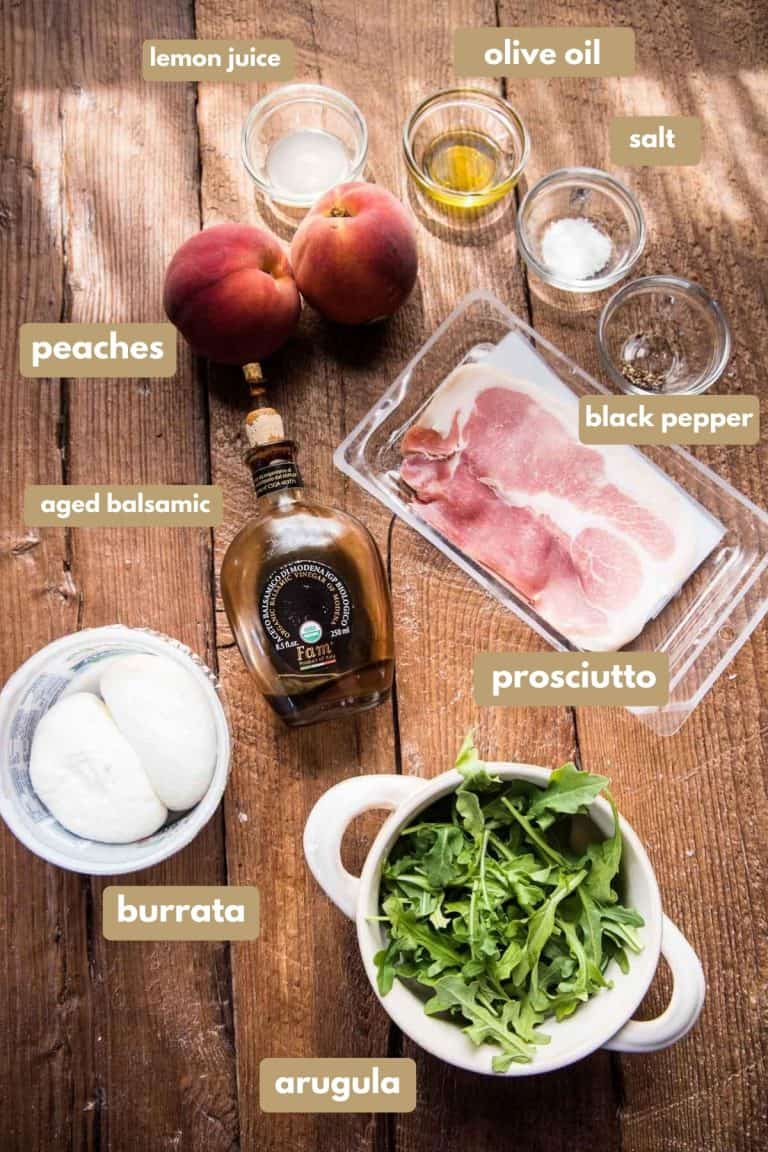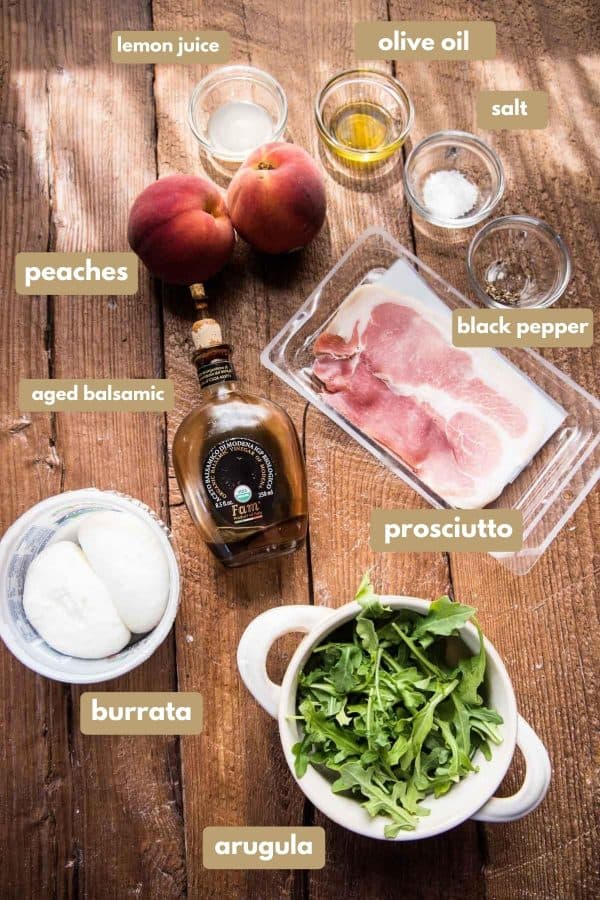 What's the difference between mozzarella and burrata?
Both are delicious, semi-soft, fresh Italian cheeses that are popular for appetizers, salads, and pizzas.
Traditional fresh mozzarella is either made from cow or water buffalo milk and formed into a ball. Semi-soft, mild in flavor, and it is perfect for melting or eating as is. It can be sliced, torn, or diced. While it's still a soft cheese, it's solid enough for a knife.
Burrata is all the deliciousness of mozzarella, but creamier. Burrata cheese is also made from cow or water buffalo milk. A pouch is made from mozzarella then stuffed with heavy cream soaked curds. This makes it great for eating as is, without cooking, though it can be cooked.
Once the outer pouch of the burrata is broken, the creamy, cheesy inside spreads out, making it perfect for salads or to sop up with crusty bread.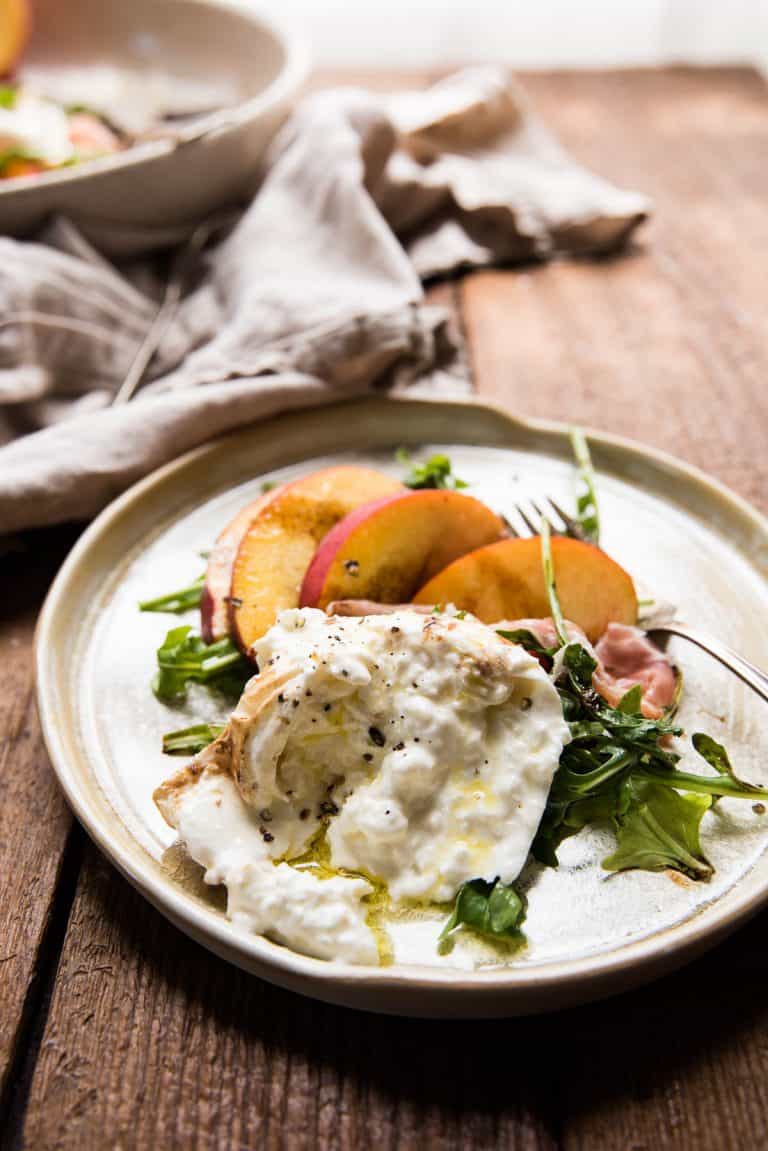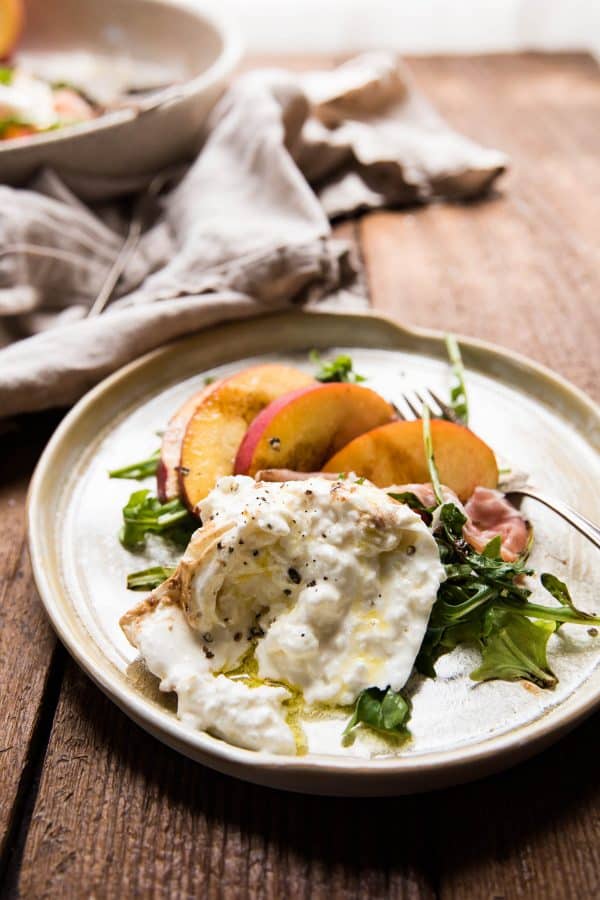 How to make a peach burrata salad
Do you have 5 to 10 minutes? Great! We can make this restaurant-quality salad.
If your peaches are perfectly ripe and can be peeled from the pit after cutting around the center, that's my preferred way to slice them. No part of the peach left behind.
If your peaches are ripe enough to eat but not soft enough to peel from the pit, slice them into four sections around the pit (so you end up with a core) then cut into ¼ inch slices.
Once your peaches are ready, all you have to do is layer all the ingredients in the serving dish or platter!
Toss the arugula with lemon juice to make a tart and spicy bed of greens. Top with prosciutto pieces, peaches, and finally, the burrata. Drizzle it all with olive oil, salt flakes, fresh cracked peppers, and aged balsamic vinegar or reduction.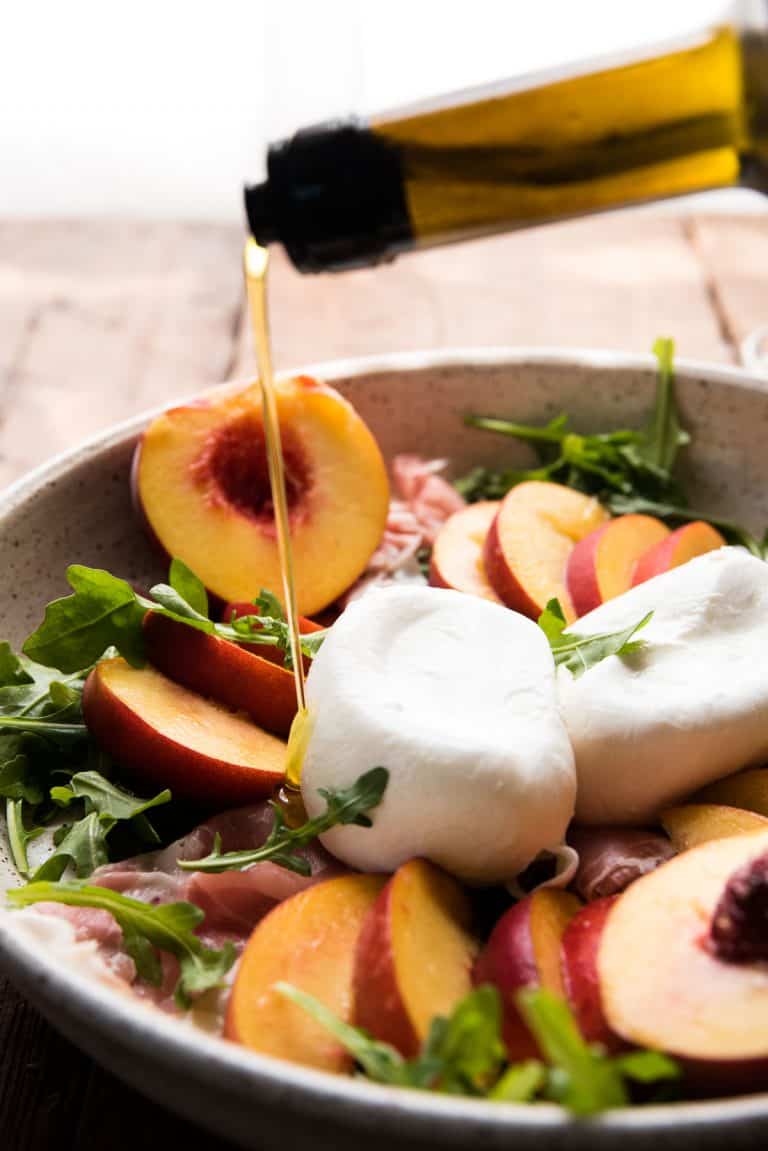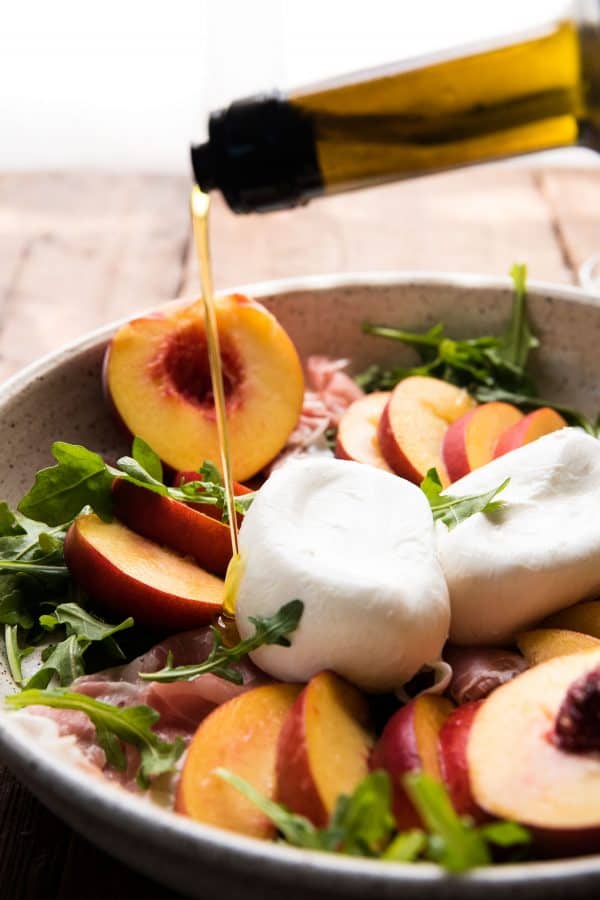 aged balsamic vinegar vs balsamic reduction
A good quality, aged balsamic vinegar is a staple in my pantry. It has all that tangy acidic and natural sweetness of balsamic vinegar but the consistency is thicker so it's perfect for drizzling on...well, literally anything.
If you're unable to get your hands on a traditional aged balsamic - typically you have to get them from an Italian grocer or specialty food store - you can make balsamic reduction with commonly found balsamic vinegar.
The trick is to heat the vinegar over super low heat so the liquid evaporates and the natural sugar in the vinegar concentrates. It burns easily though, so slow and steady with lots of patience is the key to success. You can also purchase balsamic glaze from the grocery store which is a reduction of balsamic vinegar and sugar. It's a touch sweet, totally tasty, and a nice quick fix if the above seems too tedious.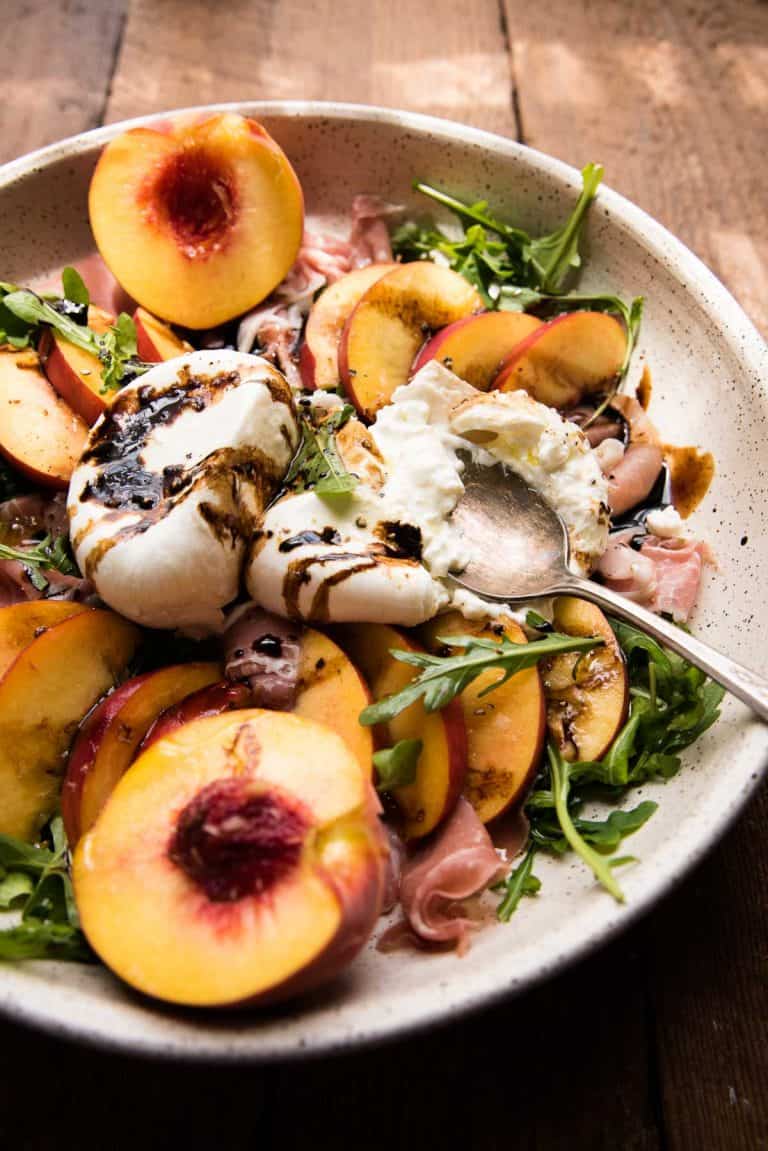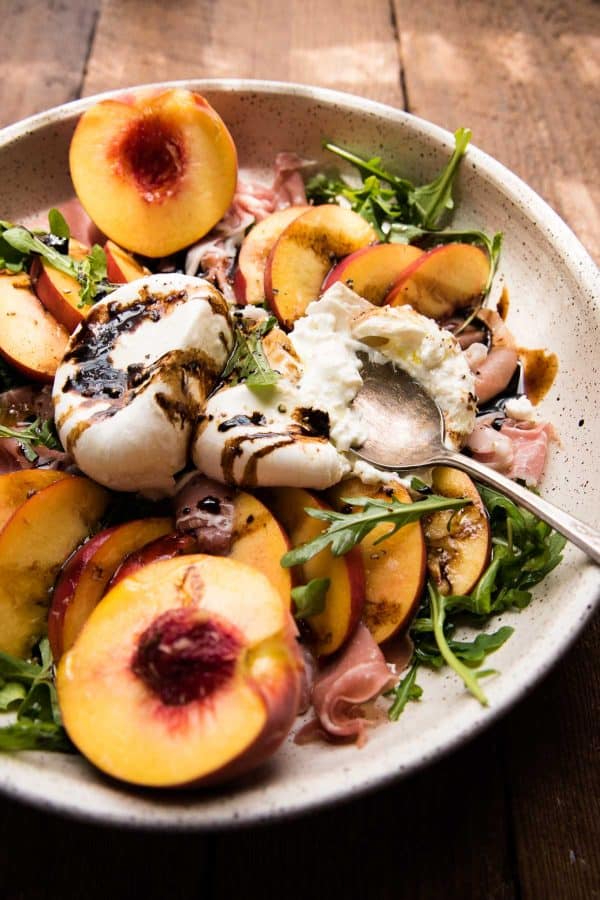 Peach burrata salad is perfect for summer because of it's simplicity, speed, and balance of flavors. It also goes great with a glass of wine. Albarino is a great choice to pair with the peaches, a nice dry rosé, or even indulge in a glass of prosecco! It'll be a crisp treat to go with the burst of flavors in this summer salad.
Did you make this recipe? Please leave a rating and a comment below! Be sure to tag us in the social media posts of your beautiful eats!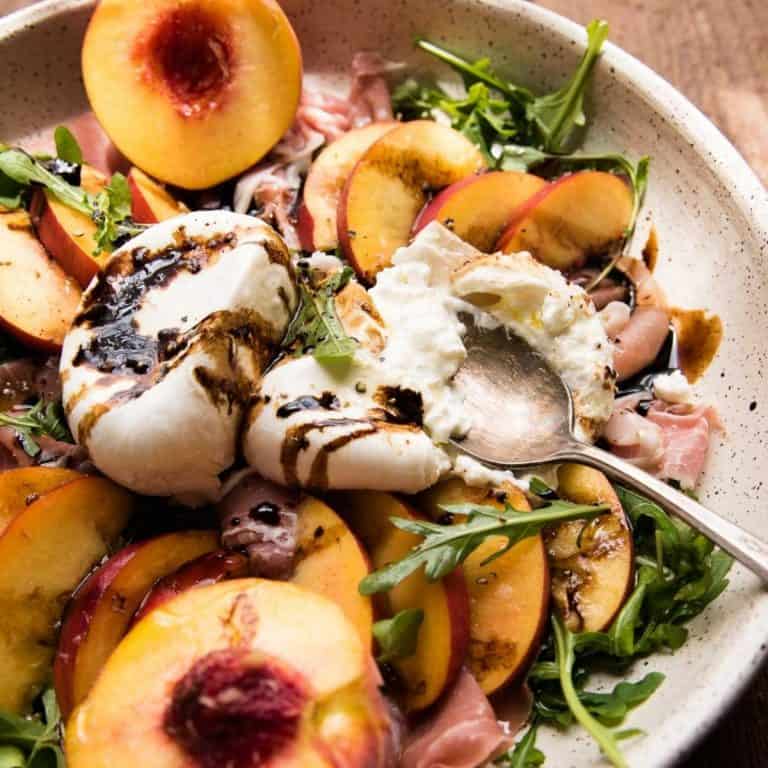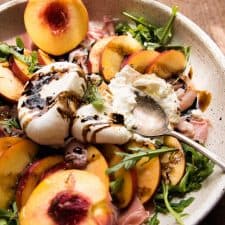 Peach Burrata Salad with Prosciutto and Arugula
Juicy, ripe peaches paired up with creamy burrata cheese and salted prosciutto over a bed of lemon tossed arugula makes for a quick and easy salad just asking for a glass of wine to go with it!
Print
Pin
Rate
Servings:
4
to 6 servings
Ingredients
2

peaches pitted and sliced

2

balls

burrata cheese

(4-ounces each)

3

ounces

thinly sliced prosciutto

(about 6 slices)

2

cup

baby arugula

1

tablespoon

lemon juice

1

tablespoon

extra virgin olive oil

salt flakes

fresh cracked black pepper

aged balsamic vinegar or balsamic reduction
Instructions
Prep the peaches. Gently clean the outside of the peaches. If they are ripe and ready, halve the peaches around the pit and slowly pull apart off the pit so you don't squish the inside of the fruit. Slice into ¼" slices. If the peaches are ripe but still firm, cut alongside the pit so the peach is in four pieces, then slice.

Arrange the salad. In a large bowl or platter, toss the arugula with the lemon and spread over the bottom. Top with pieces of prosciutto and sliced peaches. Add the burrata, either keep it whole or breaking it apart and spreading it over the salad - the cheese will be creamy and a bit messy once broken and spread!

Drizzle and serve. Drizzle extra virgin olive oil over the top of the salad and sprinkle with about ¼ teaspoon salt flakes and 2 to 3 twist of fresh cracked black pepper. For an element of acid and sweetness, finish with a drizzle of good quality aged balsamic vinegar or balsamic reduction.
Balsamic Reduction
In a saucepan, heat 3 tablespoons balsamic vinegar over very low heat.

Cook for 10-15 minutes, stirring occasionally, or until the vinegar has started to thicken.

Let cool for 5 minutes before using.
Notes
If making in advance, wait to add the prosciutto. As the prosciutto sits with peaches and burrata, it will absorb some of the moisture and might make it chewy depending on how long in advance you prepare the salad. An alternative option is to bake the prosciutto on a sheet pan at 350°F for 5 to 10 minutes until crispy, then sprinkle pieces of the crisp prosciutto over the salad.
Nutrition
Calories:
258
kcal
|
Carbohydrates:
8
g
|
Protein:
11
g
|
Fat:
23
g
|
Saturated Fat:
9
g
|
Trans Fat:
1
g
|
Cholesterol:
44
mg
|
Sodium:
144
mg
|
Potassium:
225
mg
|
Fiber:
1
g
|
Sugar:
7
g
|
Vitamin A:
788
IU
|
Vitamin C:
8
mg
|
Calcium:
247
mg
|
Iron:
1
mg