Crunchy, crusty exterior gives way to tender, soft, white bread laced with sweet, roasted garlic. It is everything you need in a simple, no knead recipe for roasted garlic crusty soup bread.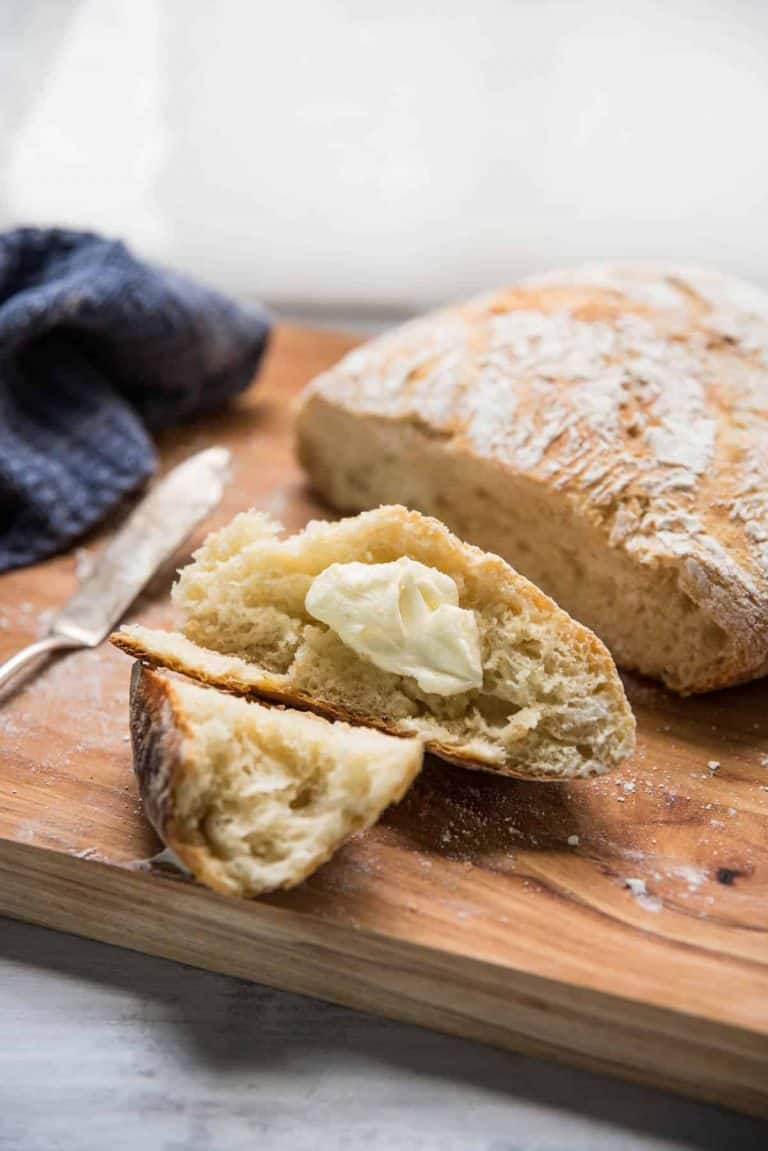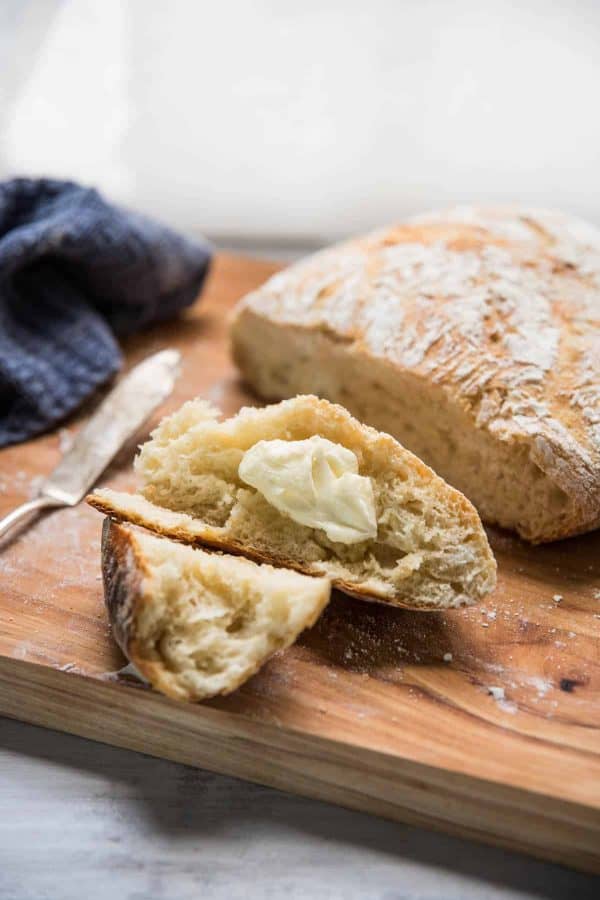 Rolling in deep on the carb train this week. (AKA living my BEST comfort food life.)
Puff pastry on Monday, Crusty Soup Bread today...we will have to find some balance in the hidden veggie soup because once this bread comes out of the oven you are going to need a bowl of something hot and delicious ASAP.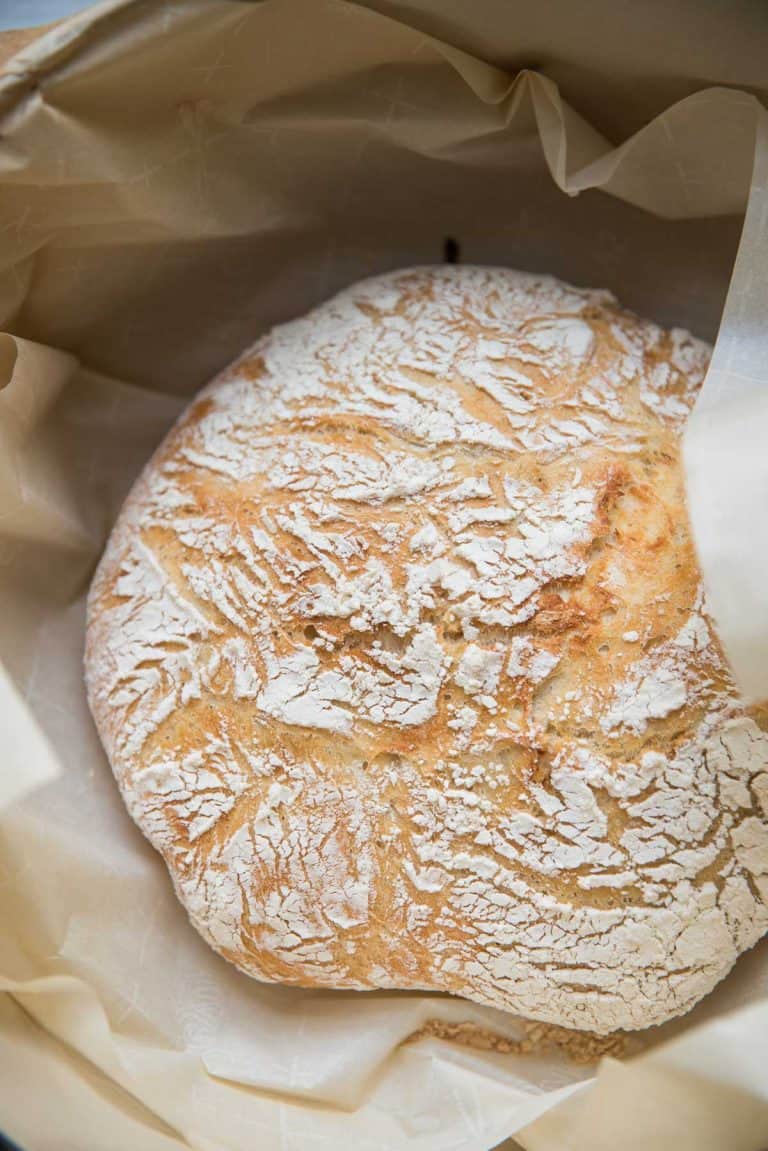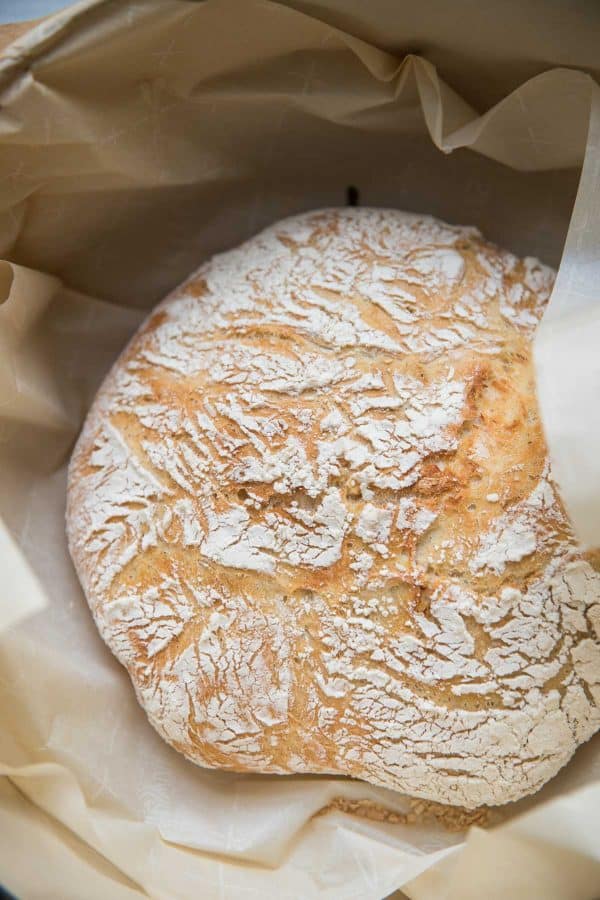 This Roasted Garlic Crusty Soup Bread is exactly that - best friends forever and ever with soup. You can practically hearing it yelling for soup while it's in the oven. Or maybe that's because is hella hot in there, but I'm going with the first reason.
But let's not stop at soup please! Let's come up with all the reasons to turn this sweet, creamy roasted garlic bread into food nirvana. Like classic pot roast or to go with super juicy roast chicken.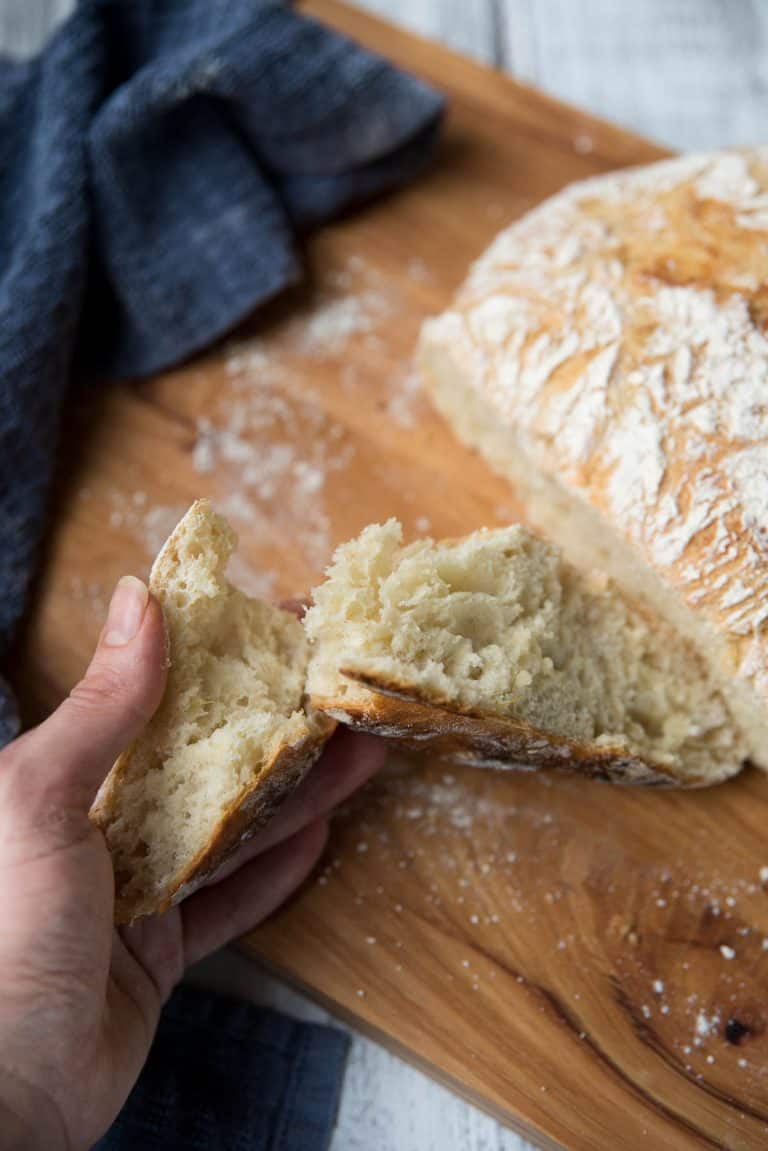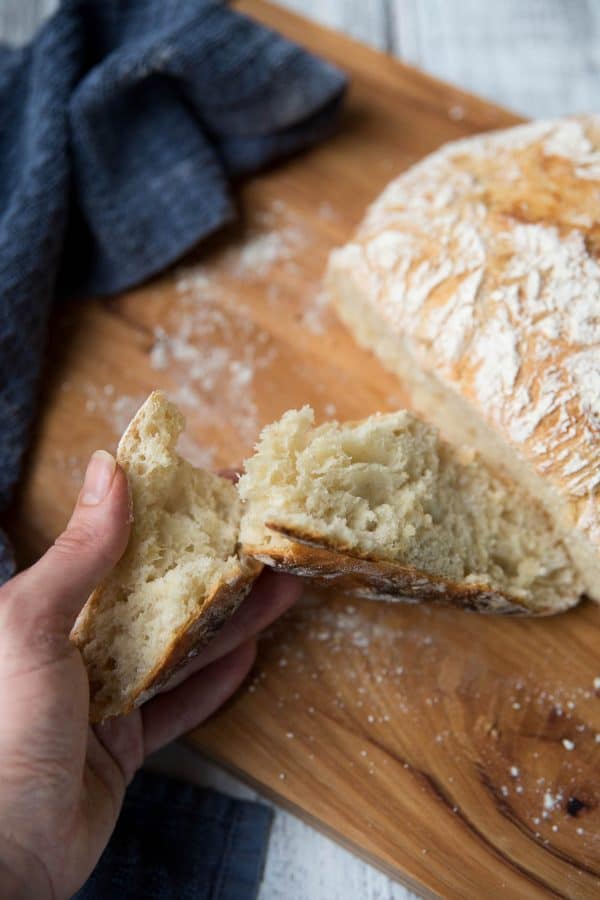 Tips for bread baking tools
While we don't need super fancy equipment, there are a few more than bare bones kitchen gadgets I'd recommend for a successful, minimal effort, awesomely crusty on the outside, soft on the inside bread.
Standing Mixer. It's for more than just baking! Being able to utilize the standing mixer to beat the bread, rather than having to knead it by hand is such a time saver. While I appreciate a good kitchen work out as much as the next home cook, I think being able to do two things at once is much nicer. This mixer is the one in my kitchen, a nice banana yellow.
Thermometer. You can use any thermometer, it doesn't have to be specific to baking. I love love my digital meat thermometer. It's used to temp the water before adding the yeast, this way you can ensure the water is warm enough to really get the yeast growing and not too hot that the yeast dies.
Dutch oven. There is so so much you can do in a dutch oven and baking bread is just a small portion on that list. Short ribs, roasts, soups...it instantly warms my heart thinking of dutch oven cooking. While it seems like a hefty price tag, if you're really into cooking I'd consider it a worthy investment. My tip is to check out discount stores like Homegoods, TJ Maxx, Marshalls, or shop the after holiday sales. You can usually score a high quality one for half the price (speaking from experience!) . Something like a 5 or 6-quart is super versatile, like this one here. The point of the dutch oven is to create a super hot enclosed environment to bake the bread, achieving that 'tear it with your hands' outside texture.
Proofing Basket. I don't personally own a proofing basket, but if you do plan to start taking on more at-home bread baking it would be worth the investment. It's great for this bread (but not required), sourdoughs and more.
Once you've got your tools ready to go, it really is just a matter of a few small steps.
How to make no knead Crusty Soup Bread
To really get the party started, you'll need to roast the garlic first. This will give it time to cool down before being added to the dough. It will also make everyone in your house drool like crazy and extra appreciate your domestic prowess.
Proof the yeast. Using the thermometer we talked about, make sure the water is between 100°F and no more than 110°F. Yeast is a little dramatic and has to have just the right temperature with a little bit of sweet in order to cooperate. Gosh, yeast, stop being such a diva.
Once the yeast is nice and foamy it's really just a matter of mixing ingredients, and two rises. No kneading, no punching down, no tears of frustration, just a little shaping. Then its a short bake in a super hot oven and you're the proud baker of ridiculously delicious roasted garlic crusty soup bread.
What are you going to serve with your bread??? Tell me all about your delicious creations in the comments!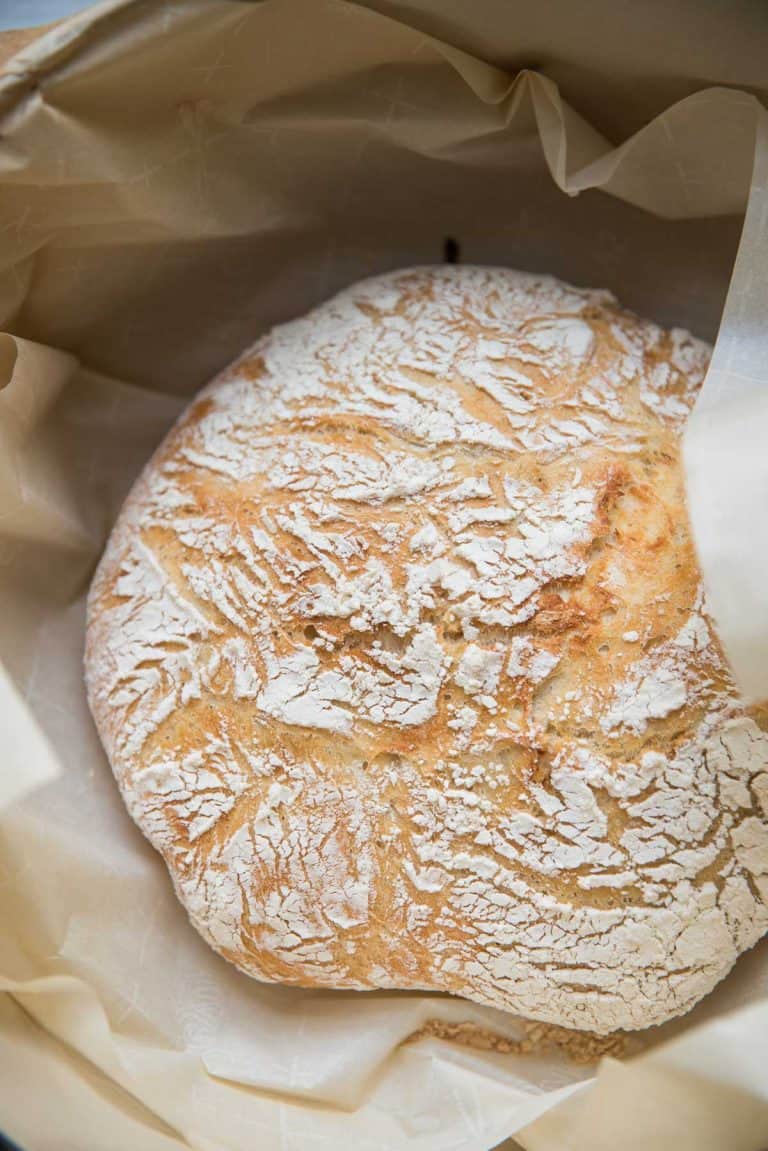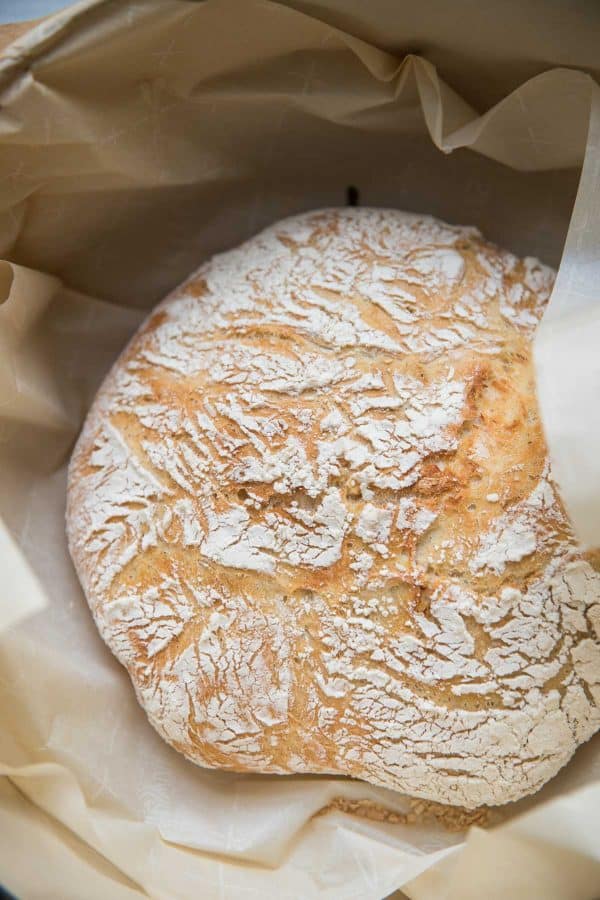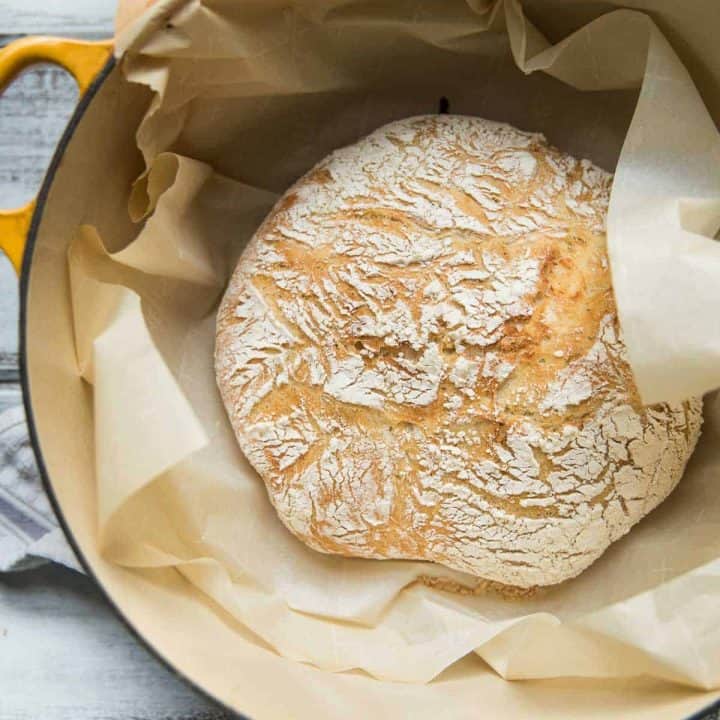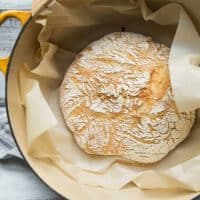 Roasted Garlic Crusty Soup Bread
No knead, easy, roasted garlic crusty soup bread is the best homemade bread! Crusty, crunchy exterior with a soft, chewy, sweet garlic laced interior. The perfect bread for soups, pot roasts, or to make sandwiches.
This recipe is inspired by this Easy Crusty French Bread recipe from Life as a Strawberry.
Print
Pin
Rate
Ingredients
½

cup

extra virgin olive oil

1

head garlic

2 ¼

teaspoons

active dry yeast

(1 packet or 7g)

1

teaspoon

granulated sugar

(4g )

1 ¼

cups

warm water

(283g, see note)

1 ½

teaspoons

salt

(about 7g )

2 ¼ to 2 ½

cups

all-purpose flour, plus more for sprinkling over the dough

(288g to 320g)
Instructions
Roast the garlic. Line a small, oven safe skillet or dish with aluminum foil. Place the garlic, with the top of the head removed in the center. Pour the olive oil over the center and then close the aluminum foil around it to enclose it. Roast in a preheated 375°F oven for 20 minutes or until garlic cloves are very soft. Remove from the hot oil and let cool before squeezing each clove of garlic from the skin.

Prepare the yeast. Combine sugar and 100-110°F water in the bowl of a standing mixer fitted with the dough hook. Mix in yeast and let proof for 5 minutes until foamy.

Make the dough. In a medium size bowl, mix the kosher salt and flour together. On low speed, add the dry ingredients to the yeast mixture slowly. Immediately after adding all the dry ingredients, add the roasted garlic cloves and mix until the dough starts to pull away from the sides of the bowl.

Generously sprinkle flour over the top of the dough and flip over in the bowl. Sprinkle flour over the top again and cover with a kitchen towel. Let rise for 1 hour in a warm place.

After the first rise, flour a flat surface and gently tip the dough out of the bowl onto the floured surface. You want to disturb the dough as little as possible to keep all the air bubbles that formed during the rising. Do not punch down the dough.

Fold and shape the dough. Again, sprinkle the top of the dough with flour and gently fold the four side of the dough on top itself. Turn over and shape into a loaf. Transfer to a small, floured bowl.

Rise again. Cover the bowl with a kitchen towel and let rise in a warm place for 30 minutes. While the dough is rising, preheat the oven to 460°F with a dutch oven (with the lid on) inside.

Bake. Once the dough has rises and the oven is to temp, very very carefully remove the hot dutch oven and the lid. Place a piece of parchment paper onto a flat surface and gently tip the dough out of the mixing bowl - seam side up - onto it. Transfer the loaf and the parchment paper into the hot dutch oven.

Cover the dutch oven with the lid and bake for 30 minutes. After 30 minutes, remove the lid and bake uncovered for 10 to 15 minutes or until crust is a beautiful browned color.

Use a spatula and oven mitts to transfer the hot bread to a cooling rack. Let cool for about 15 minutes before cutting or tearing into it.
Notes
Humidity and warm weather will affect how the dough comes together. If it's a warm summer day or particularly humid, try reducing the water by 10% (in this recipe you would reduce to 1 cup warm water). Or you can add a little extra flour until the dough starts to pull away from the bowl - about ¼ to ½ cup flour.
If your dough is sticking to the bottom of the bowl, use a floured hand to gently pry the dough from the bowl.
Nutrition
Calories:
1176
kcal
|
Carbohydrates:
40
g
|
Protein:
14
g
|
Fat:
110
g
|
Saturated Fat:
15
g
|
Sodium:
3520
mg
|
Potassium:
305
mg
|
Fiber:
8
g
|
Sugar:
4
g
|
Vitamin A:
1
IU
|
Vitamin C:
1
mg
|
Calcium:
30
mg
|
Iron:
3
mg