Crisp, flaky puff pastry topped with creamy and sweet lemon ricotta and baked with sugared meyer lemon slices. A dessert that's perfect to bring to a party or serve for brunch.
It's Monday, but it's a holiday and therefore we shall start with dessert. And also, I've decided that Mondays are just the pits for most of us, sooooo dessert it is. Hey, we could call it brunch and therefore it's not dessert after all. Either way, as long as lemon ricotta puff pastry is involved we should be here for it because it's bringing all sort of easy sweet treat vibes into our bellies.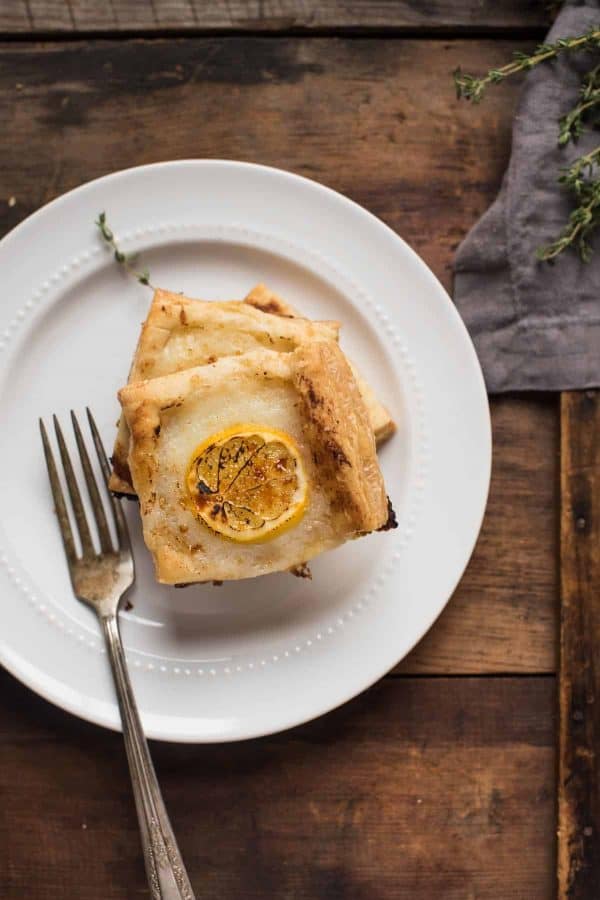 Here's what to love about this lemon ricotta puff pasty:
It's easy! (Easier than pie, because pie is not the easiest thing to make it turns out.)
Travels well.
Sweet and creamy.
Flaky, crisp puff pastry.
We're breaking out the blow torch again.
But, you don't have to have a blow torch.
Meyer Lemons vs Regular Lemons
Who is Meyer and why is there such of fuss over his lemons?! Like a beacon of spring in the throws of snowy winter, Meyer lemons start to pop up on produce shelves. Is it worth the price? I think so, but I'll make a case for it.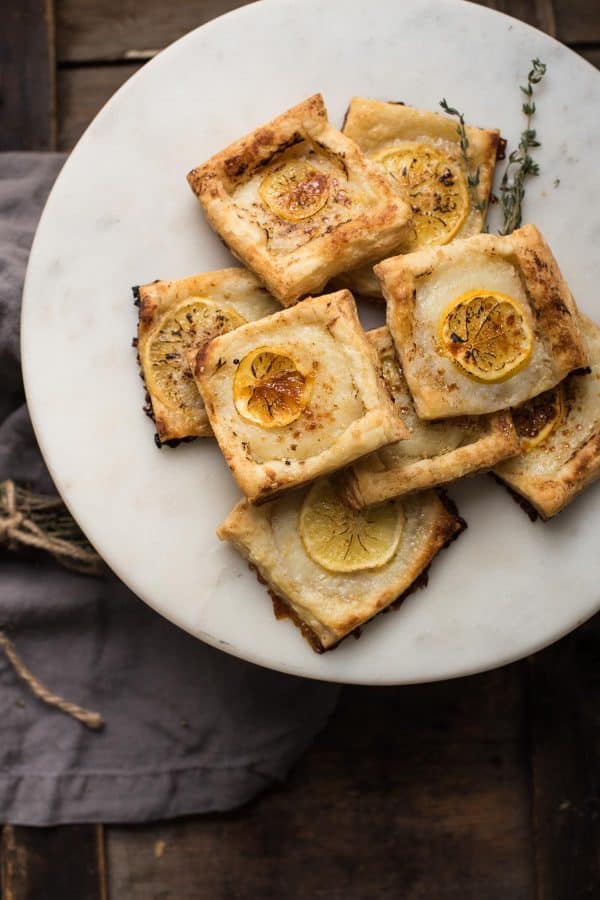 Meyer lemons are a hybrid fruit originally from China and introduced to the US by Frank Meyer. Smaller than standard lemons with a thinner rind and thinner skin with a yellow-orange color. The fuss, really, is about the taste. While they still have that good old lemon tang, they're sweeter than regular lemons with a deeper flavor in the skin when zested.
This makes them perfect for adding to winter citrus salads, roasting on chicken, or topping of a sweet treat like simple ricotta puff pastries.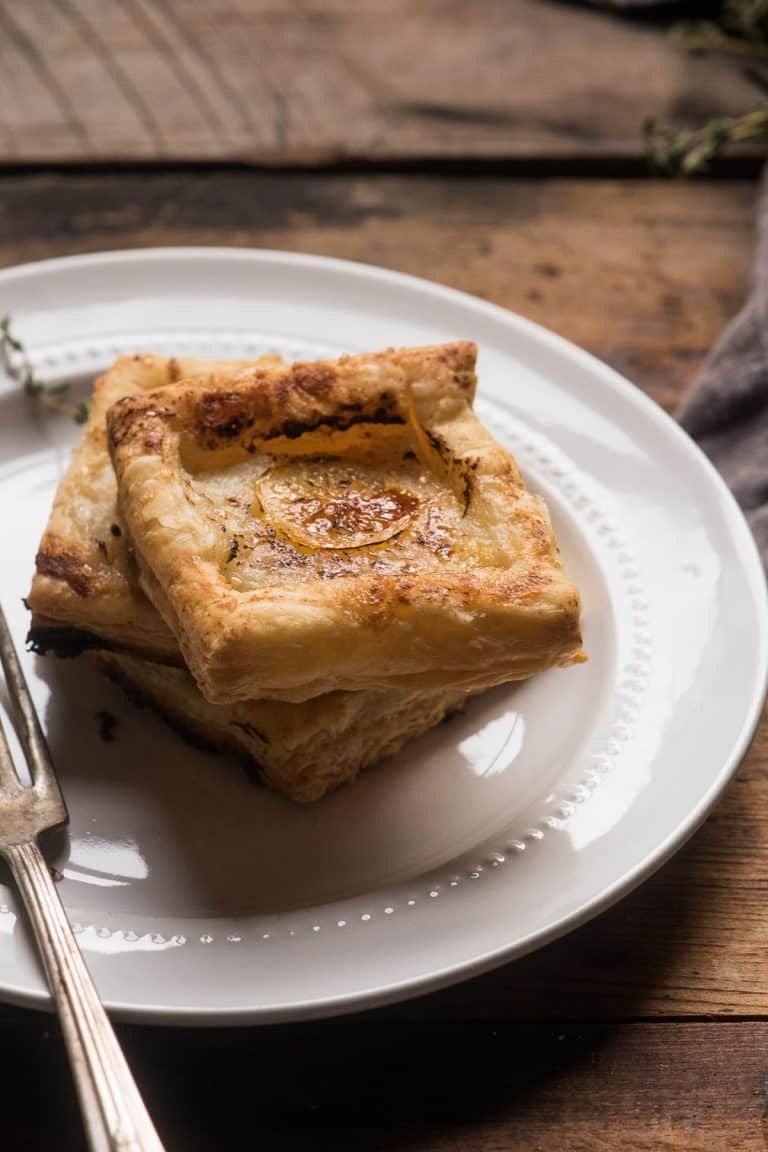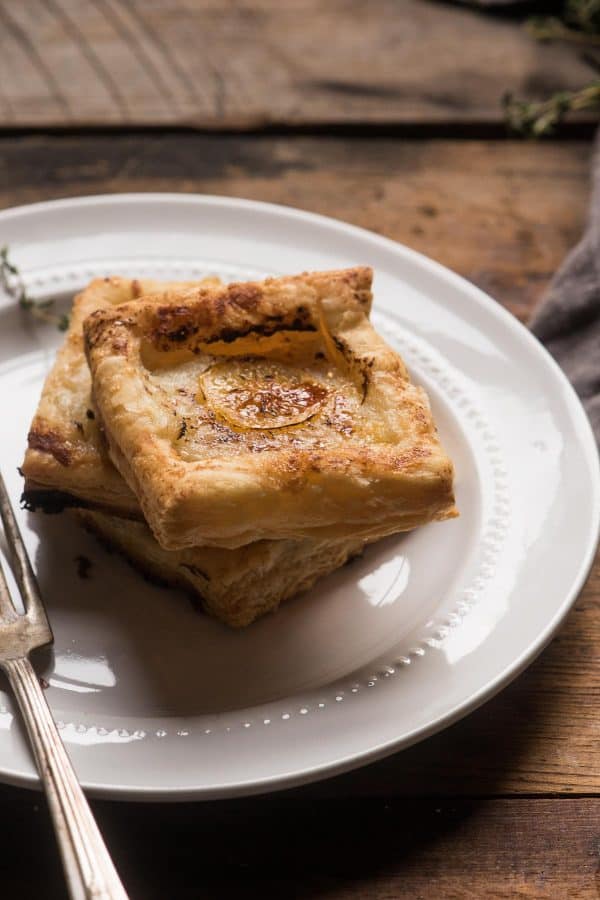 How to make Meyer Lemon Ricotta Puff Pastry
You guys get your blow torch yet? Ok, fiiiine, you don't have to have a blow torch to make these bites of 'Spring is almost here' bliss. BUT the day is better when you get to fire it up and watch sugar melt and caramelize right at your finger tips. It also guarantees a nice brulee style caramelization on the lemon, but your lemon ricotta puff pastry will still be just as delicious if you sugar and bake the lemon slices (see recipe notes.)
I use this one here. It's simple and you can adjust the size of the flame, just don't forget the fuel. And then once you've conquered these puff pastries, you can use it for créme brûlée, s'mores or even ham.
Making these bites of cheese danish inspired pastries really doesn't take much. A 400° oven, a few bowls and about 30-ish minutes. The faster you prep, the faster it goes. They only need about 10 to 15 minutes in the oven.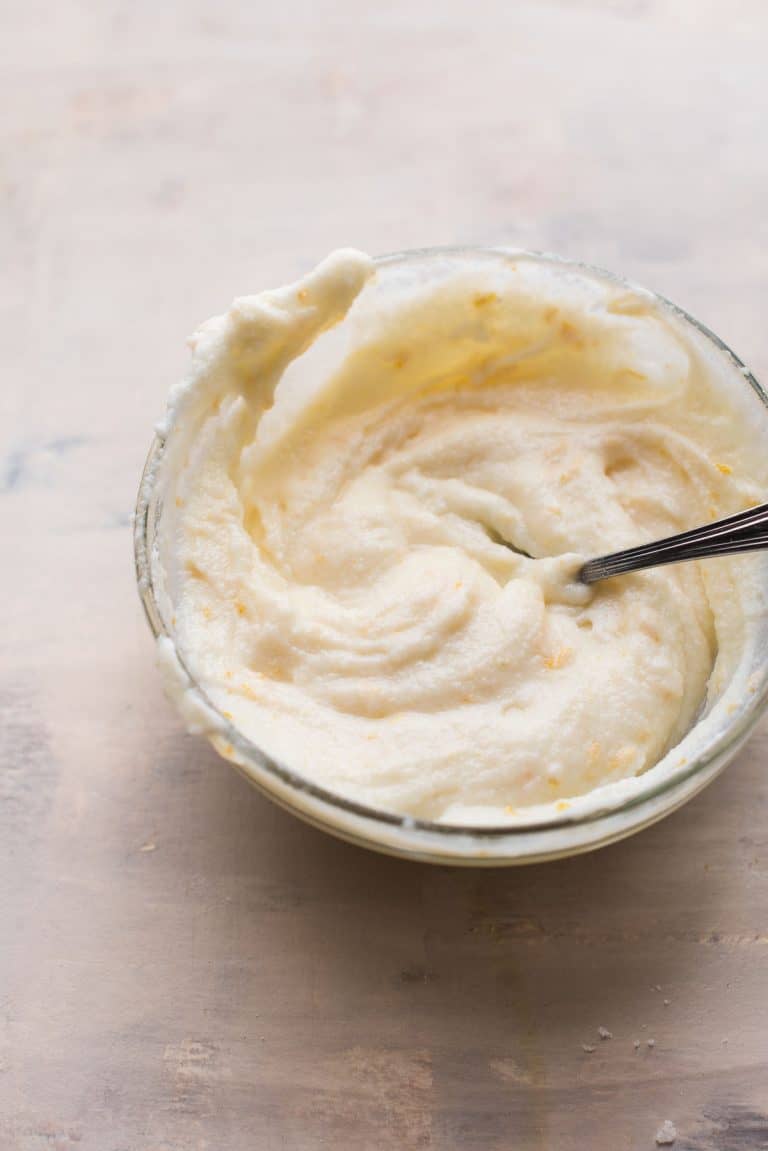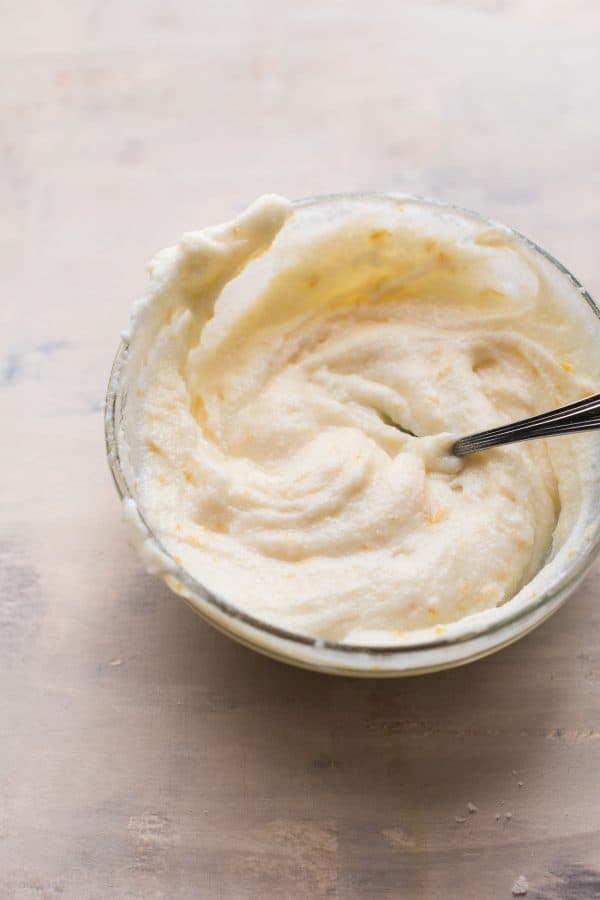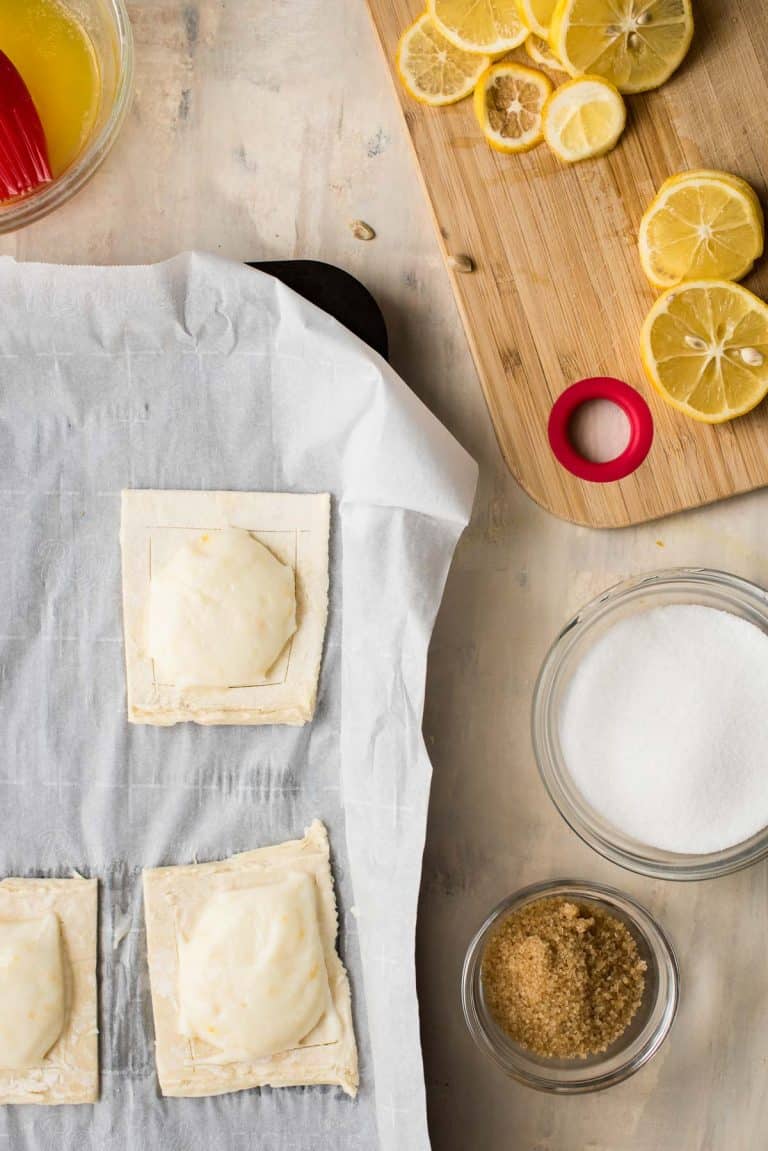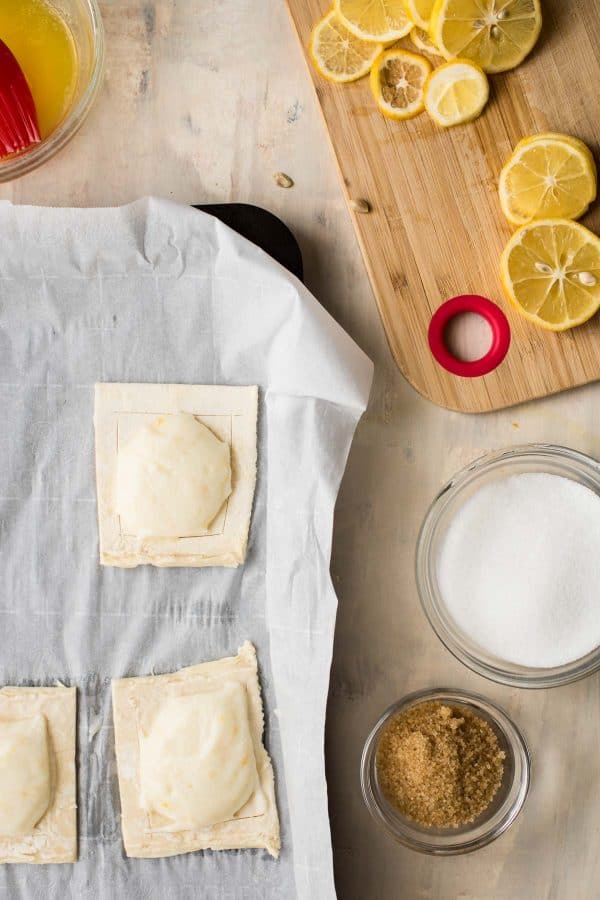 Here are your tips for successful lemon ricotta puff pastries:
The colder the puff pastry, the flakier it bakes. If it warms up a lot during prep, throw the pastries in the freezer for 3 to 5 minutes before baking
Lightly cut a square about ½ inch inset from the edge of each pastry square without cutting through to the other side. This helps to contain the ricotta and let the edges get nice and flaky.
Bake on top of parchment paper since some sugar will bake off onto the paper. This will make removing the pastries easier.
Don't caramelize the lemons on top of the parchment paper unless you want to set off the smoke detector. This is coming from a place of personal experience.
Tarts can be reheated, served warm or enjoyed cold. They're delicious anyway you get them!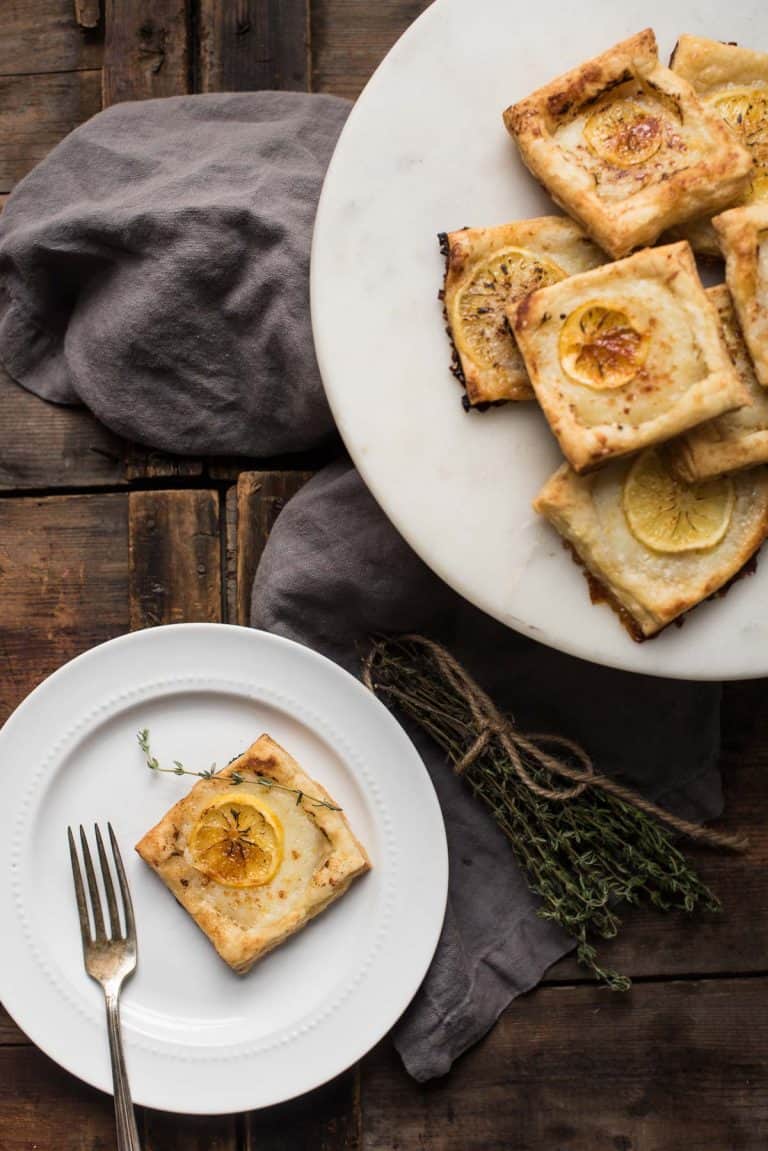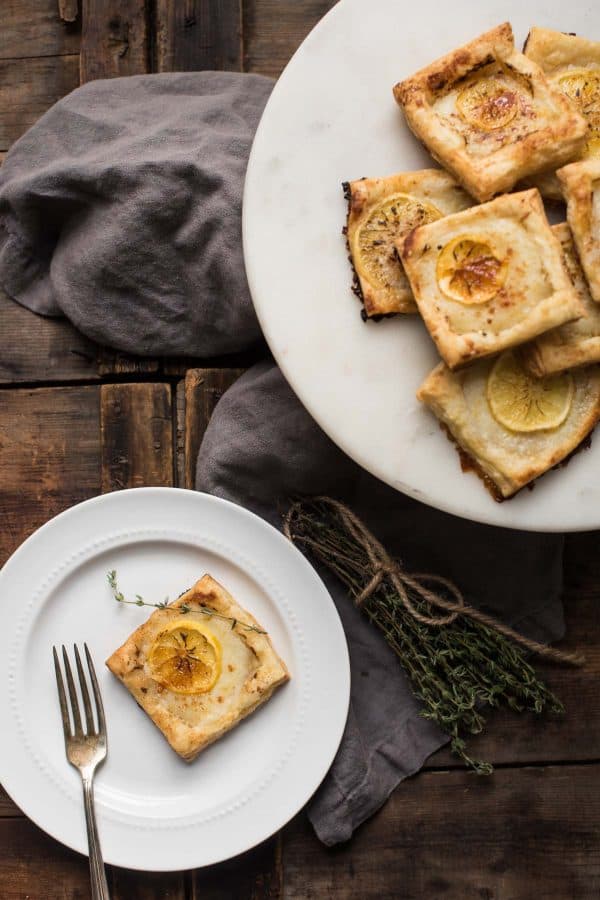 Ready to have the best dish on the table? Let's get to it!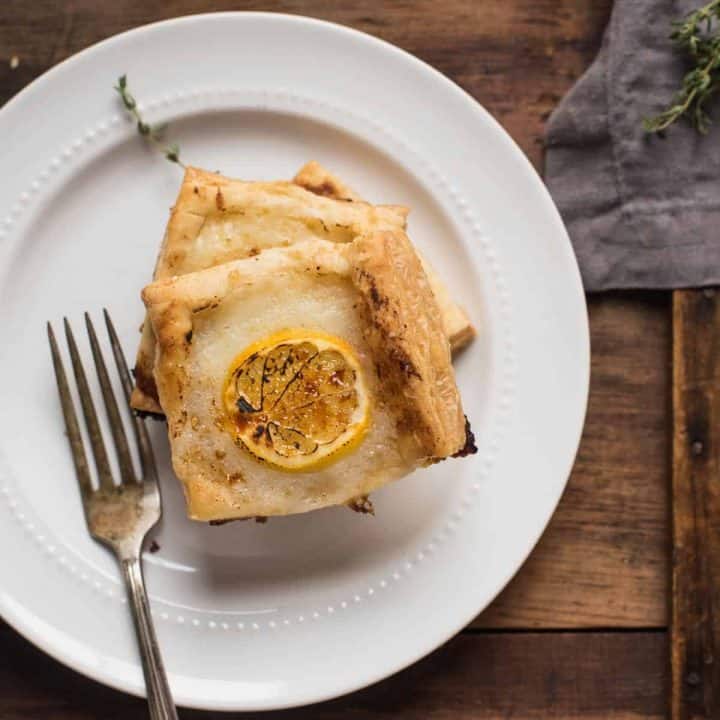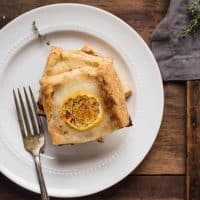 Meyer Lemon Ricotta Puff Pastry
Easy and shareable! Perfect for a sweet brunch recipe or dessert. Puff pastry and sweet lemon ricotta and brulee meyer lemon.
Print
Pin
Rate
Ingredients
2

sheets

puff pastry

(thawed)

1

cup

whole milk ricotta cheese

1

meyer lemon

(zested then thinly sliced)

¾

cup

granulated sugar

(divided)

2

tablespoons

turbinado sugar

(see notes)
Instructions
Preheat the oven to 400°F. While the oven preheats, zest the Meyer lemon into a small bowl and then slice the zested lemon as thin as possible. In a separate bowl mix the ricotta, ½ cup granulated sugar, and lemon zest.

Cut the puff pastry into 9 squares (3x3). Using a sharp knife, cut a square about ½-inch inset from the edge of each puff pastry. As the pastry bakes this will help contain the ricotta and allow the edges to puff.

Assemble the pastries by dropping 1 to 2 spoonfuls to the center of each puff pastry square. Pour ¼ cup of granulated sugar onto a plate or flat surface. Lightly dip each side into the sugar and place on top of the ricotta. Top each square with a lemon slice. Repeat with remaining puff pastry and ingredients.

Bake the puff pastry squares on a sheet pan lined with parchment paper at 400°F for 10 to 15 minutes until the pastry is golden brown. Remove the squares to platter, plate or another fire safe surface. Sprinkle each square with turbinado sugar (raw sugar) and torch until lemon is caramelized. See notes for no blow torch options.
Notes
To prepare without a blow torch, sprinkle each tart with a little more granulated sugar and broil for 2 to 3 minutes until sugar melts. The sugar will caramelize during broiling, but not as much as if done with the blow torch.)
Turbinado sugar and raw sugar are the same and are great for getting a thick caramelized layer on desserts. Regular granulated sugar can be substituted.
When cutting the inset squares, try not to cut through to the other side of the pastry dough.
Nutrition
Calories:
211
kcal
|
Carbohydrates:
22
g
|
Protein:
4
g
|
Fat:
12
g
|
Saturated Fat:
4
g
|
Cholesterol:
7
mg
|
Sodium:
79
mg
|
Potassium:
32
mg
|
Fiber:
1
g
|
Sugar:
10
g
|
Vitamin A:
61
IU
|
Vitamin C:
1
mg
|
Calcium:
31
mg
|
Iron:
1
mg