Luscious sweet vanilla custard laced with a hint of orange topped with that crunchy sweet sugar so satisfying to crack with a spoon! Crème Brûlée with Grand Marnier is the perfect make-ahead dessert for dinner with company or a date night-in meal.
Pinkies up mah friends. Things are about to go high falutin with dessert. The best part? You're going to make this and go, "wow, that was really easy."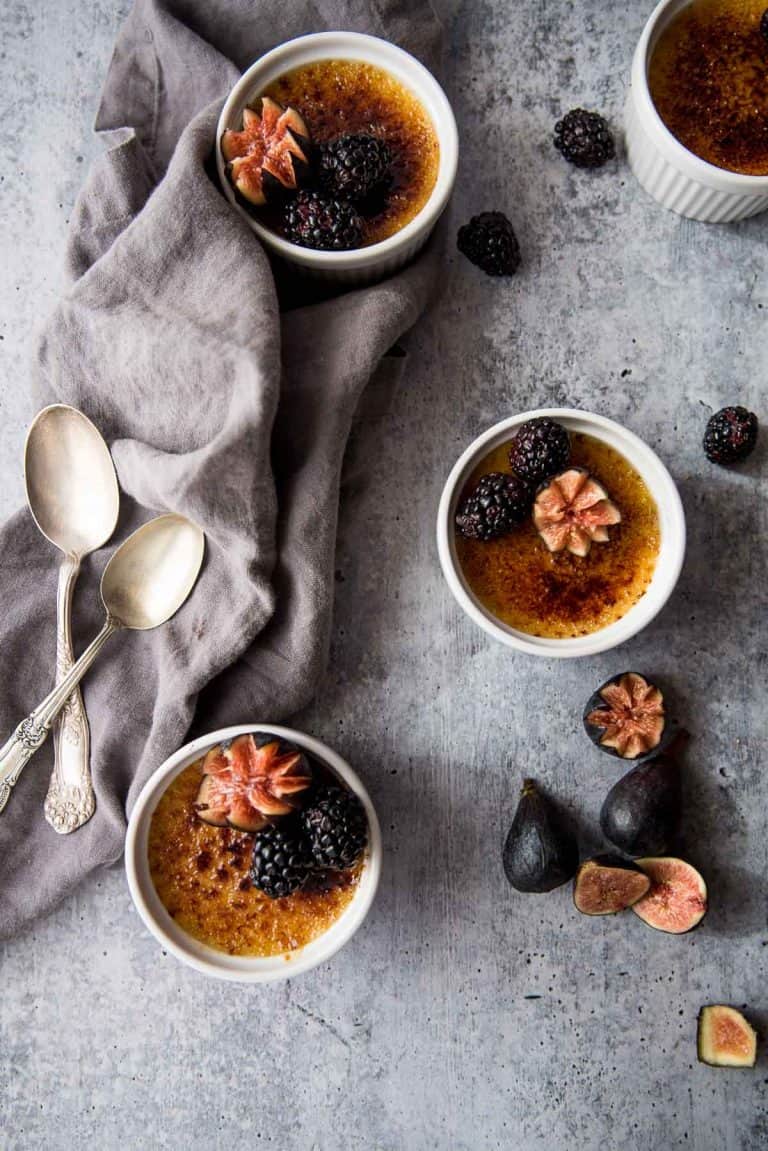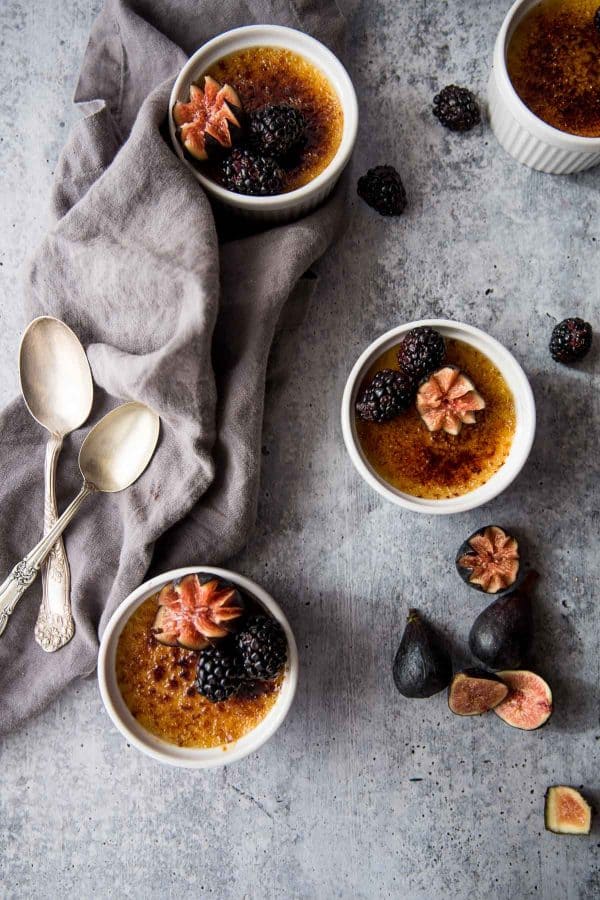 This post contains affiliate links.
Okay, let's be serious. The best part about making this is getting to use the kitchen blow torch, followed by cracking the crunchy sugar crème brûlée top with a spoon. Well, only to be outdone by savoring the crunchy sweet with creamy vanilla custard. Ugh ok, the whole thing is just pretty great. It's hard to pick a 'best of' part.
Every time I make crème brûlée, I'm also shocked at how simple it is and vow to make it more often. Then a year or two go by and life repeats itself again. So here we are, but this time with a different twist - let's throw in some Grand Marnier for a subtle hint of orange liquer. We're also going to use vanilla bean paste because, while I'd like to use real vanilla beans I do not have the time (or the justification of expense) to be scraping them out of their wiry little pods.
I like things where the lid just twists off. You too? Oh good.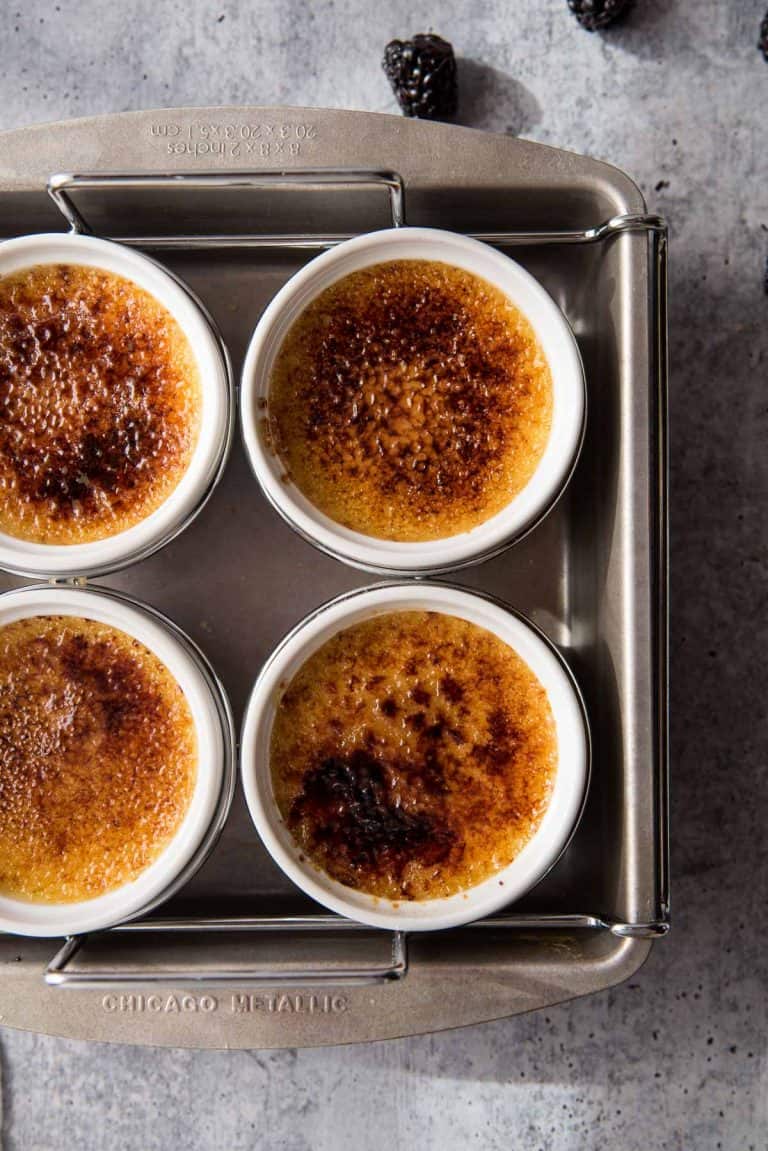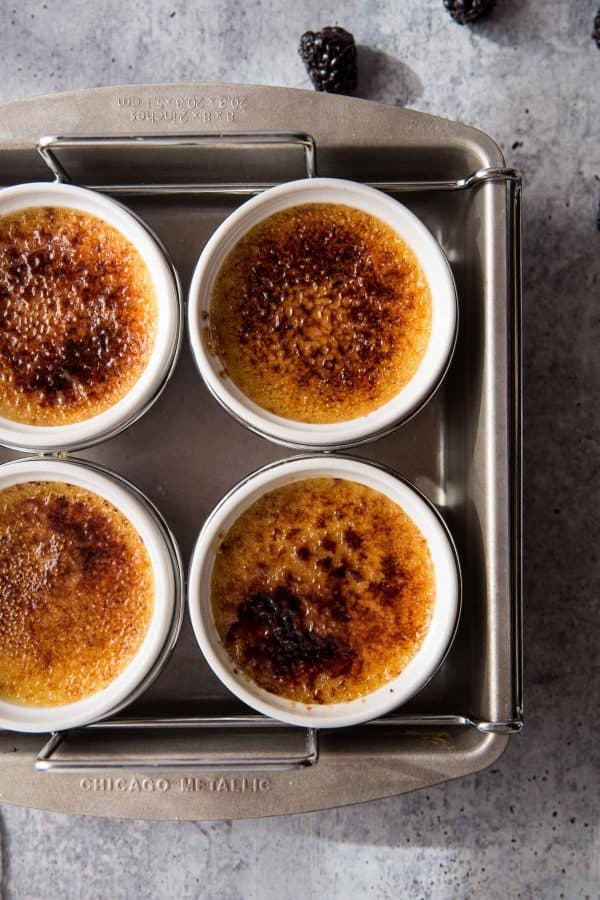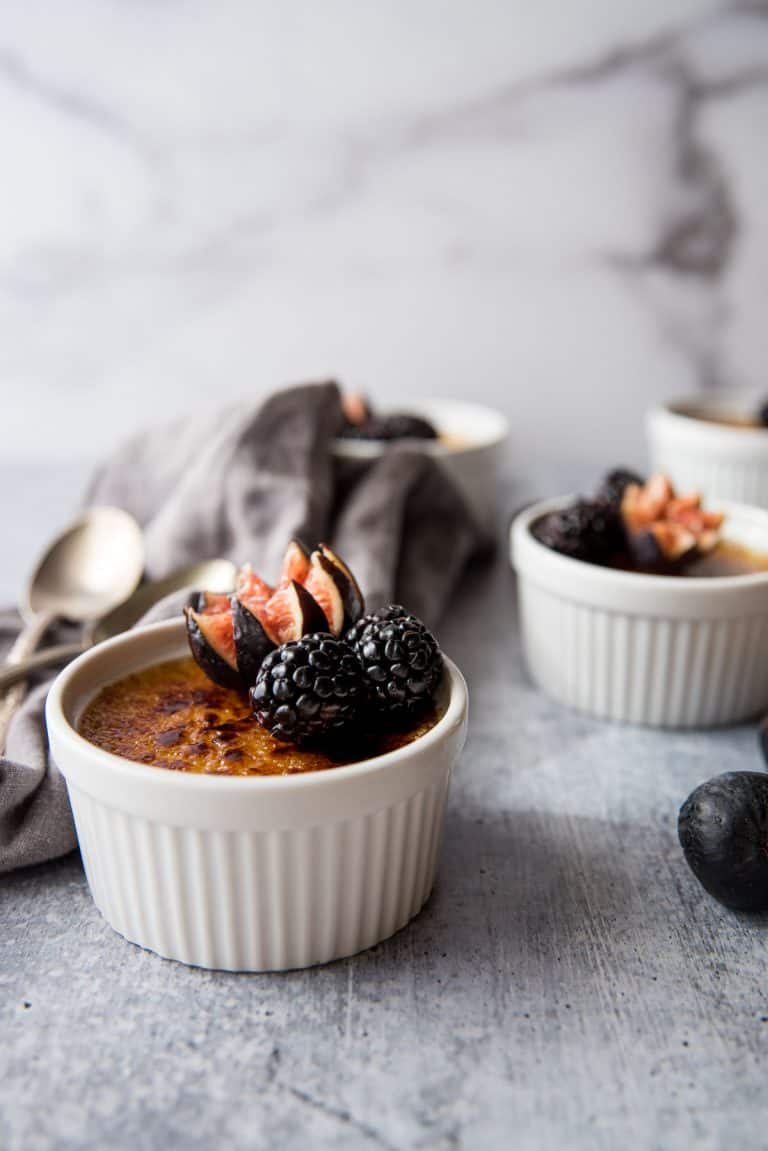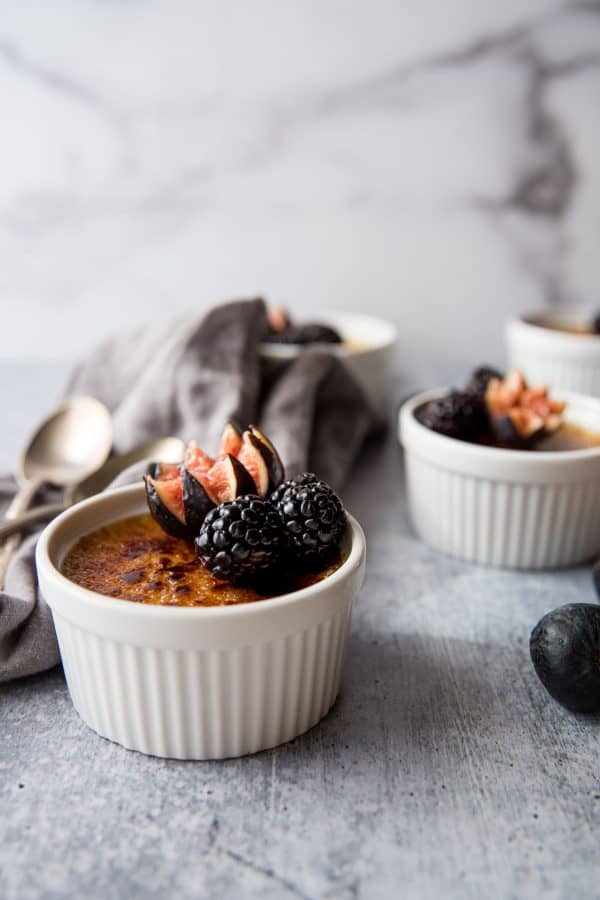 So, just a quick recap. Here's all the reasons to love this subtle orange twist on the French classic:
easy, make-ahead dessert
vanilla bean paste (less expensive and easier than using real vanilla beans)
get to blow torch things
satisfying spoon crack of harden, caramelized sugar
reward of creamy custard
subtle hint of delicious orange liquer
Not tootin' horns or anything, but that's a list I can very much get down with, so let's.
Helpful tools
It is truly not very complicated. For hardware, you'll need some ramekins. Like these beauties that were a recent acquisition at World Market and I really cannot wait to use them for another installment of "that time I forgot how easy this was." You will also need a baking dish for the water bath - an 8x8 pan is perfect for this recipe.
Or you can purchase a crème brûlée set which is both the ramekins and the water bath dish all in one. This is the exact one that I use.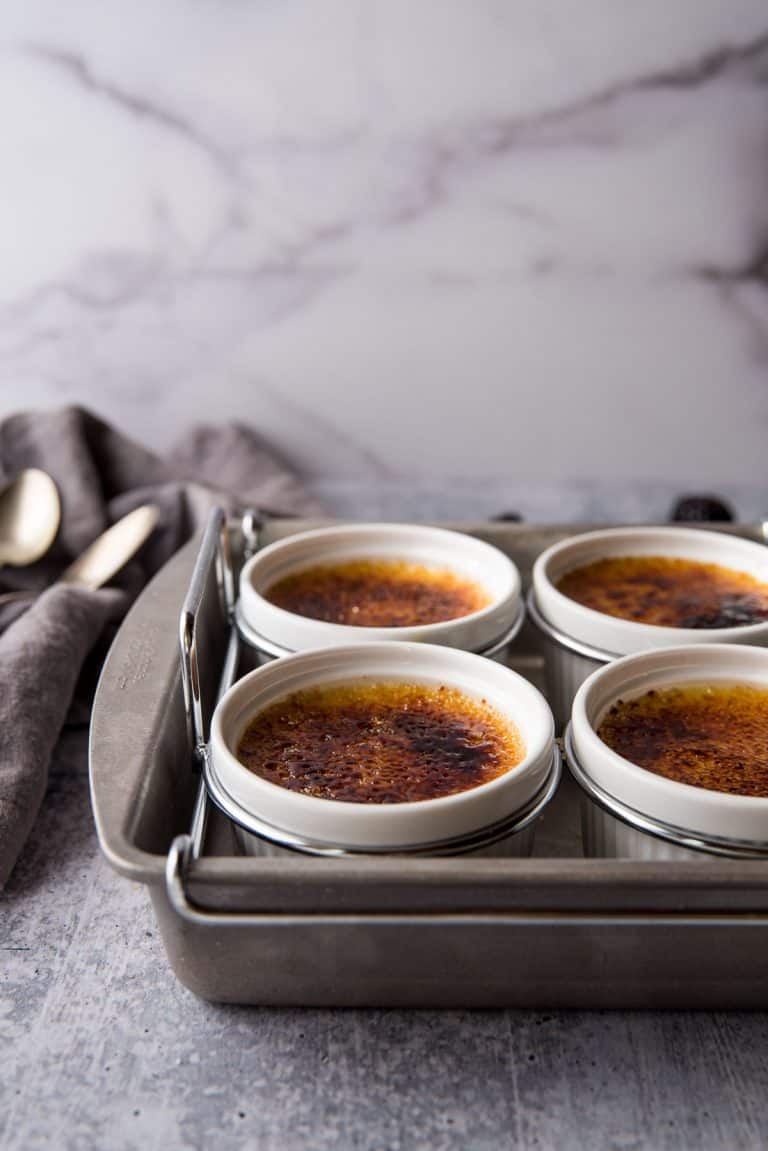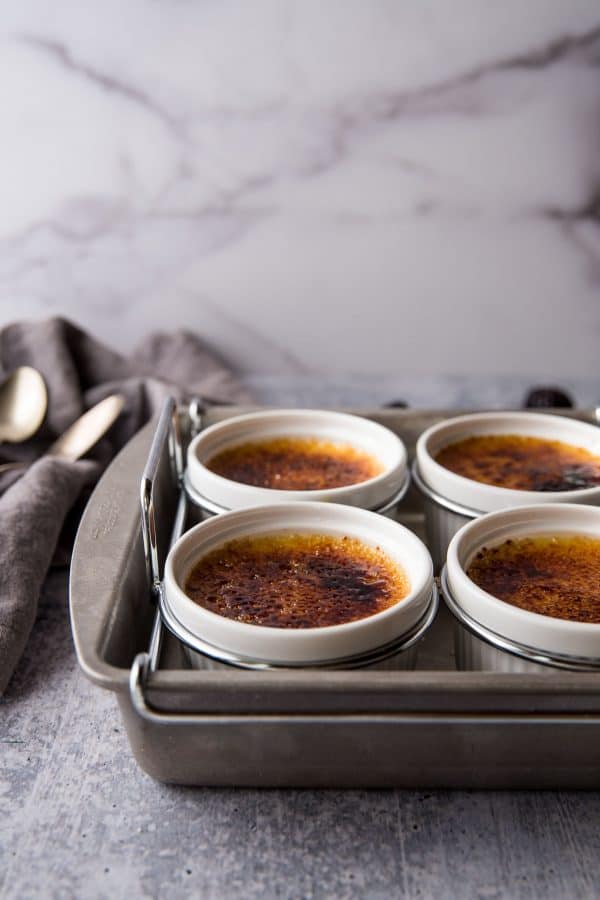 Lastly, if you do not have a kitchen blow torch you totally should. It's fun to use and makes things like s'mores, instant pot ham, or anything with meringue super simple because you just torch it rather than risk burning it with the broiler. This kitchen torch is the one I use.
how to make crème brûlée with grand marnier
You can make this either in a standing mixer or with a hand mixer, or even with just a whisk. The standing mixer is nice because you can mindlessly let it mix with the paddle attachment while you slowly add the cream, but any other method will do just fine. The key is not to over mix the egg base and get the cream to scalding but not boiling - a little simmer is ok, just pull it off the heat once you see it. Adding boiling cream to the egg mix will cook the eggs and then you'll just have sweet scrambled eggs and that's gross.
The next essential step is a water bath. Real talk, everything is better with a nice hot bath, especially if you're a little ramekin of custard. Allowing the oven to fill with steam and to gently bake the custard without browning the edges.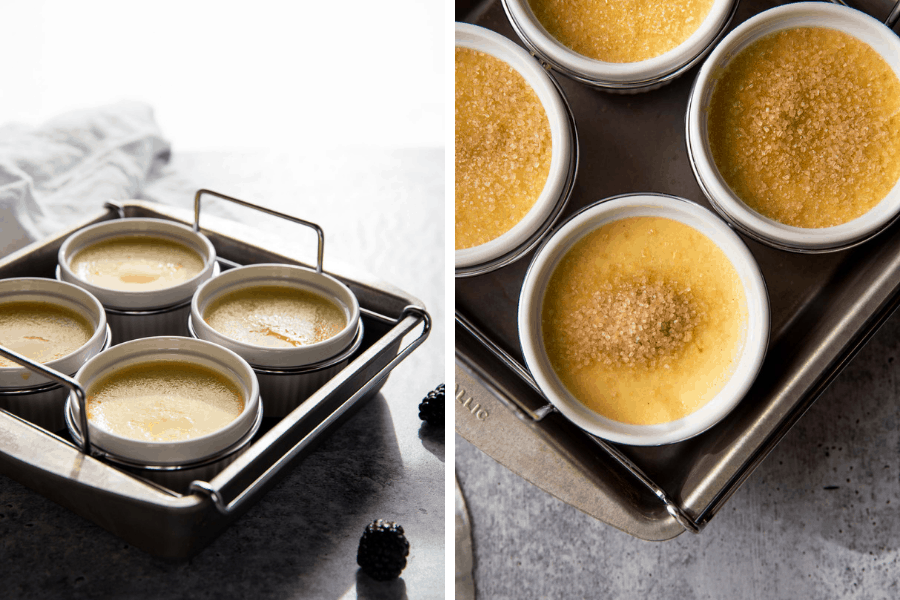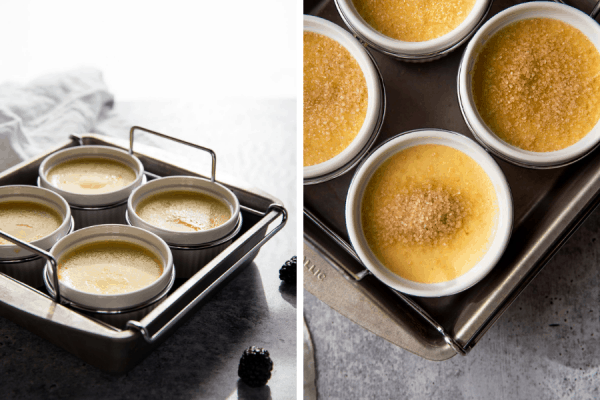 Post-baking carefully remove the ramekins from the hot water bath - which is kind of the nice thing about this set because it has an easy to remove the base. Let cool for about 15 minutes on the counter before chilling in the fridge. You'll want to chill them for at least two hours to ensure the custard sets before serving, which is why these are great for make-ahead desserts. Then comes the fun part.
Sprinkle each of the ramekins with turbinado (aka raw) sugar and move around so it covers the custard evenly. Then hit with the torch until the sugar is melted, browned and caramelized. Let your beautiful Crème Brûlée with Grand Marnier sit for 1 minute before serving so you and your guests get that satisfying spoon crack of the harden sugar upon digging in.
Let's get crackin!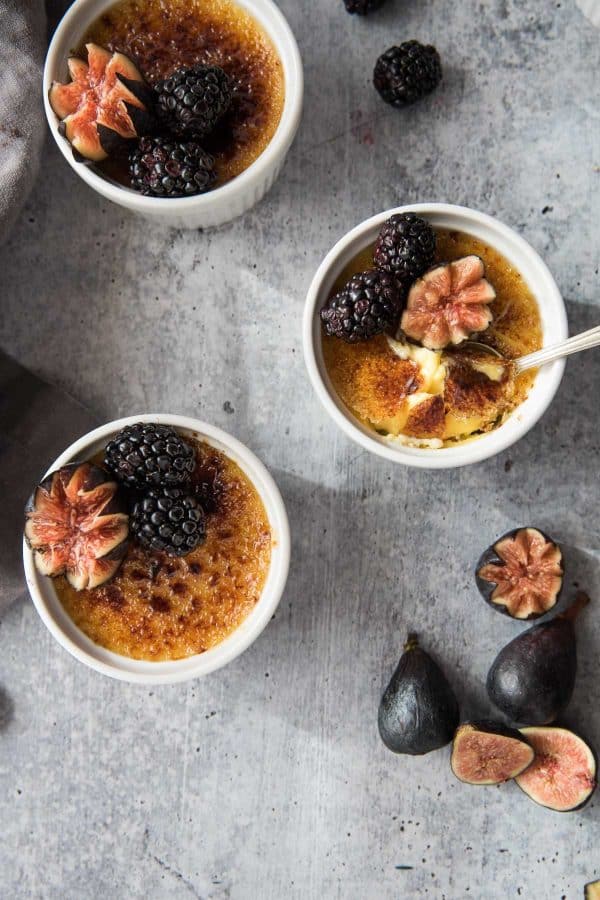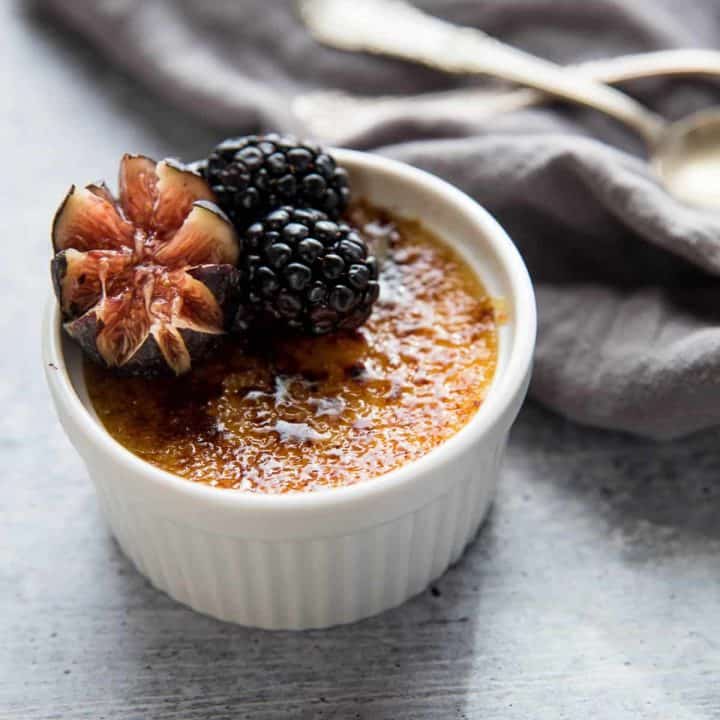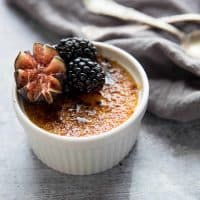 Crème Brûlée with Grand Marnier
Crème Brûlée with Grand Mariner is simple to make and yet such a fancy way to eat dessert! Luscious sweet vanilla custard laced with a hint of orange topped with that crunchy sweet sugar so satisfying to crack with a spoon!
Print
Pin
Rate
Ingredients
1

egg

2

egg yolks

¼

cup

granulated sugar

1 ½

cups

heavy cream

1

teaspoon

vanilla bean paste

1

tablespoon

Grand Marnier

(or another orange liquer)

4

tablespoons

turbinado sugar

(or sugar in the raw)

kitchen torch

(see notes for broiler directions)
Instructions
Preheat the oven to 300°F. While the oven preheats, prepare the the ingredients.

On the stovetop, scald the cream over low heat in a saucepan. The cream should be very hot but not boiling.

In the bowl of a standing mixer with the paddle attachment, combine the egg, egg yolks and granulated sugar on low speed for 1 minute or until just combined. With the mixer still on low speed, slowly add the hot cream. Add the vanilla bean paste and Grand Marnier to the bowl and mix until just combined. Pour into 4 4-ounce ramekins to about ¼-inch below the rim.

Place the ramekins in a baking dish and pour boiling water into the pan until just about half way up the ramekins (usually about 1 inch). Bake for 30 minutes. The creme brulee should be firm but jiggle just slightly when gently shaken.

After baking, remove the ramekins from the water bath and cool before refrigerating for at least 2 hours until set but overnight is best. Before serving, sprinkle each ramekin with turbinado sugar. Heat the sugar with the kitchen torch until melted, browned, and caramelized. Let sit for a minute after melting the sugar to let it harden before serving.
Notes
If you do not have a kitchen torch you can use the broiler to caramelize the sugar top. Let the crème brûlée set in the fridge overnight (or at least for a few hours). Preheat the broiler on high and sprinkle each ramekin with turbinado sugar. Place on the top rack and broil for 1 minute, rotating the pan tso the sugar melts evenly.
If you do not have a standing mixer, use a hand mixer on low or a hand whisk, whisking continuously while adding the hot cream.
Nutrition
Calories:
465
kcal
|
Carbohydrates:
29
g
|
Protein:
5
g
|
Fat:
36
g
|
Saturated Fat:
22
g
|
Trans Fat:
1
g
|
Cholesterol:
261
mg
|
Sodium:
55
mg
|
Potassium:
97
mg
|
Sugar:
27
g
|
Vitamin A:
1501
IU
|
Vitamin C:
1
mg
|
Calcium:
77
mg
|
Iron:
1
mg