The classic holiday beverage, spiced up, boozed up and with a fancy garnish for you to show off at the next holiday party. Creamy Gingerbread Eggnog is everything you love about traditional eggnog, with enough booze to make overbearing, awkward family conversations bearable, and the right amount of gingerbread syrup.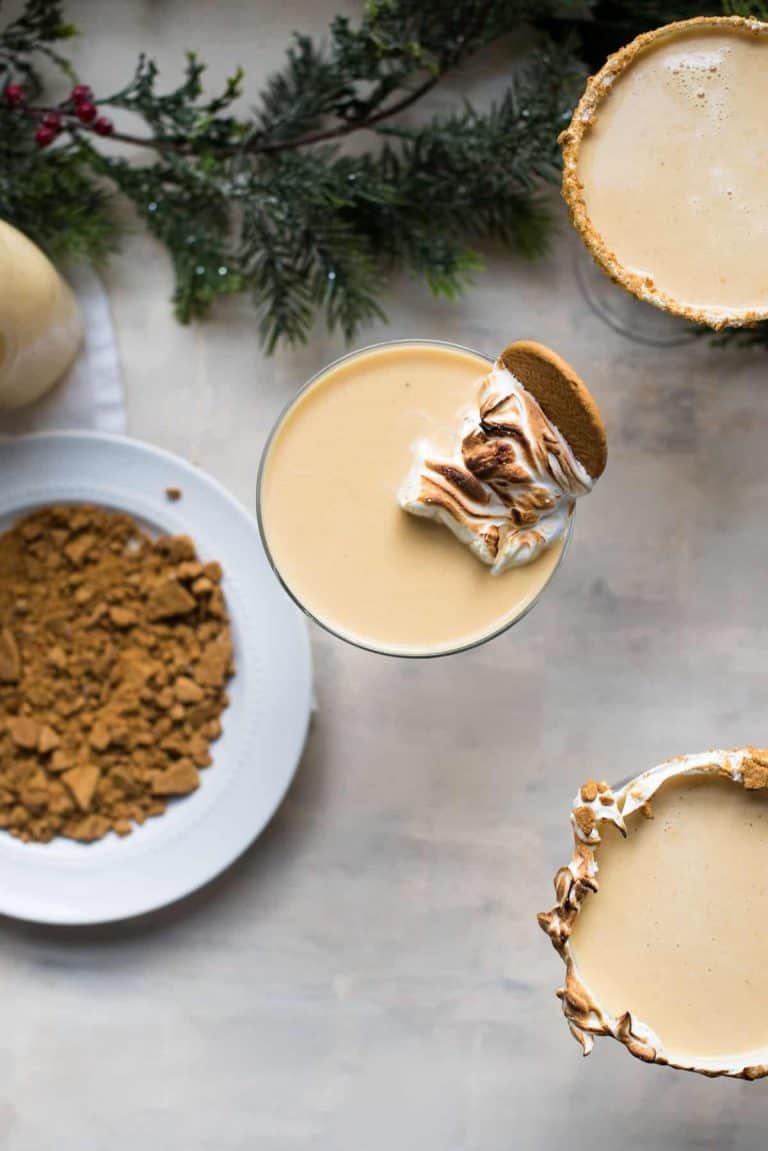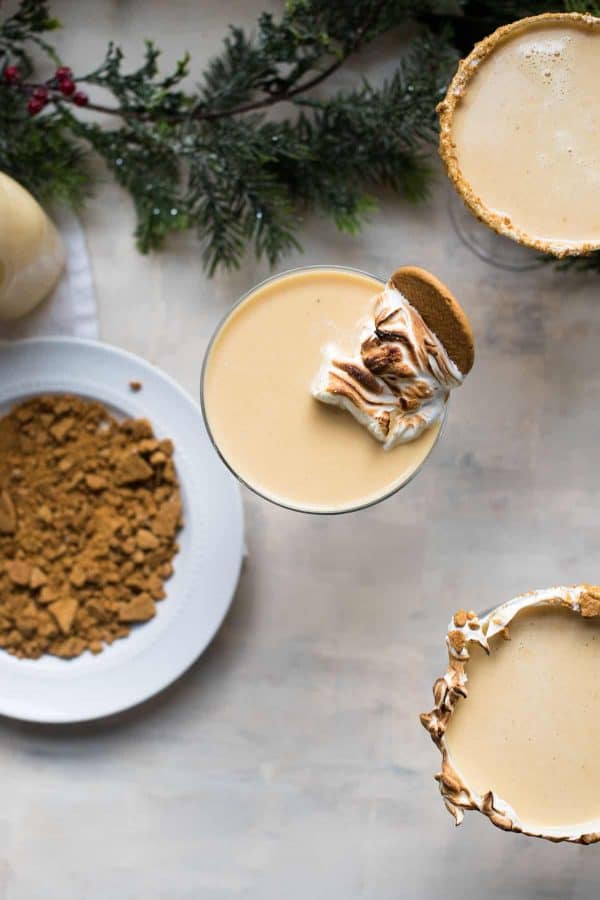 I feel like there are two types of holiday cocktail enjoyers - eggnog believers and eggnog loathers. It's not that hating eggnog makes you a Grinch, it just makes me sad that you're missing out on a sweet treat that's creamy, thick, sweet and boozy.
As a former eggnog loather converted into eggnog believer, these cocktails are ridiculously easy to put down. Like, I just found out my Christmas bonus is a jelly of the month club Griswold kind of throwing back eggnog.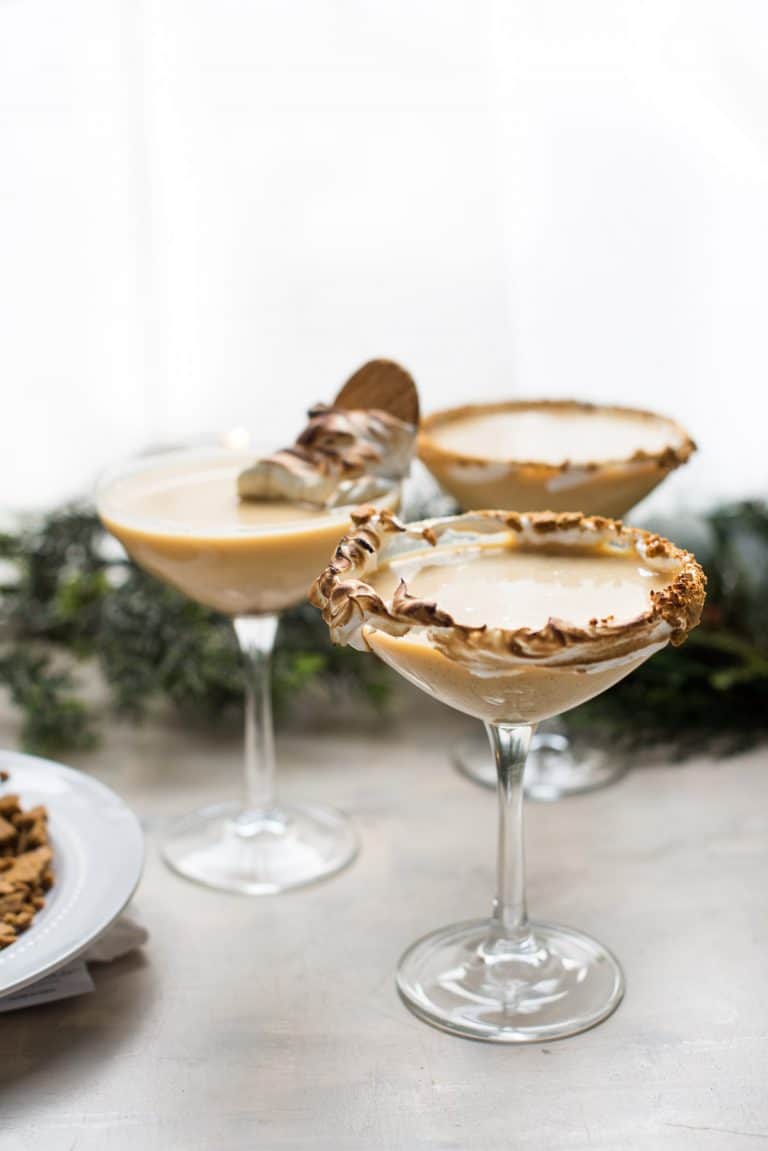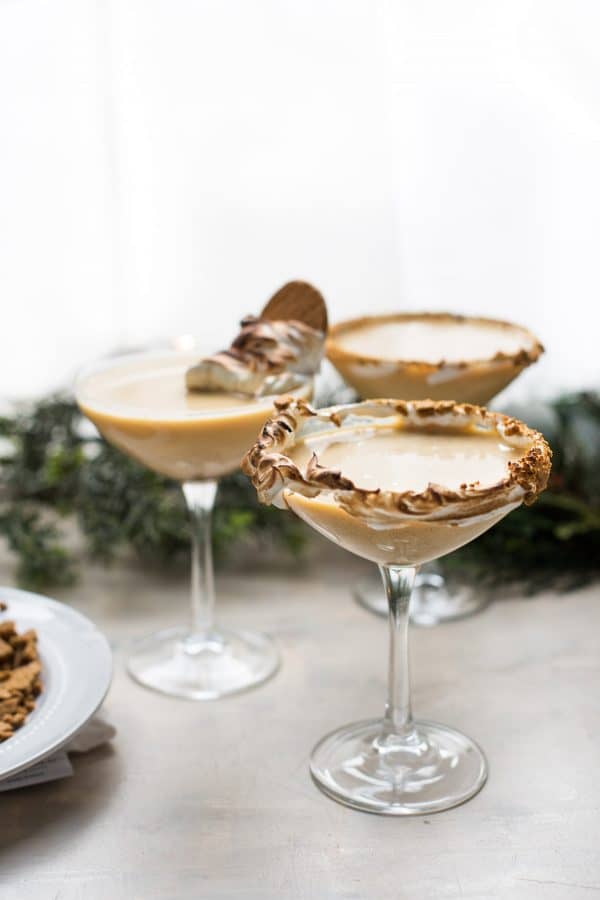 What is eggnog?
What the heck is this golden goodness anyways? Most eggnogs are made from a combination of eggs, milk, cream, sugar, fresh nutmeg and traditionally rum, but bourbon can be used too.
Ok, but if there's eggs in it and I'm not supposed to eat raw cookie dough because of eggs and because people like to kill my dreams, why can I drink eggnog? Well, most if not all store bought eggnog is pasteurized so the risk of salmonella is taken out of the equation.
If you like living on the edge, eating raw cookie dough, romaine lettuce and all the other foods that were a big 'no no' this year then you can definitely whip up a batch of homemade eggnog, like this easy one.
Tempering the eggs to 160F will kill the potential salmonella bacteria, but I'm going to be 100% real with you and say that is too much work for me. So I'll be throwing that grocery store eggnog in my cart asap.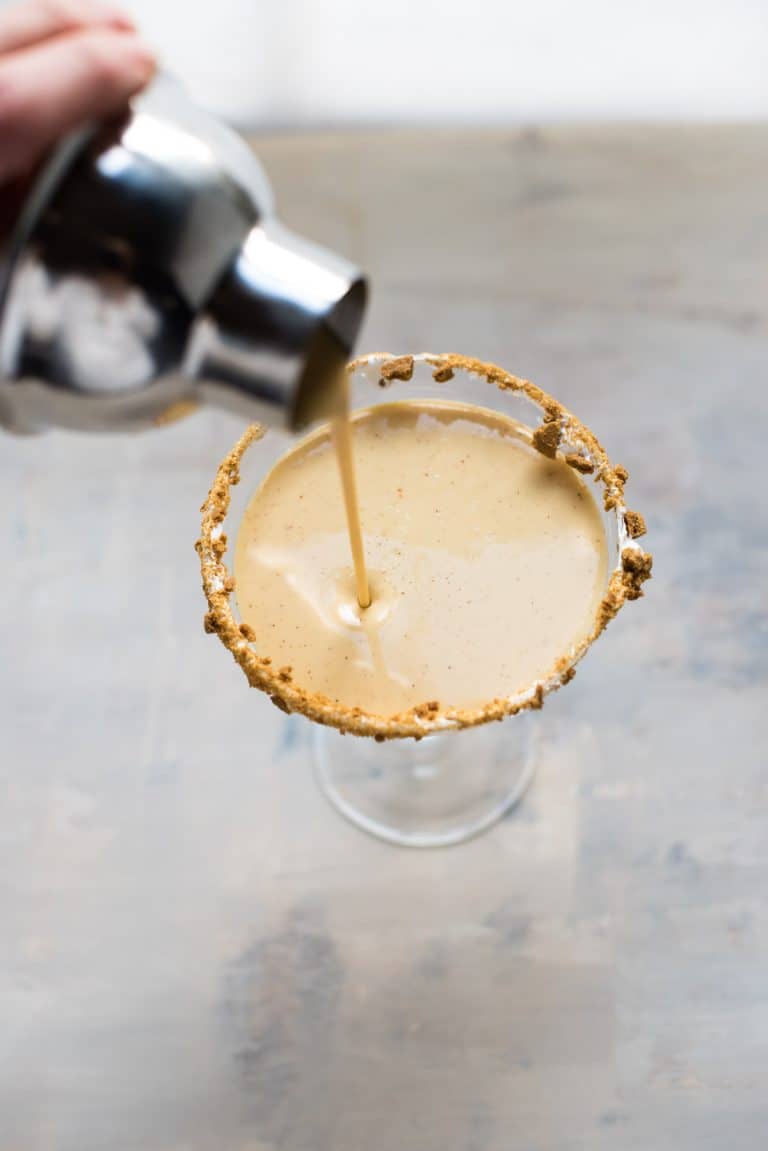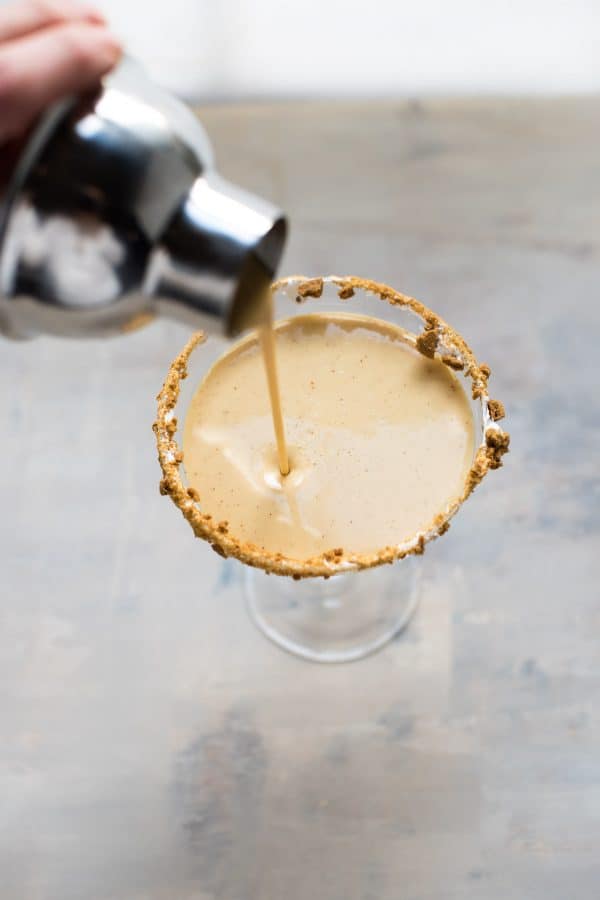 How to Make Creamy Gingerbread Eggnog
So how do we whip up this spicy, nutmeg, boozy bliss? Very. Simply.
Eggnog meet Gingerbread Syrup. Add booze. Shake in a shaker over ice. Pour into glass with or without ice. Garnish fancily to impress family and friends.
And also, because I will take any reason to break out the blow torch. like here and here, oh and here too.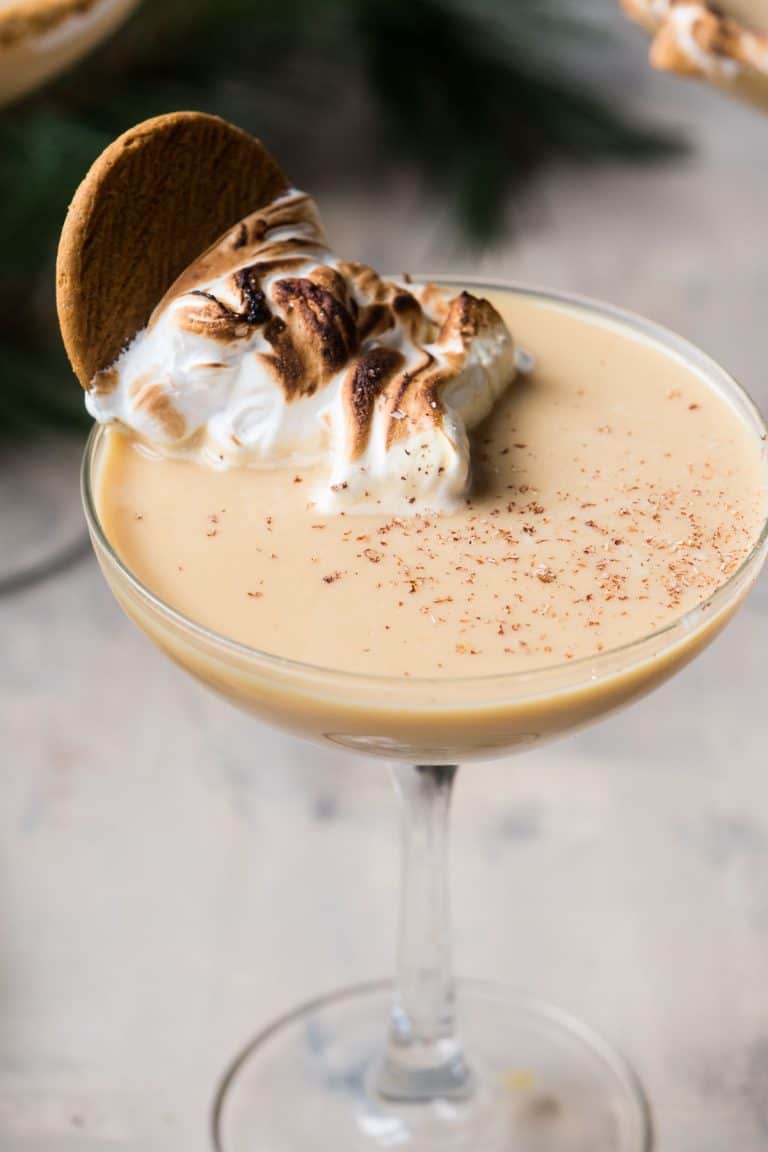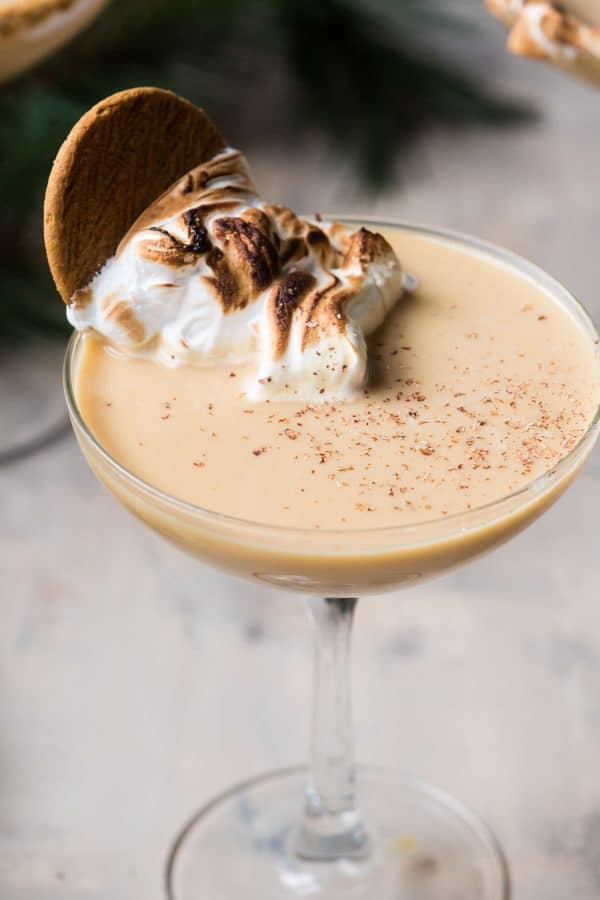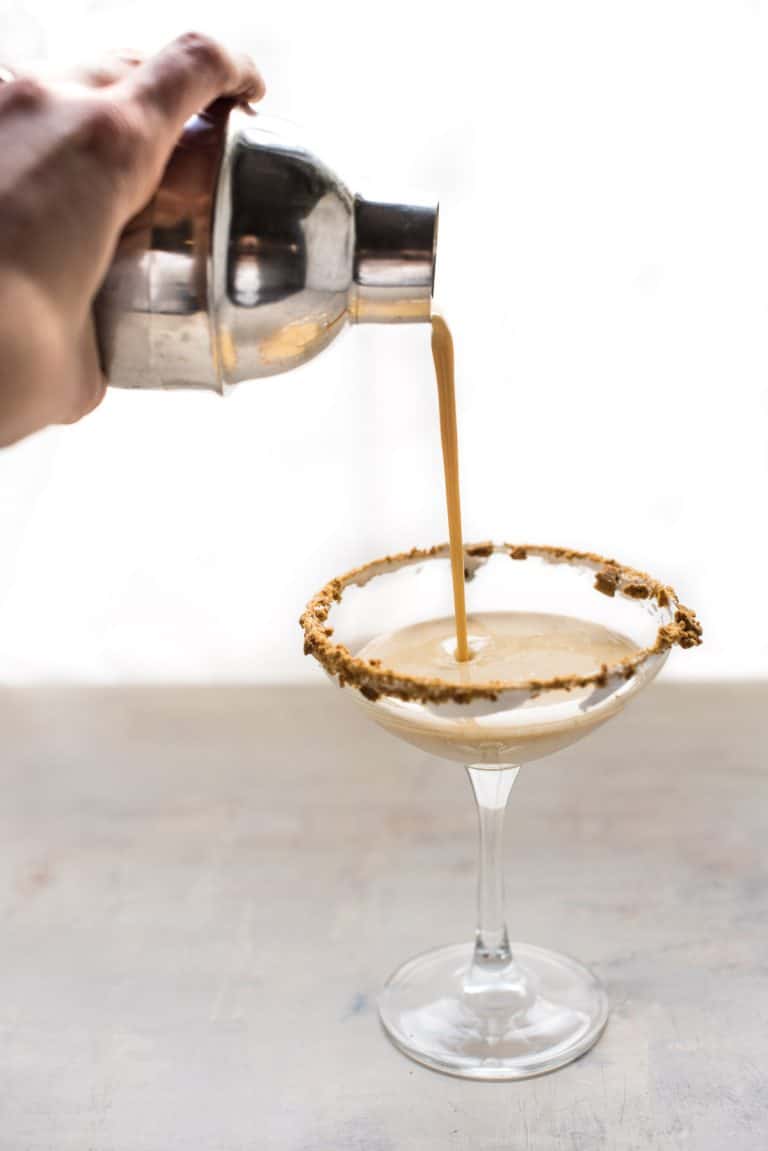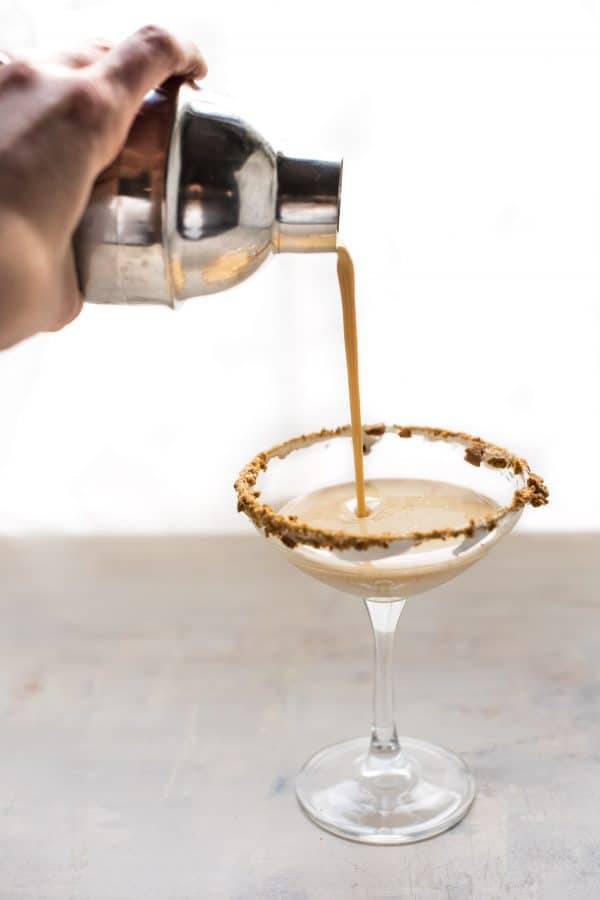 Gingersnap and Meringue Cocktail Garnish
This meringue garnish is my favorite thing for sweet cocktails for so many reasons....
It looks cool,
tastes like marshmallow,
you get to hit it with a blow torch,
and it's sticky enough to hold up whole or crushed cookies without getting soggy.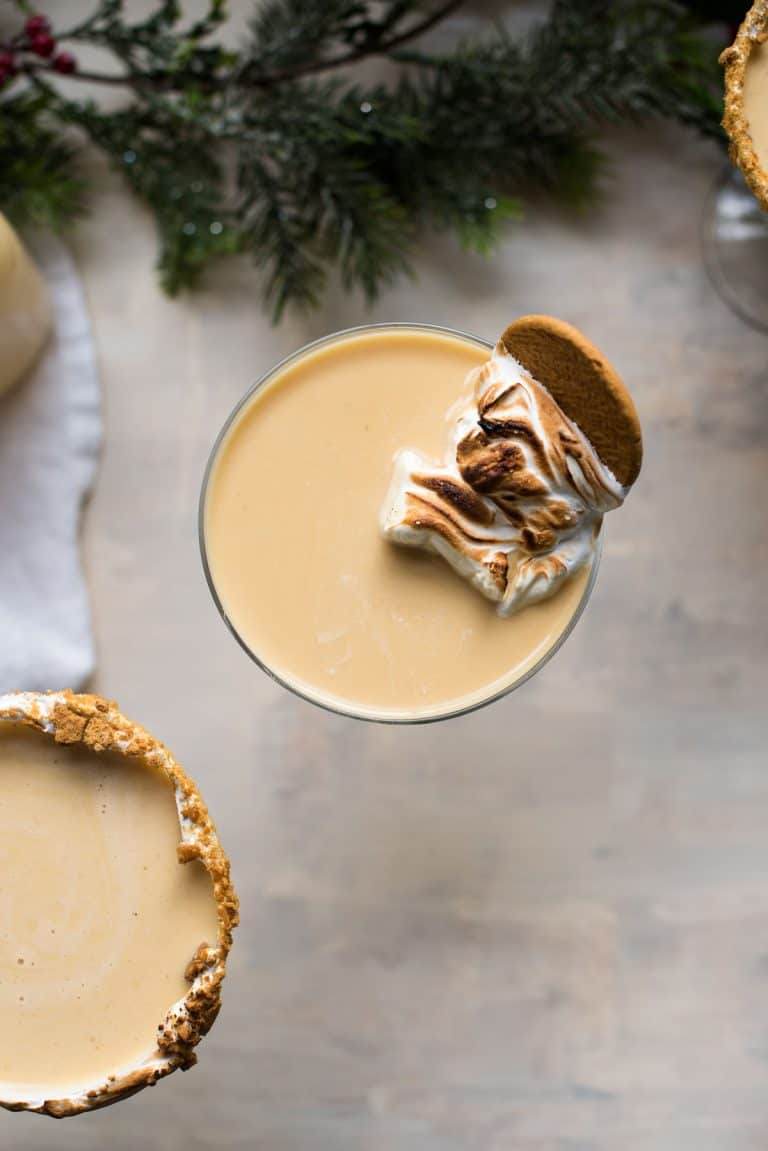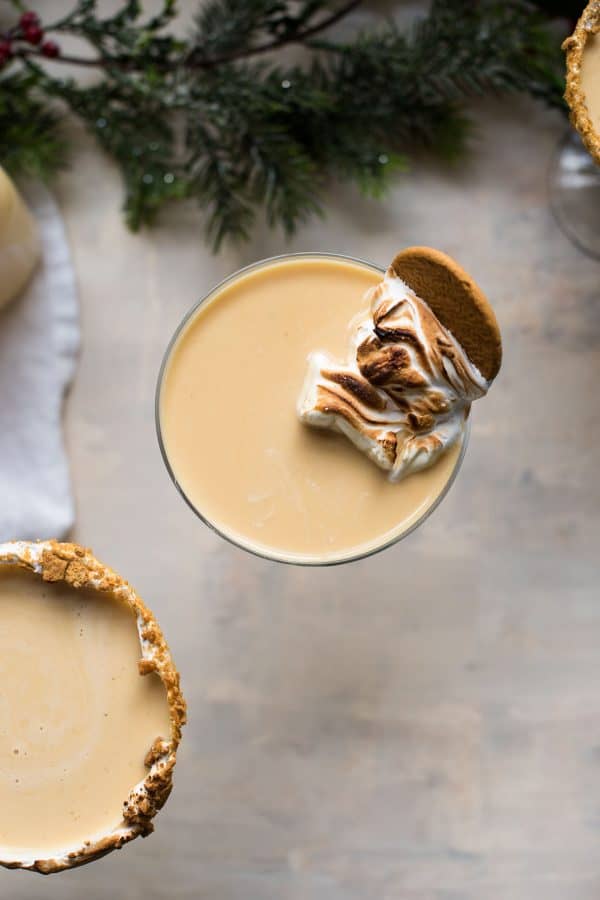 The meringue makes a decent amount so you can either have LOTS of cocktails, or you can use the leftover and make some cookies. Hey, it's the holidays after all.
So what do you say? Shall we get festive?
If you're obsessively in love with all things gingerbread, be sure to check out all the gingerbread resources on the blog!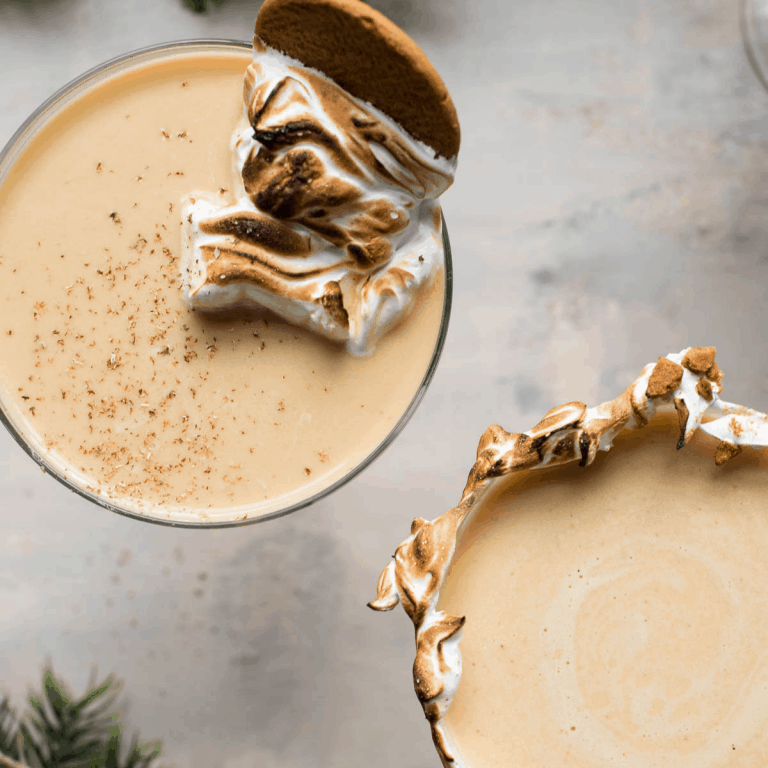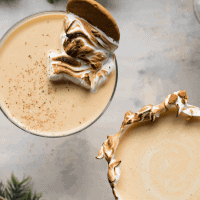 Creamy Gingerbread Eggnog
Step up your holiday eggnog game with sweet and spicy gingerbread eggnog. It's super easy to make, a little boozy and a great twist on the classic holiday cocktail.
Print
Pin
Rate
Ingredients
Gingerbread Syrup
¼

cup

lightly packed brown sugar

½

cup

granulated sugar

¾

cup

water

3

tablespoons

molasses

1

teaspoon

ground ginger

½

teaspoon

ground cinnamon

1

teaspoon

vanilla extract
Gingerbread Eggnog
2

ounces

rum

1

ounce

gingerbread syrup

4

ounces

eggnog
Gingersnap + Meringue Garnish
1

cup

gingersnaps

4

egg whites

1

cup

granulated sugar

½

teaspoon

cream of tartar

½

teaspoon

vanilla extract
Instructions
GINGERBREAD SYRUP
In a medium size saucepan, combine the ingredients. Heat over medium heat, stirring until combined.

Bring to a slow boil, reduce the heat and simmer for 5 minutes – stirring occasionally.

Transfer to a heat proof storage container. Shake well before each use to redistribute the spices.
Gingerbread Eggnog
In a martini shaker, add the rum, gingerbread syrup and eggnog. Fill with ice and shake vigorously for 10 to 15 seconds. Strain into a coupe glass or serve in a rocks glass over ice.

If opting for the gingersnap + meringue garnish, 'paint' the glass with meringue prior to pouring the cocktail. Dip half the glass in the crushed gingersnaps and use the blow torch to brown the meringue on the other half of the glass.
Gingersnap + Meringue Garnish
Place gingersnap cookies in a plastic bag and crush with a mallet or rolling pin. Pour out onto a small flat plate.

For the meringue: In a heatproof bowl, add egg whites sugar and cream of tartar. Place the bowl over a saucepan with two inches of simmering water - the bottom of the bowl should not touch the water. Whisk the egg whites constantly until the sugar is dissolved, about 4 to 5 minutes.

Transfer the egg white mixture to a standing mixer fitted with a whisk attachment. Add the vanilla extract and whip the egg whites on high until stiff peak form, about 5 to 6 minutes.
Notes
The meringue recipe is my go to, but it does make a fair amount. The leftover meringue can be made into cookies.
Meringue Cookies: Transfer leftover meringue to a piping bag and pipe onto a baking sheet fitted with parchment paper. Bake in a preheated 300°F oven for 20 to 25 minutes.
Nutrition
Calories:
460
kcal
|
Carbohydrates:
82
g
|
Protein:
18
g
|
Fat:
8
g
|
Saturated Fat:
4
g
|
Cholesterol:
102
mg
|
Sodium:
207
mg
|
Potassium:
477
mg
|
Fiber:
1
g
|
Sugar:
62
g
|
Vitamin A:
259
IU
|
Vitamin C:
2
mg
|
Calcium:
219
mg
|
Iron:
2
mg