Tender sliced ham with sweet bourbon brown sugar glaze cooked in no time! Instant Pot brown sugar bourbon ham is perfect when the oven is already full or you just need to cook a quick dinner with delicious results.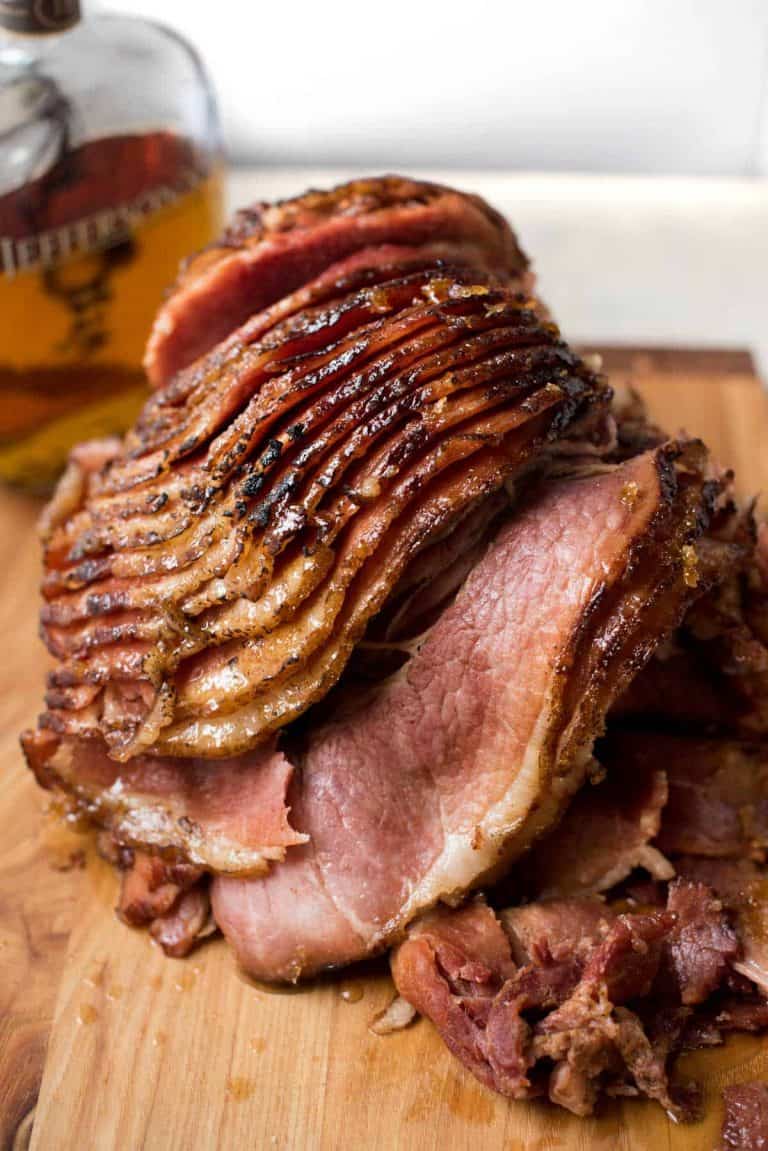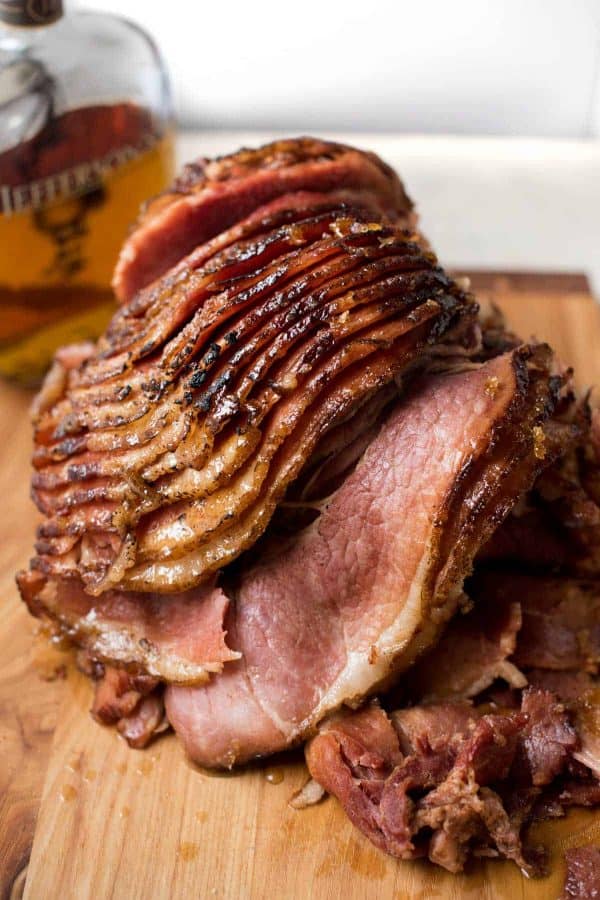 You know when you have those cooking epiphanies? When something comes out delicious and it was ridiculously easy? There might even be the faint sound of angels singing and a heavenly glow....oh wait, that's just the kitchen blow torch.
Either way, this Instant Pot Brown Sugar Bourbon Ham is going to make us feel all those things and we get to use the blow torch.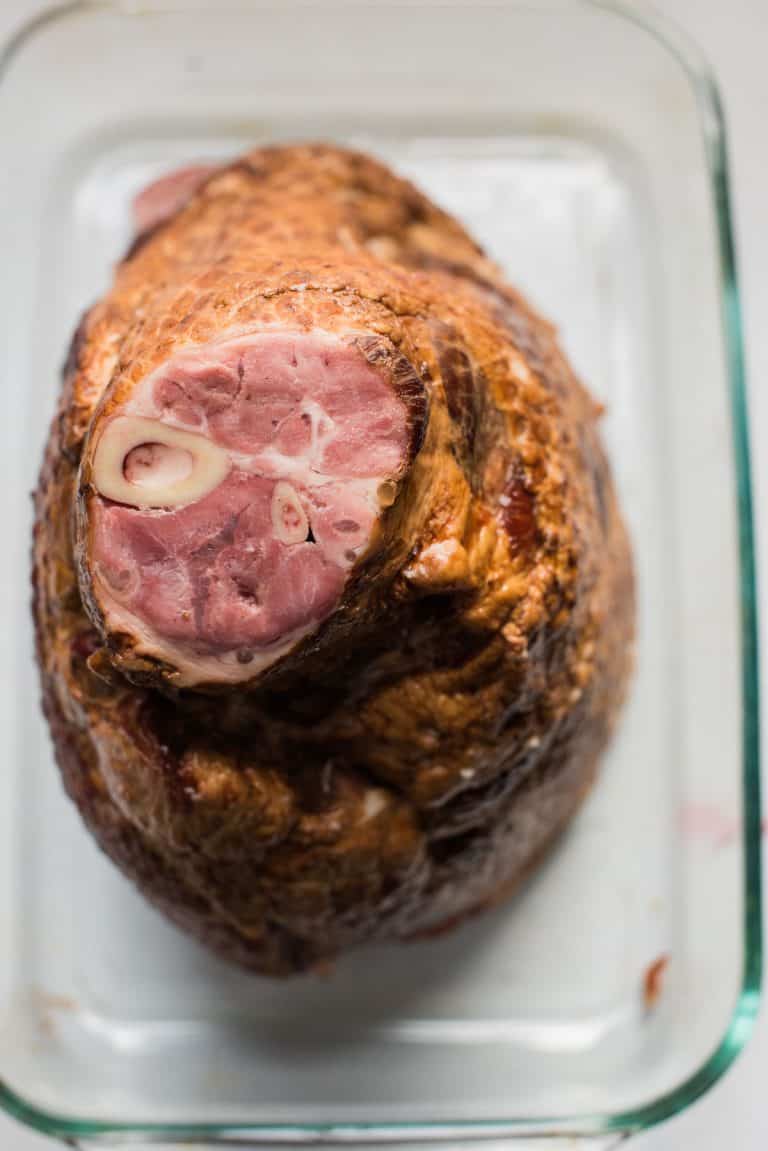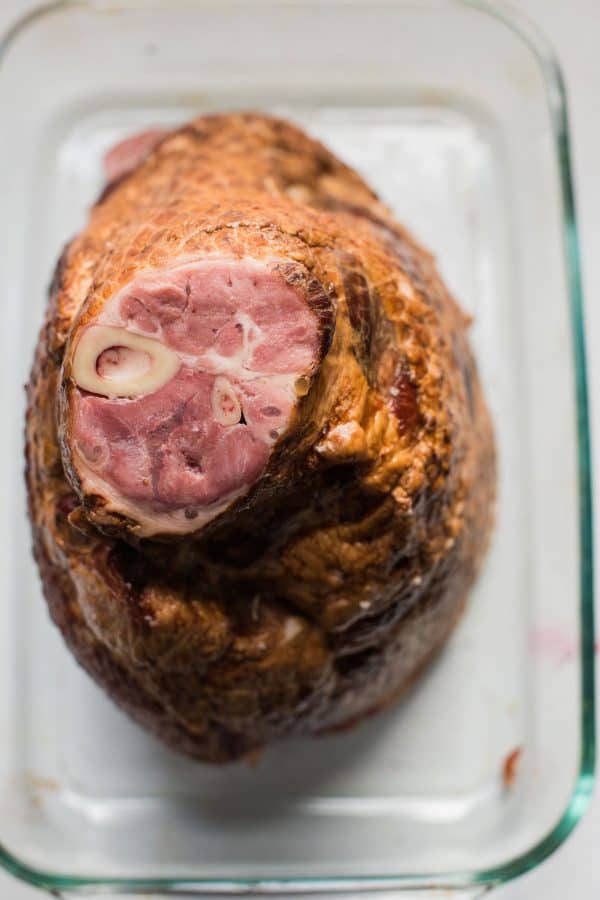 So what's the big difference between a traditional spiral ham and an instant pot ham? Time, mostly. There's also something about pressure cooking with a flavorful liquid that helps infuse those flavors into the meat/whatever you're cooking. Here's why you're going to love this easy pressure cook twist on a spiral cut ham:
It cooks for 15 minutes. Fifteen! Ok yes, the IP does need a few minutes to get up to pressure before the clock starts but it's over before you even know it.
Simple Ingredients
Bourbon - I mean c'mon...
After cooking you can either crisp up the glaze under the broiler or have some fun (and save some time) by breaking out your kitchen blow torch.
We're just a few short steps to having tender ham infused with bourbon, cider and close and a crispy sweet glaze ready to go.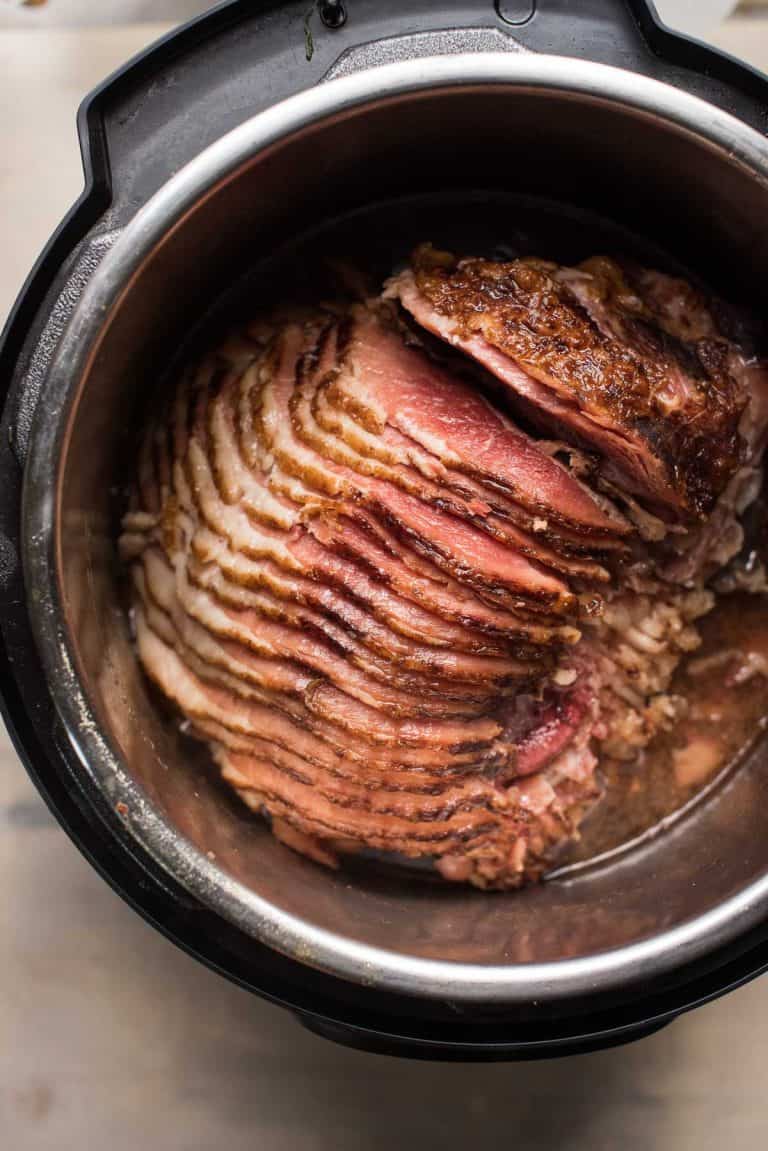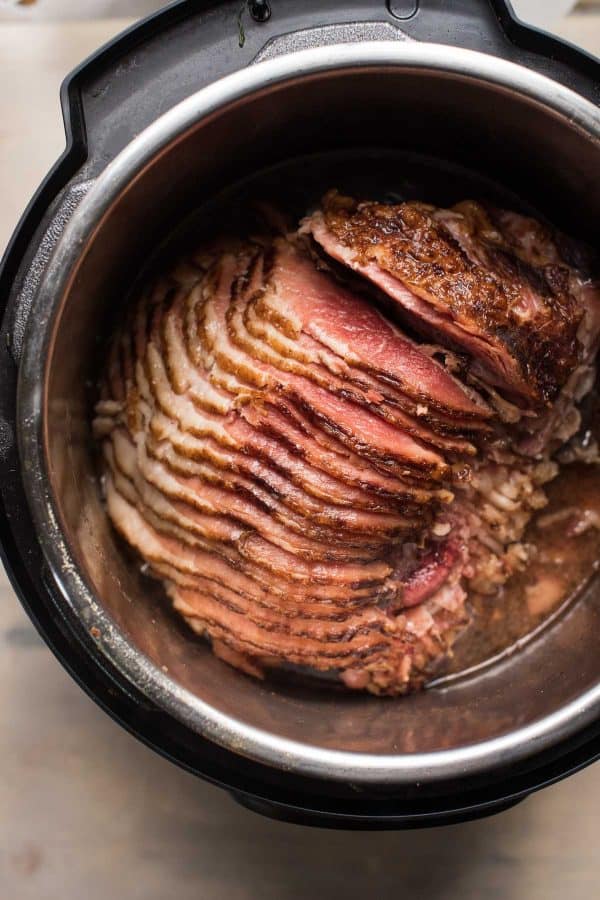 Tools for Instant Pot Brown Sugar Bourbon Ham
Besides ingredients there isn't a whole lot you need to make this recipe a success. Let's start with the basics.
8-Quart Instant Pot
Why the 8 quart? Well to accommodate a roughly 7 to 8 lb ham, you'll need the space. You could certainly use a smaller model but you'll need a smaller ham, scaling it back to a quarter spiral while this one uses a half spiral.
There are two popular models out right now. The traditional 7-in-1 Instant Pot and the upgraded, digital screen, 10-in-1 Instant Pot. Both will get the job done, the traditional model runs much cheaper but doesn't offer all the same capabilities as the newer upgrade.
Either model will be used in the pressure cooker setting on high pressure. This will cook the meat under pressure to infuse the flavor. The spiral ham will come already cooked so we're not really 'cooking it' so much as infusing and heating.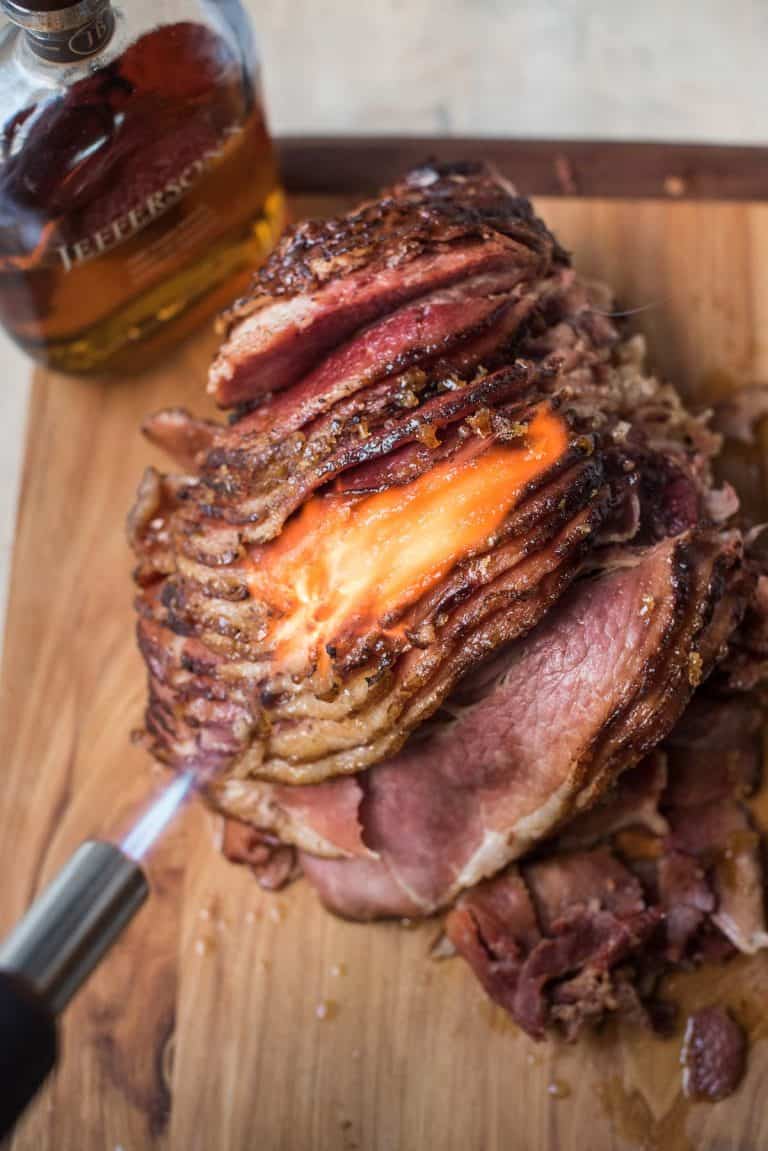 Using a Kitchen Torch to Crisp
If you're ready to step into some fun stuff, get a blow torch. Don't worry, you're not going to need a mask and gloves or anything. Maybe just wait to start throwing back the glasses of wine until the meal is served though.
Besides this ham it's great for other culinary creations like making some no-bake s'mores without the campfire or toasting up some meringue garnish on your gingerbread eggnog.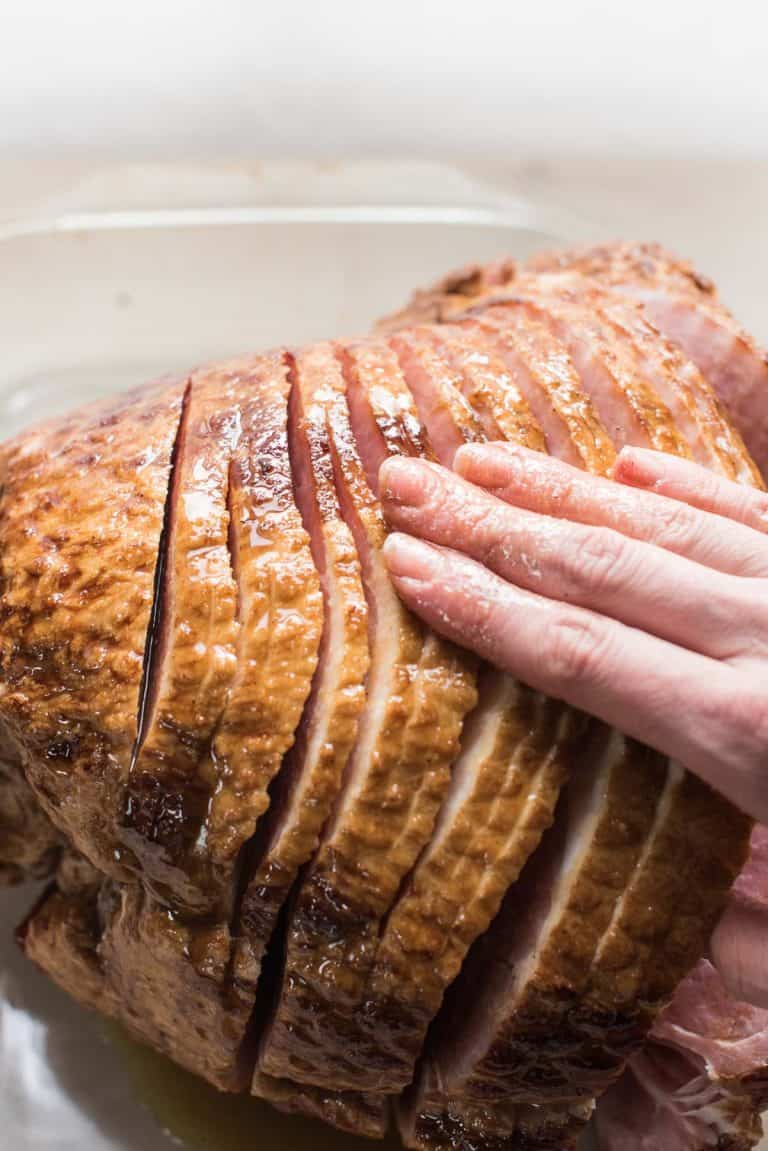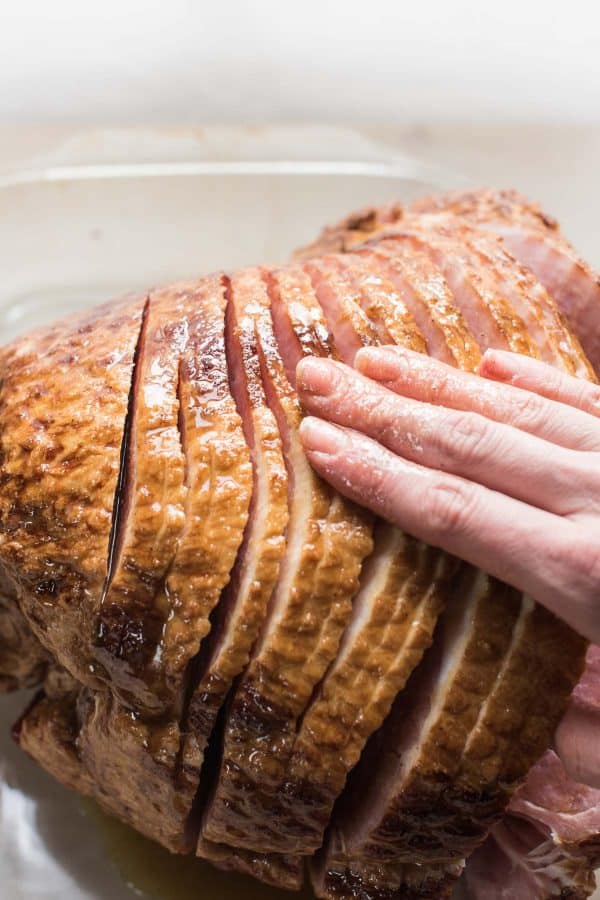 This kitchen blow torch is the one I use. It's easy to operate, inexpensive, has a safety button, and you can increase or decrease the amount of flame. Just make sure you also pick up some fuel to go with it.
Using the blow torch is a great option to crisp up the outer edges of the ham without the risk of drying out the meat under the broiler. Just rub with the 'slurry' of cider, brown sugar and clove, turn on your torch and have some fun!
No Blow Torch Method
Fire not your thing? Not enough time to Amazon Prime your torch? No sweat. You can crisp up that sweet bourbon glaze under the broiler. You'll just need to remember to preheat the broiler while the ham is cooking.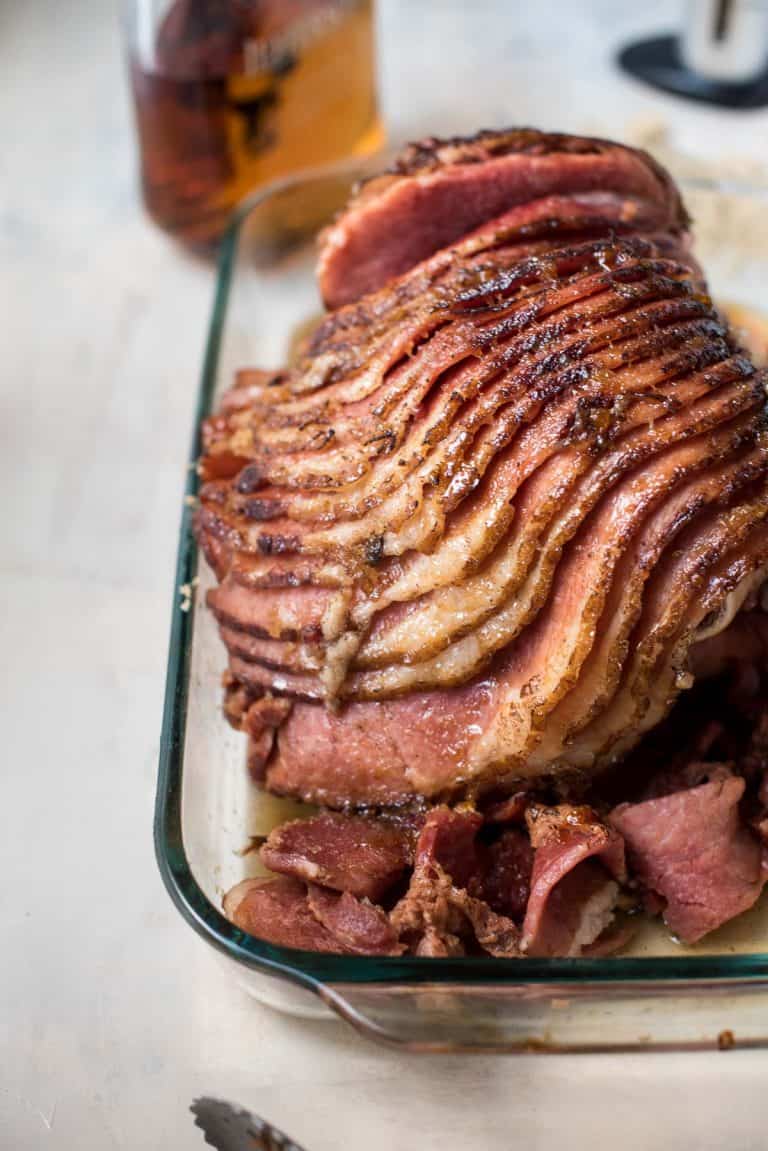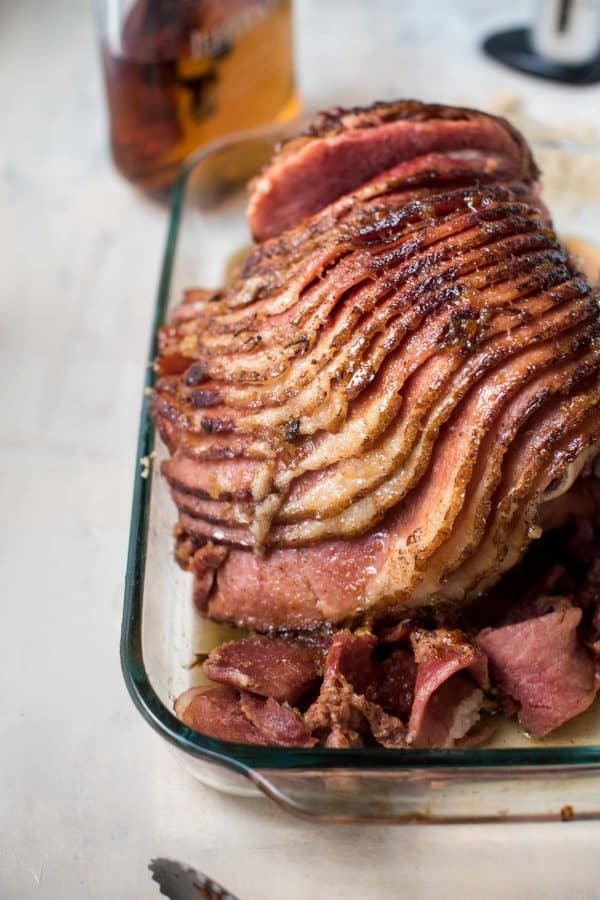 But if you're ready to get a main dish on the table without having to even turn on the oven, you can do it in just minutes. Kick back, relax or run around getting all the other things on your list done. A bourbon brown sugar ham cooked pressure cooker style will just be one less of them.
If you're dishing this out for the holidays, consider simple sides to serve with it! Cheesy lobster potato gratin looks super fancy but is simple to prepare and bakes up easy in an oven safe skillet. If speed is the requirement, this roasted delicata squash is done in just 20 minutes!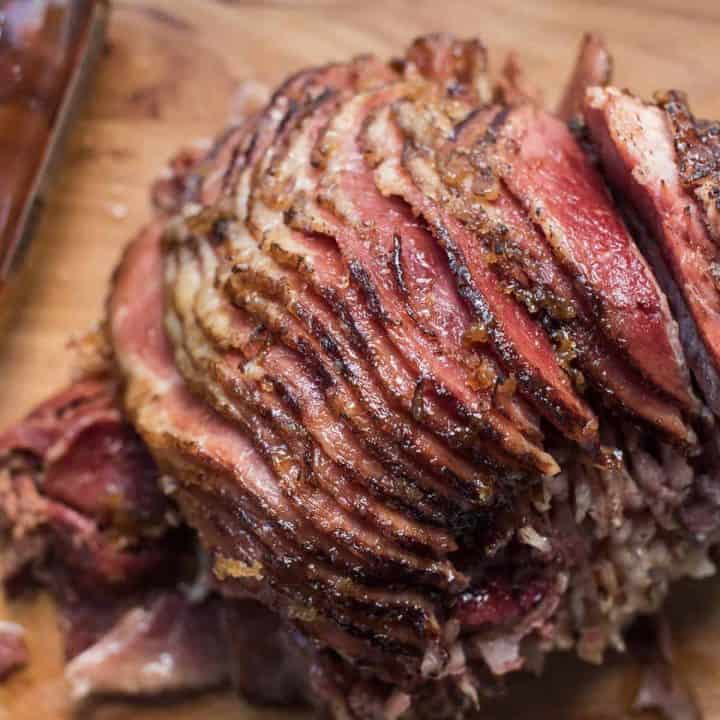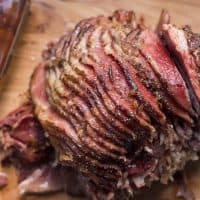 Instant Pot Brown Sugar Bourbon Ham
You'll never make traditional ham again! Instant Pot Brown Sugar Bourbon Ham has a sweet, crunchy glaze and lots of sweet and warming flavors baked right in that takes just minutes to cook.
Print
Pin
Rate
Ingredients
For the ham:
7-8

pound

spiral cut ham

½

cup

bourbon

(divided)

1

cup

+ 1 tablespoon apple cider

(divided)

1 ½

cups

packed light brown sugar

(divided)

1

tablespoon

dijon mustard

½

teaspoon

ground clove

(divided)
Instructions
Prep. Place the ham in a baking dish or on a tray with a lipped edge. In a bowl, mix together ¼ cup bourbon, ¼ cup apple cider, 1 cup packed brown sugar, 1 tablespoon dijon mustard, and ¼ teaspoon clove. Once combined, rub it over the ham and in between the layers.

Cook. Pour ¾ cup cider and ¼ cup bourbon into the pan of the 8-quart instant pot. Place the ham to the Instant Pot and pour any juices that may have collected on the dish or tray into the pressure cooker. Close the lid, seal, and set on manual cook for 15 minutes on high pressure. Natural or quick release can be used to vent the pressure after cooking.

Add the glaze. Transfer the ham to a baking dish or tray with a lip. In a bowl, combine ½ cup packed light brown sugar, 1 tablespoon apple cider, and ¼ teaspoon clove. The mixture should be a slurry-type thickness. Rub the brown sugar slurry all over the ham. Using a kitchen blow torch, caramelize the glaze on the outside of the ham.

Traditional broiler method: Preheat the broiler on high while the ham is cooking. Line a baking sheet or dish with a lipped edge with foil. Spray the foil with cooking spray or rub lightly with oil. After the Instant Pot releases pressure and is safe to open, transfer the ham to the foil. Rub with the glaze and broil on high for 5 to 10 minutes until the sugars in the glaze start to caramelize.
Nutrition
Calories:
939
kcal
|
Carbohydrates:
36
g
|
Protein:
69
g
|
Fat:
53
g
|
Saturated Fat:
19
g
|
Cholesterol:
197
mg
|
Sodium:
3797
mg
|
Potassium:
994
mg
|
Fiber:
1
g
|
Sugar:
36
g
|
Vitamin A:
1
IU
|
Vitamin C:
1
mg
|
Calcium:
54
mg
|
Iron:
3
mg